L-shaped kitchens are a popular choice due to their stylish look, spacious layout, and efficient, functional nature. A flexible layout, the L shaped kitchen works for most settings, regardless of shape and size, or whether the kitchen is enclosed or open plan. Maximising floor and wall space, the L shaped kitchen layout ensures generous worktop and storage opportunities, whilst giving the impression of a physically larger space. It also provides room to move freely around the kitchen in the safest possible way without needing to cross the top of the counter.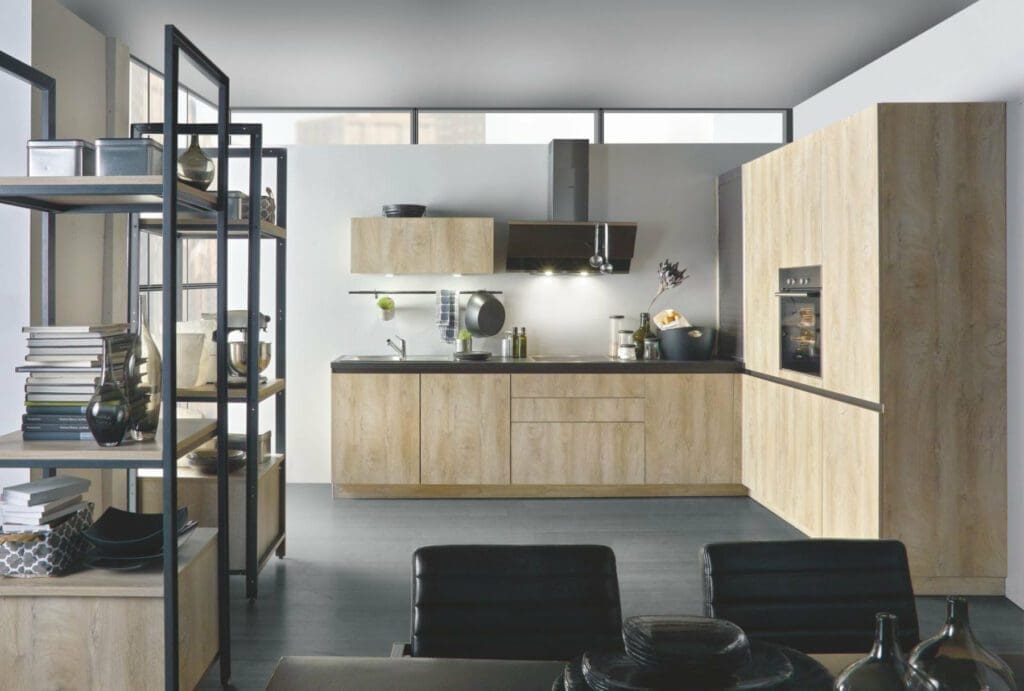 Planning Your L-Shaped Kitchen Layout
L-Shaped kitchens consist of two runs of units on adjacent walls, meeting in one corner to form a right-angled 'L' shape. One run is usually longer than the other, with this format prompting where appliances should be placed for best achieving balance and work efficiency. Typically, the sink, oven and fridge are considered first, positioned a comfortable distance apart from each other to minimise movement between them. An L-shaped kitchen is an ideal layout if you intend for more than one person to cook at the same time, as the generous length of worktop across two runs usually provides sufficient space for this.
There is a generous amount of storage in an L-shaped kitchen but for smaller spaces, floor-to-ceiling cabinets or shelving units are an effective solution. These increase storage capacity but without overwhelming the space or making the kitchen feel cramped.
L- Shaped Kitchens With Islands
Many homeowners also choose to incorporate a kitchen island into their L shaped layout, so that an island is neatly framed by the L shaped units. This affords many benefits, including more ways in which the kitchen can be used. For example, an island further increases countertop space, storage capacity, and can house appliances such as an oven, sink, hob, and extractor – whether downdraft or overhead. Aside from it's stunning look, a kitchen island is also a great prospect for a social and convenient seating area within the kitchen.