Stone, Concrete and Ceramic Kitchens
In recent years, kitchen trends have seen a significant shift towards the use of textured surfaces within design. In keeping with this, ceramic, stone and concrete have come into the fore, and prove excellent choices for kitchen finishes. Aside from a stunning look, these materials are typically very hardy and therefore low maintenance. Available in a wide choice of luxury colours and styles, ceramic stone and concrete doors are easy to layer with other materials and finishes. Altogether, they make an excellent choice for the home, achieving contemporary kitchen designs which are both original and outstanding.
Ceramic Kitchens
Using state-of-the-art manufacturing processes, natural raw ceramic materials are successfully transformed into hardwearing, low-maintenance ceramic kitchen surfaces. With resistance to heat, scratches and stains, these surfaces are ideal for kitchens as they are typically low maintenance. They are also resistant to the ingress of both water and bacteria. Of course, ceramic kitchen surfaces exude a stunning appearance too, and one which will never fade or discolour with the passing of time. Light or dark, ceramic kitchen finishes characterise the colours, textures and patterns that naturally form within mineral clay soil. The end result of this is a beautiful, luxurious kitchen look.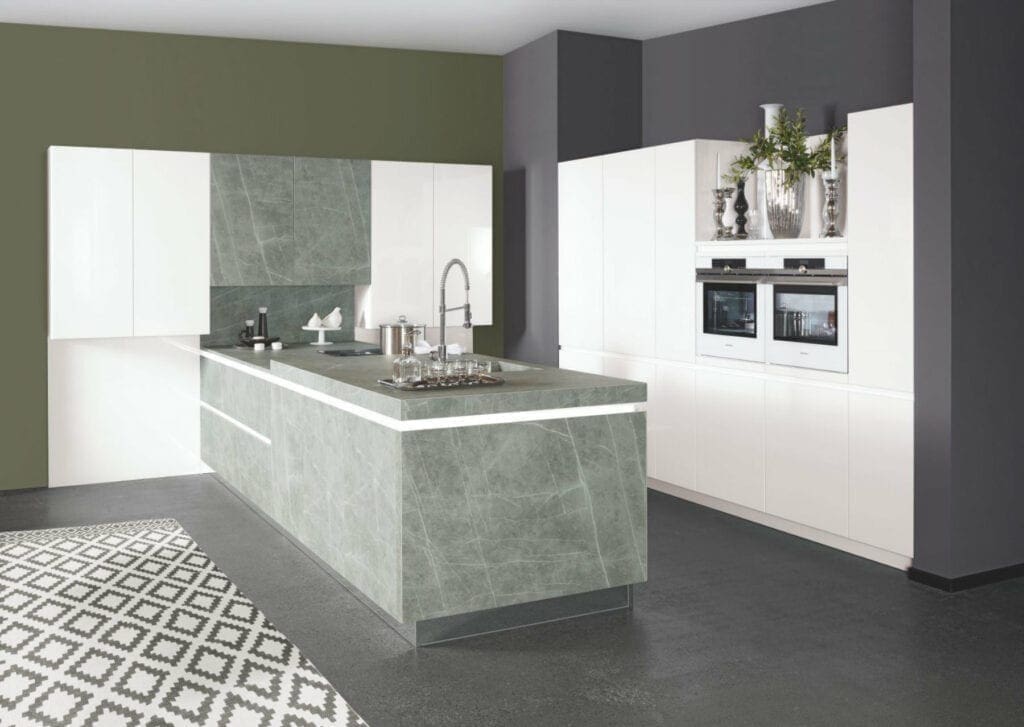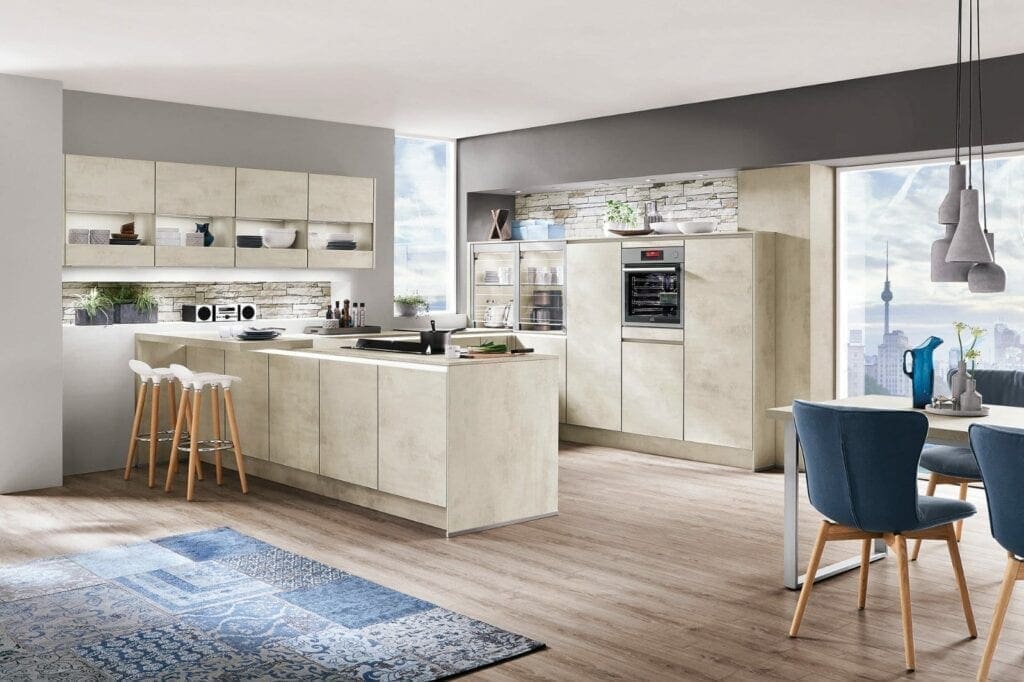 Real Stone Kitchens
A supreme kitchen door, the real stone kitchen finish produces a kitchen look of the upmost elegance…albeit with a touch of intensity! As its name implies, this kitchen door is engineered from real stone, or more specifically, from slate. This makes it a kitchen finish unlike any other! Whilst solid in look and durable in nature, all real stone kitchen doors and drawers are surprisingly lightweight so easily manageable. This is due to them being machined to a thickness of only a few mm. Finally, this kitchen door is exquisite not just in looks, but appeals largely to the sense of 'touch' too! We fully recommend a kitchen showroom visit so you can experience for yourself the richly textured finish of this truly élite kitchen door.
Real Concrete Kitchens
Another staple of the industrial kitchen trend, Concrete kitchen doors (along with concrete worktops, side panels and flooring) have become increasingly popular over recent years. The look the concrete kitchen door creates is contemporary and timeless. Together with their practical, low-maintenance fascia this makes them a highly desirable choice. An impressive kitchen statement, the versatility of concrete kitchen doors means they also work beautifully with other natural finishing touches, be it metal, glass, stone or decorative houseplants.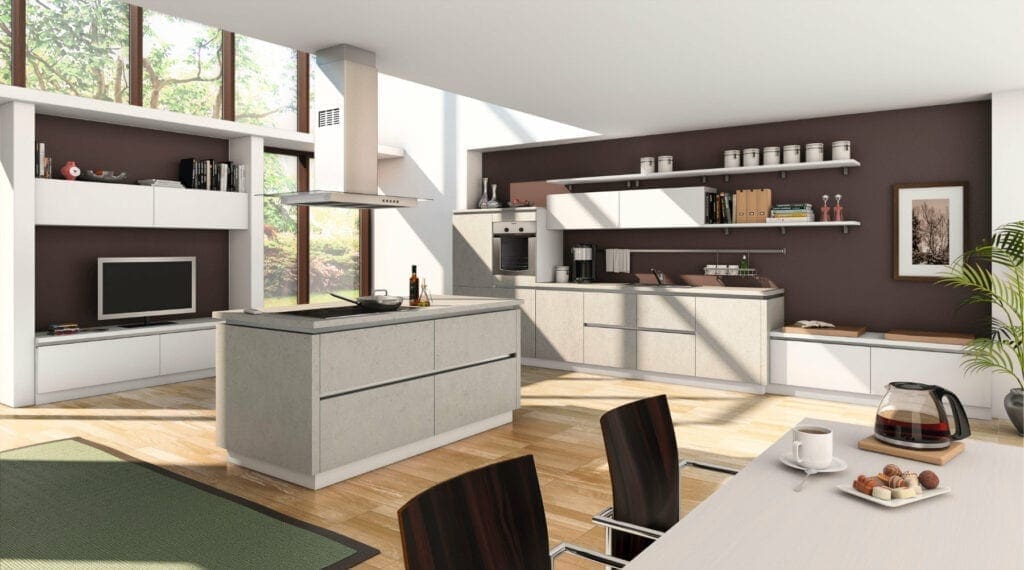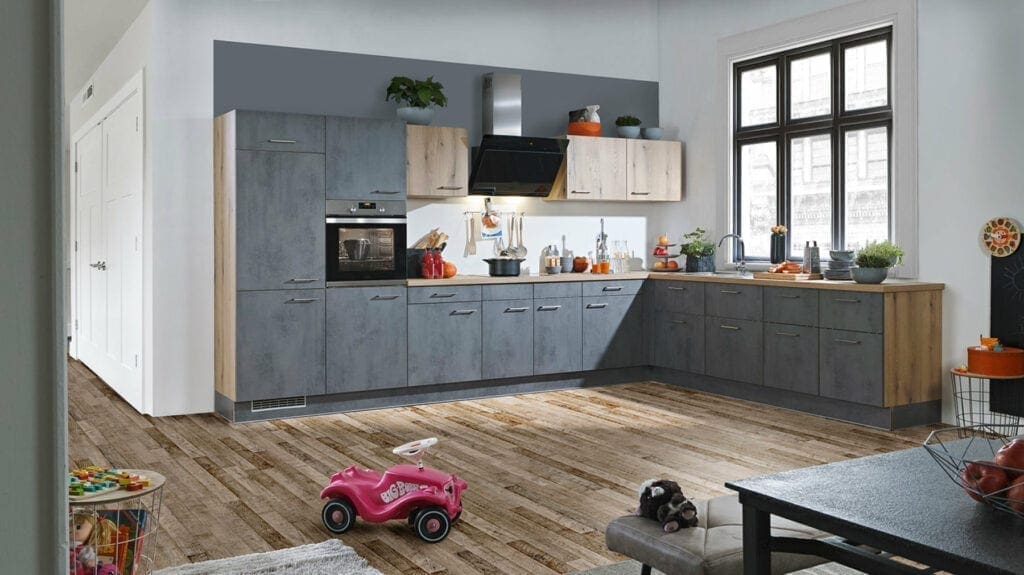 Stone, Ceramic And Concrete Effect Kitchens
The use of richly textured, raw materials within kitchen design has taken the industry by storm in recent years. So unsurprisingly, surfaces that replicate these natural materials are also high in demand. Stone, ceramic and concrete effect kitchens are stylish in look, whilst hardy and durable in nature. Made from high grade laminates, many such doors can be hard to tell apart from real stone and concrete doors, yet homeowners benefit from a much lower price tag than their real stone kitchen equivalents. 
Stone & Ceramic Kitchens Gallery