If you have ever lived with a poorly designed kitchen then you will well understand the frustration this brings. And this is particularly true of small kitchens where space is restricted and extremely precious.  Small kitchen spaces can be challenging to design, often needing handled with care to make best use of limited space.  But go to an experienced, reputable designer and you can achieve a luxury, tailored kitchen combining the exact look you want within a functional, space-maximising layout.  Here's what else you need to know in order to achieve a winning small kitchen design!
The Secret to A Successful Small Kitchen Design
The secret to a successful small kitchen design is proper planning to ensure the space meets all your needs. Once you know how much space you have, you need to work with a kitchen expert to figure out the best way to maximize the area. This includes planning storage requirement for pots, pans, cookware, and other appliances small and large. It needs an efficient layout that makes preparing, cooking, and serving food an efficient and workable process. This includes appliance models fit for the household's cooking habits, as well as a suitable amount of worktop space. How many people live in the house will also impact on the design, as well as how many people will use the kitchen at any given time and in what different ways.
Space Maximising Solutions For Small Kitchens
Modern kitchen engineering has brought us many innovative solutions for making clever use of space within the kitchen. This includes compact appliances. Often found in flats, or suited for sole occupancy, this include 45cm ovens or dishwashers, compared with the standard 60cm size. Storage options such as pull out Le Mans corner units reach deep into kitchen corner space to ensure this is fully usable, or else carousels are a similar option for allowing easy access. You can even include a run of bridging units above your kitchen wall units to produce a sunken effect for the latter through the difference in depth. As well as an interesting kitchen feature, this creates a generous amount of extra storage space across the width of your room.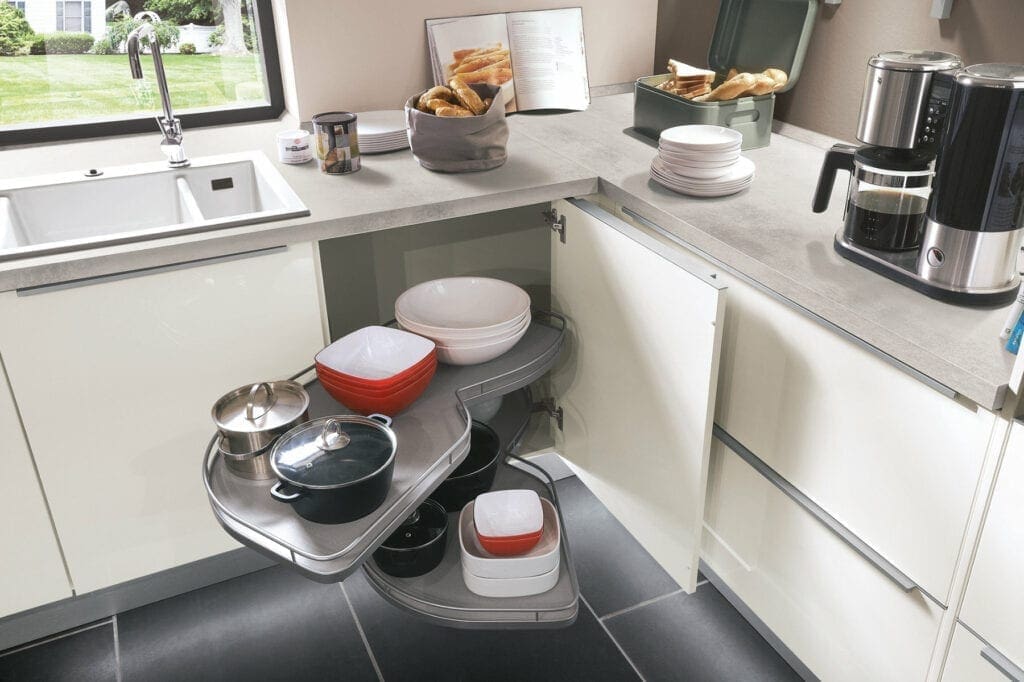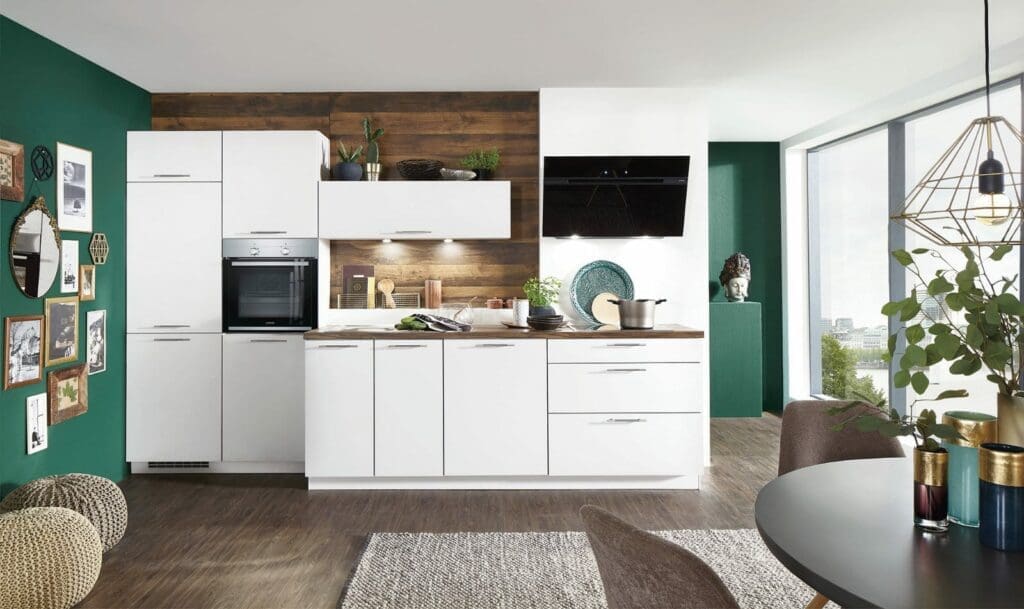 Colour For Small And Compact Kitchens
If you have already started looking for small kitchen ideas then you may well have noticed that small kitchens predominately feature light and neutral colour palettes, such as white, cream, light greys or pastel tones. This is because light tones work best for small kitchens because they enhance the feeling of space. This effect is even more apparent in gloss finishes which reflect light that hits their surface, so it bounces around the room, compared with matt surfaces that absorb it. The lighter and smoother the surface the greater the effect, and of course the more light available in the room, the better for this to work as well.
Dark colours for small kitchens
Whilst light colours are great for enhancing a feeling of space, dark kitchen colours will also work for small kitchens, if they are properly planned. Again, the amount of natural light a kitchen receives is an important factor for making dark colours work, and stylish features such as an open space, glazed ceiling or bifold doors go along way toward helping this!
For enclosed spaces lacking in natural light an effective technique is to include dark base cabinets with lighter toned wall units.  Eye level wall units draw the eye and create balance; this prevents the darker tones from overwhelming the space.  And with such a vast array of beautiful finishes available on the market this is also a great opportunity for creating impressive and stylish small kitchen designs.  You might also include mirrors which increase the perception of depth; Whether decorative mirrors, mirrored splashbacks, or glass cabinetry with a mirror-like effect, you can make clever use of mirrors to enhance the feeling of space.