As its name suggests, a U-shaped kitchen layout is comprised of 3 adjoining worktops at right angles to each other in the shape of a 'U.'  One of the most common kitchen layouts, there are many advantages of a U-shaped kitchen design. The most obvious benefit is the optimized use of valuable floor space, providing generous worktop and storage capacity.  A U-shaped kitchen also tends to be highly efficient since it ensures a quick and organised workflow. And when it comes to design, they can be flexible and highly versatile.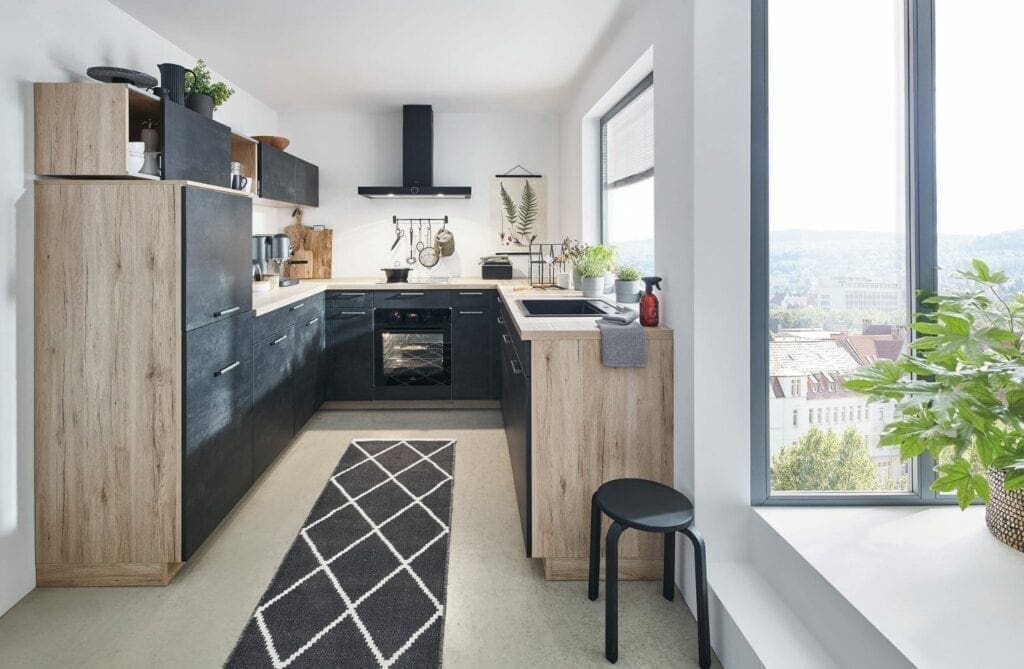 The U Shaped Kitchen Workflow
As mentioned, U-Shaped kitchens effect a highly efficient workflow for the kitchen user. They provide an excellent layout for the 'Working triangle' kitchen practice of citing the fridge, sink and oven in close proximity to one another to ensure the most efficient workflow, with least movement and effort on the part of the user.
In many U-shaped kitchens, the sink is cited under the window so the kitchen can benefit from maximum natural light, whilst at the same time the user can best enjoy their outside view. This is the base of the 'u', whilst the fridge and oven are cited on opposing sides. And in a scenario whereby one of the runs of units is longer, this is usually the best location for the ovens so that there is still adjacent worksurface for preparing food or sitting it down after taking it out of the oven, without having to cross the kitchen. In any case, every kitchen shape and size is different but the beauty of the u-shaped style is it affords a lot of flexibility for making best use of the space.
U-Shaped Kitchen Benefits
As U-shaped kitchens require a minimum of 1.5 metres clearance between opposing units, this is a layout better suited to medium and larger kitchen spaces. The requirement of an additional run makes the kitchen more expensive initially compared with smaller kitchens, but the extra units are very beneficial; as mentioned they create an efficient workflow, but cabinets surrounding you on all sides also equates to generous storage in all the right places. This includes the potential for corner storage such as a carousel, or le mans corners unit which reaches into the depth of the units at the corner to make full use of this space.
Finally, due to the generous worksurface in a U-shaped kitchen there is typically room for more than one person to cook at the same time without getting in each other's way. In open kitchen spaces there is also potential for a peninsula or breakfast bar offering additional kitchen seating.