There can be few additions to your home as evocative and classically stylish as a British made kitchen. Universally understood as an expression of solid craftsmanship, a British kitchen is practical, durable, and designed with typical British family life in mind. From a Sunday Roast to a last-minute dinner for your children's friends, British kitchen manufacturers design with your family foremost of mind And with a long and rich heritage, British kitchen manufacturers have truly mastered the art of blending a classic and enduring furniture look, with the very latest in kitchen technology and innovation. Buy British, and you know you are investing in quality, with some manufacturers even inviting clients on site to see where and how their kitchen is made. And compared to many European counterparts, another benefit of British kitchens is short lead times, with some kitchens taking as little as 7 days from order until completion of manufacture!
English-Made Kitchens
All our British made kitchens are manufactured in our 100,000 square foot facility in Wiltshire, by our team of over 100 skilled craftsmen and technicians. Utilising a blend of traditional skills with the latest in modern technology they produce the ultimate expression of British kitchen manufacturing. With our own specialist spraying facility we can finish your kitchen in any colour you desire.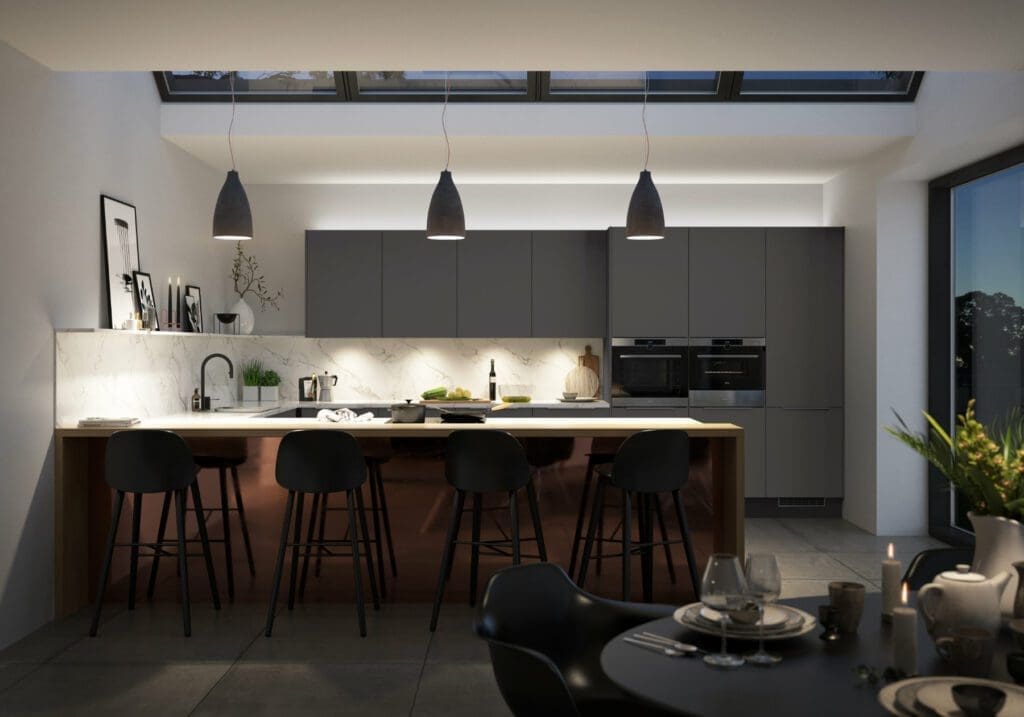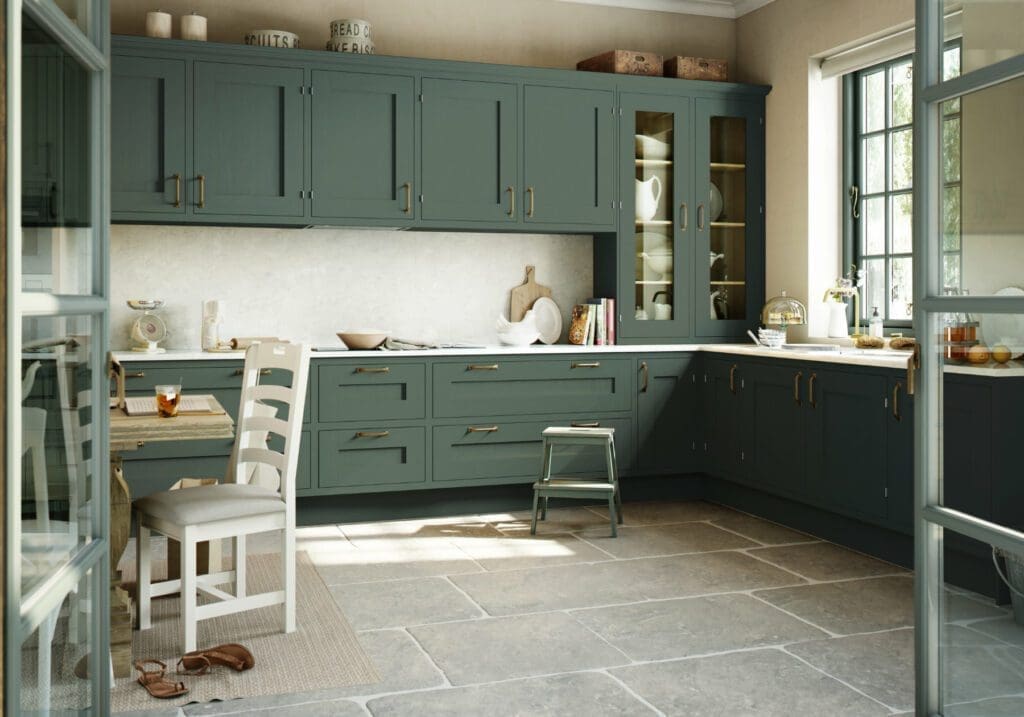 In-frame British kitchens
Our in-frame kitchens are constructed in the traditional British cabinet making practice of a solid frame construction with the door set into the frame. This style is available in a range of wood finishes, painted wood finishes, glazed featured doors and curves.
Creating an impressive and highly distinctive look for the home, in-frame British kitchen doors exude a true sense of solidity and refinement. Reflected in their nature, these doors are extremely durable, offering a kitchen that will stand the test of time for many years to come
English Shaker Kitchens
A Shaker style kitchen, made in Britain, is the quintessential fitment to an English Home. The Solid frame and veneered centre panel form the basis of this design language, be it painted, real wood, or moulded. However, from this starting point your chosen style can be highly personalised in a traditional, classic or contemporised style. For example, you might finish your shaker kitchen without traditional pilasters or engravings in the centre panel; instead, combine with a thin profile Dekton worktop and you'll find yourself with an elegant modern kitchen! Conversely, start with the same shaker door, engrave the centre panel, add some ornate handles, pilasters, a range style oven and a granite worktop, and you've created a style befitting a period home.
This is the beauty of a British shaker kitchen- the inherent flexibility the basic design affords. The art of successful design is to try and identify which of these permutations will congruously integrate with the style of your home and your personal tastes. The advantages of visiting a reputable kitchen designer are anchored in their expertise in solving such design challenges, benefitting from their years of expertise in harmoniously blending materials, finishes and details to perfect your style.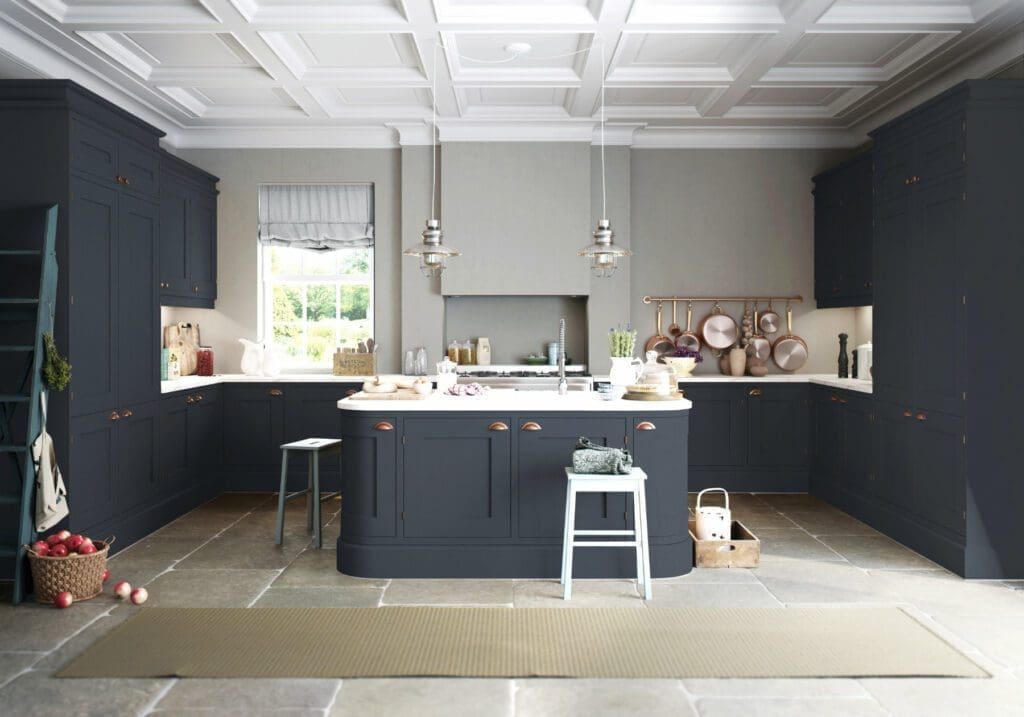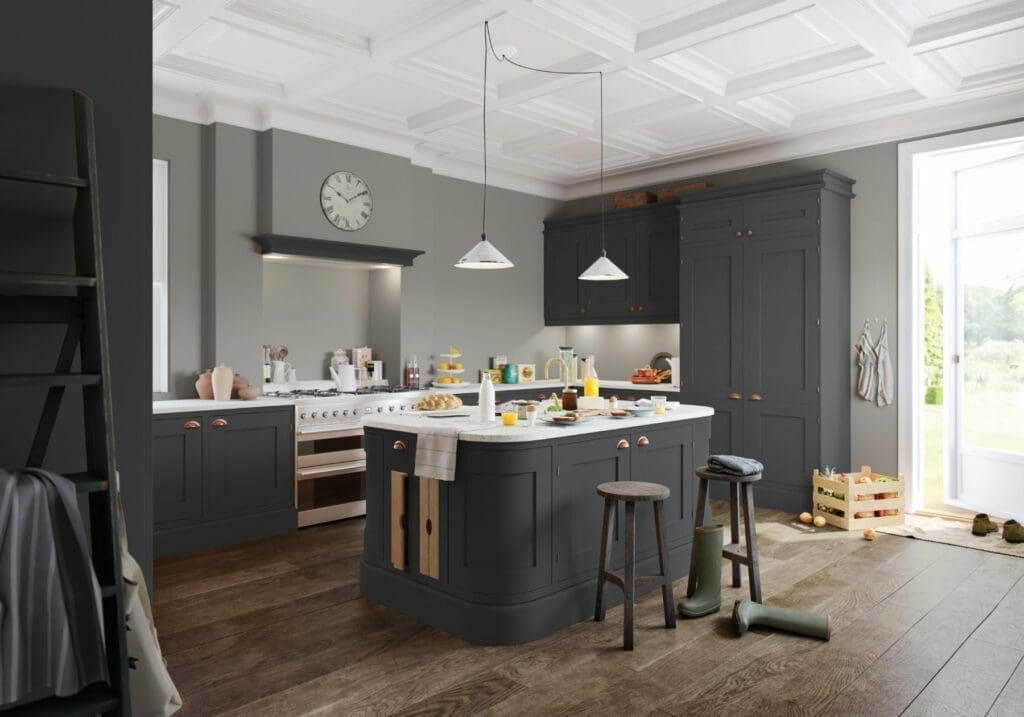 Colour palettes for British Kitchens
British kitchens often feature neutral colours, but not always. So, whilst you may think of creams, greys and pastels, it is also worth considering midnight blue, emerald green and even vibrant reds. How you compliment your chosen colour can make a huge difference to the overall scheme. The continuing trend for natural looking synthetic stone from brands such as Silestone and Caesarstone can be used with neutral colours to create subtle, warm spaces, or in contrast with bolder colours for more dramatic effect. Don't overlook your handle and splashback choices either; brass or copper handles matched to the same materials on the splashbacks can conjure the stylish atmosphere of an art deco lounge bar.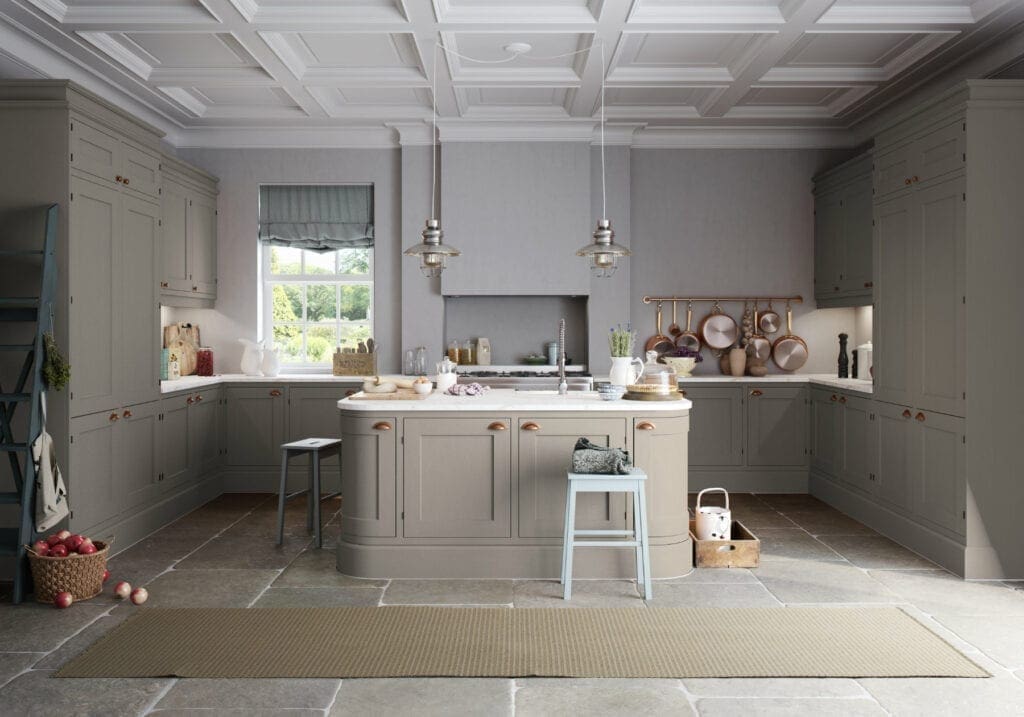 Modern British Kitchens
Not all British kitchens are classically styled in-frame or shaker kitchens. Our British made kitchens have a very wide range of contemporary finishes. Many of our ranges are available in our handleless system with flat doors, textured or stone finishes, or in a huge range of matt or gloss kitchen colours.
So, if you're looking for a modern British kitchen for your home, you've come to the right place where we can tailor the perfect look and style for you.