German kitchen manufacturers are skilled engineers with a true understanding of kitchen form, function, and consumer ergonomics; the 3 key ingredients for a successful kitchen design. Responsible for many household names across the globe, Germans have a reputation that precedes them as innovators of high quality, luxurious products.  It is the combination of skilled engineering, an appreciation of aesthetics, and the drive to continually improve, that has helped German designers become the leading manufacturers of luxury kitchens in Europe.
Why Are German Kitchen Designs So Successful?
When it comes to design, German kitchen engineers truly understand that their products must be designed for ease of use, whilst accommodating varying tastes, lifestyles, and needs. Versatility and adaptability are therefore essential. A winning example of this is the popular handleless kitchen finish. Originally invented by the German Siematic kitchen brand, the appeal of this popular style is its clean, sleek, and modern kitchen look, with smooth opening and closing of doors and drawers. Available in nearly every conceivable colour and finish, there is a handleless kitchen option to suit all tastes and budgets. Taking up less space, this style is also ideal for small kitchens, maximising space, whilst removing the possibility of bumping hips or catching clothing on handles. A perfect example of how German's design with purity, handleless doors remove the unnecessary, creating a sleeker, uncluttered kitchen finish all round.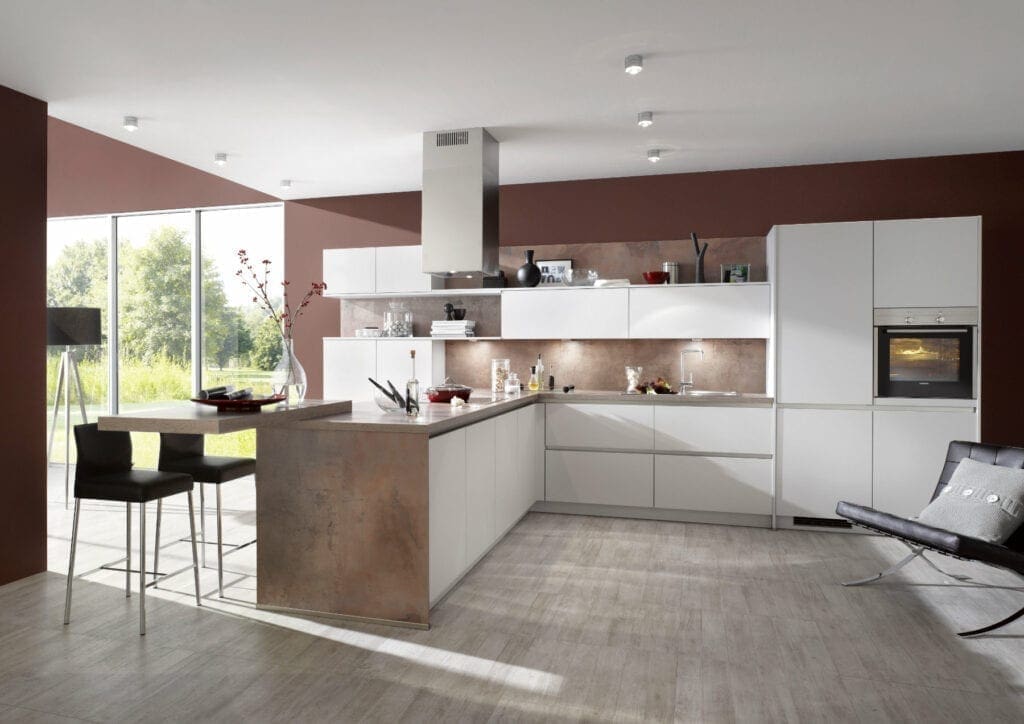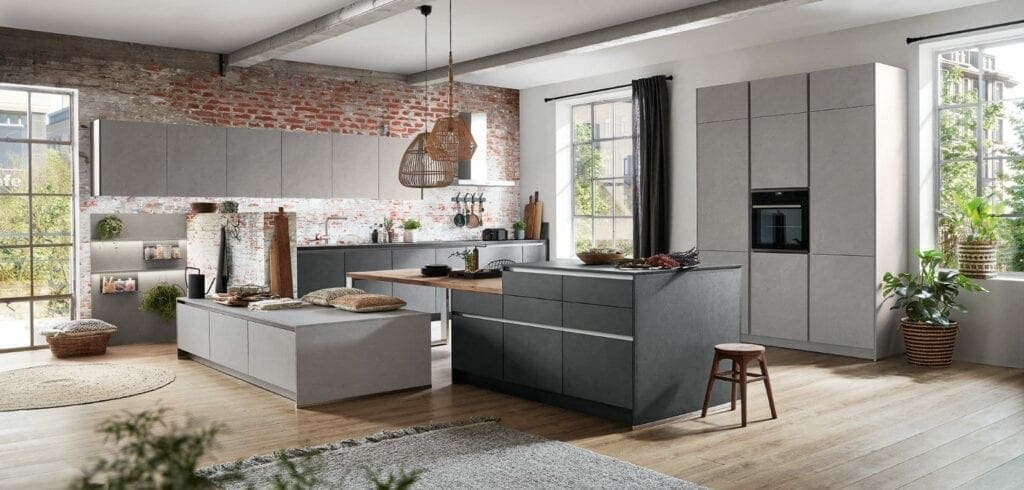 Expert German Kitchen Manufacture Processes
A further reason for the success of German kitchens is their capacity for manufacture, perfectly matching that of design. German kitchen furniture is usually machine-made using manufacture processes so well-honed they leave very little room for error. Of course, errors can occur (and usually human error) but the beauty of the efficient, tried and tested German systems are that in nearly all cases errors or faults are picked up and rectified before the furniture has even left the factory. It is because of such precise, thorough processes and attention to detail that you can be sure German kitchens reflect the quality of construction for which they are so well-reputed.
German Kitchen Manufacturers Believe in What They Do
The final reason for the success of German kitchens is their designers and engineers trust in their products, believing they can be the best, and sharing a drive to make them such. German engineers possess a comprehensive understanding of what people want and need for a kitchen, but coupled with this, is the motivation to excel far beyond meeting basic kitchen needs; Instead, engineering furniture and products that are increasingly accommodating and easy to use. This is why soft-close systems for door hinges are increasingly small, stronger and more concealed, much improved since the first models of the late 1960's. Similarly, Siemens didn't stop after producing their original coffee machine model. Despite it fulfilling its intended purpose of making coffee, this simply wasn't enough! Once this was achieved, there was a passion and will for a better version, a machine that could pour more than one cup at once, remember personalised preferences for coffee, and pour it in the quickest possible time.
There is a clear passion for design at play, a belief in their products, but also the drive for continuous improvement. Technological advances will only ever take place if there are people with the drive and will to make them happen, a trait which perfectly characterises German kitchen designers…They are the ones who make it happen!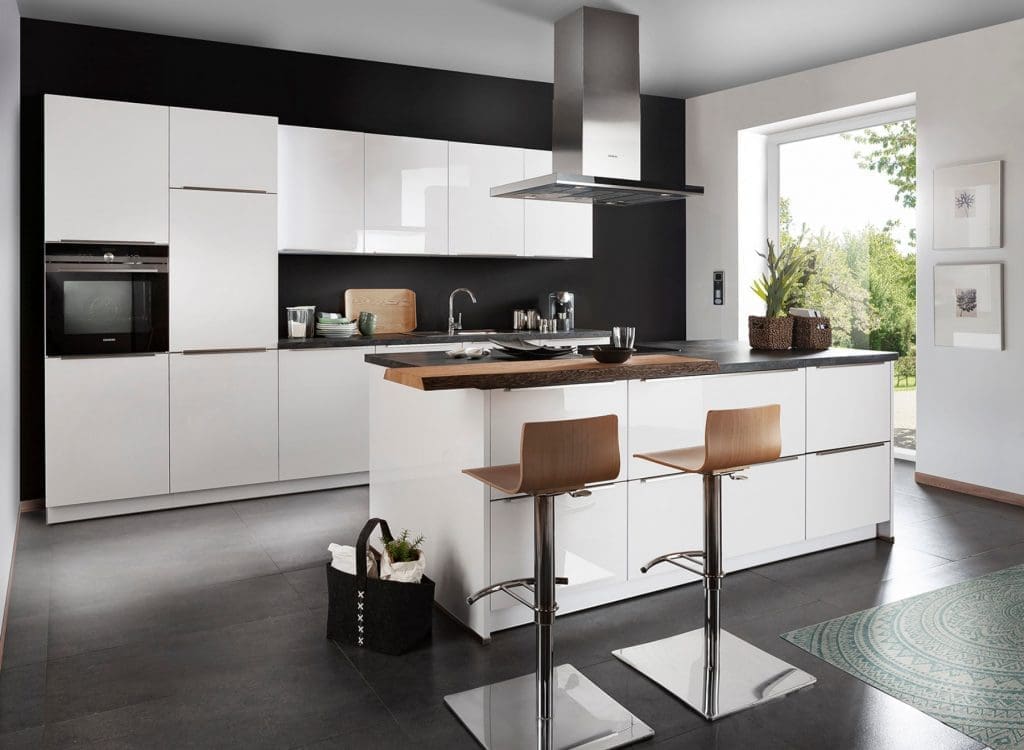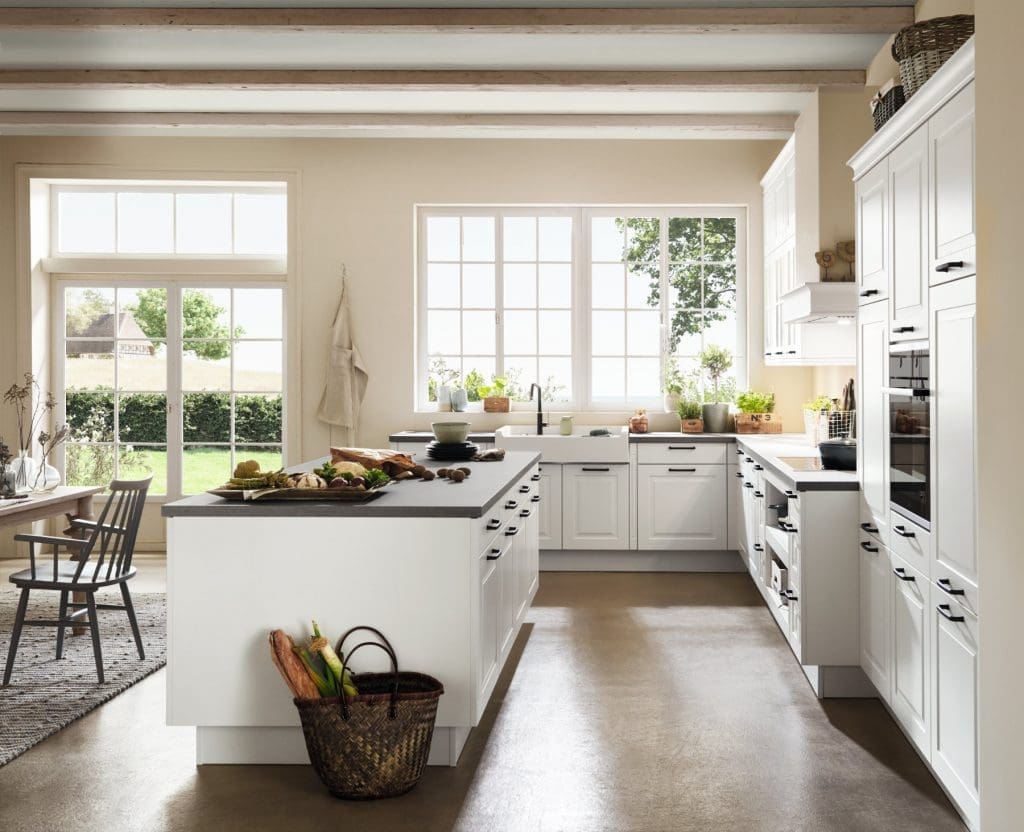 What Does This Mean For Your German Kitchen?
For one thing, it means options! Such drive for improvement, combined with passion for design and engineering, brings a multitude of kitchen furniture styles, colours, finishes, as well as the same within accessories and appliances. German kitchen engineers strive to provide choice, enabling consumers to decide for themselves how to meet their kitchen needs. So, whether your preference is traditional or modern, gloss or matt, there is certain to be a German product range that suits both your personal tastes, as well as needs. This also means reliable, dependable kitchen products, appealing in looks but also tried and tested so sure to withstand the test of time, including daily use, knocks and bumps. The high quality of construction is equal to the look of the kitchen, and it is this, that results in a luxury German kitchen product, ideal and desirable for the home.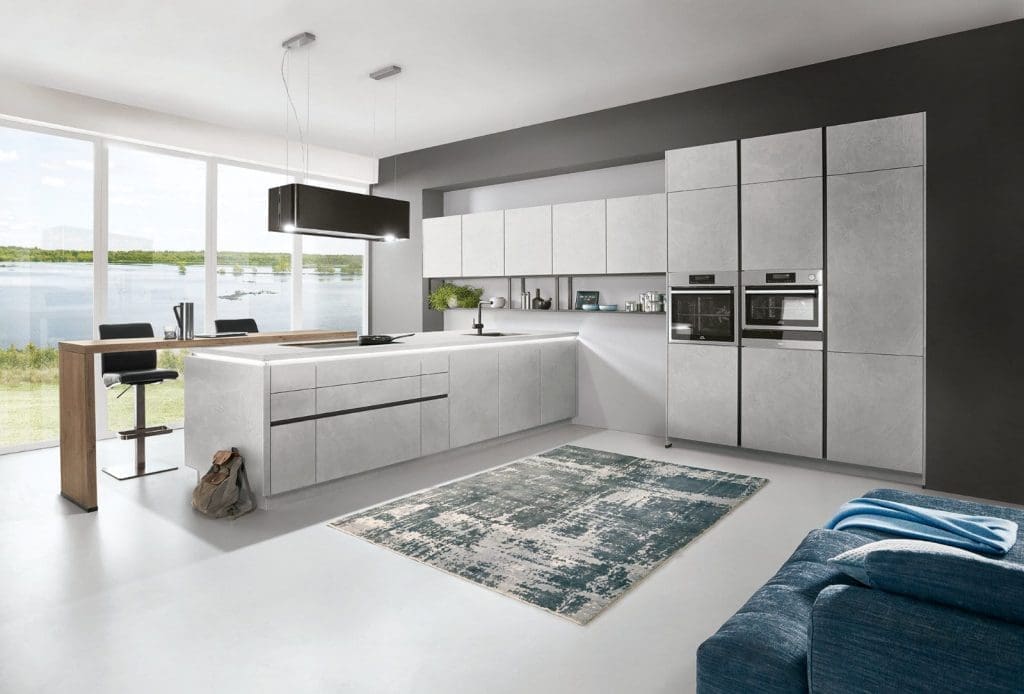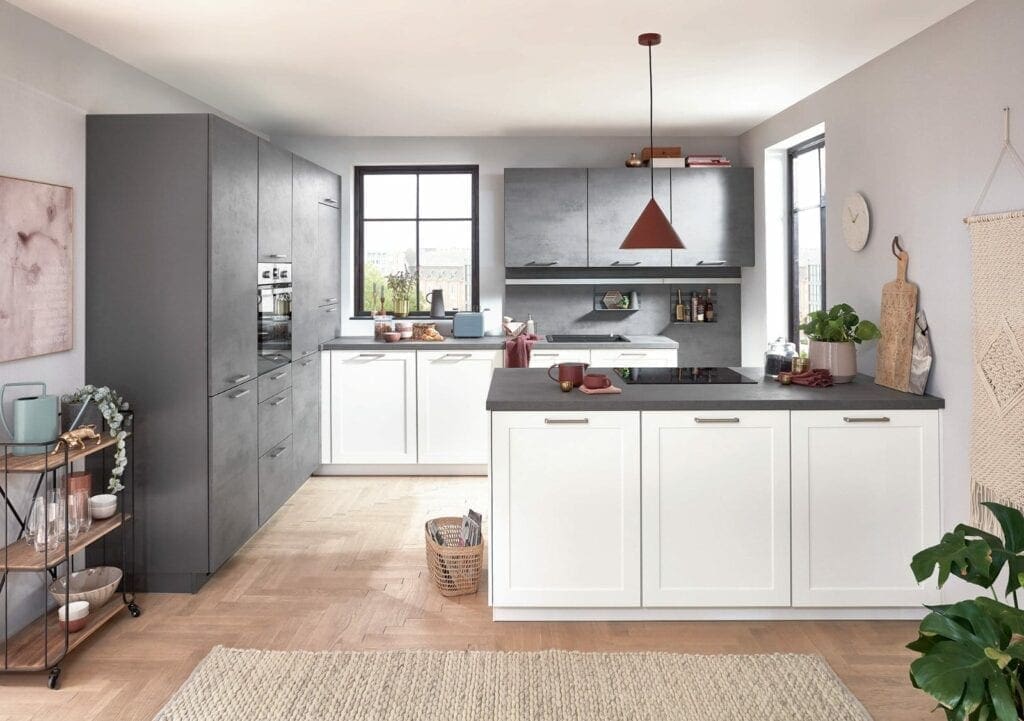 A Modern German Kitchen Look
This minimalist concept is apparent and influential within much of German kitchen engineering as it continues to evolve. In recent years furniture and appliance profiles have become increasingly slim and minimal, and can even be colour-matched for a seamless aesthetic. This is particularly key for multi-purpose kitchens used as much for entertaining, or helping with homework, as they are for cooking and dining. Similarly for open plan spaces, modern kitchens with minimalist features and concealed storage and appliances, help create a seamless flowing look from kitchen into the adjoining living space.
What Is A German Kitchen?
Most commonly this refers to kitchen cabinetry that is manufactured in Germany, usually in the North Rhine Westphalia state renowned for its kitchen manufacturing industry. It can also be used by some to refer to a design language associated with German Kitchens, I.e., this term tends to refer to streamlined and angular designs with standardisation of dimensions that combine to create aesthetically pleasing, modern styles. Most German kitchens offer bespoke products allowing for design flexibility and personalisation, though the extent of this varies significantly among different manufacturers.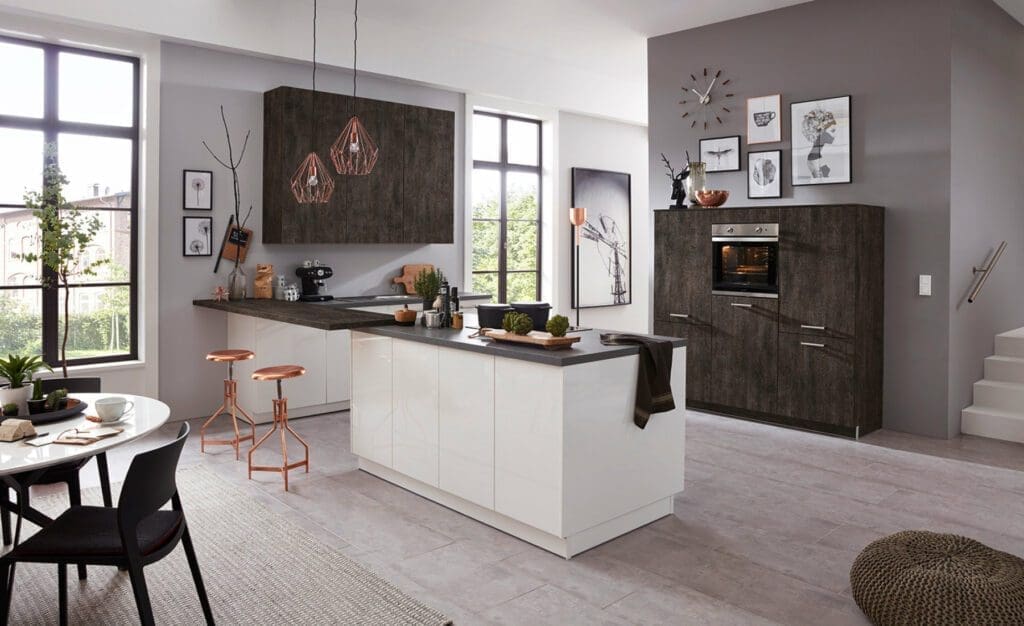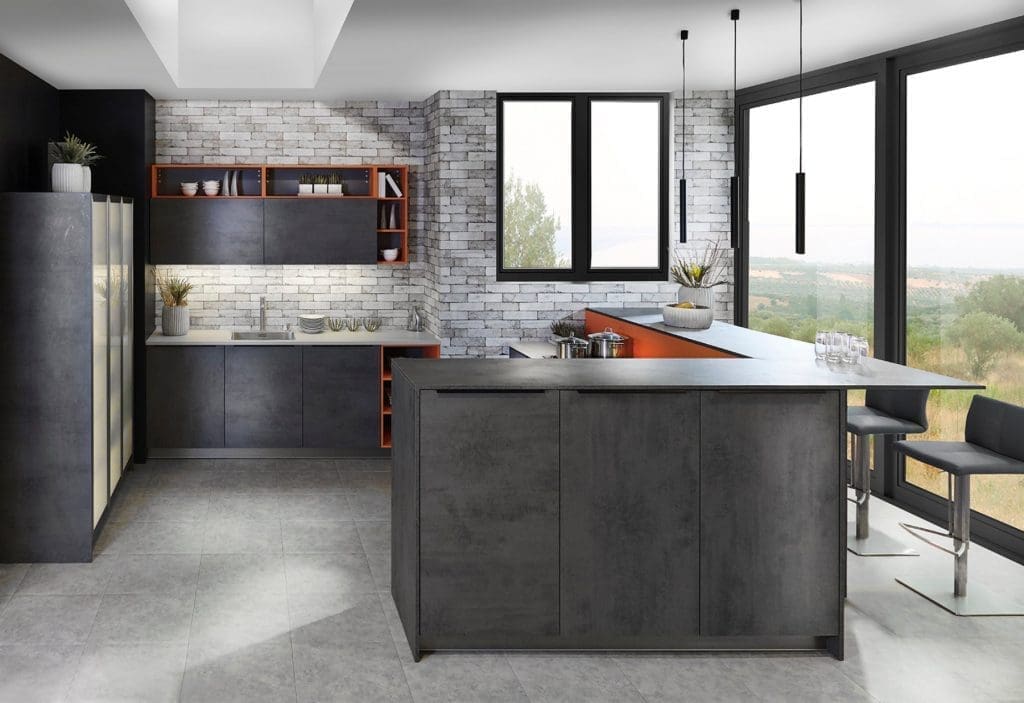 Are German Kitchens Good Quality?
Think of luxury products such as Mercedes, BMW or Audi and you will know that Germany has a world-renowned reputation for innovation and quality. German kitchens are no exception, although as there isn't a homogenous German kitchen product, there isn't a definitive yes or no answer to this question. It depends on the individual German kitchen manufacturer and the product range in question. That being said, The North Rhine Westphalia in Germany has become home to a world-renowned kitchen industry, based on a reputation for quality- so as a general rule of thumb, the answer would be yes.
Which Is The Best German Kitchen?
The better question is surely, which is the best German Kitchen for you. Especially renowned are brands such as Bulthaup and Poggenpohl- but it's no secret that their designs often come with six figure price tags. They offer luxury and highly bespoke kitchens using the finest of materials, but equally there are many intermediate German kitchen manufacturers who offer excellent choice and quality, and from whom you might get more for your money. It's also worth remembering that the furniture is only one part of your kitchen; the appliances, worktops and installation also make a huge difference when it comes style, functionality, – and of course – price too.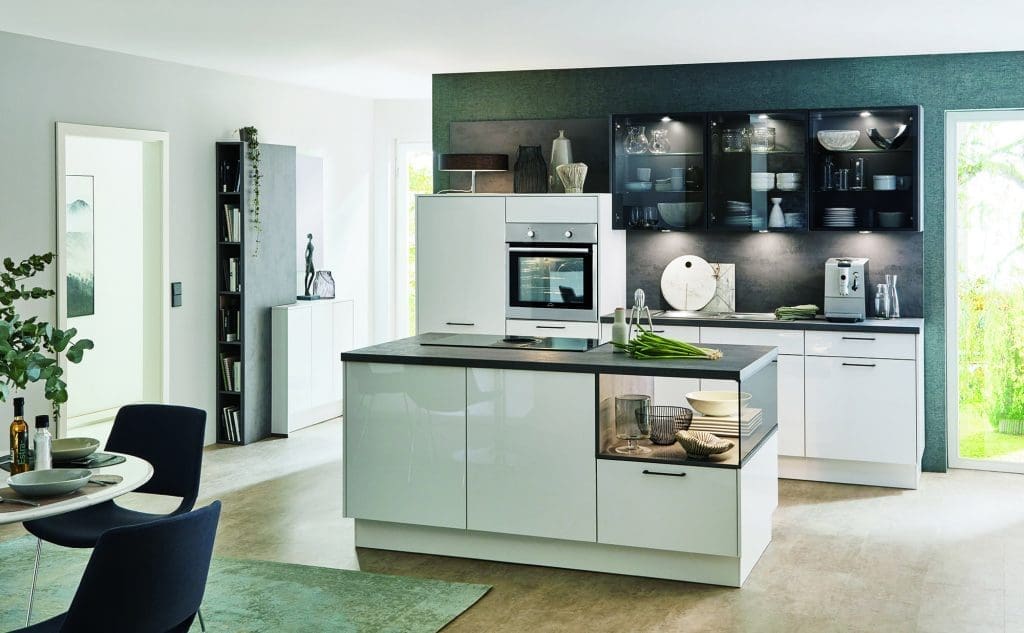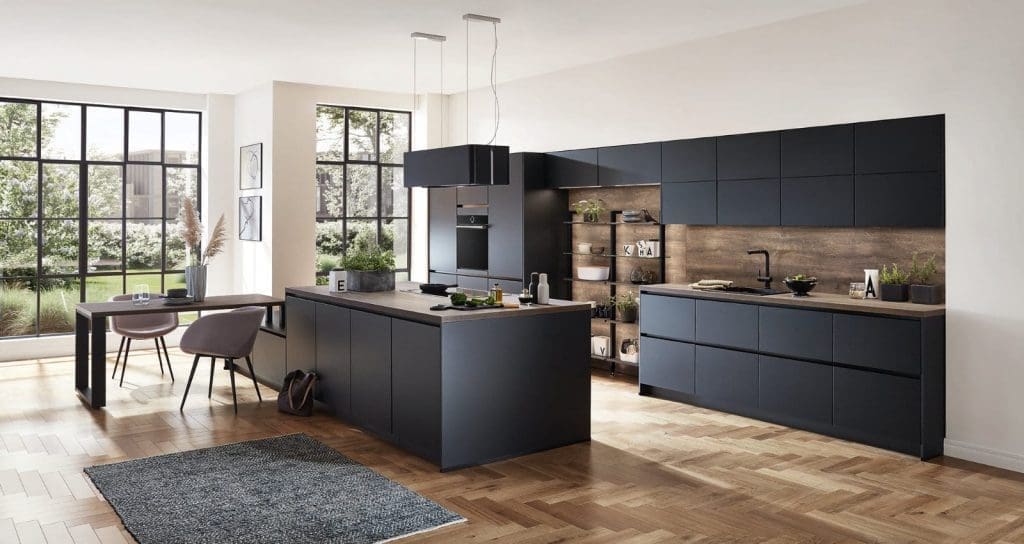 Are German Kitchens Expensive?
This depends entirely on your perspective and specification. Whilst the highest spec finishes of stone or wood veneers could be considered expensive, high-quality finishes are also available for a much small premium than you might expect compared with a budget kitchen. But there are two further considerations here; a quality product built to last may cost you less in the longer run than a cheap, poor-quality product that needs replacing a few years down the line. Secondly, German kitchens are almost always rigidly assembled, with holes predrilled for handles and shelves etc. This can significantly reduce the installation time required versus a flat pack kitchen unit.
Are German Kitchens Worth It?
If well bought- yes. And as with any sizeable investment it pays to do your research. A high-quality kitchen will last you years of enjoyable daily use, and potentially add value to your home. It's important to select the right retailer you are confident in to deliver your project to a high standard, that takes the time to understand your requirements and can produce a design that works for you emotionally as well as practically.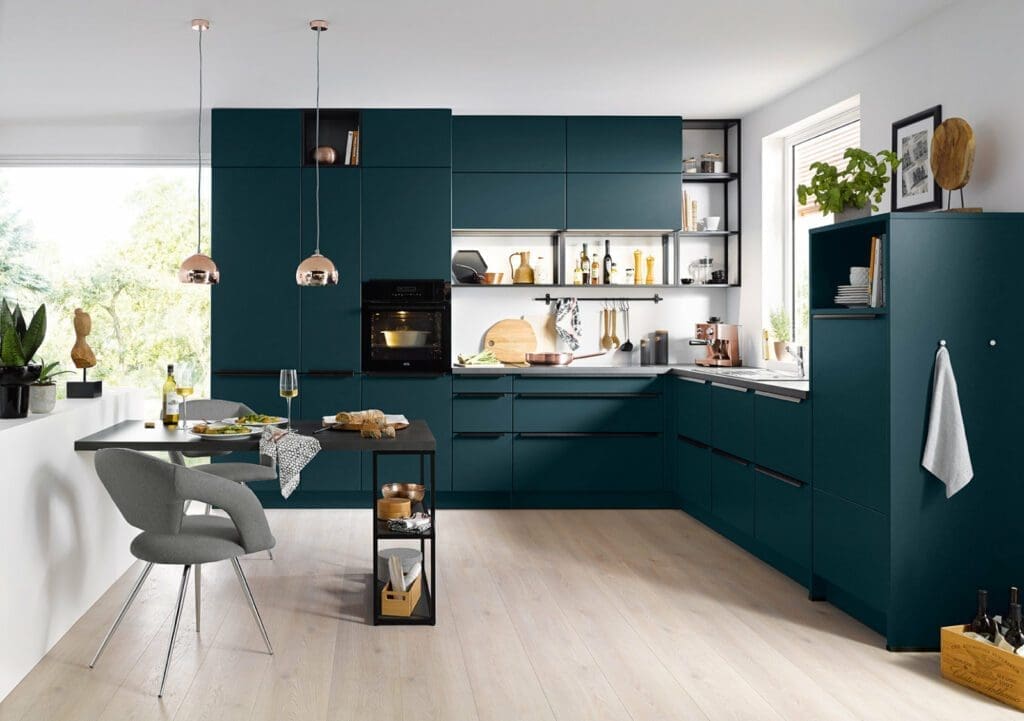 German Kitchen Pricing
When we talk about 'German Kitchen pricing' we are referring specifically to the cabinetry that is produced in Germany, but it is important to remember that kitchen cabinetry is just one element of the kitchen price. The appliances, work surfaces, splash backs, and associated trades such as tiling, plastering, painting, installation etc are all completely independent of this, and in summation, may form a larger part of your investment.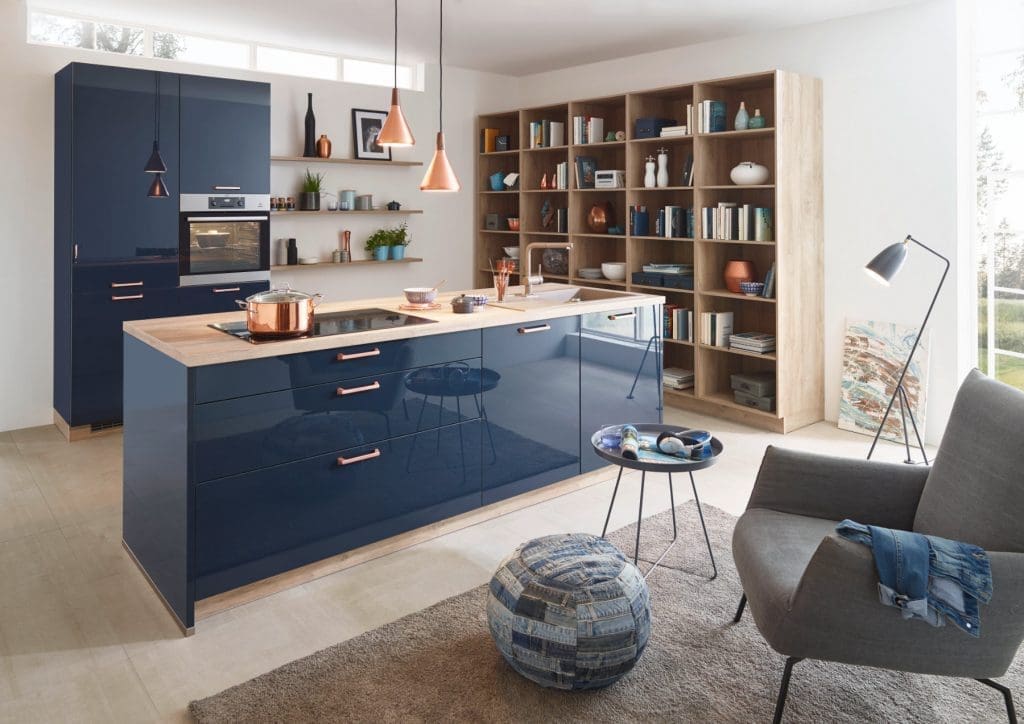 The Bigger The Kitchen, The Higher The Cost
The larger the number of units specified within your kitchen design, the higher the cost will be. But this also depends on the specification of your units as German kitchen prices can differ significantly depending on the materials and finishes you choose, for example a matt lacquer door is more expensive than a matt laminate kitchen finish. This means that even for the exact same layout and number of units, you're eventual spend can be hugely different.
What Makes Some Cabinets More Expensive Than Others?
Quality of the kitchen componentry such as drawer runners and drawer boxes
The number/ quality of internal mechanisms you specify within your design, such as larder pull-out units and kitchen corner unit solutions
The door finish; a real wood veneer door will cost more than an imitation door in wood effect laminate- and depending on the wood species, potentially a lot more.
Kitchen cupboards are less expensive than kitchen drawer units.
German handleless kitchen systems are usually more expensive than handled doors.
Wide pilasters and chunky end panels are more expensive than 16mm panels or visible carcass sides.
Glass fronts, internal drawers, servo driven openings, XL cabinetry sizes etc, can all add substantially to the cost.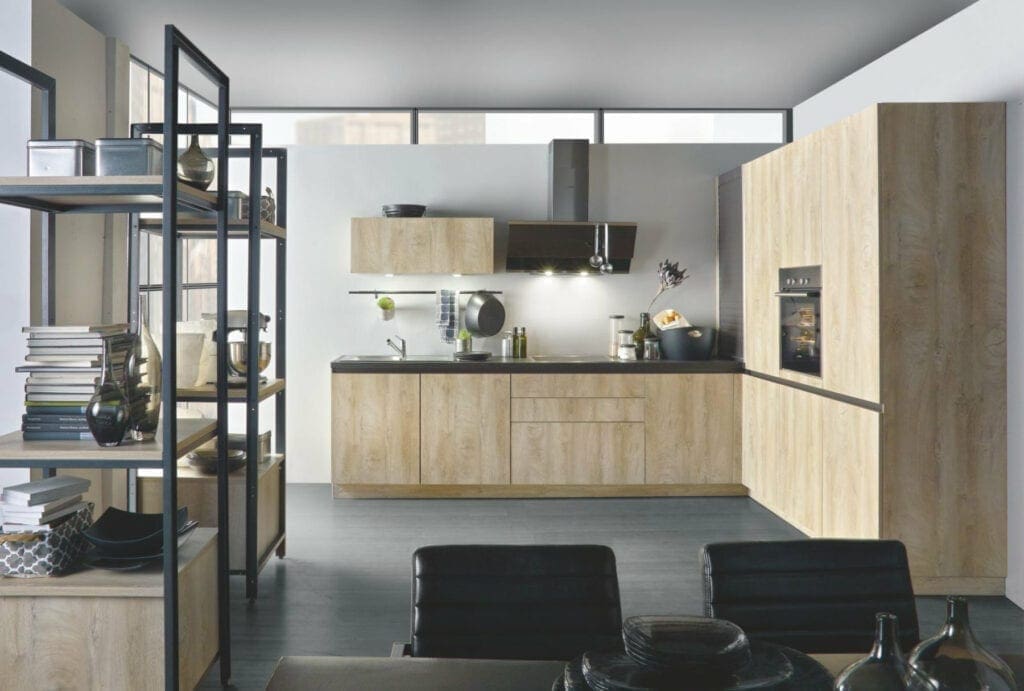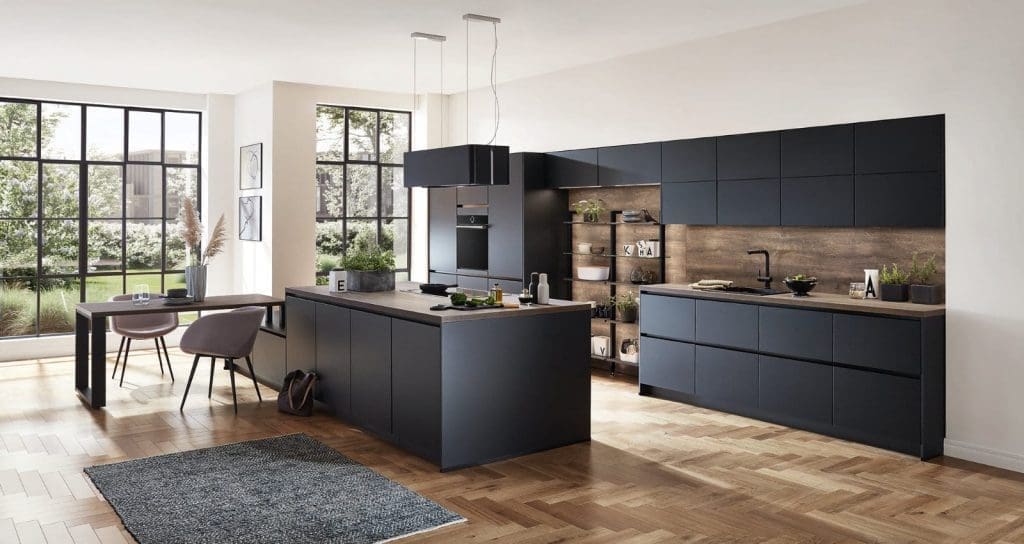 Ask A German Kitchen Pricing Expert
Beyond this, different manufacturers cater for different markets, in the same way Volkswagen and Porsche cater for different markets. If you want to know more on German kitchen pricing, our Kitchen Expert Partner has the skills and experience to guide you, offering an honest conversation about budget, project size and specification. This will help you develop a realistic understanding of your project costs before you even begin to develop a full design with them. Find a partner near you and start your new kitchen journey!