True Handleless Kitchens
For many years handleless kitchens have proved one of the most popular and enduring modern kitchen styles. The absence of handles on kitchen door fronts produces a clean and uncluttered look. And without a distracting handle, the beauty of the doors can truly stand out, becoming a feature in their own right. To this end, the variety of finishes within the handleless kitchen option has grown significantly over the years; so whether you like a gloss, matt, wood, or stone kitchen door, there is certain to be a handleless kitchen option to suit.
Unique and Inspired Handleless Kitchen Designs
There are many benefits to choosing a handleless kitchen design for your home. Firstly, the look they produce is sleek, stylish and modern, and as already mentioned the breadth of handleless style options allows for countless design variations and truly personalised kitchen designs. The door's lack of adornment means they can mix more easily with other styles compared with their handled counterparts, where a clash is more likely due to the look being busier. The simplicity of their design also results in a timeless quality, and a finish less likely to date with the passing of time.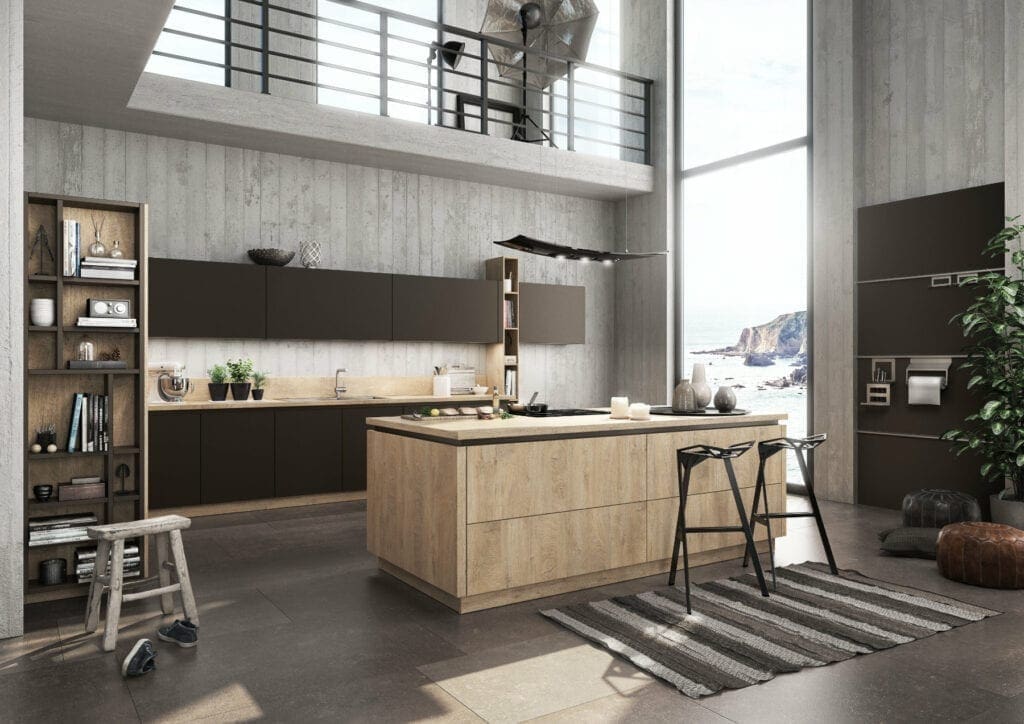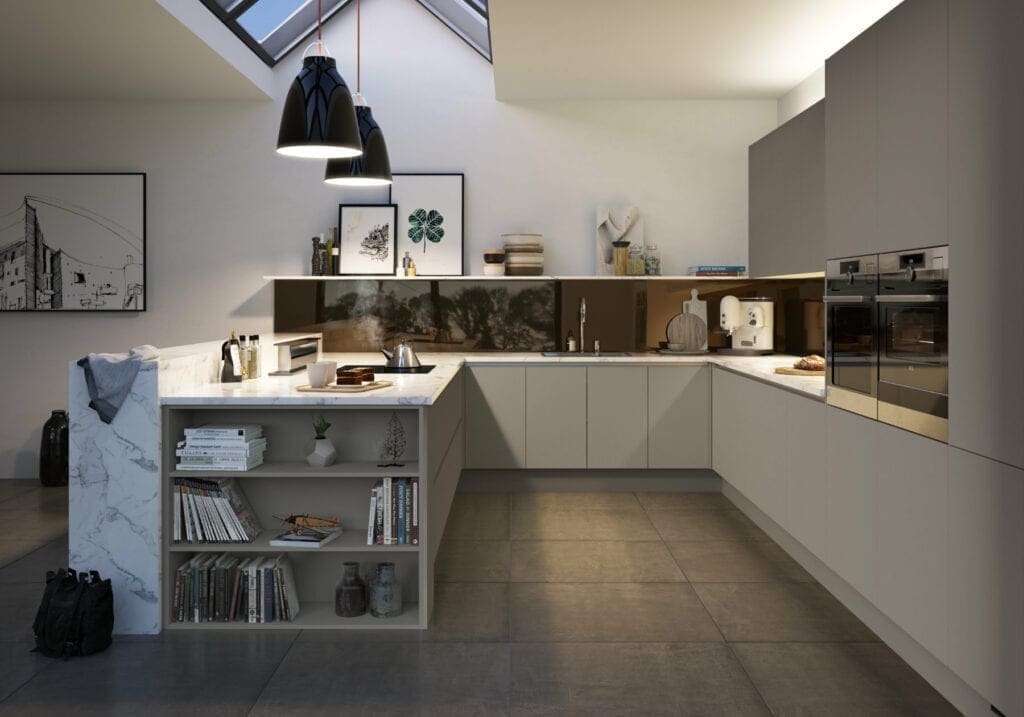 Unique and Inspired Handleless Kitchen Designs
When it comes to maintenance, handleless kitchens are far easier to clean, as there are no door handles present to gather dirt and dust. This absence also means you'll never snag your clothes when in a rush! For this reason they are usually the best option for smaller kitchens because they take up less space, making a kitchen look bigger and facilitating usability.
A Handleless kitchen means touching the door surface less frequently, opening it by curving your fingers round the top edge of the door and pulling it forward. Essentially this means you aren't touching the door's surface, reducing the likelihood of fingerprints on the gloss! Similarly, handleless kitchen base units can typically be nudged or even pushed shut with a knee or foot; they don't actually require touching the door, helping them stay clean for longer.
What is a True Handleless Kitchen?
There are many style variations that fall under the category of handleless kitchens. This includes kitchen doors known as the J-Pull or J-Groove handleless door where a 'J' shape curve appears at the top of the door for your fingers to curl around and open the door. But this is not considered a true handleless kitchen. Instead, a true handleless kitchen is formed when a continuous C-shaped channel- usually in stainless steel- is fitted within a pre-machined recess at the top of a run of units. This creates a uniform channel that is sleek, attractive, and easily accessible.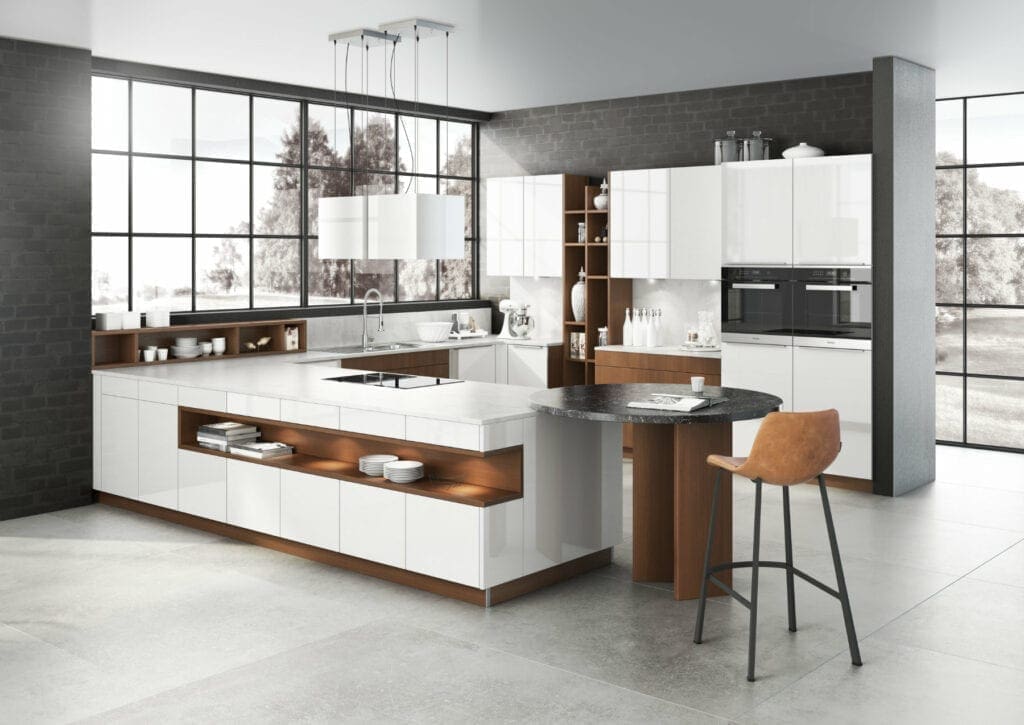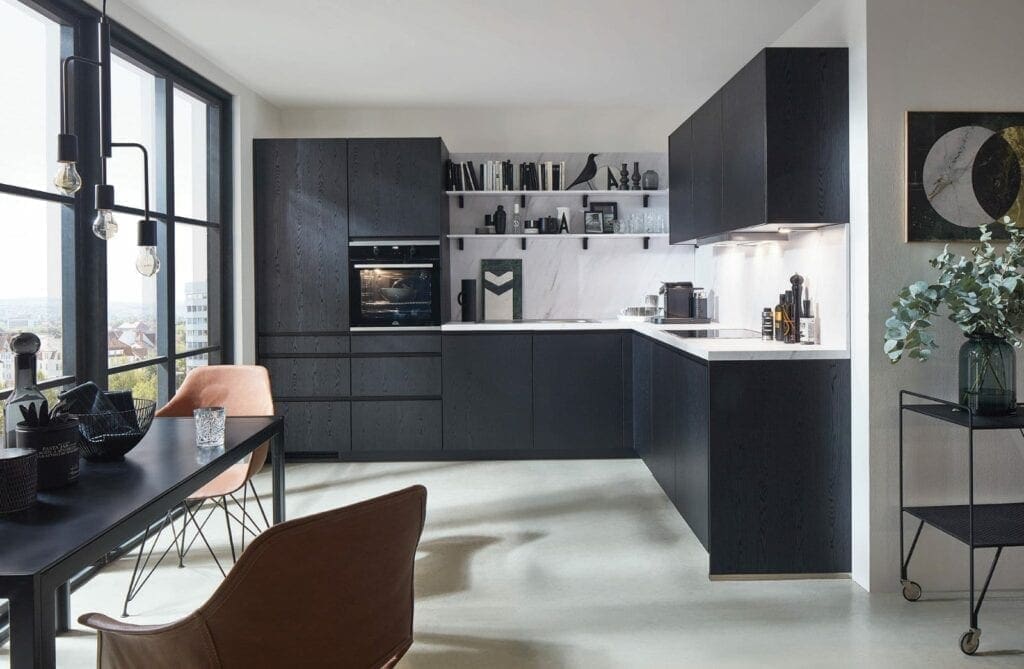 Vertical Channels for True Handleless Kitchens
What's more, in a true handleless kitchen the channel is available in a vertical option, as well as the more standard horizontal door and drawer openings. This is essential for appliance housing such as tall fridge-freezer units where a horizontal channel won't work. Instead, the vertical channel means you can continue your desired kitchen look, whilst the appliance is easily accessible to all family members regardless of height.
Find your nearest kitchen showroom to see the true handleless kitchen channel in action, and discover your favourite handleless style.
Handleless Kitchens Gallery