Where it was once separate kitchen and dining rooms that proved popular, in current times there is no kitchen layout more desirable than an open plan kitchen and living room space! Open plan living is perfect for modern busy lifestyles; People want stylish, comfortable spaces in which they can spend time with their family in different ways, be it a shared cooking experience with friends and family, one parent cooking whilst another helps with homework, or simply knowing you're in the same space whilst doing your own thing!
From quiet appliances to innovative storage solutions, modern kitchen technology allows for functional kitchens to give us everything we need, right when we need it in an open plan space; perfectly achieving this whilst complimenting the look and style we choose for our homes.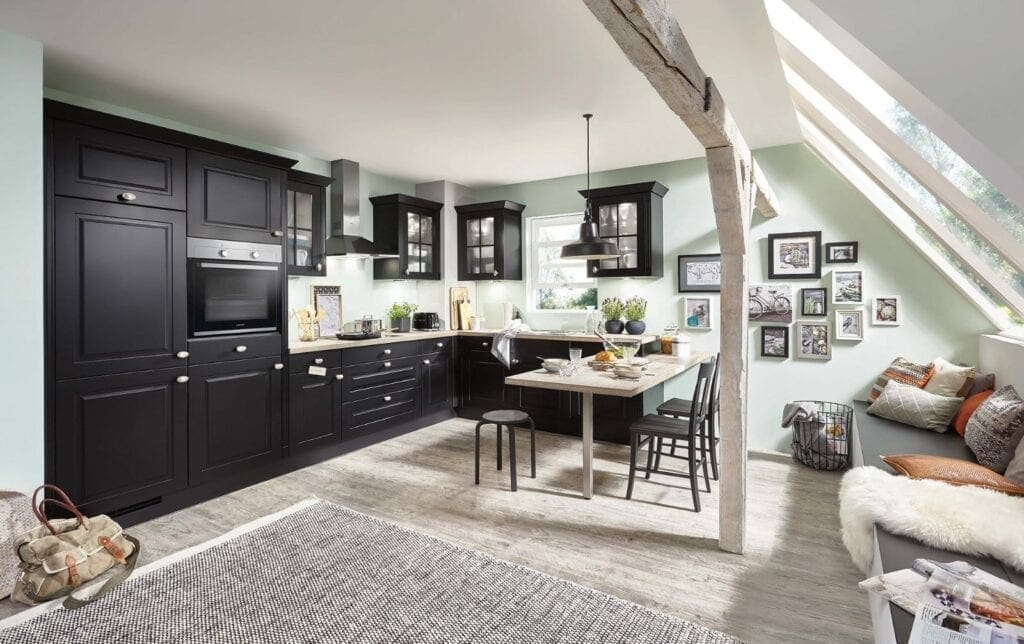 Open plan kitchen design benefits
One of the benefits of an open plan kitchen is that the open space typically affords greater design possibilities. For example, rather than a layout being pre-determined by your room size or shape, you may have more layout options open to you. This might include space for a kitchen island or peninsula to frame an L-shaped layout or enhance a single wall kitchen. Both options can prove highly effective in smaller kitchens for maximizing space and creating an efficient workflow. Islands and peninsulas are both beautiful statements within a kitchen but even more, they can provide additional worktop space, storage, and even extra seating for your setting- often removing the need for a separate dining table elsewhere.
Continue your kitchen theme in an open plan setting
When planning an open plan kitchen layout many people wish to continue their chosen furniture theme from kitchen into the adjoining living room space. To facilitate this, many kitchen furniture manufacturers have expanded their product range into complimentary living room furniture, or even bathroom furniture, helping you achieve a seamless, unified look.
Alternatively, you may wish to create a deliberate contrast between your kitchen and adjoining living room space, often referred to as Broken Plan Living. This can be done to stunning effect and there are many different ways of marking a distinction. For example, a room partition, split level, or different flooring or wall colours between kitchen and living room can all give a sense of separation, even within an open plan space.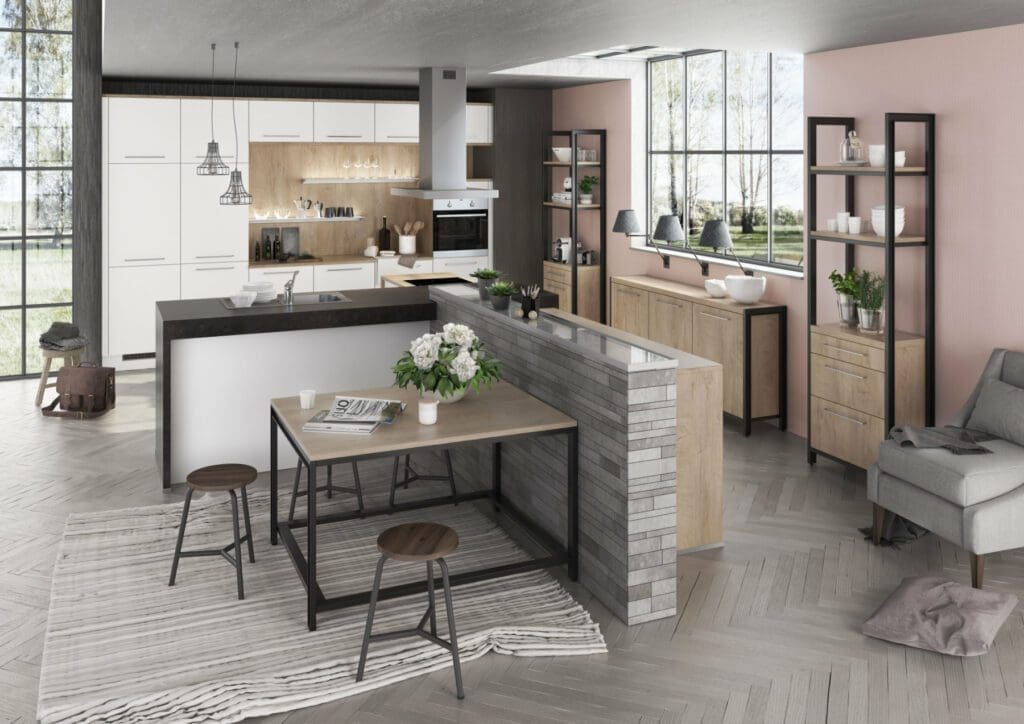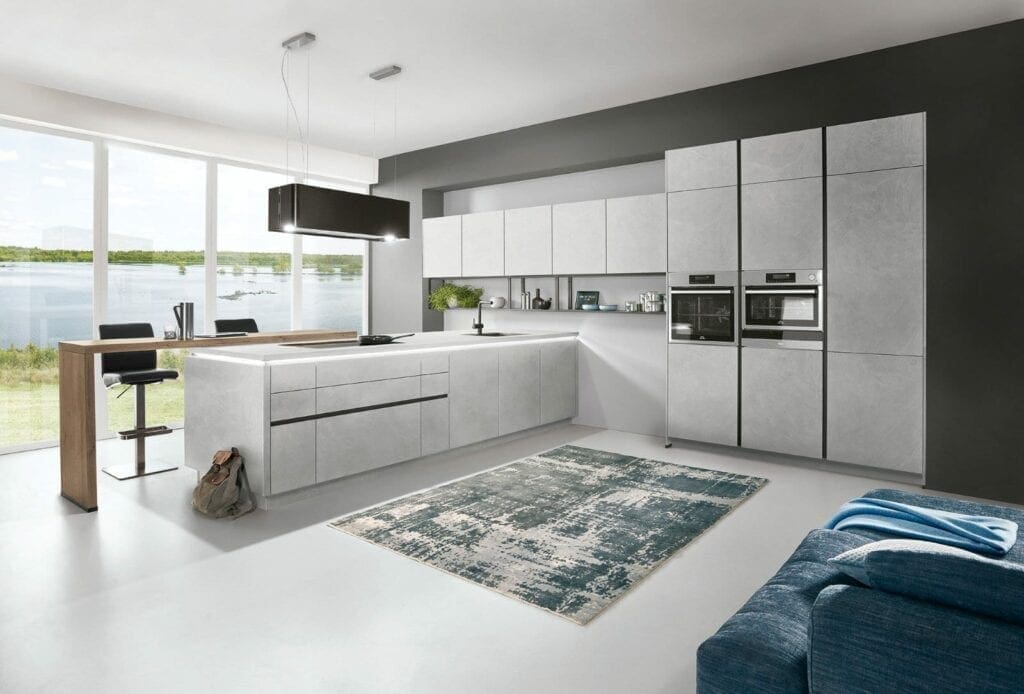 Appliances for Open Plan Kitchens
As the heart of the home, open plan kitchen spaces offer great flexibility for families, but this layout also means your kitchen will always be on show – something to bear in mind when designing your new space. For example, if you are planning an open plan kitchen layout you should consider kitchen appliances which reduce noise such as built-in appliances behind a door, which are quieter than free-standing models. There are many appliance models specifically designed to reduce noise– something to be grateful for if you're trying to work or watch your favourite tv programs at the same time as your partner is cooking! This includes boiling water taps rather than noisy kettles, quiet washing machines, and silent extractors that reduce noise, as well as cooking smells! Talk to a kitchen expert today and they can guide you through the appliance models best suited to your open plan space, as much as to your cooking habits.