There are many benefits to choosing a light coloured kitchen. Firstly, light coloured kitchens are one of the most popular kitchen styles, which in turn means there are a plethora of options to choose from with regards door colour, material, and finish. As well as light colours such as white, light greys taupe or pale blue, there are also many beautiful light doors in textured finishes such as light wood, stone or ceramic.
Light colours create bright kitchen spaces
Light coloured kitchens will often make a space feel fresher, lighter and brighter compared with darker kitchen schemes. This is especially significant for small kitchens where space maximising is usually key to the design brief. The lighter the door colour, the more apparent this effect. And it is accentuated even further in high gloss kitchen doors, such as high gloss white. This reflects the light that hits its surface back across the room creating a look and feel of more space.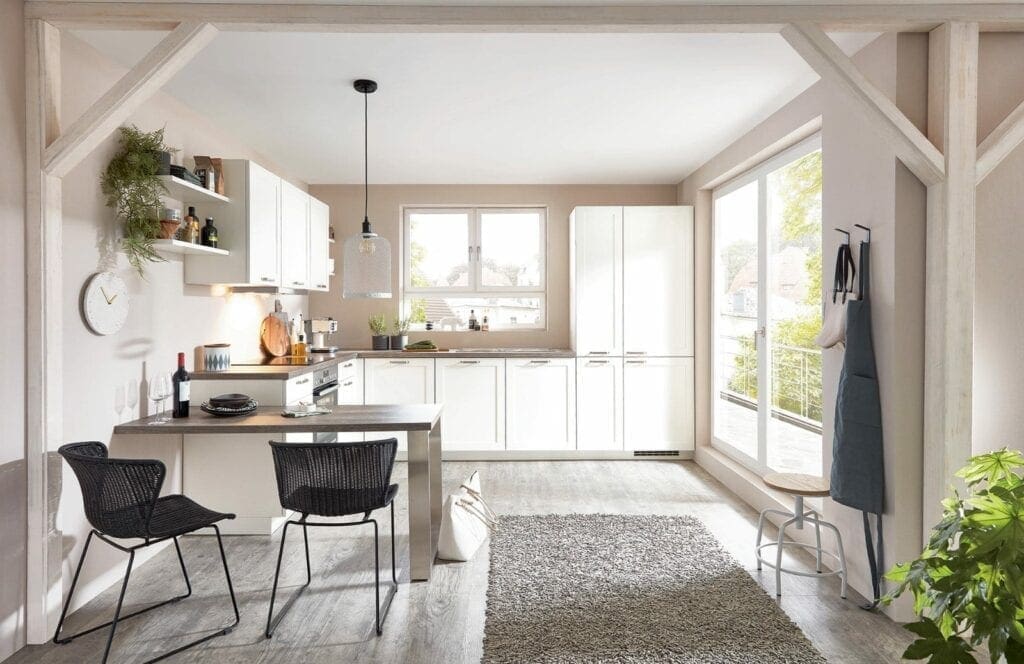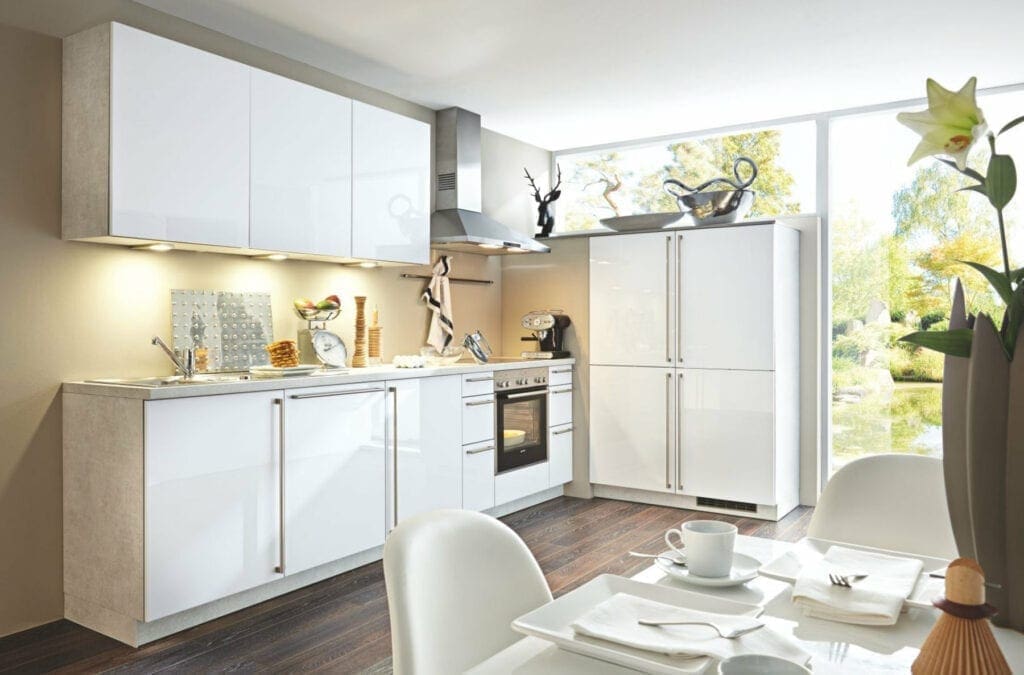 Styling Light Coloured Kitchens
Light colour kitchens are also popular because they often prove easier to style than darker kitchen tones, and can be less likely to date than bolder styles. They also hold mainstream appeal, and this makes lighter-toned kitchens a great choice if you know you're not in your forever home. They are far more likely to appeal to a future buyer compared with a more stylised or extreme kitchen choice.
Light Kitchen Finish Options
Light kitchens are sometimes referred to as a safer choice but if that's the case, safe certainly doesn't mean boring! The breadth of choice when it comes to light kitchen doors makes for a wealth of exciting design opportunities. For example, a matt white kitchen door will often be offered in a choice of 4 or 5 different shades of white, as well as finishes in laminate, laser, lacquer and more, with each combination producing a different overall look from the next. What's more lighter kitchen colours tend to be versatile by nature, allowing you to layer different combinations of tone and texture as you build your ideal kitchen look. This might be subtle kitchen contrasts, such as a beautiful Carrara worktop vein, or else a bolder contrast such as monochrome, finished in dark wood or stone.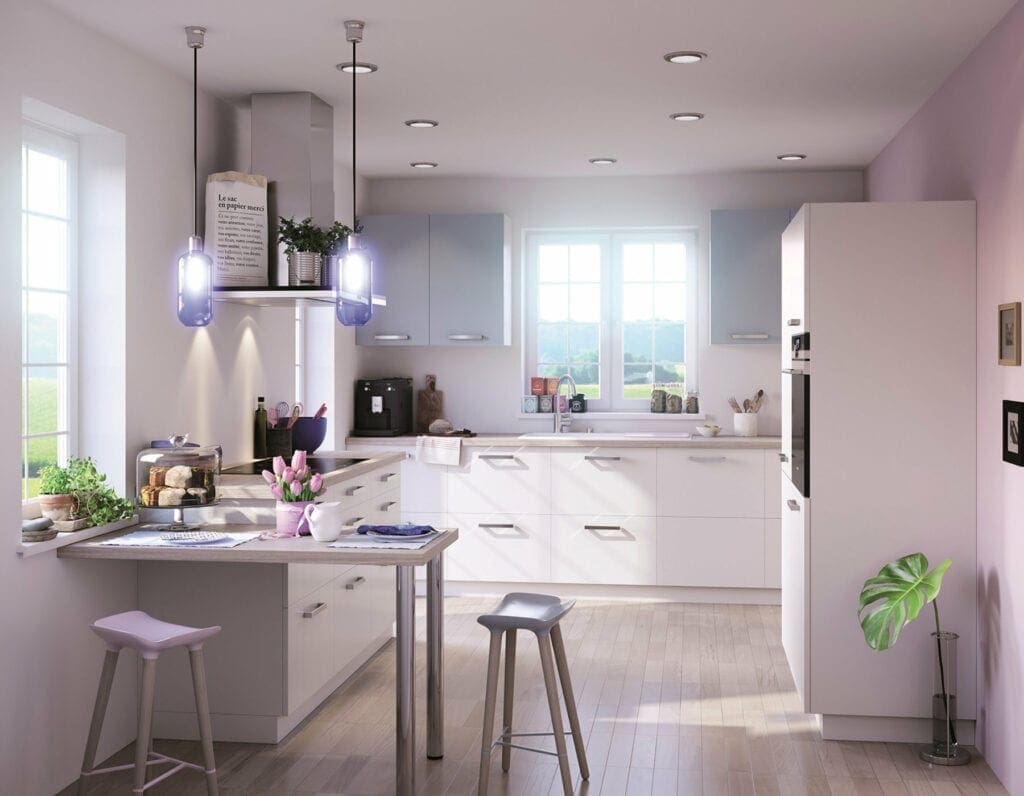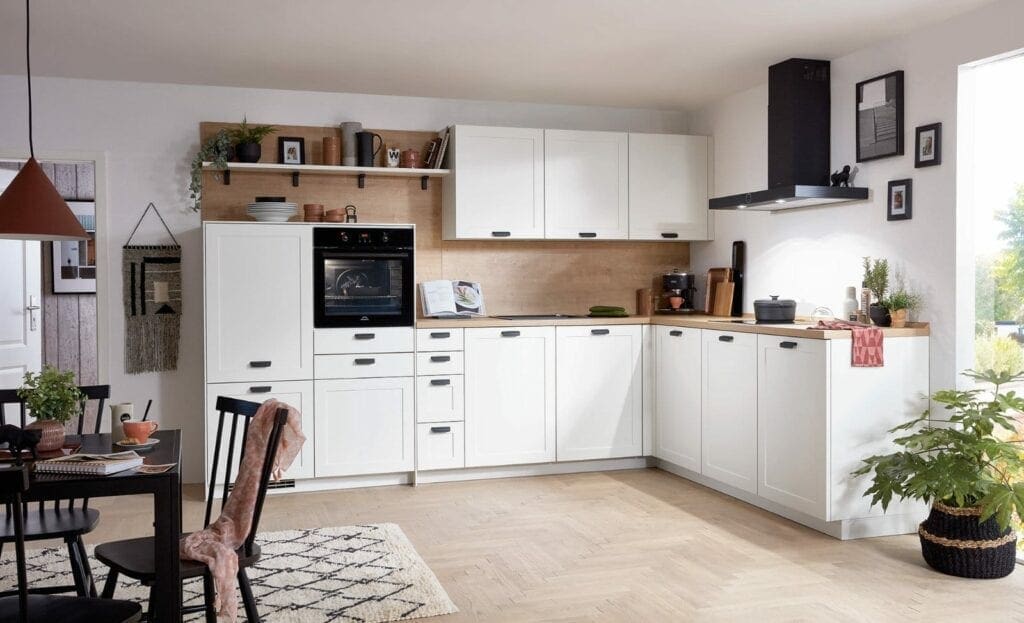 Light Kitchen Trends
There are many popular kitchen trends focused on light kitchen colours. For example, modern kitchen styles often feature light kitchen colours which emphasise their clean lines, creating a minimalist look. Similarly, the popular Scandi kitchen Theme is based entirely on light kitchen colours, layering them with accents of warm wood tones and soft, inviting textures. And there's nothing quite like a White Shaker kitchen, with a clean white tone perfect for highlighting the purity of this distinctive and timeless kitchen style!
To find the perfect light kitchen tone for you contact your nearest kitchen dealer today.
Light Coloured Kitchens Gallery