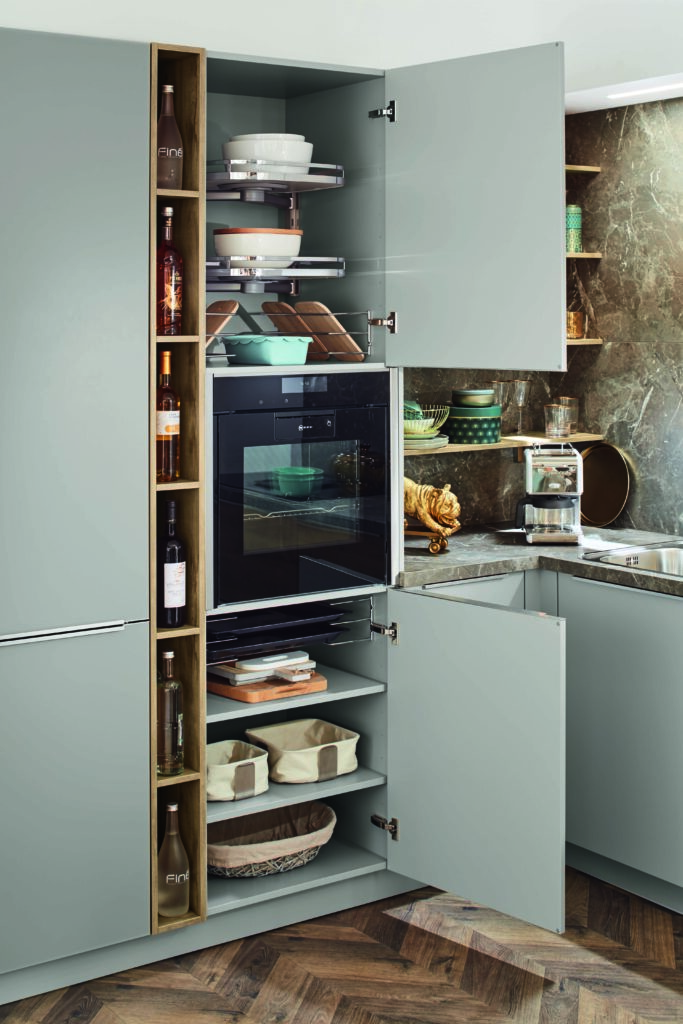 Choosing Your Kitchen Colour Scheme
The kitchen colour scheme you choose including the choice of paint for the walls, the colour of kitchen cabinetry, worktops and flooring are all vitally important because colour defines whether a kitchen will 'work' and impacts dramatically on a kitchen's 'mood' or ambience. We appreciate that not everyone has a blank canvas to start from when designing a kitchen and there are other factors that influence kitchen colour and style choice, including the following: –
Your home's theme: There may a natural inclination to retain a house's existing style, for example in a period property such as a Georgian or Victorian house you may find it is better to continue the traditional theme rather than opt for something more contemporary.
Kitchen light source: The amount of natural light a room receives usually influences a kitchen colour scheme, for example lighter colours are advisable for a poorly lit room as they help make the room feel larger and brighter.
Which way your room faces: Colour schemes can look stunning in one room but fail completely in another and this is not just down to the quantity but the quality of light and this differs depending on whether you have a North, South, East or West facing room! Light quality affects how we see the colour and so different light qualities change how it appears to us. This in turn affects the tone or mood of the room. North facing rooms generally have a limited but consistent light so how the colour's visual appearance won't change as the day progresses. South facing rooms usually receive lots of light so will be consistently bright. East facing rooms receive morning light but lose this as the day progresses and west facing rooms will receive light in the afternoon but not morning and so the perception of colour can change throughout the day.
Colour undertones: A colour undertone is not the colour you immediately see but a subtle characteristic often only apparent when different colours are combined. If the undertones clash rather than harmonise this can cause kitchen colour schemes to fail. Colours such as purple, blue, grey, and brown have cool colour tones whereas red, orange, yellow and green are warm colour tones. Should you have a south-facing kitchen which receives a lot of natural sunlight then warm or cool undertones should work but if not, then warm colour tones are best as they will prevent your room from feeling dark or cold.
So, choosing a kitchen colour scheme carefully is essential for ensuring it will work, as well as for setting the tone of the room.
Fortunately, there are some general colour principles you can follow which help determine the effect different colours will have on a room, and these are as follows:-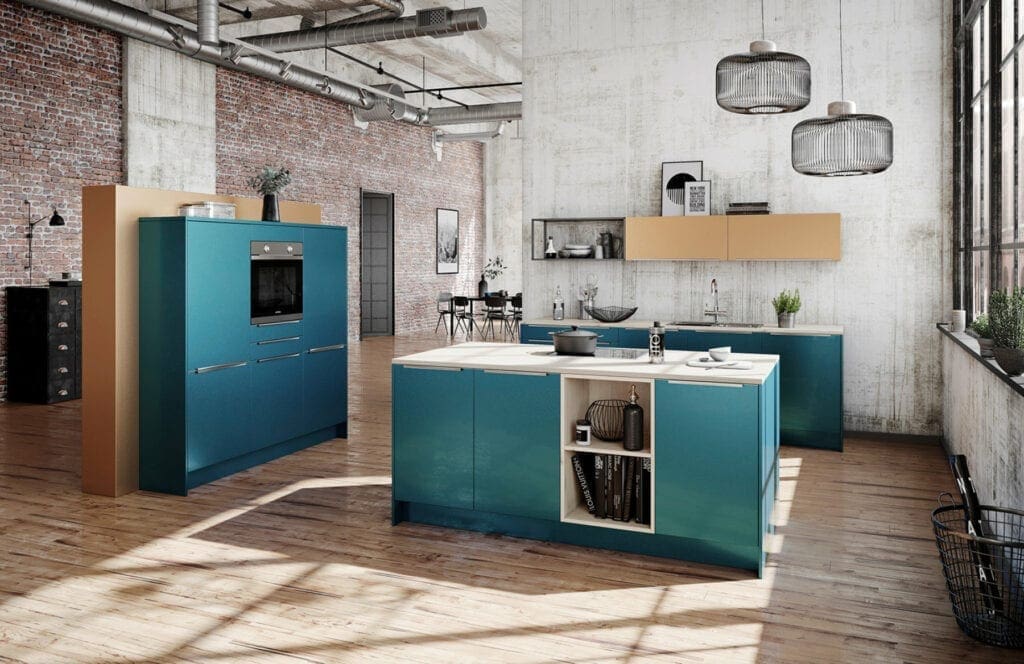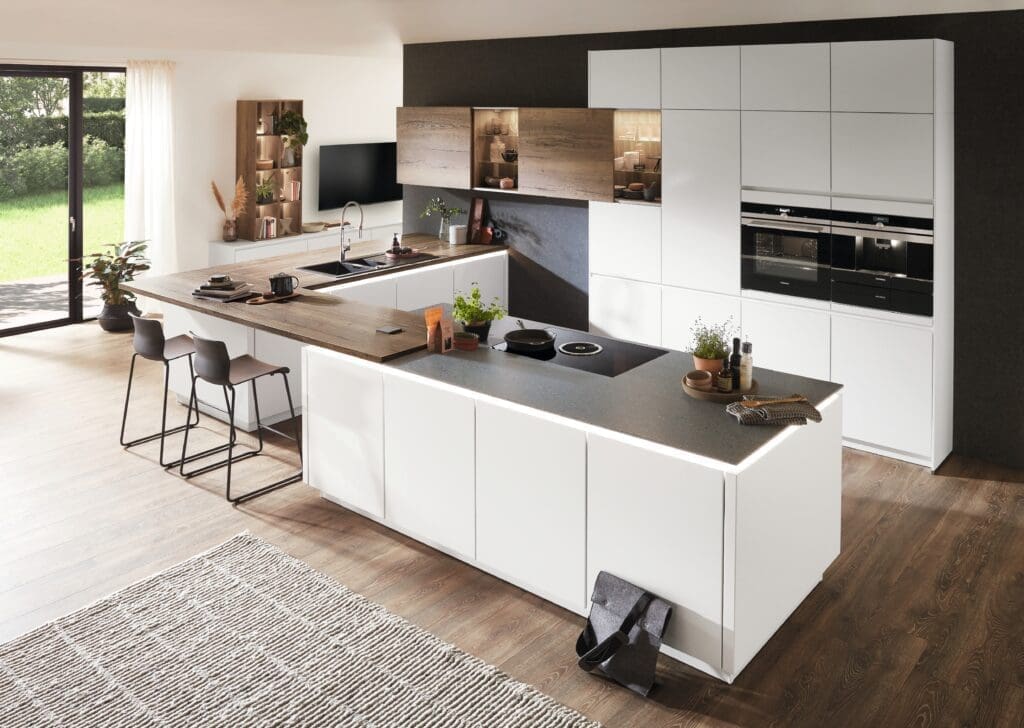 White Kitchen Colour Schemes
Even with the availability of so many beautiful kitchen colours, white still reigns as the most popular colour choice for a kitchen! Associated with purity, white appeals for its fresh, clean, and elegant look. It is also a colour that works for any room size and makes a great choice for small kitchen spaces where (particularly in a gloss finish) it will give a sense of the kitchen being larger and brighter than it really is.
White kitchens form the basis of many popular kitchen styles, whether a classic white shaker, white Scandi kitchen, or else an ultra-contemporary, minimalist white kitchen. But what's more, white kitchens are also very versatile so can easily be paired with contrasting colours and finishes in two tone designs, giving much scope for developing a truly personalised kitchen look. White is also available in different shades of white, ranging from cooler, sharper white tones which are ideal for sleek and contemporary kitchen designs, or else whites with pink or cream undertones which appear warmer and create a much softer kitchen look.
Cream Kitchens
Like white, cream is a very calming colour and also very versatile. It can be used to create stylish, modern kitchens but is also ideal for more traditional kitchens, generating a sanctuary-like, safe feel that is homely and comfortable. Particularly for families where the kitchen very often becomes the heart of the home, people intend it to feel homely, welcoming and a sociable place for gathering. Cream kitchens are perfect for this kind of ambience, particularly in combination with the warm wood tones of a more traditional shaker style kitchen.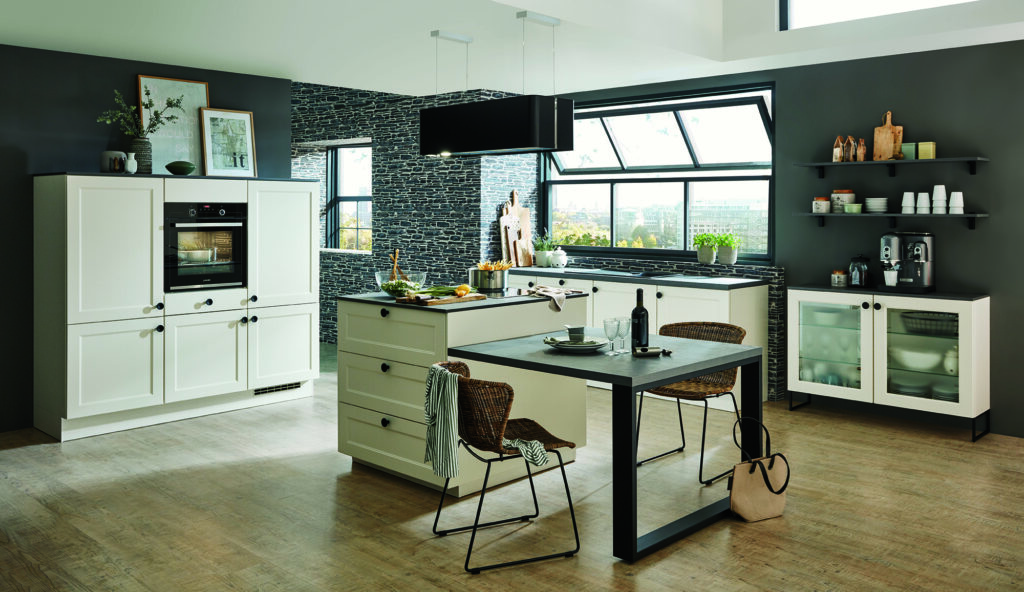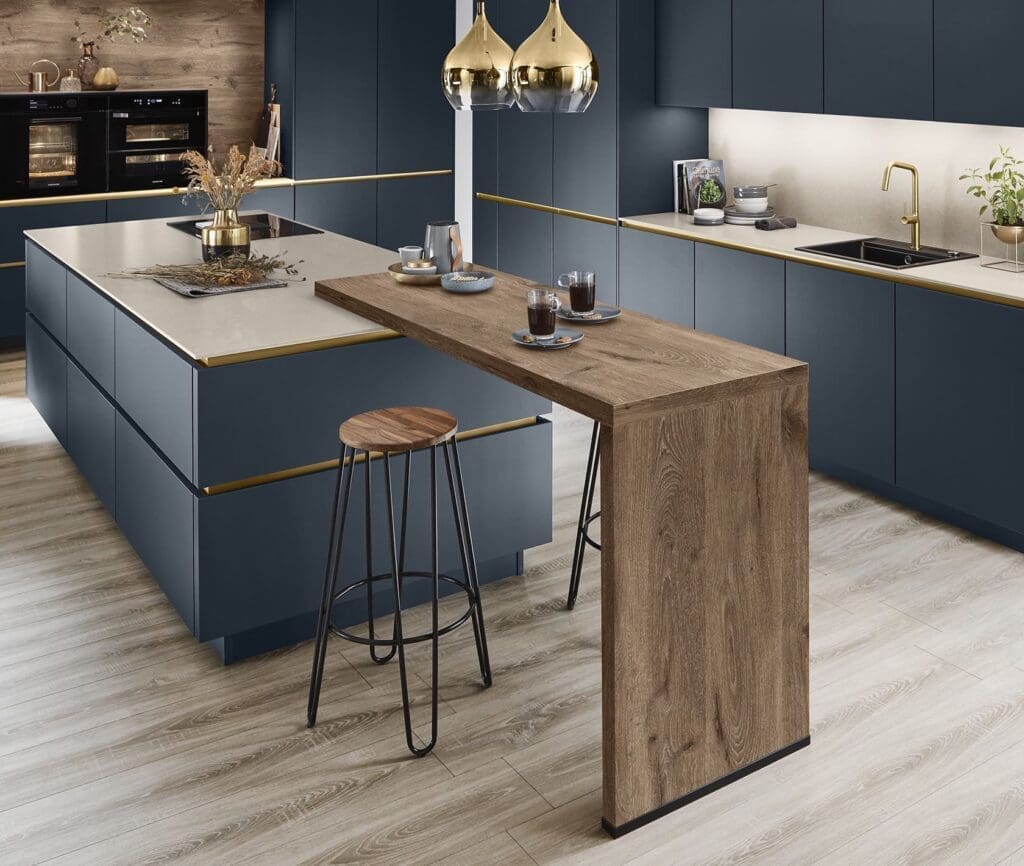 Blue Kitchens
Blue has cool undertones so can appear cold or uninviting yet blue is also associated with calm and tranquillity (somewhat essential for a kitchen!) so select your blue colour tone and décor with care and the latter mood is easily achievable for your kitchen. Dark blue kitchen tones are especially popular, and best for a spacious room which receives plenty of natural light. The richness of the dark colour tone creates a timeless look with an easy air of sophistication! Dark blue kitchen tones look ultra-elegant within the popular Shaker kitchen style, or else they also work nicely in combination with white kitchen tones. Alternatively, both light and dark blue tones pair well with warm wood tones. This is ideal for a more traditional in-frame or Shaker kitchen style, producing the same calm feel which is homely and inviting.
Dark Kitchen Colours (Grey and Black)
Dark kitchen colour tones such as grey and black are an on-trend kitchen colour choice, yet with long-term staying power! However, being from the cold side of the colour wheel they need introducing with care. They can work for all types of spaces but are ideal for rooms that receive generous natural light to prevent them from making a room feel dark or enclosed: –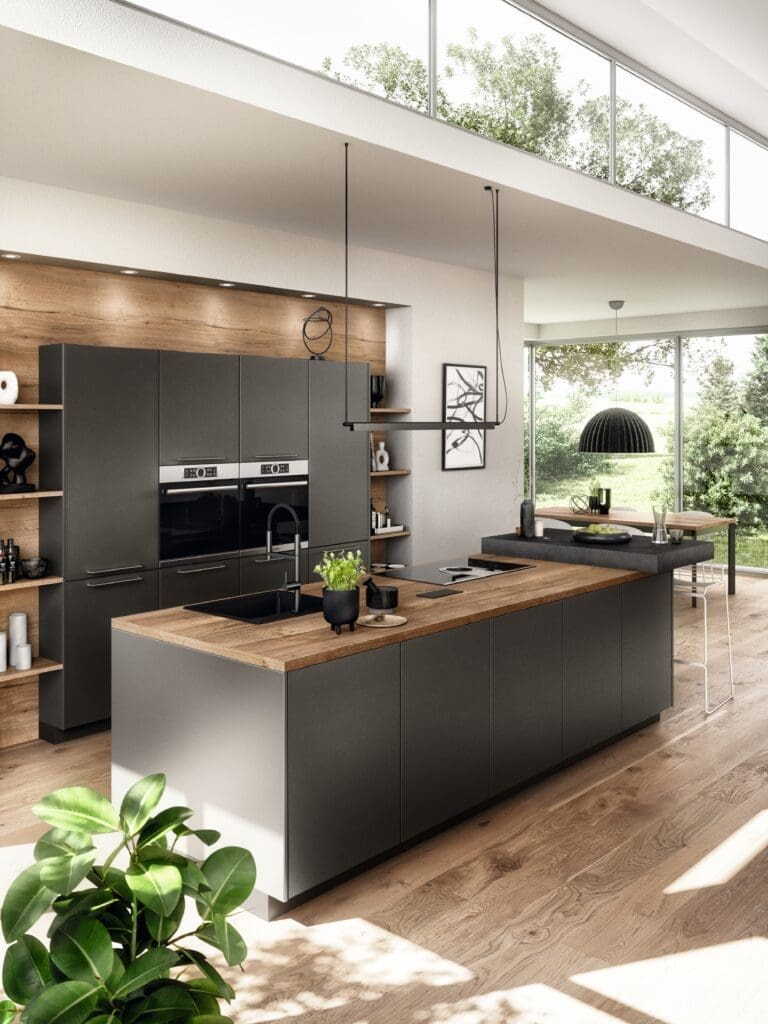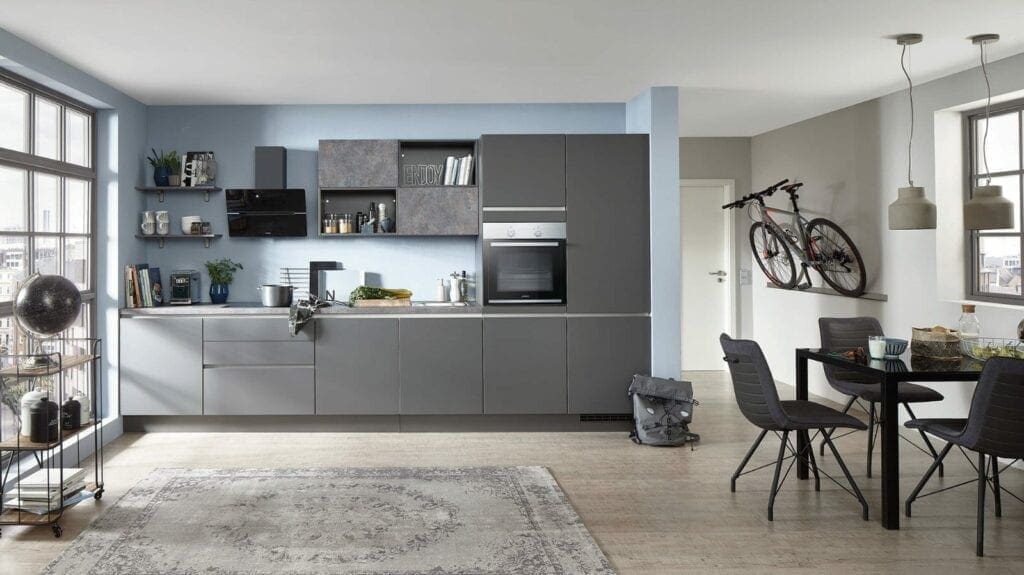 Grey Kitchens
Whether light or dark, grey is a hugely popular choice for creating beautiful kitchen designs! Far from dreary- a sentiment more often associated with this colour – instead, grey kitchens tend to be elegant, rich, and sophisticated. Grey has a calmness to it which translates to the kitchen environment, and it is also a hugely versatile kitchen option; You might choose a smooth matt grey for an air of solidity, or else a richly textured grey wood or stone kitchen door- perfect for adding character and depth to your design
Black Kitchens
Like grey, Black kitchens are highly elegant, producing stunning and easily luxurious kitchen designs. Black kitchens can appear serious and dramatic, or else can be instantly enlivened with a splash of bold colour upon the walls, splashback or even through coloured LED lighting. This effect introduces a contemporary twist, perfect for larger kitchen or open plan spaces intended not just for cooking but for entertaining and socialising. Available in an array of stunning finishes such as black matt, black wood, or black stone and ceramics, on trend black kitchens never fail to make an impressive statement! And whilst important, the kitchen furniture is not the only element of a black kitchen design that will affect how the end-result will look! Choice of flooring, worktops, décor, and wall colour, as well as how much light the room receives, are also influencing factors. This is excellent news for homeowners because there is such a wide range of choice and options available to ensure a black kitchen design will work. And where homeowners frequently worry black kitchen furniture will look too dark, contrasting with light tones will balance and successfully lighten the look.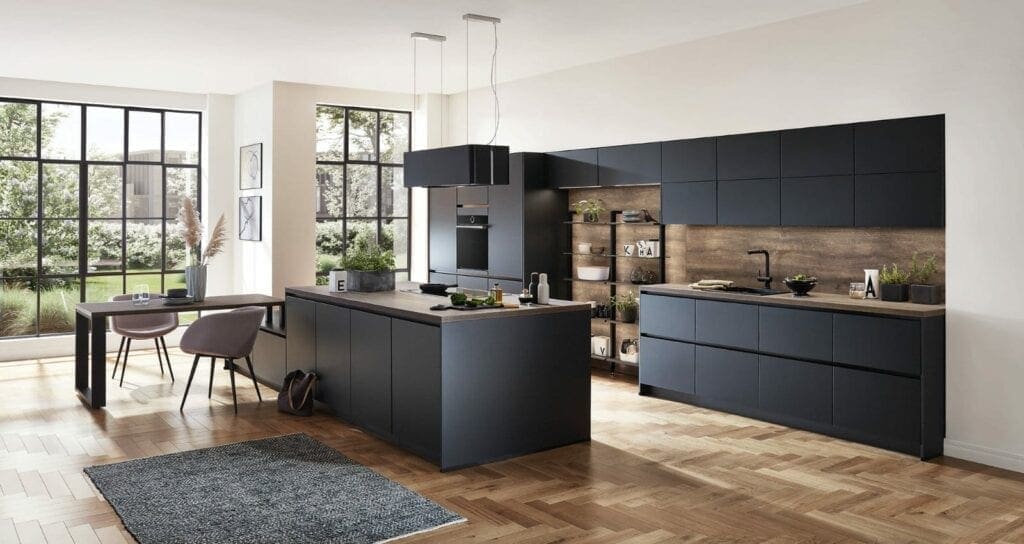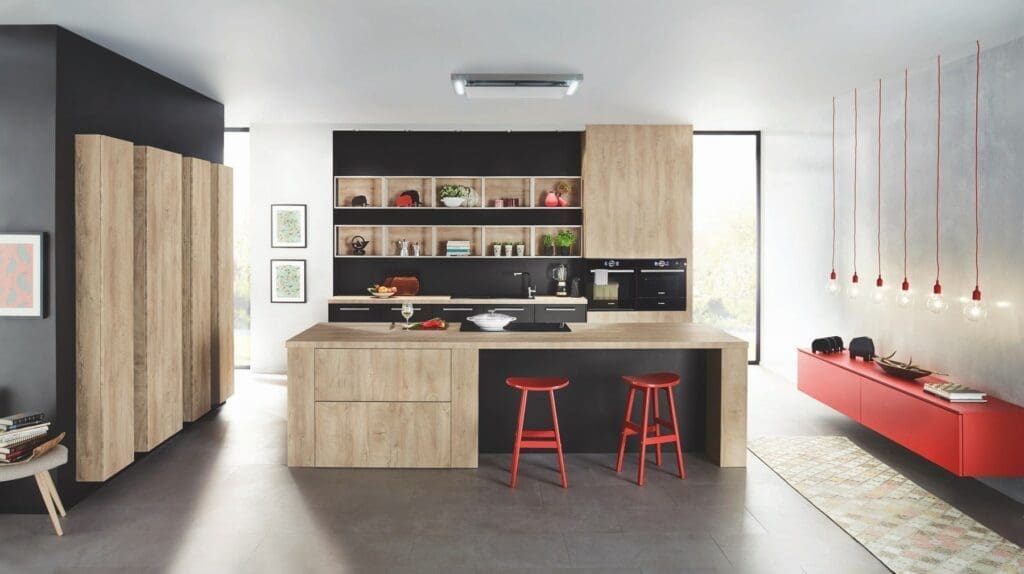 Red Kitchens
Red is a more daunting colour to introduce for kitchens, yet with careful planning it can prove a great and effective kitchen colour choice! Red kitchens are available in many different tones, ranging from vibrant reds to deep burgundies, and even warming rust coloured cabinetry. A bold red kitchen can prove vibrant and energising, enriching the senses! But if you're worried an all-red scheme might overwhelm your space- a particular concern for small kitchens- then introducing red for base units only, or as an accent colour for your favourite kitchen features, is just as impressive, catching the eye and creating an uplifting kitchen feel.
Yellow Kitchens
A yellow kitchen colour scheme is perfect for creating a bright, fresh, and uplifting feel. Yellow is a colour associated with summer and happiness, ensuring a kitchen is a fully enjoyable and social place where people want to spend their time. With warm undertones this colour should work within any space, no matter what direction the room faces. However, there are different shades of yellow available for kitchens, each of which has a varied impact upon a room. Pale yellow colours are preferred for a softer tone compared with bold yellows, yet still share the same welcoming vitality. Pale yellow kitchens work well in rooms that are smaller and/or with limited light as they create the perception of a larger and brighter room. Pale yellow kitchens are perfect in combination with white and grey kitchen colour tones, or else with a pale wood-effect if you prefer a more traditional impression. Alternatively, bold yellow kitchens can affect a very modern, punchy kitchen finish with a positively infectious impact.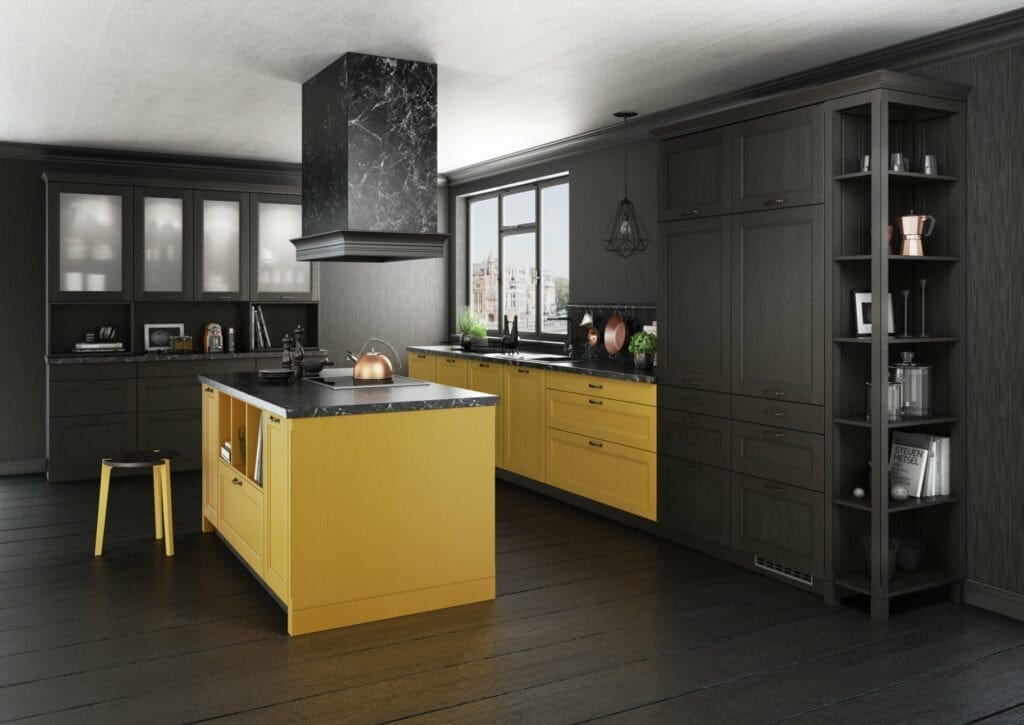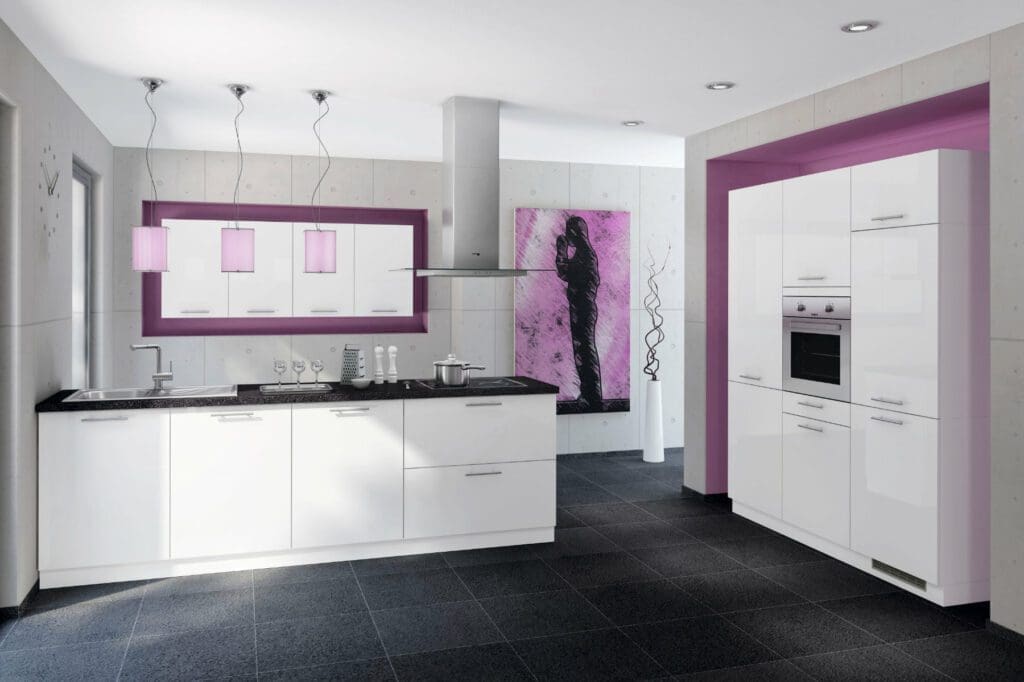 Purple Kitchens
Purple may not seem an obvious choice when it comes to planning a new kitchen's colour scheme, yet choose the right shade of purple, and within a fitting style, and you can achieve a truly sophisticated finish. If choosing a purple kitchen colour scheme, we recommend a deep, dark, and rich purple colour to emulate dark purple's associations with regal opulence and grandeur, or else passion! Purple has cool colour tones so requires a well-lit room, but a rich dark purple kitchen against a white décor, with grey flooring and complimented with glass accents is perfect for a lavish and inviting kitchen; it is highly sophisticated, contemporary, and inviting too!
Green Kitchens
Green is a very popular colour choice for kitchens, with deep Forest Green tones inspired by nature expected to trend in 2022. Elegant and with a very calming presence, green is an ideal colour for the kitchen environment! It has similar qualities to blue in that it creates a serene ambience. However, the colour Green is also associated with nature and earthiness, giving it energy and a subtle vibrancy. In keeping with this we like green in combination with other rich earthy colours including various grey tones. Green tones are perfect for matt kitchen doors as well as the popular Shaker kitchen style, or else green also works well in combination with lighter colours such as white, cream, or natural wood tones for your worktop, décor and flooring.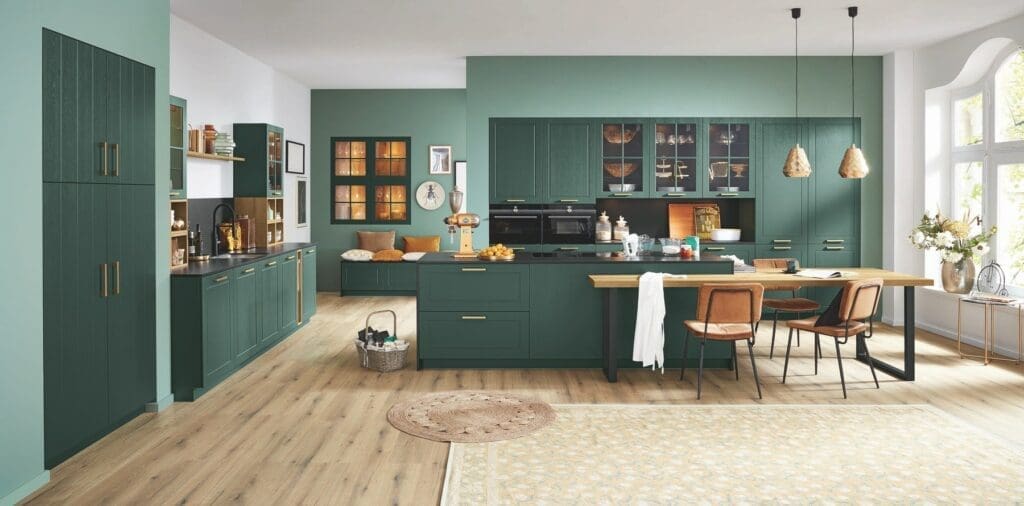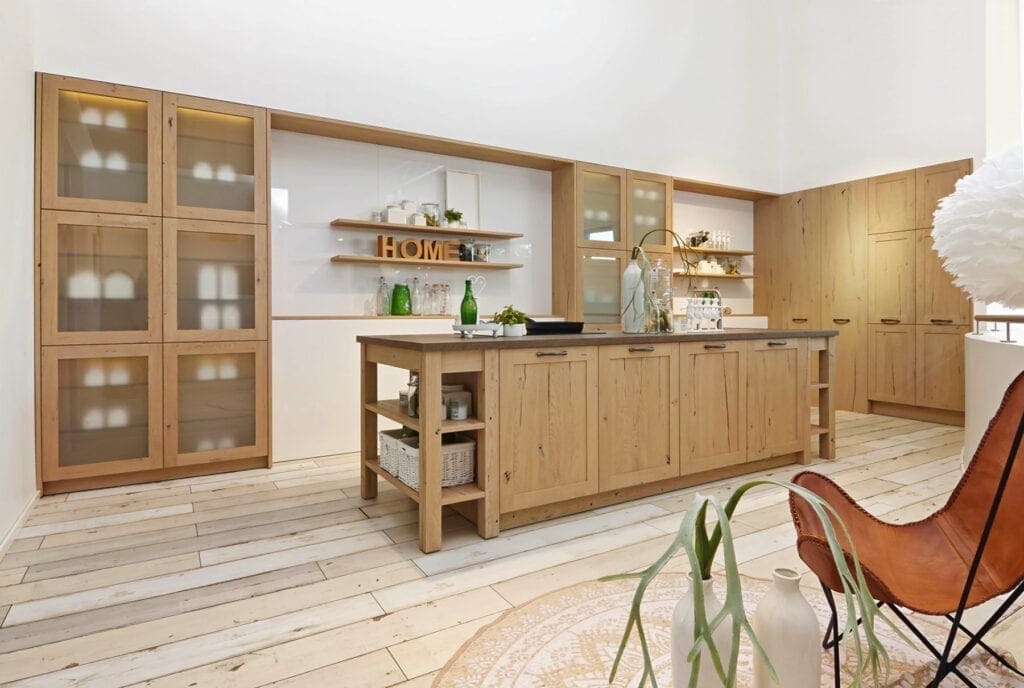 Neutral Colour Kitchens
Neutral coloured kitchens are exactly that and very versatile. Warm tones and textures will work within almost any room regardless of size, space or the quantity or quality of light it receives. Neutral colours would include a range of off-white colours as well as, cream, light grey, cashmere, or very light wood tones. Neutral colours tend to create a very comfortable feel for a room as they are safe, calm and homely so can be ideal for kitchens if this is the mood you want to create; though 'safe' does not mean boring and neutral colours lend themselves extremely well to bolder colour schemes or patterns should you wish to inject some colourful flair and vibrancy to your room.
So, what kitchen colour scheme to choose?
Our advice would be to think carefully before deciding upon your kitchen colour scheme and choice of kitchen cabinets. Consider all factors that will influence whether your colours are likely to work as colours are not a 'one-size-fits-all.' However, colours do have different tones and undertones so if set on a particular hue but unsure of its likely success then perhaps you just need a different shade, tone, or accessories, to those you originally had in mind. If unsure of colours, then definitely ask advice from your kitchen designer who can advise on what will or won't work, ensuring your finished kitchen is as colourful as you would like, but in every case impressive and beautiful!
Need help finding a great kitchen designer near you? …Contact the Kitchen Experts today!