Demand for the Industrial kitchen style has grown significantly in recent years, appealing for its fuss free design style, along with a versatility which allows the successful bringing together of different materials within the same space. With a focus on simple, raw features synonymous with workshops and factories, here's all you need to know about the Industrial kitchen trend and how to make this look work for your home.
What is the Industrial Kitchen Style?
The term 'Industrial' refers to anything which has to do with the business of manufacturing products. More specifically this is factory generated products, so the phrase 'Industrial' typically conjures imagery of factories, machinery, metal, pipework etc. Such imagery is the basis for the current industrial kitchen look wherein period, heavy duty, and worn articles are incorporated within a more modern and often minimal kitchen setting. The result is a sleek kitchen look. A modern industrial kitchen definitely has character, style and 'edge,' yet equally important, it is functional and practical, and space permitting they create a great setting for any homeowner who likes to entertain!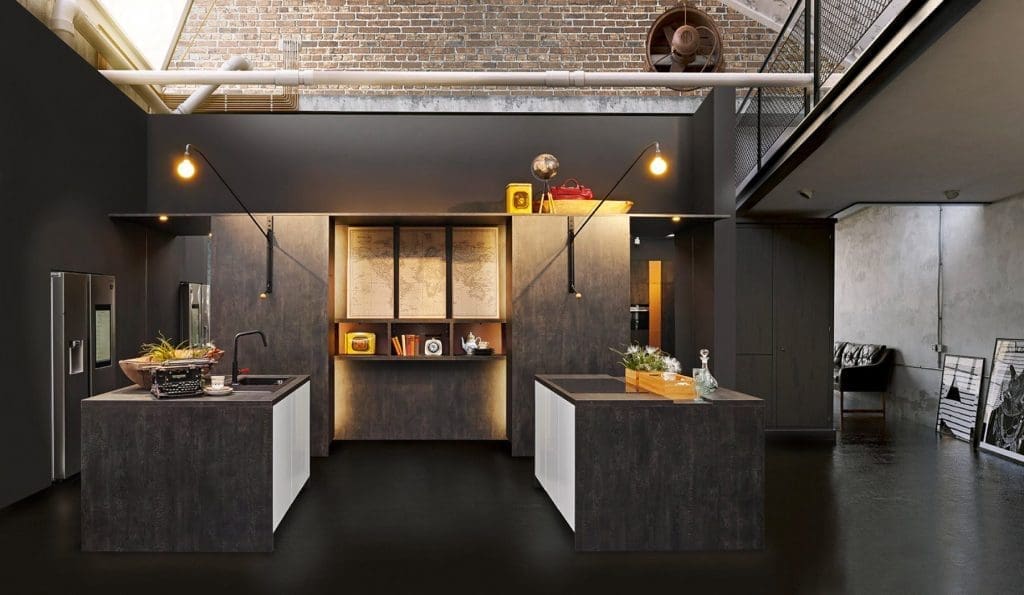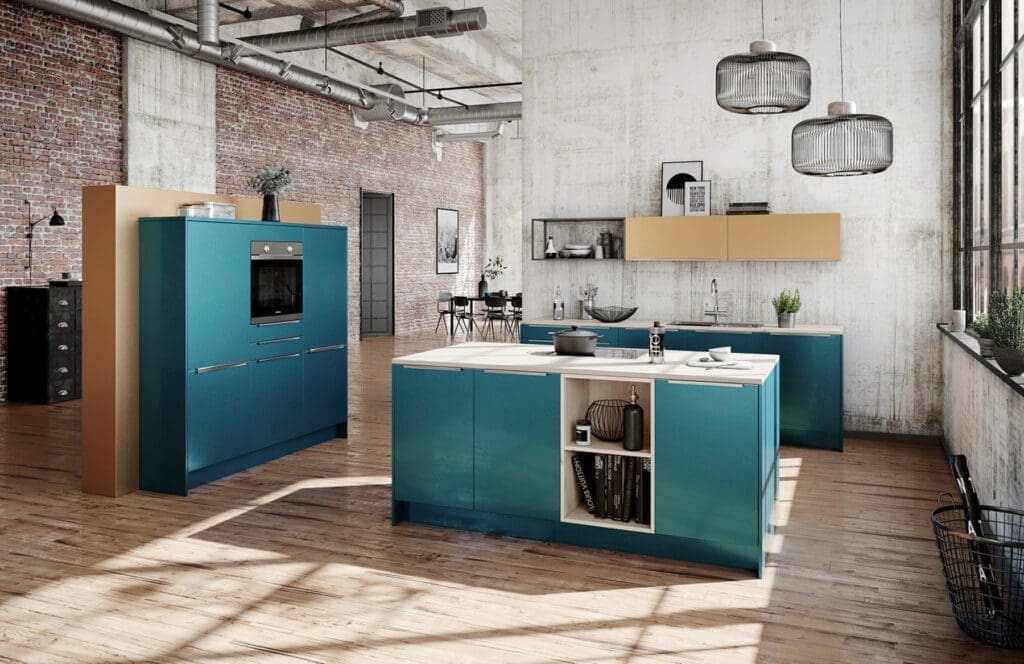 How to make the Industrial Kitchen Style Work In Your Home
Think of your own home and you might conclude you don't have the right setting or sufficient space for creating this popular kitchen style. But even without a spacious warehouse setting, there are numerous ways and means in which you can successfully introduce this theme; here are some of the ways in which you might achieve this:
Industrial kitchen cabinetry
If you truly want to affect an industrial kitchen look a great basis for achieving this is selecting appropriate kitchen cabinetry. A cool grey and black palette is typical of industrial kitchen cabinetry colours. Simple 'no frills' units will create desirable clean sharp lines. These can be combined with different metals and furnishings to complement and enhance the look. Textured surfaces such as stone veneer doors reflect the popular trend toward natural influences in kitchen design, but are also ideal for the Industrial theme. Alternatively, concrete or ceramic kitchen doors, and worktops too, with their textured, lightly patterned surface, are also a sound basis for achieving this look.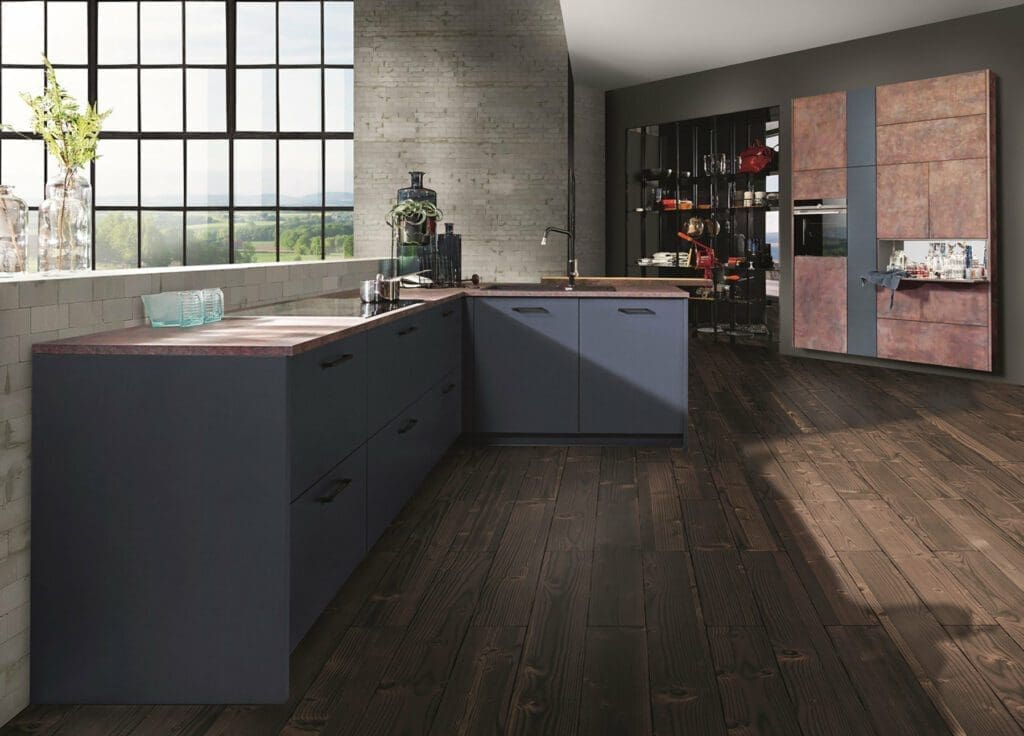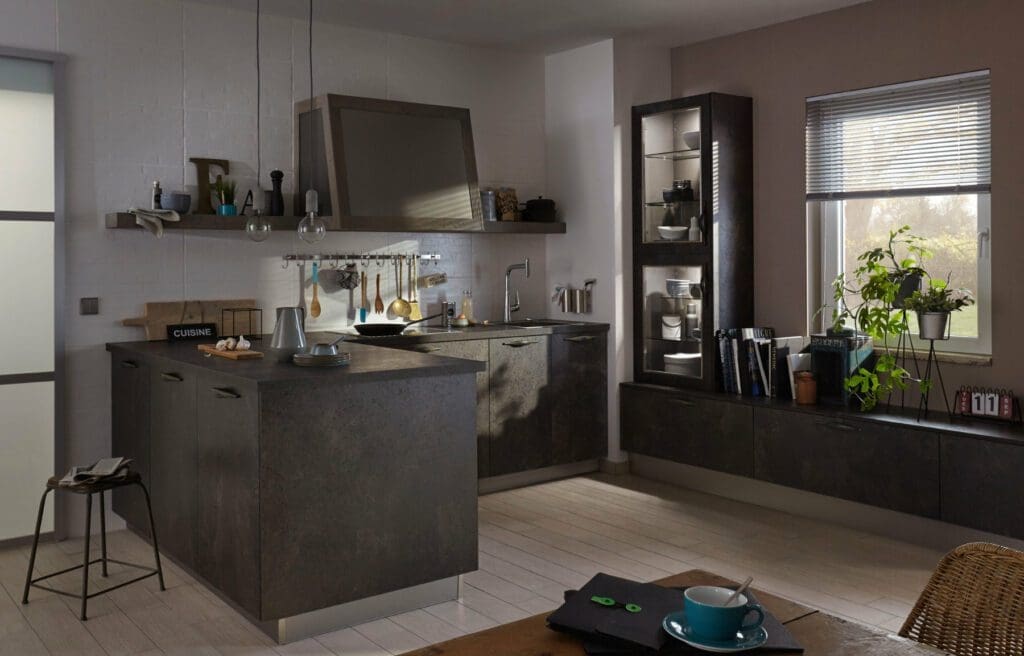 Industrial kitchen accessories
Accessories can strongly influence your décor so are a great way of complimenting your Industrial kitchen theme. Copper has been described as 'the metal du jour' of modern interiors because of its infectious popularity and copper accents are perfect for creating an industrial feel. There are numerous options for including copper, such as copper cookware on display, (which is also beneficial as very durable), copper light switches, taps, copper pipes etc. Other metals such as stainless steel or brass will also add to the look. You could include metal shelving or wall-mounted hanging rails. Alternatively, statement bar stools will stand out, or even cast-iron radiators which can be painted in whatever colour you require to suit your new kitchen's appearance.
Industrial kitchen Décor
You don't need a concrete floor or warehouse setting for your industrial kitchen look. Instead, you could easily introduce this for just one of your walls, making a feature of it with wallpaper which replicates the look of exposed brickwork, wood beams, or concrete. Such wall art is highly effective and inexpensive, but also easily removable and replaceable should you later decide to update your look. Similarly subway/metro tiles (whether real or papered) are also a highly popular option, as well as Crittall windows and doors. Amongst more dated, period goods these keep the kitchen look feeling stylish and fresh.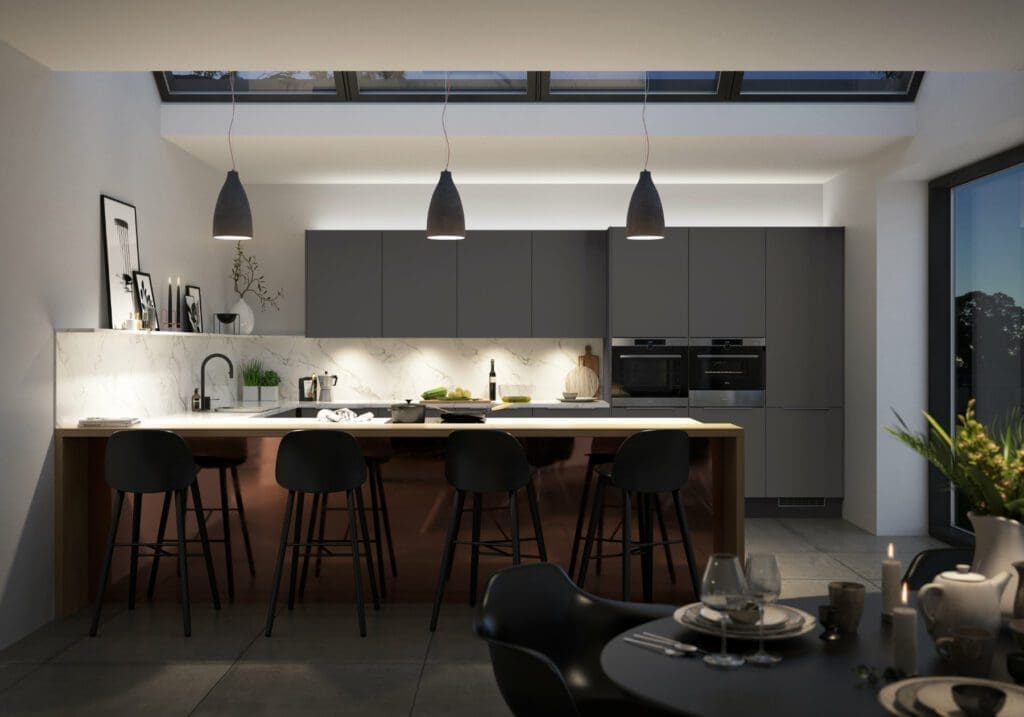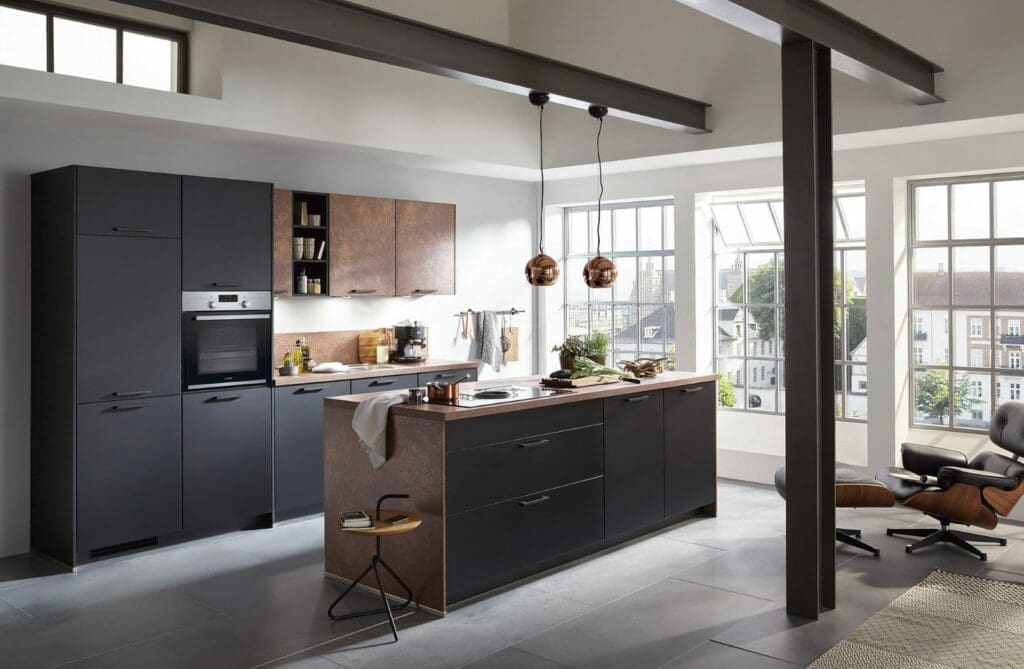 Industrial kitchen lighting
Choice of lighting has a big impact on a space and the feel of your kitchen. For the industrial look, oversized pendant lights are a great fit, particularly when hung low over an island to create a feature. Decorative and statement light installations including black factory style lights and stainless-steel indoor lanterns are also highly effective.
Industrial kitchen appliances
One of the main traits of the modern industrial kitchen look is metal accents and these are very easily introduced with the choice of stainless-steel appliances. Stainless steel upholds the stylish modern industrial look against more traditional furnishings. It also compliments most kitchen door styles and other materials such as the popular copper accent. Alternatively, matt black is very on trend for kitchens and available in a wide choice of well-known appliance brands- sleek stylish, and perfect for a luxury industrial kitchen theme.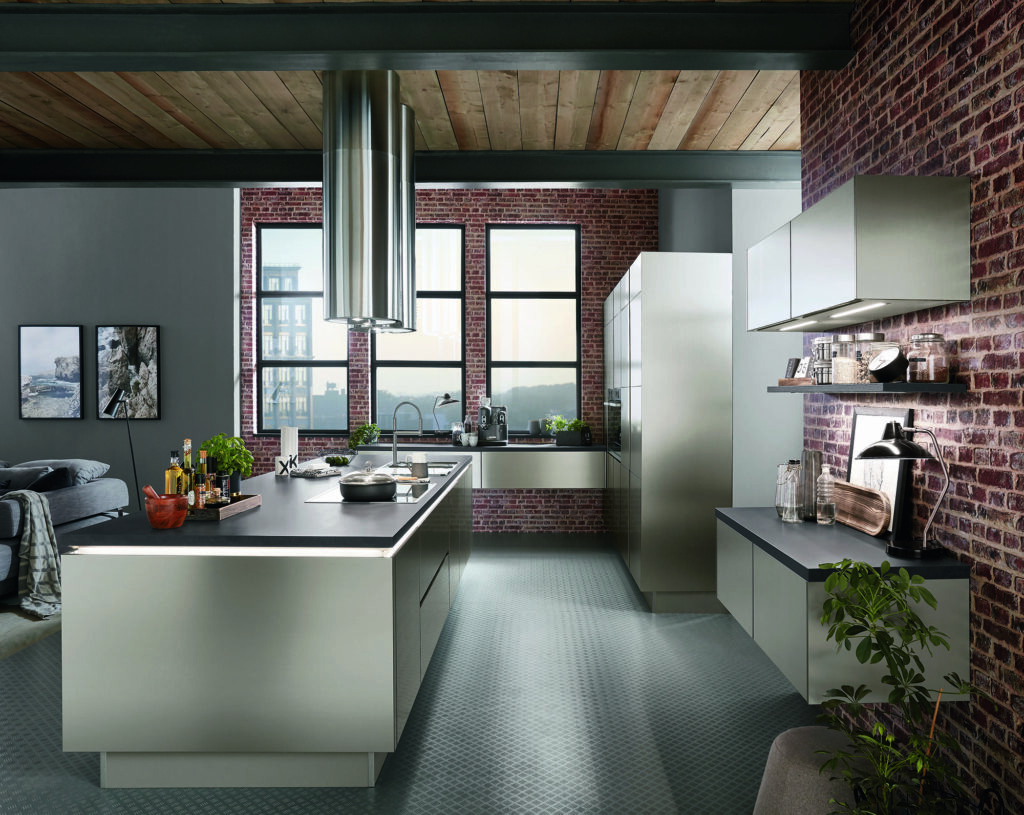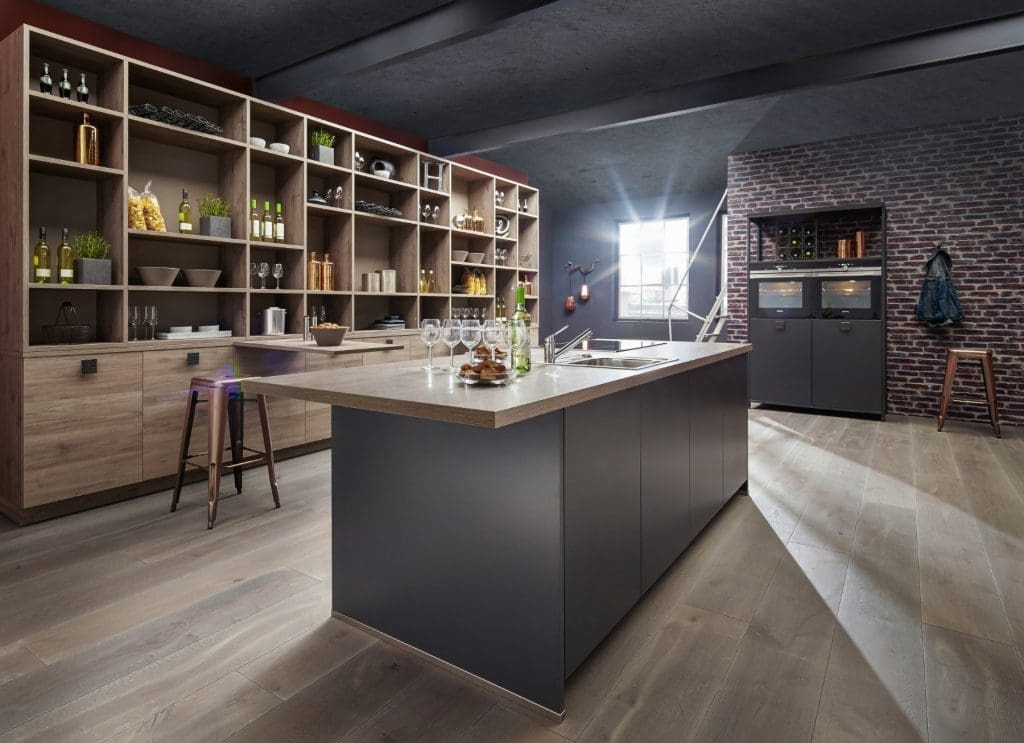 Ducting
Copper pipework or exposed stainless steel ducting are highly effective in achieving the desired look but we would advise you approach with caution if it means making any drastic changes to the existing layout of your home!
Is the modern Industrial kitchen look set to stay?
In our opinion, yes!…A style with a deep-rooted history the industrial kitchen look has already proved it's a style with long-term staying-power. This is a look that creates a real statement within the home, and simply bursts with intrigue and elegance! Aside from the aesthetic appeal however the fixtures and trappings that enhance the look are also all highly durable and functional, ensuring an all-round striking, practical, and thoroughly enjoyable kitchen experience.
To find a local expert who can help you achieve the industrial kitchen look for your home, contact Kitchen Experts today.