The top German kitchen brands are renowned for their innovative, modern kitchens. Using precision engineering these manufacturers are experts in effecting luxury fitted kitchens which combine intelligent functionality with a sleek and streamlined kitchen aesthetic. Since the oldest German kitchen company was first established in 1892, the industry has become a competitive place, with many popular German kitchen brands now offering an extensive choice of fully bespoke German kitchens, but all of whom uphold Germany's reputation for excellence in design, quality, and build.
Here you will find a list of the biggest and best German Kitchen brands, helping you choose the right one for you:
Bauformat is a trusted name in the UK for its high-quality German kitchens. Bauformat Kitchens are comparable in price to other German brands like, Hacker, Nolte and Leicht. Bauformat kitchens combine modern and contemporary kitchen styles with high quality and innovative construction. They are made from sustainable materials and have been tested for safety and environmental compatibility.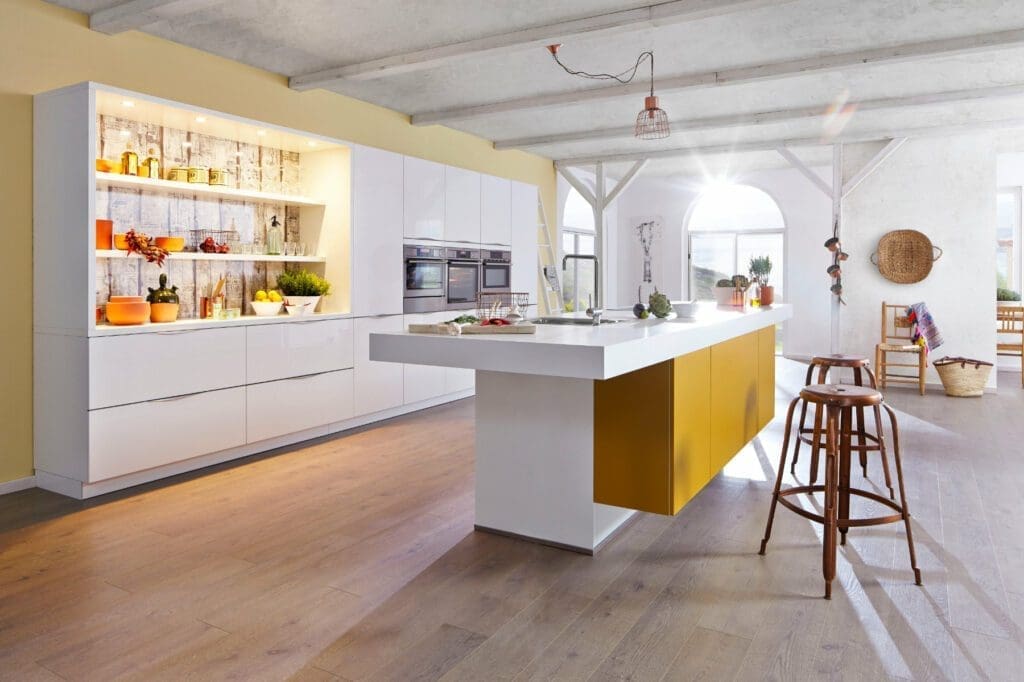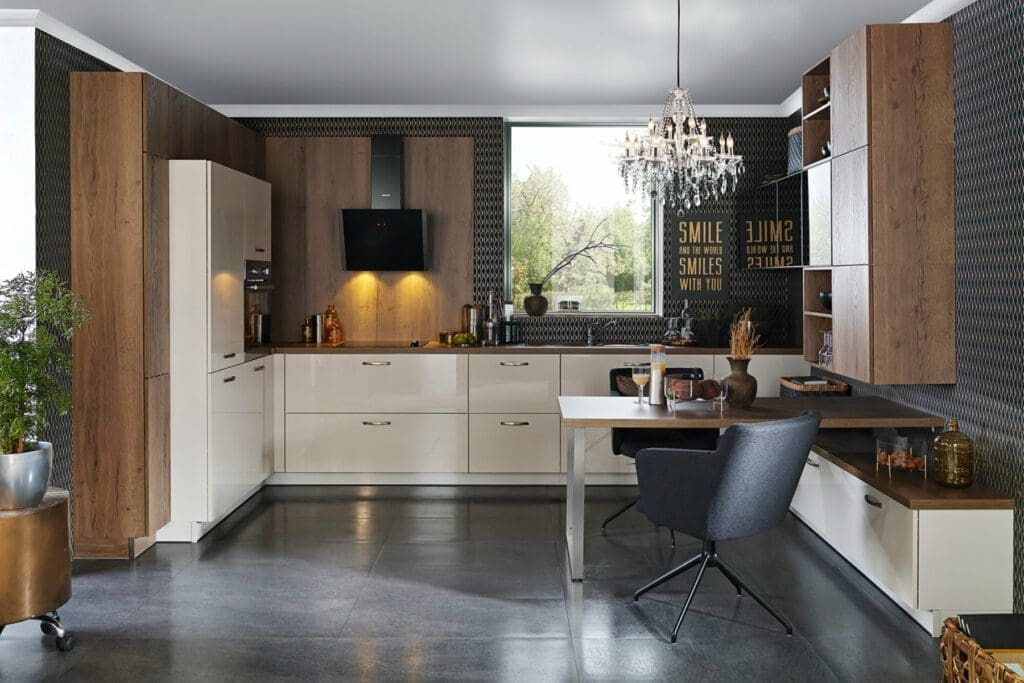 Established in 1922 Brigitte Kitchens are a family-owned business and one of the top 10 German kitchen manufacturers, known for producing top quality products. Brigitte invests heavily in new technology, facilities, and innovative products. This, combined with a 4-week lead time and industry-leading KPI levels, ensures that Brigitte delivers excellence. Flexibility and choice are the foundations of their business and so Brigitte is characterized by its wide range of products that allow kitchens to be customized to any specification. This means the possibilities for personalizing your kitchen design are virtually endless.
3. SCHULLER KITCHENS
Schuller is Europe's 5th largest kitchen brand, well-known for its innovative designs, high quality products, and affordable kitchen ranges. Each kitchen is unique and custom-made to help make your kitchen personal and maximise use. For example, Schuller's German kitchen collection includes kitchen cabinets with variable heights and depths, innovative finishes, and many storage options. In fact, you will find storage in every unit, making it one of the most versatile kitchen planning tools and offering the best storage efficiency. However, the design is minimalistic which many people strive for. There are many styles and colours to choose from, including accessories such as lighting solutions, worktops, as well as decorative panels. And, because all these items are manufactured by Schuller, your colour choices will match for a seamless finish.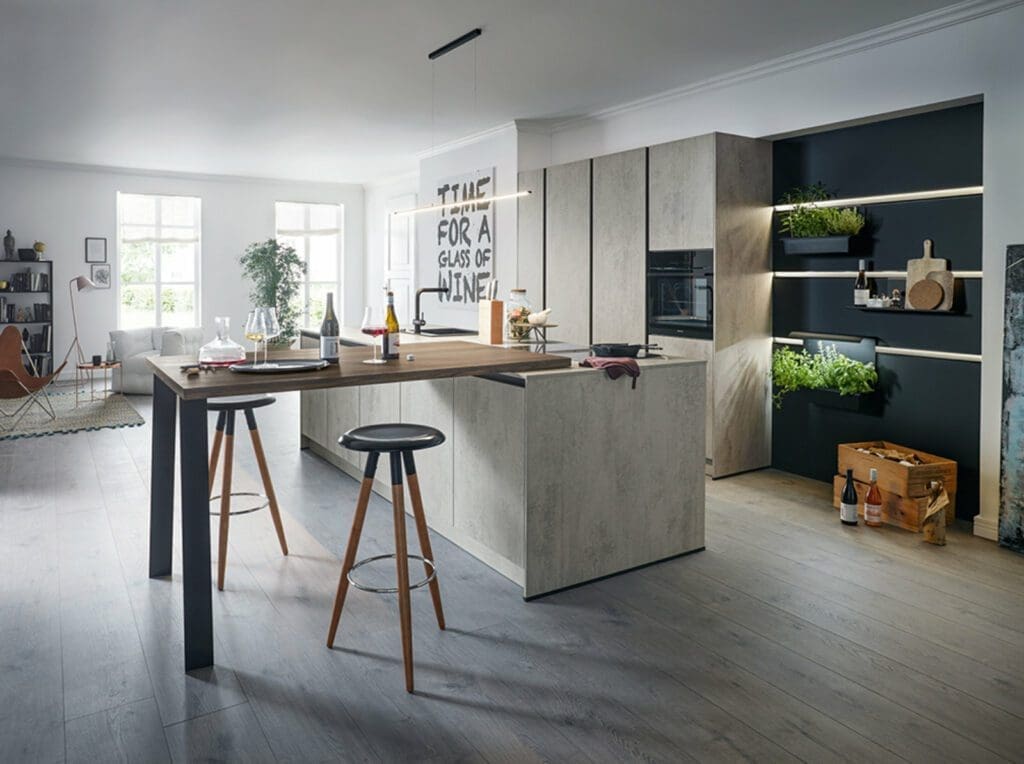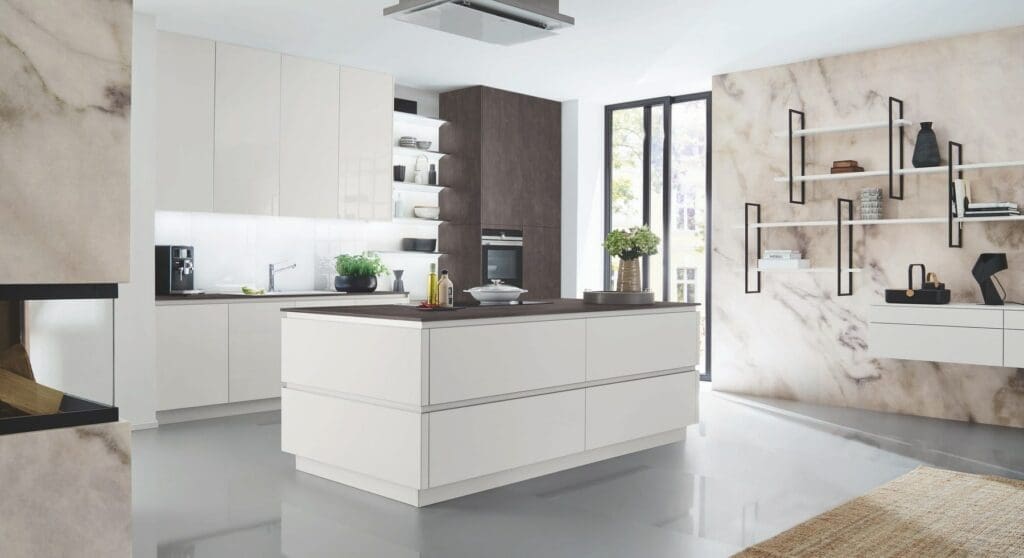 4. BALLERINA KITCHENS
Ballerina Kitchens are an award-winning German kitchen brand, renowned for manufacturing stylish, high-quality, fitted kitchens that offer great value for money. Ballerina Kitchens are versatile enough to accommodate any style of home and furnishing, whether it's a small and compact apartment kitchen, or else a large, open-plan kitchen & living space. Ballerina, have one of the largest kitchen product ranges among manufacturers, helping create unique room solutions and turning your dream kitchen into a beautiful reality.
5. BECKERMANN KÜCHEN
Beckermann is a family-owned German kitchen manufacturing business, with a deep-rooted history of tradition and innovation. Through over 120 years of engineering kitchens, Beckermann has been consistent in delivering manufacturing processes and services of exceptional quality, whilst also keeping at the forefront of technological advances and current market trends. Beckermann kitchens have won many awards for their sophisticated design and innovative kitchen functionally, specialising in chic modern kitchen aesthetics.
Beckermann is renowned for their wide range of kitchen styles, features, product quality, and customer service. With no such thing as standard, this includes fully bespoke and unique features such as any size of unit, any RAL colour you desire, or even a choice of 12 interior finishes available at no extra charge.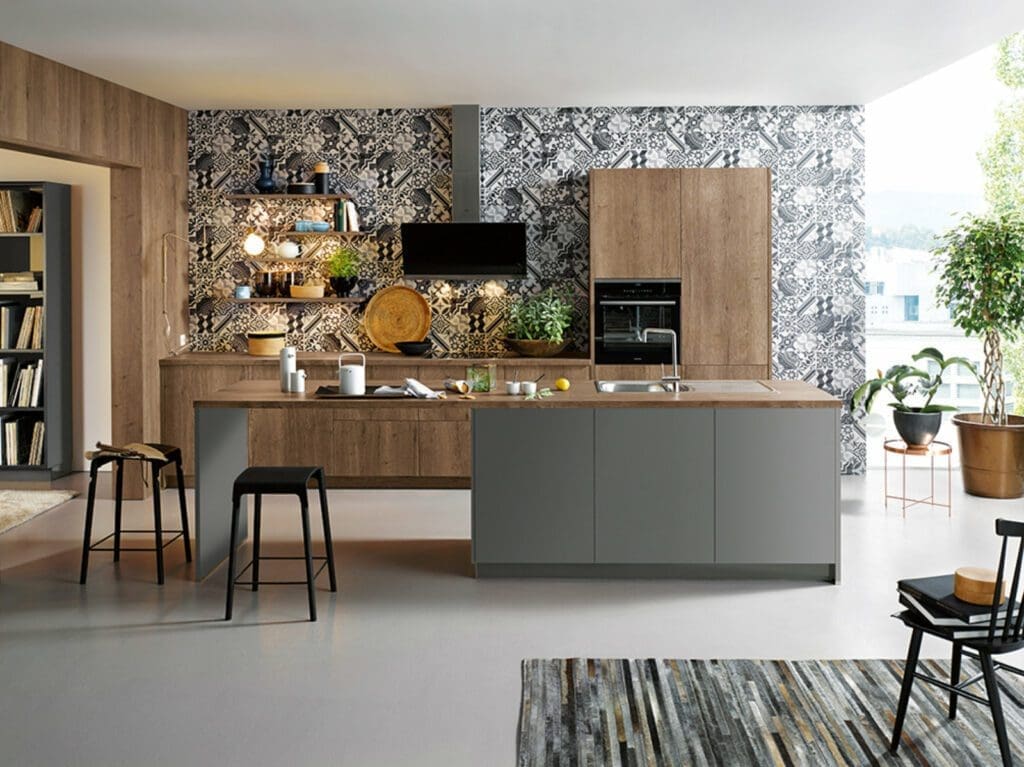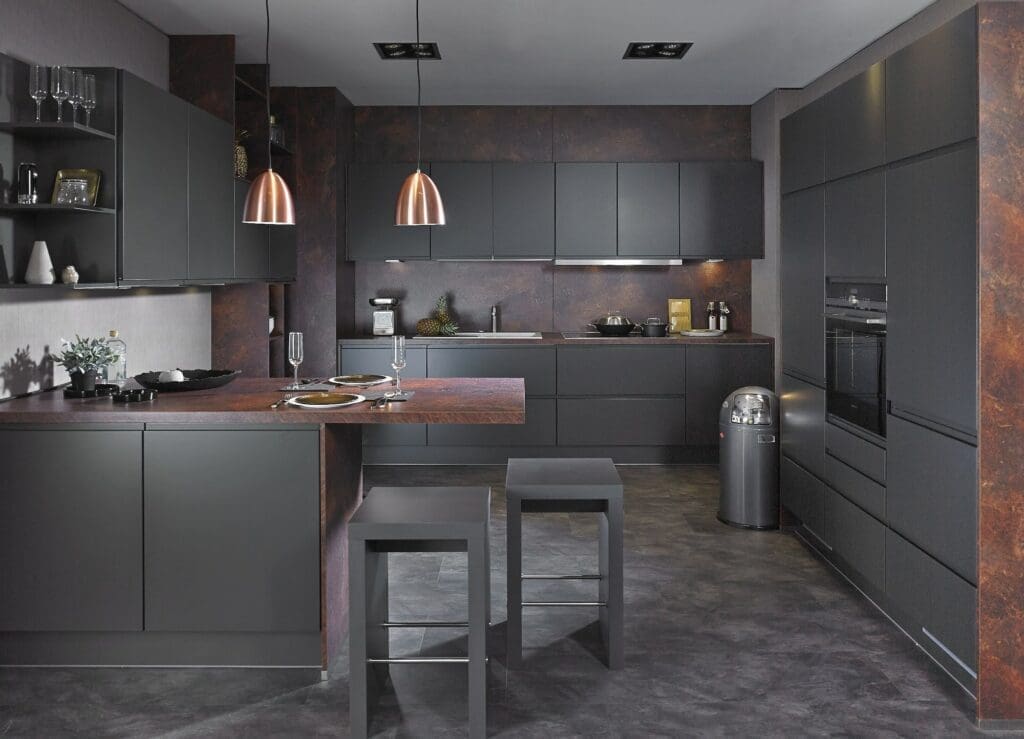 6. IMPULS KÜCHEN
IMPULS KUCHEN was founded in 1990 and for the 30 years since has proved synonymous with modern, time-tested kitchens, which are solid and reliable. Producing around 730,000 cabinets very year, Impuls believe that less is more, and so their kitchens feature clean lines and strong colours, focusing on modern and contemporary kitchen styles, designed to fit within any household.
7. KH SYSTEM MÖBEL
KH System Mobel is a family owned and operated German kitchen company, producing custom kitchens for over 30 years. Inspired by design, architecture, and lifestyle, KH System Mobel places a high priority on quality, individuality, and innovative features. They use top-quality materials and advanced technology to produce bespoke kitchen furniture which is both individual and very affordable.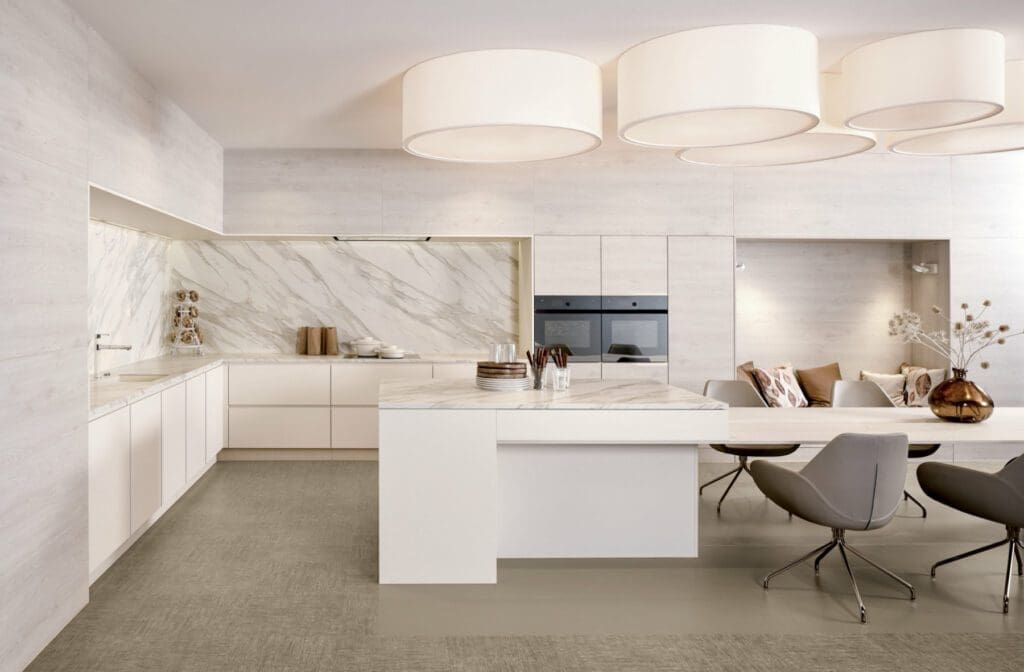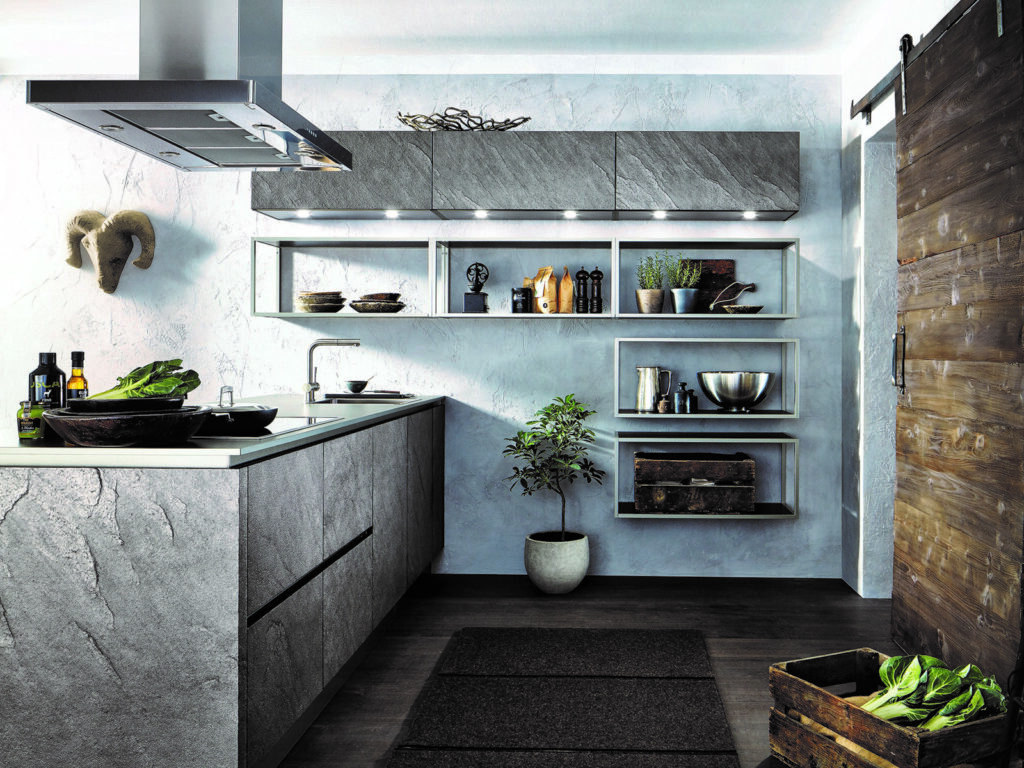 8. HACKER KITCHENS
A family run German kitchen brand since 1898, Hacker Kitchens have provided 122 years of modern and inspiring fitted kitchens, currently sold in 60 countries world-wide. At the forefront of innovation, Hacker is an award-winning brand, and well-known in the industry for exceeding all expectations in terms of functionality, design, quality, and durability. With satisfied customers as their goal, Hacker is committed to customer satisfaction, listening to feedback, and always striving to do more.
Whilst all Hacker kitchen furniture is made with the highest quality materials, Hacker are fully committed to sustainability through energy efficiency, emission reduction, and waste disposal. In all their endeavours they take responsibility for the environment and work to improve it.
Nobilia was founded in 1945 and is one of Europe's largest manufacturers of modern German kitchens, producing 3,600 kitchens per day. Its focus is on quality, affordability, and design flexibility. Nobilia offer an affordable German kitchen, often comparable or lower in price to Wren, Magnet, and other entry-level UK chain stores.
You have many options when it comes to designing your German kitchen unit and Nobilia's modern kitchens are very flexible. This includes a modular kitchen system that allows you to choose from four heights of base units, and five heights for wall or tall units. Nobilia's modern kitchen designs are exemplary, and whether made from wood, glass, or lacquer, they offer excellent value for money.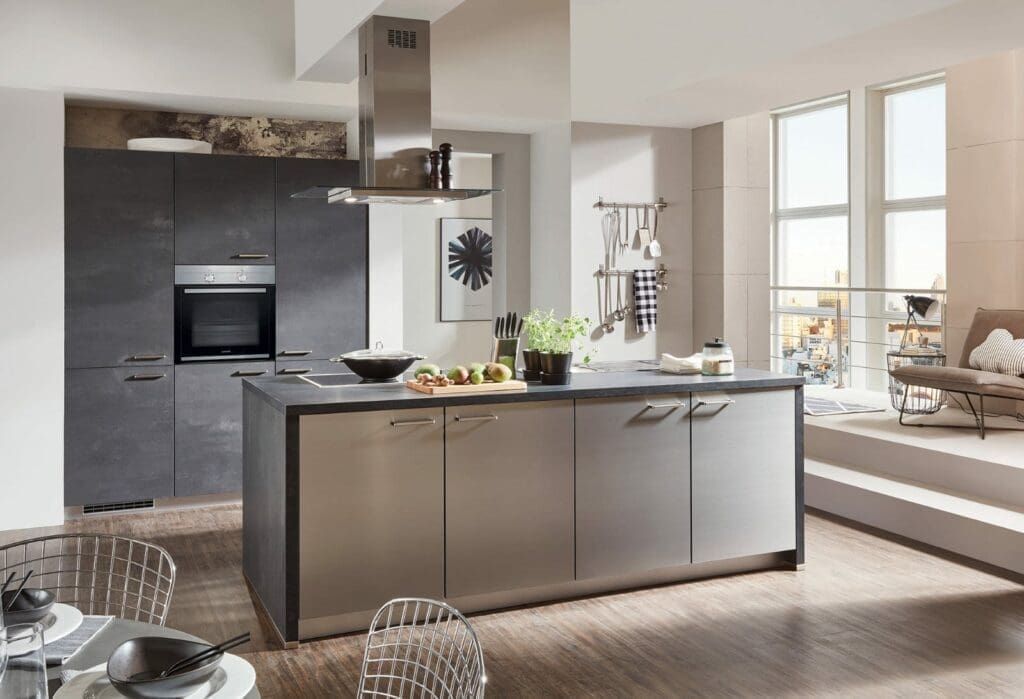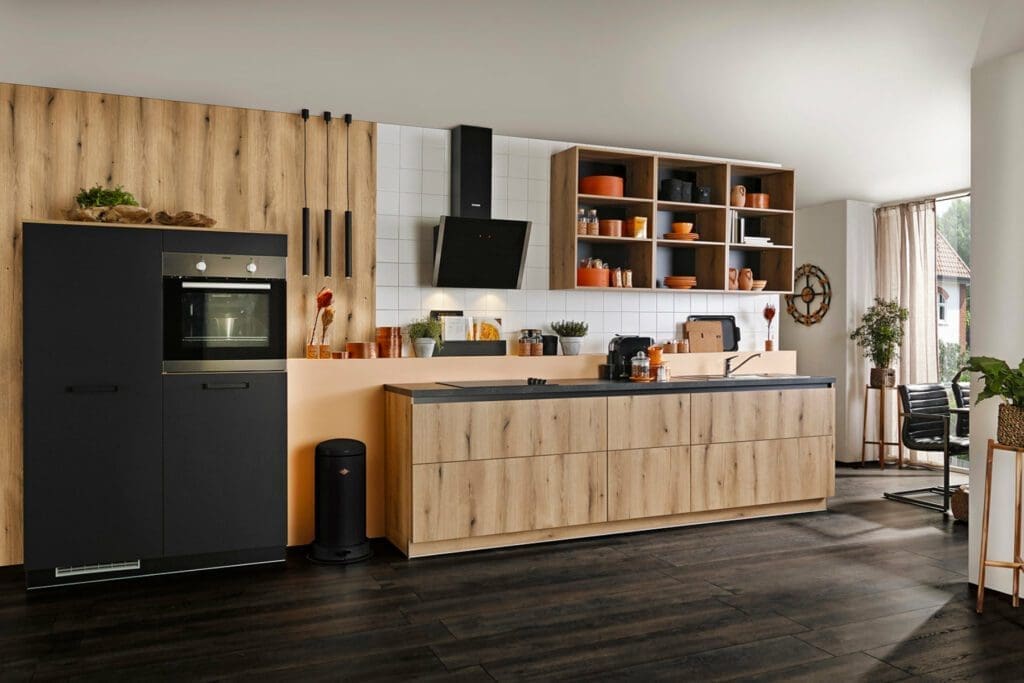 10. NOLTE KITCHENS
Nolte Kitchens is the second-largest kitchen manufacturer in Germany. A family-owned kitchen manufacturer, Nolte been in business for more than 60 years and have been voted Germany's favourite kitchen brand on 3 separate occasions. Nolte was the pioneer in German furniture manufacturing, being the first to introduce production lines which have since become the standard for manufacturers. Since then, Nolte has continued to innovate, and is now synonymous with uncompromising quality, great choice, and excellent value.
Proud of their state-of-the-art manufacturing facilities, Nolte are renowned for their modern and sleek designs which offer a wide range of exciting options and many choices to suit any taste and interior. This also includes a wide range of standard sizes as well as furniture that can be made to your specifications. This means you are only a phone call away from creating your custom luxury kitchen.
11. POGGENPOHL kITCHENS
Friedemir Poggenpohl founded the German kitchen company Poggenpohl in 1892 with a simple goal: "to improve kitchens". 125 years later and Poggenpohl are still achieving this goal, creating products that are exceptional in style, detail, and craftsmanship, and sought-after around the world!
One of the more high-end kitchen manufacturers, this is reflected in their cost, yet Poggenpohl have a well-deserved reputation for creating beautiful, contemporary kitchens which can be customized to fit any space and meet clients' requirements. The oldest kitchen manufacturer in the world, Poggenpohl, are highly distinguished, with kitchens designed to last a lifetime.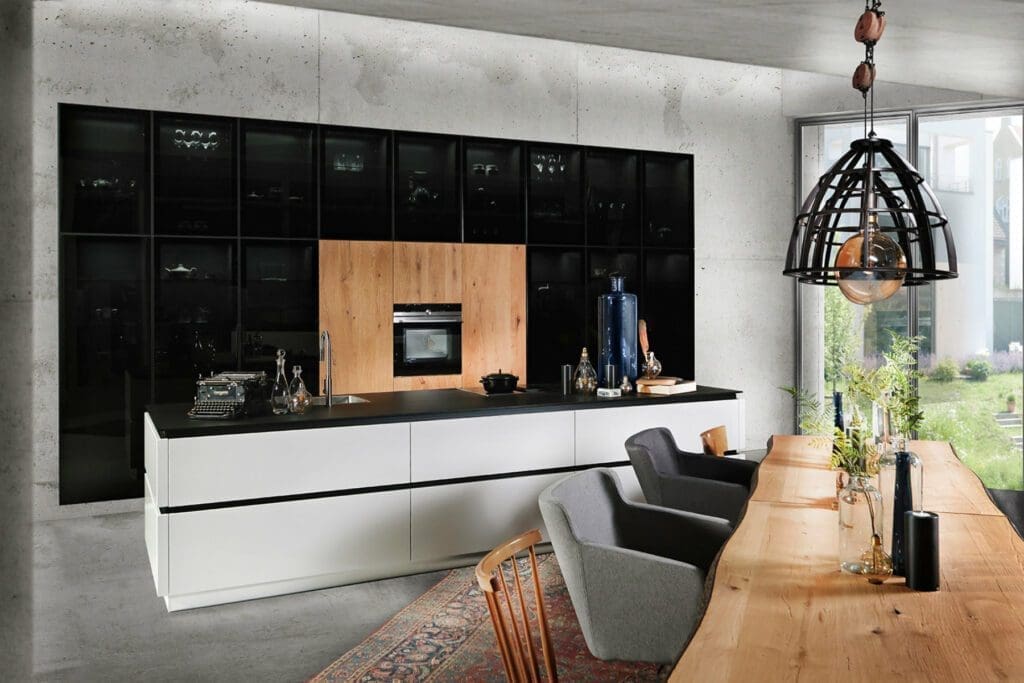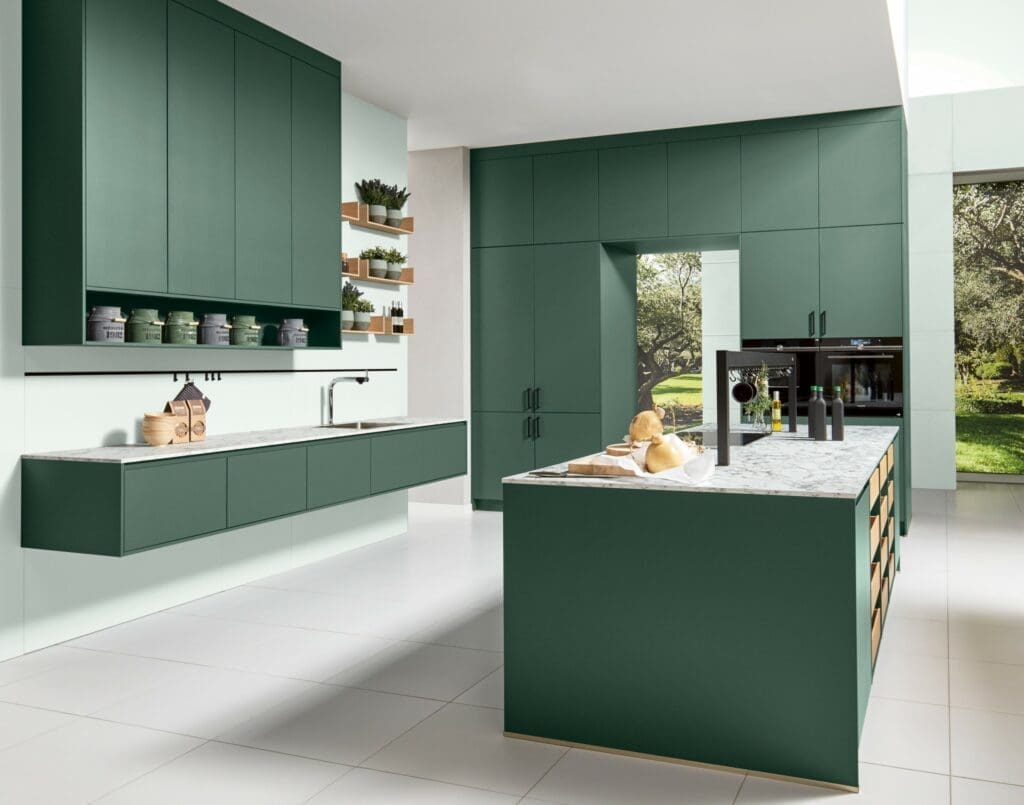 12. PRONORM KITCHENS
Pronorm Kitchens is comparable to other top German kitchen brands, with the quality and price comparable to other leading brands, such as Schuller, Nolte and Bauformat. Pronorm Kitchens enjoy a reputation for excellence, delivering high quality, premium fitted kitchens, including many exclusive design features you won't find elsewhere. For example, their door profile with unique Y-line handle features a chic detailing on the inside lip of each door, or else they offer a full customisable service including doors in any RAL colour. Overall, this is a premium German product affording endless possibilities for design.
13. RATIONAL kITCHENS
Rational Kitchens is a German kitchen company synonymous for excellence and original style for over 55 years, and in more than 50 countries. The recipient of many industry awards, the most recent of these is the German Brand Award, which Rational first won in 2018, and again in 2021. Using cutting-edge manufacturing technologies and skilled craftsmanship Rational deliver kitchens which successfully combine design excellence. With flexibility and innovative functionality.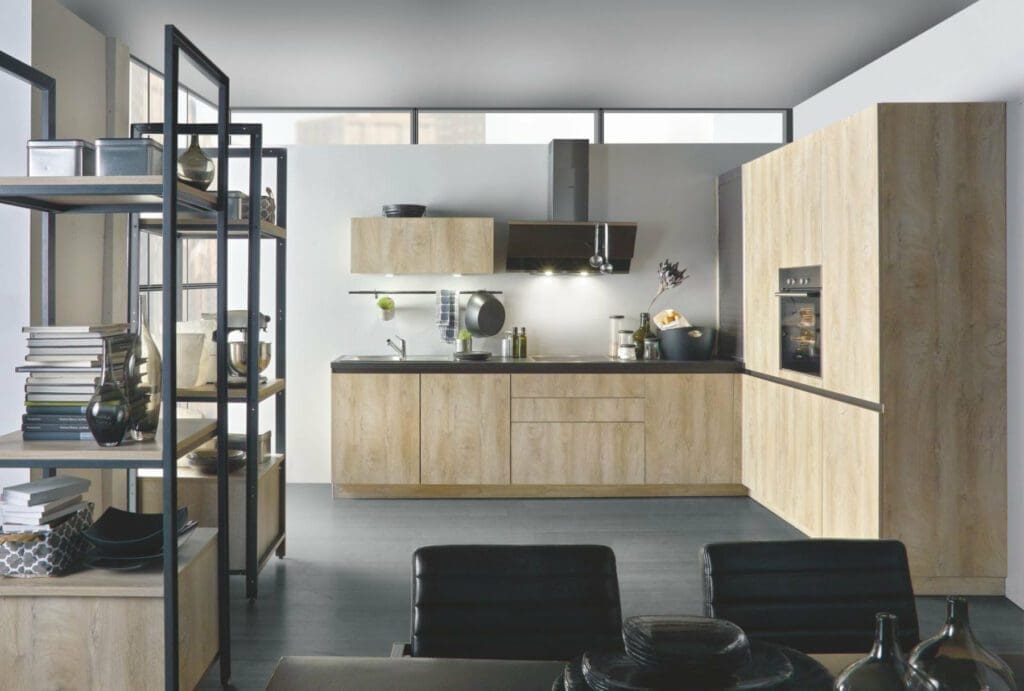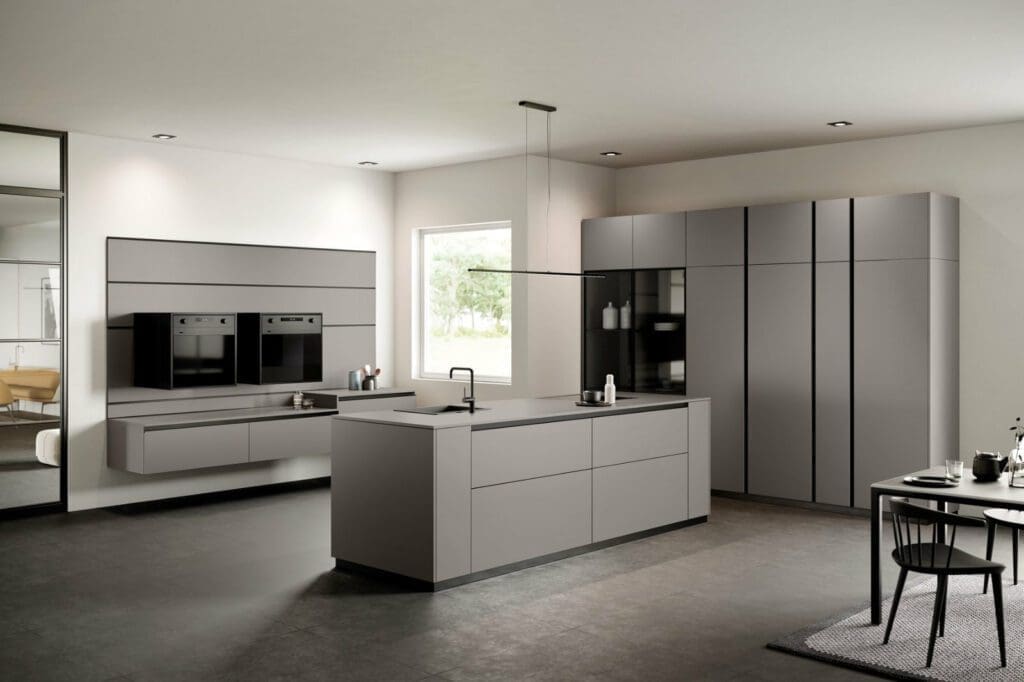 14. ROTPUNKT kITCHENS
The renowned Rotpunkt kitchens combine innovative design, high quality materials, and state-of-the art technology. Known for their clean lines and beautiful kitchen colours, all Rotpunkt kitchens are made from high-quality materials and stand out not only for their design and functionality, but also because they have a long-life expectancy of at least fifteen to twenty years. But where Rotpunkt really stand out is in their finer kitchen details, for example Rotpunkt Kitchens use 8mm thick solid backs, instead of the 3mm thick hardboard backs used by many of their competitors. You also have a wider range of colours for the interiors of carcasses, where Rotpunkt Kitchens offers 26 colors, compared with many other brands who offer only white. Environmentally aware, Rotpunkt ensure that every kitchen in their range is carbon neutral, and they are certified by myclimate for this.
15. WARENDORF KITCHENS
Warendorf Kitchens are a leader in the German kitchen industry and well-known for their award-winning designs. The highest quality materials are sourced from the best suppliers in the premium segment and complemented by innovative design and exceptional attention to detail. Made in Germany, each Warendorf kitchen is synonymous with first-class quality, and they employ a unique folding carcass technology, ensuring the perfect fit within the home.
Each Warendorf kitchen is made entirely to order in Germany, and with no pre-prepared stock. Each kitchen is unique in its design and in terms of colour, shape, height, and dimensions. You can even choose the exact shelving, niche solutions, handles, and storage inserts that you want, which are then purpose-built for you. This is handcraftsmanship made in Germany, and that is Warendorf.