When it comes to designing your kitchen, ensuring that the optimal amount of storage is included is vital. Not only can a lack of cupboards or drawers be impractical, but it can make your otherwise beautiful kitchen rendered useless.
For those with larger spaces to work with, there is a plethora of different ways in which you can make up for the lack of storage space. However, if you're working with a smaller kitchen, you may need to incorporate some clever solutions in order to make the most of what you've got.
Here, we will look at why small kitchen storage solutions are just as effective and useful as larger storage solutions.
Small kitchen storage options create convenience
Although it may seem tempting to have an audit of your kitchen utensils, the truth is that most of them are necessary for a fully functioning kitchen. Tools such as whisks and rolling pins are often difficult to find homes for thanks to their unusual shapes. However, designating a specific place for these items means that you can add elements such as drawer organisers to hold them in place.
Small storage solutions designed to accommodate these items include secret drawers; these are slim-line internal drawers which reside within larger pan drawers, helpfully positioned above your pots, pans, plates etc. These keep your cutlery and kitchenware neatly stored and organised, with everything you need in plain sight on opening a drawer. Alternatively, drawer mats or plate holders are further drawer insert options that will keep the contents of your kitchen drawers neatly in place on opening.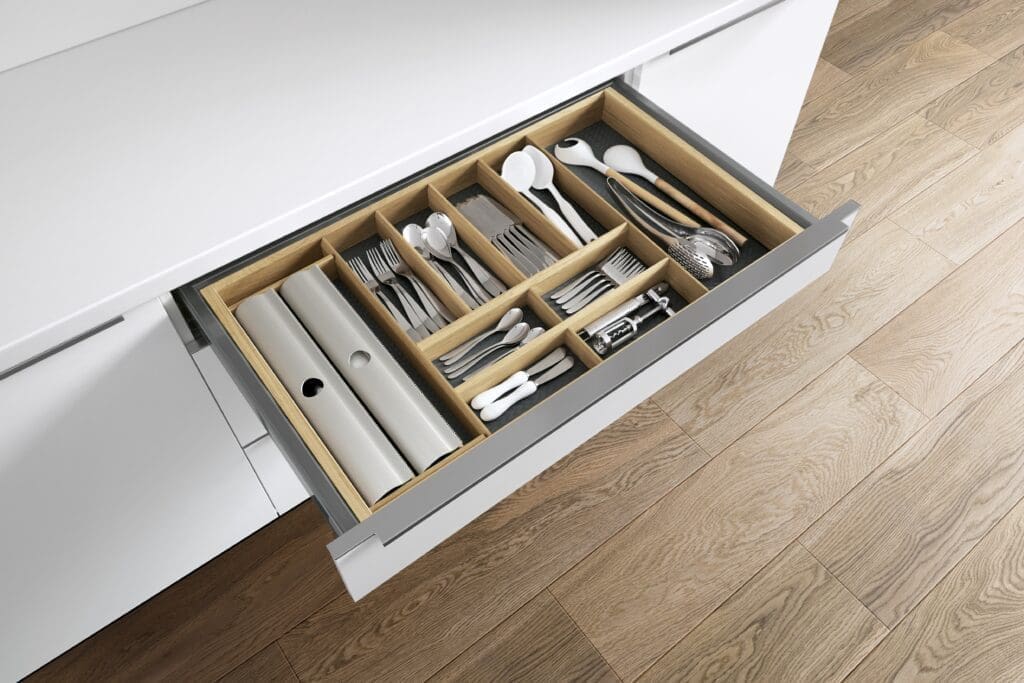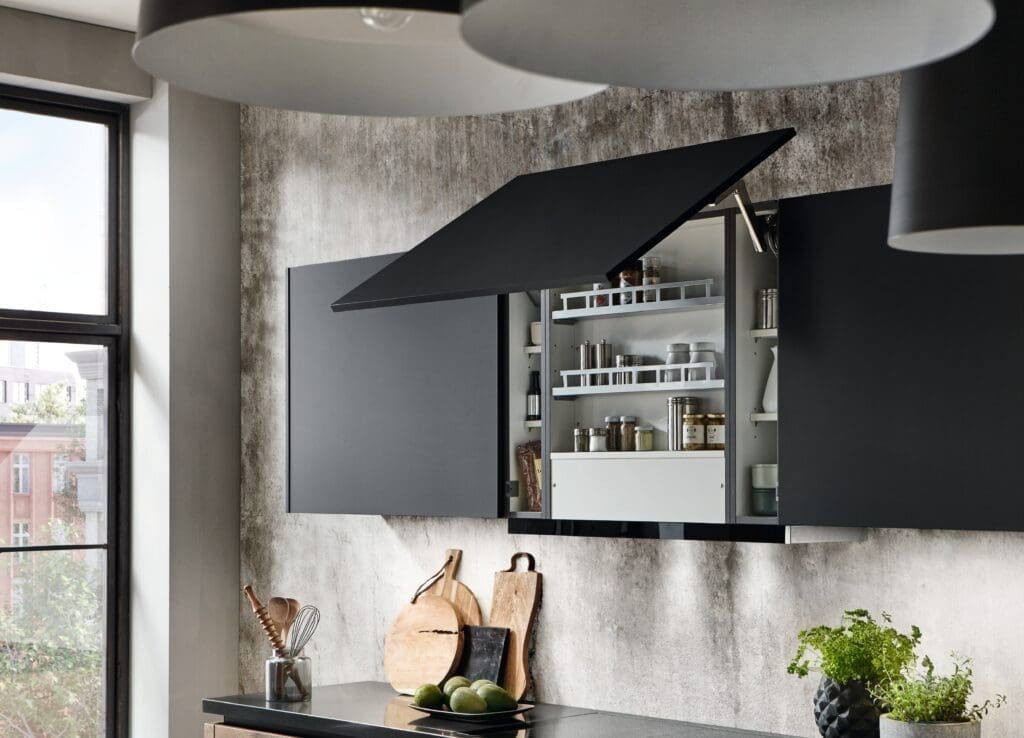 Ensure everything has a place, and everything's in its place
Storage solutions today extend beyond extra shelves; spice rack inserts and kitchen roll holders are just some of the ways that you can free up space, particularly precious worktop surface. Moving items such as kitchen roll of your surfaces can give the illusion of a bigger kitchen and allows you to really appreciate the design of the room – something we know that you'll want to showcase.
Magnetic kitchen storage allows use of otherwise unused space within your kitchen. An example of this is the space between worktop and wall cupboards. This space could be used for storage of spices or knives, which will adhere to the wall through magnets.   Particularly for spices this is beneficial because it frees up cupboard space. It also makes it easy to find whichever spice you require without having to rummage in cupboards; you can also keep adding to your collection without it reducing your cupboard storage capacity. Along with hooks and hanging rails for pots, pans or tea-towels; this type of storage is particularly useful for small kitchens where space is at a premium.
Add some flair to your kitchen
Other small kitchen storage options include wicker baskets, plate racks that can be integrated within wall units, pull out towel rails, and narrow spice drawers in place of a filler panel; this last option is excellent for making use of otherwise wasted kitchen space. All of these elements are often seen as decorative but opting for something with function is one of the best ways of adding secret storage into your kitchen.