What is a Scandi Style Kitchen?
The Scandi kitchen is a really relaxed yet ultra-stylish look that in the past decade has made its way across the waters from Scandinavian homes and into the mainstream of general kitchen trends. The typical décor reflects the simple, chic style of Scandi homes, embracing a warm feeling of Danish Hygge. Yet it also reflects their need to draw in the maximum amount of light for kitchens. This is because in the Scandinavian lands of Norway, Denmark, Sweden, Finland, and Iceland it typically gets light late in the morning and dark early in the evening so natural lighting within homes is in short supply.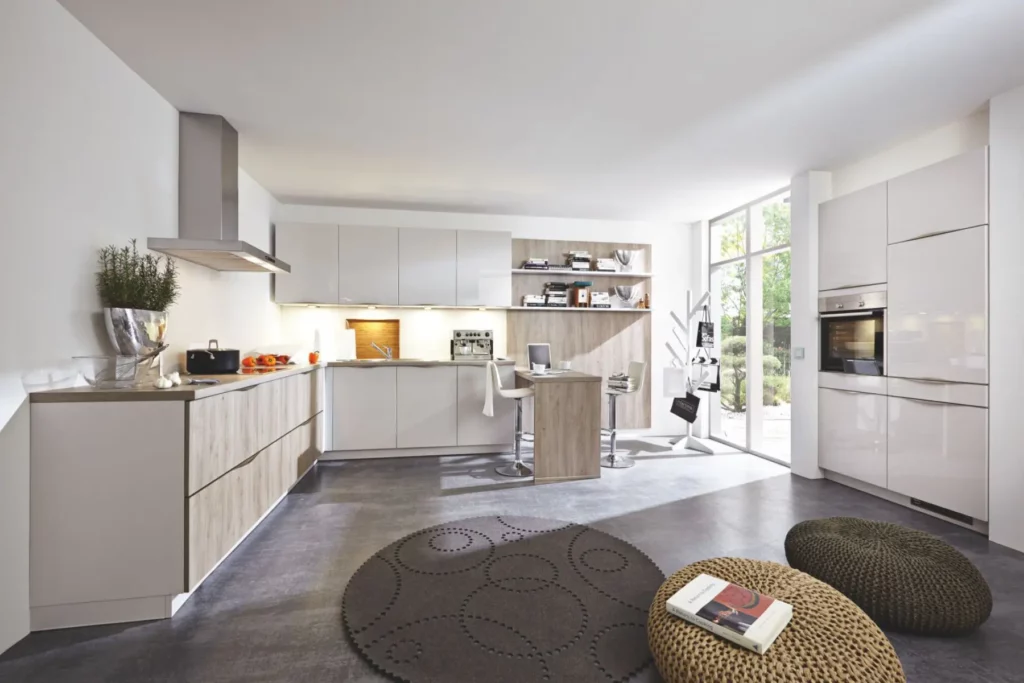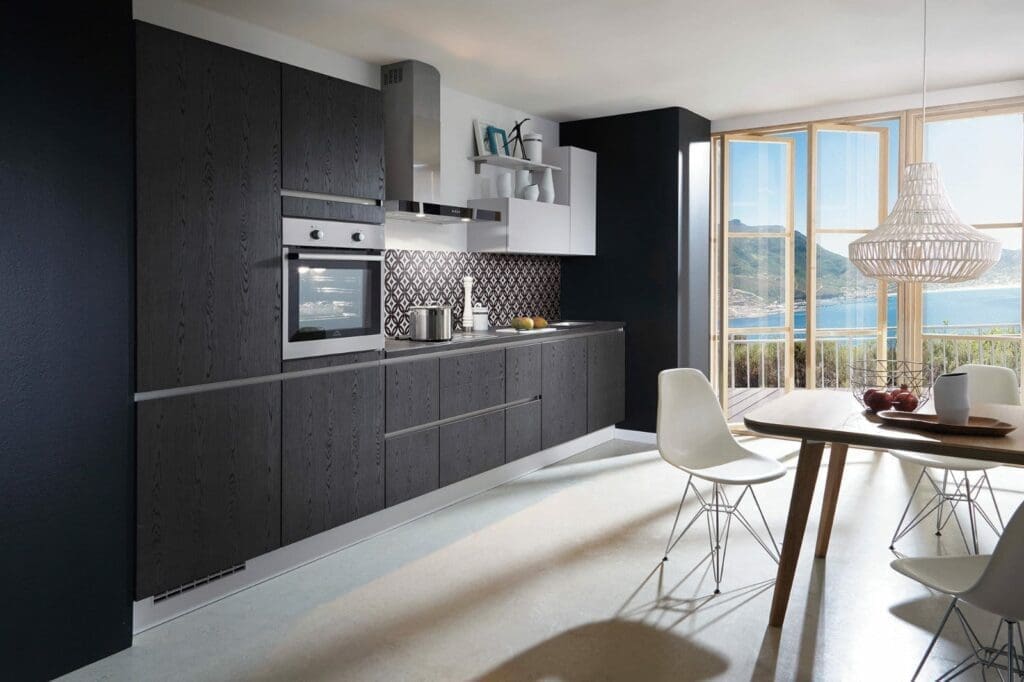 Scandi kitchens – How do you get the Scandi look?
No matter where you are in the world, receiving and retaining natural light is essential for modern kitchens. Solutions include large, glazed windows and skylights for an airy setting, as well as lighter kitchen colour themes that will better retain natural light within the home for the longest possible duration. The outcome is a kitchen setting that is stylish yet relaxed for cooking, dining and entertaining. Generally, this same theme appears throughout the entirety of a Scandinavian home but if it's just for your kitchen then here are some ideas for how to achieve it:
Scandi kitchen colours and textures
Typically, the Scandi kitchen style revolves around light-toned colours, usually cool whites, or else soft contrasts of tone and texture within a bright and airy setting. In combination with this the Scandi style is also recognisable by its simplicity and minimalism within design, although soft geometric patterns and textures will often appear. These add warmth, whilst preventing a white décor appearing bland or monotonous. Similarly, a burst of bold colour might feature as a focal point for the room, drawing attention and standing out against the remaining neutral colour palette.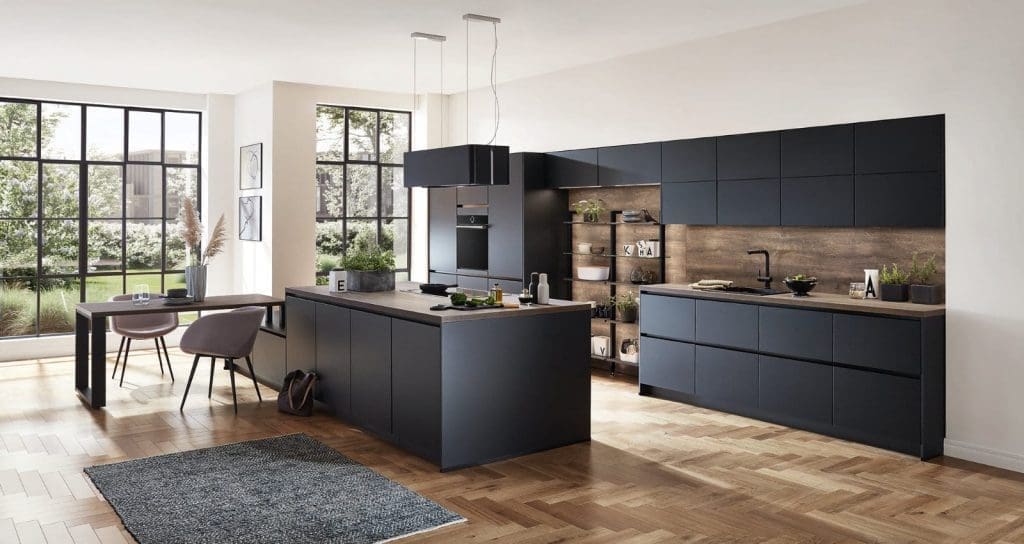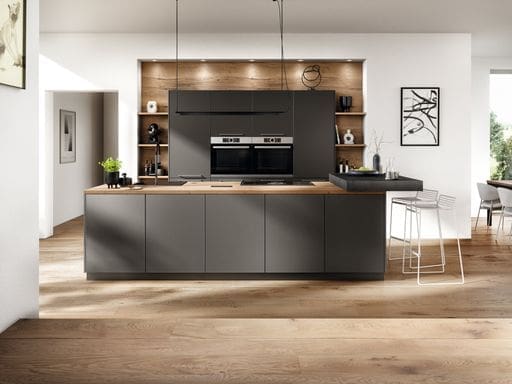 Scandi interior design theme for Small Kitchens
As white tones feature heavily within the Scandi colour palette, this style is ideal for small kitchens as white will always make a space feel bigger than it is. You can enhance this impression further by using the same colour for the walls as for your furniture. This will make the space seem larger still, whilst contrasting tones and textures bring character and prevent the scheme from looking cold or clinical.
Scandi themed kitchen furniture
Usually with a light exterior Scandinavian themed kitchen furniture is available in a diverse choice of textures ranging from pale rustic woods, soft matts, to richly textured stone and ceramic kitchen doors. Minimal in appearance Scandi kitchens are conversely highly functional and well-equipped by nature. Typically, they will have built-in appliances and integrated storage solutions which make effective use of the space that's available. Yet open shelving often features heavily too, softening the look from a sharper, more minimalist kitchen appearance, and giving the opportunity to create a personalised space, rich in stylish and comforting Hygge.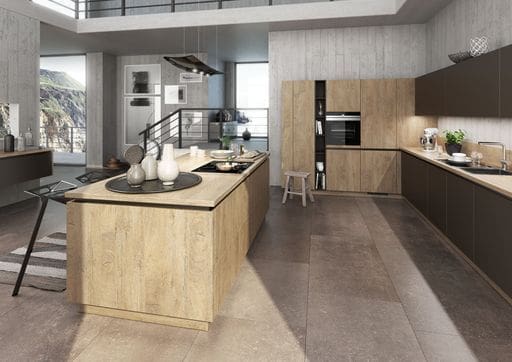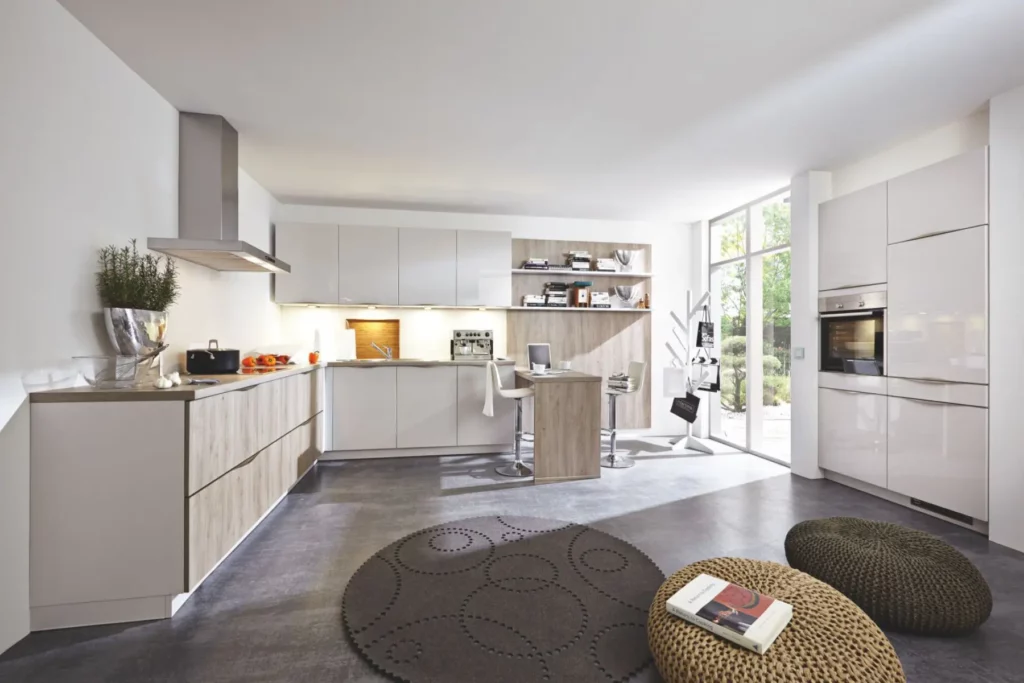 Traditional and Modern Scandi Kitchen Themes
Unlike minimalist kitchens, the style of Scandi kitchens cannot usually be described as overly modern or contemporary. Instead, they often strike a fine balance by successfully incorporating different elements from both modern and traditional settings. For example, white Shaker style, handled kitchen doors are as likely to appear in a Scandi kitchen as much as contemporary high gloss or white matt handleless doors. But what all styles have in common is the stripped back colour palette, allowing much opportunity to bring finishing touches that personalise the space and create an inviting feel.
Scandi Kitchen Décor
Wood accents are a popular choice for the Scandi kitchen theme, with natural and light wood finishes offering a subtle yet stylish contrast against the profusion of whites. For example, it might be exposed wood doors, wood ceiling beams, wood worktops, flooring, table top or chairs. Most Scandi homes include a dining table, whether in an open plan or enclosed kitchen. This is a valued addition, and makes this style popular for families who are keen to ensure time for one another.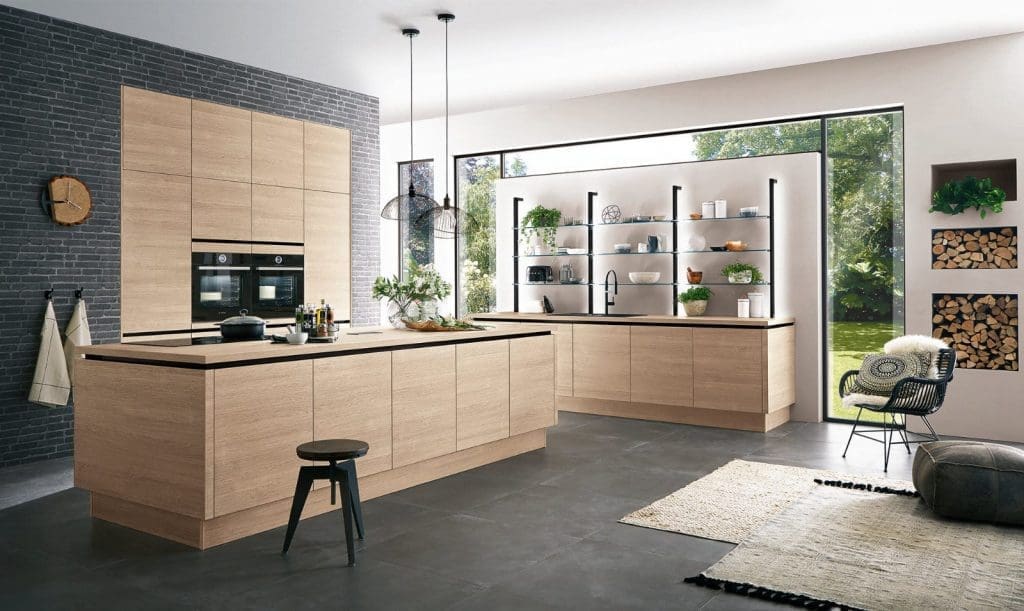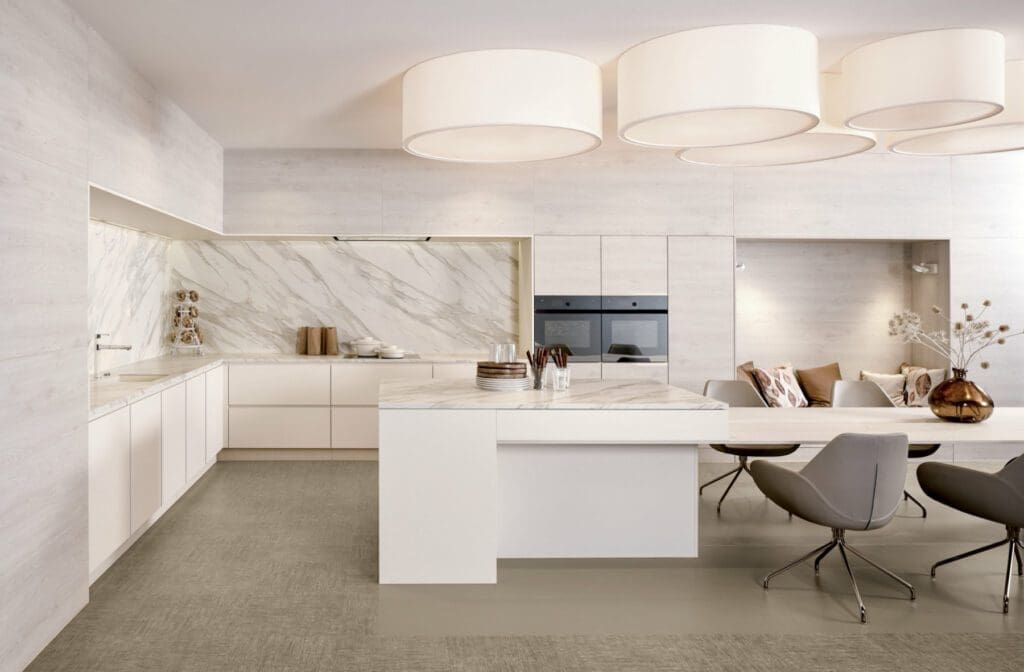 Scandi Kitchen Lighting
As already stated, a bright and airy space is at the heart of this kitchen look so including as much natural lighting as possible will help achieve it. Flooding a room with light is not solely about the fresh look it creates but natural light makes using the kitchen easier and more enjoyable. It also provides a happier and healthier kitchen setting. Options for allowing natural light might include tall bay windows, bi-fold doors and skylights. These should be counterbalanced by spotlights, ambient lighting and recessed lighting where needed.
Scandi Kitchen Flooring
Flooring can impact on the overall kitchen look, particularly in affecting how bright or dark the room appears. Along with the rest of the décor, Scandi home flooring is typically light and natural in tone. In previous eras black and white checkerboard flooring was popular within this kitchen style. This still features but more-often homeowners opt for light tiles, natural wood flooring or white washed floors. These latter options bring warmth and are very much in keeping with the desired bright and welcoming hygge style. No matter what look you want to achieve you should remember that a kitchen floor is a hardworking region of a kitchen so should be durable, resistant, and easy to clean.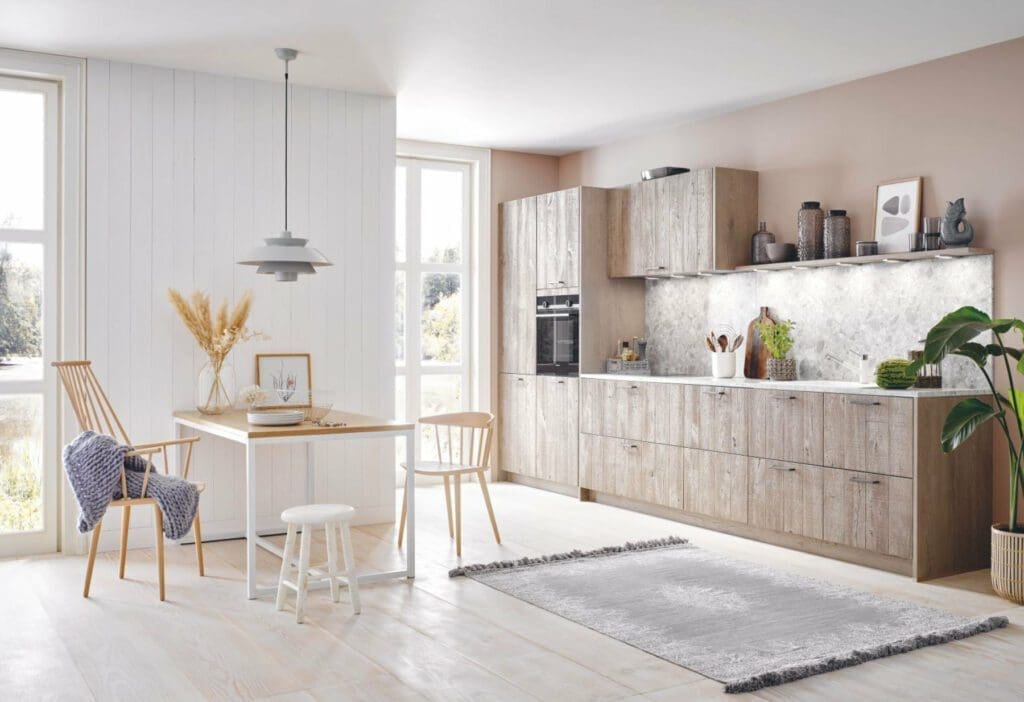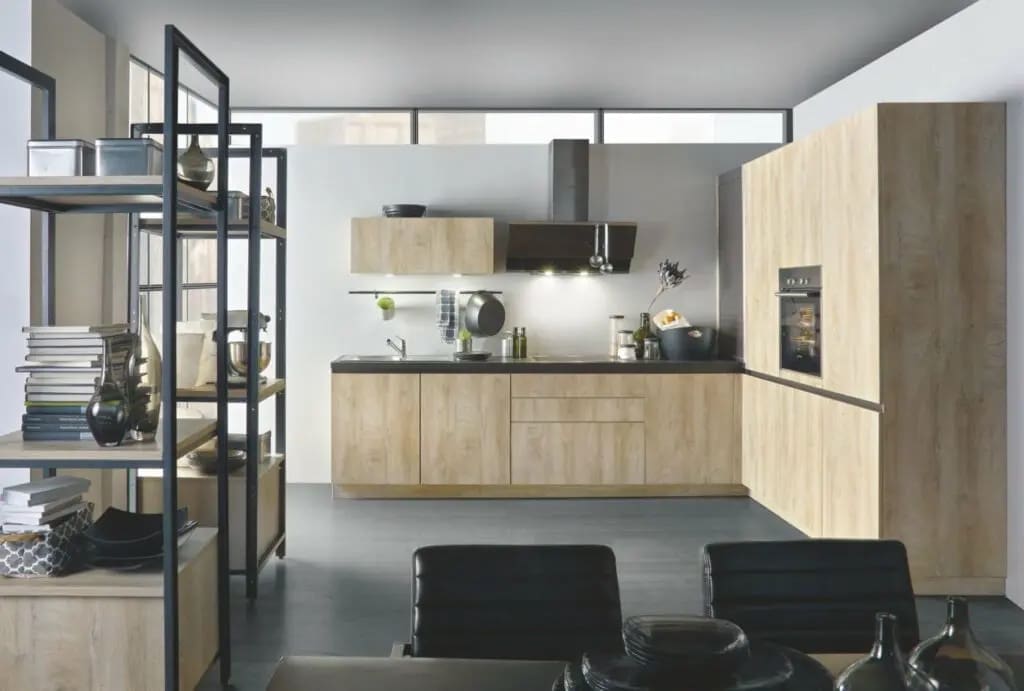 Scandi Kitchen Accessories
As mentioned in relation to colours for this theme, bursts of bright colour will often appear in a Scandi kitchen and frequently these are introduced through kitchen accessories. Whilst not so popular in UK homes, rugs are common to Scandi kitchens and offer an easy means for a lively injection of colour. Alternatively, it might be a brightly coloured set of chairs, pendant lamp shade, candles, plate set, or even bright hues within a vase of fresh flowers. However it is introduced, bold accents add a fresh feel and stand out vividly and deliberately against the rest of the décor.
Make the Scandi look work for your home
Beautiful though this look is, the Scandi kitchen look is one that must be kept clean for it to work. White furniture and decor within the home are very striking but require more effort to maintain than darker colour schemes. If you anticipate this being a challenge then you might consider toning down the white and introducing some darker, yet still complimentary finishes and accessories. You might even combine some of the elements of the Scandi kitchen with those from the industrial kitchen look, bringing a subtle sense of drama to your Scandi kitchen, whilst retaining its chic yet warm sense of style.