The demand for steam ovens is on the rise! Over recent years there has been a significant increase in the number of people requesting steam ovens for their new kitchens, with steam ovens especially popular in replacing microwaves as an affordable means for cooking food quickly and easily, but with the added benefit of being healthier too. Steam ovens cook food using hot, pressurised steam, and can be used for cooking most types of food including meat, fish, rice, vegetables, pasta, potatoes, bread and even desserts such as muffins and cakes.
Steam ovens versus conventional ovens
There are many reasons for choosing steam ovens in addition to convection or fan ovens. Firstly, (as already mentioned) it is a quick and convenient method of cooking so an ideal fit for the everyday modern busy lifestyle. Second to this, where other forms of cooking can dry food out, (particularly the microwave), the steam cooking process is kinder to food. Steaming helps food retain moisture during cooking and prevents it from burning. This ensures food is tender, has a better colour and texture, and that it also tastes better! In turn, it is better for you as steamed food retains more vitamins and nutrients than other forms of cooking. Steaming also doesn't require oil, unlike food cooked on a hob or in an electric oven. These usually require oil because the heat produced is very dry. The lack of oil (again) makes it a healthier option because it reduces the food's calorie and fat content.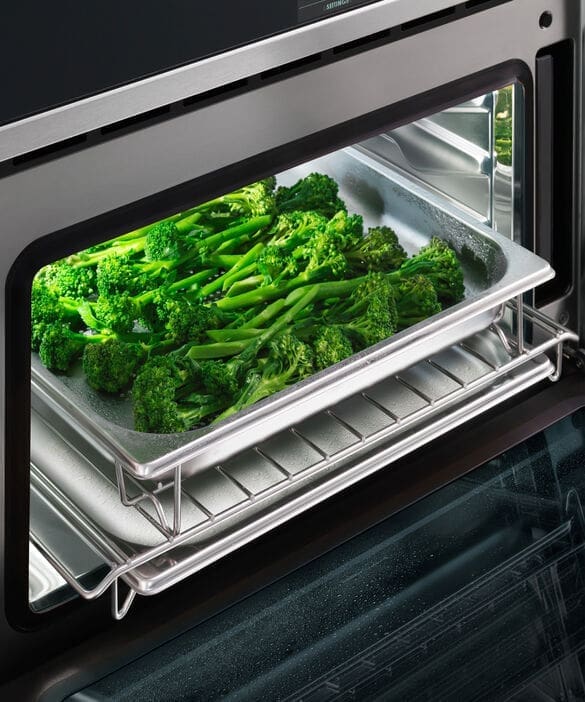 Steam combination ovens
A further benefit of steam ovens is that they are available as part of a multi-function oven. These allow different types of cooking for different types of foods to take place at the same time, and all without any transfer of flavour. So, at the same time as steaming potatoes or vegetables, you can also bake and roast with traditional hot air cooking…This is hugely beneficial because a drawback of a steam oven is that they cannot brown or 'crisp' food (and let's face it, browned meat along with crispy roast potatoes are the making of a good Sunday dinner!) Similarly baked goods such as bread will also emerge pale and without the crustiness you would hope for! So, if important to you, the answer is a combination steam oven. This cooks the food with steam, before browning with a dry heat to ensure the crisped quality and texture you would expect for such foods.
Cleaning Your Steam Oven
In addition to such benefits, steam ovens are popular because they are easier to keep clean than some other types of cookers. This is largely because greasy food stains and spillages can't become baked onto the surfaces. Users reap the subsequent benefit as it eliminates the 'elbow grease' traditional ovens often require. Instead, they just need a light wipe down with a damp cloth after use. But making it even easier, many steam ovens such as those by AEG are available with a pyrolytic cleaning function, meaning at the mere touch of a button, grease dirt and food residue is reduced to a pile of ash which can easily be wiped off with a damp cloth.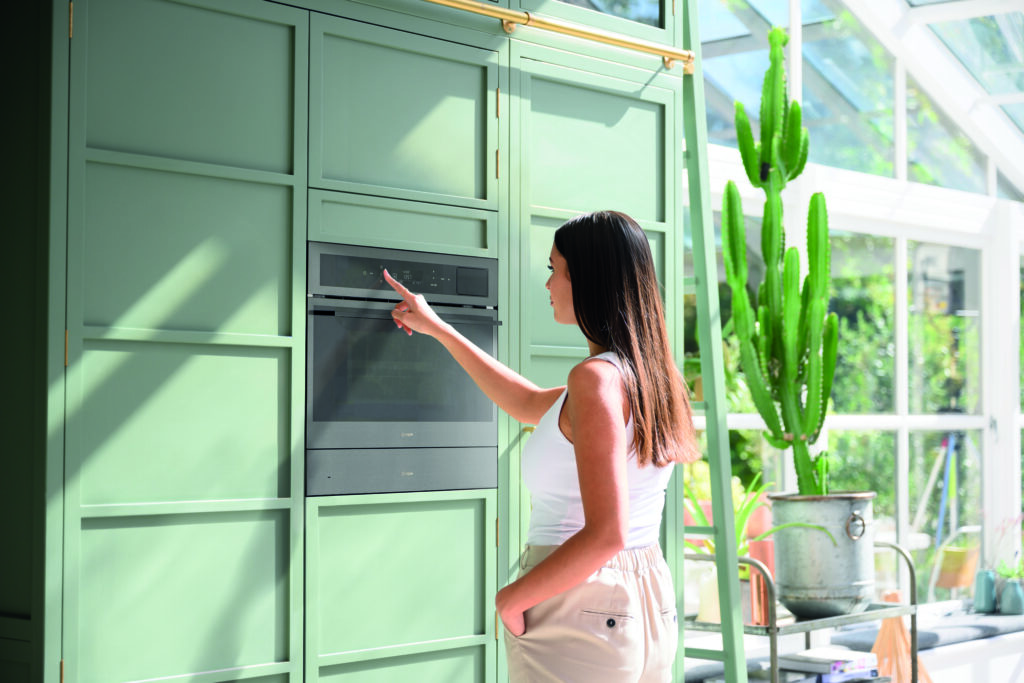 How does a steam oven work?
Steam ovens have a sealed cooking chamber and within this there is an inbuilt reservoir of water, or water tank. The water tank is detachable and needs refilling before every use because boiling the water during cooking causes it to evaporate. Most steam ovens ensure maximum efficiency by only boiling as much water as is needed during cooking, whilst a thermostatic control allows steam temperatures of 35-100ºC. Boiling the water vaporises it, filling the oven with steam. This in turn cooks the food. Continuous bursts of steam are injected into the oven, and it is this that, besides evenly cooking the food, prevents it drying out.
Steam Ovens with Inbuilt Recipes
Many models such as the AEG and Fisher & Paykel steam oven ranges also offer automatic cooking options to choose from. With a built-in recipe function, these require only the weight and type of food to be programmed at the start of use for the oven to cook at the optimal temperature and length of time to achieve the best possible results.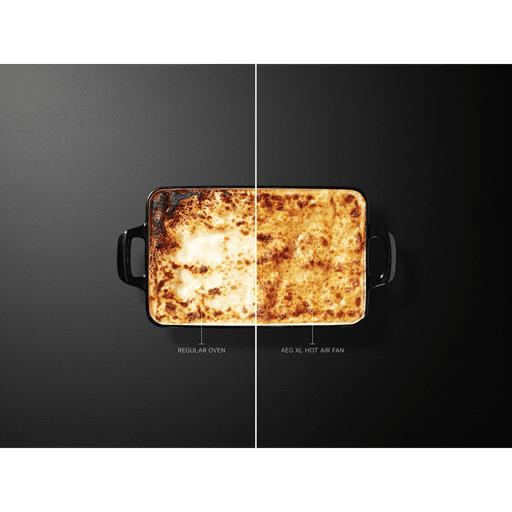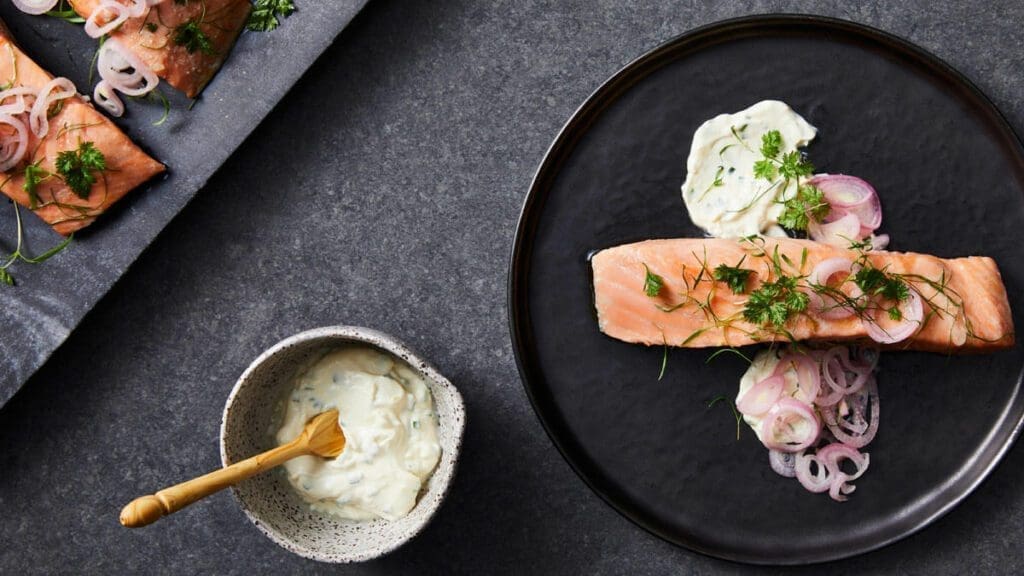 Sous Vide Cooking in A Steam Oven
The reinvention of the Sous Vide cooking method has been one of the most exciting food innovations in years. Sous vide, which is French for "under vacuum", is a process where you cook foods sealed in airtight plastic bags at low, consistent temperatures over long periods of time. The result is tender and juicy meats with all their natural flavour intact. You can use any oven for this but using a steam oven is particularly efficient for Sous Vide cooking because their low moisture content is ideal for sealing the bags without getting too moist from condensation. The steam from your steaming vegetables or soup will also add extra flavour to your dish! Cooking this way also helps reduce your energy usage since it requires very little energy to maintain precise temperature control.
Before Buying Your Steam Oven…
Before deciding on a steam oven there are some factors you should consider. As mentioned, pure steam, or steam only ovens cannot brown food, so how important this is for your cooking requirements should factor in your decision making. This drawback is easily overcome if you choose the multifunction model of steam oven, but you must be prepared to pay an additional cost for this.
Secondly, you should consider the size of your intended steam oven and whether it will accommodate all your cooking needs. Where space permits many homeowners, opt for a small steam oven in conjunction with another oven model, just as you might do with a microwave. Whether side by side, one above the other or entirely separate, integrated ovens can perfectly fit a sleek kitchen aesthetic. They are available in a compact model with 45 litre capacity, or alternatively Fisher & Pakyel offer models with a generous 85 litre total capacity (just think of your family turkey at Christmas!) For a steam oven, or any other type of oven, you must be sure to select the size and style that will fully accommodate the needs of all who will be using it.
For more information on Steam Ovens or help in choosing the right model for you please contact the Kitchen Experts today.