When it comes to designing a kitchen, ensuring that you're making the most out of the room is crucial and this includes providing ample storage space for all your kitchen needs. Utilising the space provided can elevate the feel of the room and help prevent it from feeling cluttered and cramped, instead creating an environment you're more than happy to spend time in.
For those looking to create the illusion of more space, kitchen pocket doors are a great option. Sleek and stylish, they are an innovative take on the classic sliding door system. Take a look to see how this innovative design feature could transform your kitchen…
Why Choose Kitchen Pocket Doors?
Kitchen pocket doors are intended for housing but also concealing storage and/or appliances within tall kitchen units; more-often this is within open plan kitchens or studio apartments. Allowing easy access and use of the contents within, their clever-yet-durable design means that, on opening, the rotary doors slide outwards but then glide backwards into a lateral pocket. What this means is that you're left with a fully accessible space with unobstructed walkways – something that can completely transform smaller kitchens.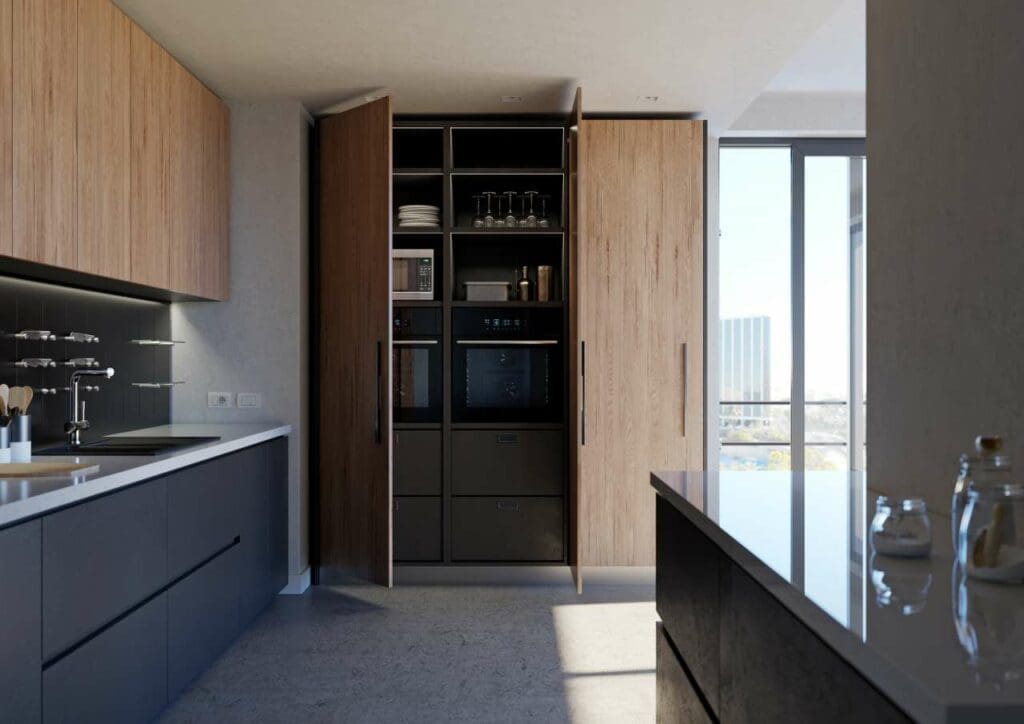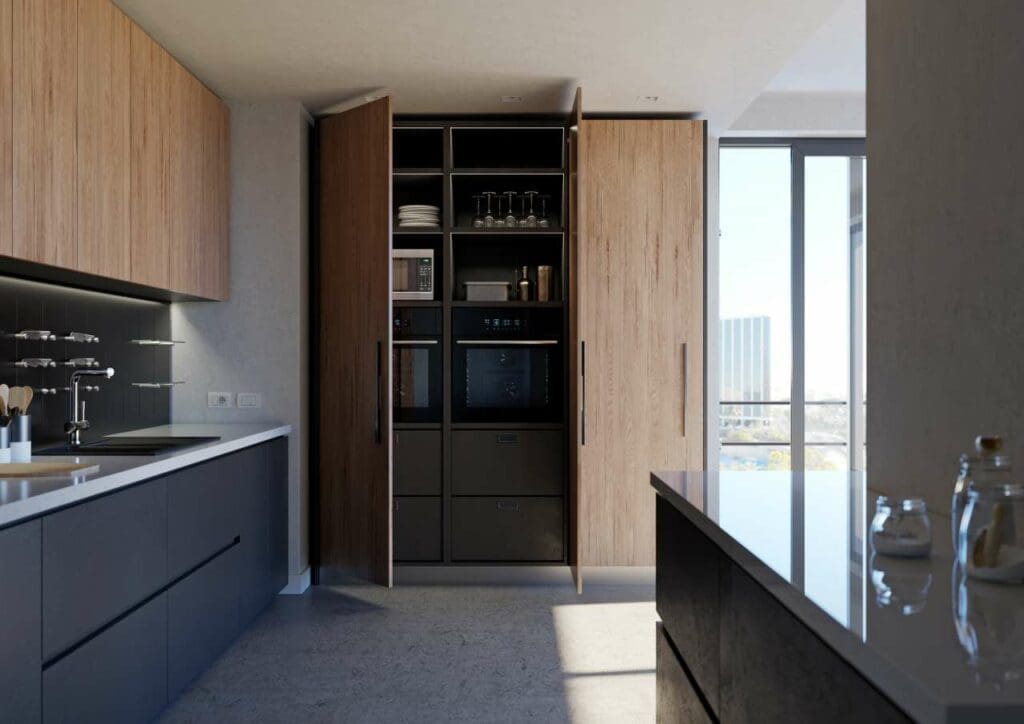 Benefits Of Kitchen Pocket Doors
Although kitchen pocket doors cannot conceal large appliances such as a dishwashers or other floor-based appliances, they work brilliantly for those looking to house and conceal appliances such as ovens and microwaves, as well as smaller appliances such as a kettle or toaster. A great choice for those looking to capitalise on space in a smaller kitchen, they can also contain interior pull-out drawers and cupboards for providing additional storage. When the pocket doors are closed, all of these goods are completely hidden from view, ensuring a clean worktop space and overall sleek appearance.
Why are Pocket Doors so Popular?
It is their stylish and uncluttered look which makes these so popular, as well as the seamless flow of furniture from kitchen into living room within open plan spaces. In larger kitchens or island kitchen designs, the pocket doors create a completely clear look, bar a sink and hob. This makes them an ideal choice for homeowners with a preference for a 'non-kitchen look', that is, a kitchen with an emphasis on the space as a stylish site for relaxing or entertaining.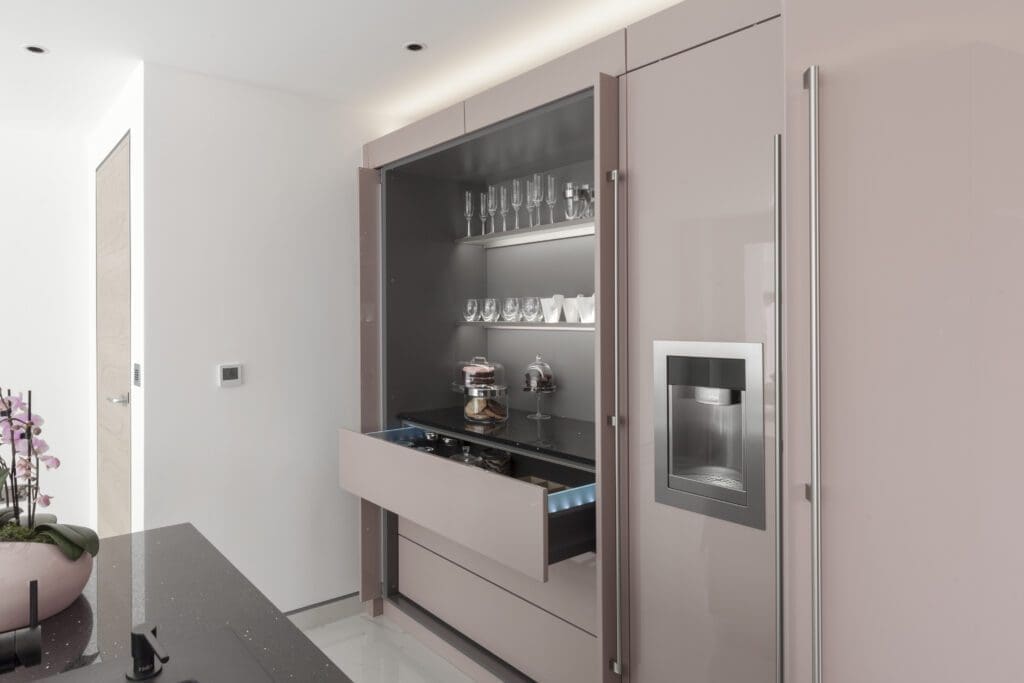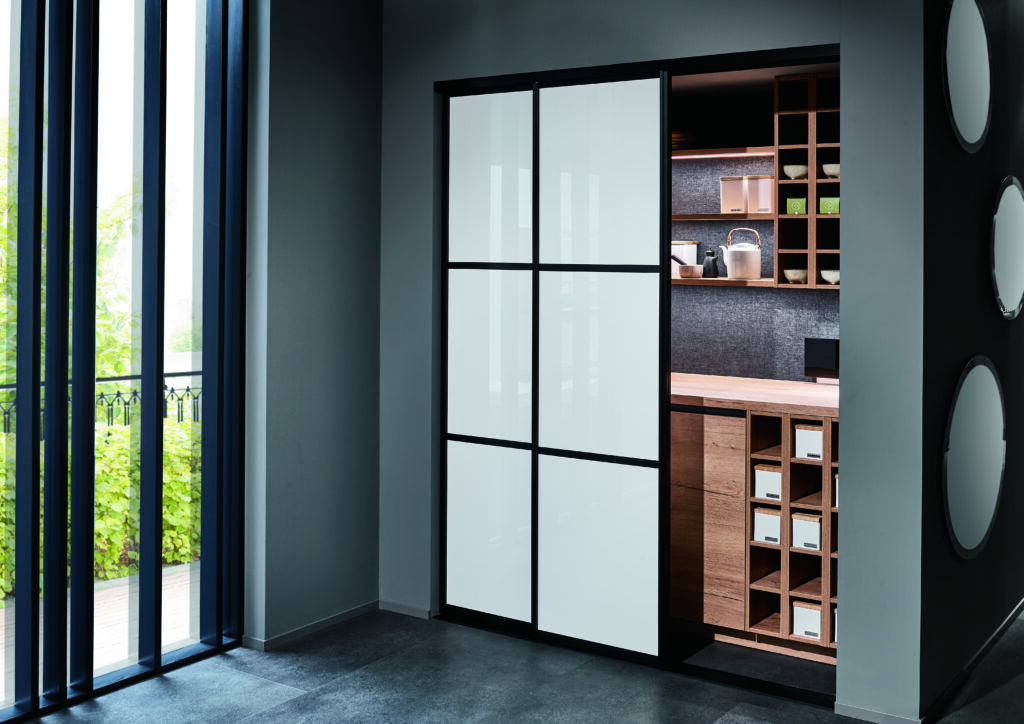 Achieving A Seamless Fit
Available with a choice of one or two sliding doors, kitchen pocket doors can be fitted for a run of tall units or else as a freestanding module. What this means is that you're free to choose the solution that works best in your home. Pocket doors also come in a range of different finishes; entirely dependent on the style that best suits your taste and your home. From gloss metallic designs to a matt style, a pocket door can blend seamlessly into your kitchen.