When planning a small kitchen, it is really important to make the most of all available room space, yet still achieve a design equal in looks and functionality. Through careful planning, along with some tried and tested techniques, it is certainly possible to create stunning designs for small, restricted, or awkward room spaces. If currently thinking about redesigning your small kitchen space, here are some of the practices frequently used to maximise results:-
1) Maximise your worktop in a small kitchen
Ensuring sufficient kitchen worktop space is essential within any kitchen but particularly when planning a small kitchen. You need sufficient worktop for preparing food, for setting it down when taking it out the oven, and also a 'wash' area for piling used cooking equipment and plates prior to washing up. If you don't have a separate dining area then you might also need to factor in worktop space for eating at. Maximising your worktop can be achieved through worktop extensions such as a slide out table, pop up table, or even a worktop sink infill so you can use this space when the sink isn't in use. Alternatively, even in limited kitchen spaces there is sometimes scope for a small peninsula or raised breakfast bar, bringing a new dynamic to the kitchen a long with extra worktop space for eating, working, or socialising at.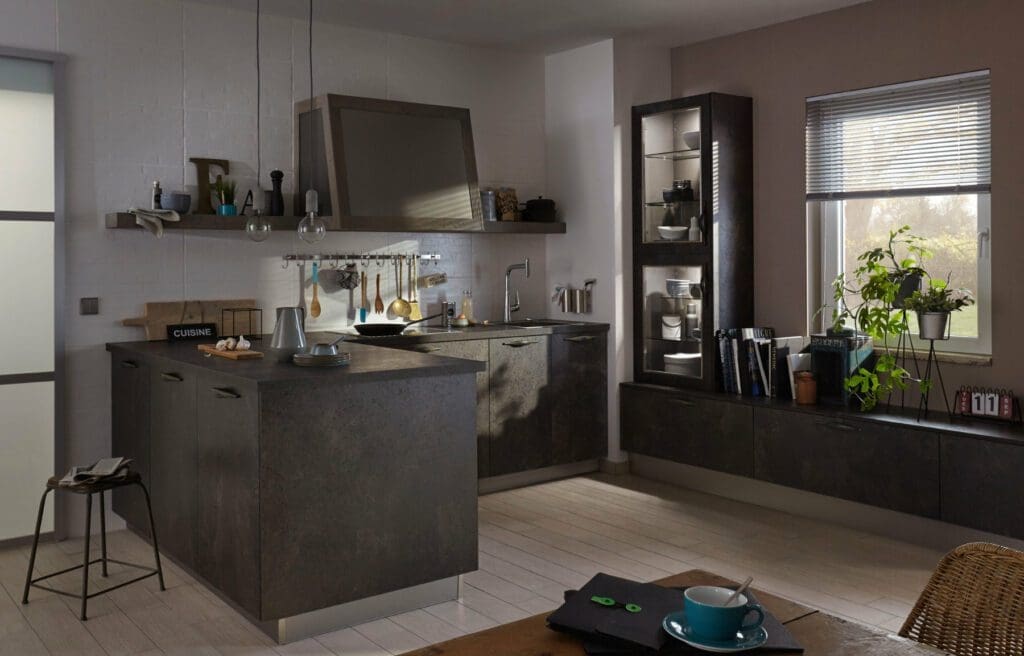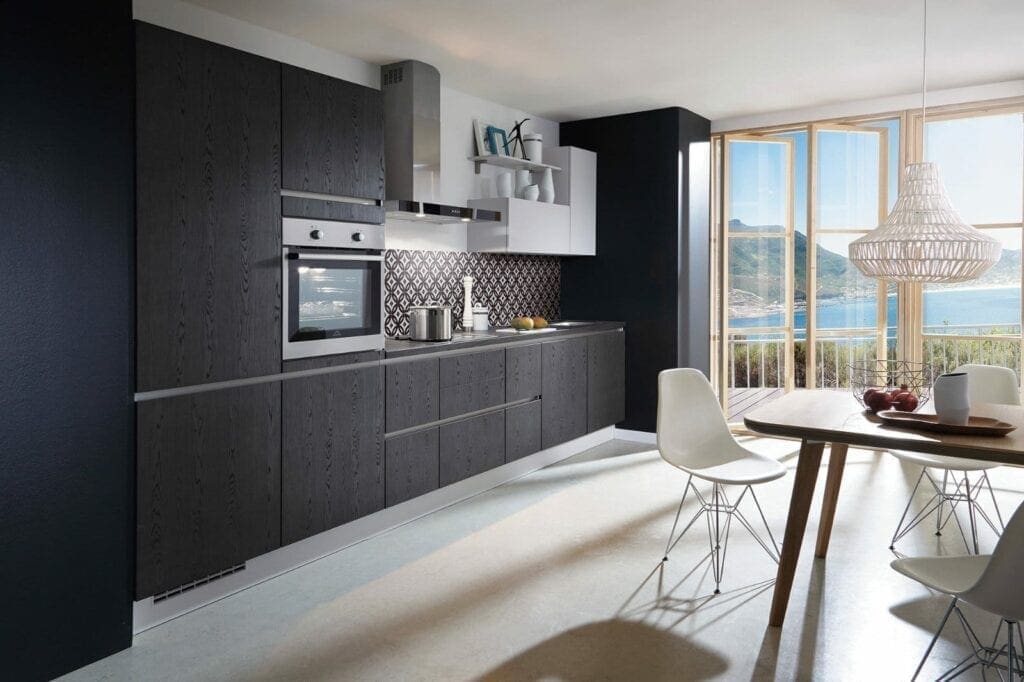 2) Don't block your windows
An effective yet simple way of making your small kitchen space feel bigger is to avoid blocking any windows. Your windows are a natural light source, and the more light you can allow into a room, the bigger and brighter it will feel. In small kitchens where natural light is limited it is often a good idea to locate the hardworking sink under a window, making for a comfortable workspace for prepping food or tidying up. If it's possible to add additional glazing such as skylights or glass bi-fold doors, this is also an effective means of making a small kitchen space feel bigger and brighter.
3) Choose Small Handleless Kitchens
The handleless kitchen style is hugely popular for its sleek, clean look. But it is also a great choice for small kitchens because the lack of handles means the cabinetry takes up less space. There is more room for movement, and the chance of snagging clothing is completely eliminated. However, if the handleless style isn't for you, then handles can still work too, but it is better to select a neat and unobtrusive handle that won't take up too much space and impede use of your kitchen.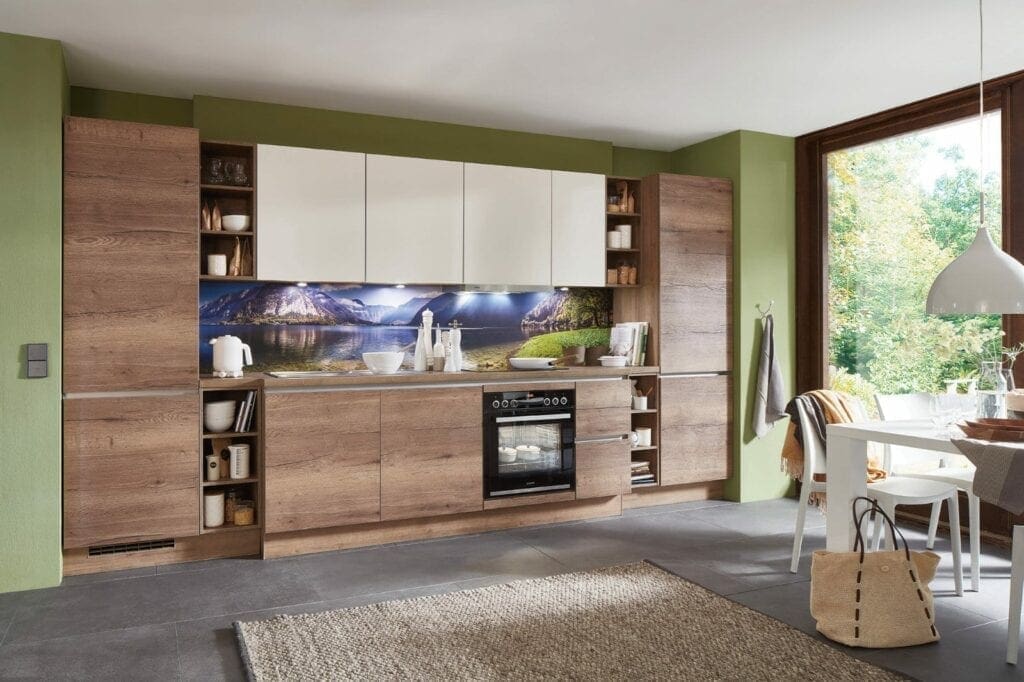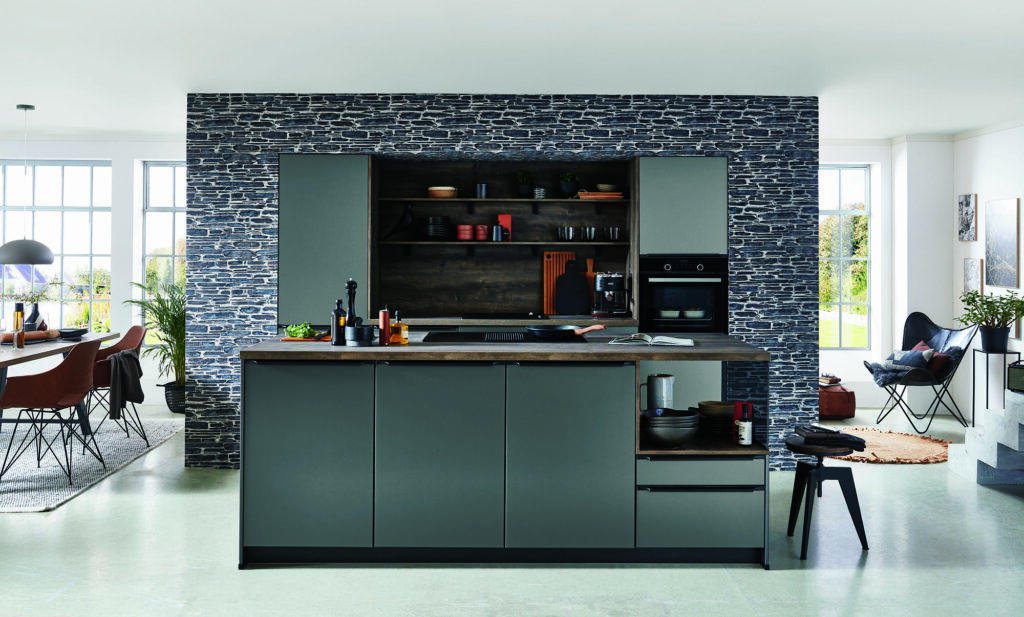 4) Choose appliances for small kitchens
Within any kitchen, the choice of appliances is a decision based on personal preference, lifestyle, and individual requirement. But of course, your appliances must also physically fit within the space. To ensure this is possible for the appliances you want, there are many compact kitchen appliance versions available, including slim-line dishwashers and ovens. Alternatively, you can choose multi-functional appliances such as a combination oven with a microwave, or steam cooking function; a washer/dryer and a fridge with freezer compartment. Similarly boiling water taps accommodate modern busy lifestyles whilst also eliminating the need for a kettle upon the worktop. Another example of an appliance specifically designed for a small kitchen space is the hugely popular Neff Slide and Hide oven; this has a door which retracts on opening, ensuring a safe and practical space whilst cooking.
5) Choose drawers over cupboards for small kitchens
Whilst they can prove more expensive, they are worth it in the long run as choosing kitchen pan drawers rather than cupboards within a kitchen generates more space for storage. Drawers are also more practical as they make your kitchenware more visible, as well as easier to reach and lift out.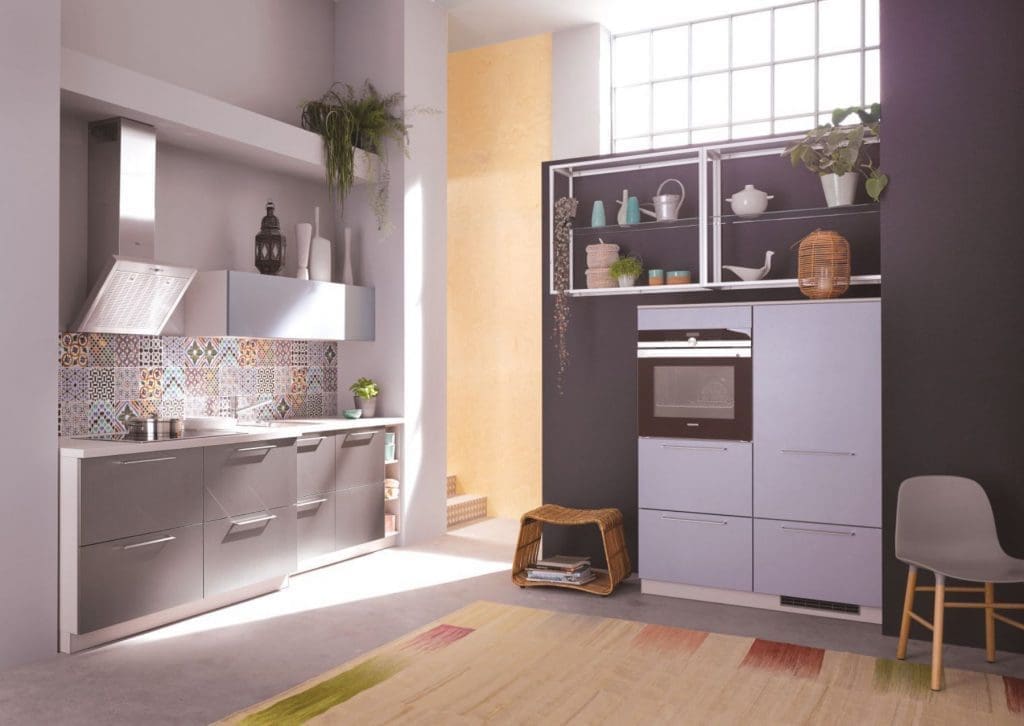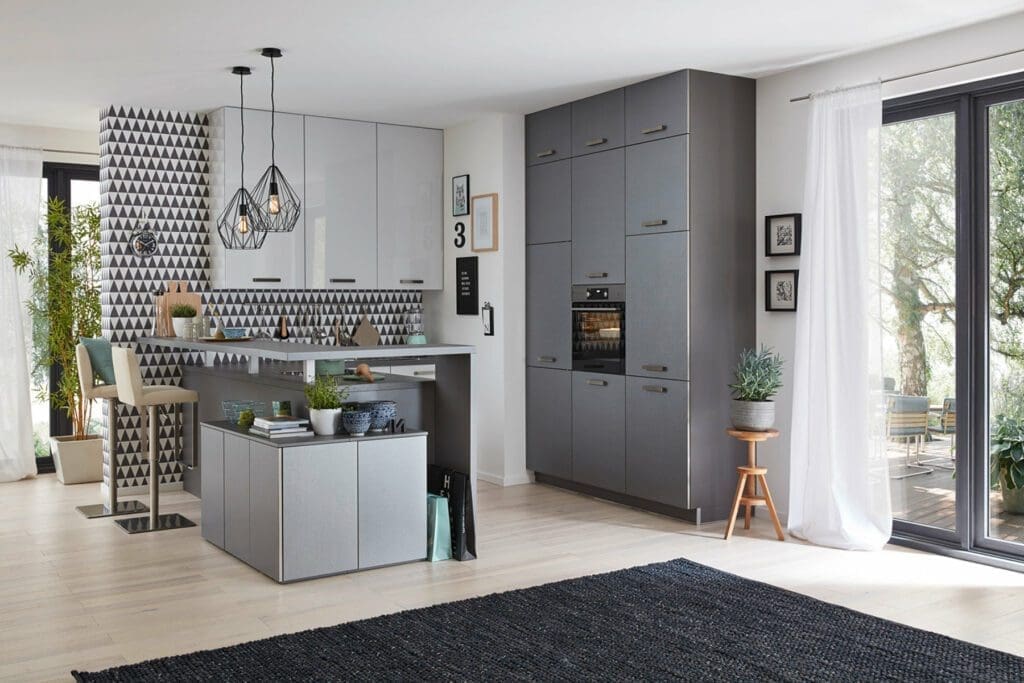 6) Extra-height ceiling units
If you need added kitchen storage space in a small kitchen then wall units which reach to the ceiling are a great solution and can create the feeling of extra height. Invest in a small foldaway stool so you can easily reach it, and this space is useful for storing goods which are not often needed or used. The other benefit of wall units that reach to the ceiling is they fill the gap between the top of your units and the ceiling, which means you don't have to clean what is otherwise a common dust trap.
7) Use your plinth as additional storage space
Kitchen plinth offers another site in your kitchen where you can include additional storage space, in the form of subtle but useful plinth drawers. These are also handy for items that you would prefer not to mix with your other kitchenware, such as cleaning cloths, or even pet food.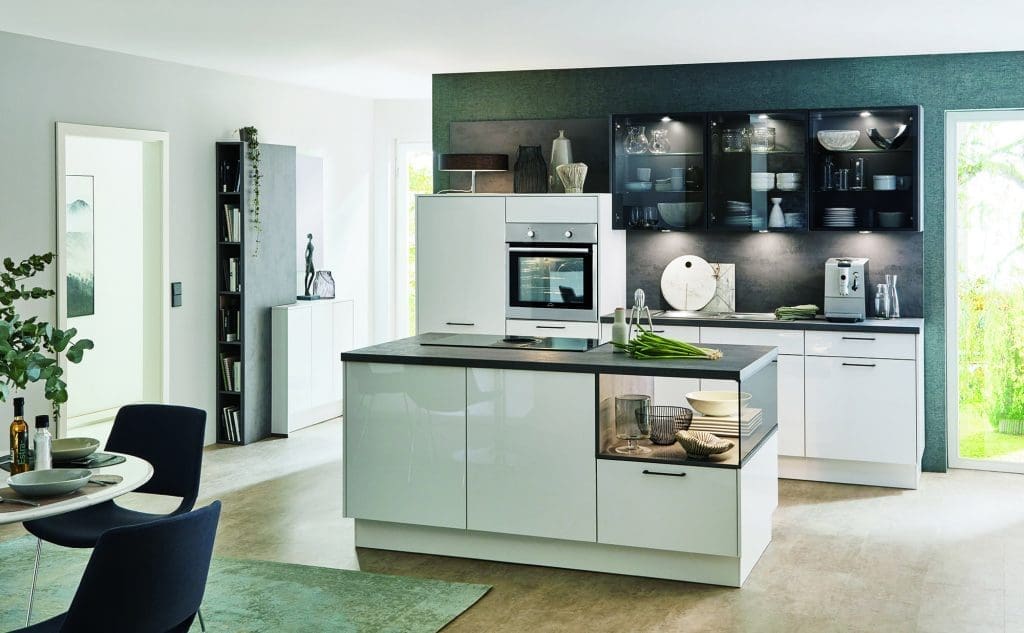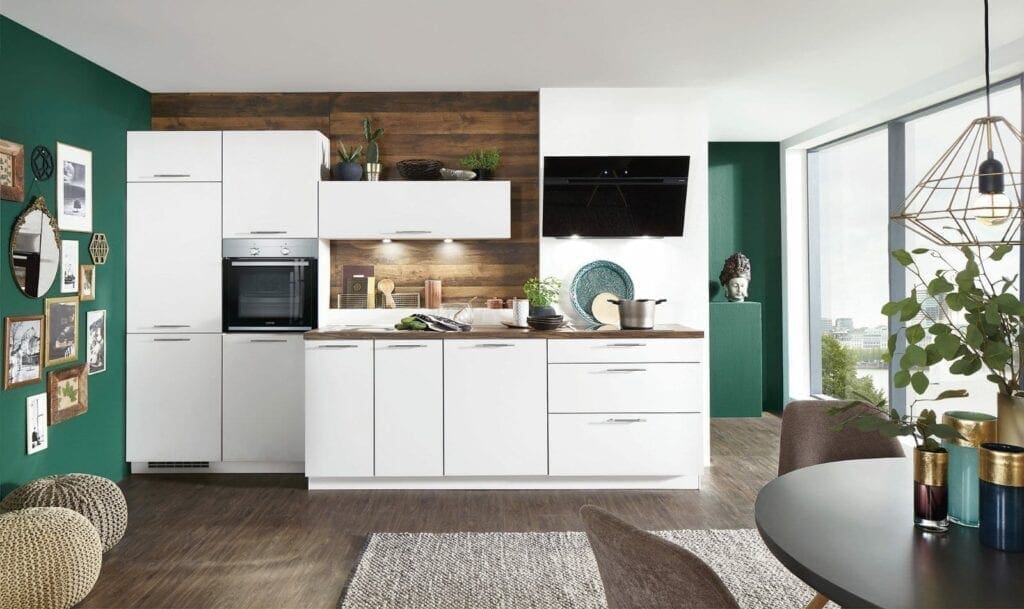 8) Colours to Make A Small Kitchen Look Bigger
For small spaces, light-coloured kitchen doors and worktops are ideal as they can make the room seem larger than it really is. Gloss doors are also a great option for further enhancing this effect as they will reflect light better than matt kitchen doors. Without careful planning, dark kitchen tones can create a feeling of being enclosed and dark. Yet, you can use dark tones in small spaces by using two-tone design. This involves dark base units and light units at eye level, balancing the overall effect.
hanges to your home then ensure you seek planning advice in advance of carrying out any works. It may be that you are planning an extension onto your home, in which case you need permission, as well as an architect and builder. But even if all changes are internal, such as knocking down a non-load bearing wall to open up a space there may still be building regulations to adhere to. For example if your kitchen is at the top of a staircase then a set of internal doors may be required between staircase and kitchen as a fire safety precaution. Should you wish to sell your home in the future it is important to adhere to these stipulations, or risk failing a building inspection report.
9) Make the most of open space
Often small kitchen areas feature within open plan kitchen and living room arrangements (or else there is potential to make a room open plan). The advantage of an open plan setting is you can often extend the kitchen into the additional space, as long as the increased footprint adds value. For example, the addition of an island or peninsula can make the kitchen more multi-functional, including sociable seating space across the back of it. It shows when planning a kitchen for an open plan space it pays to consider the room as a whole, and not just the immediately apparent 'kitchen area.'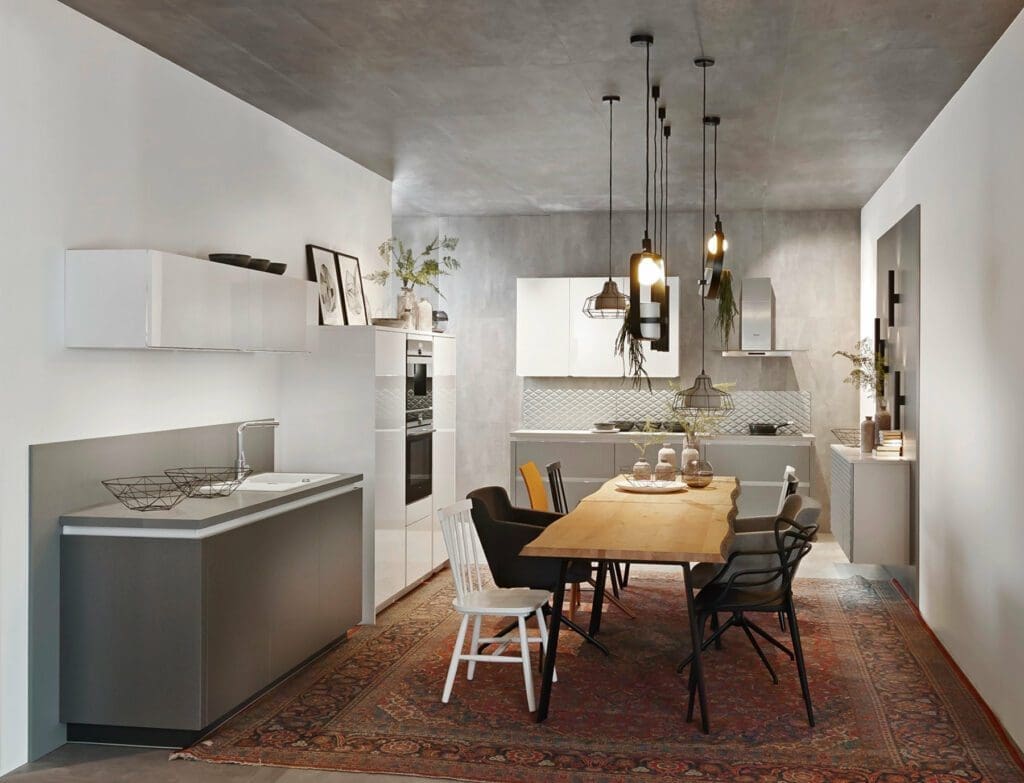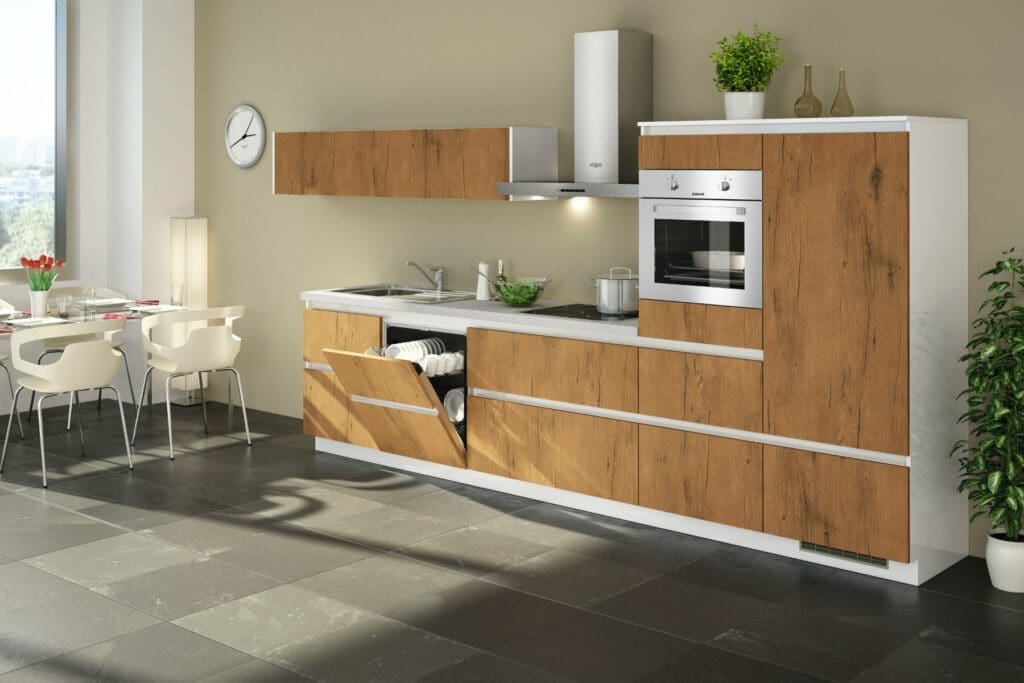 10) Don't overfill a small kitchen space
Having a small kitchen may mean having to work harder at keeping it free of clutter and things you don't need. But a well thought-out kitchen should include plenty of design solutions to help you achieve this. For example, le mans corner units maximise corner space, extractor hood cupboards can contain hidden spice racks, and there are many internal drawer options for keeping your drawers neat and tidy. Similarly, you should choose appliances to suit your home and family's requirement; For example, if you live alone, you may find a compact dishwasher or compact oven may be sufficient for your needs whilst freeing up more kitchen space. Leaving some breathing space within a kitchen is important, maintaining the look you've taken the time to cultivate, and it can even make the space appear bigger.
Get professional advice for a small kitchen space
When considering a kitchen redesign, it pays to think beyond what's immediately obvious, and one of the best sources of help you can use for this is a professional kitchen designer. Not only can they offer you a fresh perspective on your room space, but a good designer will also have the experience and know-how to advise what is and isn't possible within your intended space, no matter how big or small.
For any advice or assistance in planning your new kitchen please contact the Kitchen Experts today.