The rise of the green kitchen trend
Green kitchen cabinetry has surged in popularity in recent years, becoming the go-to choice for homeowners and Interior designers alike- and for good reason too! …The colour of nature, green brings the outside in, evoking a fresh and inviting feel to your kitchen space, along with a sense of calm- which is perfect for the hardest working room in your home!  With a variety of shades and a host of benefits, read on to find out just what else is so appealing about green kitchen cabinetry…
Why green is a great colour choice for kitchens
As mentioned, choosing a green kitchen is the perfect way to add some fresh, natural tones to your kitchen. Synonymous with nature, green tones are uplifting. They are also incredibly versatile as they complement the majority of other colours and finishes, and work for both traditional as well as modern and contemporary spaces. This makes them easy to work with, inspiring confidence in homeowners and their décor choices. Whether you choose a light or dark green kitchen look, a well-planned green colour scheme will look elegant and timeless. Here's what else you need to know for making a success of green kitchen tones… 
Choose the right shade of green
There are some things to keep in mind if you're thinking of adding green kitchen cabinets into your home. Firstly, you must make sure the green kitchen trend suits you, being right for your taste as well as your space. Also, ensuring a green tone makes an impact for all the right reasons; matt or painted wood kitchen doors are typically a better choice than gloss, proving eye-catching yet understated and elegant too.
Sage and Forest green are two of the most popular and trending shades of green for kitchens right now; Both beautiful tones but with each bringing a completely different look to an interior space. Proving the power and potential of this vibrant colour in your kitchen, the right shade of green can make or break your design.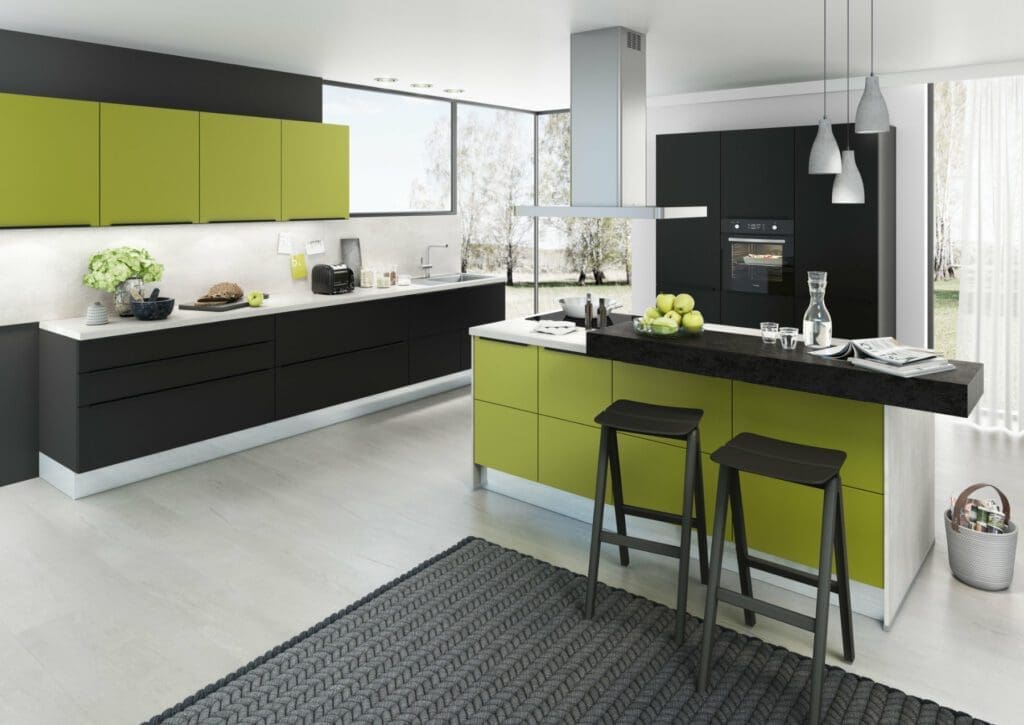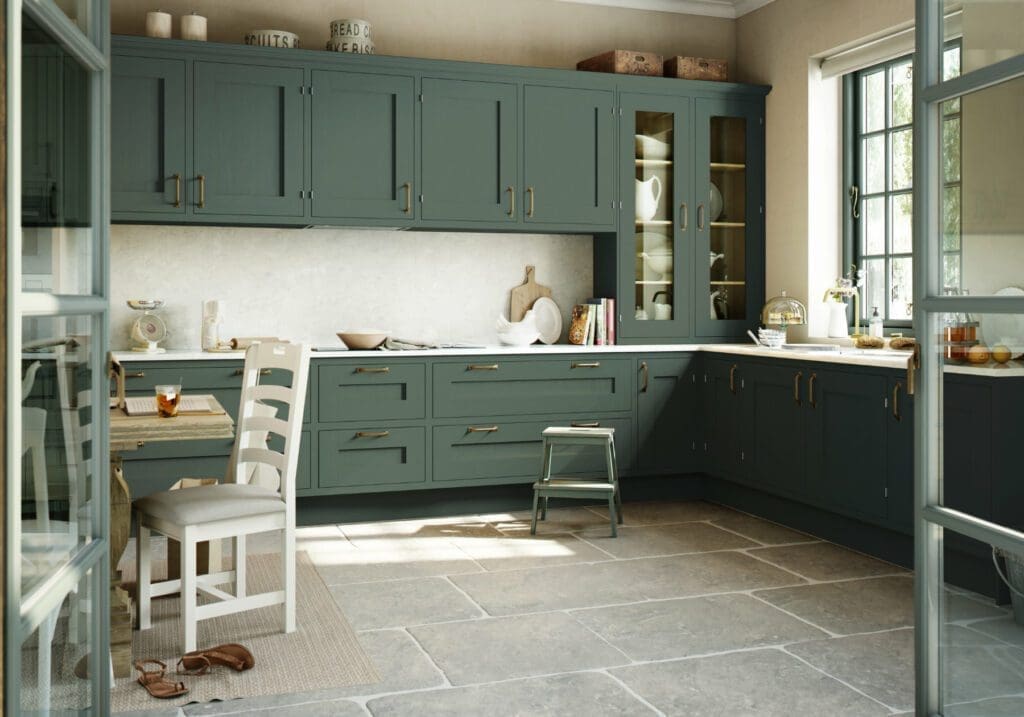 Dark green Kitchens
Dark green kitchen tones in shades such as forest green, and olive, make for very rich and dynamic colour schemes. Right on trend, dark green kitchen tones pair beautifully with luxury materials such as dramatic white marble worktops, and warm metallic hardware in brass, copper, or even gold for an instant touch of glamour. Dark green cabinetry makes a luxury statement, but as with all dark kitchen tones, it needs careful introduction to ensure it won't overwhelm and darken the space, especially in a room lacking in natural light. This is why lighter tones for kitchen walls, flooring and worktops will usually make a better choice for contrasting and balancing the overall look. 
Grey-green Kitchen Shades
If dark kitchen tones are too bold a choice, grey-green kitchen tones make a good alternative, achieving a stylish kitchen setting with a softer and warmer feel to it. You want your kitchen to feel welcoming and earthy grey-green tones are perfect for this. Natural elements such as wood or stone worktops will further add to this effect. And as with dark tones, white contrasts compliment green cabinetry, and depending on the kitchen's lighting, so will black. For example, black worktops, appliances and/or cabinetry handles can make a very striking statement.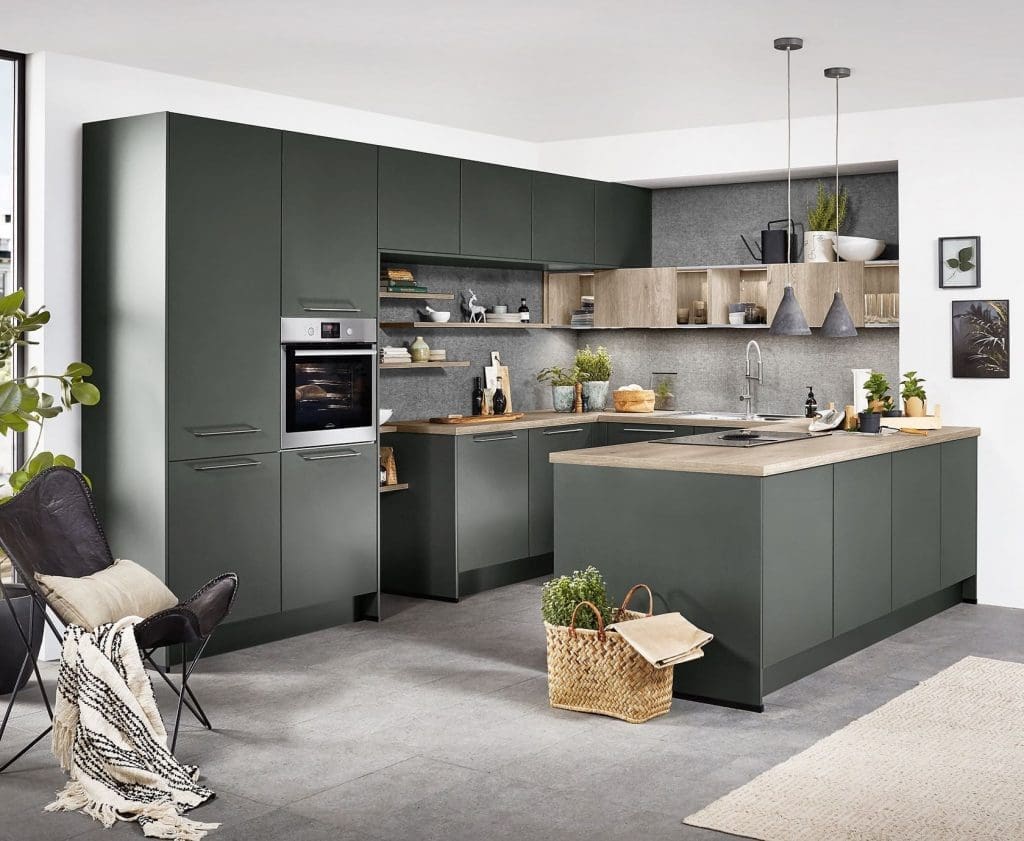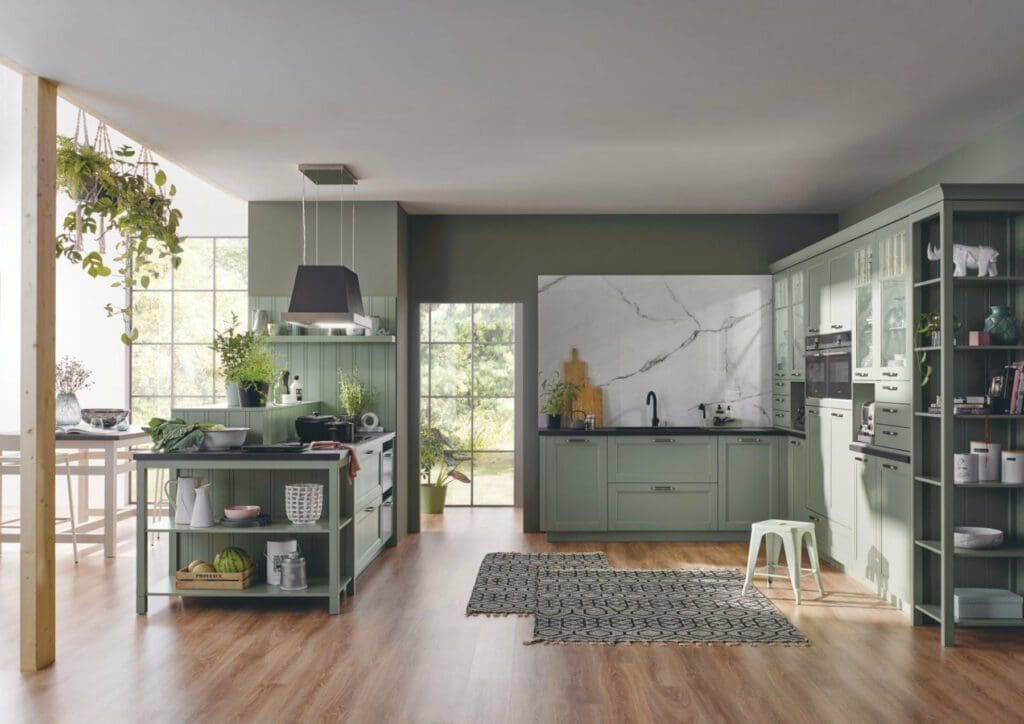 Light Green Kitchens
Effecting a totally different look from dark green kitchen cabinetry, mid-light green kitchen tones are especially popular for traditional, and country kitchen styles. Tones such as Sage or pastel greens ensure a fresh look and can be teamed with warming neutrals such as cream, linen, wood worktops and flagstone floor tiles – all enhancing the warm undertones of green. Traditional kitchen elements such as a farmhouse sink, aga and a host of rustic accessories will further complete a traditional kitchen look with a cosy kitchen feel.
Alternatively, if you would prefer a more modern take on light green kitchen tones, you can opt for sleek cabinetry paired with fresh white walls, light toned floors, and crisp, eye-catching worktops! 
Include a Statement Green Kitchen Island!
When it comes to green kitchens you can use as much or as little green as you want for your décor, and there are many ways in which you can make green work for your space. One such strategy is to include a statement green kitchen island as the focal point of your kitchen, set against a contrasting kitchen tone to ensure it stands out!
The key point to remember here is that one colour needs to take a backseat in order for the other to stand out so they're not competing, even if this is a contrast of two green shades. This is easily achievable by choosing neutral tones and a bolder green tone for your island. This is also a good opportunity if you want to be more playful with colour, choosing standout green tones such as mint, apple, emerald, or teal.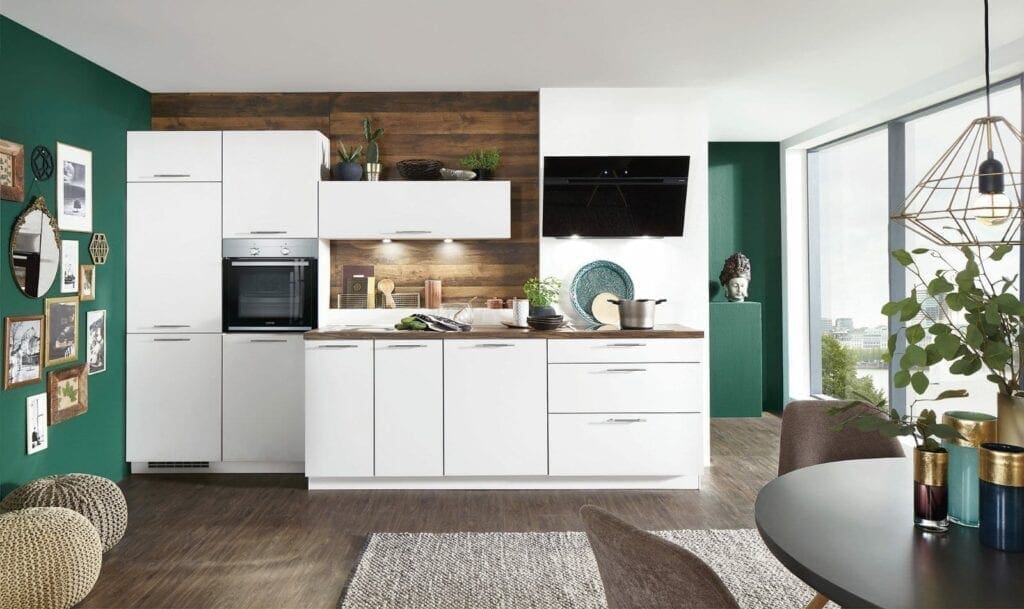 Green Kitchen Décor
Choosing décor to complement a green kitchen scheme depends on the shade of green you have chosen for your cabinetry. As mentioned, it is important to find a balance when using dark or bold green kitchen tones, and generally, the darker the green of the kitchen cabinets, the lighter the worktops and floors should be.
But with any green kitchen scheme it doesn't have to mean wall-to-wall colour, and again you can include as much or as little as you want, and in whatever ways you want! If you love green tones but don't want to commit to green kitchen cabinetry, then there are plenty of other ways in which you can successfully introduce green to complement your kitchen. From small appliances such as a kettle or toaster, bar stools, shelving, or even via fresh green houseplants, limit yourself to just one shade of green and then even in such minor accents your chosen shade is certain to make a big impact on your final kitchen look! 
Talk to a Kitchen Expert
For help in finding the perfect shade of green for your new kitchen, talk to your nearest kitchen expert today. They can advise on colour, tone and finish, and show you plenty of samples to give you ideas and help ensure you make the right choice for you and your home.