A modern Fitted Kitchen To Suit Every Space
If you need a new kitchen, you will likely be considering a modern fitted kitchen as a suitable design option. And particularly if you are constantly bumping into drawers, or don't have enough space to store all your ingredients in your kitchen cupboard, then both you and your home might well benefit from a modern fitted kitchen. Your kitchen should suit your style but also be equipped and functional, fully personalised to suit your individual needs. Whether that means extra storage for your ingredients or enough worktops to prepare food while entertaining guests, a fitted kitchen offers you the flexibility to design a space that genuinely aligns with your requirements.
Here, you will discover more on how you could benefit from a modern fitted kitchen…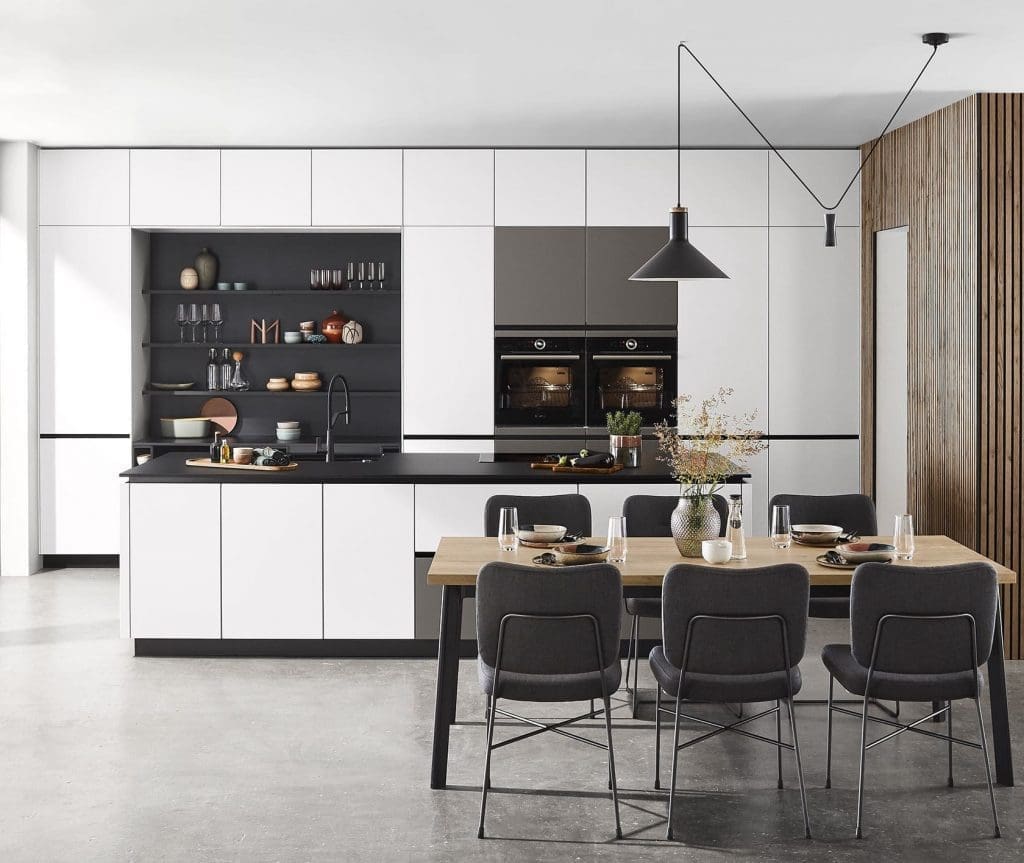 What is a fitted kitchen?
A fitted kitchen is the perfect solution if you want to make the most out of your kitchen area, as it utilises every inch of your room space. It features wall-to-wall fitted cabinetry which is fixed in place. This includes built-in storage and kitchen appliances specifically chosen to suit your space, and units are styled for a coordinated look according to the user's taste and personal preference. The streamlined arrangement of units, with a continuous worktop and matching wall cabinets, creates a seamless and sleek design that will provide both style and functionality within your home. 
What is the difference between a bespoke fitted kitchen and a fully bespoke kitchen?
Homeowners often mix up a bespoke kitchen and a fitted kitchen, as there are similarities, as well as some overlap when discussing these options. But whilst a fitted and a bespoke kitchen are both high-quality choices, there are some differences between the two. For example, a fully bespoke kitchen is crafted exclusively for the homeowner and their space, achieving an entirely one-off, personalised design. It is sculptured to meet the requirements carefully outlined by you, and may feature individual pieces made from raw materials, as well as custom sizes and colours.
Alternatively, a bespoke fitted kitchen, usually refers to a kitchen that is purpose-built for the client and their specific kitchen design, but the kitchen components are engineered as standard product parts. This includes standard sizes and a predefined colour palette and choice of finishes. A fitted kitchen can usually be installed much quicker than a fully bespoke kitchen. And when it comes to installation, a fitted kitchen will only require minor adjustments, which can be carried out by an experienced fitter to ensure the kitchen will fit your space.
Some bespoke fitted kitchen companies do have the capacity to offer a degree of bespoke and can adjust some of their product ranges, but for this a surcharge will usually apply.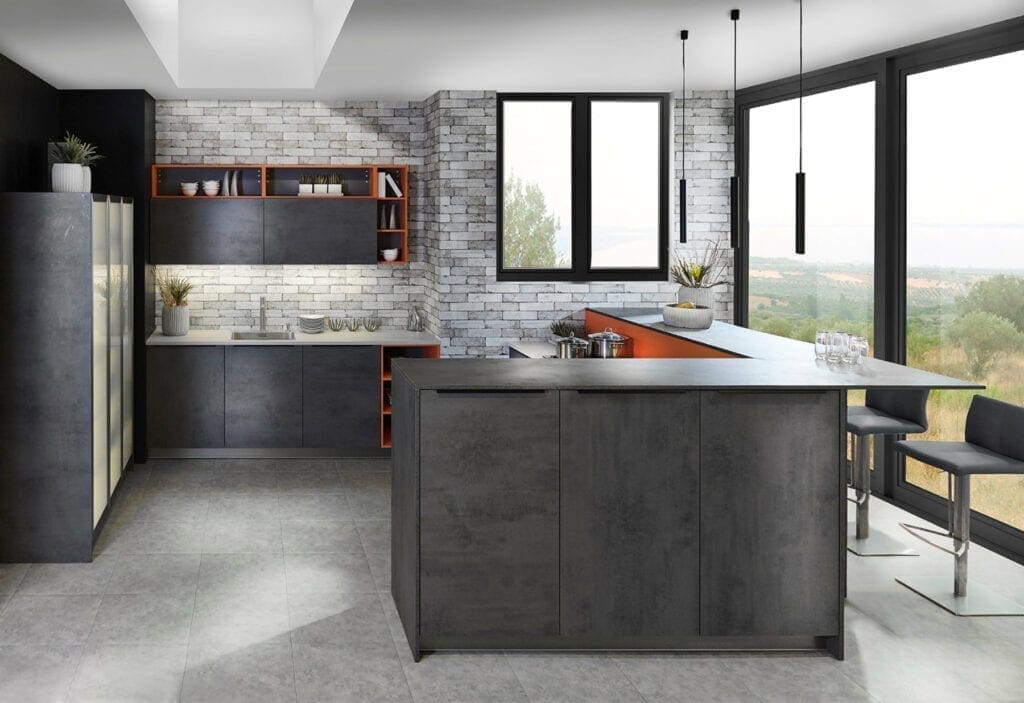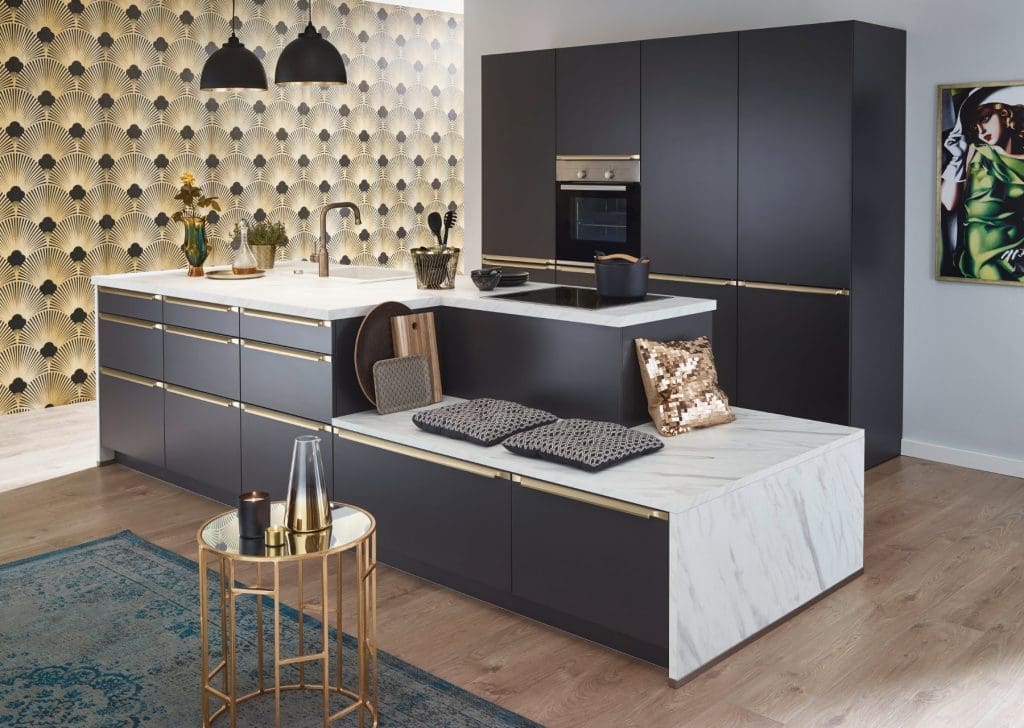 Why should you choose a modern fitted kitchen?
There are many benefits to choosing a modern fitted kitchen. From the seamless, stylish aesthetic to the integrated appliances, a fitted kitchen has several features that will benefit your day-to-day life: –
They Are Purpose Built for Your Space
Whether you have a tiny nook for a kitchen or a spacious but awkward shaped room, a fitted kitchen will be designed and purpose-built to fit your space. This means you can make the most out of your kitchen with a layout that best suits the space, as well as how you want to use the kitchen. For small kitchens this is especially beneficial as fitted kitchens make a space look larger, and you can maximise kitchen worktop and storage space.
They Offer Personalised Functionality
A fitted kitchen maximises space, but also provides functionality that best suits you and your lifestyle. For example, integrated storage in all the right places puts everything in easy reach during cooking and means you don't have to cross your kitchen whilst holding hot food or pans. With its streamlined design, it will be easier for you to move around your kitchen while cooking or preparing food.
They Offer An Extensive Choice of Design Options
Along with its improved functionality, a fitted kitchen also boasts style. You can select colour and finishes that meet your taste and which will make the space feel like home. Whether you are looking for a bold and bright kitchen or something more formal, modern fitted kitchens are available in many different styles and colours. There are also many different brands available to choose from, ensuring you can find the exact one for you!
Appliances for fully fitted kitchens
A fully fitted kitchen disregards free-standing appliances and opts for integrated equipment instead. The beauty of a fitted kitchen is that you can integrate various appliances depending on your requirements, lifestyle and space. In a fitted kitchen, many appliances can be hidden behind a door such as your dishwasher, fridge and washing machine. And those on show, such as your oven or hob can blend seamlessly to maintain the streamlined and sleek appearance of your design. Coffee machines, microwaves and even a wine cooler are also popular appliance choices within a modern fitted kitchen.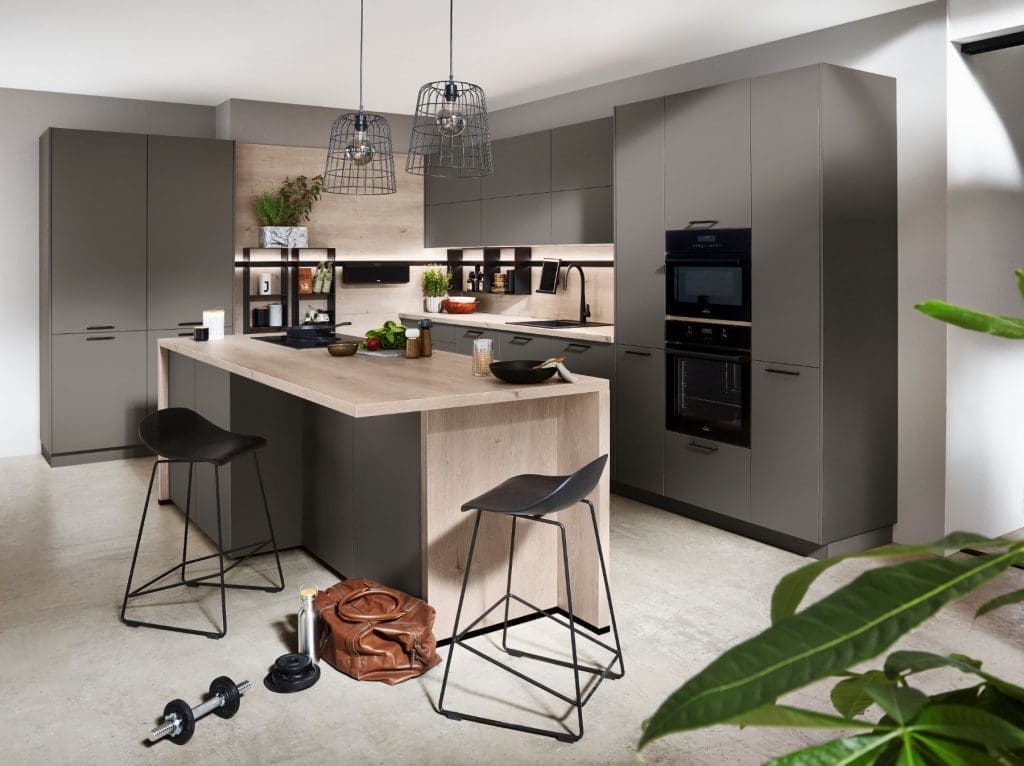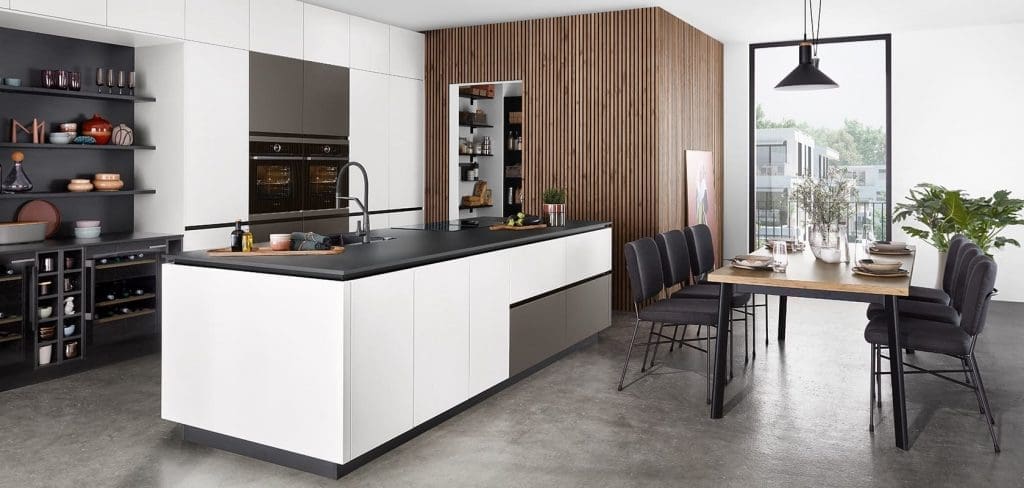 Who makes the best fitted kitchens?
Another question you might ask yourself is – who does the best fitted kitchens? The answer depends on what type of kitchen you want. For example, British kitchen manufacturers have an excellent reputation for traditional and Shaker kitchens. Alternatively, if you want a modern or contemporary style for your kitchen, then a German-fitted kitchen is a very popular choice.
Why are German fitted kitchens so popular?
While British kitchen manufacturers are known for crafting outstanding traditional English kitchens, German fitted kitchens are reputedly the best choice for modern fitted kitchens. Germany is known for its excellence in engineering, as the quality of precision, design and functionality of its kitchen units are second to none.
This extends to the strength and durability of German fitted kitchen units, which is ideal if you are looking for a quality kitchen that will last for many years. German kitchens also go beyond design and functionality, as intrinsic innovation combines aesthetically pleasing details with useful features, such as pull-out shelves, hidden storage spaces and internal accessories.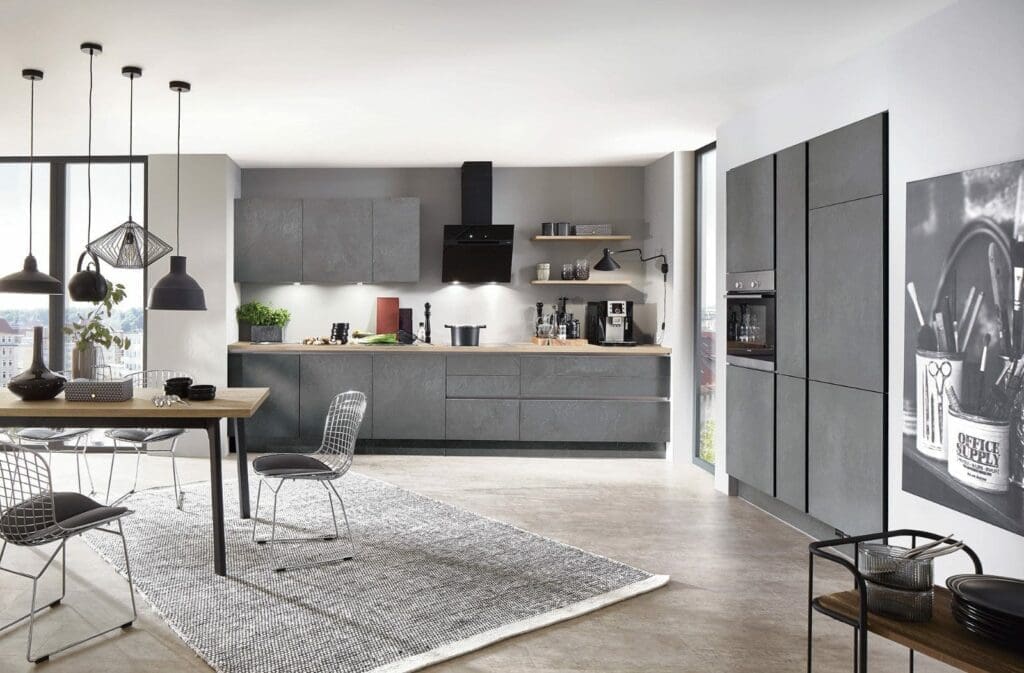 What you should consider when choosing a fitted kitchen
Choosing the right fitted kitchen for your home can be a challenging process, and you simply might not know where to start! With so many designs, finishes and colours to choose from, you may find yourself wondering what option would suit your space:-
Check Out Your Socials!
If you are struggling to decide the best place to start is social media. Instagram and Pinterest, for example, have an endless supply of ideas and inspiration that can help you decide what kind of fitted kitchen look you want for your home. With these platforms, you can see what colour combinations work well together, what appliances are available, and how fitted kitchens are moulded into vastly different spaces and sizes. Each picture or idea you see will help you decide what you want for your kitchen space.
Talk to A Kitchen Design Expert 
A logical next step for inspiration is to find a local kitchen supplier who can design your perfect fitted kitchen with the look you want and a layout that works for you. A professional designer can offer realistic solutions to match your expectations and needs. For example, a kitchen designer can use their expert knowledge to incorporate appliances that match your lifestyle as well as budget, and they can suggest ideas that would benefit your day-to-day use of your kitchen. Together, you can create a kitchen that not only looks good but complements the daily activities of you and your family.  
Are modern fitted kitchens expensive?
Due to the premium quality and longevity of modern fitted kitchens, you can expect to pay upwards of £10k, or anything up to £80k. The exact cost will depend on various factors such as the size of your kitchen, the brand you select and the finishes you choose. While the price might be high, the quality speaks for itself and the results are worth it, proving a good investment for your future.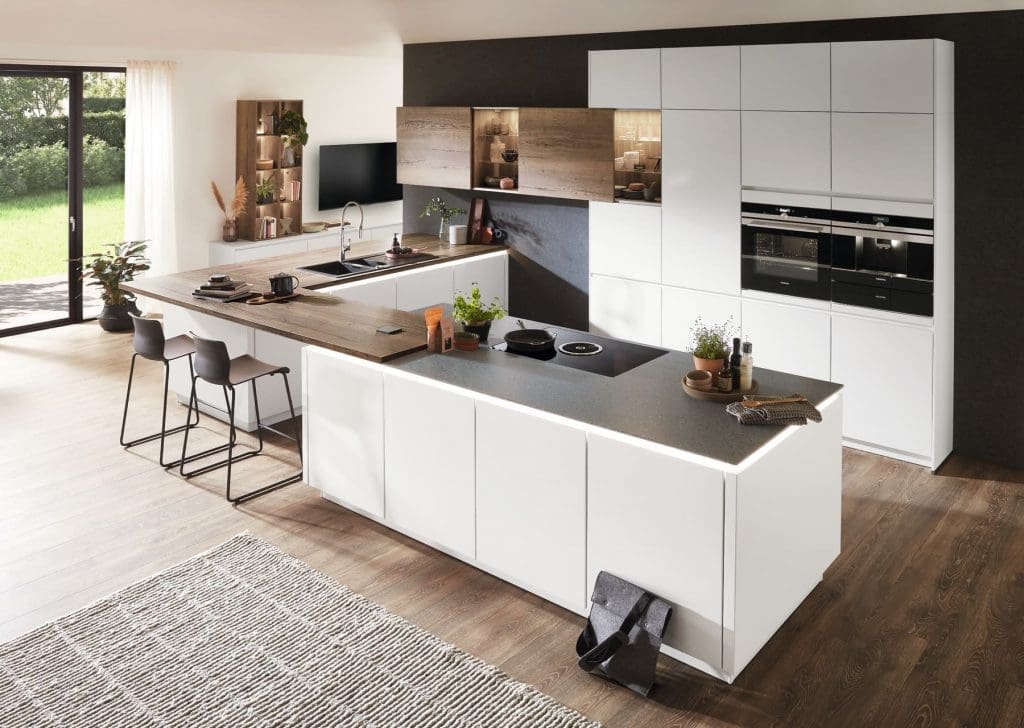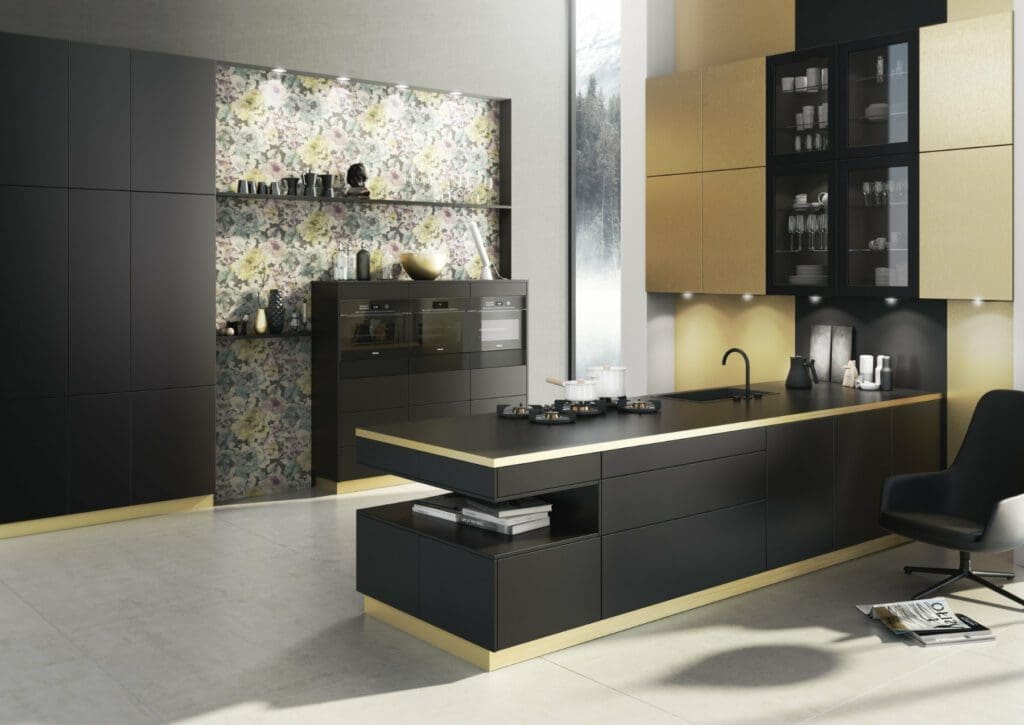 Find your nearest modern fitted kitchen expert
From preparing food and entertaining guests, to having a morning cup of tea/coffee, we all spend a large portion of our lives in the kitchen. And this is why it is worthwhile investing in a high-quality kitchen that meets your every need, and which will last for many years. A modern fitted kitchen provides exactly that. If you are looking for a new modern fitted kitchen, talk to your nearest kitchen expert today!