When it comes to expected kitchen trends for 2022, homeowners ultimately want style, luxury and comfort rolled into an ergonomically sound design; and never before has there been so much choice for affording this within the home! Additionally, platforms like Instagram, Houzz and Pinterest bring inspiring ideas at the click of a button! Modern kitchens come in all shapes and sizes, with a range of different materials to choose from – but what designs will be popular in 2022? Here we look at some of the current trends with staying power, as well as emerging kitchen trends 2022…
1) Kitchen Trends 2022: Dark Kitchen Tones
While the trend for bold, dark colours in the kitchen is not new, homeowners are becoming more experimental in how they use them, whether for furniture, statement tiles, wall colours, or dramatic lighting. These tones are perfect for creating a chic urban industrial kitchen theme along with exposed structural works such as accent brick walls or exposed ceiling beams. Crittal doors or windows will add to the look as would steel, brass or black accessories, and concrete floors. Black kitchens especially have been popular for a few years now; luxurious, yet inviting and liveable too. To achieve a warmer look, it is easy to combine black in a two-tone design with inviting woods, or through mixing on-trend metallic fixtures and accessories in brass, gold, or copper.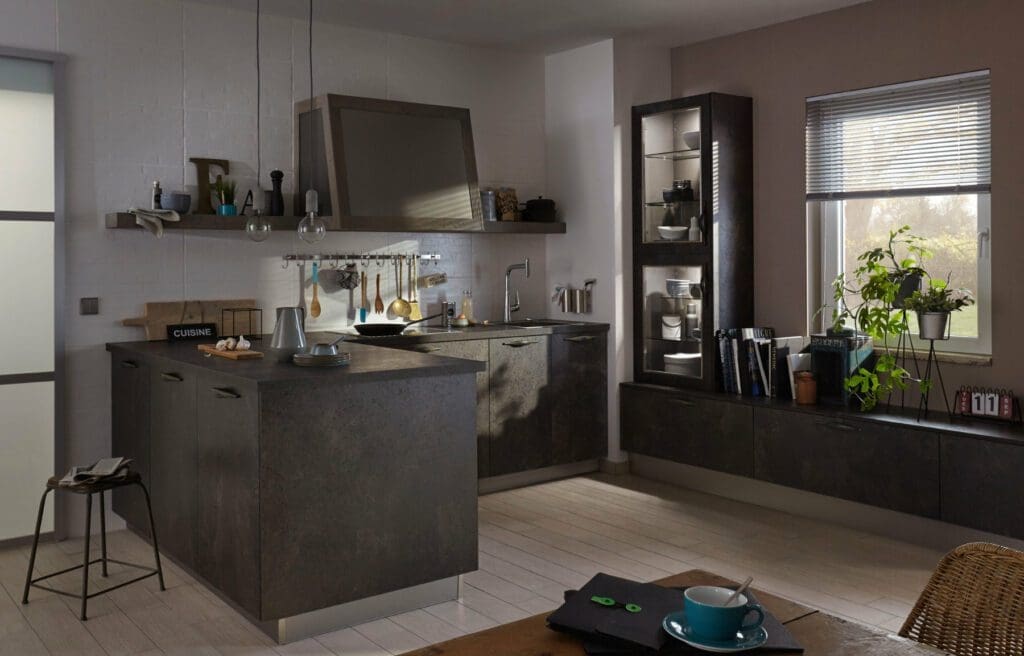 2) Bold Kitchen Colours
Green also continues to be a popular choice, whether it is used as an accent colour or throughout the cabinetry. This bold colourway has become a key component in many industrial-inspired kitchen spaces, bringing necessary balance and calm to this raw theme. Kitchen trends 2022 will also see the return of heritage colours at the darker end, such as jewel-like and green-toned blues, greens, and metallics. We will also see warm, earthy tones and muted greens with a mid-tone. These hues can be paired with bold features such as large-scale, patterned, or textured work surfaces, as well as statement shelves. Metallic accents pair beautifully with bold colours too, and are also a great way to add instant style, glamour, and sophistication to your interior.
3) Kitchen Trends 2022: Minimalism
Whilst not a new trend, the focus for many kitchens in 2022 is on achieving a minimalist look and décor, which prioritises functionality over unnecessary furniture, appliances, and accessories. Minimalist kitchens offer a tranquil escape from the hustle and bustle of modern life, with clean lines and fuss-free detail promoting space and a feeling of calm. Stylishly simple, minimalist kitchens tend to favour geometric shapes, and neutral colour schemes over bolder decor choices. Similarly, built-in appliances and integrated storage systems to suit user requirement are also necessary to achieve and maintain a successful minimalist kitchen look.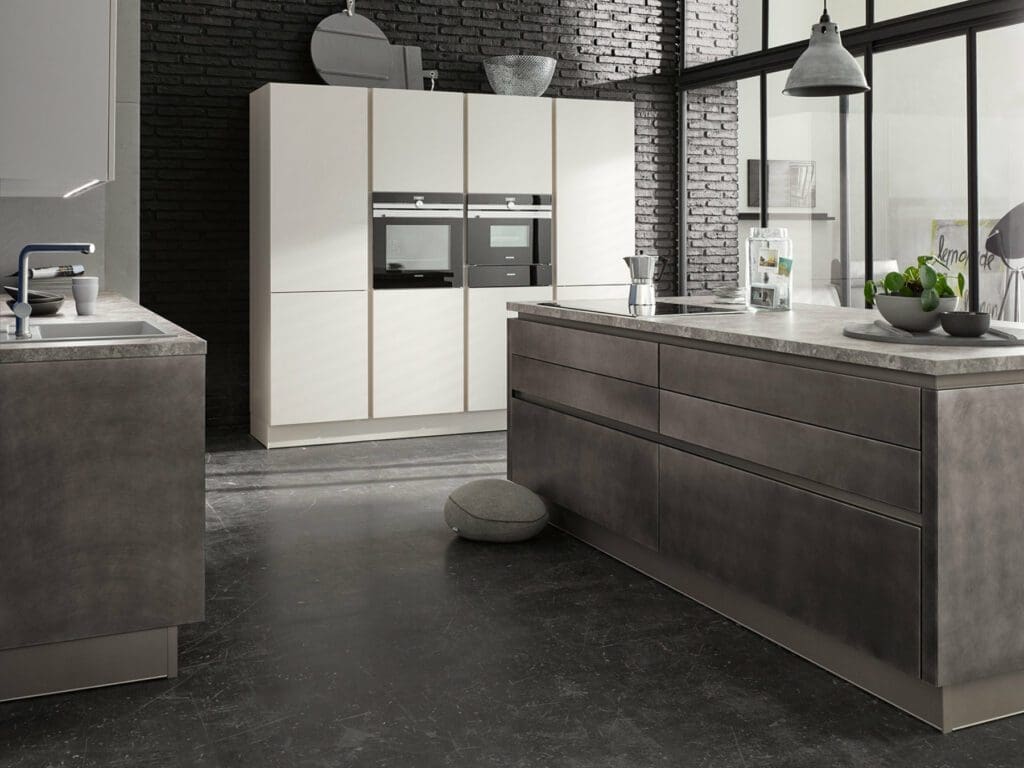 4) Kitchen Home Offices
Following the global pandemic, working from home has remained for many as an ongoing, or permanent change. But in turn this means having to create additional space within the home to use as an office. With home-schooling having ended, the kitchen is the perfect solution and both kitchen manufacturers along with skilled designers have come up with a variety of practical, functional, space-saving solutions. From units that conceal small office setups inside, to layouts that allow offices to be hidden in a quiet corner of the room, to designs that make it easy to hide them, home office solutions are available so they blend with your kitchen space, or else a direct contrast.
Smart storage also makes it easy to tidy clutter, and offers a great solution for storing home office equipment out of sight and out of mind when not in use, helping transform your space back into its primary role as a kitchen after use.
5) The Lived-in Look
Do you want a kitchen that makes you feel at home? 'Lived-in' design is the new kitchen trend 2022. Kitchen furniture design is evolving to reflect the fact that the kitchen has become a living space and this trend embraces the concept of the kitchen as a multi-functional environment. Should you have the space and budget, this look can be achieved by installing a woodburning fireplace in your kitchen. But otherwise consider finishes such as limewash, distressed paintwork, and natural colours and materials, all of which contribute to an overall lived-in and welcoming look.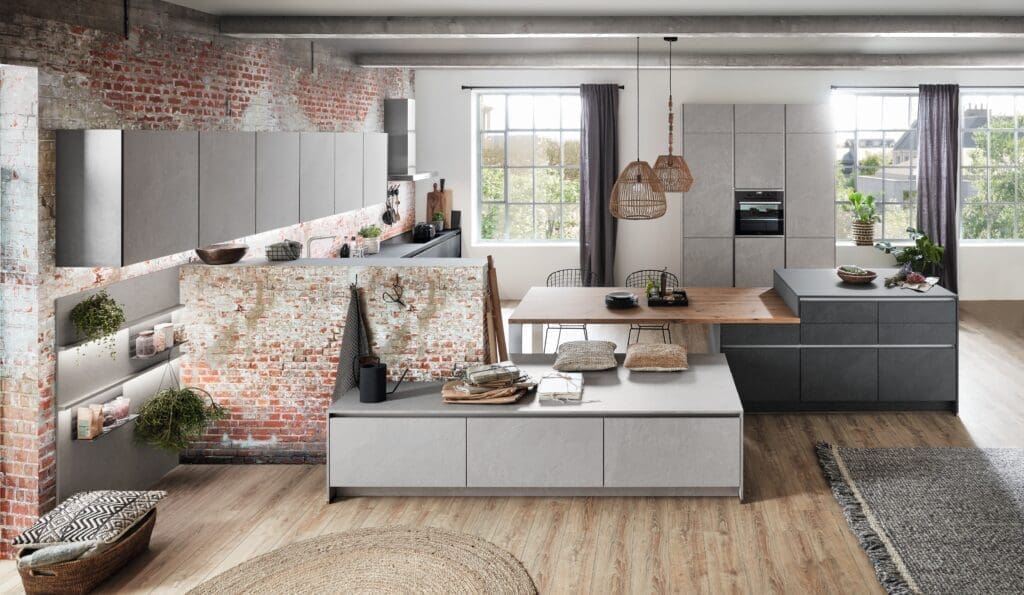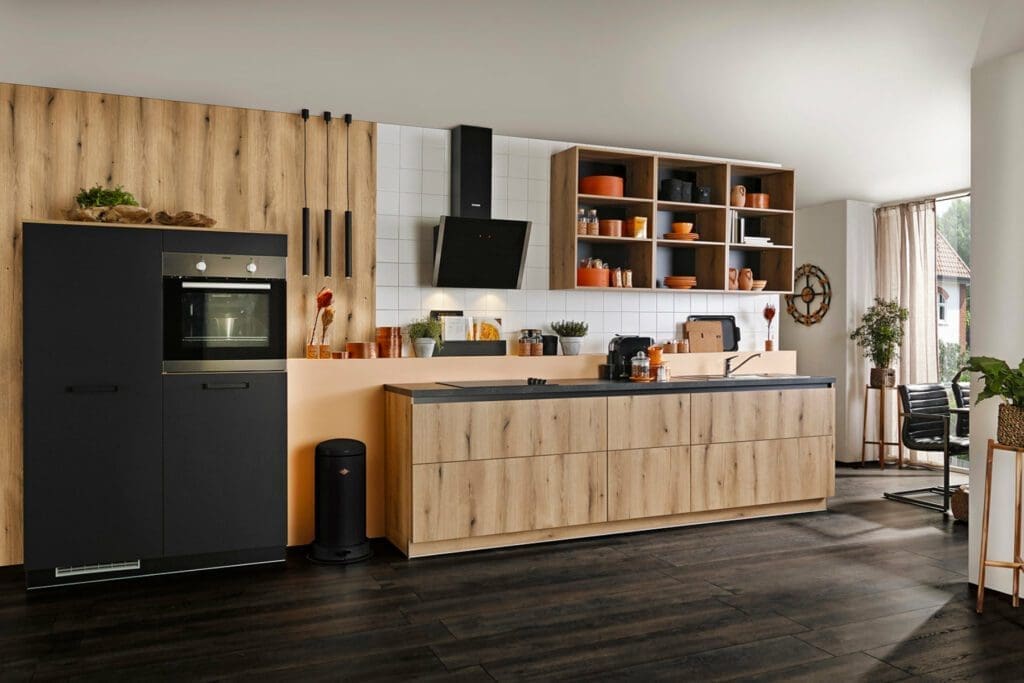 6) Kitchen Trends 2022: Wood kitchens
Of course, wood kitchen designs are not new for homes, whether for cabinetry, decorative open shelving, or popular for floating shelves. Yet now more than ever designers are celebrating the beauty and utility of wood in their kitchens and the units they produce, and with this comes many new and exciting options for wood kitchens in 2022. From new finishes which emphasise the wood's textures to more traditional ones, wood kitchens are on the rise and there will be plenty of wood kitchens to inspire a sense of style and a connection to nature. For example, unpainted wood kitchen doors have become a favourite for kitchens, popular for their aesthetic appeal and perfect for the current 'lived in' kitchen trend for 2022. Alternatively, walnut kitchens are growing in popularity too, appealing for its rich colour, fine grain, and natural warmth.
7) Sustainable Kitchens
Now more than ever, we all care about sustainability in our homes, and 2022 kitchen trends will see an increase in green kitchens. Living a healthier and more sustainable life is increasingly the focus of kitchen manufacturers as they commit to protecting the environment and strive for carbon-neutral production methods. Some sustainable kitchens are more eco-friendly than others. Look out for kitchens made from responsibly sourced and recycled materials along with those that have been produced using renewable energy. As sustainability influences the materials used in kitchen manufacture, reclaimed wood has been largely embraced by designers who are trying to make spaces as eco-friendly as possible. Reclaimed wood can add an interesting story to a kitchen space, in addition to its environmental and economic benefits. Reclaimed wood has a natural influence that helps to ground the space and creates a sense of calm. It is also warm and rich in detail. This unique look cannot be replicated with new materials. When planning your new kitchen, you can also take small steps to make your kitchen eco-friendly, such as installing a recycling bin or purchasing only A-rated appliances.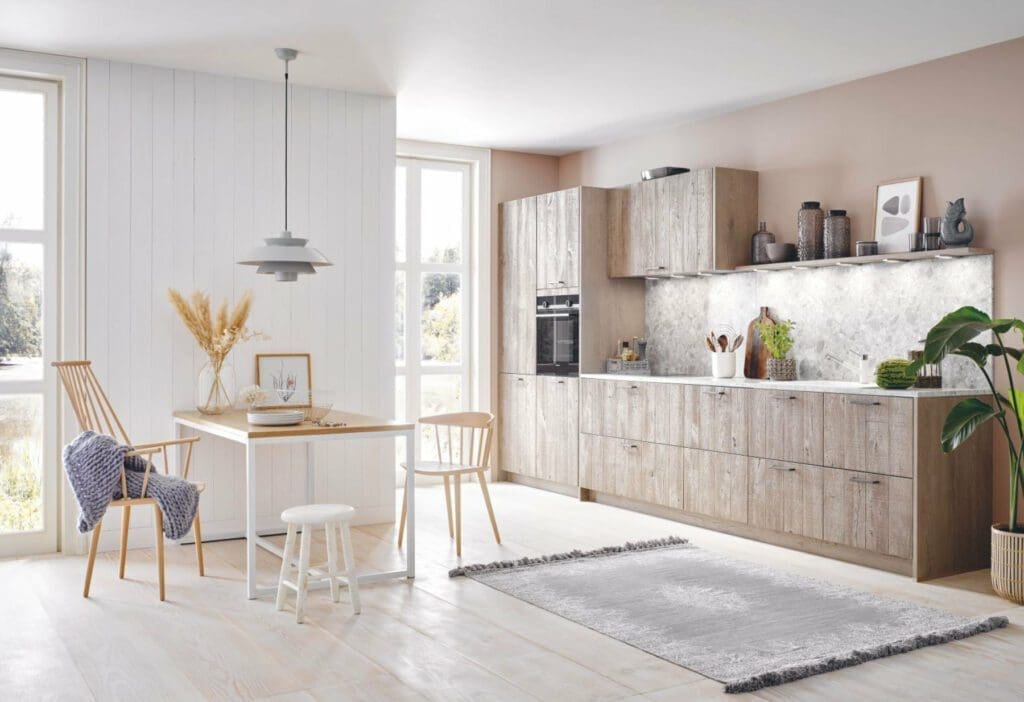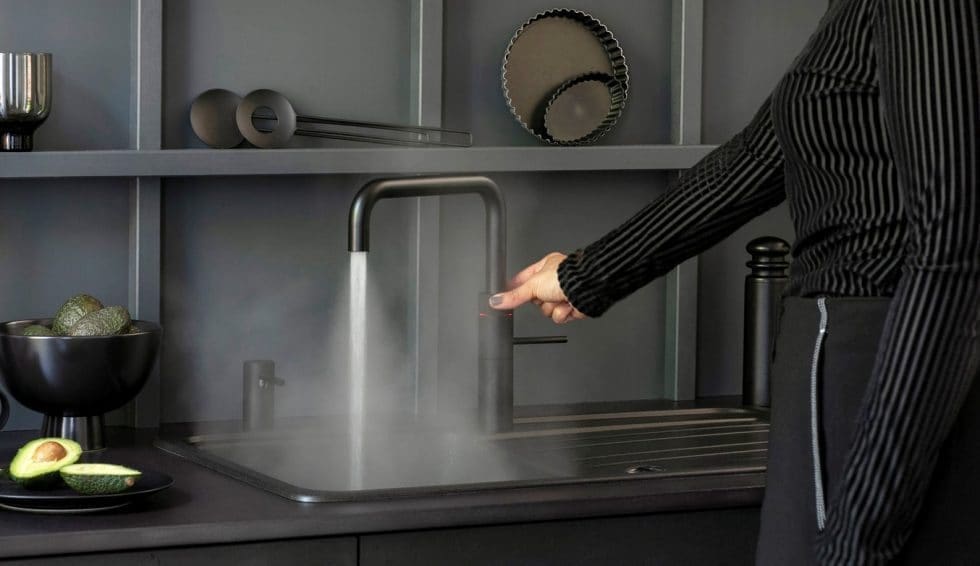 8) Smart Appliances That Just Got Smarter
If you thought kitchen appliances could already do everything possible to make your life easier, then think again, as they just got even smarter! The trend for smart appliances is certain to continue in kitchen trends 2022, ranging from ovens that can prepare your meals and adjust the temperature for cooking, to fridges that will check stock and automatically order your groceries. Many smart taps have also been upgraded to offer boiling water, chilled water, sparkling water, and some even allow you choose how carbonated you want your water. With a focus on sustainability, smart appliances have an even bigger role in 2022 than ever before, helping us better control usage, which in turn ensures less energy and food wastage.
9) Kitchen Trends 2022: Two-tone kitchens
It is very welcome that two tone kitchens have grown in popularity over the past decade, shifting away from more traditional single-coloured kitchen designs. Instead, contrast kitchens with two or more colours are great for visual appeal, variety, and even solving design problems! A colour scheme can transform the way a room is perceived, and two-tone designs offer a great way of adding flair to your home's interior. For example, to add depth and character to a space, blend dark tones with lighter, contrasting shades and you'll achieve a balanced sophisticated finish. Or with homeowners proving bolder than ever before why not opt for statement colour contrasts such as pink with green, or blue and yellow? This 2022 kitchen trend can be used for everything in the kitchen interior, including worktops and cabinets.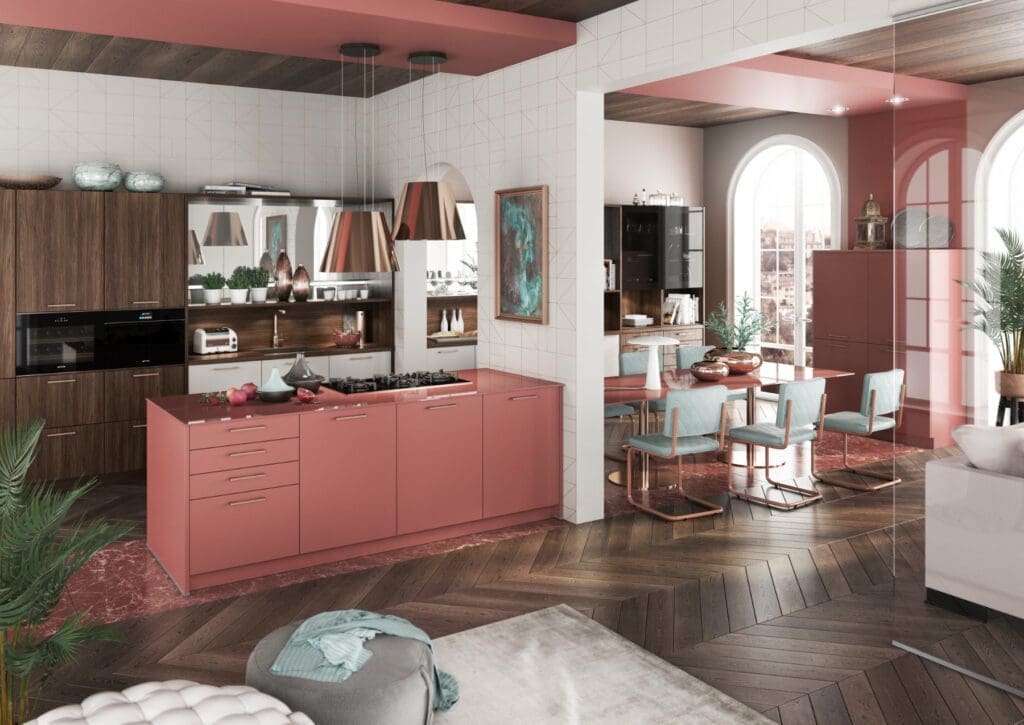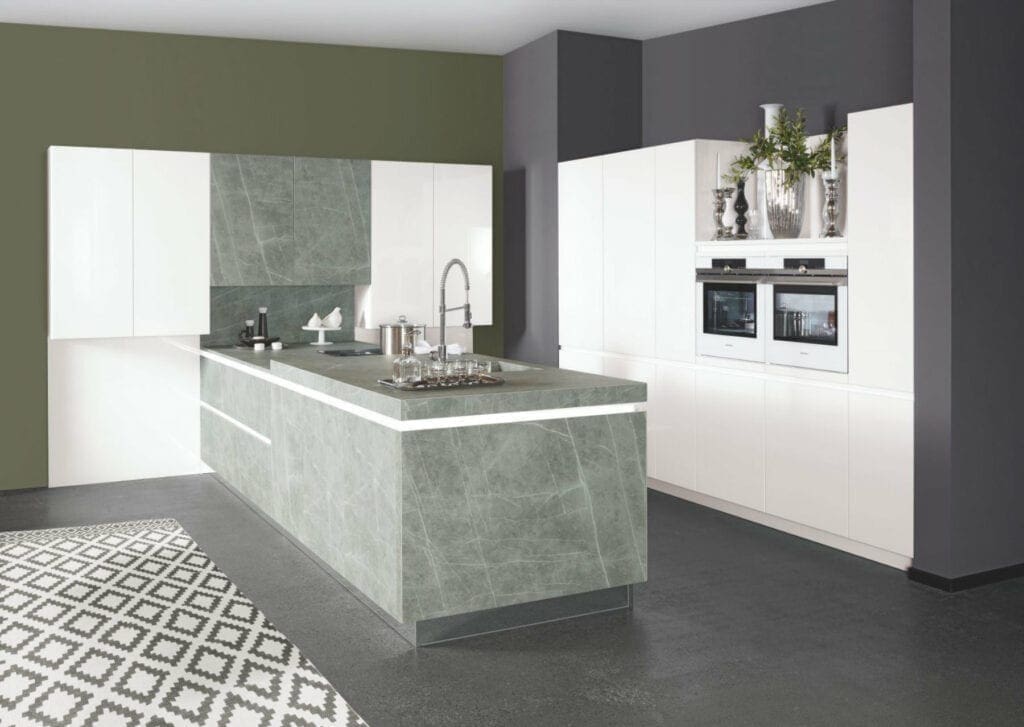 10) Veined Marble Surfaces
2022 is the time for strongly veined marble, and the busier the better. Marble worktops, splashbacks, sinks, and end panels featuring heavy vein patterns are making a comeback in the design industry. Branded as high-end luxury, marble veining can add to the statement value of a room and create a textural relationship between polished surfaces, metals, and woods. Marble is a perfect match for metallic finishes like brass and gold. You can also choose from white marble, or else creamy colours to contrast well with bright greens and blues. Because of its classic attributes, durability, and ability to withstand passing fashions, marble is a great investment and sound choice for kitchens.
11) Statement Sinks & Taps
Sinks and taps have firmly moved away from the everyday chrome that dominated only a few years ago. Instead feature sinks and taps in an array of colours and materials are now widely available, with metallics such as copper and gold, as well as black matt taps still proving popular, and particularly in an L-shape, rather than curved kitchen tap. This increasing trend is also due to modern tap technology such as filtered and instant boiling water extending to a more diverse range of hardware finishes. There is also more focus on sinks as a feature within themselves, and ensuring they complement the beautiful, stylized aesthetic of modern streamlined taps. Whether a blush pink tone, or finish in granite, concrete, metal, or Corian® with edging detail, doing the washing up is set to be just that bit more enjoyable in 2022!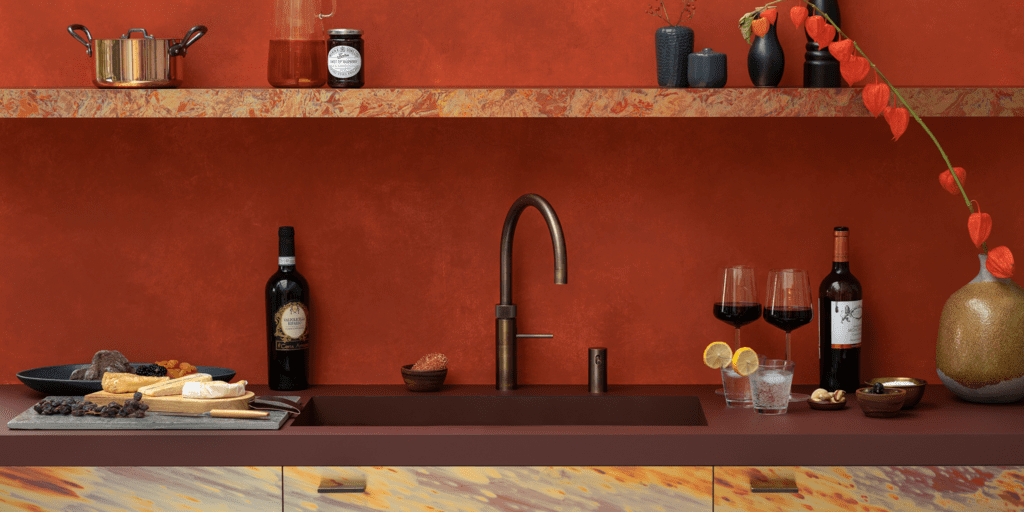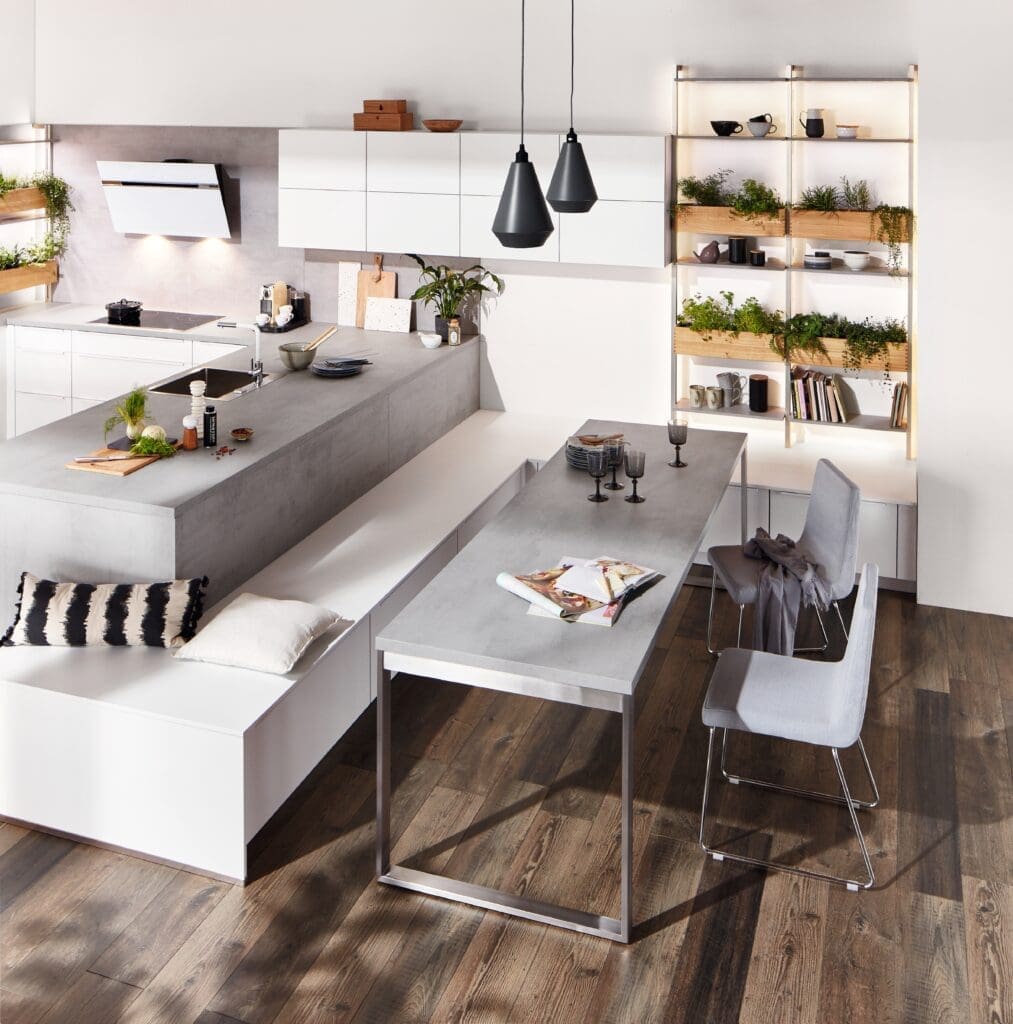 12) Broken Plan Kitchen Spaces
Kitchen zones refer to separate areas of the kitchen where different tasks take place such as the food prep area, cooking area, and clean up area. But particularly in an open plan space modern kitchens are used for much more than cooking, and so require additional zones for socialising, working, and eating, etc. And in kitchen trends for 2022, the desire is for 'broken plan' living where these zones retain an open feel but are distinguished from each other through clever use of screens, cabinetry, a change of flooring, or even have a shelf or raised bar to separate the cooking zone from eating zone upon the same island. In doing so you can maintain the feel of a bigger and brighter room in which users can maintain a sense of their own space, yet still feel connected to their family at the same time.
13) Kitchen Trends 2022: Handleless Kitchens
Modern kitchen design focuses on multi-tasking and free-flowing design with a paired back look; and keeping with the minimalist theme, handleless kitchen cabinets will be a big kitchen trend in 2022. Whilst handleless kitchen doors aren't new, technological advancements in push-open or close doors have made it possible to eliminate handles entirely from both base and wall cabinets. All about simplicity, this places a strong emphasis on kitchen cabinetry details, with nothing to detract from the beauty of the doors. Whether a richly textured wood or ceramic finish, or even an impressive handleless shaker kitchen door, handleless kitchens have staying power and will continue to prove influential in 2022.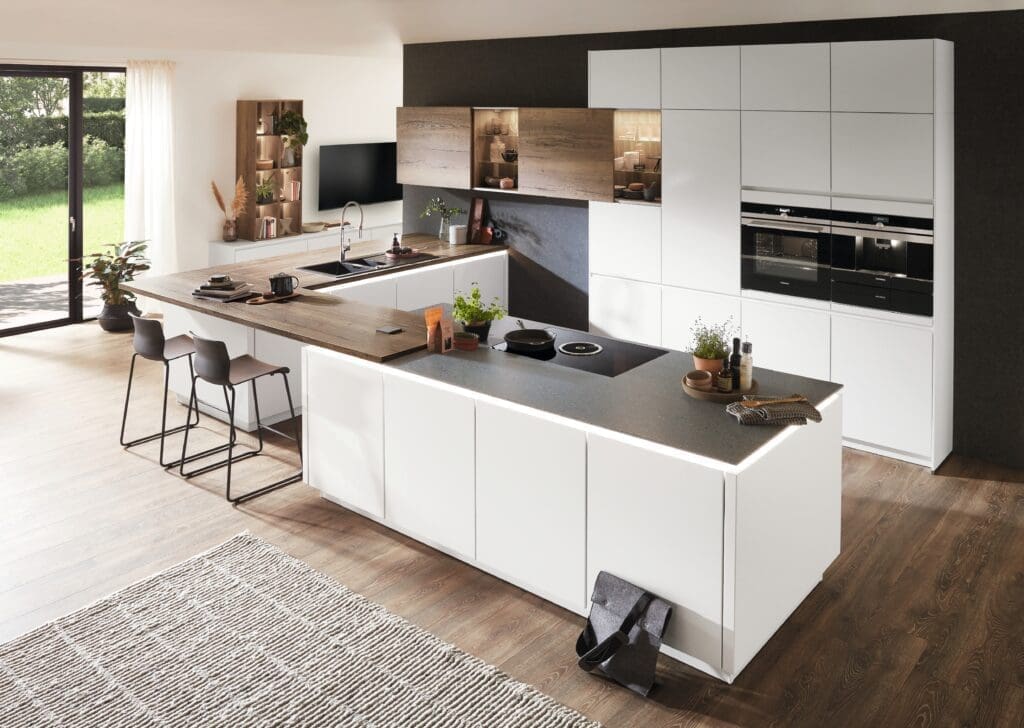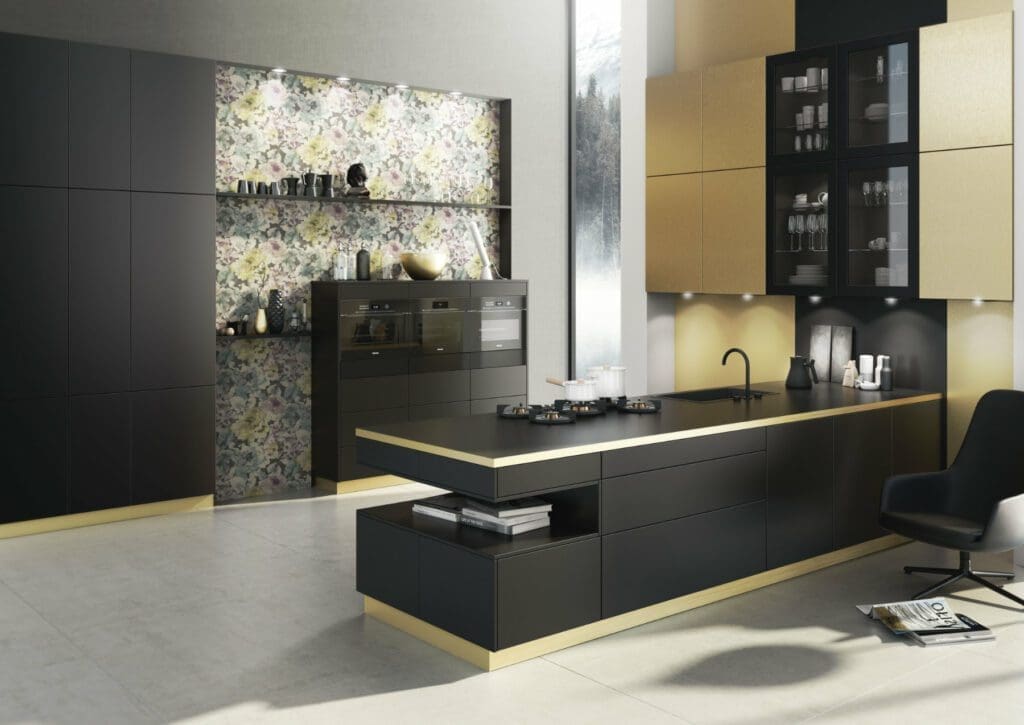 14) Kitchen Trends 2022: Gold and Metallics
Luxury metals have been edging their way into kitchens for a few decades now, competing with more traditional stainless steel and brushed Nickel finishes to bring an entirely different dynamic. It started with copper, then it was brass, and now it is gold which is still highly sought after, introducing luxury, glamour, and a touch of warmth to modern kitchen designs. Gold stands out beautifully against matt kitchen doors, particularly in black and other rich dark tones. Equally, it is the perfect pairing with on trend forest green, luxury marble, or a statement herringbone kitchen floor. Whether for cabinetry, taps or even a luxury gold sink, gold accents in a kitchen make a beautiful statement feature, offering a premium kitchen look but without the premium price tag.
15) Modern Pantries and Larders
Whilst pantry cabinets have been a kitchen staple for many centuries, it is in the last few years that pantry cupboards have truly become a must-have item for modern homes and kitchens. A growing choice of sizes, styles and storage possibilities have made pantries more desirable and accessible, and they make it far easier to organize food shopping by having all the necessary food items in one place, rather than scattered in different wall cabinets. In fact, if your pantry space is sufficient, you might consider forgoing kitchen wall cabinets altogether! Instead, this can free up your walls for features such as open shelving or decorative artwork. It also makes the kitchen feel more like a living room and creates a more relaxed atmosphere, which is ideal for open-plan living spaces.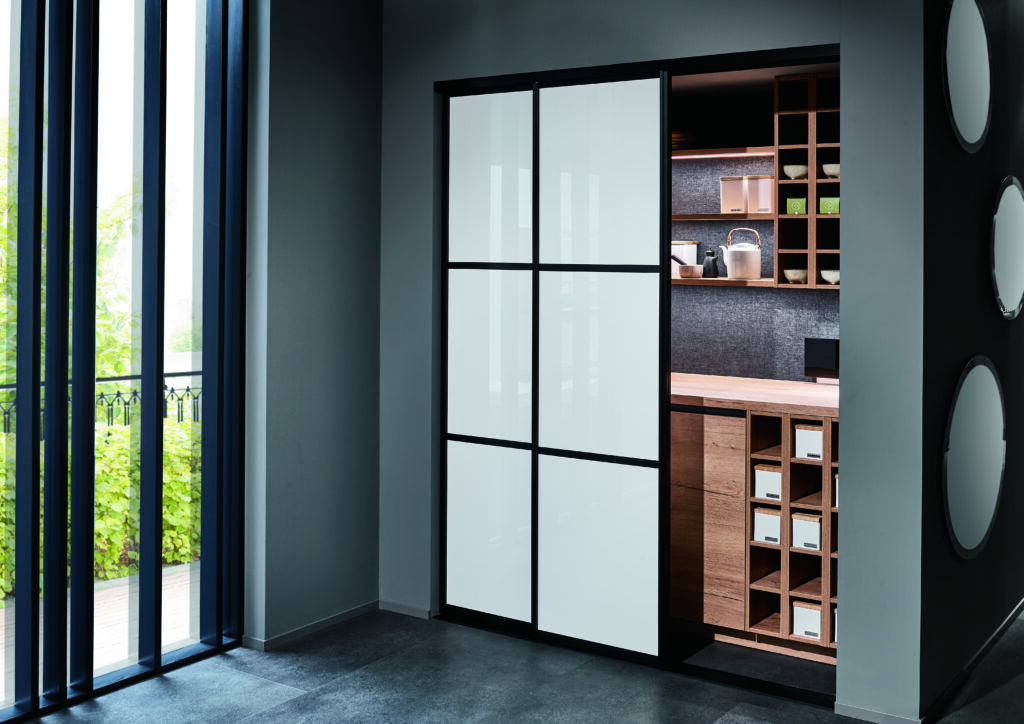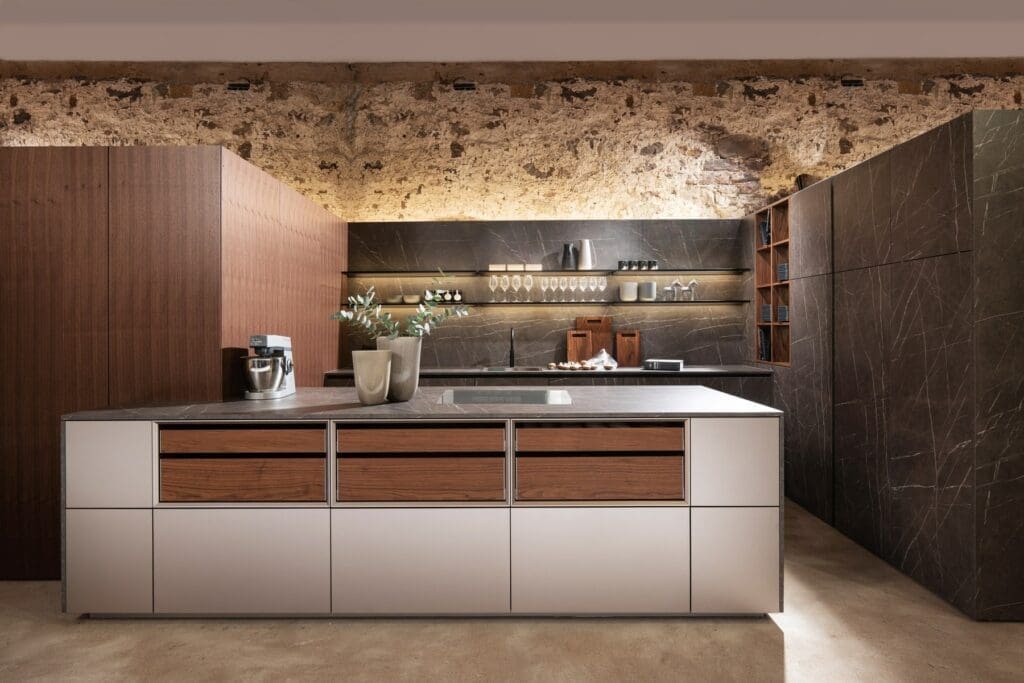 16) Contrasting Materials
Mixing materials is all about contrast, using a blend of tactile materials and styles which complement each other, whether in a bold or subtle contrast. Combining textures creates instant interest and you can easily experiment with different finishes. For example, wood, metallics, concrete and marble go well with one another, with different shades and textures of wood and metals often adding warmth and contrast to a cold marble surface. Mixing materials can add sophistication to a kitchen's layout, tying a look together by expressing your individuality. Alternatively, contrasting finishes also prove effective in establishing zones (as per kitchen trend no 14.) that are visually appealing and harmonious.
17) Kitchen Trends 2022: Minimalist Extractors
Keeping with the popular minimalist kitchens trend 2022, future kitchens will feature a popular new look for extractors, with a leaning towards discreet vented hobs and downdraft extraction systems. Integrated within the worktop, these devices successfully extract vapours and odours from the hob before they have the chance to penetrate the air. This style of extraction is particularly important for kitchens that are open-plan, allowing for more design options and a more social space, compared with a high-ceiling extractor hood which can block the view and ruin the interior design of an entire room.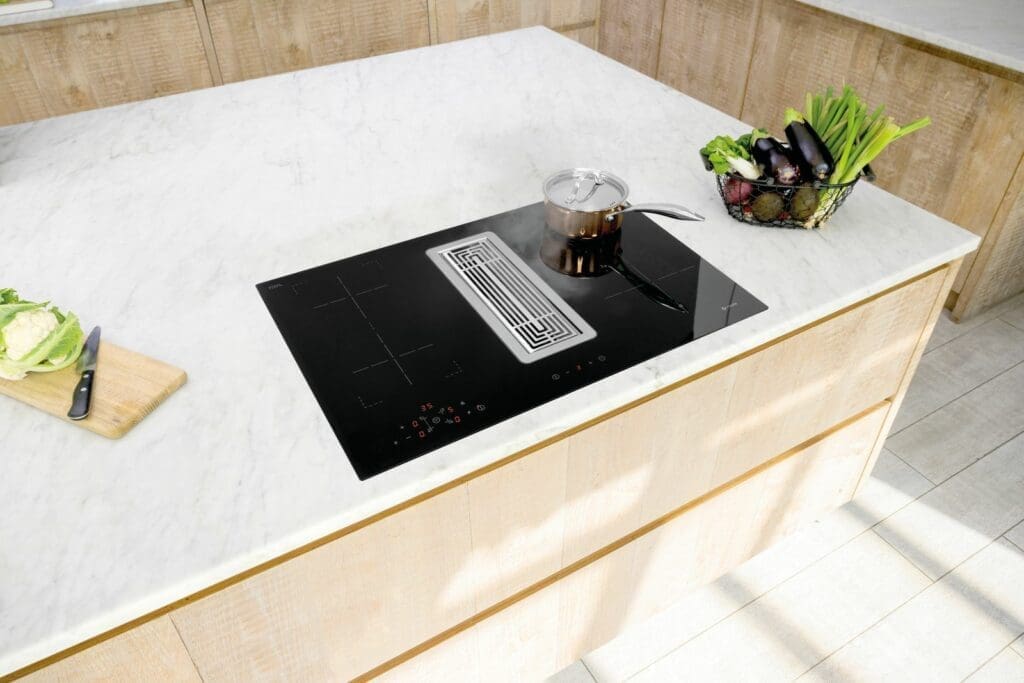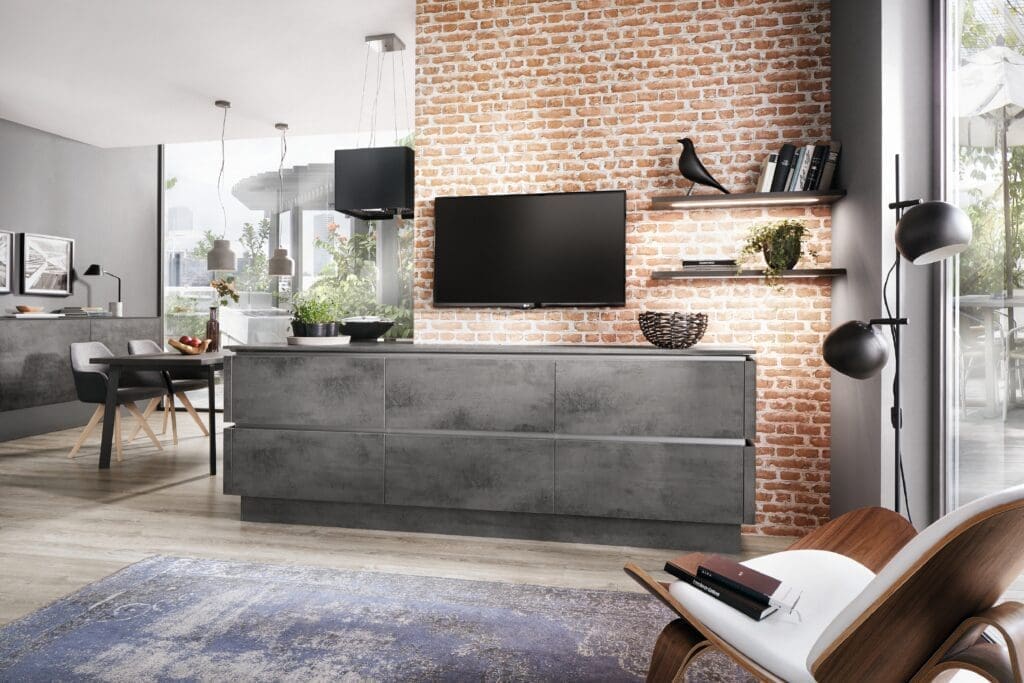 18) Seamless Kitchen and Living room furnishings
Open-plan kitchen and living room spaces are now one of the most popular home layouts, and as the most used room in the house it is therefore crucial that this is a well-designed and comfortable space. With this in mind, it is not surprising that kitchen furniture is much in demand for living rooms too, with many kitchen companies now offering living room furniture to complement kitchen furniture, ensuring a seamless finish. This includes matching TV units, consoles, bookshelves, desks, wall mounted shelves, and more. This styling can even be continued into other rooms of your house such as utility and bedrooms, for a fully coordinated home interior.
19) Kitchen Trends 2022: Textured worktops
Textured kitchen work surfaces offer an excellent means of adding depth and character to your kitchen countertops. Wood offers a great contrast with light kitchen tones, but equally its rich texture brings warmth and a softness to bolder or darker kitchen colours. And because of its elegant and sleek look, marble is a popular choice for kitchen trends 2022; Available in classic neutrals or else bolder surface textures and patterns, it is ideal for drawing the eye and making a truly luxurious statement for your kitchen.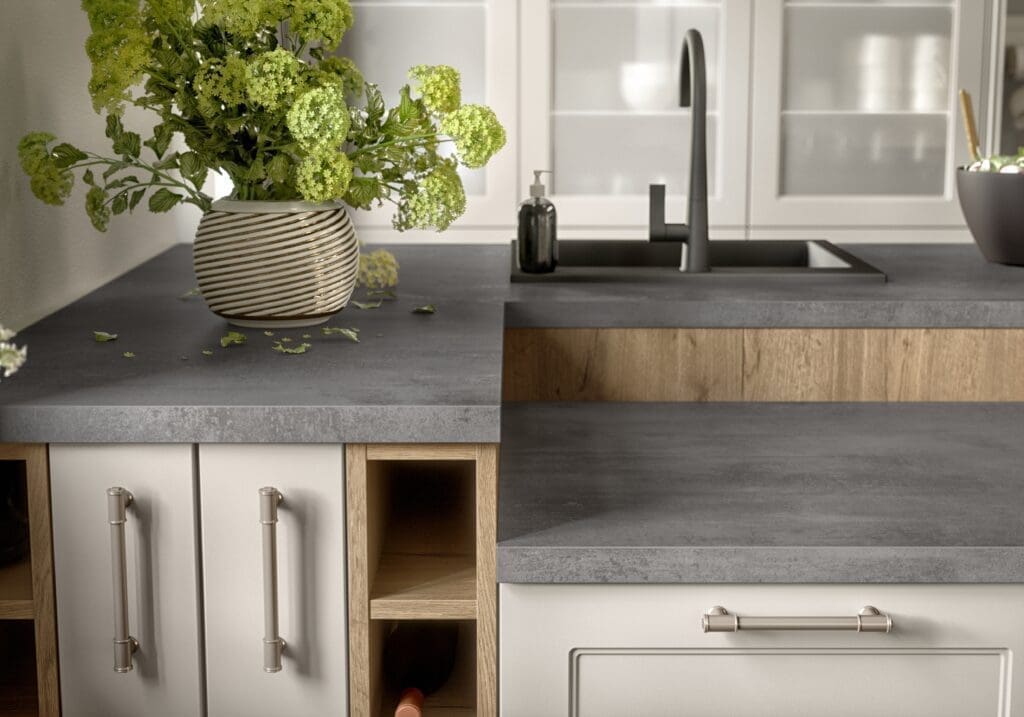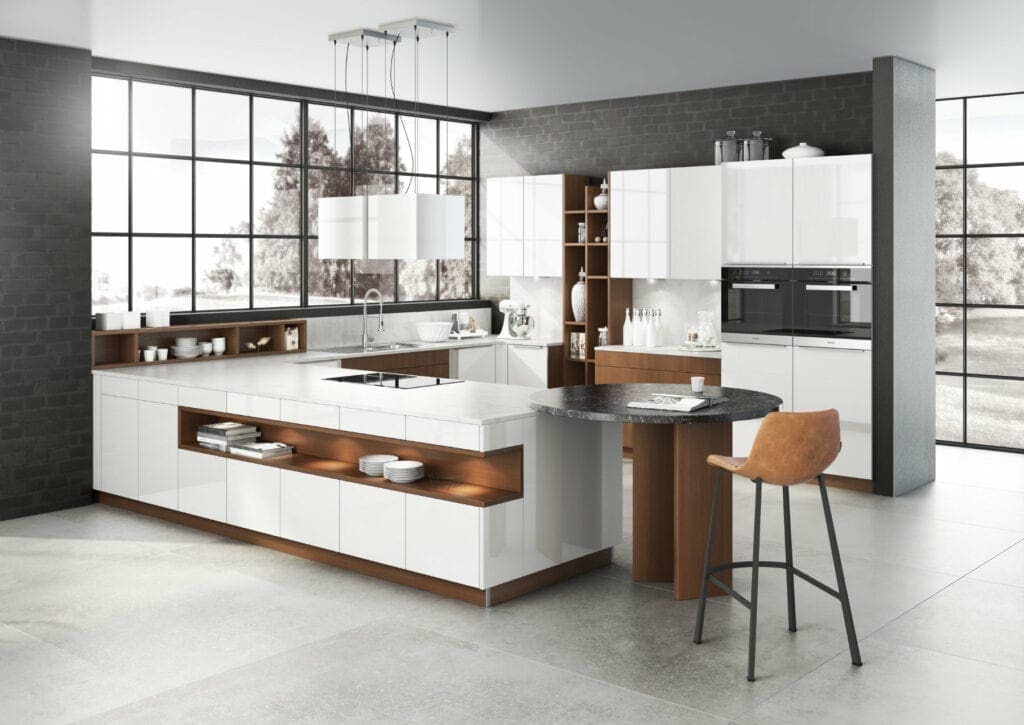 20) Floating and Open Shelves
While most modern kitchens include a combination of base, tall and wall units, in the last few years there has been a surge in demand for kitchens devoid of wall units altogether, which in itself brings many benefits. Firstly, open shelving is the perfect opportunity to bring a sense of 'you' into your kitchen, be it a collection of ornaments, photos, cookbooks, or houseplants- it's a blank canvas upon which you can imprint your own personal style. Alternatively, a simple backdrop is ideal for highlighting statement cabinetry or worktops, be it a luxurious finish in wood, metal, or stone. Finally, they afford more style options for small kitchens, and in place of wall units, open shelves are great for smaller kitchen spaces as they prevent the kitchen feeling enclosed.
Find your right kitchen trend in 2022…
…By definition a 'trend' denotes a popular style or look, yet that's not to say that what's on trend for kitchens in 2022 is right for everyone… Contact the Kitchen Experts today and we can put you in touch with an expert designer who knows how to achieve ergonomic and aesthetic excellence within design, but equally who knows all the right questions to ask to identify the kitchen look and layout that is exactly right for you.