Evolution of the Grey Kitchen Scheme
Grey kitchens have long since proved one of the most popular kitchen colours for homeowners. And there is certainly much to be said about the changing nature of the grey kitchen, an evolution which is definitely still occurring!  Where grey finishes were once limited to gloss or matt kitchen doors, there is an increasingly diverse range of richly textured and interesting grey finishes from which you can now begin to create your dream kitchen!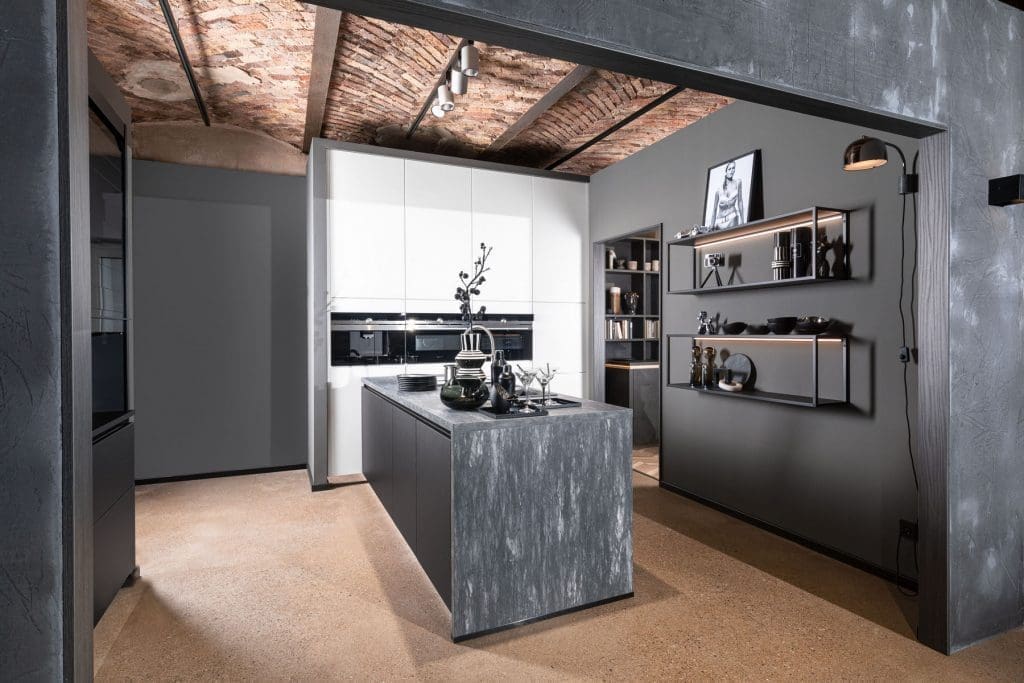 Why are grey kitchens so popular?
Grey kitchen tones are popular for use in design because they are easy to work with, highly versatile and create stunning end results!  Key to this success is that grey is a neutral and stable tone, qualities which easily translate to a calm kitchen setting. Sharing many of the same qualities that make white kitchens work so well, grey kitchen tones will work for any style of kitchen, whether modern, traditional, contemporary or eclectic!
Versatile Grey Kitchen Tones
The breadth of grey kitchen options allows an extensive versatility within design.  Whether alone or else blended with other finishes, grey tones can effect a multitude of different kitchen looks.  As the sole colour choice for a kitchen, Grey is an example of understated elegance. Yet by nature, Grey doesn't actually draw attention to itself.  A positive attribute, this also makes it the ideal support act for contrasting colours, including bold tones such as red, yellow or blue.  These may be overpowering by themselves, but perfectly balanced when blended with a suitable shade of grey.  Its flexible and accommodating nature leaves plenty of room for personalisation and diversity within any creative kitchen design.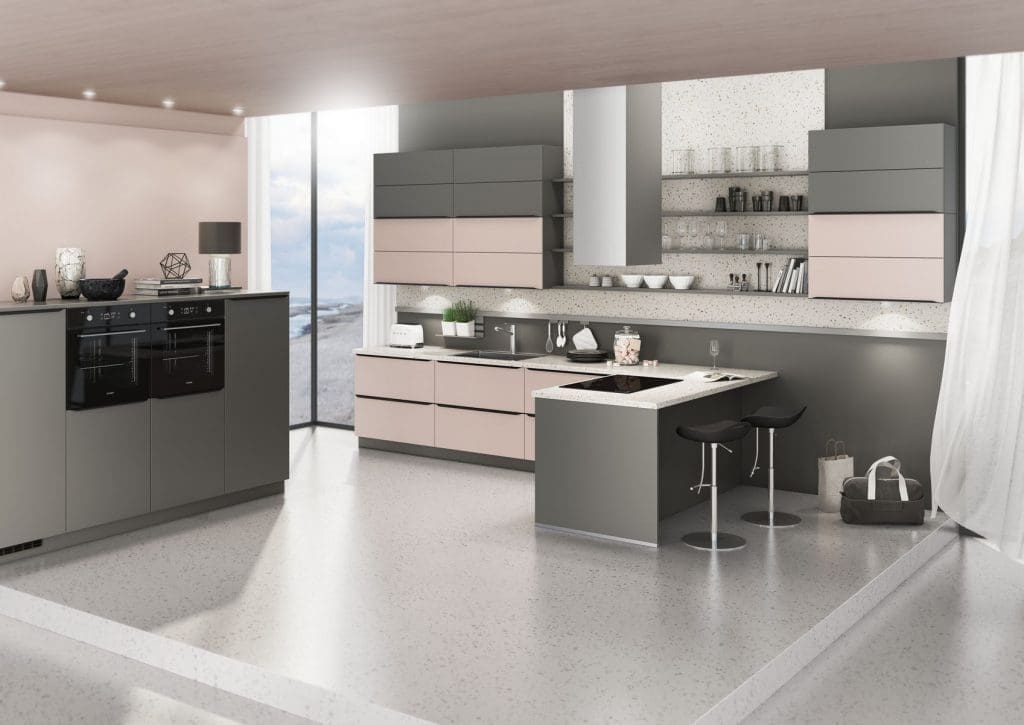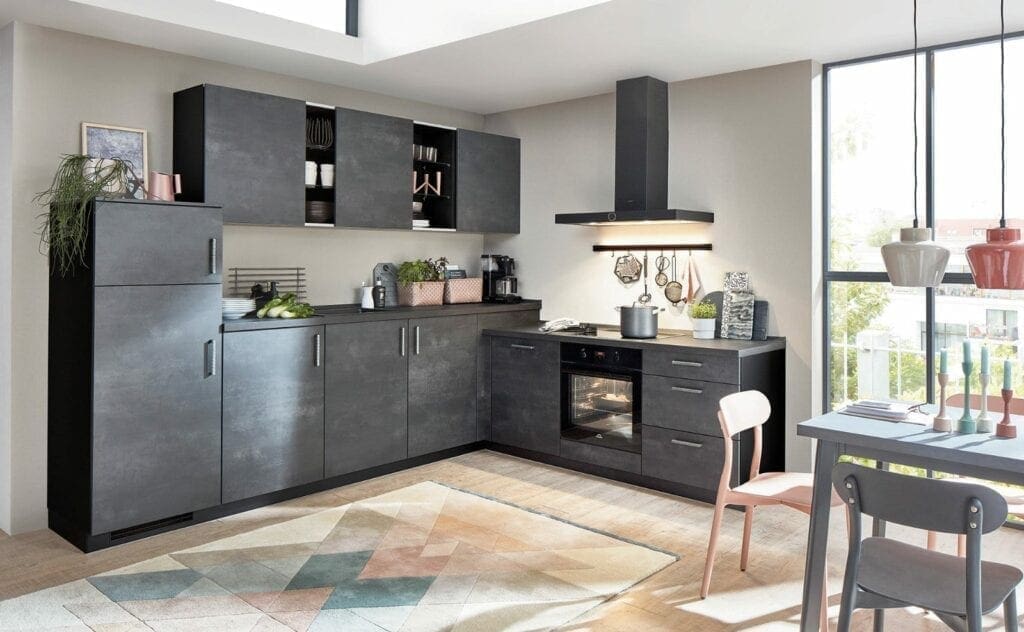 Grey Kitchen Finish Options
As mentioned, grey kitchen finishes are available in many different kitchen options. As well as light, mid and dark grey kitchen tones, you can also choose from materials including matt, gloss, ceramic, stone and even grey wood kitchen doors…
Grey Gloss Kitchens
Grey gloss kitchens are a great choice for those who want a sleek and stylish kitchen. They are perfect for modern homes and can even enhance a feeling of space in smaller kitchen settings, or else for large kitchens, dark gloss shades can help create a more cosy feel. With many different tones ranging from dark grey to light grey gloss kitchens, it's important to choose the right one for you and your home.
Once you've decided on the shade and style of grey gloss kitchen that you want, it's time to start thinking about the other elements of your kitchen. Grey gloss kitchens look great with white or black countertops and cabinets. You could also consider adding some colour with accessories such as towels, rugs or even your choice of small appliances.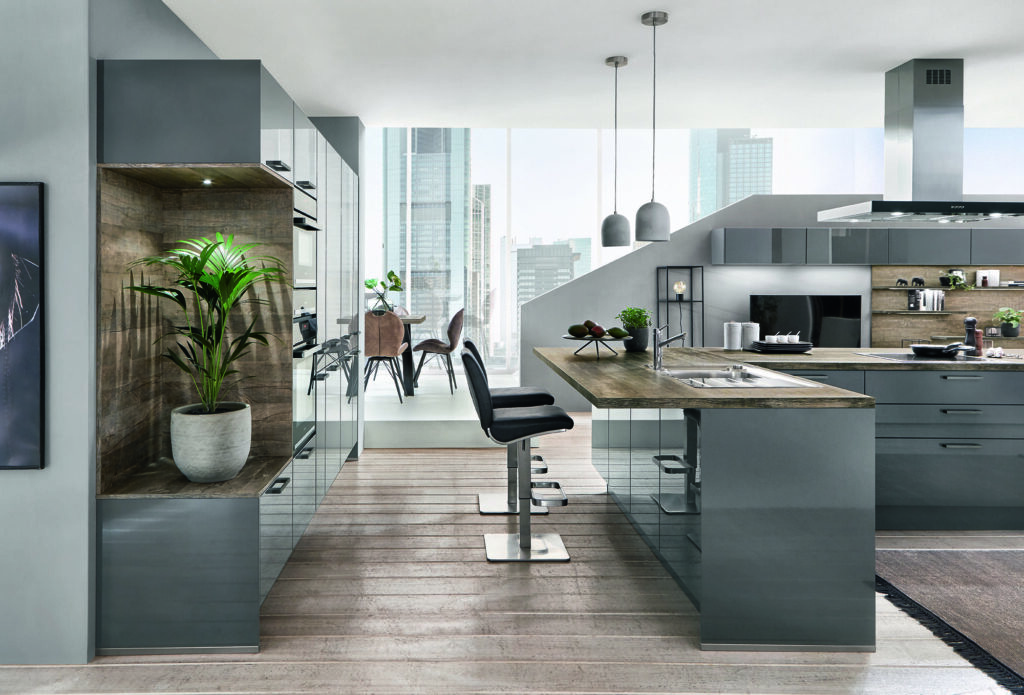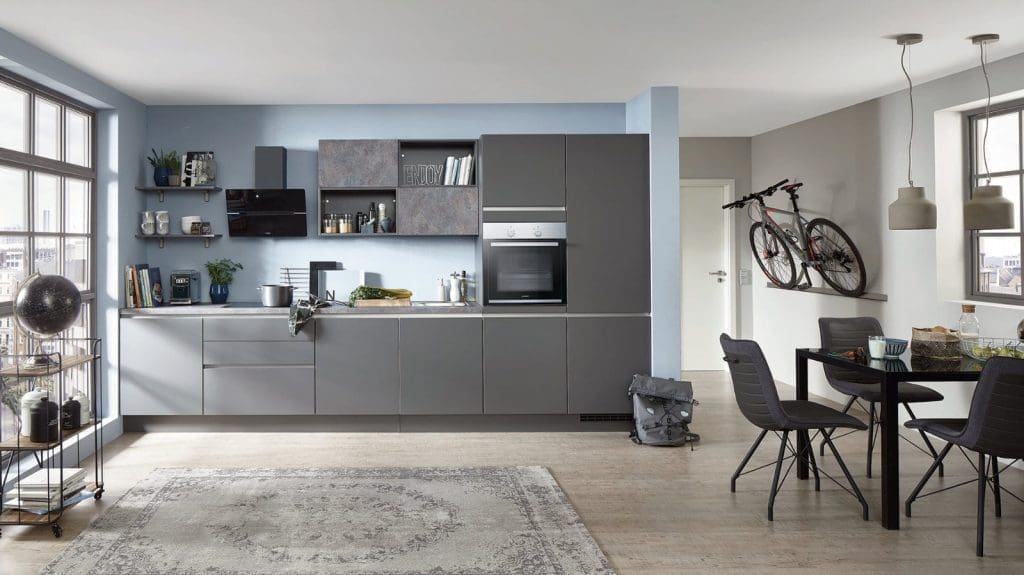 Grey Matt Kitchens
There are many reasons to choose a grey matt kitchen scheme. They are perfect for a more neutral space, or for a kitchen with natural, understated elegance. In fact, grey matt kitchen doors have a very sophisticated look that can help to elevate the style of your entire home. Alternatively, matt grey kitchens also make an excellent foundation on which to layer other kitchen textures, tones and styles, for a very personalised look.
A grey matt kitchen is also incredibly easy to keep clean; Any spills or splatters can be quickly wiped away, and fingerprints won't show up as easily as they would on other surfaces. Similarly, this type of kitchen is also incredibly durable. Most grey matt kitchen doors are resistant to scratches and stains, so you can be confident that your kitchen will look great for years to come.
If you're looking for a way to add a touch of luxury to your space, grey matt is the perfect kitchen choice.
Grey and White Kitchen Schemes
If you're considering a grey and white kitchen, you're not alone. This popular colour combination is perfect for those who want a stylish kitchen with a classic and timeless look. And one of the best things about grey and white kitchens is that they can be easily customized to fit your personal style. If you prefer a more traditional look, consider using white cabinetry with grey worktops and backsplashes. For a contemporary twist, try using grey cabinets with white work surfaces and backsplashes. You can also mix and match different shades of grey to create a unique look that is all your own.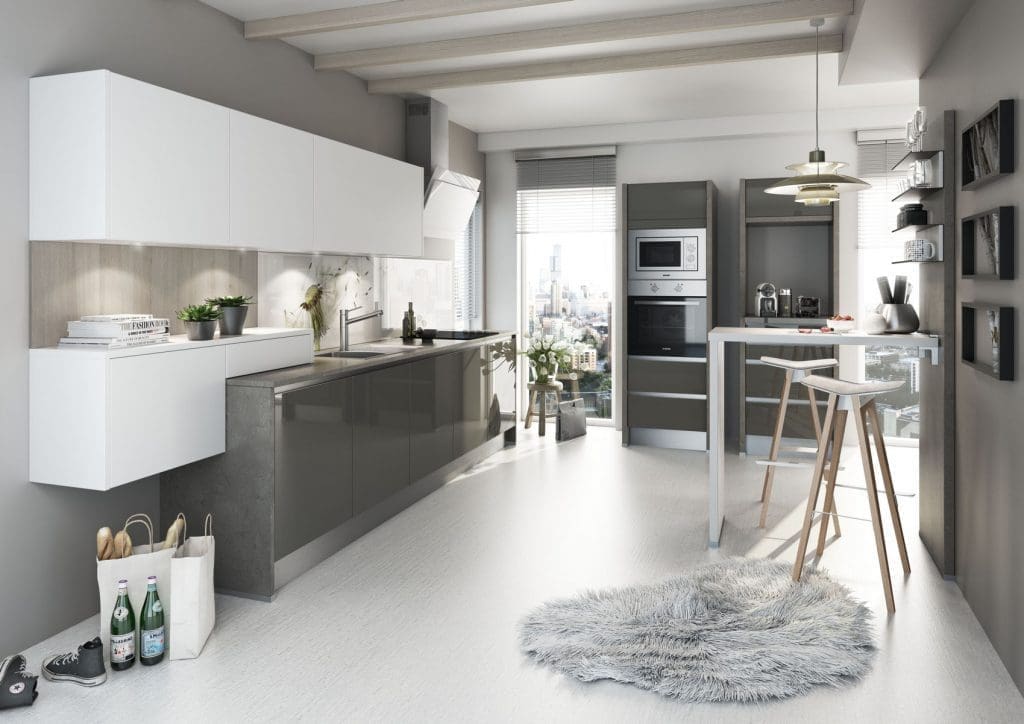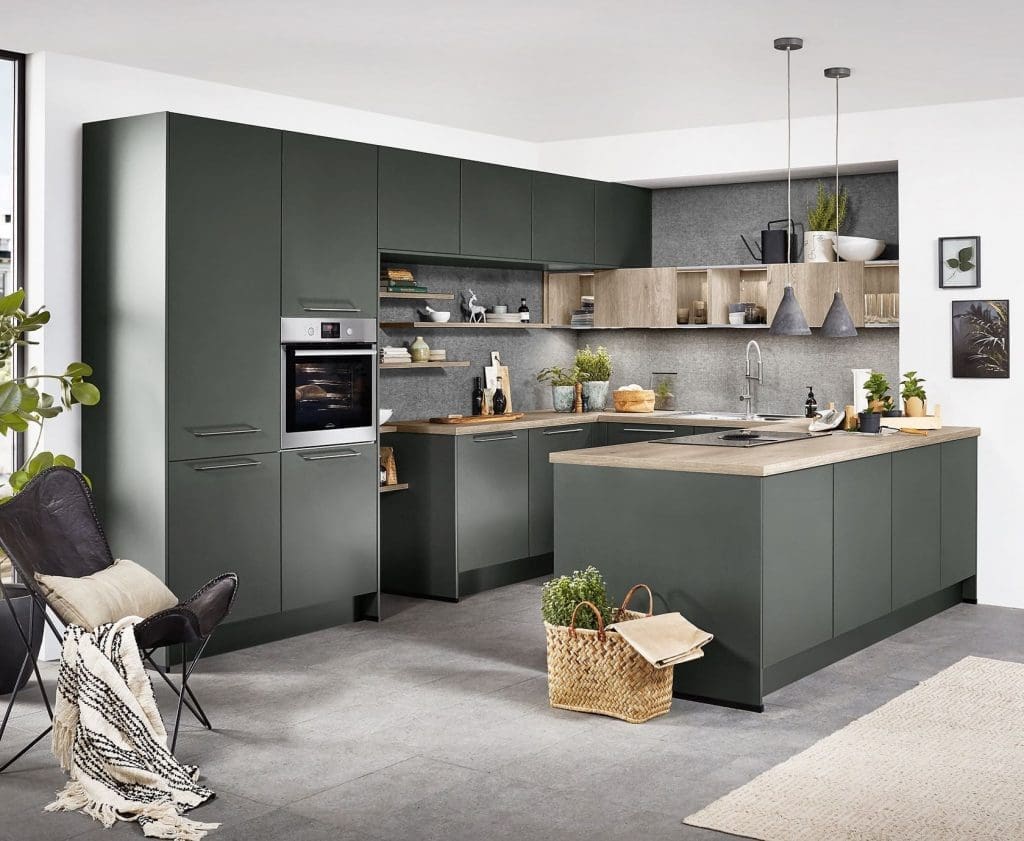 Grey-Green Kitchens
Grey-green kitchen tones can be a great alternative to dark grey kitchens for a stylish space that feels a little warmer. The earthy tones of grey-green kitchen doors are ideal for creating a welcoming space in your kitchen. This effect can be further enhanced by natural elements like wood and stone worktops. Depending on the lighting in the kitchen, black will also work well. Black worktops, cabinet door handles, and appliances can make a striking statement.
Choose your perfect Grey Kitchen Scheme
If you're thinking of giving your kitchen a makeover, consider grey! Grey kitchen tones are popular for good reason, and they can be the perfect addition to any home. With so many different shades and styles to choose from, you're sure to find the perfect grey kitchen for your needs.
For more information talk to the Kitchen Experts and we can help you find your perfect Grey Kitchen design.