Is the all-white kitchen going out of style?
All-white kitchens make for some of the most stunning kitchen designs possible! Whilst many new kitchen trends come and go, demand for white kitchen doors proves steadfast, popular among both homeowners and designers alike. With much more to the all-white kitchen style than first meets the eye, here we take a look at exactly why the all-white kitchen is set to stay!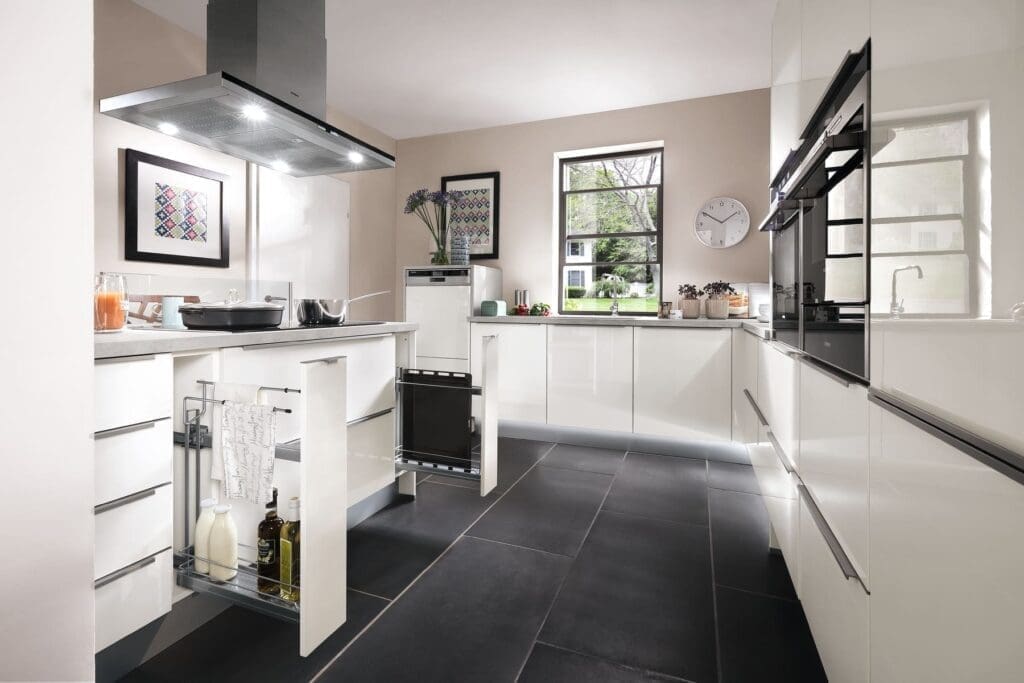 What is an all-white Kitchen Look
The first draw of the all-white kitchen is its appealing look. As its name suggests it usually consists of white units, white worktop, and white splashback against a backdrop of white walls. All-white kitchens tend to exude a fresh and clean kitchen appearance, which in turn forms a comfortable and enjoyable setting for cooking, dining, or working in. The white kitchen door tone's light reflecting qualities enhance the kitchen space by making it feel brighter and larger; White is the best possible colour for achieving this, and particularly so within a gloss white kitchen finish. But not every all-white kitchen looks the same, and this is largely because of the white kitchen's diverse range and versatility…
How Do You Modernize an All-White Kitchen?
One of the all-white kitchen's most attractive qualities is its versatility. Whether you want a wow-factor, ultra-modern kitchen, or else a more homely and comfortable setting, both styles, although very different in look, are perfectly possible and highly appreciable within all-white kitchen furniture. As the most popular colour choice for kitchens, it makes perfect sense that white kitchen furniture is available to choose from in the widest range of finishes and this makes it easy to achieve the exact look you want, whether modern or traditional.
White kitchen door options include, white glass, white lacquer, laminate, white wood doors, white ceramic doors, white door finishes with round edges, square edges, curved edges, a structured door, or Shaker kitchen finish, patterned doors, different white colour tones, and of course, white is also available in the popular handleless kitchen door!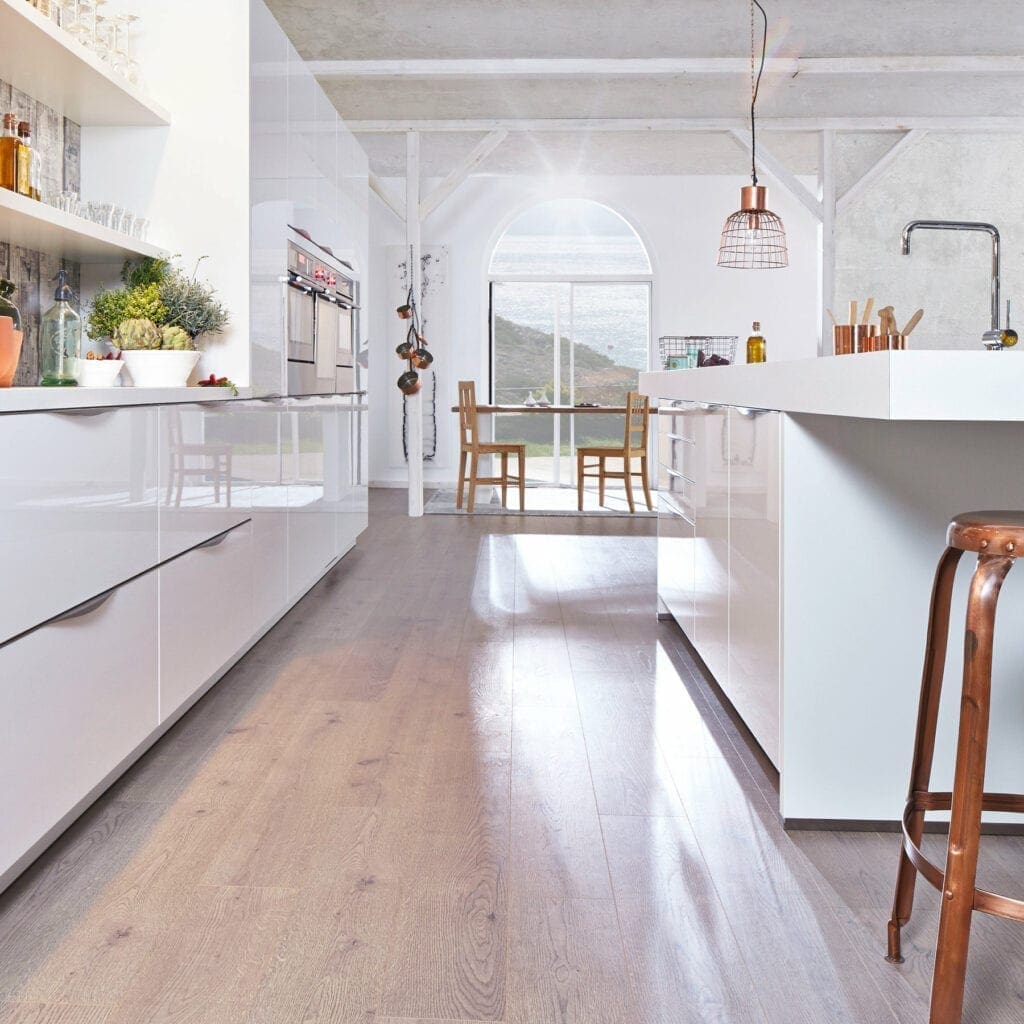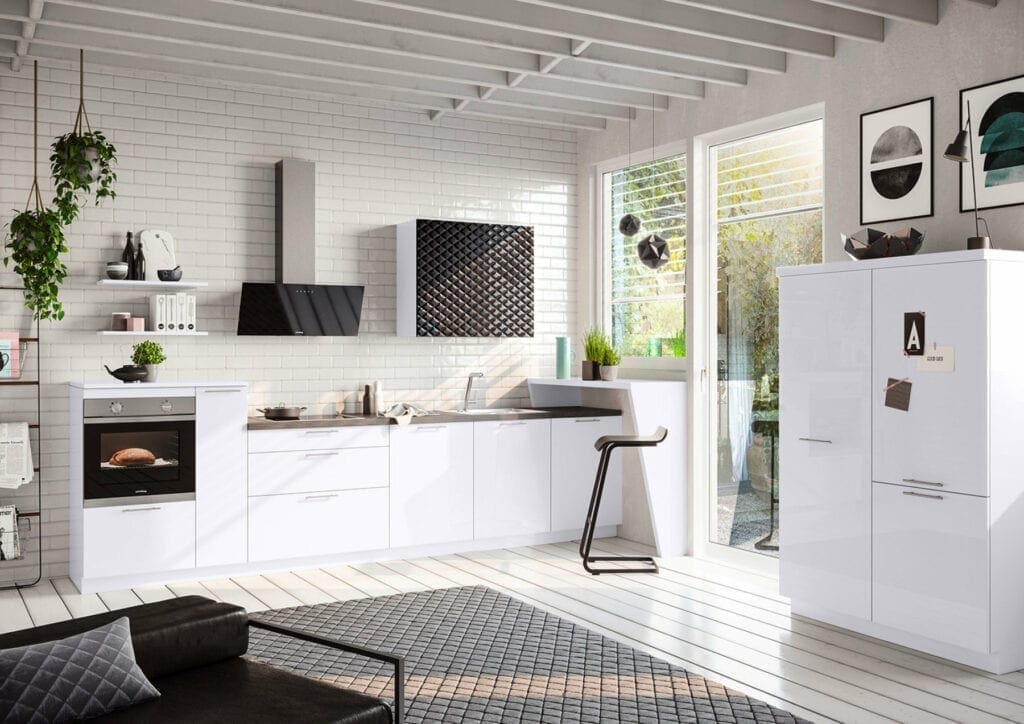 Personalising an All-White Kitchen Look
With so many white kitchen finishes to choose from this means even within an all-white arrangement there is still room for expressing character and personalised style! In addition, you may also consider introducing form and texture to some of your all-white finishes for a distinguishable kitchen feature. This might include a gilded glass or textured glass splashback, timeless subway tiles, or 3D textured white worksurface. Similarly, white's versatile nature means it is very accommodating to other colour tones so contrasting your all-white décor with either subtle or bold splashes of colour can create a striking statement for the home.
Choose an All-White Kitchen to Suit Your Taste & Lifestyle
As highlighted, there are many options for creativity and for introducing a personal touch, but of course one of the biggest decisions, and which greatly influences the look of the all-white kitchen is what type of finish you want, whether gloss, matt, wood, etc. Lifestyle and family circumstances may influence this decision, for example matt white kitchen doors can be a better choice than gloss if you have small children or pets as they don't show marks as easily. But this choice also depends upon personal preference of the different looks. Generally speaking, matt white kitchens tend to look more contemporary and minimal, particularly in the handleless kitchen style. Conversely, gloss white kitchen doors usually appear modern, yet with a softer, warmer feel. Of course, the effected kitchen look also depends on the white colour tone you choose, as these also range from crisp and brilliant white to more muted, warmer white tones.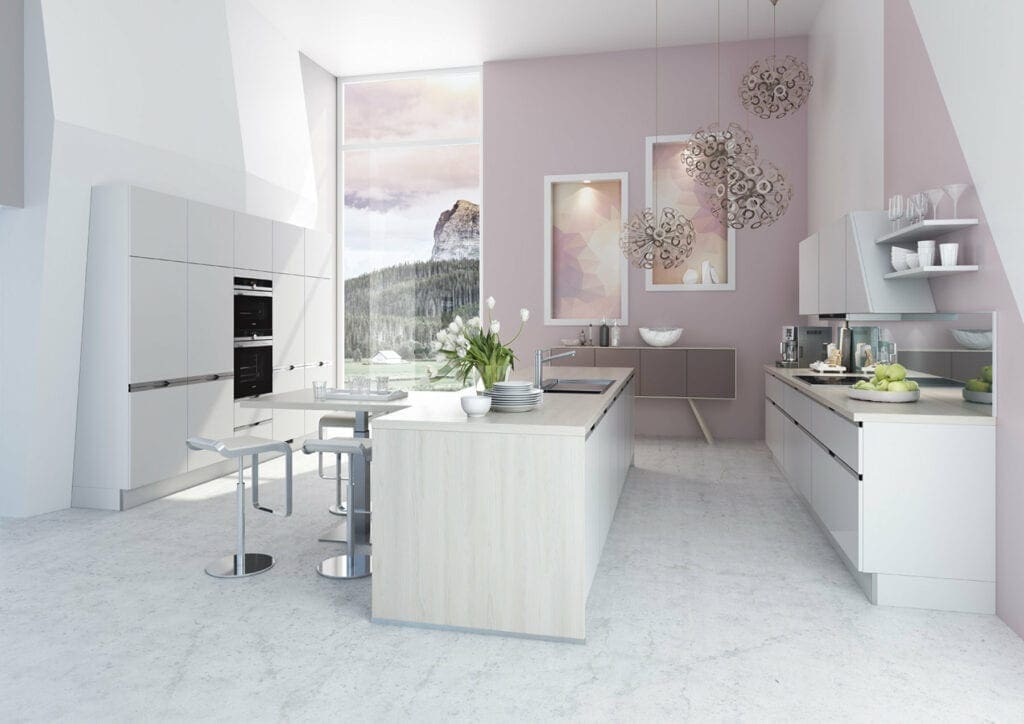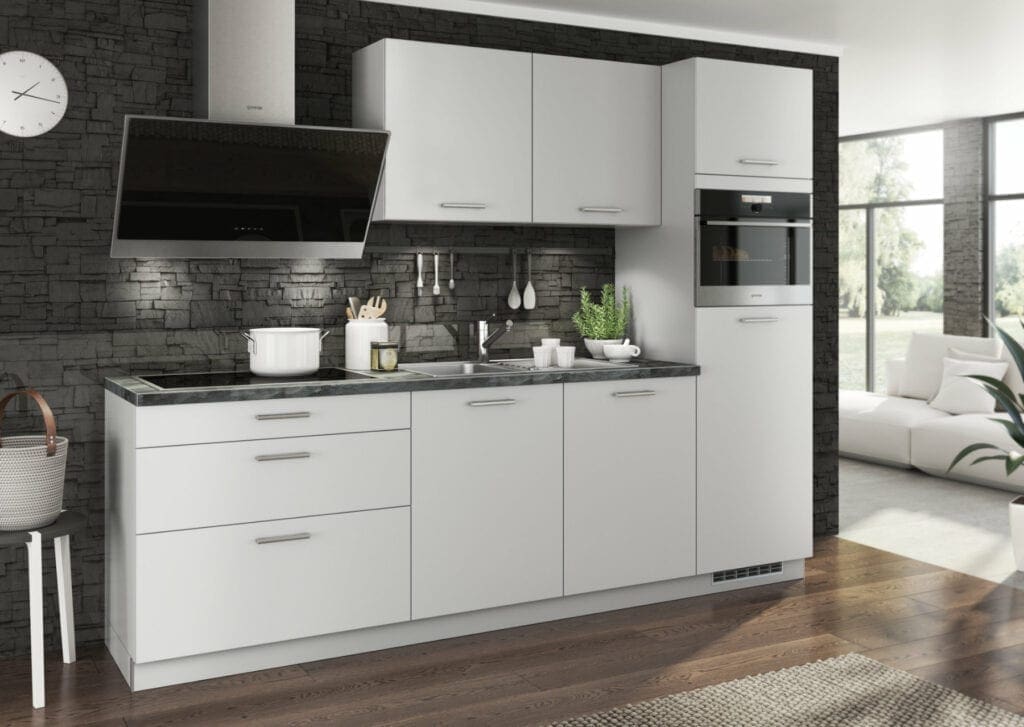 All-White Kitchens with Longevity
Another draw of the all-white kitchen is its mass appeal and longevity, which go hand in hand. White is a neutral kitchen tone, so suits most tastes, and as a classic colour is unlikely to date or go out of style. This means that as long as the kitchen is of high quality, an all-white kitchen will usually be kept longer, as well as appeal to new homeowners should you consider selling in the future. If this is the case then for anyone looking to add value to their home, white is not as much a sensible but clever option! As previously mentioned, you can still add character and put your own stamp on your kitchen but in specific areas that would be affordable and easy for new owners to change, such as splashbacks, lighting, and accessories.
Are all-white kitchens easy to clean?
A perceived drawback of the all-white kitchen is that white will easily show up dirt and marks. In this case, textured white doors such as ceramic, wood or stone make great kitchen choices. But in most respects surfaces have an easy-wipe, low-maintenance finish, and in fact many people prefer a surface that will show spillages so you can quickly and easily address them. This is particularly key for families who want to maintain a hygienic environment for their loved ones, including young children who frequently explore their environment by way of touch and putting things in their mouths. Fingerprints are less noticeable in white than other kitchen colours, and if you foresee it being a problem then the handleless kitchen option will greatly reduce the possibility of this happening.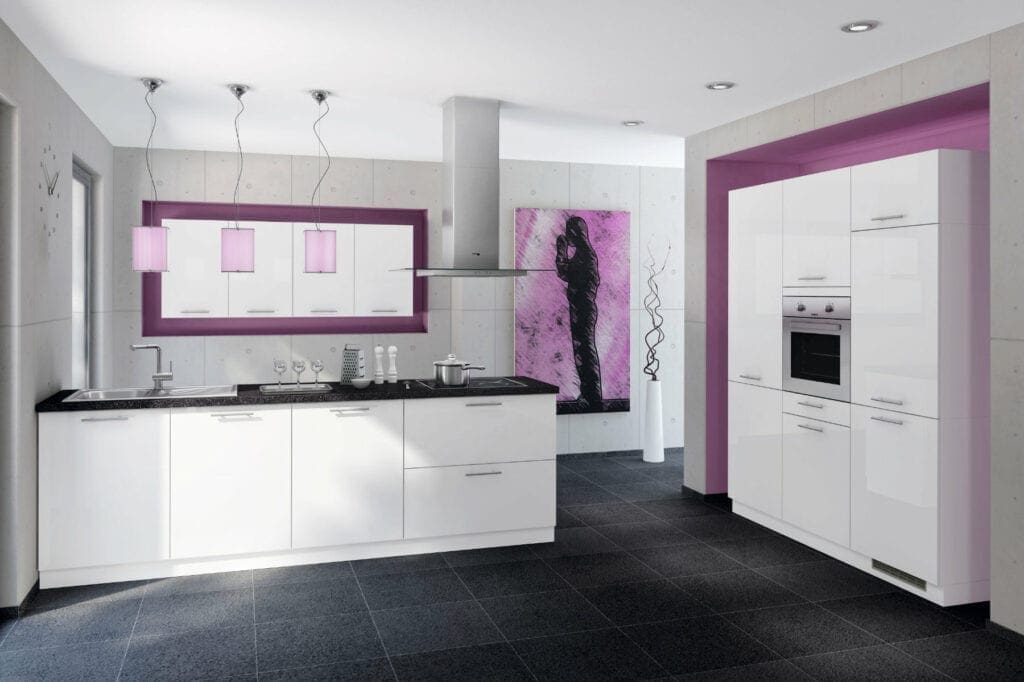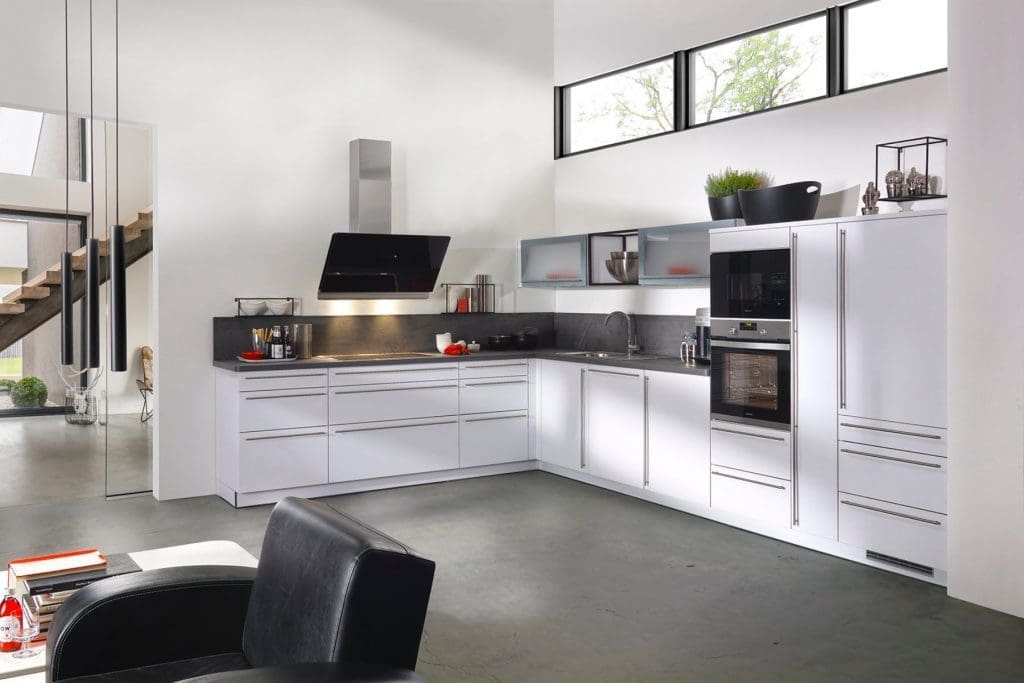 Is an all-white kitchen too much?
There is sometimes concern that all-white kitchen might appear 'too much'… whether it's too white, too stark, or even a bit bland. After all, whilst 'understated' holds great appeal, no one wants a boring kitchen! But this concern is unfounded; Explore your options and plan your design carefully with the help of a professional kitchen planner, and this simply won't be a problem. Furthermore, white kitchens themselves come in a range of colour tones, design and style options, ensuring you can inject variety into an all-white kitchen and that one size definitely does not fit all!
How to Plan a great all-white kitchen design
Whilst other kitchen colours and styles certainly hold their own appeal and benefits, the all-white kitchen is by far one of the most popular kitchen choices. Ensure you seek help with your planning, and you can easily affect an all-white kitchen design that is beautiful, practical, and comfortable for use. As a network of independent, local Kitchen Specialists, the Kitchen Experts can help you find your nearest luxury kitchen showroom where you can talk to a professional kitchen designer and experience the beauty of all white kitchen doors for yourself!