What are black kitchens?
Black kitchen furniture has proved the foundation for some of the most beautiful kitchen designs to date, creating a truly luxurious statement within the home! Where in previous eras black was met with trepidation, black kitchens now stand fast as a popular, and lasting kitchen trend, whilst homeowners have grown much bolder with their choices. This means lots of dramatic yet sophisticated all-black schemes, or else successfully balancing dark kitchen doors with warm woods, white, or contemporary gold accents. Black exudes natural elegance, and whilst dark and moody greys are still extremely popular, black doors bring an unrivalled depth and sharpness to a kitchen design.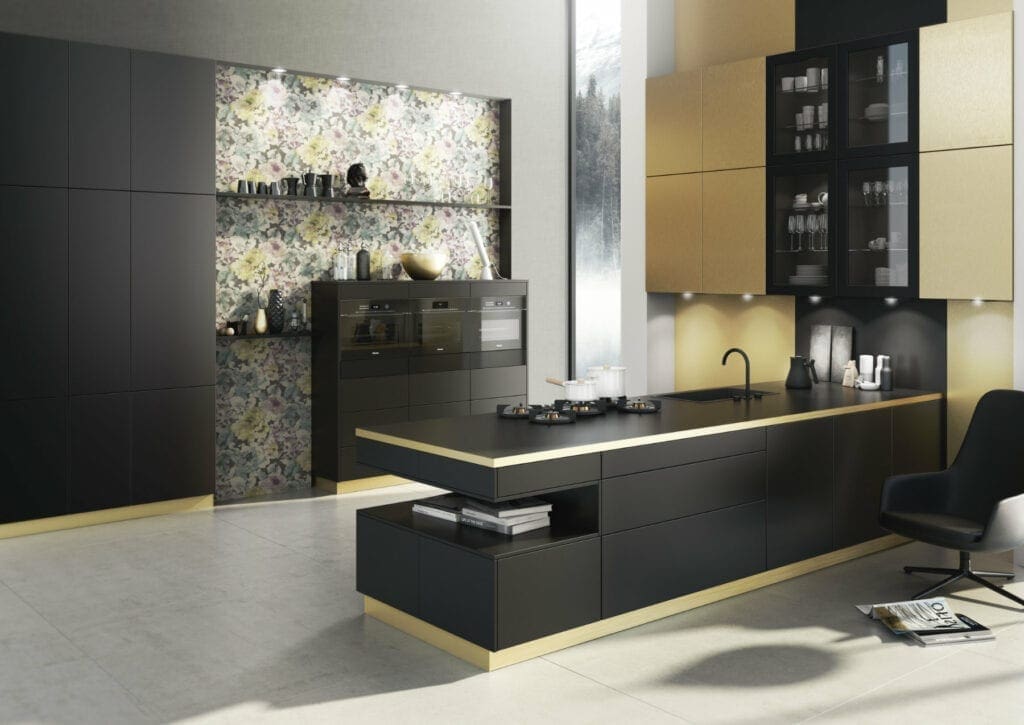 Is a black kitchen a good idea?
Dark kitchens are a great idea for the home but need professionally designed with due thought, care, and an awareness that the kitchen furniture is just one element of a kitchen design; you must also consider the floor tiles, worktop, splashback, wall colour, and accessories. It is the combination of these items that will determine whether your black design works and how it will look. Yet rest assured black is a classic tone, compatible with just about every other kitchen colour and style.
Black kitchen door options
There are many styles to choose from with homeowners enjoying a full range of refined black finishes in gloss, matt, wood, stone, and ceramic. Each style is also available in different finish materials, for example black matt doors are on offer in laminate, lacquer, or matt glass kitchen doors. And as well as materials, you can also choose from varying shades of black, including soft as well as bold black tones. Finally, you can consider a black shaker kitchen, black handleless kitchen finish, or even the option of black doors featuring luxurious, soft curves.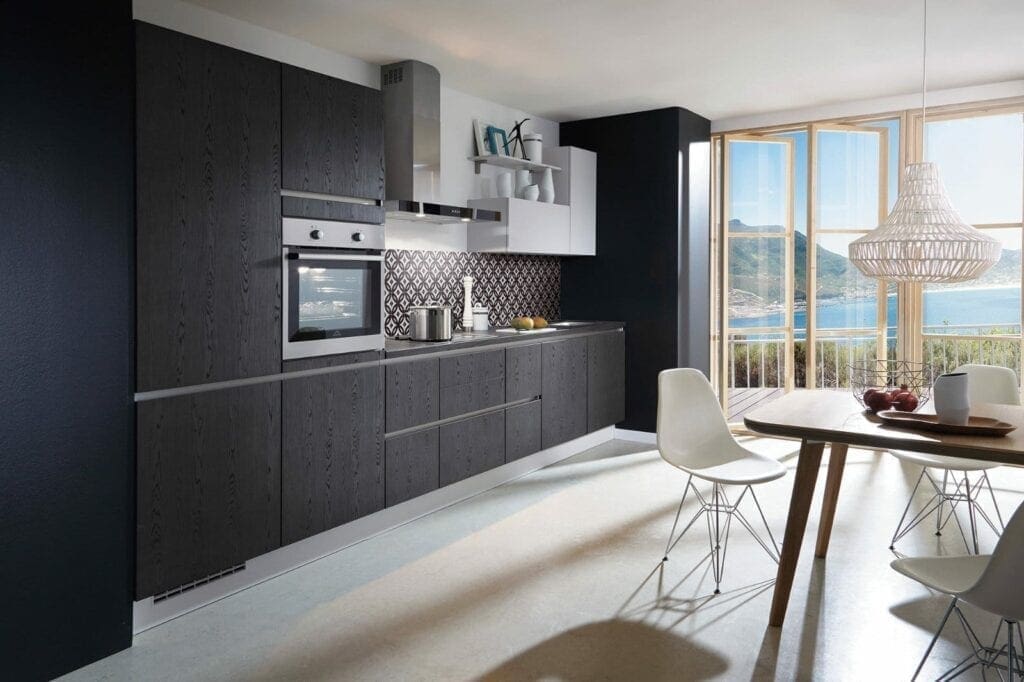 Black kitchen design styles
The wide choice of black kitchen options means whether your taste is modern, traditional, or something in between, there will certainly be a style to suit your taste, budget, and the space you have available. What's more, a black kitchen's appearance will differ depending on the finish and accessories you choose. For example, a smooth black matt lacquer door produces an entirely different kitchen look from a richly textured Black Oak wood. The benefit of this variety is there is plenty of opportunity for creativity when designing a black kitchen, and for putting your own personal stamp on it!
What colours go with black kitchens?
The increase in black kitchen choices, has also brought increased versatility, and this fits very neatly with the popular two-tone kitchen trend for mixing and matching different materials and finishes. This might include a contrast of materials within the same black tone, such as black matt lacquer with black stone doors. Alternatively, black kitchens frequently include a second door colour. For example, white forms a classic partnership with black, but equally red, grey, and neutral tones work well, as does a vibrant accent colour for a more eye-catching look! Light, textured woods have also become extremely popular in combination with black doors, bringing warmth and contrast for an inviting kitchen setting.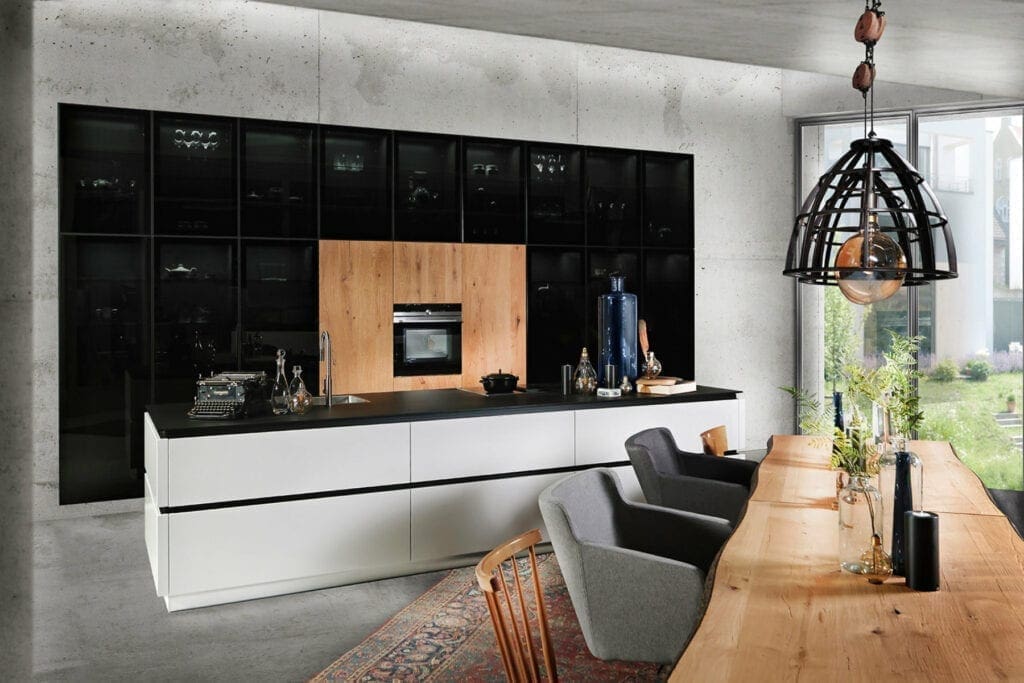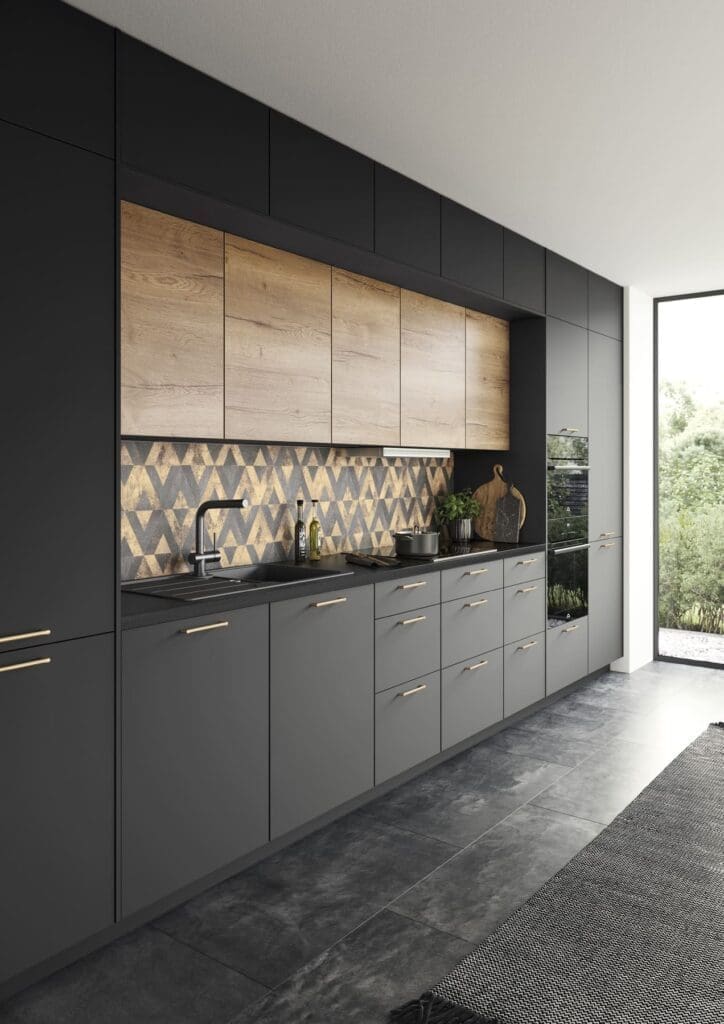 Can a small kitchen be black?
With careful introduction, black kitchen doors will also work for small and darker kitchen spaces too. This is especially true in small kitchens which receive generous natural lighting, such as in open plan spaces. However, the worktop, flooring, wall colour and décor will also influence the kitchen's overall look and so choosing lighter colours for these options can bring balance and prevent the space appearing dark or enclosed. If natural light is lacking, then contrasting black kitchen base units with light toned wall units will draw the eye upwards, another technique for balancing the look and (along with effective lighting options) making the kitchen space appear larger, lighter, and brighter.
How do I incorporate black in my kitchen?
The bottom line is the best way to incorporate black in your kitchen is to talk to an experienced kitchen designer. As well as skill and experience, they also have increasingly advanced tools at their disposal to convey to homeowners exactly how their black kitchen will look. This includes photo-realistic designs and the ability to match floor and wall coverings to those in your home. Some designers can even adjust luminescence to match your room's existing or intended lighting. Such possibilities go a long way towards instilling confidence and certainty in consumers, assuring them that a black kitchen is the right decision and will prove a successful colour scheme for their home.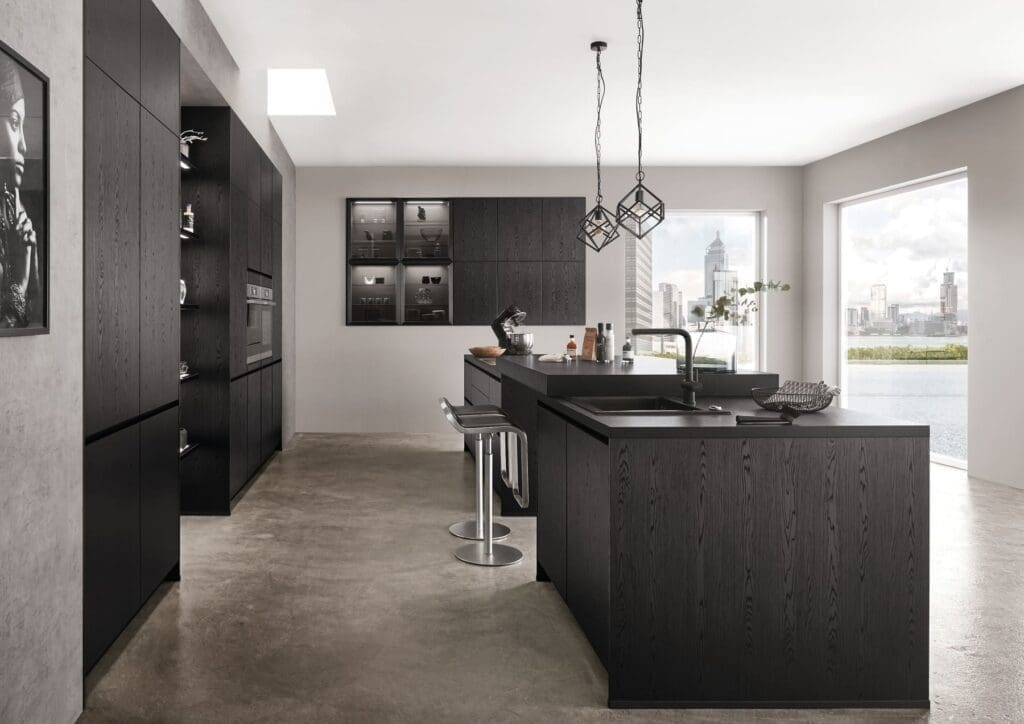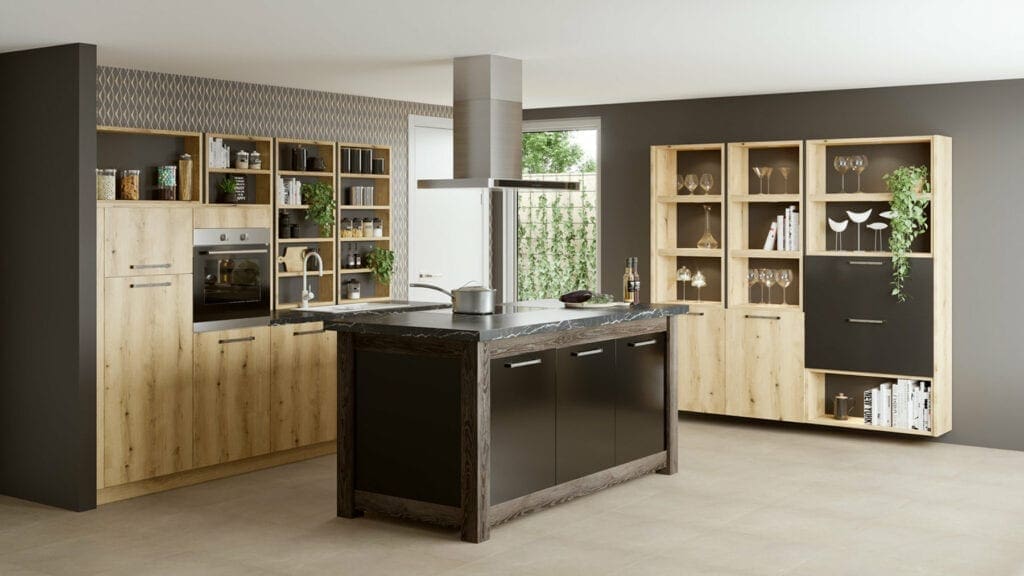 Considering a Black Kitchen Design? …Talk to An Expert Today
Some of the most beautiful kitchen designs feature black kitchen furniture, appreciable for their striking, modern, and elegant kitchen look! Yet, whilst its very workable, a black kitchen scheme is still more daunting to commit to than any other kitchen colour. So, if you are currently contemplating a black kitchen, but a little uncertain, our advice is to source a professional kitchen designer and ensure you can see exactly how your new design will look before making any decision. To find your nearest kitchen showroom and talk to an expert contact the Kitchen Experts today.