For many homeowners in the UK, the kitchen is the hub of the home where families gather, meals are shared, and memories are made. Central to the functionality and aesthetics of any kitchen is the much unsung hero: the kitchen sink! The sink is a pivotal focal point, tying together the design elements while serving as an essential, hardworking hub of activity. In recent years, sink styles have evolved significantly to meet the many demands of modern-day households. From the rustic appeal of the farmhouse sink to the sleek undermount sink design, there's a sink to suit every aesthetic preference as well as every functional need.
Farmhouse Kitchen Sinks: A Blend of Rustic Charm and Functionality
Farmhouse sinks exude a blend of rustic charm and modern functionality. Characterised by their large, deep basins, they feature a distinctive apron front that extends beyond the worktop. Typically crafted from materials such as porcelain, fireclay, or stainless steel, these sinks seamlessly merge traditional aesthetics with contemporary design needs.
Benefits: Spacious: Perfect for washing large pots, pans, and dishes. Versatile: Fits in with both traditional and contemporary kitchen designs.
Considerations: A farmhouse kitchen sink requires a specific cabinet type or customisation due to the forward-facing design and its weight often necessitates reinforced cabinetry.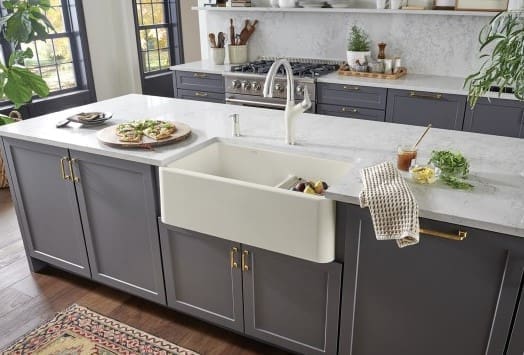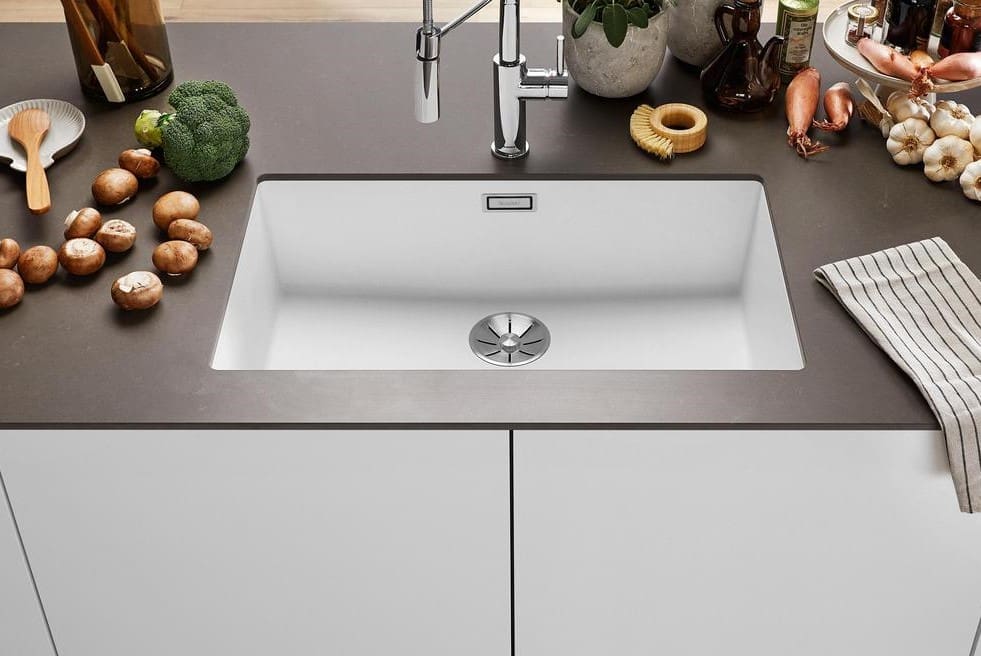 Undermount Sinks: Sleekness at its Best
Undermount sinks epitomise sleek, modern design. Positioned and fitted directly beneath the worktop, they offer a clean, uninterrupted surface appearance. Commonly crafted from materials like stainless steel, granite composite, or quartz, these kitchen sinks seamlessly integrate with contemporary kitchen aesthetics, providing both form and function.
Benefits: Easy to Clean: No rim above the worksurface means you can wipe crumbs straight into the sink. Sleek Appearance: Offers a modern, clean look, which complements minimalist and contemporary kitchens.
Considerations: This sink requires solid surface worktops like granite or quartz, as laminate can't support the sink's weight from underneath, and it's a bit more intricate to install.
Drop-in Sinks (Top-mount): The Classic Choice
Drop-in sinks, also referred to as top-mount sinks, are a timeless kitchen sink staple. Distinguished by a prominent lip that sits flush with the worksurface, these sinks offer a classic and versatile design. Made from a range of materials including stainless steel, porcelain, and acrylic, they effortlessly adapt to a multitude of kitchen styles and preferences.
Benefits: Simple Installation: Generally easier and cheaper to install than undermount options. Compatibility: Works with almost any type of kitchen worksurface material.
Considerations: The rim can collect grime and debris, making it slightly more challenging to clean.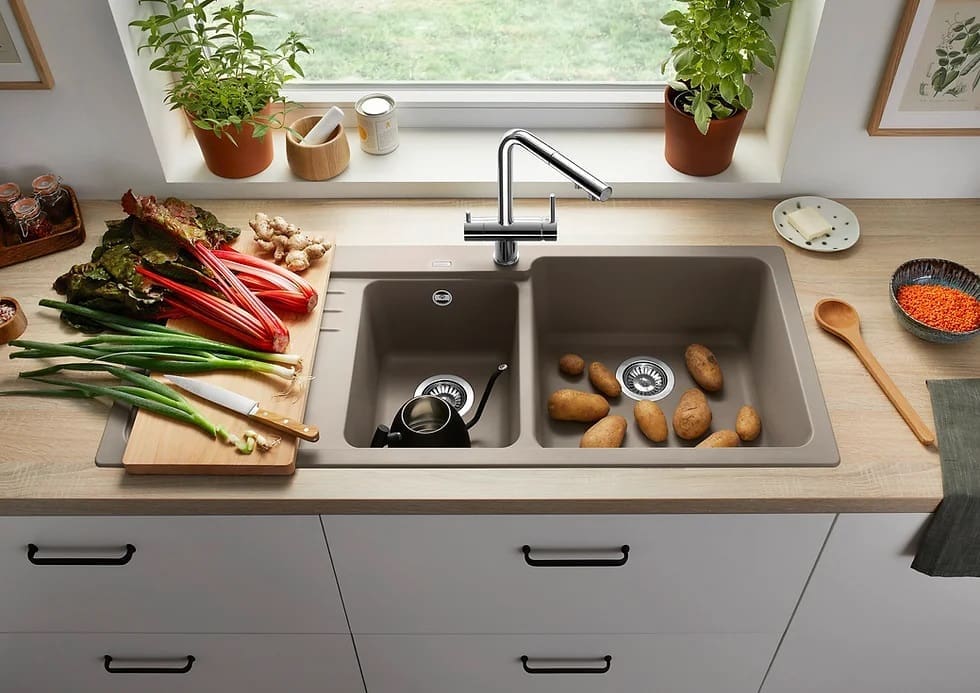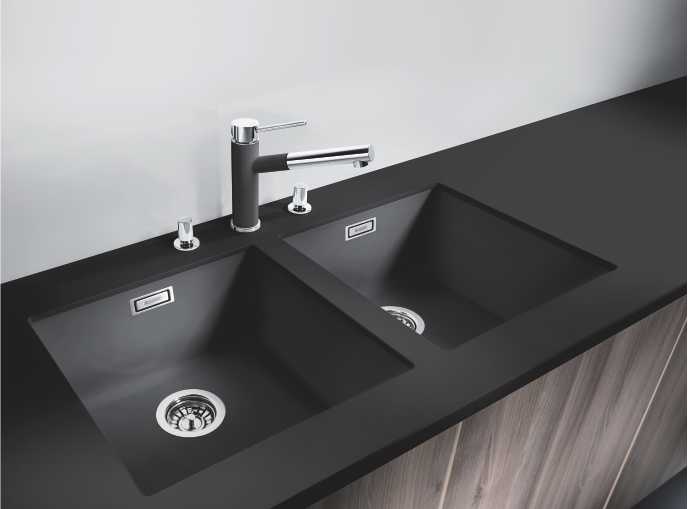 Integrated Sinks: Seamless Sophistication
Integrated kitchen sinks offer an epitome of seamless sophistication in kitchen design. Crafted from the same material as the worktop, they ensure a flawless transition between surfaces. Predominantly made from materials such as Corian or stainless steel, these sinks blend elegance with contemporary design, creating a unified and sleek appearance.
Benefits: Ultra-modern Look: Perfect for homeowners who appreciate a minimalist and seamless aesthetic. Easy Maintenance: No edges or seams mean fewer places for food particles or bacteria to hide.
Considerations: Typically more expensive because of the custom nature of the sink and worktop combination.
Corner Sinks: Maximising Space
Corner kitchen sinks are ingeniously designed to optimise kitchen space, nestling neatly into a corner, as suggested by their name. Crafted from a diverse range of materials, including stainless steel, porcelain, or granite, they maximise functionality but also cater to varied aesthetic preferences, making them a versatile choice for kitchens where space is at a premium.
Benefits: Space-saving: Perfect for smaller kitchens or unconventional layouts. Additional Work Space: Can provide more worktop space on either side.
Considerations: It can be awkward to use or reach for some individuals and it may limit the size of pots or pans you can comfortably clean.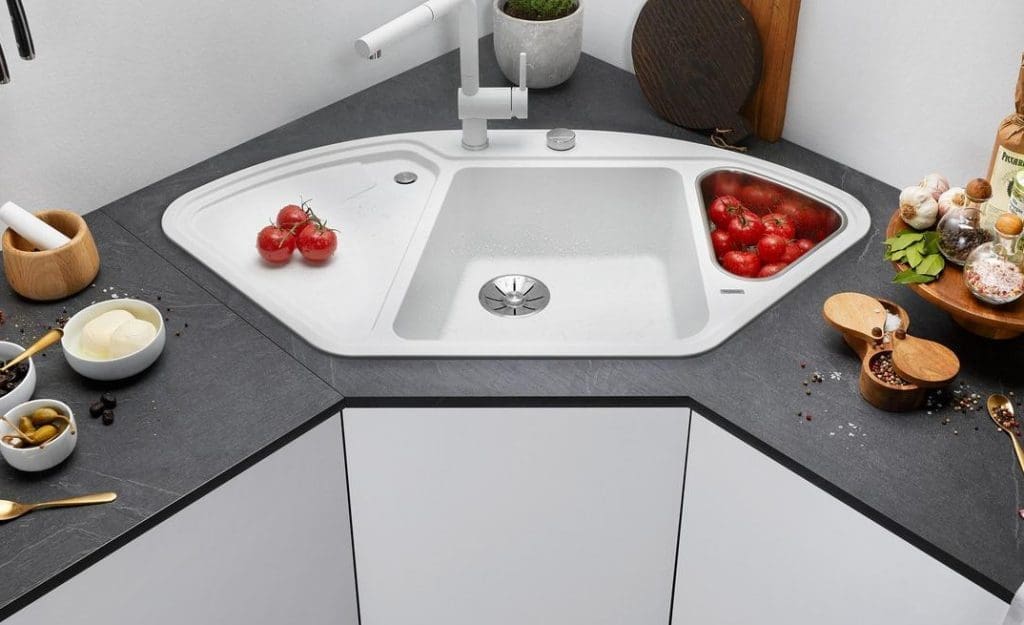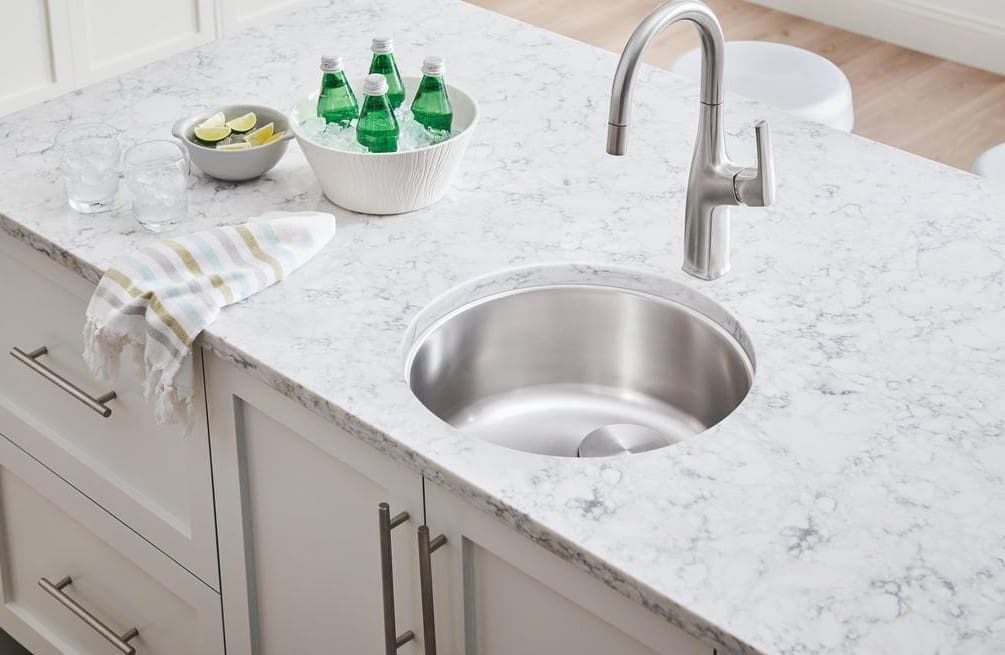 Bar Sinks (Prep Sinks): For the Home Chef
Bar sinks, also known as prep sinks, are a culinary enthusiast's best companion. Typically smaller and often featuring a round or square shape, they are perfect for installation in a kitchen island or as an auxiliary sink. Designed with the home chef in mind, they streamline food preparation and offer added convenience in busy kitchen settings.
Benefits: Convenience: Allows for easy food prep or as a station to wash fruits and veggies. Additional Sink Space: Useful during large dinner parties or family gatherings.
Considerations: Requires additional plumbing setup.
Making the Right Choice
When selecting the perfect sink for your kitchen, you'll want to consider both form and function. Think about your daily habits and needs. Are you an avid cook needing space in your sink for big pots? In which case, a farmhouse sink might prove your best match. Alternatively, do you love a modern, seamless design? In which case, an undermount or integrated sink could be your kitchen's crowning glory.
Budget, kitchen size, and style are crucial factors, but also think about durability and how easy your sink will be to clean and maintain. For instance, stainless steel is durable and timeless, while porcelain offers a classic look but can chip. Finally, when choosing your sink, remember it is just one element in your kitchen, and so must harmonise with your, cabinetry, appliances, taps, worktops and more.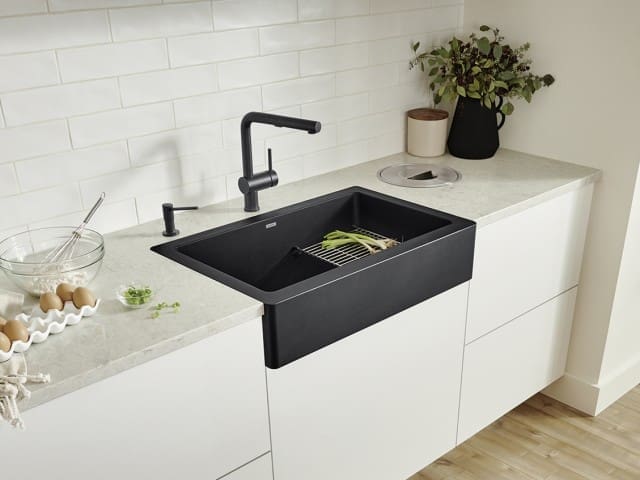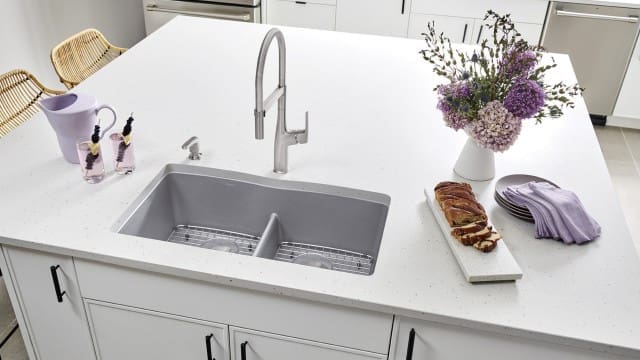 Talk to A Kitchen Expert
When planning your perfect new kitchen make sure to check with a professional kitchen retailer in the UK who can guide you through the vast range of sink options and help bring your vision to life. The right sink can make a world of difference, ensuring your kitchen isn't just a place to cook, but a space where form meets function in the most beautiful and practical way. Contact your local Kitchen Expert today!