Designing your dream kitchen in the UK can be an exciting and truly rewarding experience if you know the right steps to take. After all, your kitchen is the heart of your home, a place where you prepare meals, entertain guests, and share special moments with family and friends. Here, we'll walk you through the process of designing your dream kitchen space from start to finish, ensuring you get the perfect space tailored to your individual needs and preferences.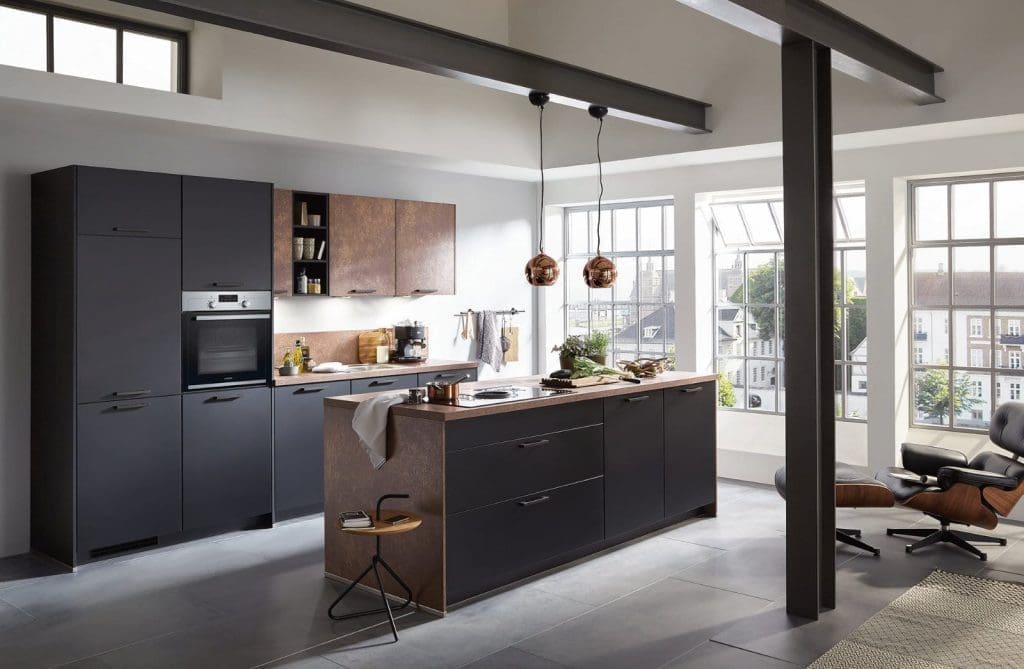 Step 1: Set Your Budget and Priorities
Before you dive into the exciting process of designing your dream kitchen, it's essential during your early planning stages to establish a budget for your kitchen renovation. Determine how much you're willing to spend and create a list of your top priorities. Consider factors such as:
Lighting
Plumbing fixtures
Once you have a clear understanding of your budget and priorities, you can make informed decisions throughout the design process, ensuring you get the most value for your investment and without overspending.
Step 2: Evaluate Your Space and Lifestyle
To design a kitchen that meets your unique needs, it can be helpful before meeting with a professional kitchen designer to take some time to assess your current space and how it relates to your lifestyle. Consider the following:
Kitchen layout: Evaluate your current layout and identify any aspects that you really like and want to keep/ recreate, as well as where you'd like to make improvements. For example, if you find yourself constantly bumping into cabinets, struggling for worktop space, or find your current prep space too dark, then this is key information that will help a designer in reconfiguring the look and layout to better suit your needs.
Cooking habits: Think about your cooking habits and preferences. If you're an avid home cook, you may want to prioritise high-quality appliances and ample prep space. On the other hand, if you're more likely to order takeout or heat up frozen meals, you might prioritise a more streamlined kitchen design with less emphasis on elaborate appliances.
Entertaining: If you enjoy entertaining guests, consider incorporating features such as a sociable kitchen island, a wine fridge, or a separate bar area to make hosting easier and more enjoyable.
Storage needs: Analyse your current kitchen storage situation and identify any areas where you could benefit from additional or more efficient storage solutions.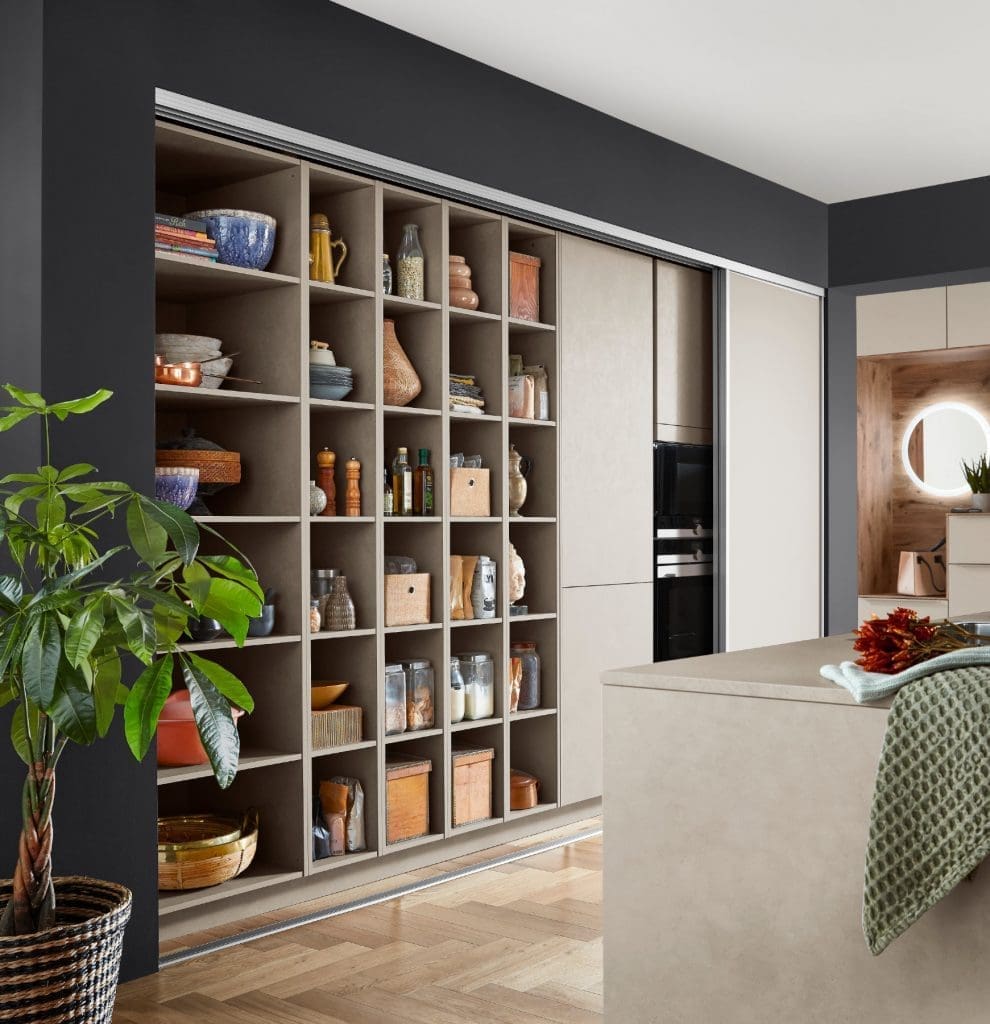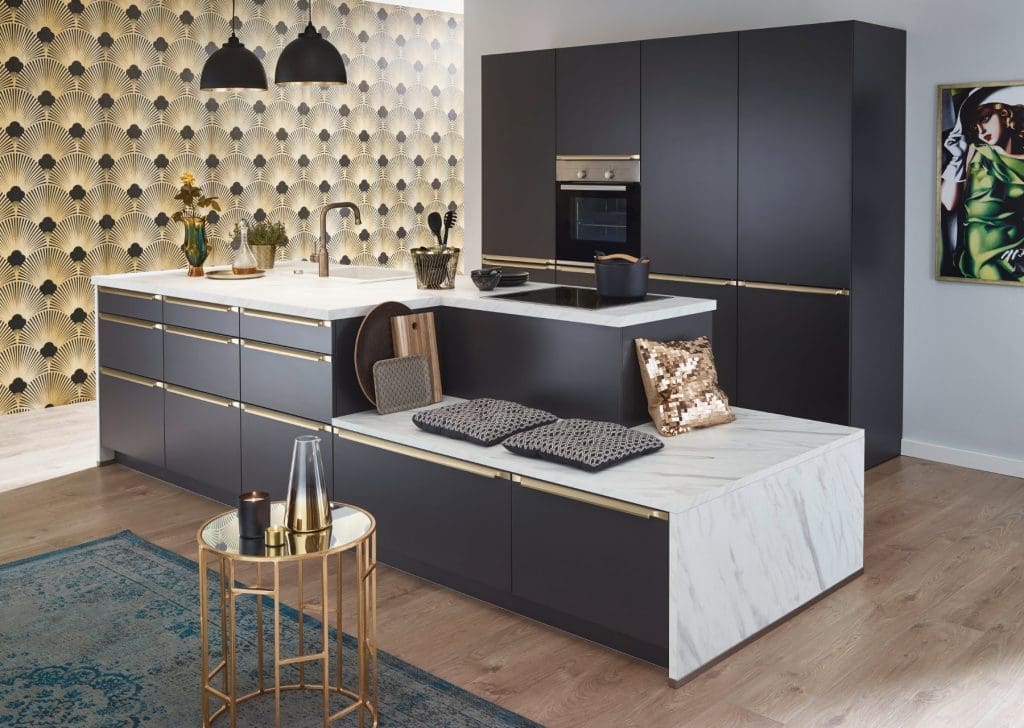 Step 3: Research Kitchen Design Styles and Trends
Now that you have a better understanding of your needs and preferences, it's time to get inspired! Research various kitchen design trends and styles to discover what resonates with you. Some popular kitchen designs in the UK include:
Contemporary kitchens: Sleek lines, minimalist design, and a mix of materials such as glass, stainless steel, and wood.
Traditional kitchens: Classic cabinetry, moulding, and timeless finishes like natural stone work surfaces and hardwood flooring. Traditional styles can also include Country kitchens with distressed finishes, open shelving, and farmhouse-inspired details to create an overall rustic charm.
Transitional kitchens: Bringing a modern twist to more traditional styles such as Shaker kitchen doors, a blend of contemporary elements might include painted wood, metal, or glass accents for a sleek and timeless kitchen look.
Industrial kitchens: Exposed brick, concrete, and metal accents, often combined with vintage-inspired fixtures and furnishings.
As you explore different kitchen styles and trends, keep in mind that it's essential to choose a design that not only looks great but also meets your functional needs and reflects your personal tastes.
Step 4: Choose the Right Kitchen Layout for Your Space
The layout of your kitchen is critical to its overall functionality and flow. Consider the following popular kitchen layouts in the UK:
These can prove a good starting point for your dream kitchen design but rather than sticking rigidly to a predefined layout any good kitchen designer will focus on your individual space and the potential for it to give you what you need. Selecting the best layout for your space should account for factors such as traffic flow, natural light, and the positioning of appliances to ensure a functional and aesthetically pleasing kitchen.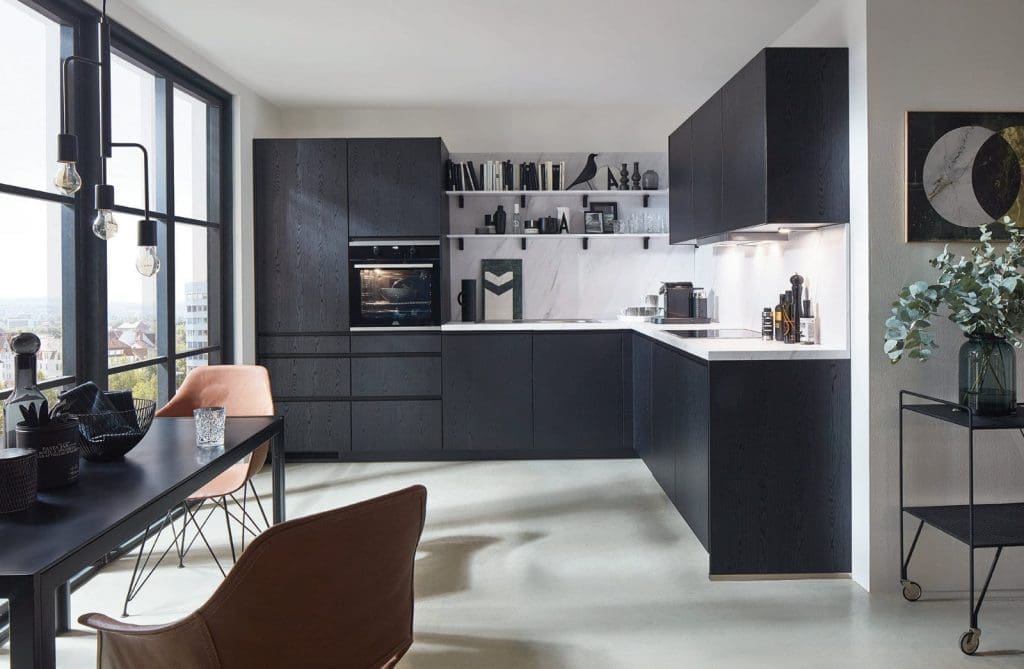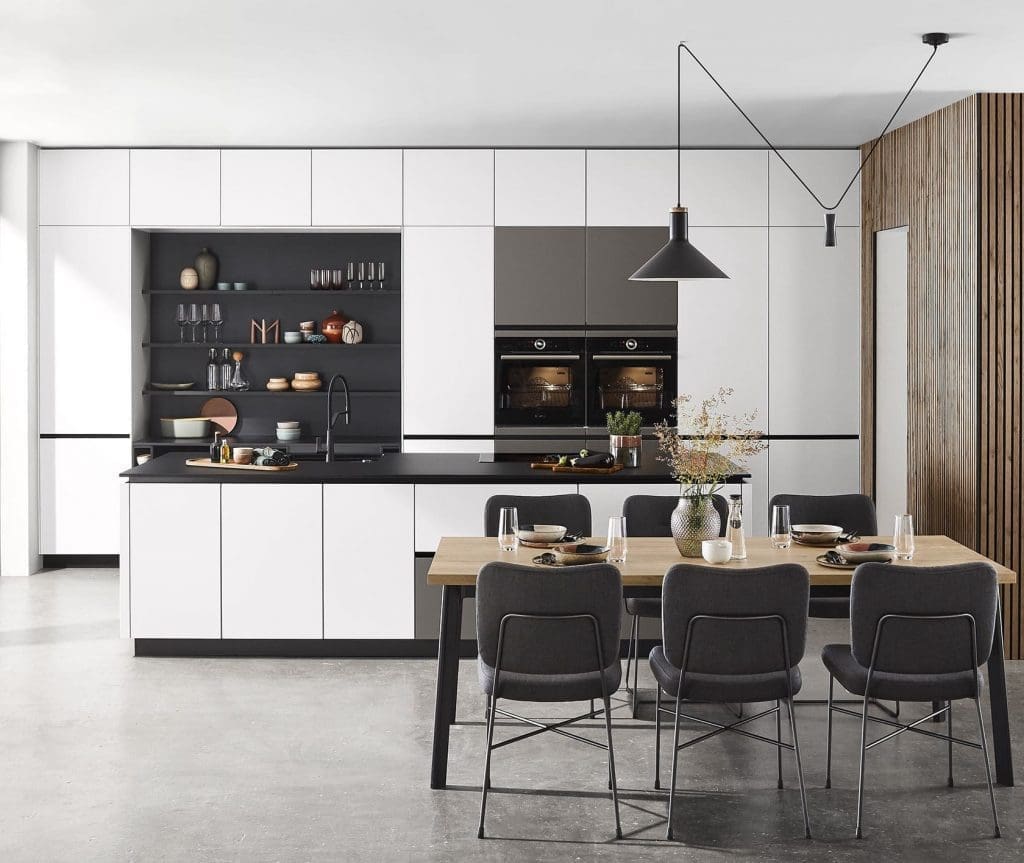 Step 5: Select Your Kitchen Cabinetry, Work surfaces, and Appliances
With your dream kitchen layout in mind, it's time to choose the essential elements of your kitchen: cabinetry, work surfaces, and appliances. These elements not only impact the overall look of your kitchen but also play a significant role in its functionality.
Kitchen Cabinetry: When selecting cabinets, consider factors such as door style, finish, and hardware. Additionally, think about the type of storage solutions you'd like to incorporate, such as pull-out drawers, built-in spice racks, or corner cabinets with carousels.
Kitchen work surfaces: There are various worksurface materials available, each with their own pros and cons. Popular options in the UK include granite, quartz, laminate, and solid wood. A professional kitchen designer can explain the different properties of each different material to help you in making your decision. This includes the durability, maintenance, and aesthetic appeal of each material.
Kitchen Appliances: Choose kitchen appliances that meet your cooking needs, preferences and budget, while also complementing your kitchen's design. Some popular appliance options include gas, electric, or induction hobs, built-in ovens, and integrated or freestanding fridges.
Step 6: Finalise Your Flooring, Lighting, and Finishing Touches
Once you've selected the primary elements of your dream kitchen, it's time to focus on the details that will truly make your space shine.
Lighting: Good lighting is essential for creating a comfortable and functional kitchen. Incorporate a mix of ambient, task, and accent lighting to ensure all areas of your kitchen are well-lit. Consider under-cabinet lighting for work surfaces, pendant lights over islands, and recessed lighting for general illumination.
Flooring: The right flooring can not only enhance the overall aesthetic of your kitchen but also ensure its durability and easy maintenance. Patterned or textured flooring are also good options as they don't show dirt or marks as easily in high traffic areas. Popular kitchen flooring options include hardwood, engineered wood, tiles, and luxury vinyl tiles (LVT).
Finishing touches: Personalise your new kitchen with finishing touches such as a beautiful backsplash, decorative moulding, unique cabinet handles, or even a standout sink or tap. These details can elevate your kitchen's design and make it truly your own.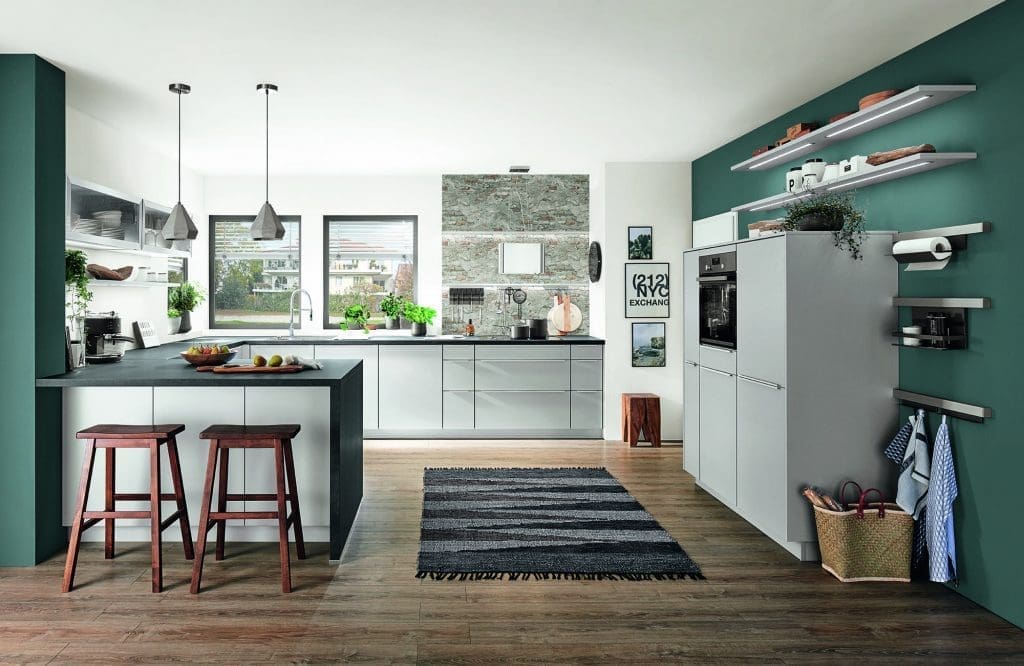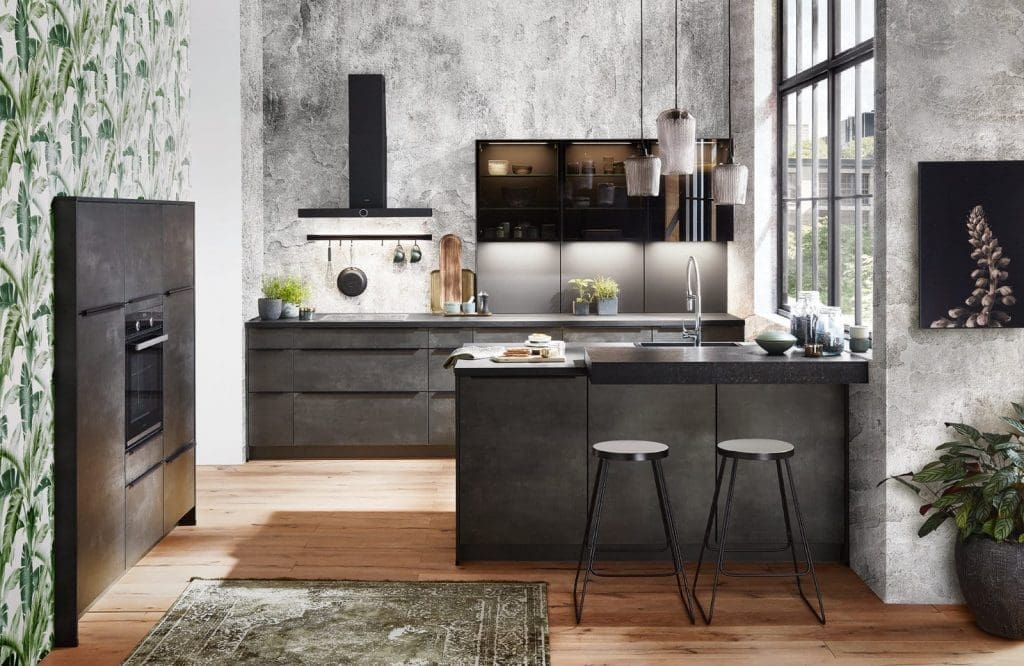 Step 7: Hire a Kitchen Planning Professional
In conclusion, designing your dream kitchen in the UK requires careful planning, research, and decision-making. By following this step-by-step guide, you can create a beautiful, functional, and personalised kitchen that you'll enjoy for years to come. But in nearly all scenarios, it's fully advisable to hire a professional kitchen supplier to ensure your dream kitchen becomes a reality. Most local kitchen retailers offer a free kitchen design service which is a great opportunity for fresh insight and ideas, as well as ensuring an accurate design which will fit within the intended space.
To begin the exciting journey towards your dream kitchen space, find your local Kitchen Expert today.