What is the kitchen worktop used for?
The kitchen worktop is one of the most stressed, hardworking, and indispensable areas within any kitchen. It provides the primary work area for preparing dishes, and a surface upon which food is arranged and cut. It's also where pots, pans and casseroles are set down, often hot from the oven, or wet from the sink. Worktops serve as a storage space for small appliances such as microwaves, coffee machines, and food processors. And even more, they are a place for dining, helping with homework or simply enjoying a glass of wine.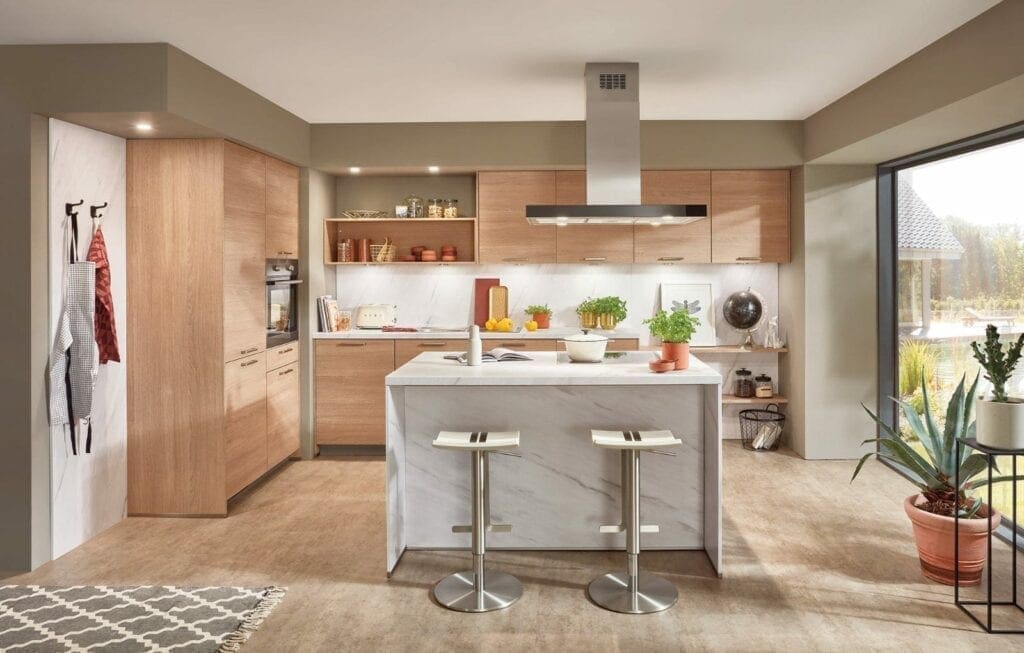 Decorative as well as functional worktops
With such a wide variety of demands on a worktop, it has to be able to withstand pretty much anything and everything! On top of this it is also an important design element, setting a very individual accent and contributing to the overall look and feel of the kitchen. This is particularly true in open plan spaces where it can elegantly continue the personal style of living and enhance your everyday lifestyle and choices. Choosing the right worktop is therefore a very important decision. To make your decision easier, here is some further insight into the nature and purpose of kitchen worktops…
Material comparison of popular kitchen worktops
Whether you are in the kitchen every day (as most people are), or only occasionally, you need a reliable and lasting work surface and there are many different worktop materials available for consideration, with the finish you choose depends on individual taste, kitchen style, and your project's budget. Some of the most popular kitchen worktop types are as follows: –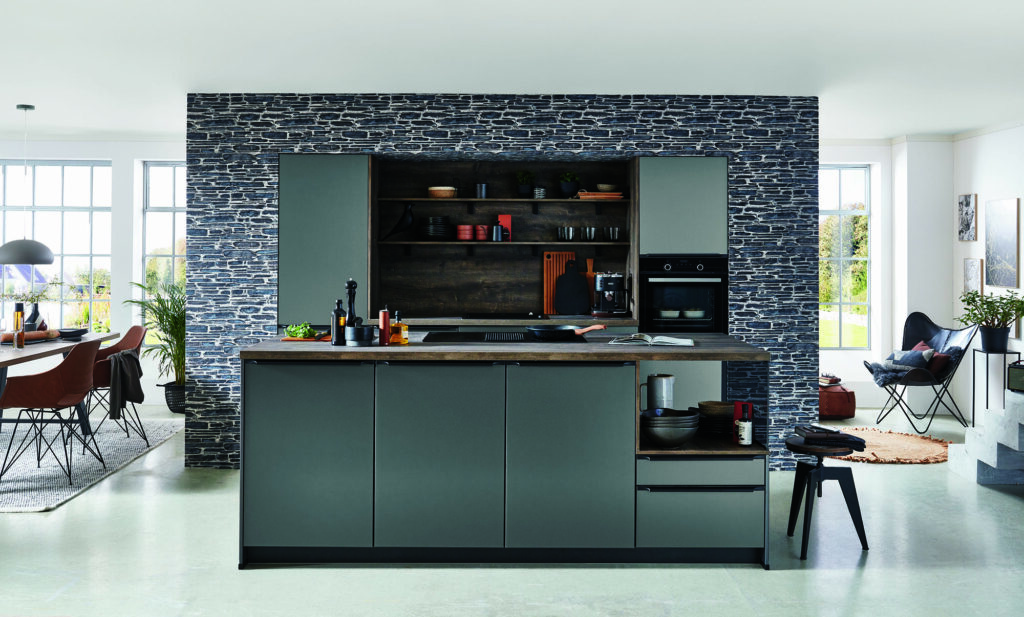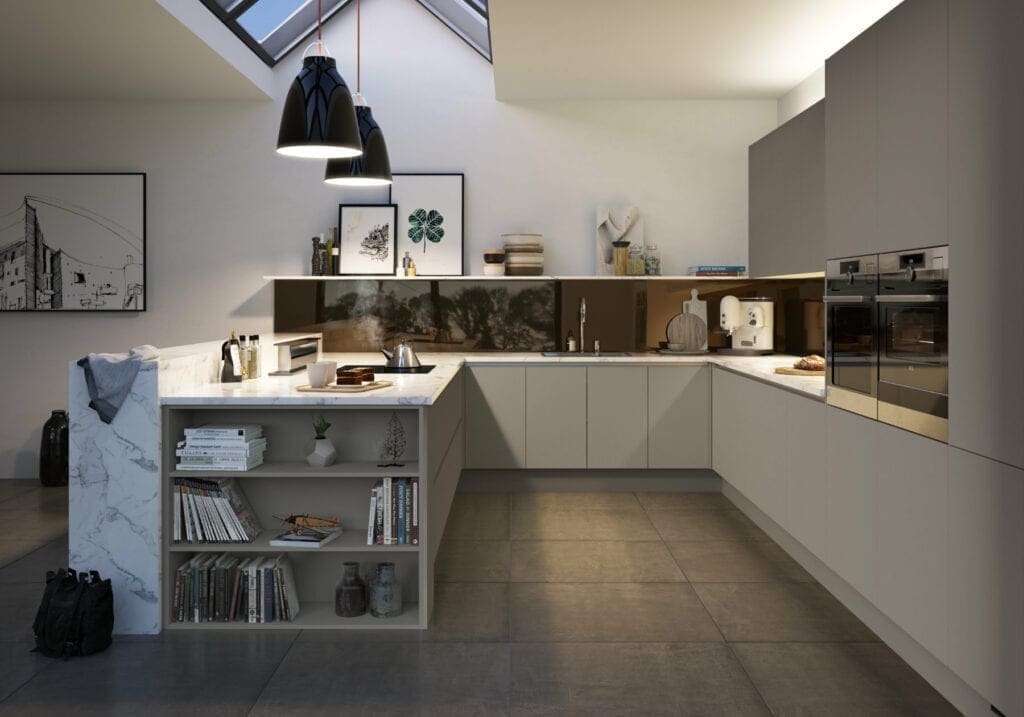 Quartz worktops
Quartz is a versatile kitchen option, an engineered stone manufactured from a blend of crushed quartz and colour pigment with polymer resins acting as a binding agent. As well as strong and hardwearing, quartz is also an excellent choice for kitchen worksurfaces as it is available in a wide variety of colours and natural looking surface patterns. As a man-made material these patterns maintain consistency for the best possible look within your kitchen.
Sintered Stone worktops
Sintered stone is a relatively new worktop material, manufactured to resemble materials such as natural stone, wood, tiles, and other smooth or textured finishes. It is made from a base of natural stone, compressed with other minerals using extreme heat, the result of which is a single, solid piece of bonded stone. Sintered stone worktops are an increasingly popular choice due to its attractive, practical, versatile, and affordable nature. Well-known brands include Neolith, Dekton and Lapitec.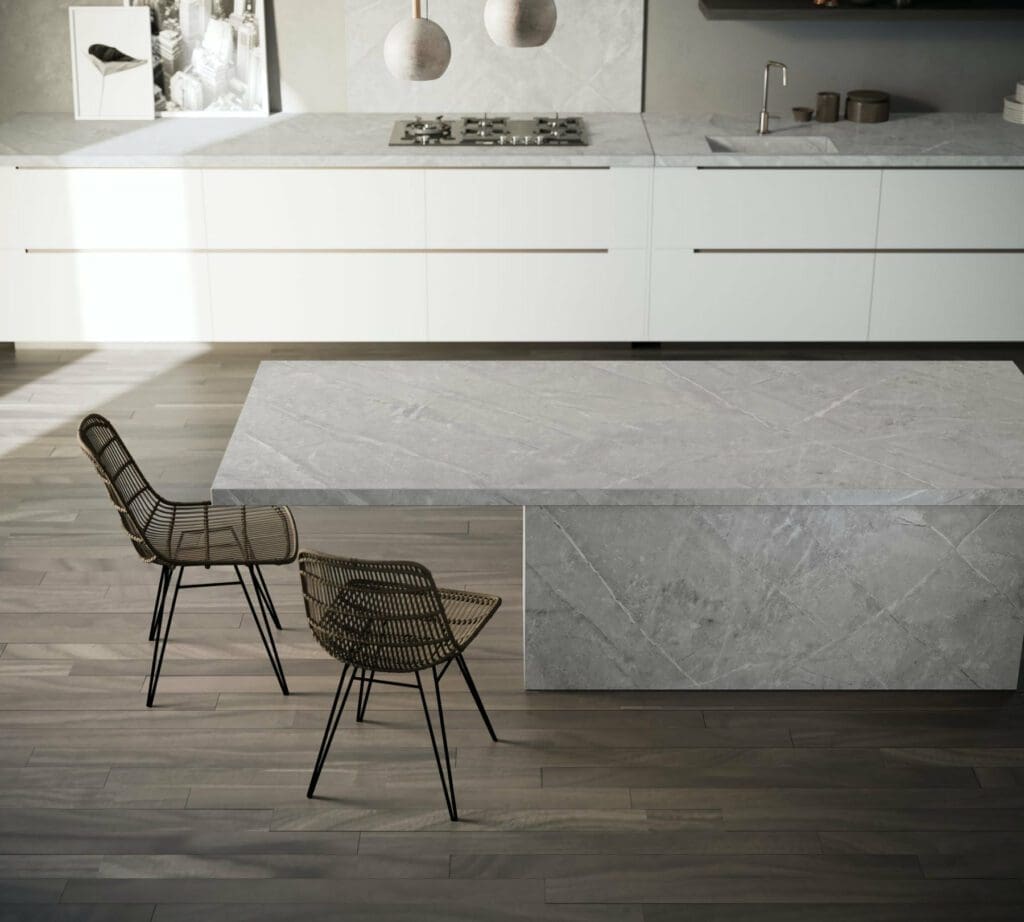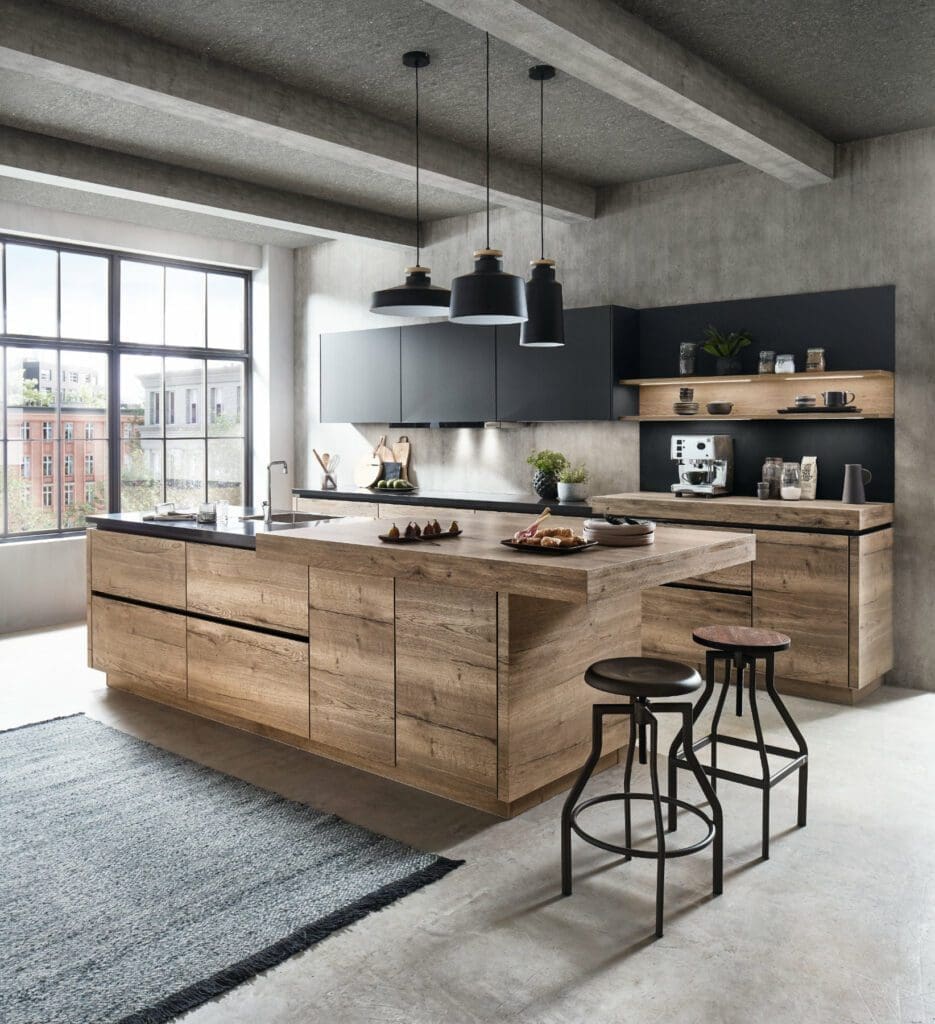 Wood worktops
Wood worktops make a highly distinguished choice for any kitchen full of timeless character, style and a natural warmth that suits both modern and traditional kitchen styles. However, when it comes to maintenance, they have more drawbacks compared with other materials, for example, they require regular sealing, and are prone to water damage or scratch marks. Although in the event of damage they are also easier to fix compared with some other worktop materials.
Other kitchen work surface materials
Other popular worktop materials include Corian®, granite, or special designs such as concrete, glass or brick work surfaces are possible. Alternatively, in professional kitchens, worktops are often made of metal, which is easy to clean and very durable.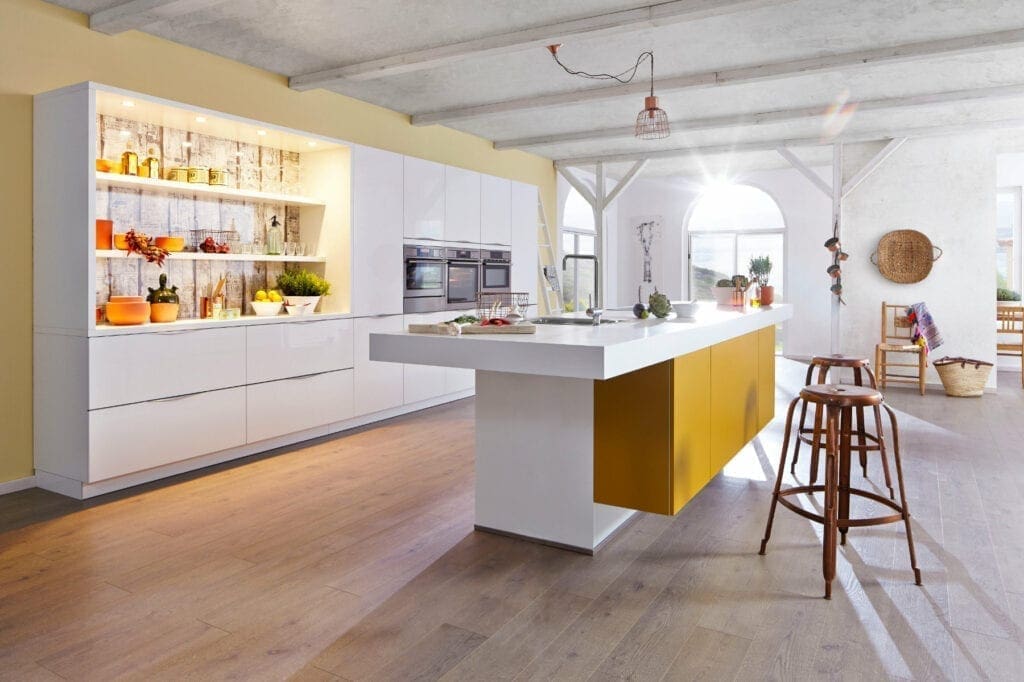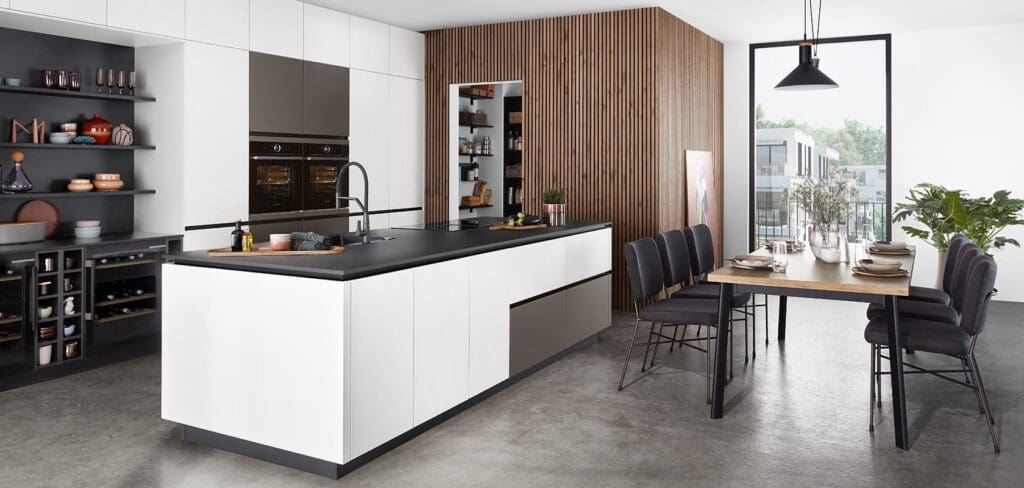 Choose the worktop that fits your home and style
Whether country house or designer kitchen, the scope for design is immense. The worktop is usually the first thing you notice when entering your kitchen. The colour can be chosen as a contrast or as a subtle addition to the cabinet colours but should always harmonize with your style of living and correspond to your personal ideas. For example, do you have an open kitchen/living room? Then when planning your new kitchen, you should consider the entirety of the space ensuring your new cabinetry and worktops complement the furnishings of the living room.
Your Cooking Habits and Lifestyle
Before you make a decision on your worktop, you should also think about the specific conditions in your kitchen. For example, is it a single person or a family household? Do you cook often or rarely, and what type of cooking do you like to do? For example, if you are a keen baker then stone worktops are much better suited than wood worktops because they absorb heat which keeps the surface cool. Or if you are a family with small children whose heads are at exactly the right height for sharp corners then you might opt for a worktop with rounded edging which looks great, but which is also much safer. To find the right mix of looks and functionality, you should compare the different materials, before choosing the kitchen worktop that meets your needs and desires.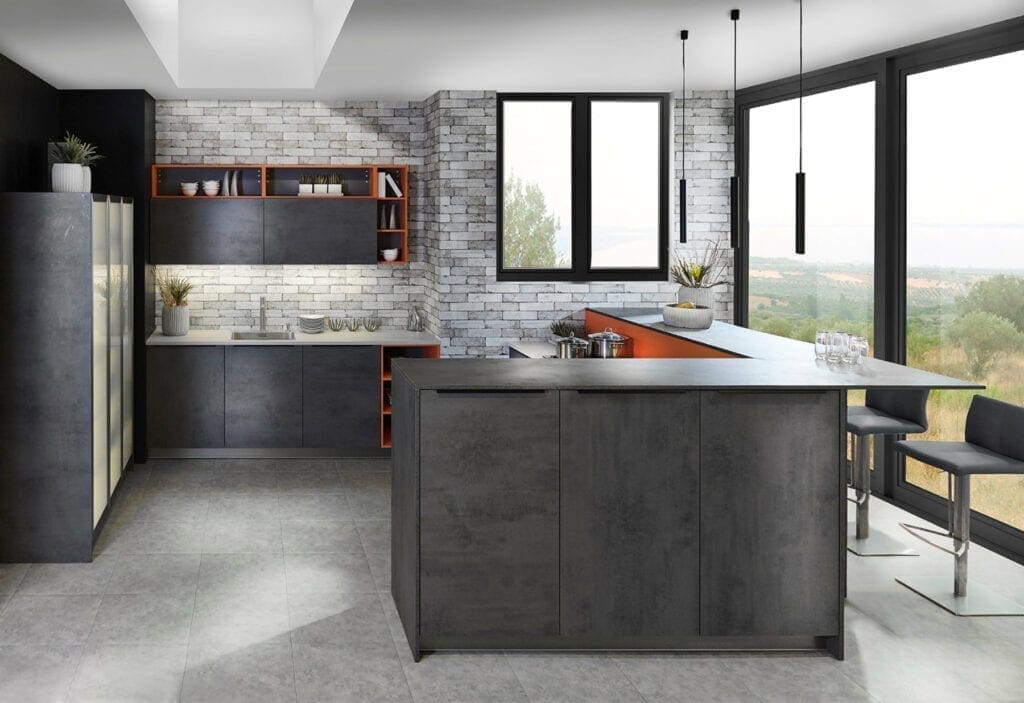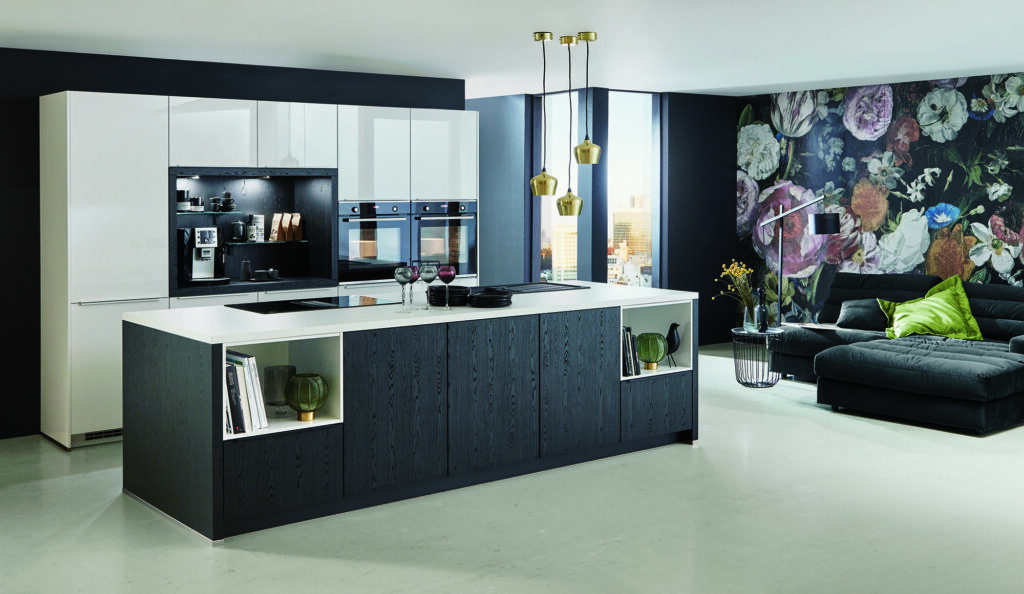 Resistant, lasting worksurface materials
Modern manufacturing techniques and processing methods mean there is an unlimited choice of kitchen worktops these days which differ significantly in looks as well as in price too. for example, real wood panels and natural stone panels also offer an impressive kitchen aesthetic but typically fall within upper price segments. But whether a luxury worktop material or an inexpensive option, all worktops should be subjected to rigorous testing to determine whether they can withstand the daily demands of kitchen life. This includes resistance to liquids, heat, shock resistance and staining
A robust coating on the kitchen worktop is essential for lasting enjoyment of the kitchen and contributes to the high-quality impression of a kitchen. Even with inexpensive worktops, attention must be paid to quality, as the processing is intended to prevent the penetration of liquids. High-quality worktops do not swell and are scratch-resistant. Ease of maintenance is also an important consideration when choosing your kitchen worktop.
Professional kitchen worktop installation
Proper worktop assembly depends on the material selected. Brick worktops or kitchen worktops made of natural stone, metal and glass must be matched to the built-in kitchen appliances before installation. Or in the case of quartz or stone worktops, the adjustment is usually made on site to ensure a precise fit for the kitchen sink, and other built-in elements. The worktop is cut to size and the holes for the taps and inserts are sawn out. This requires precision and experience and should be carried out by a professional installer with the appropriate tools and routine.
For more information on work surface materials, or to find your local expert in kitchen design and planning contact us today.