The L-shaped kitchen layout is a classic kitchen layout with many lasting benefits! L-shaped kitchens are ideal for maximising space and will make a room feel larger, often provide a perfect opportunity for open plan living. They are easily adaptable to any kitchen design you might want and promote good flow within your kitchen. If you're considering implementing an L-shaped kitchen layout, continue reading to discover more of its impressive benefits!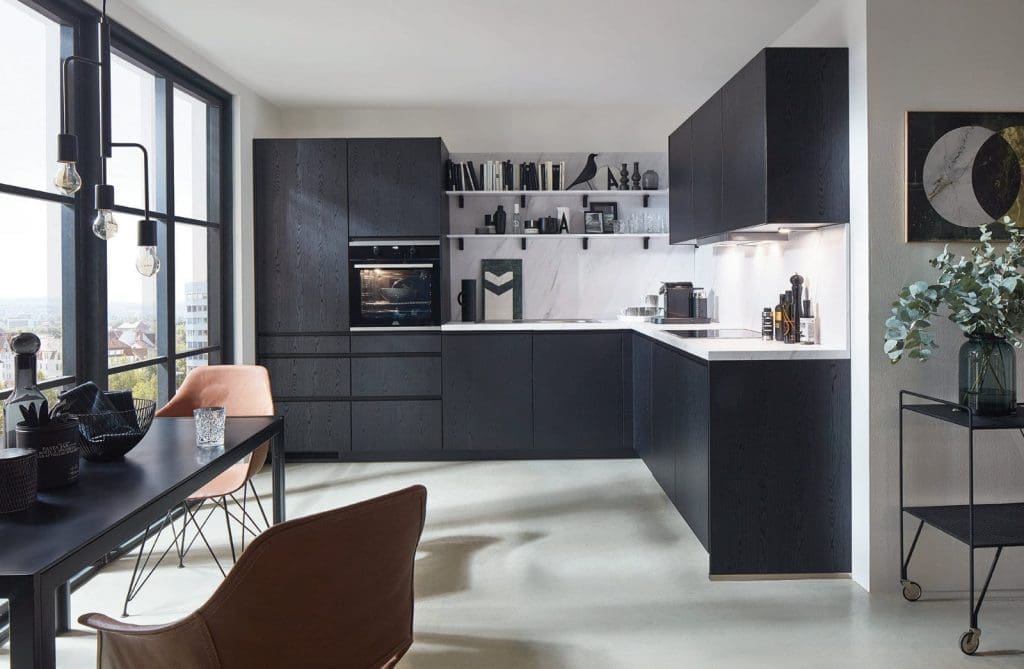 L-shaped kitchen layouts open up the space
Due to their layout of running along two walls of your kitchen, L-shaped kitchen layouts work extremely well in terms of opening up the space. Even if you have an L-shaped kitchen with a kitchen island, the spacious layout will allow for much room to move around. The openness of your L-shaped kitchen also makes it possible for you to have more than one entrance. You could incorporate doors to the outside on either side of your L-shaped kitchen counter, which would enhance the light and spacious feel of your kitchen.
L- shaped kitchens promote open plan living
Another great benefit of an L-shaped kitchen layout is that its spacious design is perfect for an open plan kitchen. Most modern kitchens strive for an open plan layout that allows for free-flowing movement throughout the home. An L-shaped kitchen layout is perfect if you want your kitchen to connect to an adjoining living or dining room. Its design allows you to have a designated kitchen area while still enjoying the benefits a wide, open plan home has to offer.
The extra space also lends itself well to incorporating dining or living room elements into the kitchen itself, such as a table with comfortable seating. This is great for if you enjoy engaging with guests or spending time with family while preparing meals.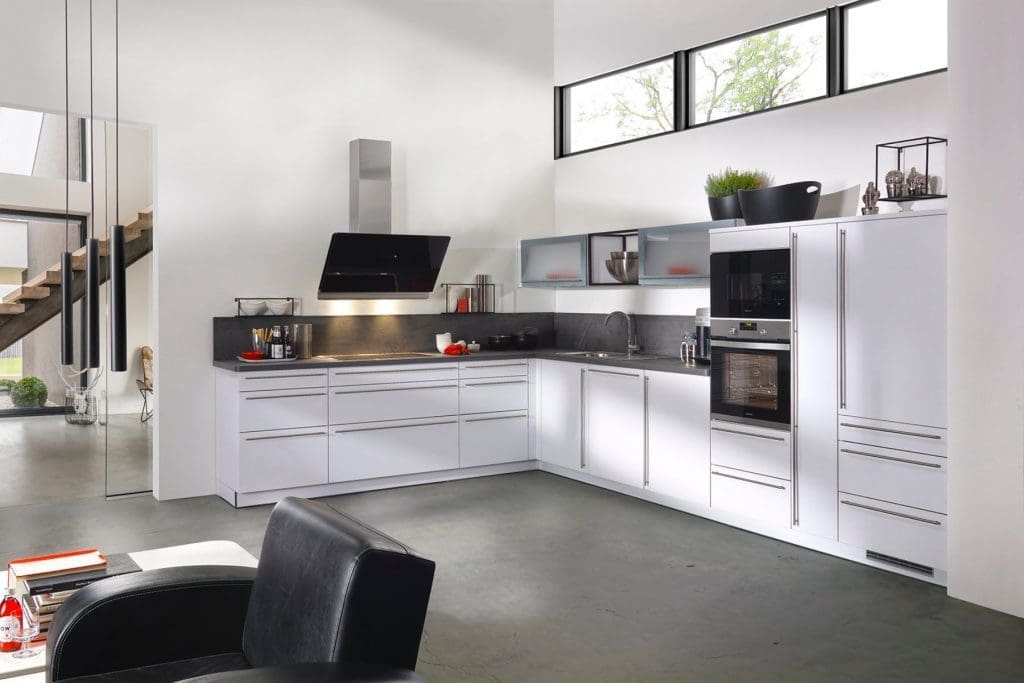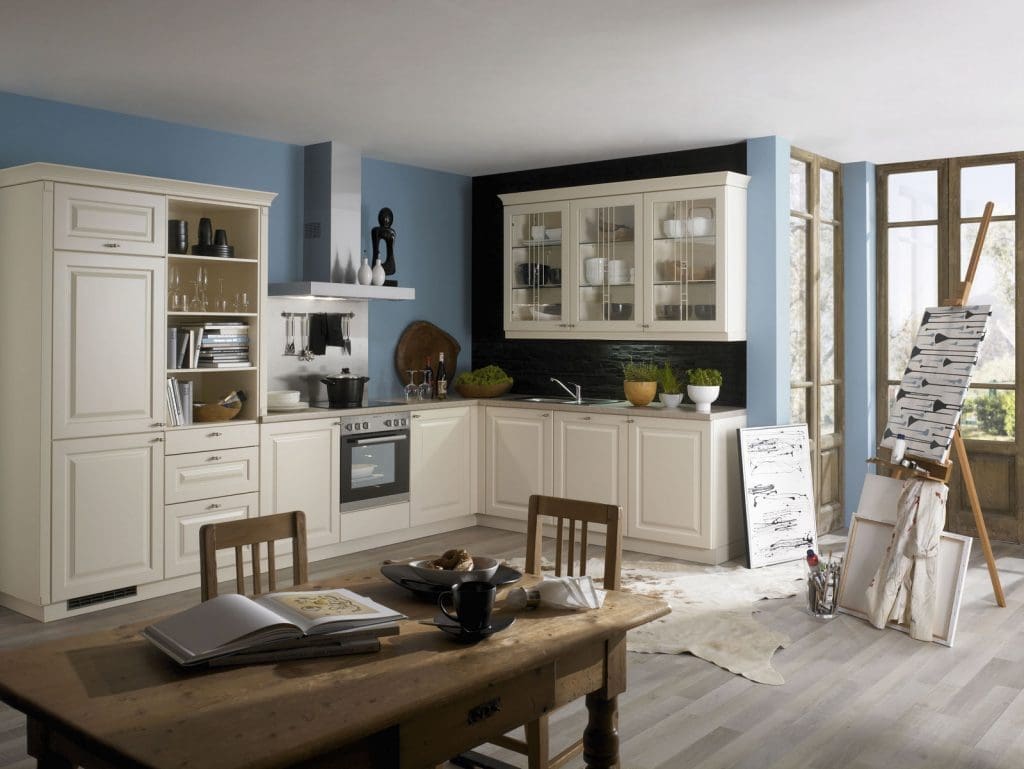 L-shaped kitchens improve kitchen workflow
When it comes to flow and movement within your kitchen, you might have heard people mention the working triangle. This refers to the ideal alignment of your sink, cooktop and refrigerator in a triangle formation that allows easy movement between the three elements. The last thing you want while cooking is to have to constantly run back and forth if these elements are unsuitably placed. L-shaped kitchen layouts happen to be perfect for this! You can situate your cooking and washing stations along the two walls that make up your kitchen. This will ensure that you can move easily between them without the distance being impractical or cumbersome.  
L-shaped kitchens are ideal for smaller spaces
If you're working within a small kitchen setting, you're probably concerned about maximising the space you have available. L-shaped kitchens are perfect for this! With an L-shaped layout, you can keep two walls in a four-wall room free, ensuring that the space doesn't feel too cramped. Adding kitchen furniture to every corner of your room can quickly create an oppressive and claustrophobic atmosphere, especially when working with a small room. This makes L-shaped kitchens ideal for smaller or medium sized homes. They allow you to include all the necessary design elements while also saving on as much space as possible.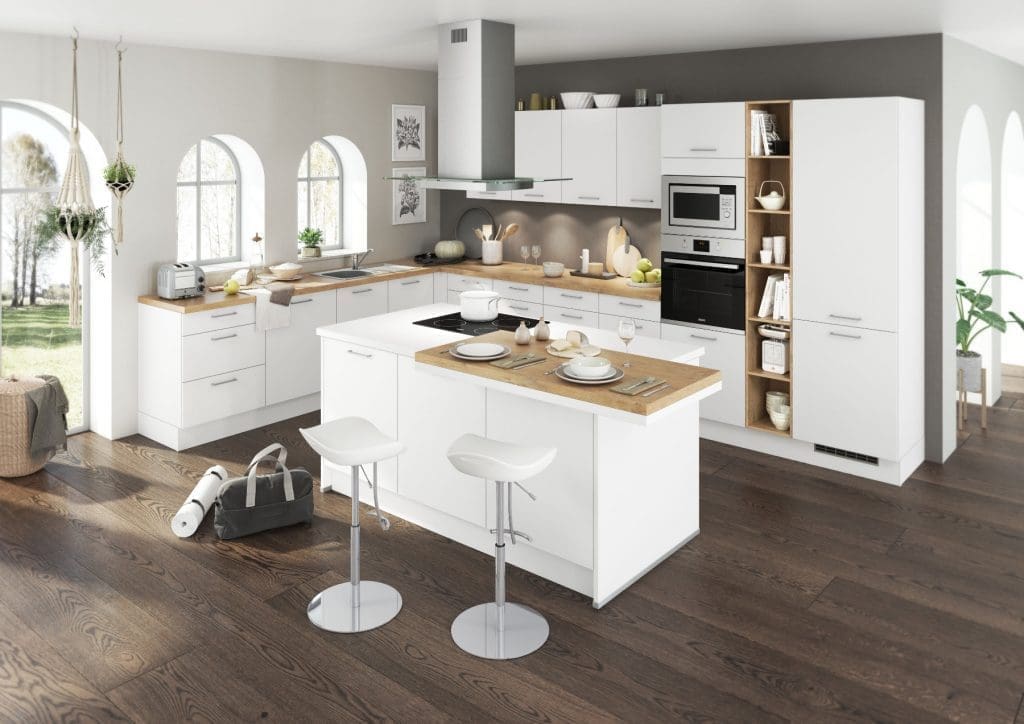 L-Shaped Kitchens are great for kitchen islands
If you've always wanted to include a kitchen island but have never had the space in your kitchen, an L-shaped kitchen layout is the perfect chance to do this! Especially if your kitchen is open plan, a kitchen island can really complement your L-shaped layout. Having only two walls occupied by cabinets and appliances opens up space for a kitchen island that can become an interesting focal piece in your kitchen. A multi-purpose kitchen island also works well should you want to incorporate your sink or cooktop into it, allowing you to further utilise the working triangle and easily move around your kitchen.  
L-shaped kitchens are versatile and adaptable
Another great benefit of L-shaped kitchens is that they are easily customisable to fit your desired aesthetic. Their simple layout makes it possible to include any design elements you want. They can be made to look ultra-modern or more traditional and rustic. You could opt for a modern, gloss kitchen finish for your cabinets or lean into a more traditional Shaker style. L-shaped kitchens are great because they have a simple layout which doesn't take up too much floor space. Fewer units mean less cost, and because of this, you may have extra to splurge on other kitchen elements, such as luxury flooring or appliances.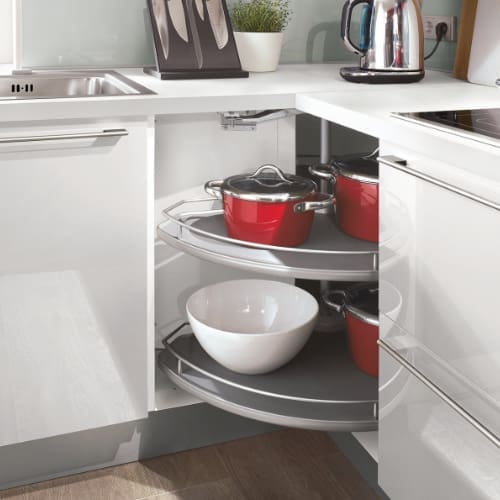 Clever storage solutions
The nature of an L-shaped kitchen makes it possible to cleverly incorporate storage solutions, which are crucial in any kitchen, and no matter the style. With two adjoining runs forming a corner, the use of space here can be easily maximised with innovative solutions such as carousels, or le mans kitchen units. This lets you house and have easy access to many items, ranging from utensils to small appliances. The L-shaped kitchen's increased possibility of a kitchen island also allows for more storage possibilities. Kitchen islands are great for worktop space as well as cabinets and drawers along the bottom to hold all your necessary kitchen elements in easy reach! 
Find your perfect L-shaped kitchen layout
Now you have a good grasp on the benefits an L-shaped kitchen layout has to offer! Whether you're working with a smaller or larger space, an L-shaped layout is always a great choice. It can be customised to include your ideal kitchen design, and works great for improving flow. Investing in an L-shaped kitchen is guaranteed to make your home feel more open and spacious! For more information talk to your local kitchen expert today who can help you plan your perfect L-shaped kitchen design.