The inclusion of 'Kitchen zones' during kitchen planning is a solid indication of just how far kitchen design has come since the working kitchen triangle method was first established in the 1940's. This idea, which was designed to eliminate unnecessary steps in the kitchen, places the fridge, cooktop and sink in a triangle formation. However, in modern kitchen planning this approach has become less relevant and far less useful. In open plan or more unconventional kitchen layouts, maintaining the triangle formation isn't always feasible, and there is also now much more importance placed on what works for the user rather than which layout works for the space. To help with this, good kitchen designers increasingly implement kitchen zones, which are largely beneficial when planning a user's perfect kitchen layout.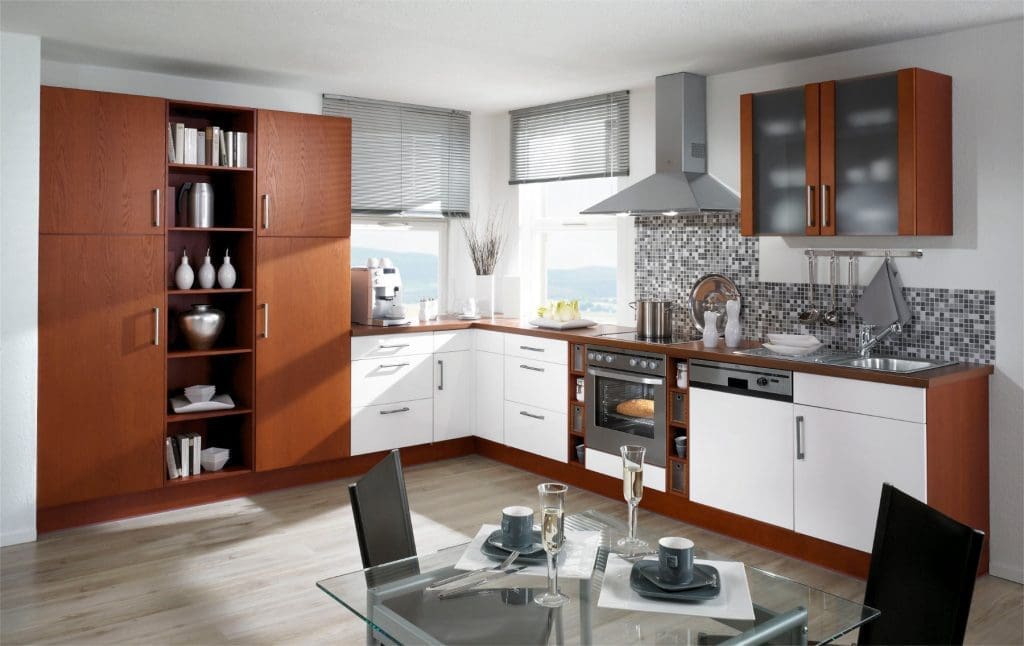 What are the different kitchen zones?
Kitchen zones allow you to divide and arrange your kitchen into different spaces according to how different areas are used. This typically means an area for storage and food preparation, a cooking zone and a wash zone. Many modern kitchens also contain separate zones for storage or for dining and socialising with friends or family. Here, we'll explore the different kitchen zones and how to arrange them for best possible use of your kitchen: 
Preparation zone
An essential kitchen zone is a generous area for food preparation which also includes storage in easy reach. Ideally, this zone should be as close as possible to your cooking zone. This way, you don't have to walk too far to add the ingredients you've just chopped to your pot or pan. Many kitchen designers make this the central kitchen zone, since it's important to have this area close to both the cooking zone and the storage zones.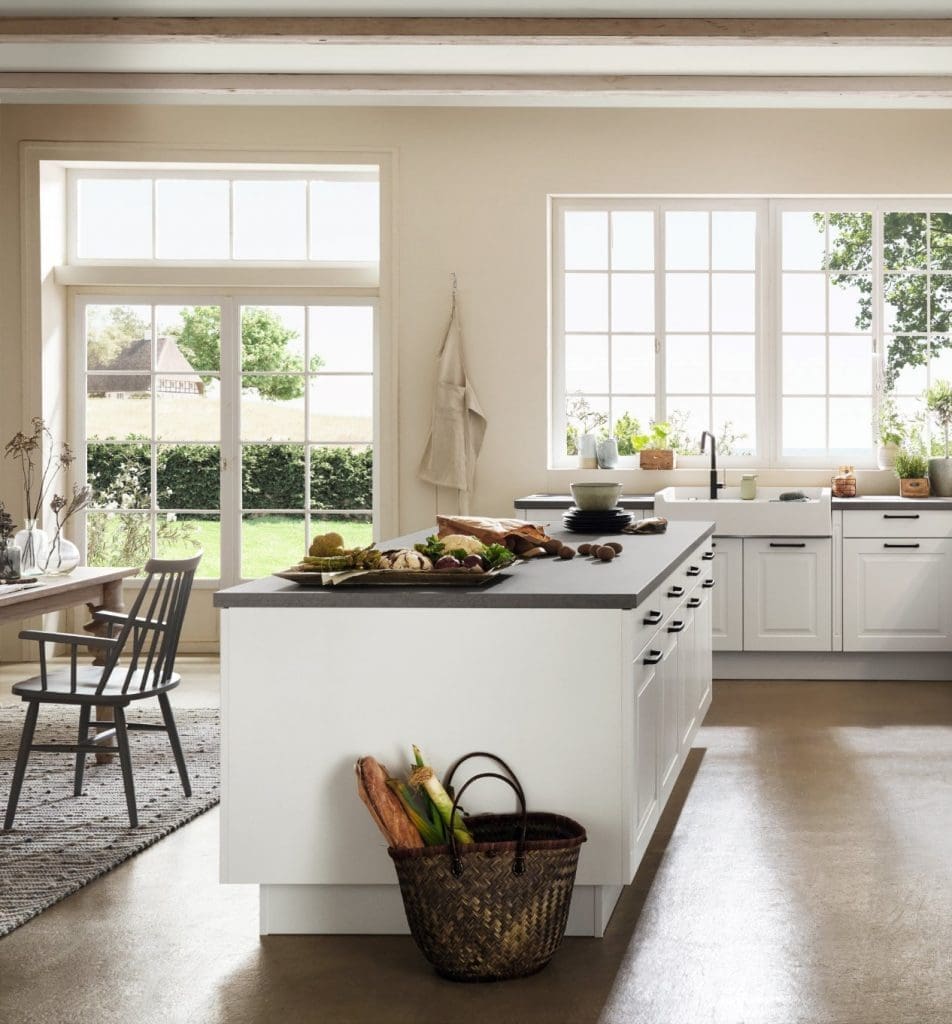 Cooking zone
The cooking zone is the kitchen zone that fulfils your kitchen's main purpose of making food. The placement of this zone is crucial, as every other zone will have to be arranged in relation to it to minimise unnecessary back and forth travel. This kitchen zone will consist of your cooktop/hob and oven. This zone can also contain appliances such as a microwave, kettle and toaster. This ensures that you have all the elements necessary for making food near to one another. The cooking zone should also have worktop space either beside or adjacent to it (typically your prep zone), so you have somewhere to safely set down hot food from the oven without having to cross your kitchen.  
Cleaning zone
Sometimes referred to as the Wash Zone, the kitchen cleaning zone is the kitchen zone that contains your sink and dishwasher. It is helpful for these to be near one another so you can rinse your dishes (if needed) before adding straight into the dishwasher. It is also helpful to include storage space here – usually underneath the sink- for cleaning products such as dish soap, sponges, and dishwasher salt. Dishwashers tend to be placed at the end of a run of units to avoid creating a trip hazard when open but equally you don't want them too far away from your cupboards which makes for easier unloading.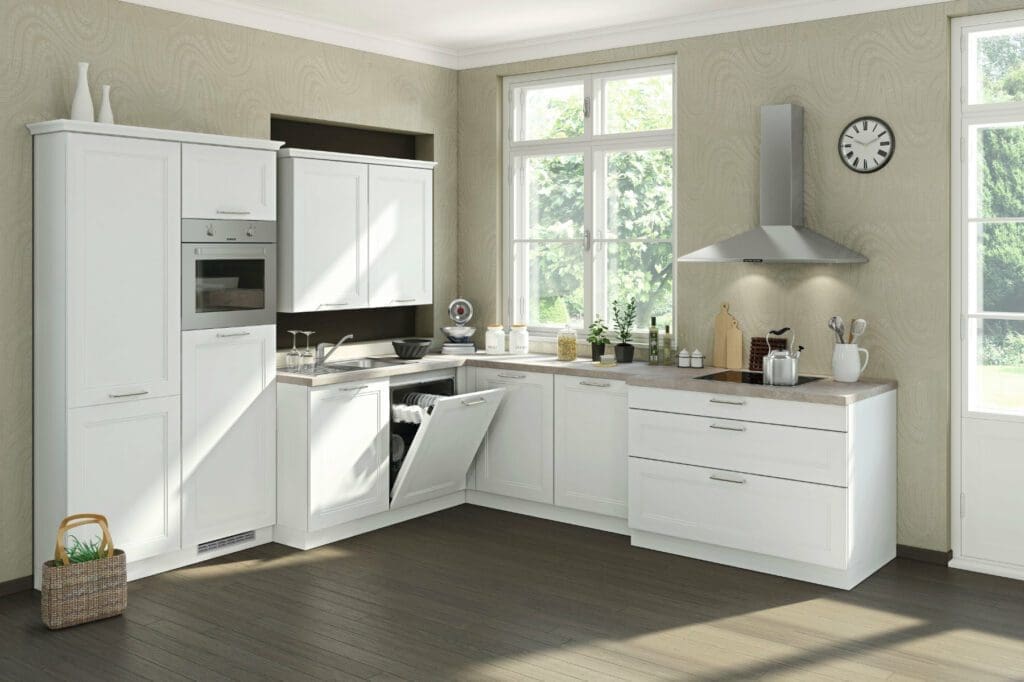 Consumables zone
This kitchen zone is where you'll store most of your food. It can contain your fridge, though your fridge also suits the preparation zone, entirely dependent on what works best for you. The most important thing is that it's within close reach for preparing your food. When it comes to non-perishables, you can consider including a pull-out pantry in your consumables zone. However, this is the kitchen zone that you can get most creative with! …Feel free to arrange your shelves or drawers according to your preferences and cooking habits and try placing ingredients or items that you use most frequently within easy reach, such as on shelves that are eye level.  
Non-consumables zone
Your non-consumables zone is essential for storage. This kitchen zone can consist of the different cabinets and drawers you use to store cookware, utensils, dishes, etc. In this area, you should maximise space as much as possible. This zone should ideally be placed close to the washing zone, since this will make unloading the dishwasher much easier. It could be helpful to store your most frequently used dishes and utensils close together and within easy reach. E.g., if you have special dishes or glassware that is only used on occasion, store these in the back of your drawers.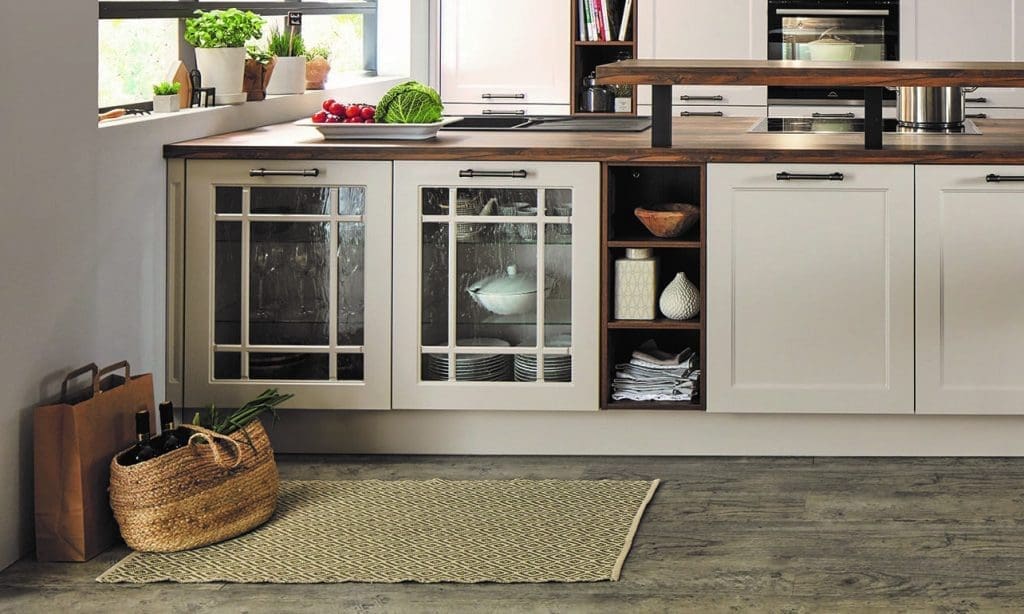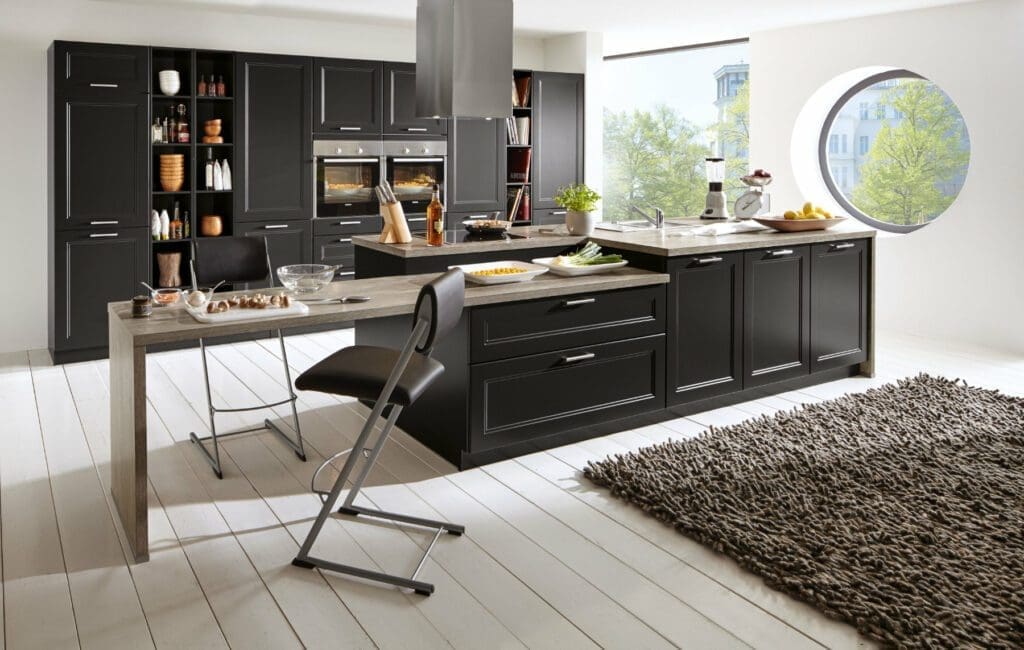 Include kitchen zones to fulfil individual needs
Another benefit of using kitchen zones while designing your kitchen is that you can prioritise your zones according to your household's needs. With the rise of open plan living, many modern kitchens now incorporate living room elements, such as comfortable seating to relax on and entertain guests in the kitchen. Many kitchens also include kitchen islands, peninsulas and breakfast bars, or an alternative area where the family can come together. In this respect you can designate a 'family zone', or even a coffee zone, or entertainment zone for family and guests.
When it comes to kitchen zones, the rules are by no means set in stone. Zones can overlap or be adjusted to your specific needs. Working with kitchen zones allows designers to have more freedom with the layout and ensures that you'll receive a bespoke kitchen that is tailor-made for you. 
Plan Your Perfect Kitchen Zones
Now you know all about kitchen zones! These are greatly beneficial in terms of planning your kitchen's layout and giving each area in your kitchen a specific location and purpose. They allow you to have more freedom while planning and illustrate that kitchen designers no longer have to rely on the outdated working kitchen triangle. Working with five main kitchen zones and planning their placement in advance can make your time in the kitchen much more efficient, worthwhile and enjoyable.
 For help in planning your perfect kitchen layout talk to your local Kitchen Expert today!