What is a galley kitchen?
The galley kitchen is a style of kitchen layout that has been around for centuries. Typically occurring within an enclosed space, it consists of 2 opposing lengths of kitchen cabinetry which form a central 'corridor' space for the kitchen user to work in. Historically used on ships, people later began to realize the galley kitchen layout's potential for the home, and still today it is the preferred layout of many professional chefs due to its safe and efficient nature. That said, it's not suited to every space and there are some drawbacks. With this in mind, here's all you need to know to plan a successful galley kitchen design…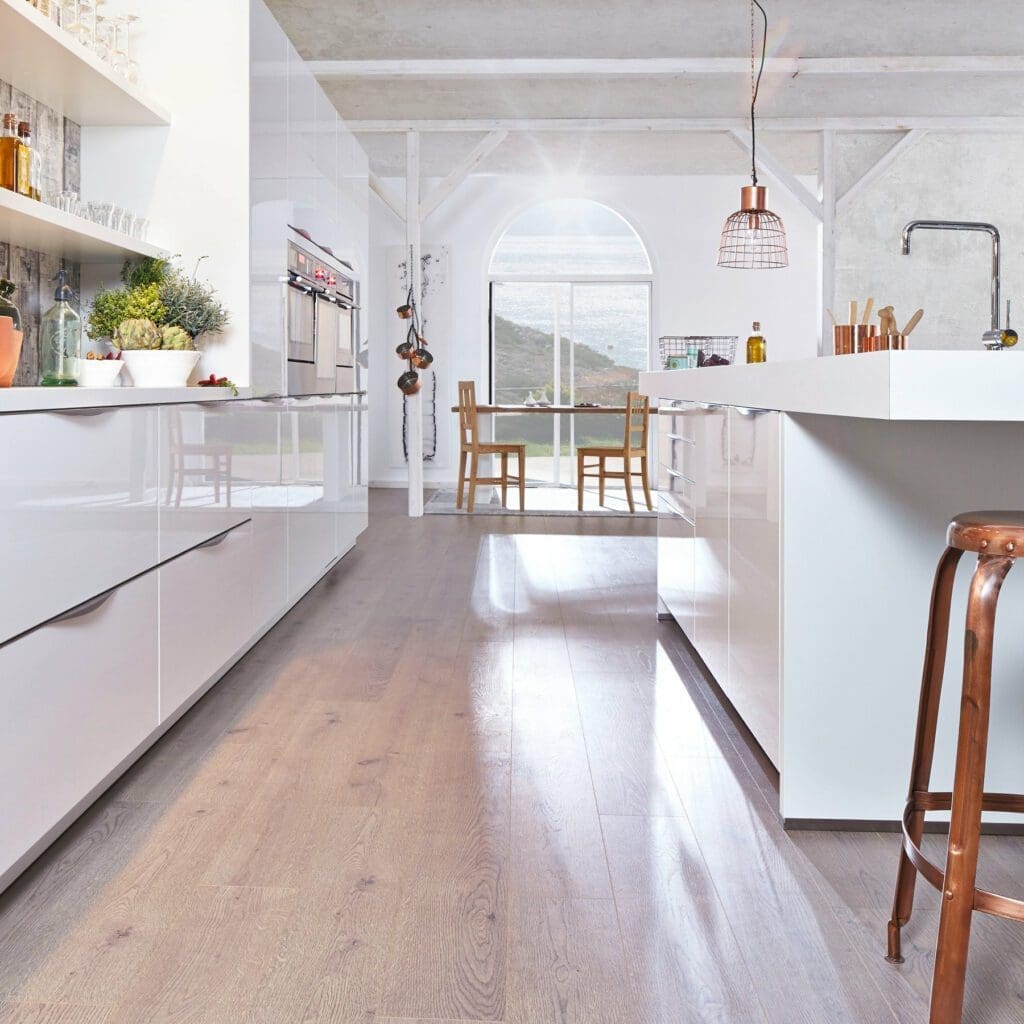 Is a galley kitchen layout good?
The galley kitchen proves a great layout depending on space and user requirement. This layout is ideal for small to medium sized kitchens and is perfect for single users who want an organized kitchen without excess equipment taking up space. The galley's main benefit is it is extremely efficient due to the location of storage, work areas and appliances in close proximity. For example, a staggered hob and sink on opposing cabinet runs means you can turn between the two with minimal movement or effort. Galley kitchens have accessible storage and with everything you need in easy reach this also makes for a very safe kitchen layout, as you never have to cross the kitchen carrying hot or dangerous items. A galley kitchen with only one way in and out will also enhance the safety aspect as there's no through traffic.
The downsides of galley kitchens
This kitchen layout is great for single users, optimising space and creating an efficient workflow. But on the downside, the galley can feel cramped if you have two people working simultaneously, or if you have an excess of cooking equipment to fit within a very small space. Generally, this layout doesn't work as well for larger kitchen spaces as the further apart the parallel runs of cabinetry, the less efficient the user workflow becomes. It is also not ideal for families as if your kitchen is enclosed then lack of space, including space for working, dining or entertaining, can prove an issue, and it may be difficult to keep children clear of the narrow working space. However, with careful planning and space permitting there are potential solutions for this, such as the inclusion of a kitchen island.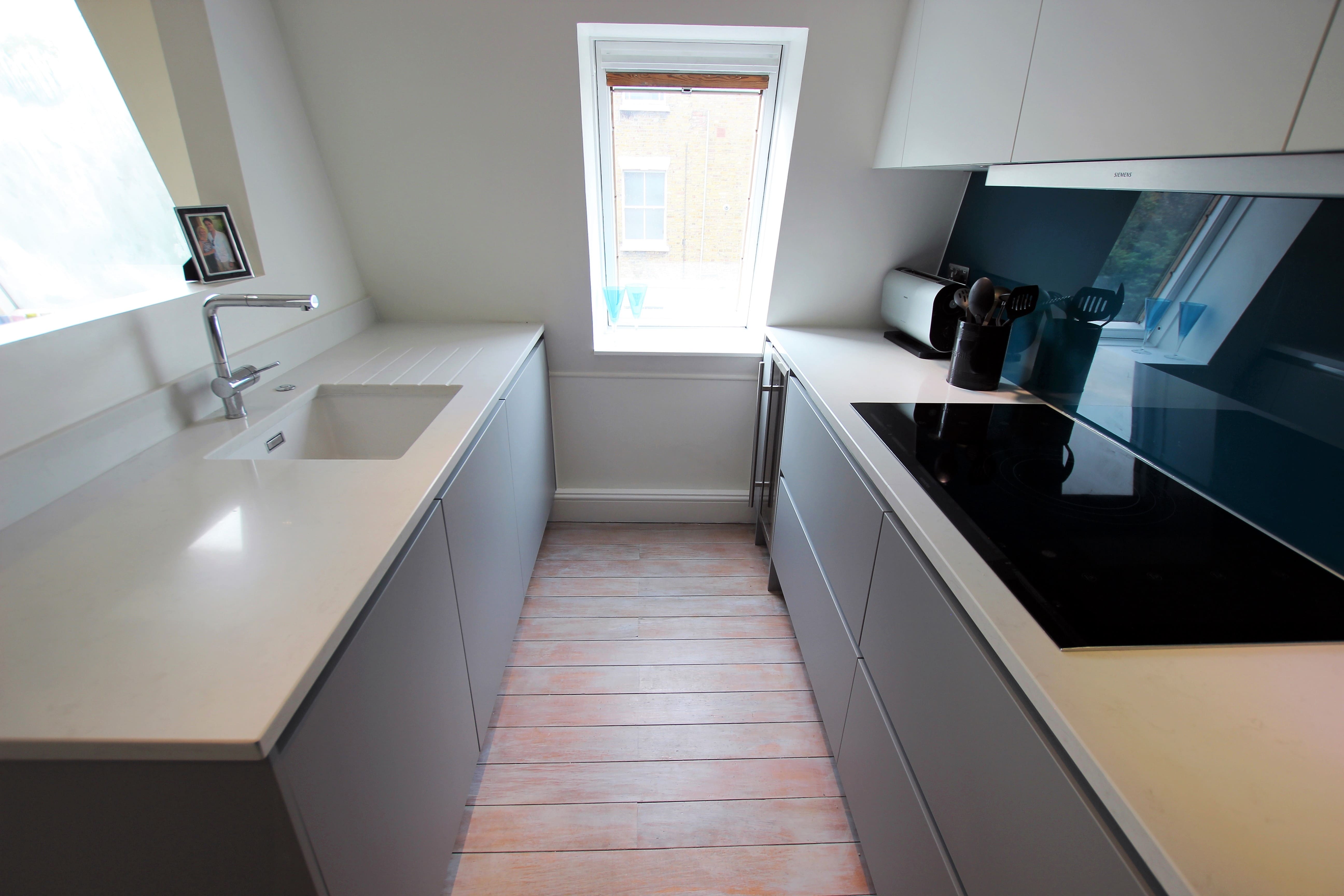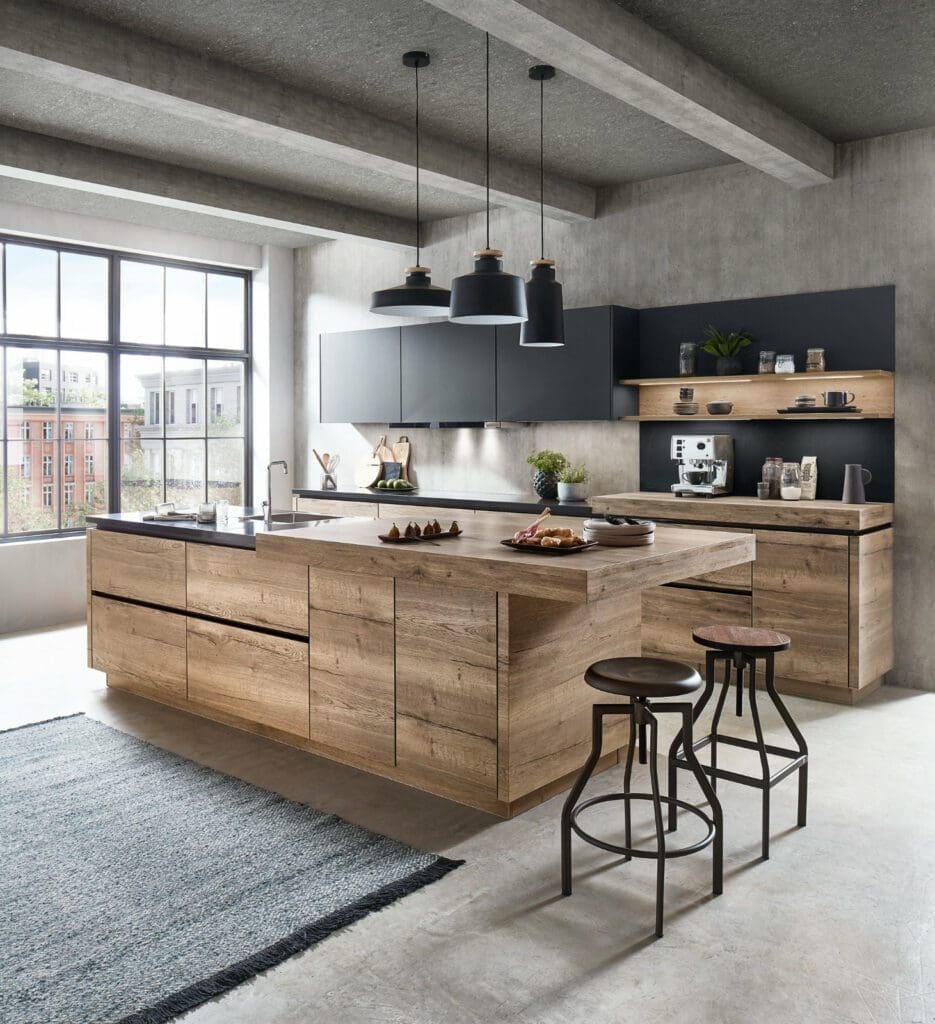 Galley kitchens with islands
Where space allows, a great solution for galley kitchens is to introduce an island or small peninsula to replacing the front run of cabinetry. This allows you to separate the galley kitchen into two working areas, one for cooking and one for eating. An increased work surface area creates a safer and more sociable environment, allowing room for a breakfast bar or dining table if required – which is especially useful when entertaining friends or family members!
The additional work surface area an island brings to the layout can be used in conjunction with overhead or wall mounted cabinetry, increasing the kitchen's storage capacity. Islands are very useful if your galley lacks any kind of storage space, as it can be used for food preparation and dish storage.
Planning your galley kitchen
When designing your galley kitchen layout, think about how you like to cook and what you need to have within easy reach. The galley is a great option if you're short on space or want an efficient, no-fuss working area. With careful planning you can make the most of your galley and create a kitchen that's perfect for you. For example, always bear in mind the height of your cabinets and appliances when planning your galley kitchen – as you don't want to be constantly bending down to an oven or else struggling to reach one that's too high!
You also need to think about how you want your galley kitchen to look, and especially in avoiding a cramped 'corridor' look and feel. A good kitchen designer can help with this, for example they might suggest breaking up the run of tall units along one side in favour of shelving or wall units to open the space. Depending on your room layout and personal needs they should be able advise a number of suitable and effective solutions.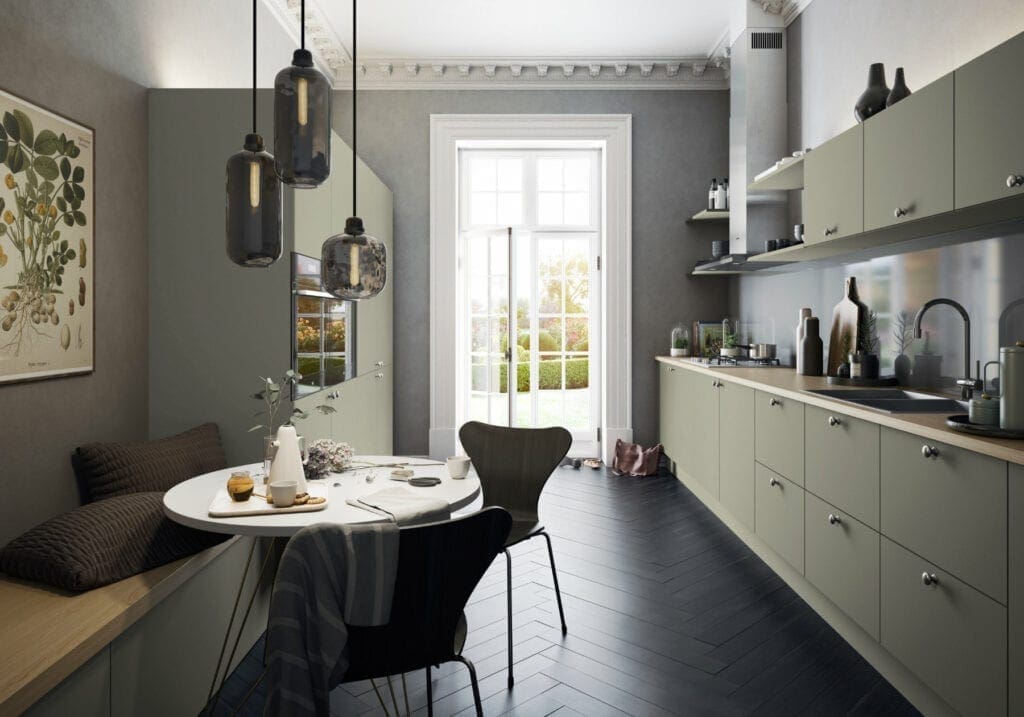 What about galley kitchen appliances?
Consider your galley kitchen setup carefully to ensure you have the most efficient workflow. As already mentioned, kitchen appliances can be installed in different ways to suit your layout. For example, a fridge-freezer could be placed at one end of the galley and an oven at the other for single user set up, or alternatively if you have more space, they could both be accommodated on the same side. Built-in appliances are ideal for small galley kitchens, with compact appliances also proving an effective space saving solution for single users.
Narrow Galley kitchen ideas
The absolute minimum width between opposing worktops in a galley kitchen layout is 3 feet, whilst 4-5 feet is optimal. Very narrow galley kitchen spaces are best suited for a single user but there are many modern kitchen solutions designed to help you maximise space. From the popular handleless kitchen style to wide pan drawers with generous and easily accessible storage, to hidden spice racks and narrow pull out drawers. Similarly, the colour schemes and finishes you choose for a narrow kitchen can effectively create the illusion of more space. White gloss doors are ideal for this, or alternatively, dark base cabinetry with light toned wall units and surfaces create a layered and light kitchen look. Work with an experienced kitchen designer and with careful planning you can achieve a stunning small galley kitchen space that works for you exactly as needed.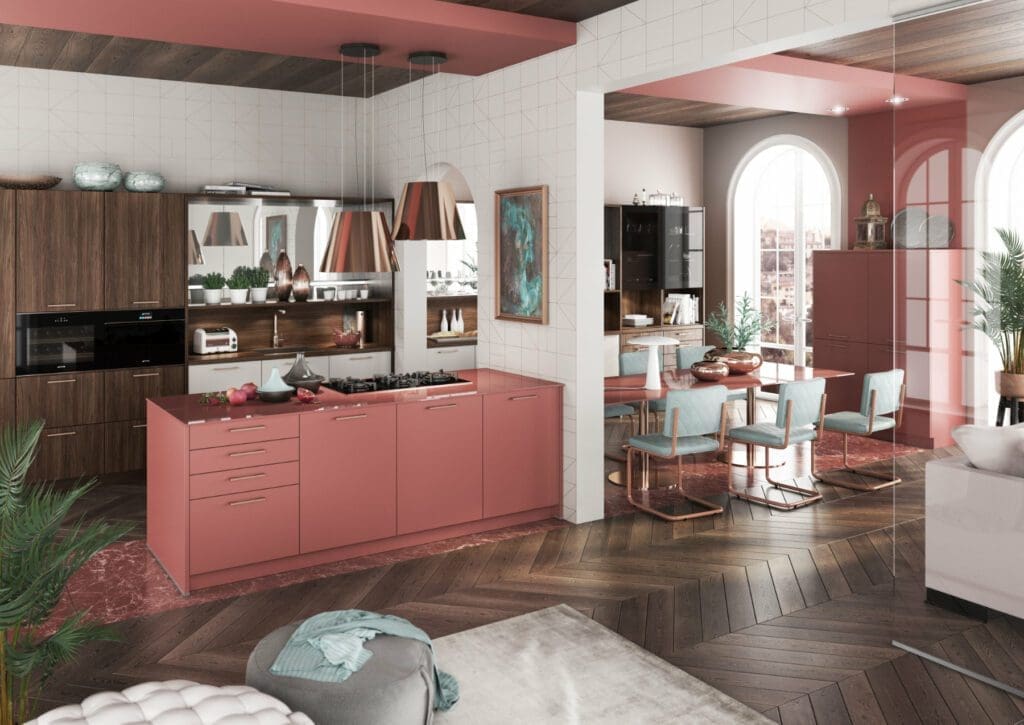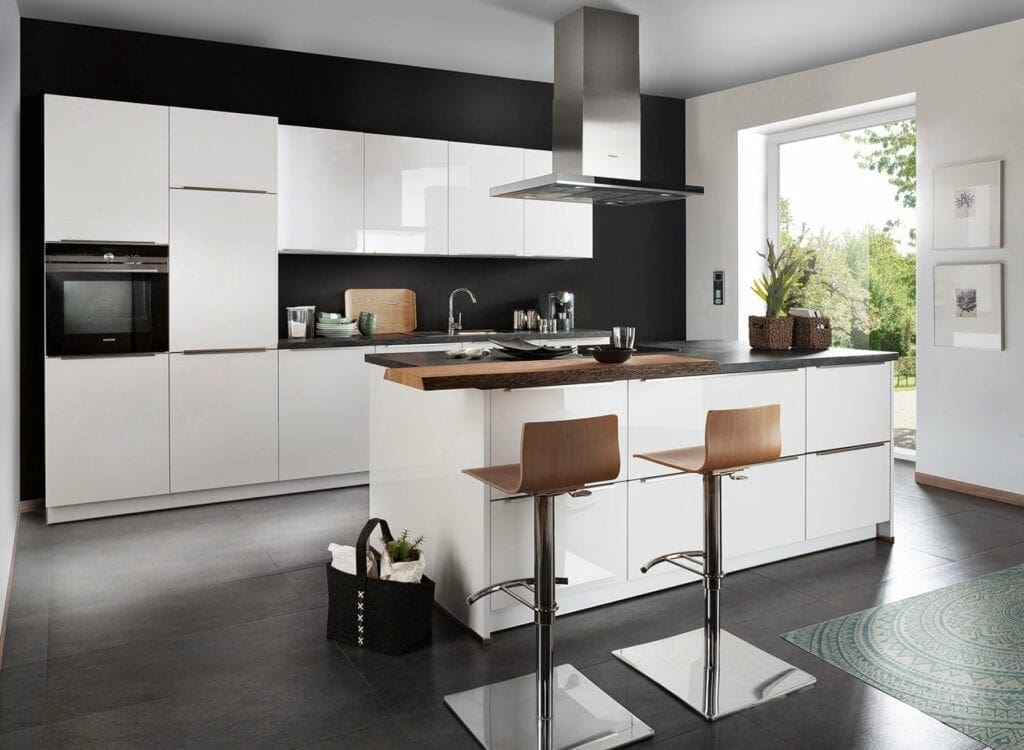 Should you choose a galley kitchen?
As discussed, galley kitchens are great for small to medium spaces, creating an efficient and safe working environment for just one or two users. A flexible layout, they can be adapted to suit larger spaces too, but it is always advisable to talk to a professional kitchen designer who can assess your space and come up with the best possible layout and user workflow.
For help in finding an experienced kitchen designer near you contact the Kitchen Experts today