When it comes to popular kitchen colours, a prevalent option that has been gaining traction in recent years is a cashmere kitchen. This colour exudes a warmth and sophistication that's undeniably appealing to homeowners, and its versatility in blending with different interior designs makes it a recent favourite. If you're considering implementing this beautiful colour into your new kitchen design, you might be wondering which colours go best with a cashmere kitchen. Below, the Kitchen Experts break down which complementary colours go best with a cashmere colour kitchen, from walls and splashbacks to worktops and more.
What Colour is a Cashmere Kitchen?
A cashmere kitchen boasts a rich, creamy shade that gets its name from the luxurious wool of the Kashmir goat. This colour presents a soft blend of grey and beige, creating a neutral but inviting space that is perfect for achieving a modern and elegant kitchen design. Cashmere is extremely versatile, sitting comfortably between a stark white and the darker tones of grey, providing a warm, neutral backdrop for a wide range of complementing colours. It's this adaptability that makes it an excellent choice for your kitchen, offering a sophisticated touch that is effortlessly stylish.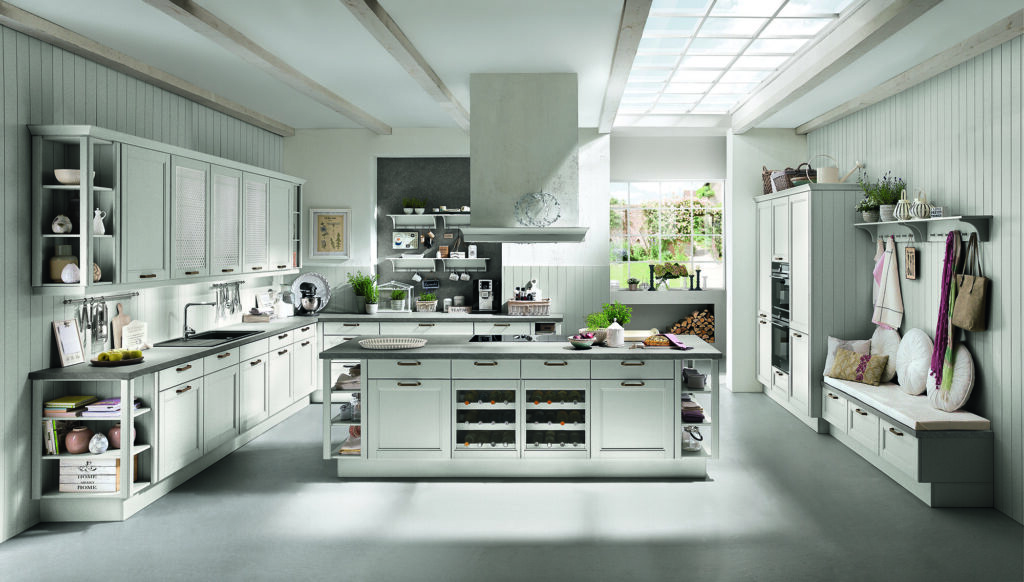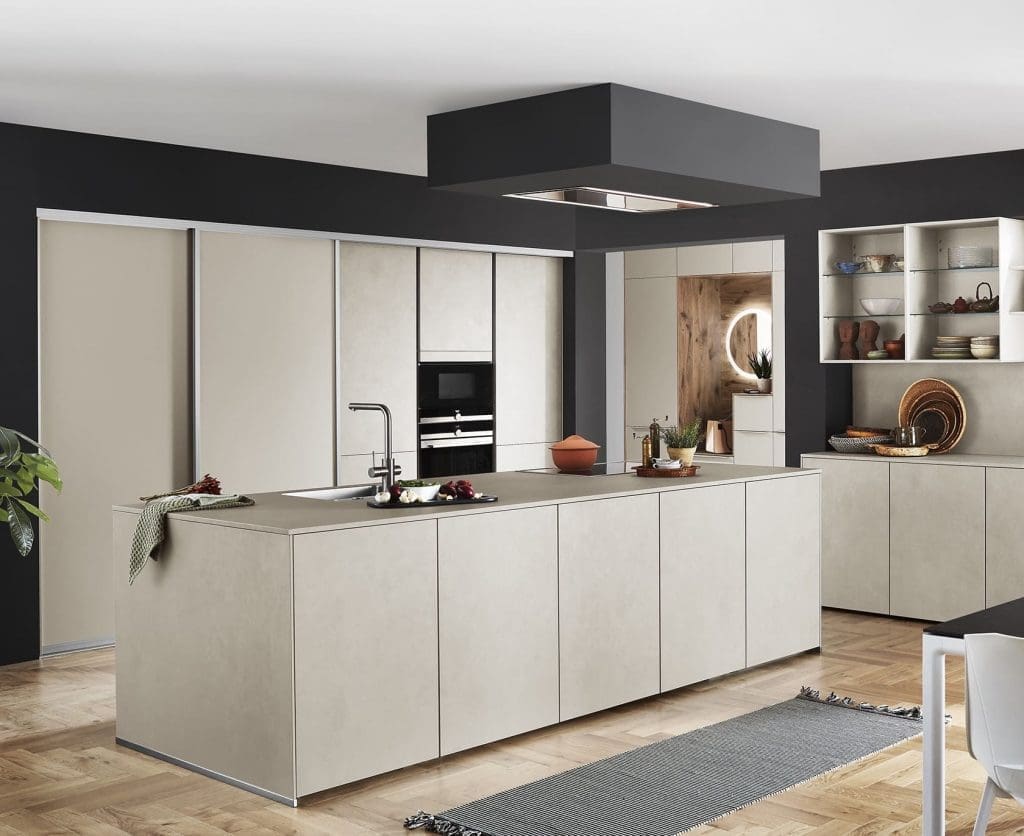 Colours That Go with a Cashmere Kitchen
When contemplating the ideal palette to accompany your cashmere colour kitchen, you'll want to consider colours that maintain the calm atmosphere created by the cashmere tones. Soft greys, earthy greens, and muted blues are ideal choices, echoing the calmness of nature.
For those seeking a dash of luxury, you can even opt for a deep navy or darker grey, which could serve as elegant accents without overwhelming the subtlety of the cashmere. Neutral colours like taupe and warm whites would further contribute to the cosy atmosphere, creating a space that's both light and grounded. The goal is to achieve balance, blending warmth with light to create an environment that's welcoming yet sophisticated.
Cashmere Kitchen, What Colour Walls?
The walls in a cashmere kitchen should ideally complement its cabinets to create a cohesive and serene space. Soft whites are a great option if you want to bring a fresh, clean look, and enhance your kitchen's brightness while still allowing the cashmere cabinetry to stand out. For a contemporary edge, you could also consider pale greys or greige, which maintain the kitchen's neutrality while adding depth. If your goal is to inject more personality, pastel blues or greens can add a subtle pop of colour that remains elegant. The key to a successful cashmere coloured kitchen design is to complement the cashmere's warmth and not overshadow its inherent charm.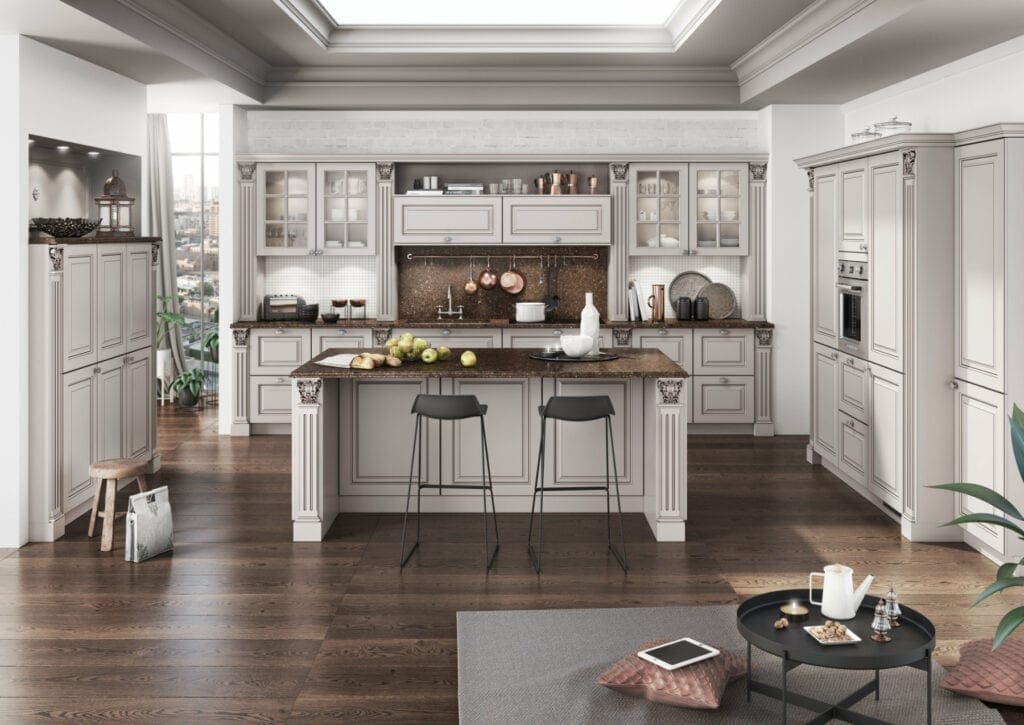 What Colour Worktop Goes with a Cashmere Kitchen?
Your worktop often serves as the focal point of the kitchen, particularly if you have a central kitchen island, which is why choosing the right worktop colour can help anchor your cashmere kitchen's aesthetic. Classic choices include white quartz or marble, which provide a crisp contrast and a hint of luxury.
For a warmer, earthier feel, consider wooden worktops or those with traces of gold or caramel running through the stone. These will complement cashmere's warm tone while adding some visual variation. Darker tones like slate grey or even black can add a dramatic atmosphere and a contemporary twist, especially when paired with high-gloss cashmere doors that reflect light. In this case, ensure your dark worktop colours don't end up overshadowing the cashmere tones in your kitchen.
What Colour Splashback Goes with a Cashmere Kitchen?
Your kitchen splashback is a perfect opportunity to introduce texture and colour into your space. The splashback is often a focal point in your kitchen, yet not so prevalent that it would overpower the cashmere tones, making it ideal for adding some depth to your design. A glass splashback in a muted colour like pale blue or green can create a gentle contrast and a splash of individuality, and would work particularly well in contrast to a matt cashmere kitchen.
Alternatively, metro tiles in a herringbone pattern can add both colour and interest – think timeless whites, sophisticated greys, or even metallics for a touch of glamour. If you prefer something more understated, a neutral toned splashback that matches your worktop creates a sleek, continuous look that allows the cashmere cabinetry to take centre stage.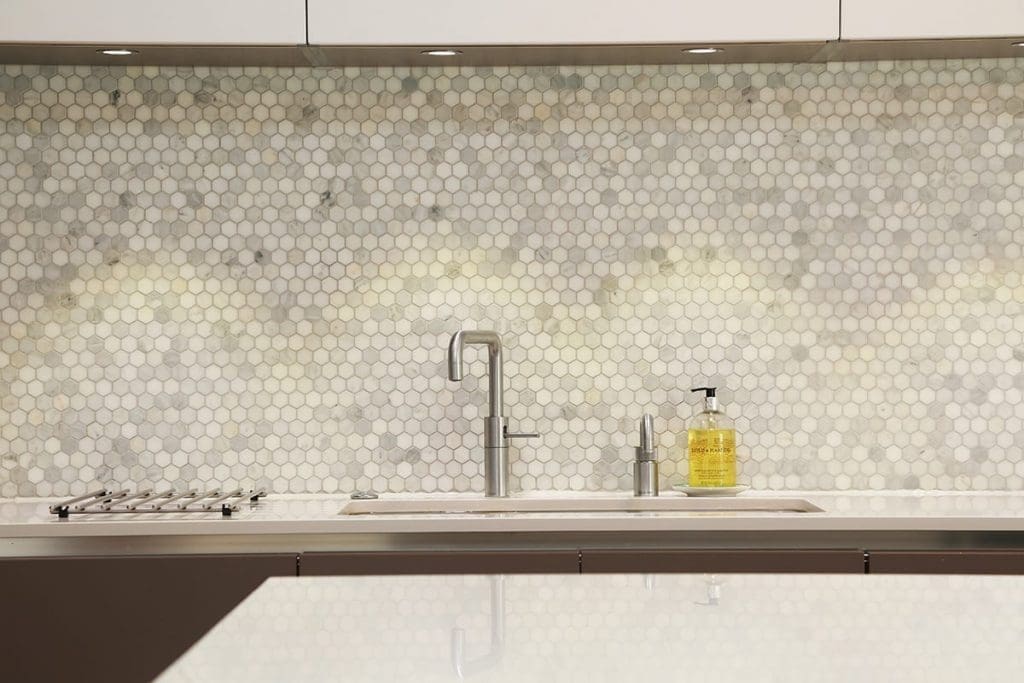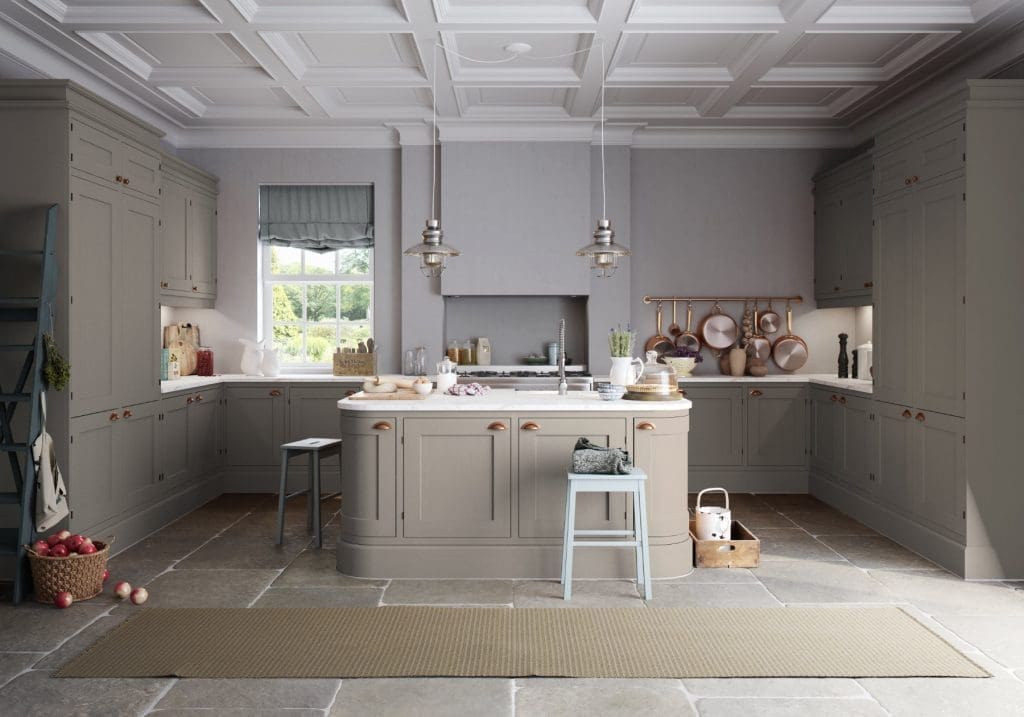 Cashmere Colour Kitchen ideas
Incorporating cashmere into your kitchen offers you a wide range of design ideas thanks to the colour's versatile nature. You could easily opt for an all-cashmere kitchen colour palette by implementing the same colour throughout while using different textures and materials to add depth and interest. Mixing metals like brass or copper with cashmere units can warm up the space, while chrome or stainless steel hardware will offer a cooler contrast.
Don't be afraid to include bold accessories or appliances – jewel toned elements incorporated throughout can make great focal points. Cashmere coloured kitchens also pair beautifully with wood, whether it's a classic oak floor or reclaimed wooden shelves, enhancing the kitchen's warmth and texture. Combining cashmere with a darker shade to create a two-tone colour scheme could help you create a beauitiful cashmere kitchen with lots of visual interest.
Conclusion
A cashmere colour scheme is a statement of timeless elegance and versatility, offering a perfect backdrop for a spectrum of colour and design possibilities. Whether you prefer a colour palette that's soft and subdued or bold and dramatic, cashmere provides the ideal foundation. The colours you choose to accompany your cashmere units should reflect your personal style while maintaining the balance and warmth that make cashmere kitchens so appealing. By thoughtfully selecting the right shades for your walls, worktops, and splashbacks, you can create a kitchen that is not only on-trend but will stand the test of time!
For help designing your ideal cashmere kitchen, contact your local Kitchen Expert today!