Discover the Most Popular Kitchen Handles to Complete Your New Kitchen Look
Unless you prefer a handleless design, kitchen door handles are intrinsic but also very influential when it comes to your kitchen design and aesthetic. Depending on what you choose, the handles on your drawers and cabinets can make or break the overall look of your kitchen. With so many different styles and materials to choose from, you might be unsure what to go with, and so below you'll find a helpful guide that will explain the most popular kitchen handles for you to consider for your new kitchen design!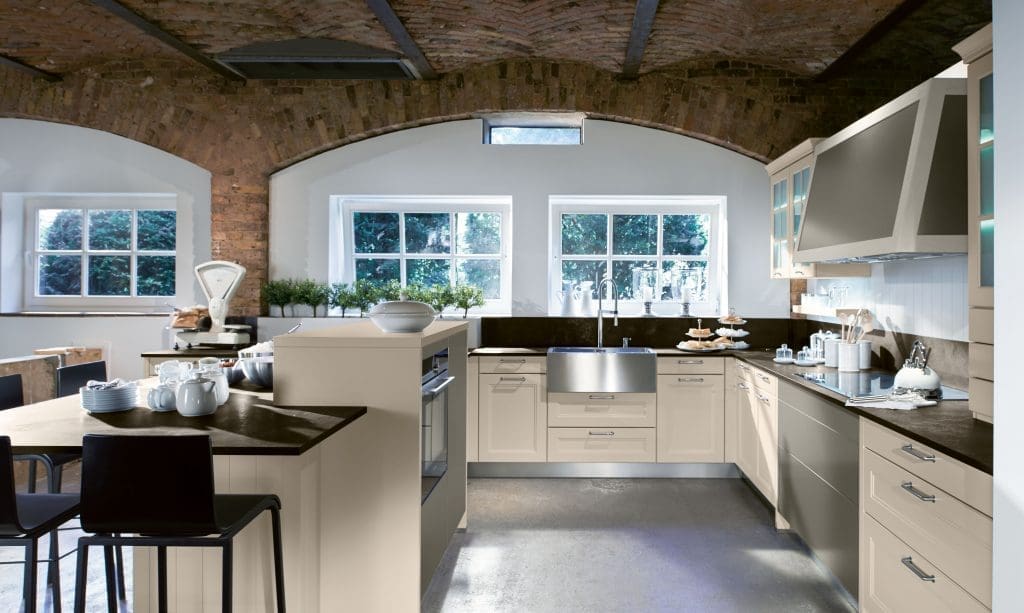 Popular Kitchen Handles – Pull handles
One of the most popular kitchen handle options is a pull handle. Pull handles are installed on your kitchen drawer or cabinet with two fixing points. These handles look great in any kind of kitchen and can often be tailored to fit your specific style! Pull handles are also beneficial in terms of functionality and simplicity – their simple design makes them easy to operate. They often come in a sleek style, which makes them particularly apt for modern kitchen designs.
The versatile nature of kitchen pull handles also allows you to use them on both drawers and cabinets, which is great if want to keep a uniform kitchen aesthetic. They come in a large variety of styles, so you'll have many options to choose from! Since pull handles need two fixing points, you should be mindful of your available space, since they can protrude awkwardly if installed on a cabinet or drawer that isn't suitable for them.  
Popular Kitchen Handles – Bar handles
Kitchen bar handles are very similar to pull handles, but they usually have larger hole centres, making them bigger in size and even easier to operate. Both pull and bar kitchen handles come in a variety of materials, so they're very easy to customise and tailor to your aesthetic. Depending on the style you choose, kitchen bar handles can either enhance the look of a modern, minimalistic kitchen, or blend in with a traditional kitchen design.
Modern kitchens often incorporate stainless steel T-bar handles, as they are simple yet elegant and aesthetically pleasing. Going with a simplistic stainless steel handle design will certainly make your kitchen look sleek and stylish, whilst bar handles with clean lines and sharp edges can enhance the minimalistic effect of a contemporary kitchen. Dark wood or bronze bars look especially elegant in a more traditional or old-fashioned kitchen design. If you're looking for something more ornamental, bar kitchen handles can always be engraved with intricate details in order to enhance the decorative aspects of your kitchen.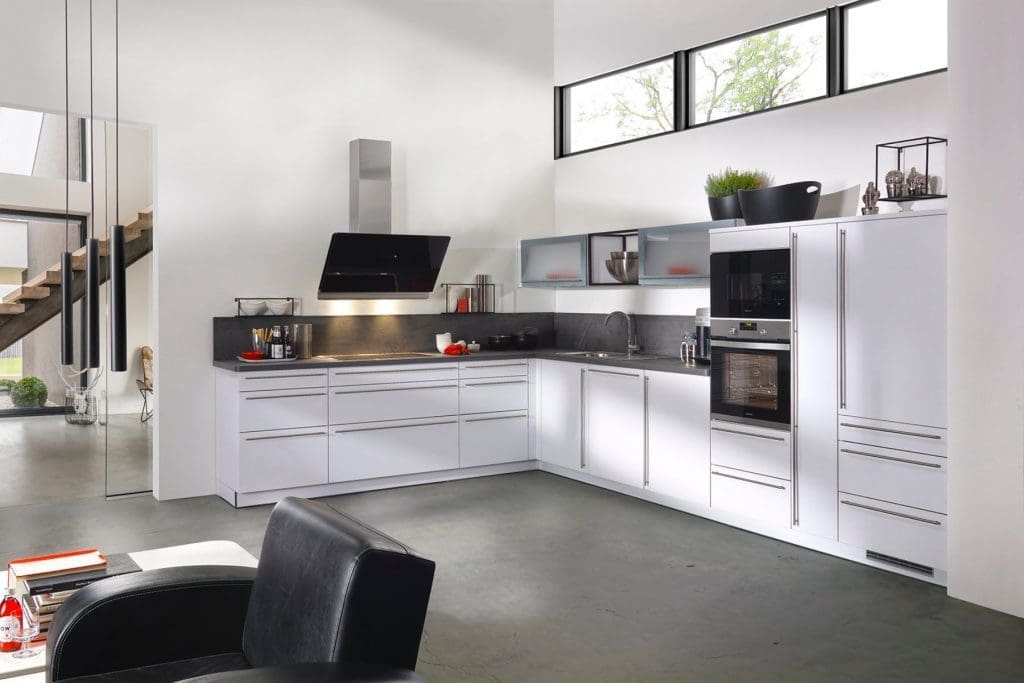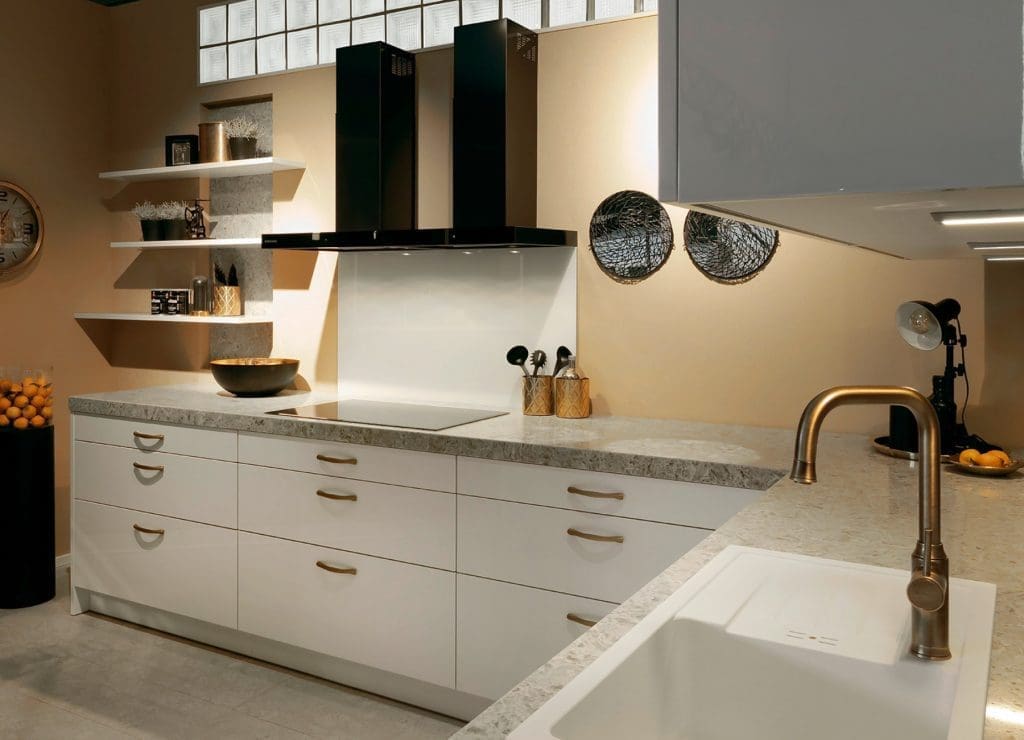 Popular Kitchen Handles – Bow handles
Bow kitchen cabinet handles are another type of pull handle but take their name from their arched shape. These are handles you don't see every day, and they would certainly give your kitchen a unique edge. Bow kitchen handles can add lots of style and personality to an otherwise simplistic kitchen. They tend to draw the eye and can easily become a focal point in your kitchen. 
Popular Kitchen Handles – Knob kitchen handles
Installing knob handles on your kitchen cabinets or drawers is a great option if you want handles that are classic yet unobtrusive. The most popular knob design is the round mushroom design. This look can work for any type of kitchen but is particularly elegant within more traditional and old-fashioned kitchen designs. Although round knobs are the easiest to grip and pull, you could even customise the shape of your knob to incorporate your own personality into your kitchen. Knobs are a great way of adding small creative touches to your kitchen that don't change the overall design and pull the entire aesthetic together.
Shiny metal knobs are a popular kitchen handle choice because they work well for and add elegance to a modern kitchen design. However, if your kitchen is already more minimalistic and monochromatic, then glass kitchen knobs are another alternative which can greatly enhance your space and bring a sophisticated feel. If you want a more traditional or rustic kitchen aesthetic, another popular choice would be wooden knobs or even knobs with ornamental details engraved on them. The drawback of knobs is that they are smaller and less sturdy due to their single fixing point, so cabinets with knobs might be more difficult to open and prone to breakage.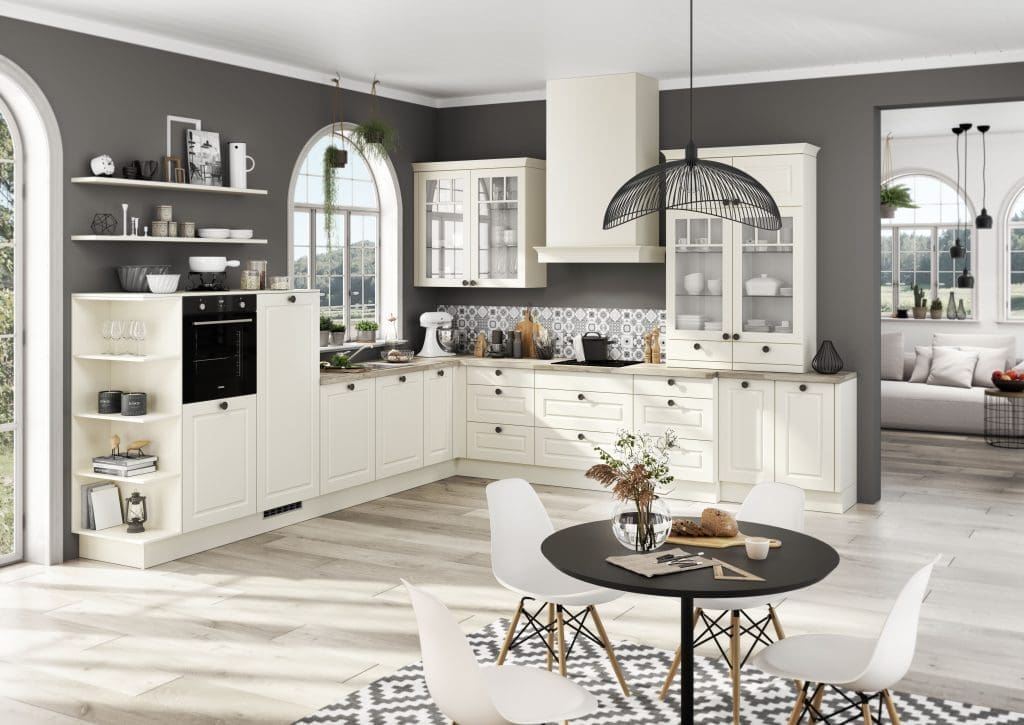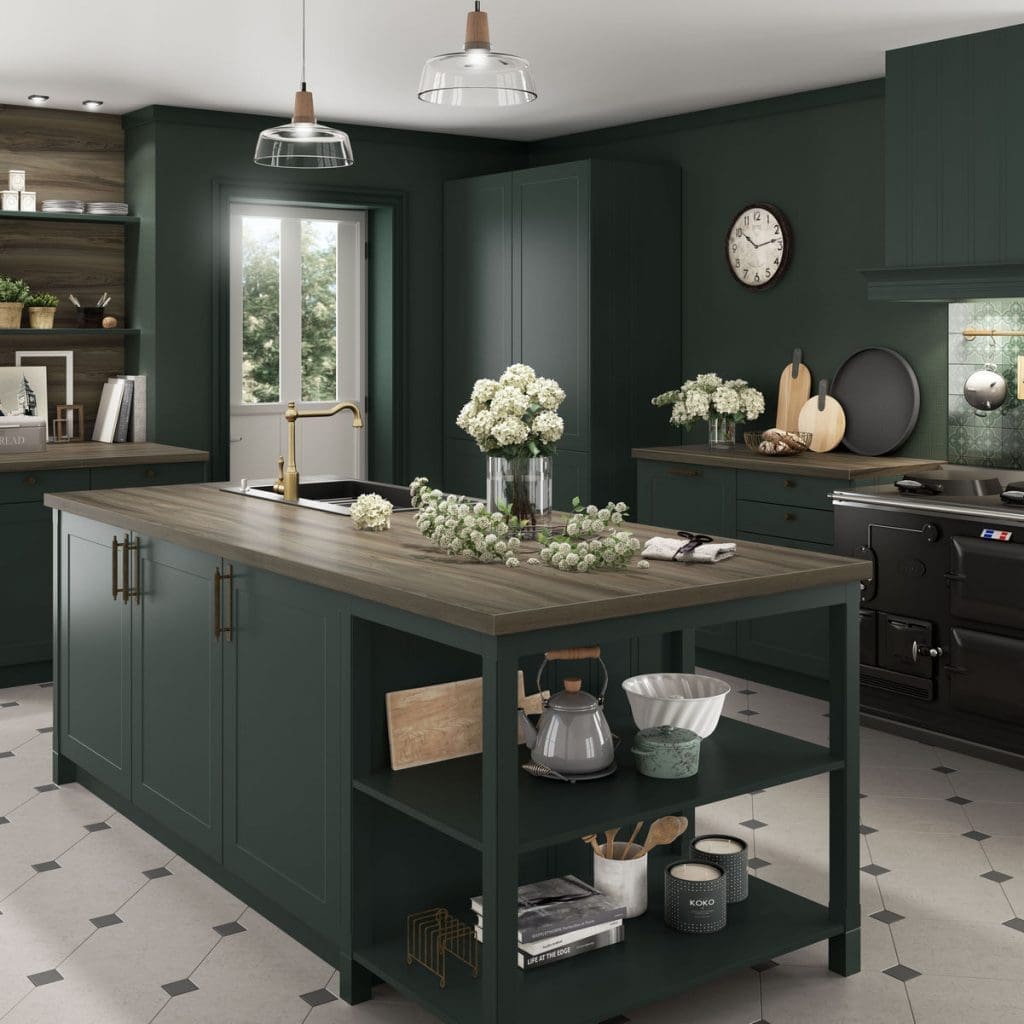 Popular Kitchen Handles – Mix and match your styles
Another option for your kitchen handles is to use both knobs and pull/bar handles. This is a great way to make your kitchen one-of-a-kind and many modern kitchens make use of this style. For example, you could opt for pull handles on all your lower cabinets, and knobs on your cabinets that are higher up. In this case, it's recommended that you don't use too many different styles, because you don't want your handles to look too mismatched.
Pick out one style of knob and one style of pull handle you really like. Keeping these the same colour and incorporating them throughout your kitchen will bring a touch of variety as well as character into your kitchen design.  
Popular Kitchen Handles – Cup pulls
Speaking of rustic designs, a great option for more traditional kitchens is to incorporate cup pulls. Installing bronze cup pulls can add a retro charm to your kitchen and emulate old classic or farmhouse style kitchens. A cup pull kitchen handle can also make your kitchen feel distinctive if you pair it with more modern elements. Cup pulls look great on Shaker style kitchens and help bring together all design elements. Many homeowners opt for bronze cup pulls specifically, as they add a traditional kitchen charm that is otherwise difficult to achieve.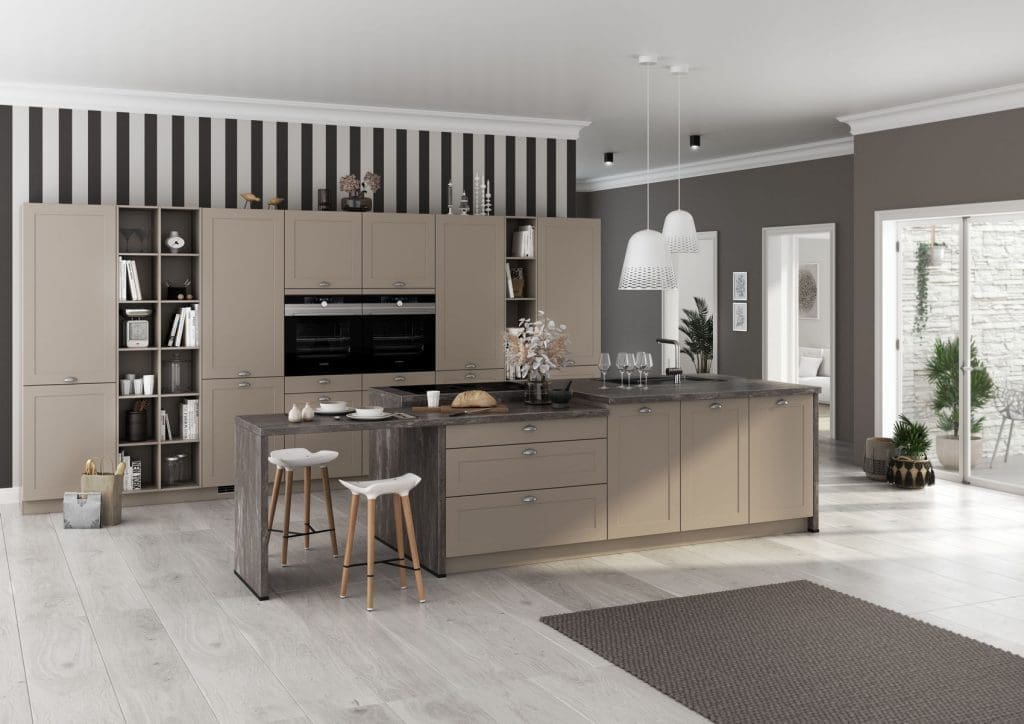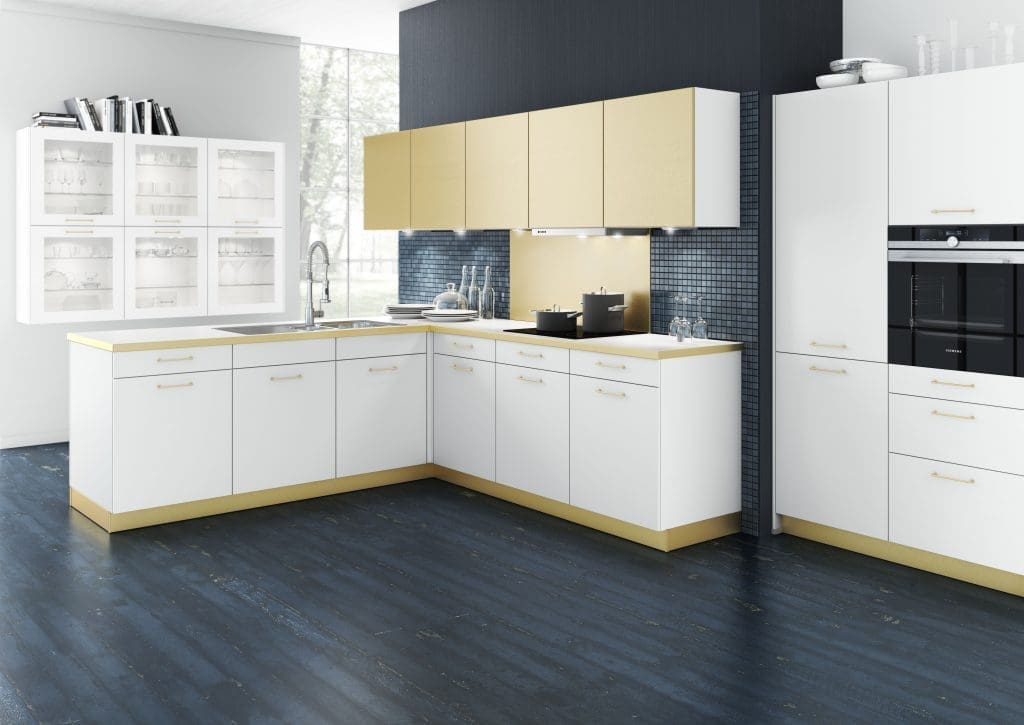 Find Your Perfect Kitchen Handle Choice
So now you know the most popular kitchen handle choices! If you're looking for the more modern option, opt for sleek bar pull handles or knobs with shiny finishes. Whereas, if it's a more traditional look you're going for, you can always look into wooden knobs or ornate bow handles. Bronze cup handles also work especially well in old-fashioned kitchens and can really help you achieve a retro kitchen feel. For further help in finding the perfect kitchen handle talk to your local Kitchen Expert today who will be glad to show you their full collections and help you pair with doors and finishes.