If you're planning a kitchen renovation for 2024, you might be wondering what the most popular UK kitchen trends in 2024 will be and how to incorporate these into your design. Kitchen design trends are constantly evolving, and it can be difficult to know which ones will never go out of style and which trends are already on their way out. Not to worry – the Kitchen Experts have got you covered! Below, we'll explore popular UK kitchen trends in 2024, from nature inspired designs and Smart technology to earthy colour choices and bold splashbacks, giving you plenty of ideas for your new kitchen project.
UK Kitchen Trends in 2024: Unique Textures and Designs
Going into 2024, more homeowners are looking to achieve a kitchen design that is uniquely theirs and matches their personality. Unique textures such as rough woods and stone will be at the forefront, offering the opportunity to create a one-of-a-kind kitchen design. Another popular UK kitchen trend in 2024 is including bold hardware choices and other accents to create a personalised aesthetic. For a pop of colour in an otherwise neutral colour scheme, it's becoming customary to add a brightly coloured tap or unconventional looking handles on cabinets and drawers. These can help add a personal touch to your kitchen design without being too overwhelming in the overall look.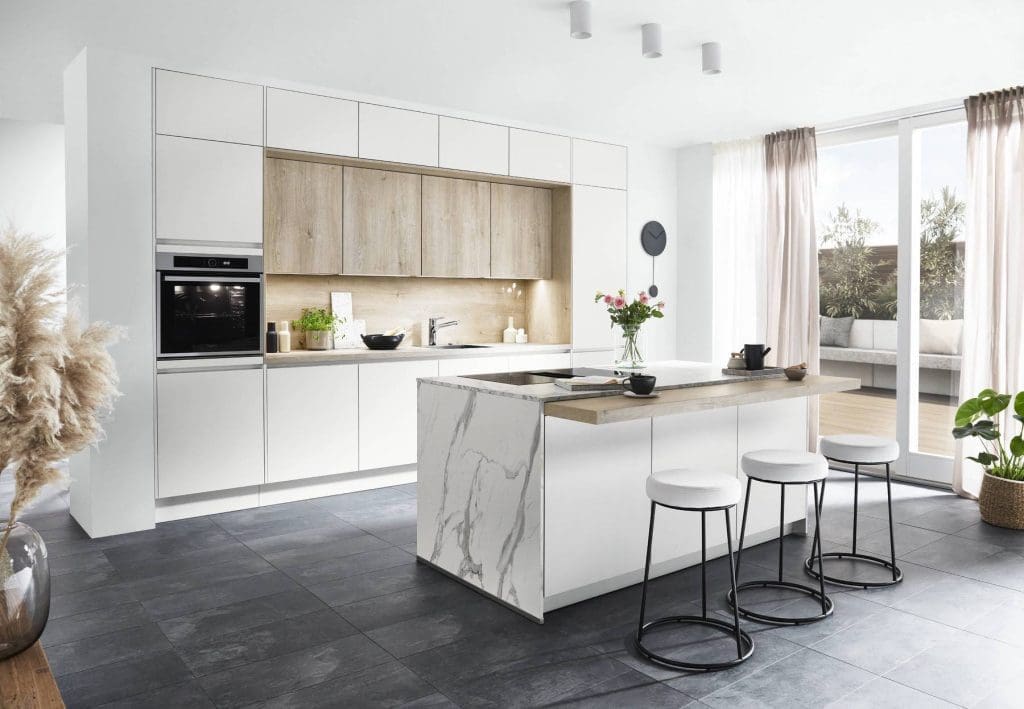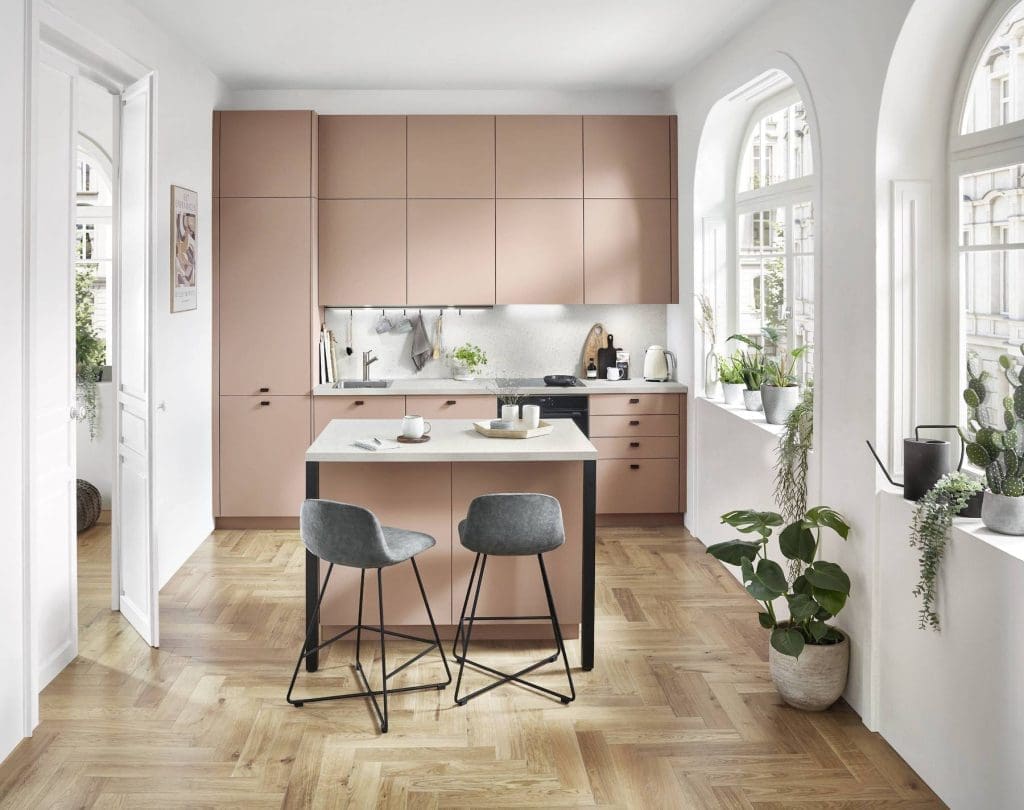 Go Green with an Eco-Friendly Kitchen Design
Recent years have seen a definite increase in sustainable living within kitchen design, and this trend is sure to continue into 2024. Kitchen designs will favour materials that are more eco-friendly, meaning less use of plastic and materials that produce waste, as well as energy-efficient appliances. This kitchen trend also includes layouts that incorporate recycling and composting systems.
In line with achieving a greener kitchen, one of the key kitchen trends in 2024 will be including more elements found in nature such as sustainably manufactured wood and stone. Many homeowners are also incorporating plants or even small trees into their kitchen design to transform the kitchen a more organic and inviting space. It's becoming common to see small indoor gardens, which make for a personalised design element as well as a fun kitchen activity!
Smart Technology
Kitchen design is constantly adapting to the modern lifestyle, and a kitchen trend in 2024 that reflects this is the incorporation of Smart technology. We've been seeing a rise of Smart appliances for a number of years, and they're becoming ever more prevalent in modern kitchens. Smart appliances help alleviate your daily life with features such as voice control or automated lighting systems. Being able to control your oven or hob remotely can greatly aid when it comes to cooking efficiently, and Smart appliances often prioritise energy-saving, thus also ensuring an eco-friendly kitchen. As kitchen design progresses, convenient and high-tech kitchens will likely become more prevalent.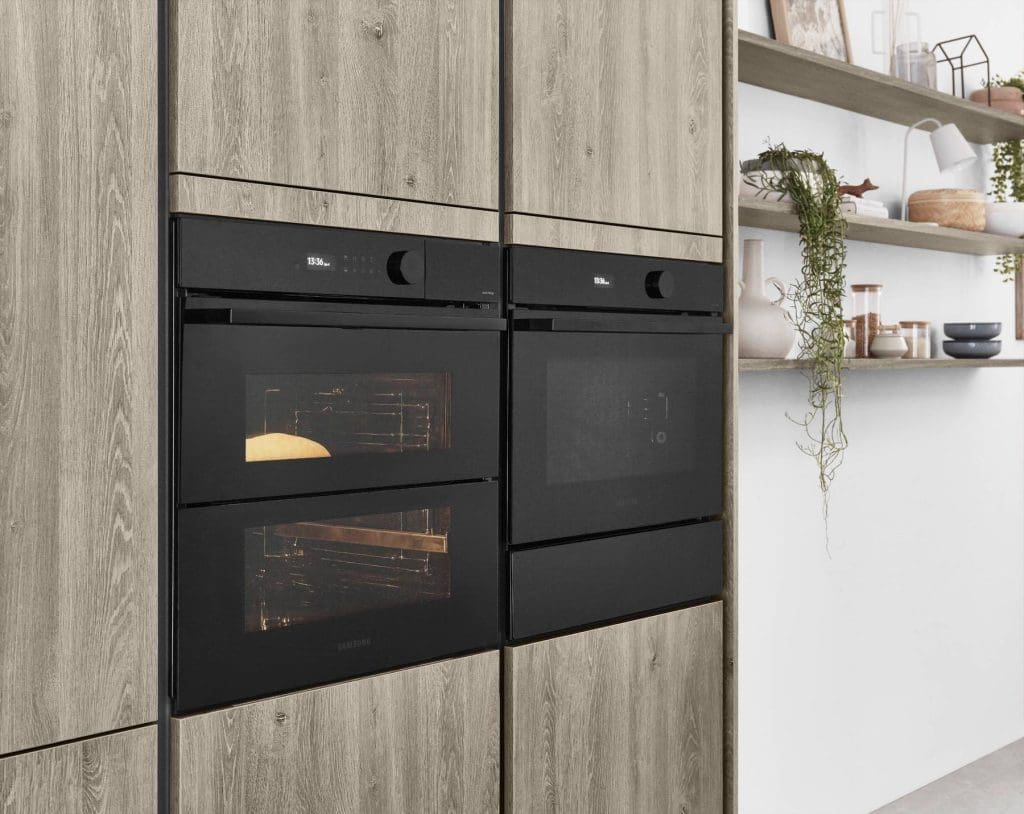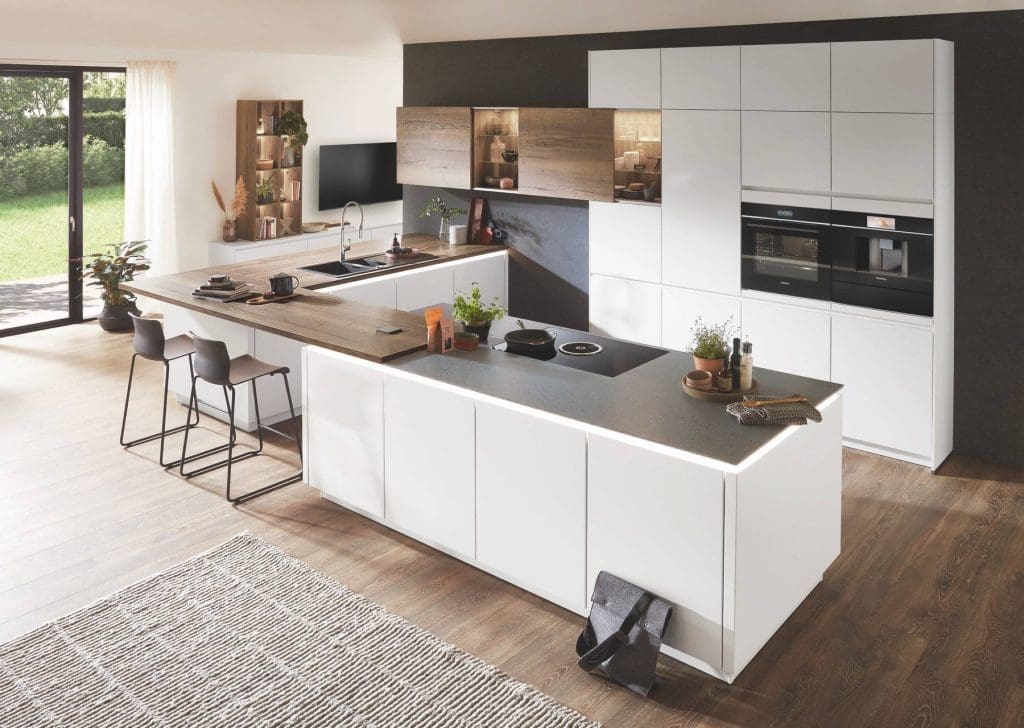 UK Kitchen Trends in 2024: Sleek and Modern
A kitchen trend that is constantly gaining popularity and is sure to make an appearance in 2024 is a sleek and modern kitchen design. This kitchen trend also aligns with a desire to make kitchen areas as convenient and streamlined as possible. Featuring lots of sleek lines and built-in appliances that are easily hidden, this kitchen look aims to minimise clutter in the kitchen, offering a pristine and contemporary kitchen aesthetic.
Along with this, the Scandinavian style of kitchen is on the rise, showcasing mostly whites and light wood tones combined with as little ornamentation as possible. As part of this sleek design, there's also an indication that homeowners are beginning to favour rounded edges in kitchen islands and worksurfaces, making for a space that's efficient and easily navigated.
The Rise of Neutral and Muted Colours
When it comes to popular kitchen colours in 2024, there's a definite emerging preference for more neutral shades as opposed to eye-catching colours. Kitchen walls and cabinets will feature lots of muted tones, giving off a calm and serene kitchen atmosphere. We'll likely see a trend toward pastel shades of popular kitchen colours that would normally be bold and loud. This includes rust reds and sage greens as opposed to bright and striking feature walls.
This trend also aligns with homeowners' desire to add a touch of nature to their kitchen, as we'll be seeing lots of earthy tones like browns and beiges with matt finishes rather than gloss. However, this is not to say that bold colours are entirely out of fashion. Many homeowners still want to include pops of bright colours throughout their kitchen, whether it's in the form of subtle hardware choices or decorative elements.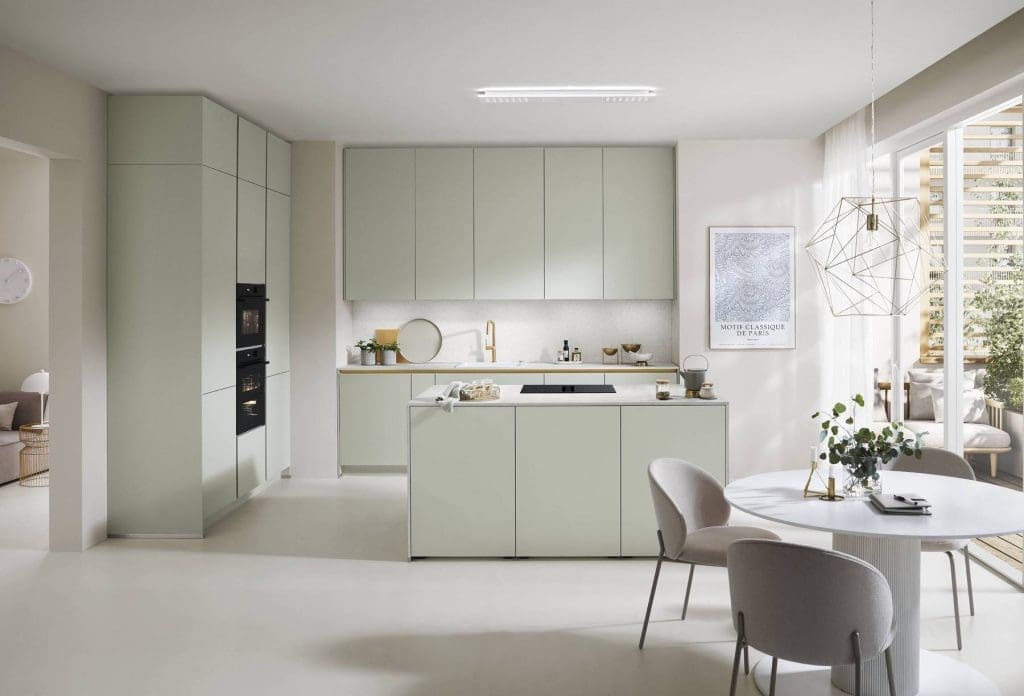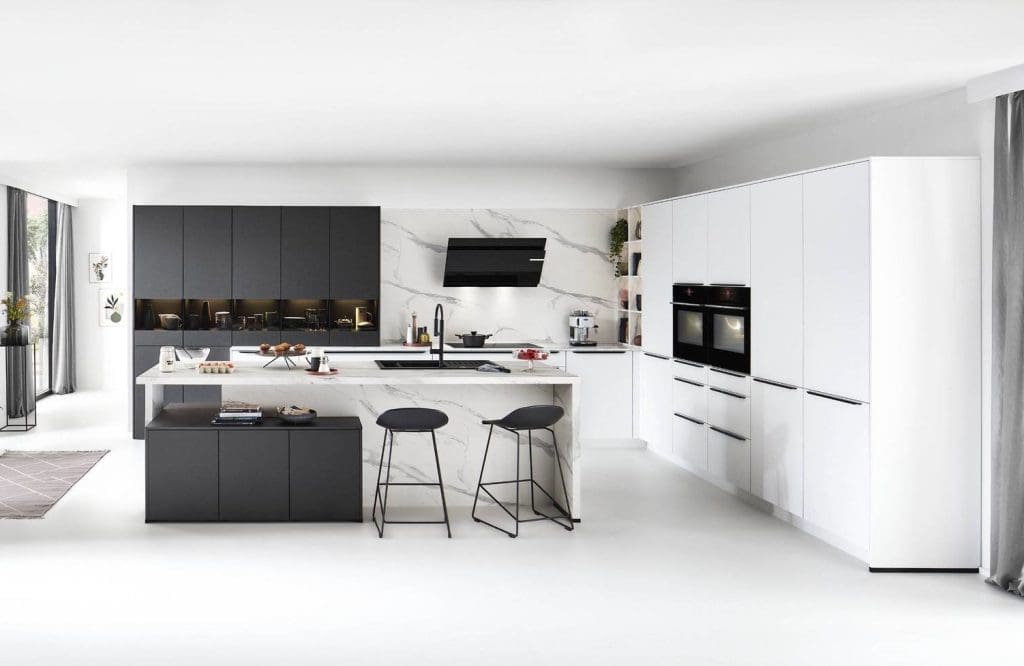 Classic Black and White
The preference for neutral shades doesn't mean black or white kitchen schemes have gone out of style entirely. On the contrary; a pristine white kitchen or a striking dark interior space have both been favoured colour palettes for several years, and their popularity is likely to endure in 2024. A simple white colour scheme makes for a particularly modern kitchen look, allowing you to create a minimalist space that remains bright and reflects lots of natural light.
Similarly, a dark kitchen helps create a luxurious atmosphere and can be easily combined with a range of lighter colours to create a unique and eye-catching overall design. Black or white colour schemes offer a plethora of stylistic choices, as they can be enhanced with pops of colour or metallic accents, or stand on their own as a timeless and elegant kitchen design. Contrasting colours have also emerged as a 2024 kitchen trend, making a colour scheme that combines black and white a fashionable and visually striking choice.
Bold Splashbacks
For those looking to add a splash of colour or a particularly creative element to their kitchen, bold and colourful splashbacks are emerging as a 2024 kitchen trend that should not be underestimated. A splashback can act as the focal point of your kitchen; a feature that combines your chosen colours and textures to make your space feel cohesive and complete. If you want to include bright colours and unique patterns into your kitchen, your splashback is the ideal element to utilise. Bold colours, textured surfaces or geometric patterns will give your splashback a unique edge without overwhelming the rest of your design.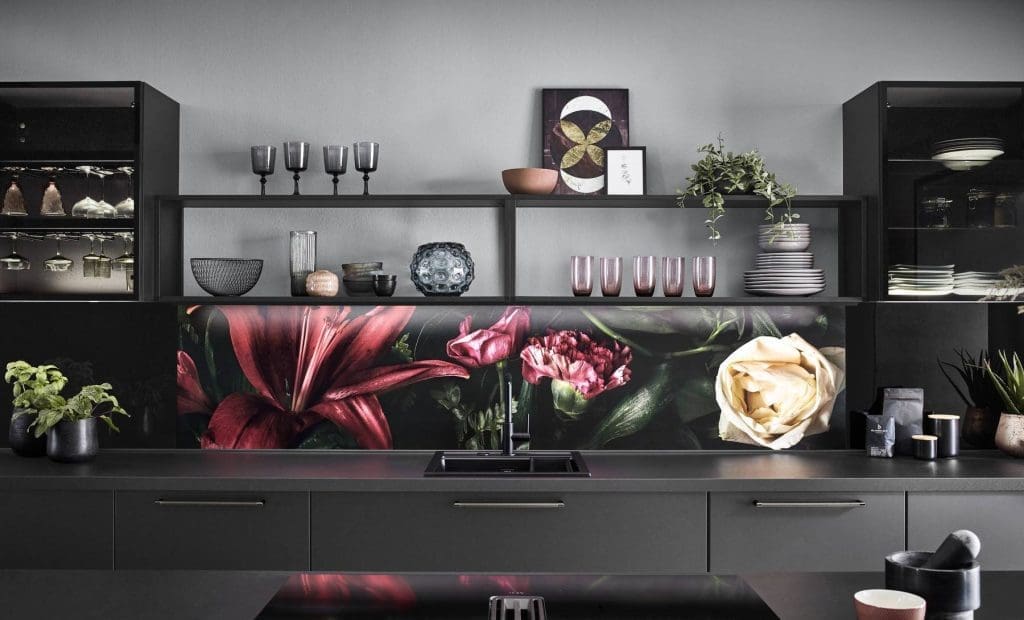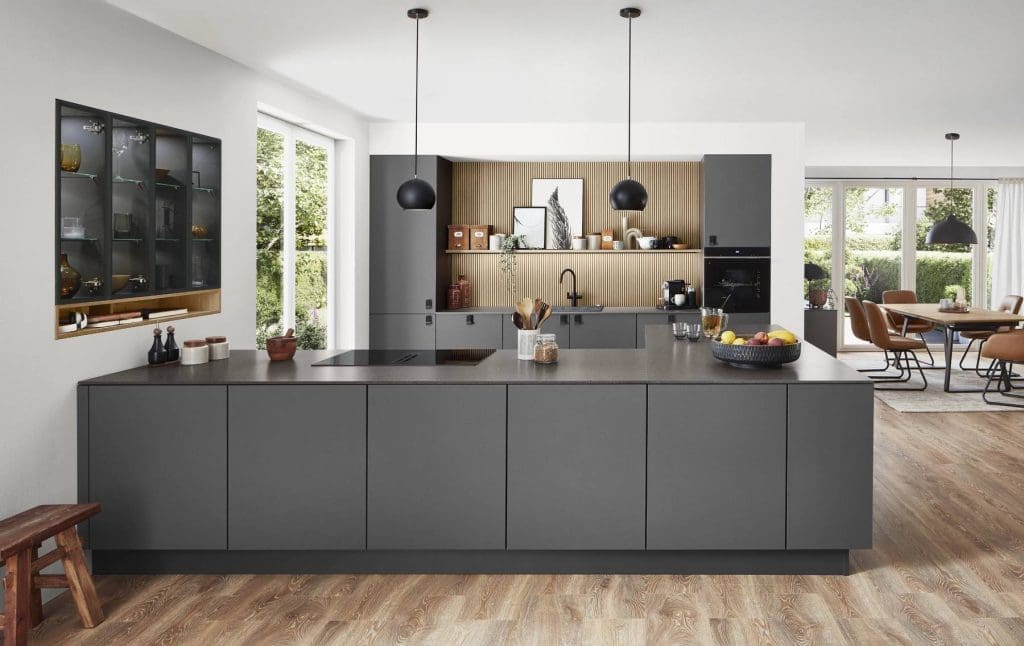 Conclusion
Hopefully you've gained some insight into what the top kitchen trends in 2024 will be! Keeping up with current kitchen trends ensures you can confidently make decisions when renovating your kitchen, guaranteeing a space that not only remains fashionable for years to come, but that you'll enjoy using on a daily basis.
For help finding your ideal kitchen design, contact your local Kitchen Expert today! Their expertise will ensure a kitchen that's on-trend and stylish yet functional and practical.