How do I give my kitchen the wow factor?
Are you dreaming of a Designer kitchen but wondering how you can achieve this, and especially without breaking the bank? Well, in the first instance, the best option is to talk to a professional kitchen designer who will have the skill and expertise to create the exact designer kitchen look you want, whilst in line with your needs and budget expectations. Here we discuss designer kitchens, and how you can achieve the right kind of wow factor for your space!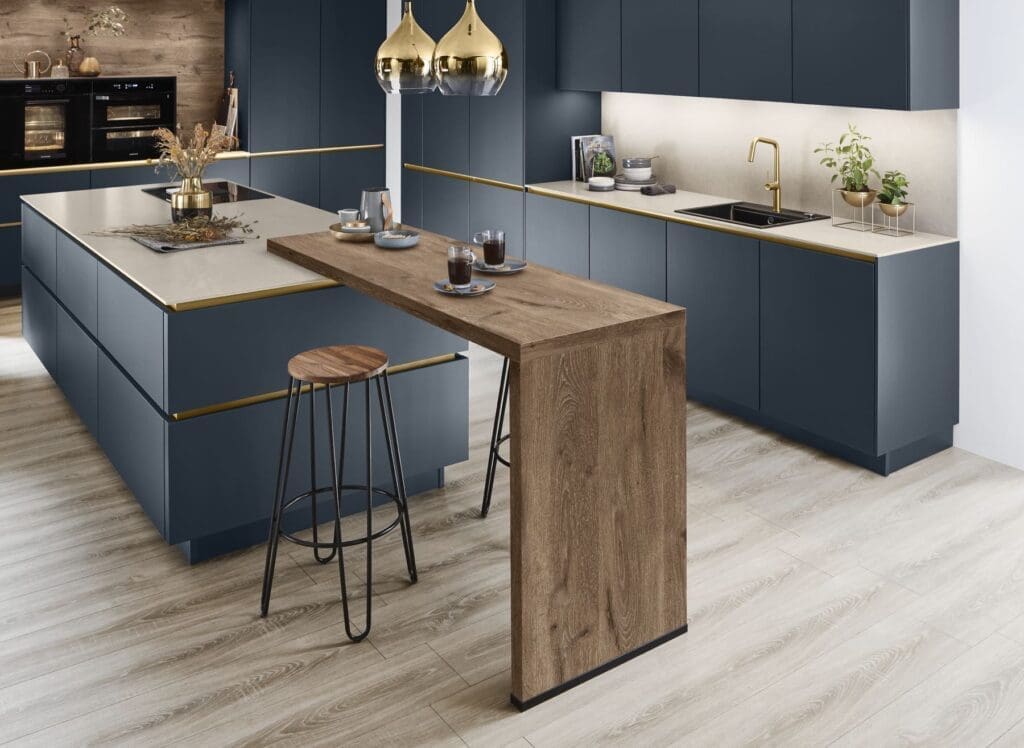 What is a designer kitchen?
Synonymous with 'wow factor kitchens,' designer kitchens are typically something a little out of the ordinary, which in turn makes them eye-catching and memorable. But for a designer kitchen, the quality must extend far beyond an impressive appearance. In the case of a kitchen, it is equally important it impresses in terms of function too. Otherwise, the kitchen's 'wow factor' will quickly fade if it is difficult or awkward to use. The only time when it would be acceptable to forgo this is a designer kitchen intended for someone who doesn't cook, and who is express in their intent that looks trump functionality.
Decide what a 'wow factor' kitchen means to you
Everyone is different in their ideas and outlook, which means your perception of 'wow factor' will often differ significantly from someone else's. Consequently, taking time to understand your tastes (and needs) is key to a designer being able to meet them; they can then cultivate a designer kitchen which is just right for you. This includes an understanding of where you place the most value within your kitchen – as this is typically where you should focus your budget to achieve the wow factor you want.
For example, cooking with a top of the range oven is sure to impress, except in a kitchen where nobody cooks! This would be a waste of the oven's 'wow factor' technology…and of your money. Instead, you would be better choosing a more modest oven and spend the cost difference on another element of the kitchen that is more significant to you. This might be lighting solutions that brighten the space, or else a feature splashback that draws attention as you enter the room.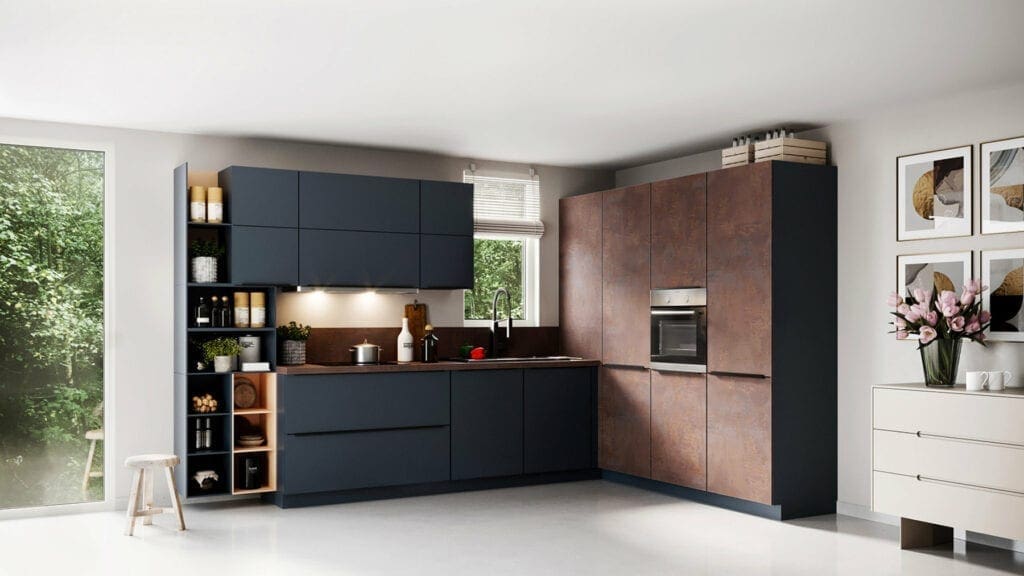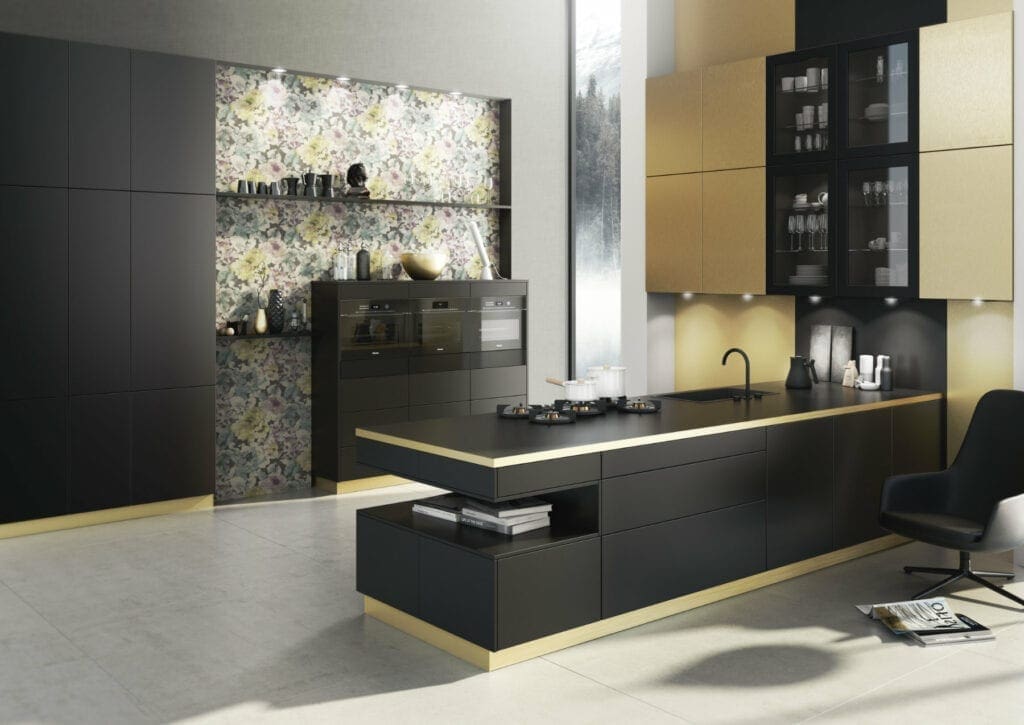 Affordable designer kitchens
Also key to bear in mind is that a designer kitchen doesn't need to cost the earth! A good designer should always have the client's budget considerations in mind and utilise materials, products, and appliances accordingly. Just as people can successfully blend designer labels with high street fashion in their choice of clothing, similarly, you don't need the most expensive of every material and finish to achieve wow factor for your kitchen. Instead, you just need to know how to make it work so the most valuable materials stand out above the rest. Blending and layering varied materials in this way means clients shouldn't have to pay more but can still achieve the wow factor kitchen they desire.
How and where can you introduce kitchen wow factor:-
A carefully thought-out kitchen design with effective use of space is essential to a designer kitchen look, and whilst there are many beautiful products and finishes available it is better not to 'overdesign.' Instead, choose just one or two stand out features as a focal point, rather than numerous pieces which might compete for attention. This might be a beautiful kitchen island in a different tone from the rest of your furniture, a mosaic porcelain tiled splashback, a streamlined bank of appliances, or a piece of artwork taking centre stage. There are endless possibilities for kitchen design, which can be achieved using an extensive range of colours, materials, and accessories.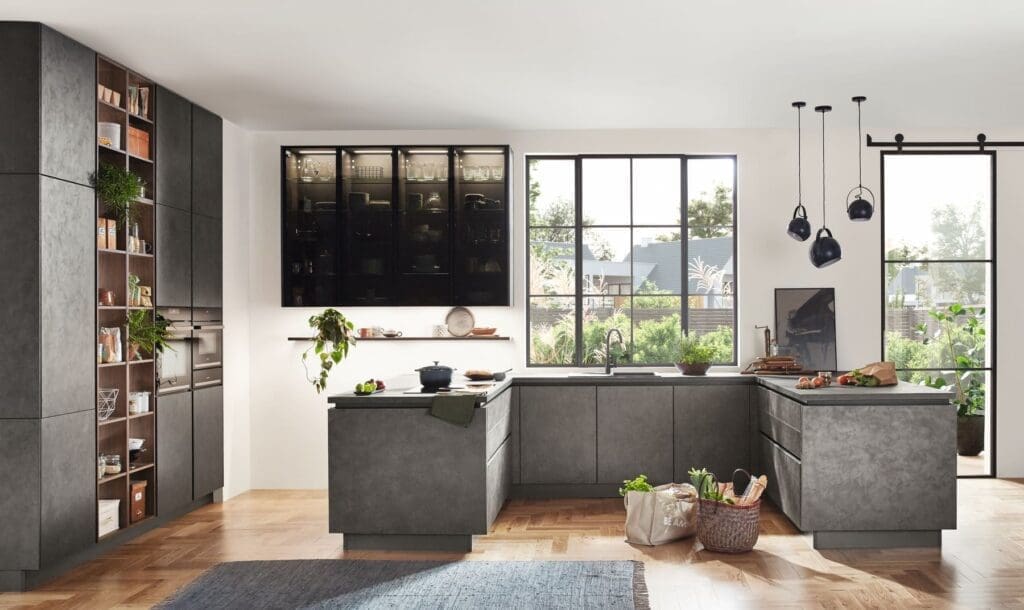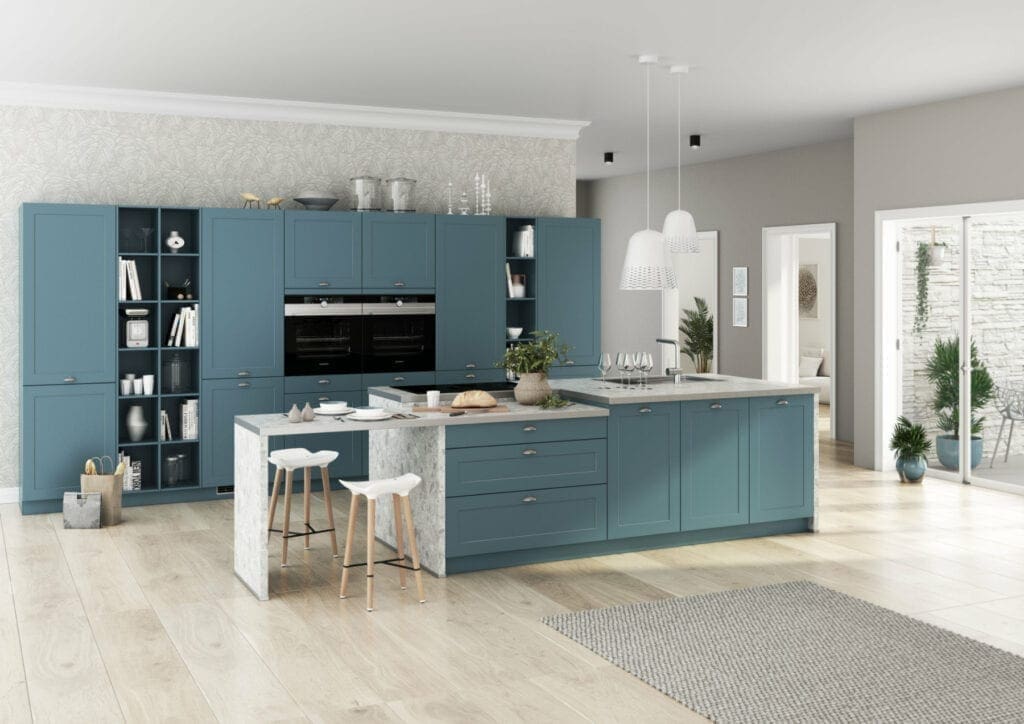 Make Your Kitchen Stand Out With Natural Light
Lighting is really important within any kitchen, and this is especially true if you want to achieve a designer kitchen look. A clean and bright space brings its own 'wow factor' and can be achieved through flooding a kitchen space with as much natural light as possible. This is particularly true of white kitchen finishes and gloss surfaces which reflect light to create the impression of more space. A glazed ceiling or skylights will enhance this effect. However, if not a possibility, this look can still be achieved through artificial lighting elements.
Wow Factor Kitchen Lighting
Statement and decorative lighting can prove an easy way of elevating a kitchen to designer kitchen status. LED lighting is effective for kitchen task lighting but can also be used playfully, injecting a burst of light or boost of colour which enlivens a kitchen's look. Alternatively, stylish pendant lighting over an island or oversized lamps can bring elegant wow factor. Statement kitchen lighting can also act to separate different working kitchen zones or else to mark a distinction between different areas of a room.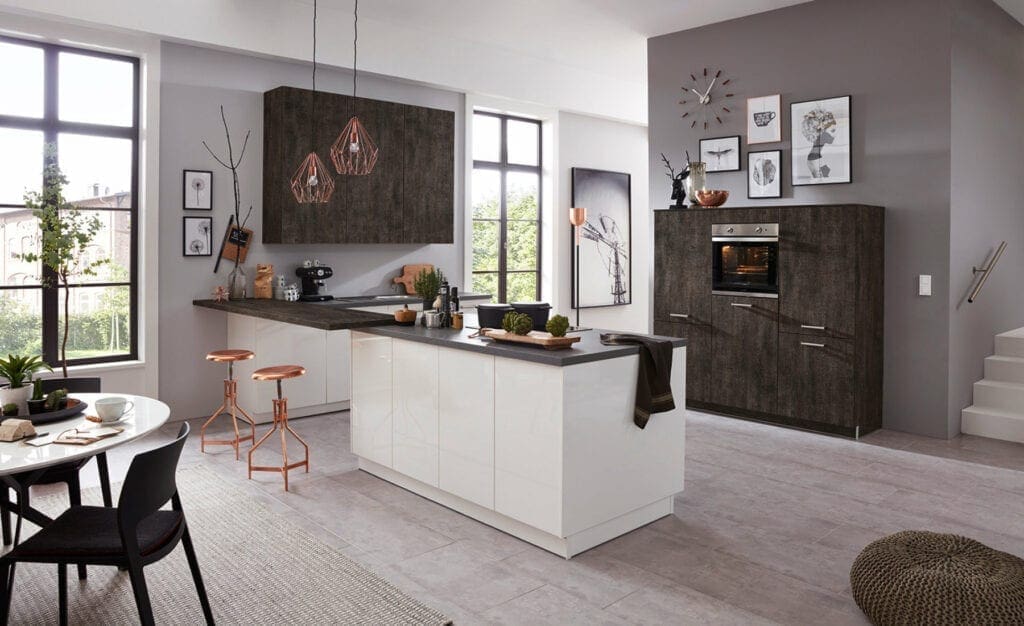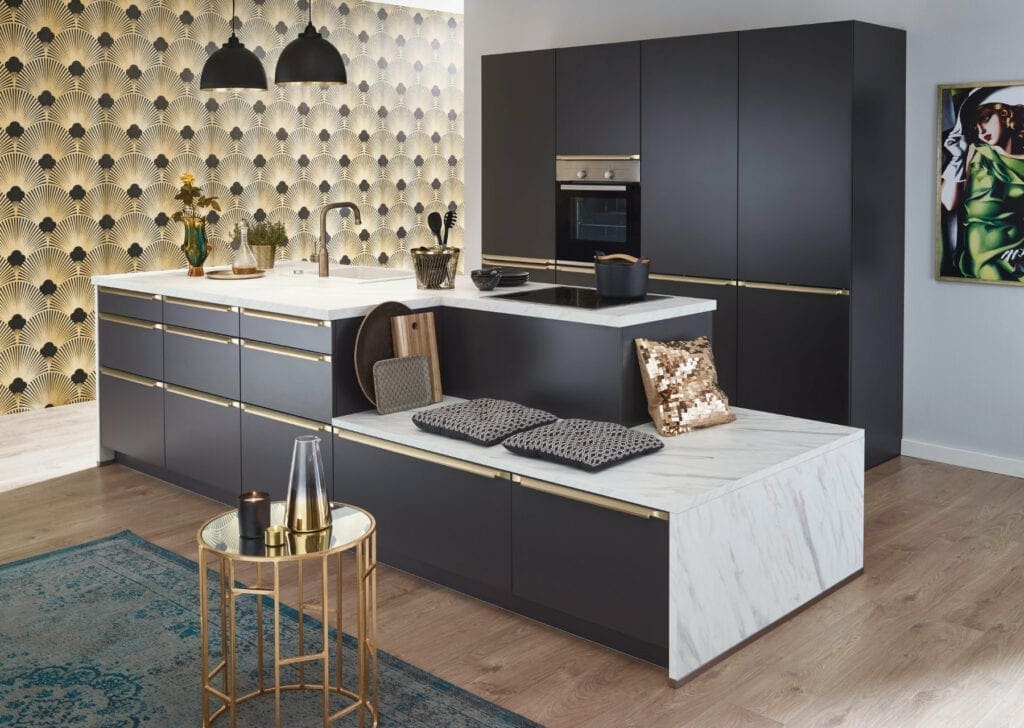 Designer Kitchen Worksurfaces
The kitchen worksurface you choose can make a big impact on your kitchen's overall look. And it doesn't have to be expensive granite or marble that will make a statement in your home. Instead, engineered surfaces such as Quartz or Corian® are expertly finished so they can rival these more expensive stones, equalling them in the wow factor stakes. Whilst both are available in an extensive range of colours, Corian® is particularly effective in achieving wow factor for kitchens as it can be moulded to form stunning shapes, including curved worktops or breakfast bars.
Timeless kitchen furniture and finishes
A classic style such as black and white, or simple palette of clean and neutral colours brings effortless kitchen wow factor. A handleless finish effects a minimalist look which is clean and sophisticated, whilst white also enhances the feeling of space. Both styles are timeless and ensure the kitchen's look won't fade or date with the passing of time. But don't forget, an all-white kitchen is a great platform for letting feature pieces stand out, such as a statement splashback, in tiles, coloured glass or porcelain. Through such accents you can easily bring character to an all-white kitchen and put your own personal stamp on it.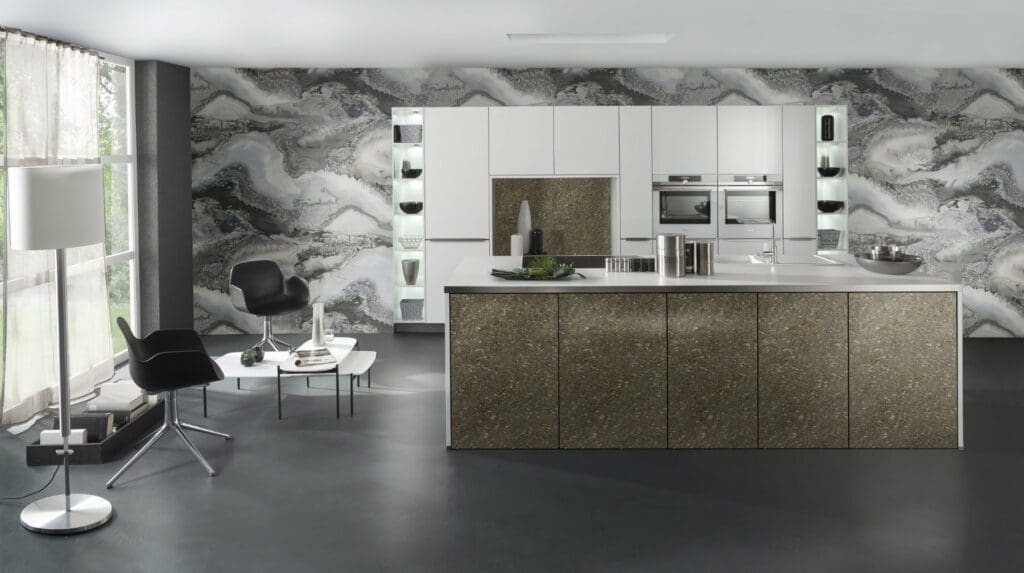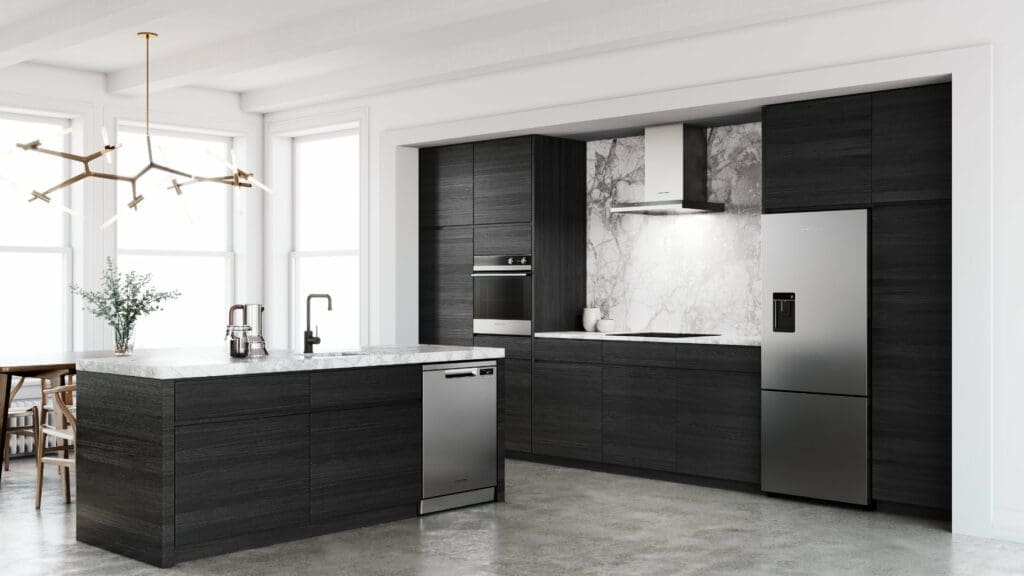 Designer Kitchen Appliances
As mentioned earlier, perceptions of 'wow factor' differ from person to person…but people of all cooking abilities are likely to appreciate the wow factor Smart technology of modern cooking appliances. From self-cook and self-clean functions, to accelerated cooking programmes, and ovens with steam cook capability or impressive sous-vide functionality! And for the wine connoisseurs? Elegant, dual zone wine coolers with capacity for as many as 144 bottles and designed to match seamlessly with your designer kitchen cabinetry's aesthetic.
Want the 'Wow Factor' for your kitchen?
If you would like a designer kitchen with wow factor for your home, contact the Kitchen Experts today who can put you in touch with a local, recommended kitchen supplier. Working with an expert is the best way to achieve a stunning kitchen design, whilst also accommodating your wants, needs, lifestyle and budget.