Are Blue Kitchens On-Trend?
Refreshing, and timeless, blue kitchen tones are particularly favourable within interior design right now, ranging from soft blue pastels to dark moody blues, navy, indigo and petrol tones. Easy to work with and suited to both modern and traditional kitchens of any size, blue kitchen doors are a trend for everyone, making a stylish and lasting statement for the home. People's willingness toward colourful kitchens is a feat to be embraced, so here, we look at some popular blue kitchen ideas and how you can successfully incorporate blue colour tones within your kitchen…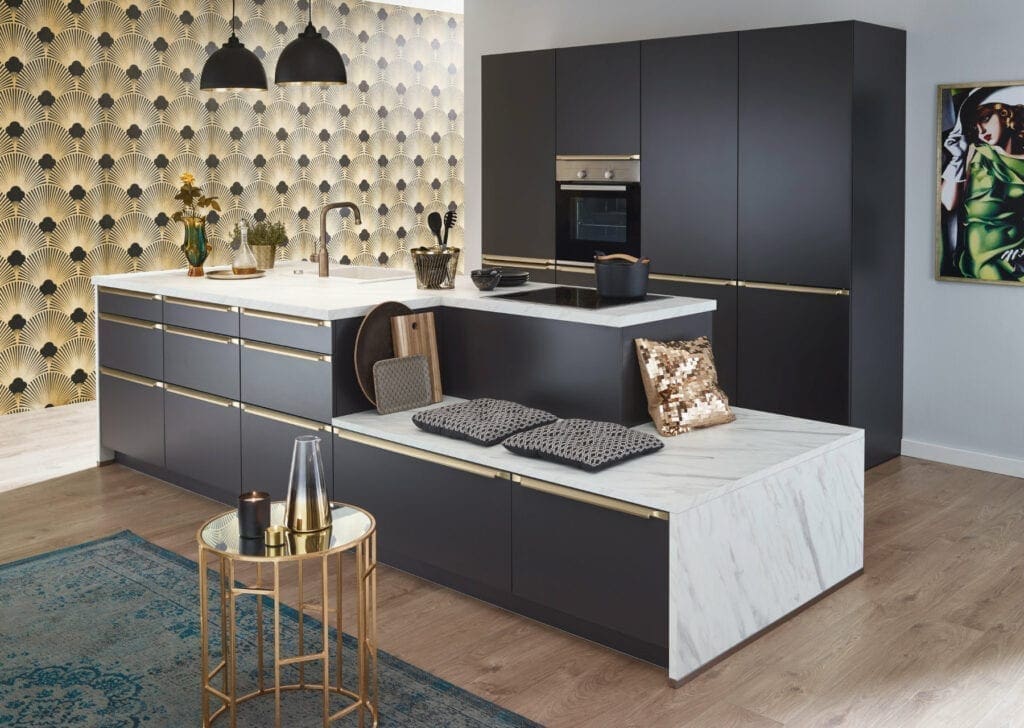 Planning Your Blue Kitchen Cabinets
Blue is a stylish, appealing, and versatile kitchen colour, available in many different shades and finishes, which means the possibilities are virtually endless when it comes to designing a kitchen scheme. But it is also a strong colour so will have a big impact on your kitchen's overall look. With some blues easier to introduce than others, here are some general pointers to help you in choosing your perfect blue kitchen doors: –
Have You Got the Blues?
Firstly think about what kind of kitchen mood you want to create when considering different blue tones. Some blue kitchen tones are very serene and calming, others bright and cheerful, yet others quite dramatic or formal. Blue can be used in many ways so think through what kind of ambience and feel you want to achieve for your kitchen space.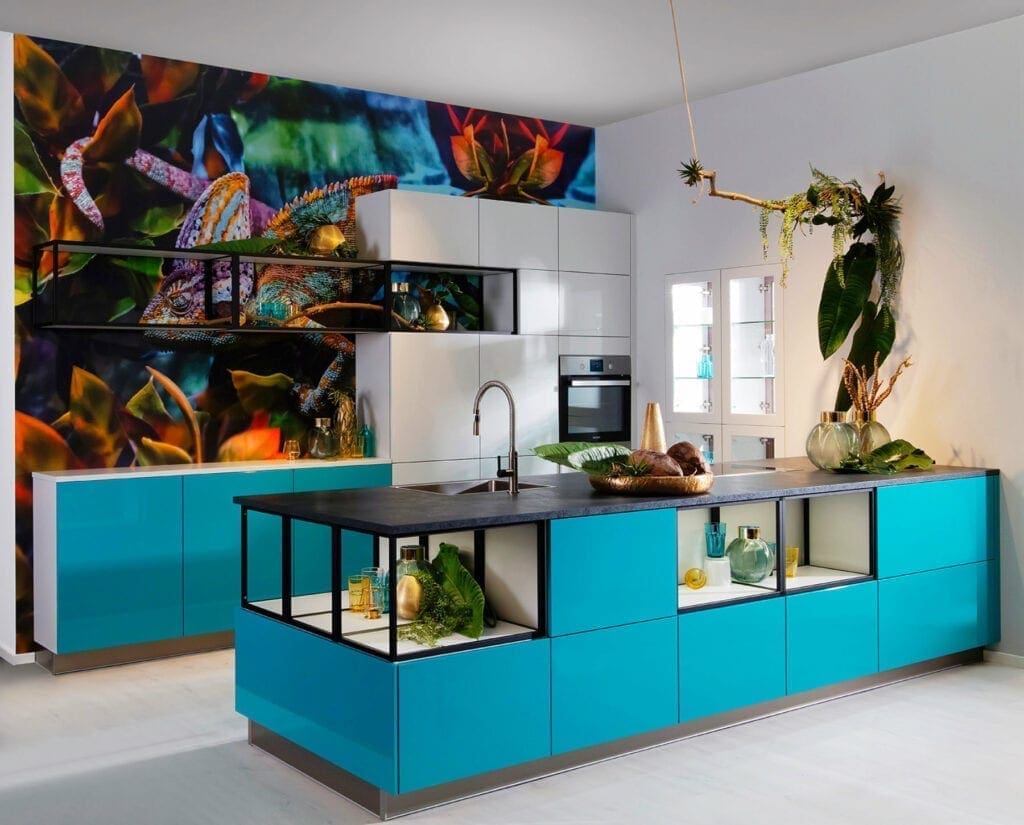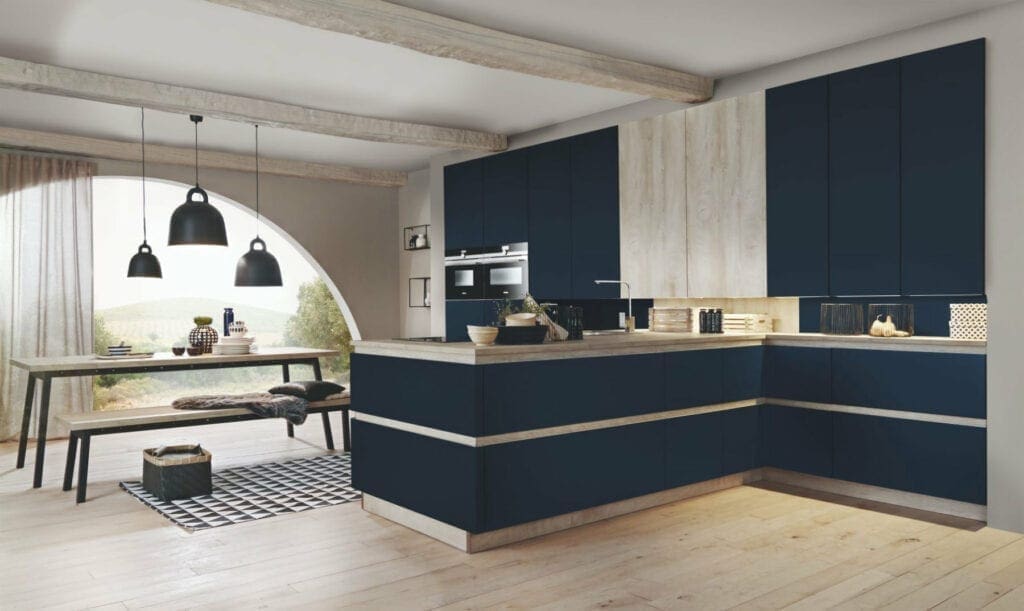 Lighting For Blue Kitchens
An important factor when considering different blue tones for the kitchen is to assess the lighting within your intended kitchen space. Blue is from the 'cold side' of the colour wheel so works best for south-facing kitchens, or kitchens that receive generous natural light. Cool tones will work for kitchens that receive less light too, but need careful planning, and often a lighter blue tone may prove the best option.
For darker colours, you might need to introduce light and warmth through additional lighting, or with accents from the warmer side of the colour spectrum such as warm woods. Alternatively, blue's complementary colour is orange, from the opposite side of the colour wheel.
Planning A Small Blue Kitchen
Again, it can depend on the amount of natural light your kitchen receives but light blue kitchen tones are best for smaller kitchens as dark tones can make a kitchen feel small and enclosed. If you want a dark blue tone within a smaller, darker kitchen then consider it for base units only, and with a lighter colour on top. Light shades at eye level will appear to recede from the eye and this gives the impression that a room is bigger than it really is.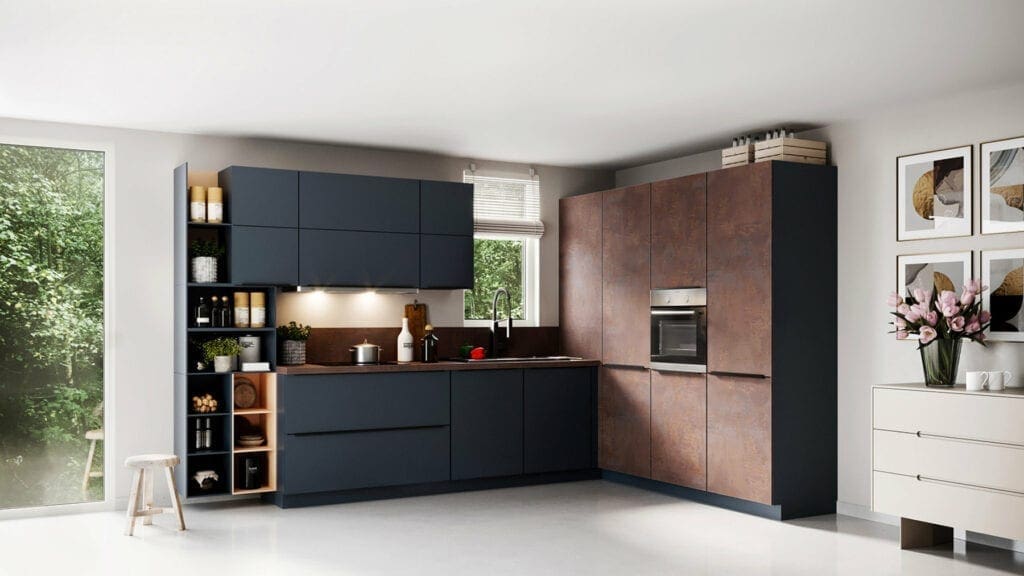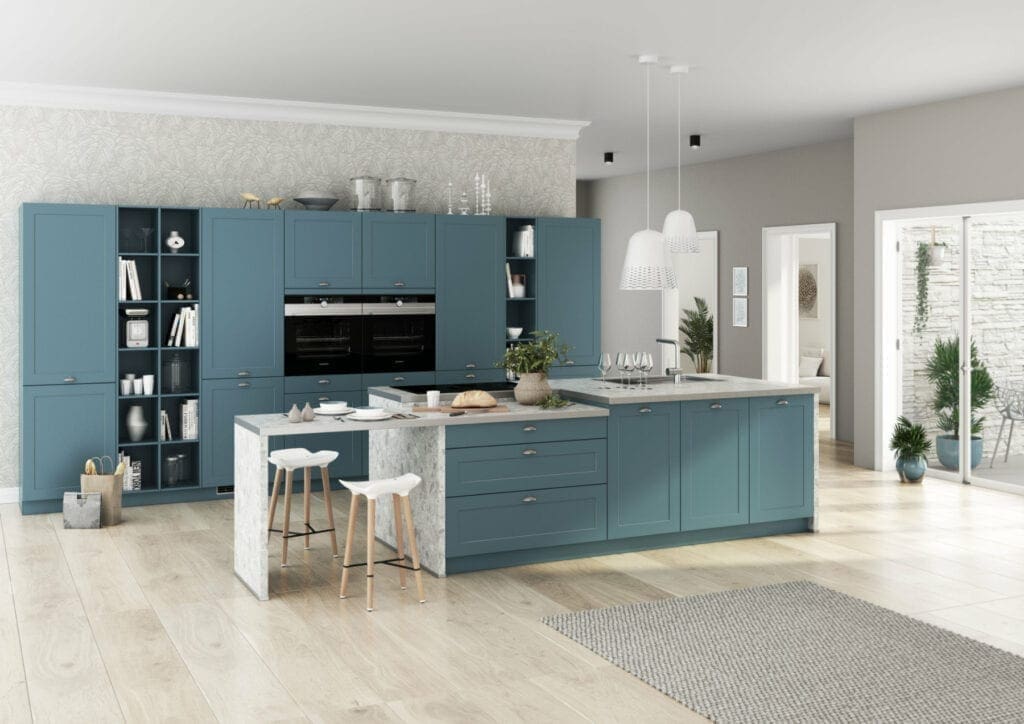 Traditional and Country Blue Kitchen Schemes
There is nothing quite like the charm and warm welcome of a traditional kitchen. More in demand than ever, but increasingly popular, are country kitchens in bolder, modern colours compared with traditional wood, cream or white. More so, green, grey, and of course blue country kitchens are desirable, paired with wooden worktops and flooring. Blue tones create a more modern look for this very traditional style of kitchen door. Use light blues such as periwinkle, duck egg, or the Pantone colour of the year 2022, 'Veri Peri' to create a welcoming space in your kitchen. With blue tones associated with calm and tranquillity – pre-existing qualities for a country kitchen – the colour combination produces an ultimate feel of kitchen serenity, ideal for an inviting family kitchen space.
Light Blue Kitchen Cabinets
Light blue kitchen doors creating a luxurious modern kitchen look, typically bright and cheerful in its feel. It is best complimented with a light-toned décor such as white or cream, tailoring the look for balanced sophistication. Alternatively, you might contrast a soft blue colour palette with delicate light greys or medium wood tones for a harmonious look. Blue gloss kitchen doors and worktops in a gloss finish will complete a modern kitchen look, whilst a light, wood floor will add depth and texture to the scheme, while keeping a welcome quality of space and airiness.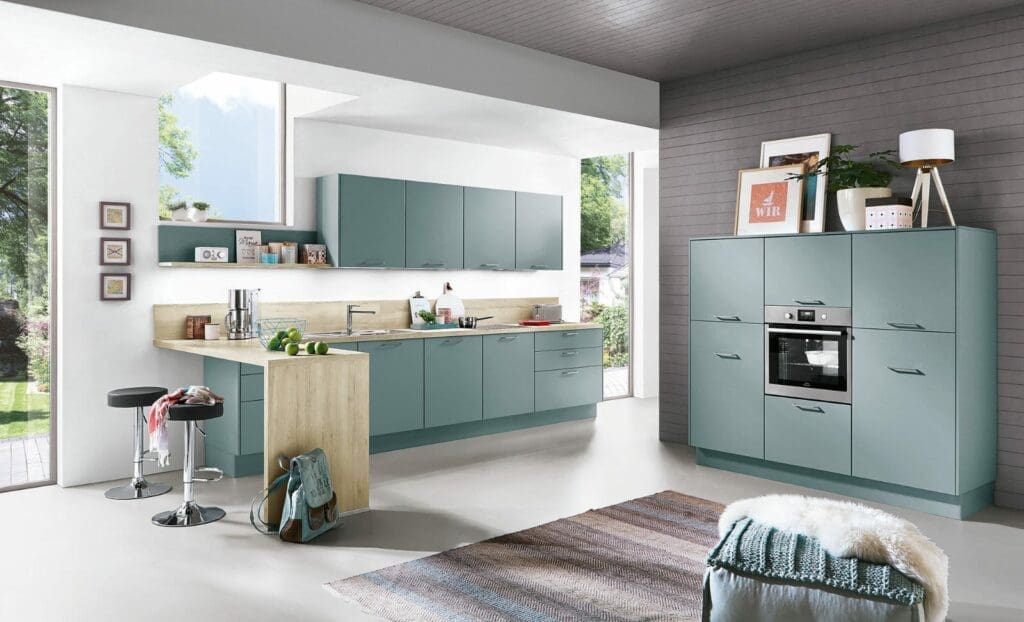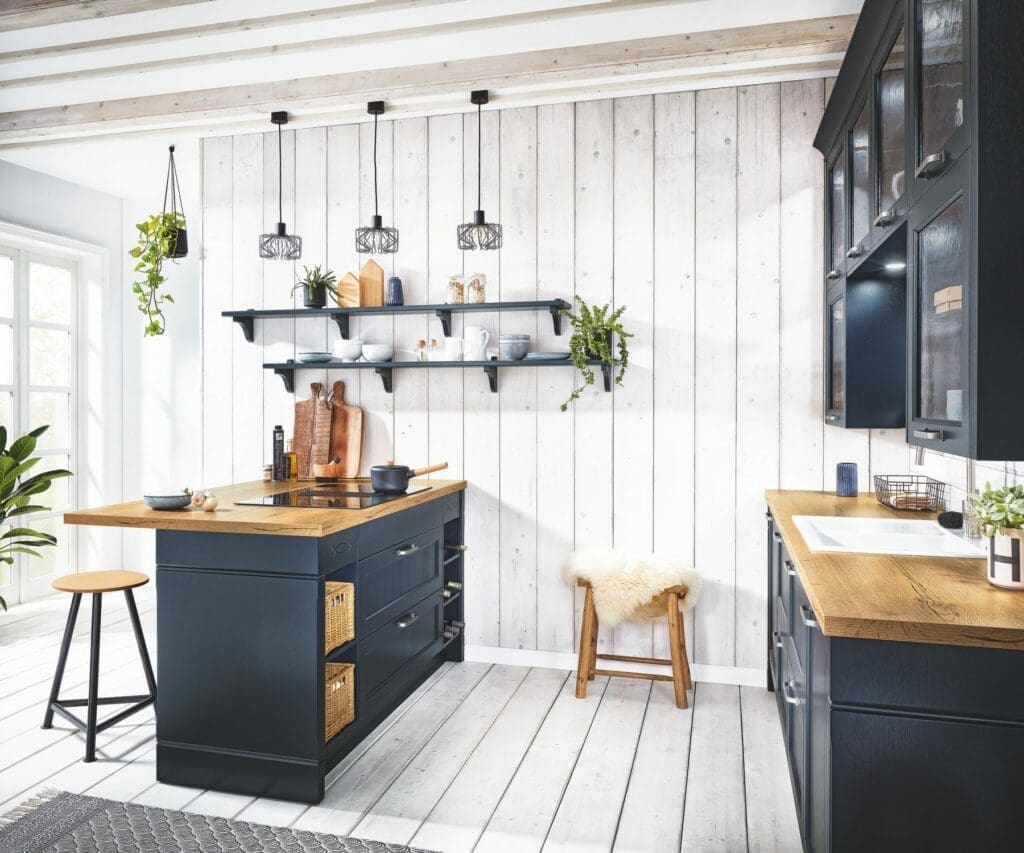 Blue and White Kitchens
A popular choice for blue kitchens, and an easy scheme to bring in, is the combination of blue kitchen against a white decor, achieving a crisp, fresh, 'Hampton's' kitchen feel! This combination creates a classic and timeless kitchen look but key to its success is warming accents which add character and together breathe life into your scheme. This might be statement pendants over a kitchen island, a veined marble worktop or splashback, or warm wood flooring, all of which pull the overall scheme together into a successful kitchen look.
Dark Blue Kitchen Cabinets
The most popular of all blues for kitchens, and a trend set to stay is the dark or navy-blue kitchen theme. A rich blue tone such as navy or indigo will create a solid, calming kitchen presence and will work for any style of home or property. Whether matt, gloss, or shaker style, dark blue kitchens are effortlessly sophisticated, timeless, and versatile too. Whilst darker blue kitchen tones tend to (though not always) exude more formality, its versatile nature means you can accessorise to achieve any look you want with this tone.
A light and neutral décor beautifully compliments dark blue kitchen tones, and pale worktops and flooring is advisable to bring balance and prevent dark colours from overwhelming the kitchen.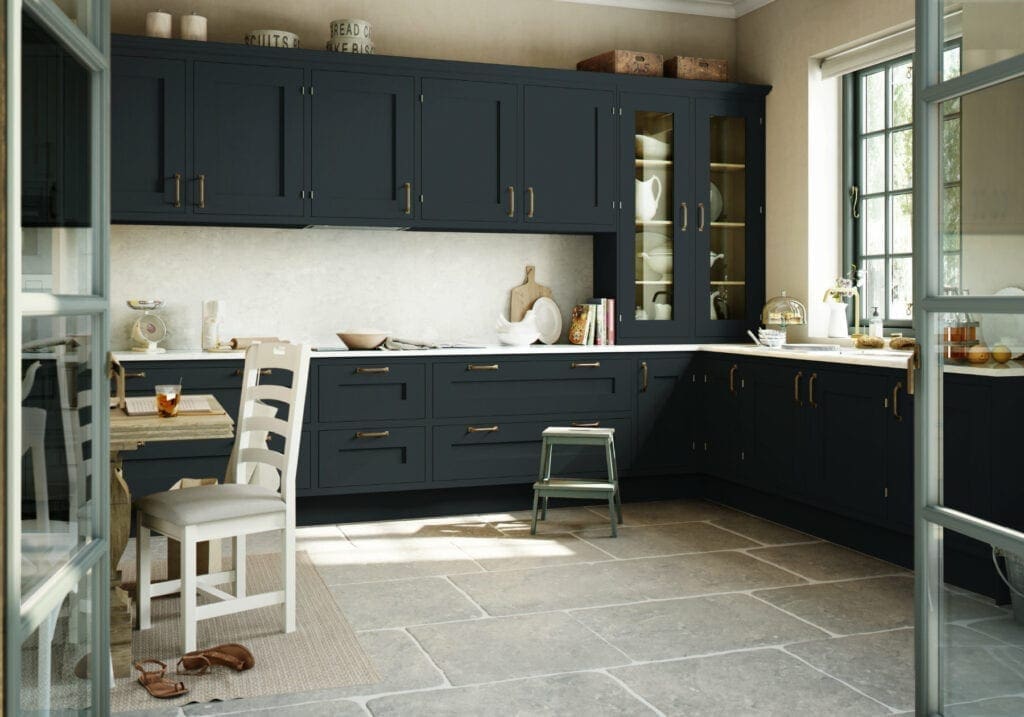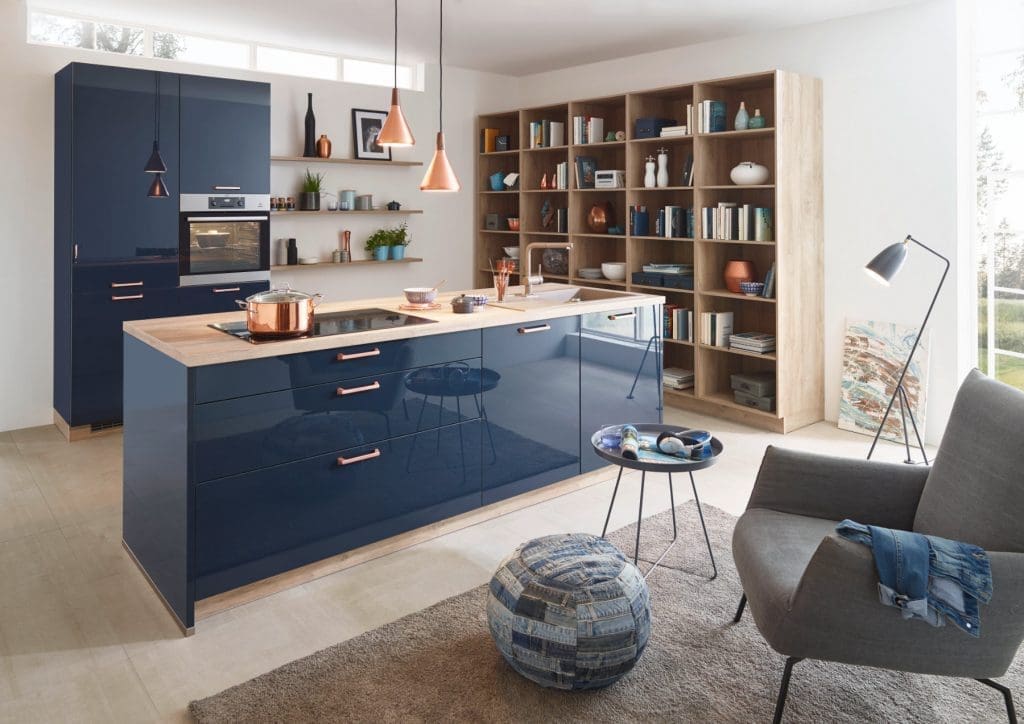 Blue kitchens with metallic accents
Combine your blue kitchen doors with metallic accents and you will instantly elevate your kitchen's look with a welcome touch of glamour! Whether for handles, taps, or lighting, metallic kitchen finishes bring wow factor, and even small metallic details can have a big impact on the look and feel of your kitchen. For example, statement gold, copper, or rose gold stands out beautifully against deep blue kitchen tones and can completely transform the look of a traditional shaker kitchen with a welcome modern twist. For a more pared back look, you can introduce silver handles and hardware, or else the modern, high-end look of brass and gold handles will breathe warmth into a bold dark kitchen scheme.
Two Tone Blue Kitchens
Mixing and matching colour tones and different cabinetry finishes is very popular within kitchen design. The two-tone kitchen style works beautifully for blue kitchens, and especially for anyone keen on bold colour, but a little trepidatious over its introduction.
There is a wide array of possibilities for combining blue kitchen tones, including subtle contrasts of similar blue hues, complimentary colours, or else combining blues with an entirely different colour and style, for a more pronounced distinction. The blue country kitchen is a popular example of this wherein, the appreciable blue tone is accentuated with a blend of wood kitchen doors or accents. These also act to solidify the kitchen for a rich and warm kitchen look. Alternatively, a kitchen island is perfect for a standout blue colour tone, creating an impressive focal point for your kitchen space.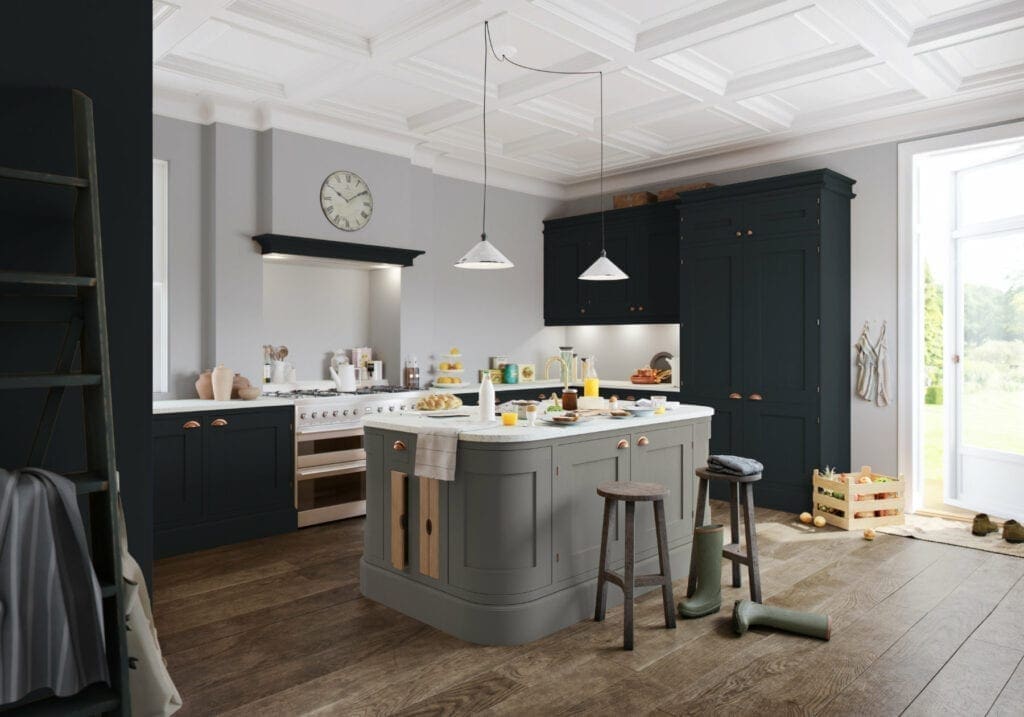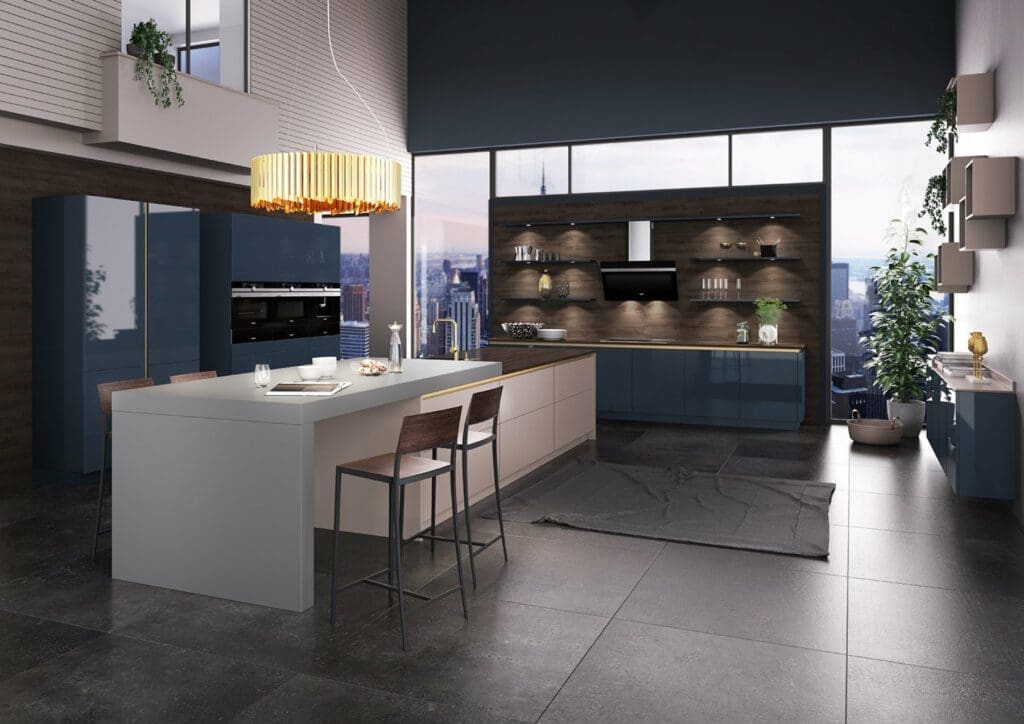 Blue Kitchen Accessories
Should you feel unsure about committing to blue kitchen furniture (including in a two-tone arrangement) then why not start by introducing blue accents for your kitchen instead? Hints of blue are a less permanent solution, but the strength of the blue colour tone means it will still favourably influence your kitchen's look. Consider implementing blue kitchen accents such as a blue splashback, lighting, a blue range cooker, blue paint for your wall, as well as blue accessories such as glassware, chairs, blinds, etc. Accents allow you to try out the blue kitchen colour and are easily changeable if not to your liking. Otherwise, they are a good warm up in preparation for a beautiful blue kitchen design!
Find Your Perfect Blue Kitchen Tone
In our choice of home décor, we have the means for conveying personality, and a wide variety of kitchen colours and styles enable us to easily express our individuality. After all, how boring would it be if everybody's home looked the same? Blue is a perfect example of this and with so many blue kitchen doors available it offers a great opportunity for flexibility and personalisation within a design. So whether bold and bright, or else rich, dark, and luxurious, there is a blue tone to suit every taste, space and budget too. For help in finding your perfect shade of blue, contact the Kitchen Experts today!