Find your perfect wine cooler with the Kitchen Experts
Wine coolers are convenient, stylish, and highly efficient kitchen appliances. They make a great introduction to the art of storing fine wine, an excellent choice for both the beginner wine enthusiast, as well as for the more experienced connoisseur! Integrated or free-standing, wine coolers are designed to maintain specific temperature settings of your choice for either white wine, red wine, or both. Available in a wide range of finishes and dimensions, a luxury wine cooler is certain to bring a touch of class to your kitchen, and of course, much enjoyment for you! Your personal taste will influence your final decision but when choosing a wine cooler, it is important to consider the following:-
The types of wine you intend on keeping
There are many types of wine available but one thing they all have in common is they are challenged by factors such as humidity, light and temperature. When it comes to temperature, different wines require storage at different temperatures. The optimal temperature for red wine storage is between 12°C- 19°C. For white wine the ideal storage temperature is between 8°C – 12°C, and for champagne it's between 5°C – 8°C. To meet requirement most wine coolers can maintain temperatures ranging from 5°C – 20°C. Some wine cooler models also offer humidity and temperature controls for specific types of wine and their long-term storage. Ensure you choose a model suitable to the wine of your choice.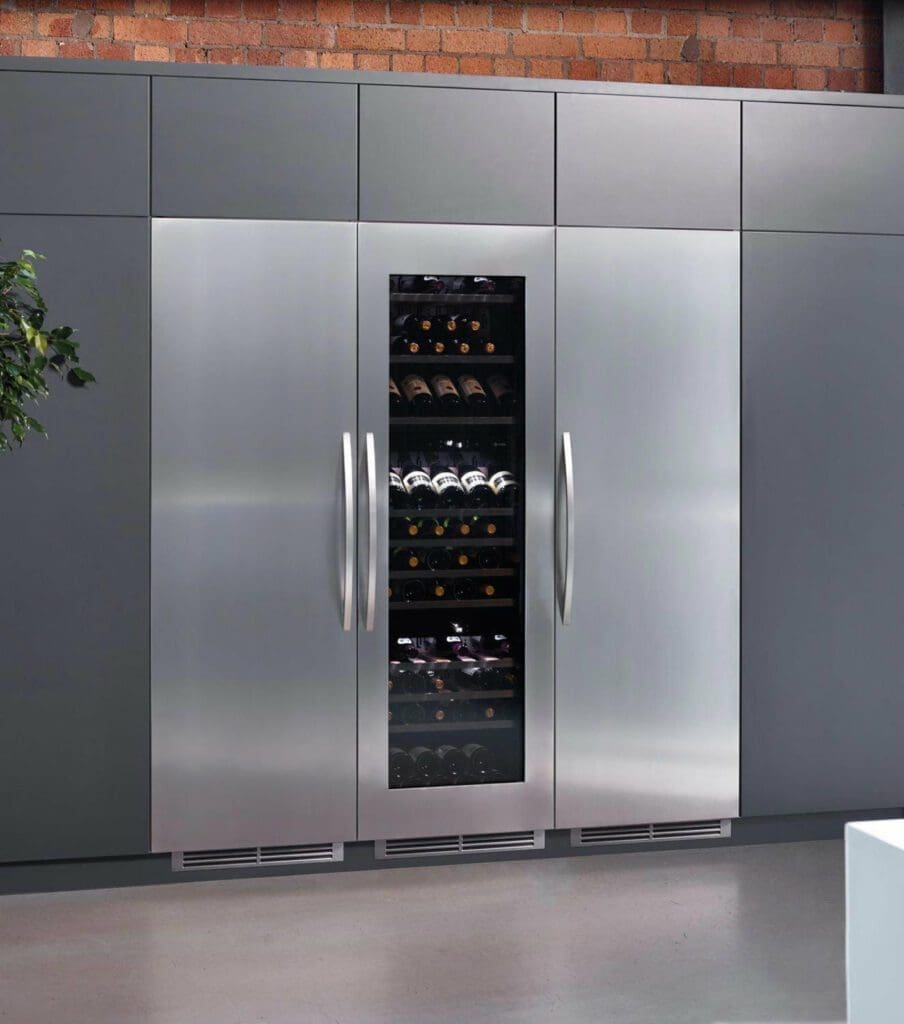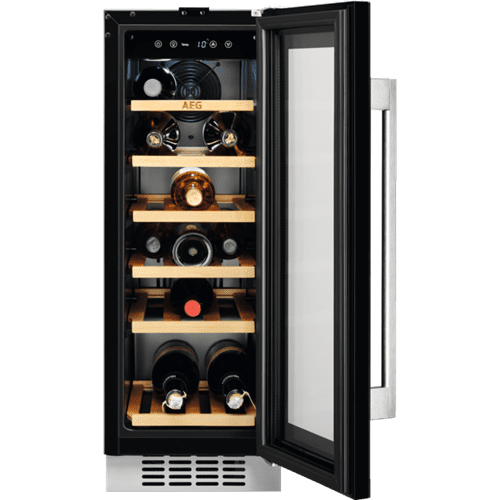 Wine cooler capacity
Bottle capacities differ between wine fridge models, so if you know you are a big wine enthusiast then ensure you choose a wine cooler with sufficient storage capacity for your needs. For example, Caple offer a convenient, slimline undercounter single zone wine cooler with capacity for either 8 red or white bottles, or else for a much larger wine collection you might choose a dual zone wine cooler with 144 bottle capacity, such as those offered by luxury appliance brand, Fisher & Paykal. It is also important to check the model you want can store the type of bottles you have for example not all models can fit a champagne bottle which is much wider than a standard size bottle of wine. n.
The intended timeframe of storing wine
Not all wines improve over time and inherently, most wine does not want to survive. Instead, their longevity depends on the quality, type of wine, balance of its sugar, acid, and tannins. Wine coolers are a great option for consumers looking to store wine at ideal temperatures from between 1 – 12 months. This is the best recommendation to avoid potential spoilage.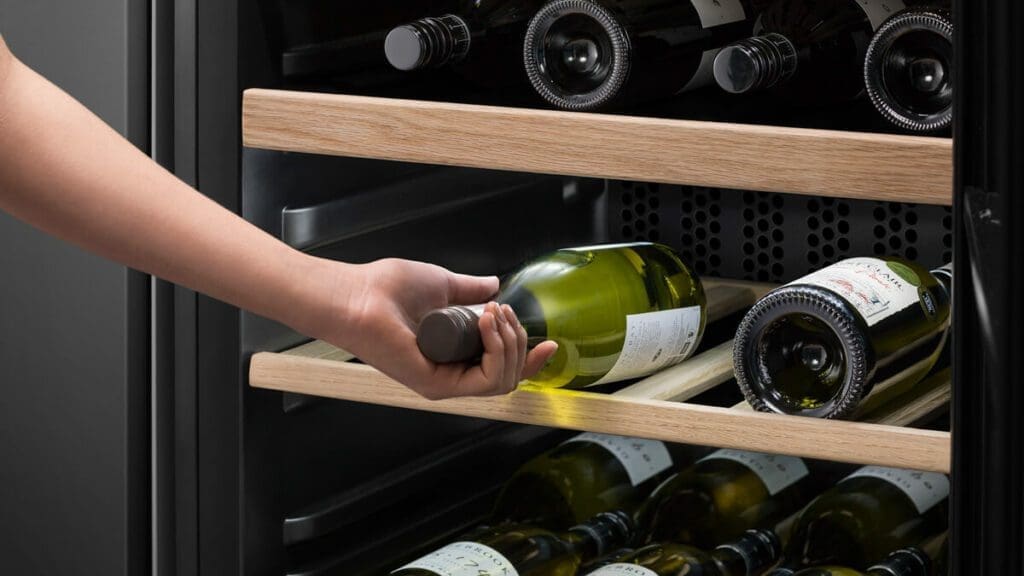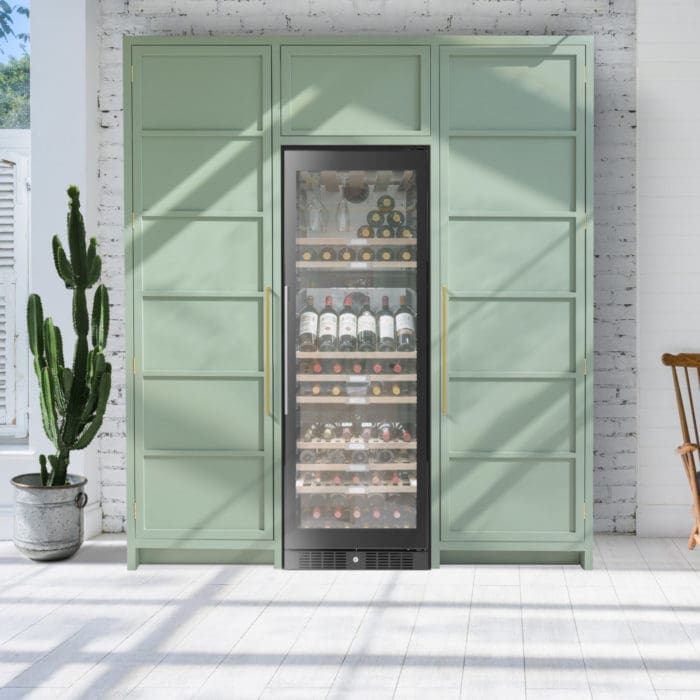 Location of your wine cooler
The temperature of the room can affect the quality of the wine, so it is best to establish an optimal place for the wine cooler in your home. Space permitting and with careful planning, wine coolers can be easily incorporated into your kitchen design, with wine coolers on kitchen islands or else generous freestanding models proving especially desirable.
Wine Cooler Access, Visibility and Safety
Whilst your wine is protected by UV tempered glass, integrated LED lighting should ensure your collection is still visible without having to open the fridge door. This allows you to showcase an impressive wine collection, as well as easily select which bottle you want without opening the door for a prolonged length of time. Similarly, many wine fridge models offer easy glide out shelves to assist you in safely accessing your wine, and you can also choose whether you want a left or right hinged door. Finally, a door alarm can prove useful, whilst if there are young children in the house then door locks are also a highly desirable feature.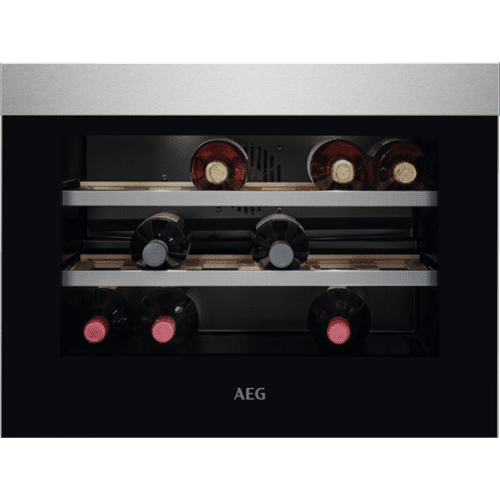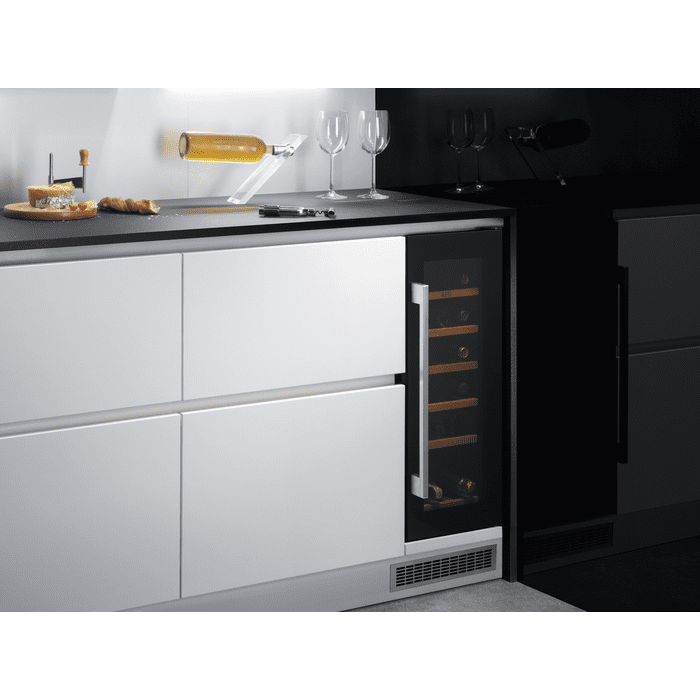 Environmental impact
We should all consider the impact our choices have on our environment – as well as our electricity bills. As most new wine cooler models are designed and built with the lowest possible energy consumption levels, you can rest-assured you are contributing to environmental wellbeing.
How wine coolers work
Light and UV rays can cause wine to spoil or age prematurely. To prevent this, most coloured bottles of wine have UV filters incorporated. Yet this does not mean they are fully protected as exposure to light may still occur. For this reason, wine coolers have special inbuilt lighting which offers additional UV protection, whilst insulating the wine to bring out the best characteristics, regardless of vintage or grape variety. Furthermore, wine coolers are equipped with built-in racks, which provide storage but also ensure the wine bottles lie on their side. By storing wine on its side, the cork retains its moisture through constant contact with the wine. This also stops the cork from shrinking which would allow oxygen to seep into the bottle and spoil the wine. Integrated with a low vibration compressor, wine fridges are also designed to ensure the settlement of the sediment in red wines without agitating the delicate balance of your wine.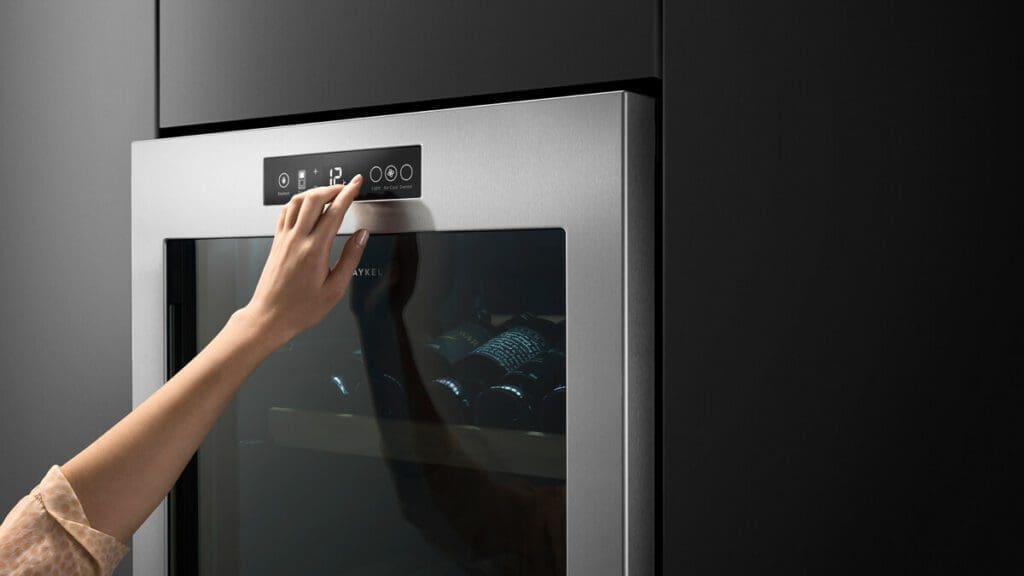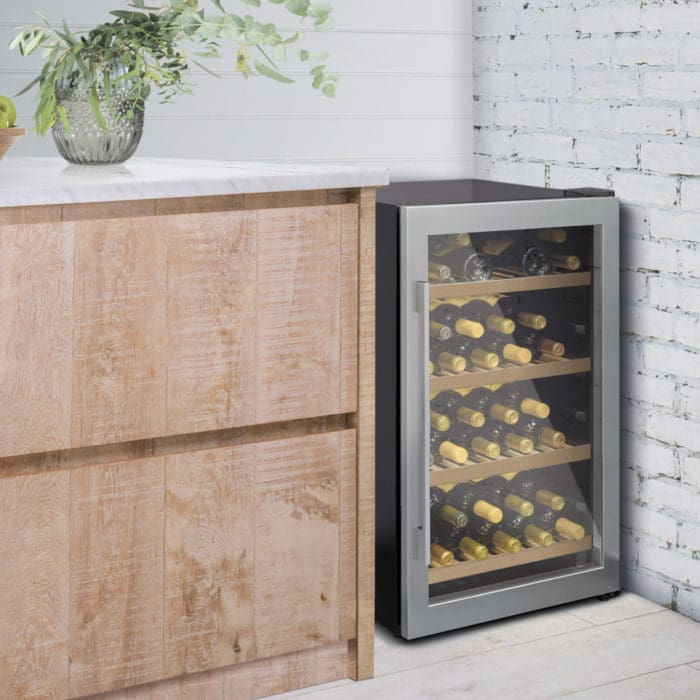 Choosing your perfect wine cooler model
There are many different wine coolers available on the market today. Navigating through different appliance model numbers, features and different pricing options can often prove challenging, so why not talk to us about your needs so we can help? This will free up more time for you to focus on equally important choices, such as which nice white to enjoy in Summer, or the best red to warm you up come Winter!
For help with planning your new kitchen (including choosing your wine cooler), please contact the Kitchen Experts today and we would love to assist.


Family Business
We are a family-run business and are happy to welcome your family into our showroom.