Want to know which kitchen trends to avoid when it comes to planning your new kitchen? Planning a new kitchen is a big commitment both emotionally and financially, and so, you will want to know which of your favourite ideas are most likely to last. There are certainly many 'of the moment' kitchen choices which appeal, but trendy design choices can quickly date, you can easily fall out of love with them, and they can even decrease the value of your home! From excessive use of bold colours to speckled granite countertops, here we break down the top kitchen trends to avoid for your new kitchen!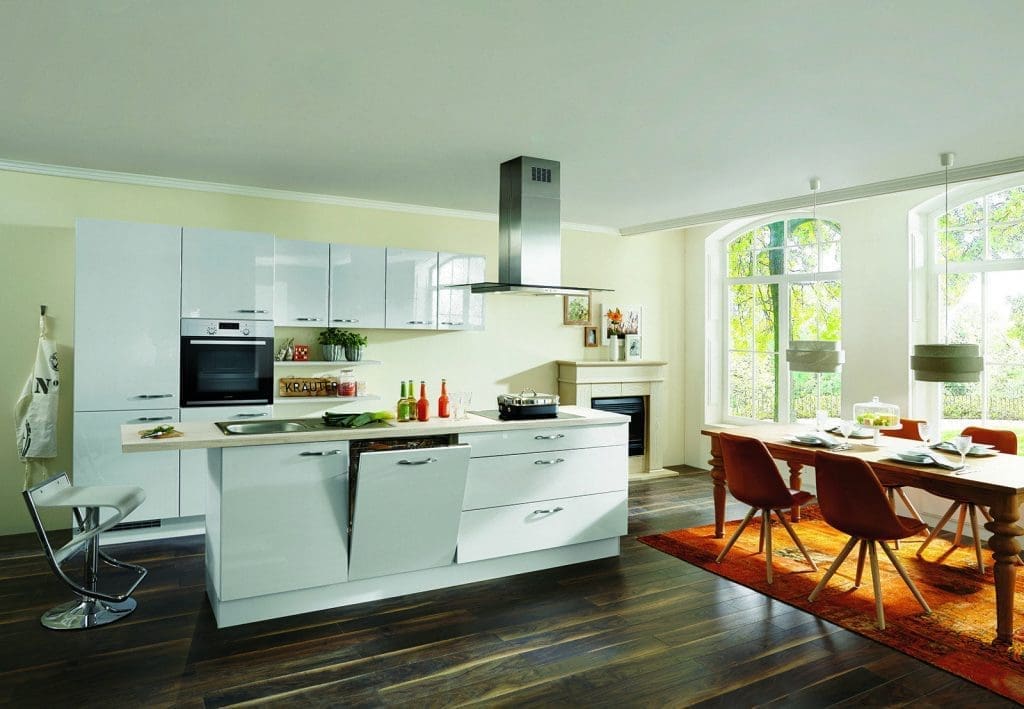 Kitchen Trends to Avoid: Gloss Kitchen Finishes
Gloss kitchen surfaces have a unique beauty to them, and you might be tempted to include them in your kitchen design. In fact, gloss kitchen doors were once a staple of attractive kitchen design, however, recent trends indicate that glossy kitchen surfaces aren't nearly as popular as they used to be. Today they are more often overlooked in favour of matt or textured surfaces. The main reason for this is that gloss kitchens can quickly look dated; their appearance is often less fresh and modern compared with matt kitchen doors which provide timeless, lasting elegance. Gloss kitchen doors are also harder to maintain than matt or textured doors, easily showing up everyday marks and fingerprints. 
Kitchen Trends to Avoid: Bold kitchen colours and patterns
You might be tempted to add a splash of colour to brighten your kitchen, and that's fine as long as you don't go overboard with this! Avoid overuse of bold or clashing colours, and particularly bold furniture colours as such trends are often short-lived! For example, turquoise and teal kitchen furniture had its moment in the spotlight a few years ago but once the trend has passed – or you're tired of it – it's an expensive and difficult look to replace.
This is true for appliances as well. Instead, it's much better to go with neutral coloured furniture and appliances, bringing colour into your kitchen in other areas which are more easily changeable; this might be the colour of your walls, artwork, small appliances such as a kettle or toaster, or even your kitchen splashback.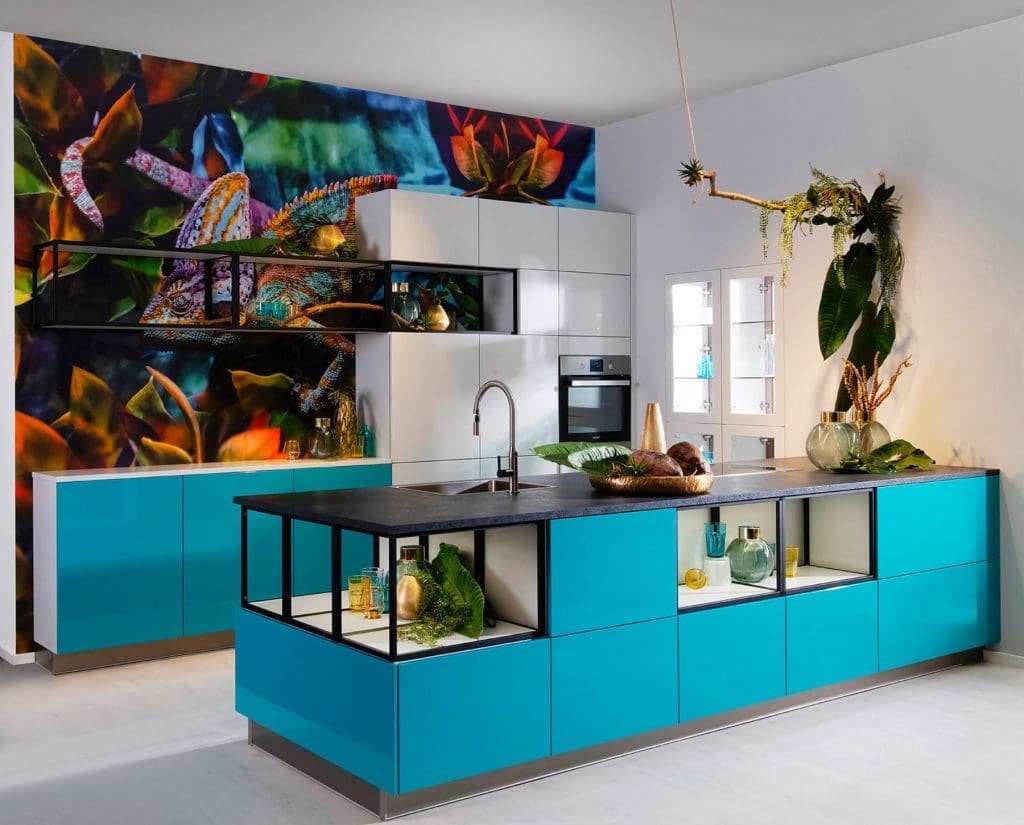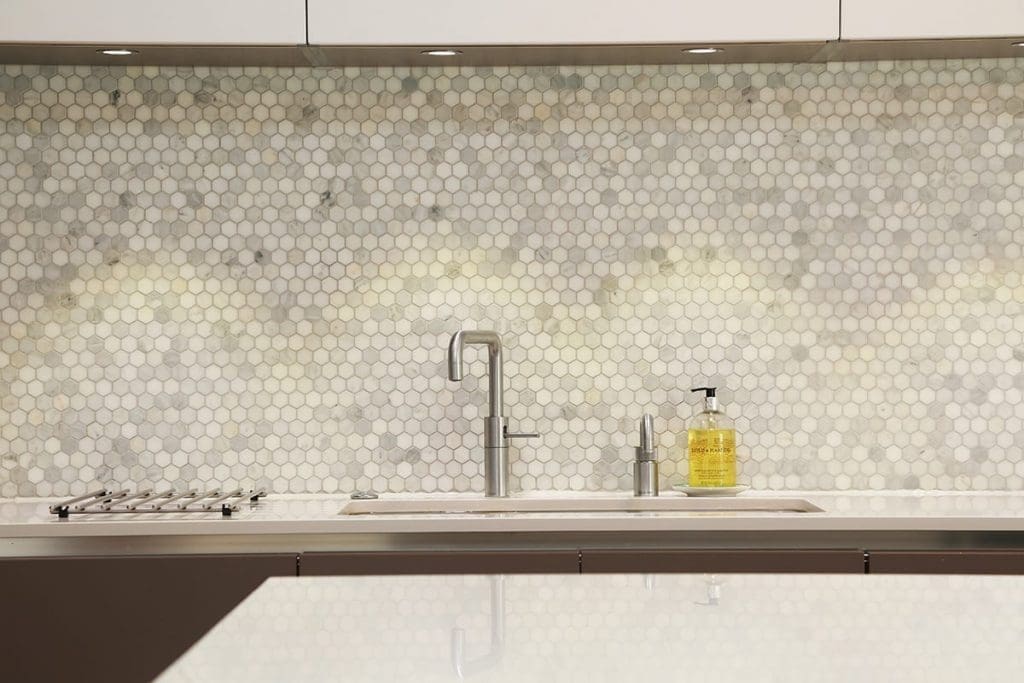 Kitchen Trends to Avoid: Patterned Splashbacks
Speaking of splashbacks, whilst their function is predominately to protect walls against splashes and spills, they are also hugely decorative, impacting significantly on your kitchen's overall aesthetic. In recent years patterned splashbacks have proved popular, with mosaics, 70's retro, and geometric patterns making a frequent appearance. However, patterned splashbacks, especially in bold kitchen colours, can easily come across as too loud or busy, drawing the eye and dominating the kitchen space. A kitchen trend to avoid, it is often better to go for neutral colours, in more discreet and lasting styles such as herringbone or a timeless metro tile.  
Kitchen Trends to Avoid: Open Kitchen Shelving
With careful planning, open kitchen shelving is a kitchen trend that can beautifully enhance a kitchen aesthetic. Open shelves have certainly been having a moment, but for how long? …Arranging dishes or glassware on open shelves is very elegant but the main problem with this trend is it is high maintenance as your shelves need to be constantly tidy. It's easy for them to accumulate clutter which very quickly spoils your kitchen's look.
More open shelves also equal more space where dust and grime can gather, ultimately making them harder to keep clean and maintain compared with enclosed kitchen storage solutions. For this reason, if you know you're prone to a bit of mess within your kitchen then this is definitely a kitchen trend to avoid!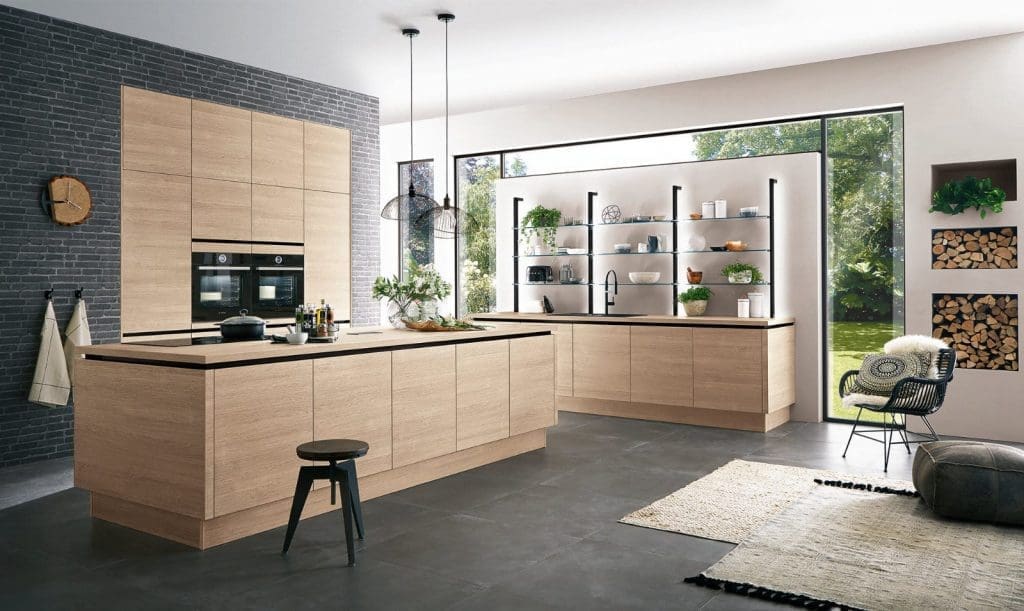 Kitchen Trends to Avoid: Speckled Granite Worksurfaces
Granite is a kitchen worksurface material that has formed a staple in kitchen design for many years. However, granite worktops are increasingly becoming a kitchen trend to avoid. This is particularly the case for darker, speckled granite surfaces which will instantly date the look of a kitchen. Instead, modern kitchen worktop trends embrace a sleek and sophisticated look, and there are many materials available which give a stunning kitchen look but which are also far less expensive than granite.  Granite is still a beautiful and durable worktop material that you can look into – but if considering this note that lighter granite will give a more timeless effect. 
Kitchen Trends to Avoid: Extreme Open Plan Layouts
Open plan kitchens are one of the most popular kitchen trends, but poor planning can also leave your kitchen too open, which actually makes your time in the kitchen more cumbersome and less efficient. Instead, a better layout incorporates a Broken plan scheme. This means your kitchen is broken into separate activity zones with designated spaces for different kitchen activities – washing, cooking, cleaning, dining etc. – while not being too restricting.  Retaining a sense of openness, zones can be differentiated through physical divides such as a kitchen island, a peninsula, a room divider, or even a change in flooring to mark where one zone ends, and another begins.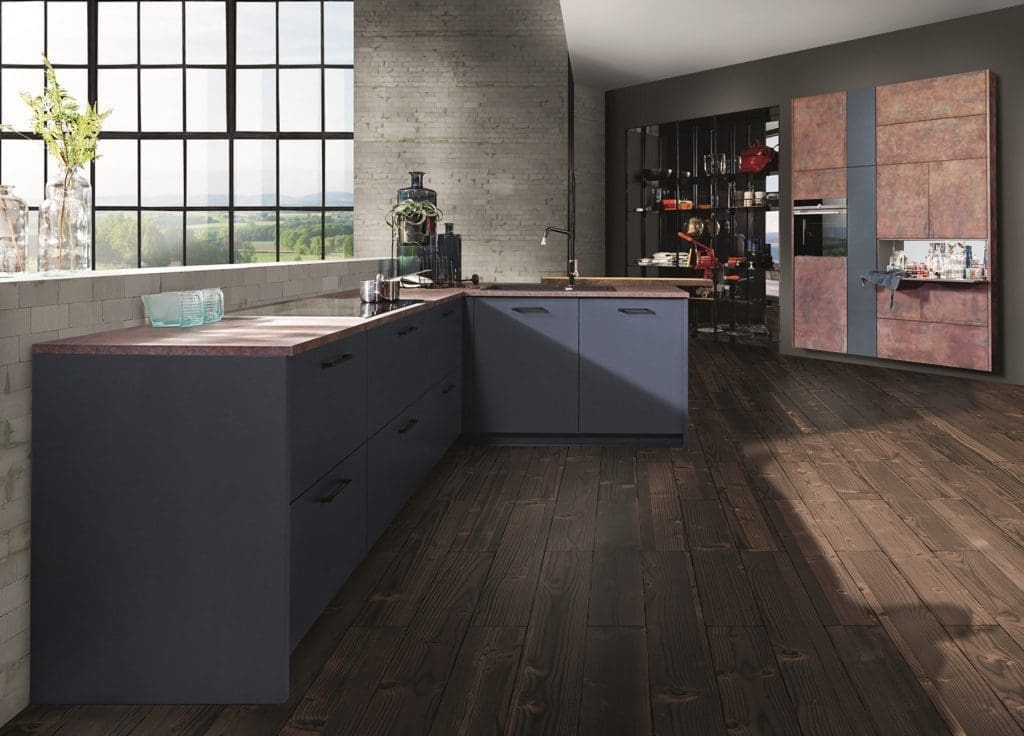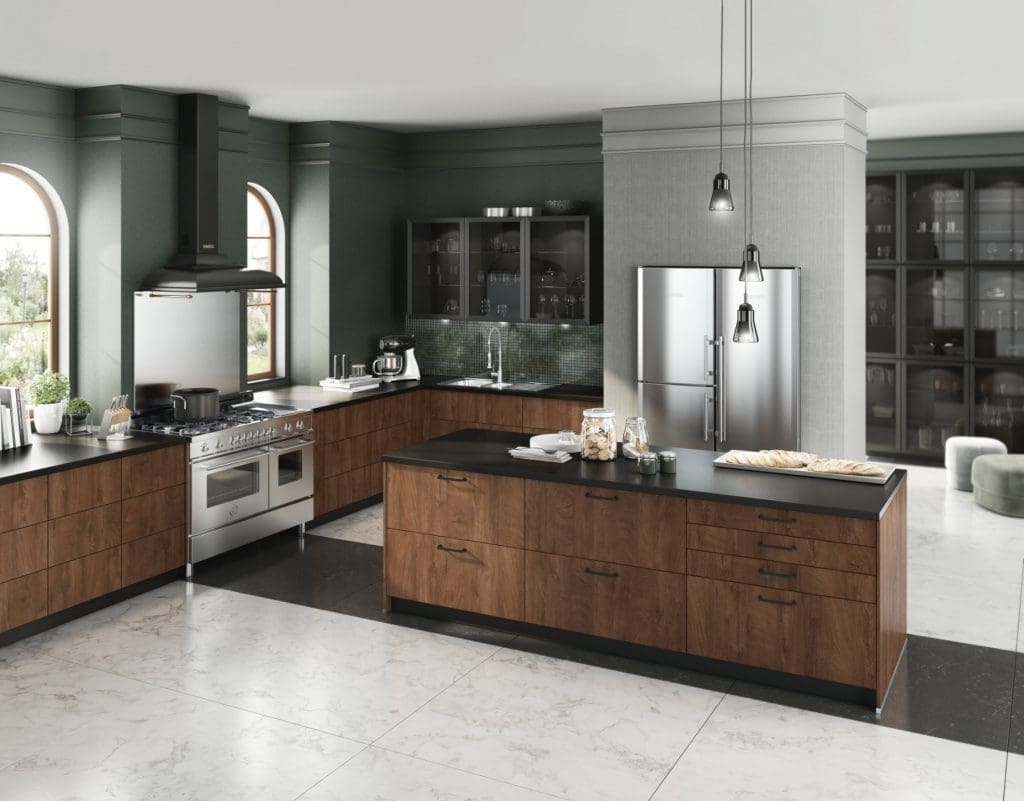 Kitchen Trends to Avoid: Dark Natural Wood Cabinets
Though wood kitchen doors remain a popular choice, dark-stained wood is no longer in fashion. If you want to implement wood kitchen doors, rather opt for lighter wood tones of which there are many beautifully textured options to choose from to enhance your space! Alternatively, dark modern woods such as black oak will make a luxurious statement for your home.  But in contrast, dark woods such as maple or walnut can make a space feel oppressive, and single out your kitchen as belonging to a bygone era!
Kitchen Trends to Avoid: All-White Kitchens
This one can be tricky, since white kitchen aesthetics are definitely still in style. It's fine to incorporate lots of white as it's a timeless kitchen colour, but the danger with an all-white kitchen is it can easily end up feeling clinical and unwelcoming. Pristine white kitchens that don't break up the uniformity with softer tones hold less appeal. Instead, it's important to bring contrast and character to the space!
Recent kitchen trends have seen a growing preference for warmer tones, and this applies to white as well. There are ways to create an all-white aesthetic with off-whites or cream, creating a more inviting atmosphere. Cool-toned whites can be very overwhelming when used in excess and create a cold kitchen feel. If you do want to make use of cool white, be sure to break it up with another contrasting colour or warm accents throughout the kitchen.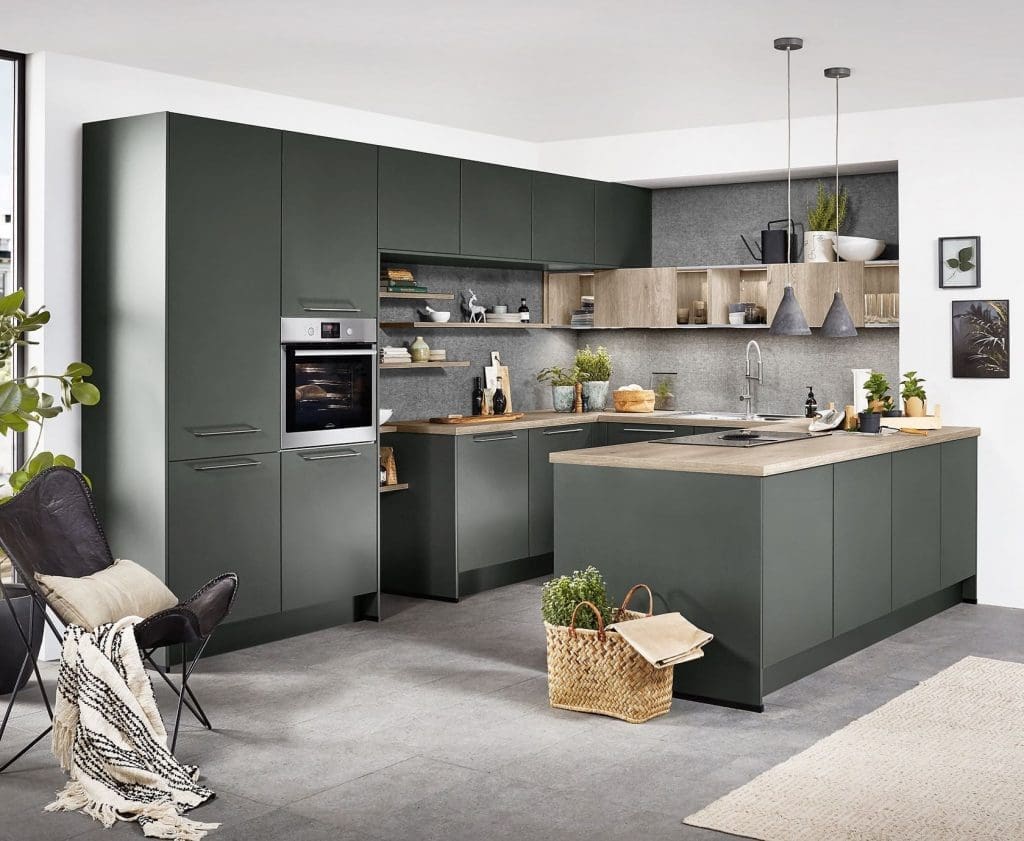 Find Your Lasting Kitchen Look!
Now you know which seemingly popular design choices come with a little more risk and are perhaps kitchen trends to avoid! Ultimately what works for you comes down to personal choice, but it typically pays to look ahead and consider if the look you love now will still appeal as much in 5, 10, or 15 years' time! For detailed advice on kitchen trends and help in creating your perfect kitchen scheme find your nearest Kitchen Expert today.