The Enduring Handleless Kitchen Trend
If you're remodelling your kitchen, you may be considering the handleless kitchen style. This is a trend that has taken the kitchen world by storm over the past decade, becoming a go-to style for kitchen owners and designers alike worldwide! And for good reason! It has a sleek, modern look that many people find appealing, with many practical benefits too. In this blog post, we will discuss the benefits of the handleless style and why it is so popular.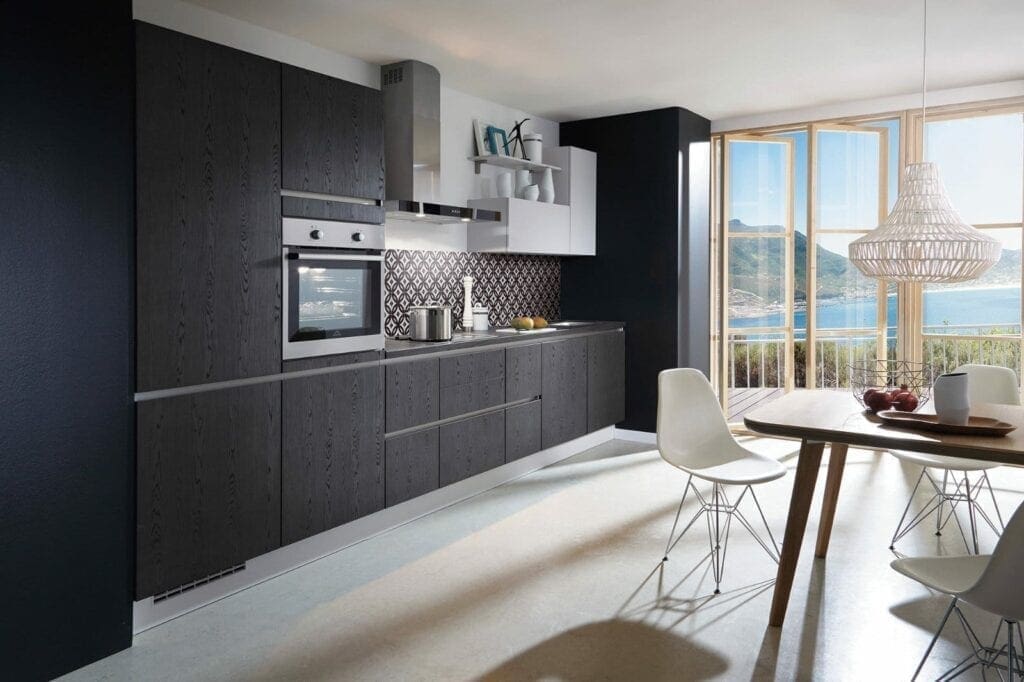 What is the Handleless Kitchen Style?
As it names suggests, this style features kitchen cabinets without any handles or knobs. Instead, the doors and drawers open by using a push-to-open mechanism. The lack of hardware gives the kitchen a sleek, modern, and minimalist kitchen look, with many practical benefits too. Since it first originated in Germany many variations of the handleless kitchen have appeared, included the J Pull and J-groove, and finger pull systems. However, there Is only one style which is considered a 'true handleless kitchen.'
What is a True Handless Kitchen?
True handleless kitchens are a clean, contemporary, and premium kitchen style, featuring a continuous channel beneath the worktop for your fingers to grasp, and in doing so open the cupboard or drawer. This channel is fitted beneath the worktop and on top of the cabinetry, whereas any drawer's underneath can be opened with a push-to-open mechanism, so once again no handles are necessary. The overall look this creates is neat, streamlined, and minimalist. The channel can be inserted in either a vertical or horizontal plain allowing you to incorporate the look for tall housing such as fridges, and fridge freezers, and in doing so maintain the look throughout your kitchen.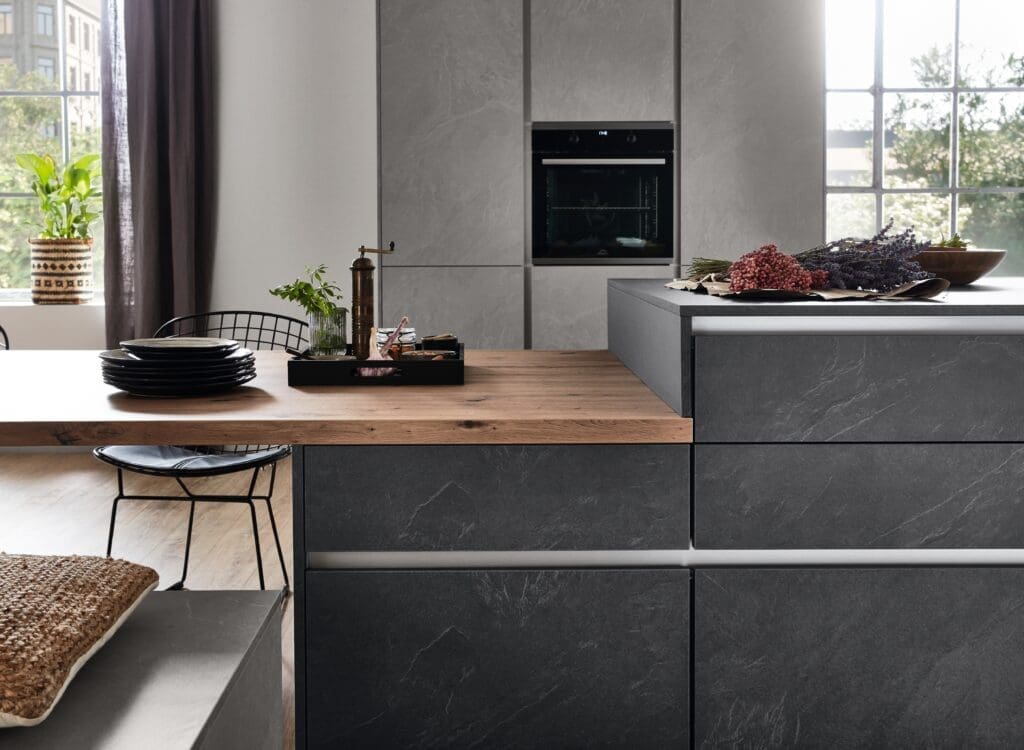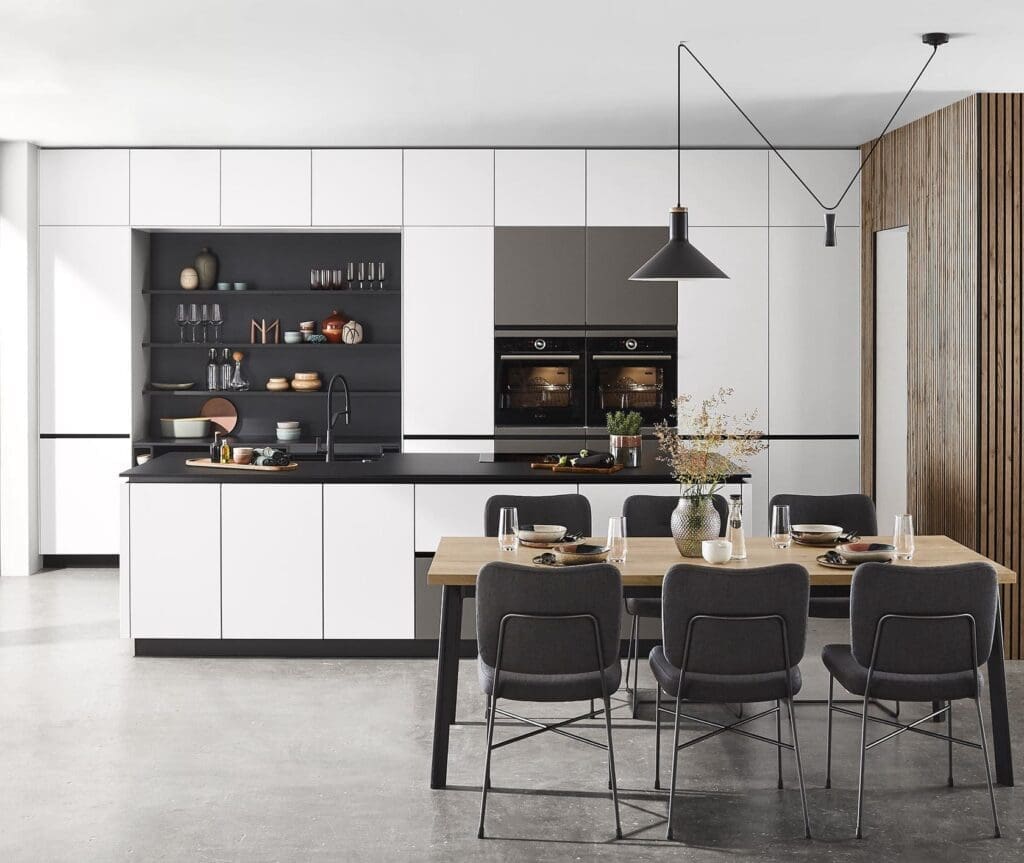 Benefits of a handleless kitchen: Why is the handleless kitchen style popular?
1. A Sleek and Stylish Kitchen Look
As mentioned, the handleless style effects a sleek, modern kitchen look that many people find appealing. The lack of handles means there's no distraction from the beauty of the doors, with clean lines and a sleek finish drawing the eye's full attention. The overall look is minimalist, and clutter-free – perfect for any modern kitchen space.
2. Handleless Kitchen Options
Handleless kitchens are now so popular they are available in nearly every style and colour of door finish. Ranging from gloss, matt, modern woods, traditional woods, ceramic, stone and even handleless shaker kitchen doors, you can achieve a whole multitude of looks for your handleless kitchen, and tailor your look to suit your individual style.
Without having to worry about what look and materials to pair your handles with, handleless doors are very versatile and accommodating of other finishes, which in turn allows a lot of space for diversity and individuality within designs.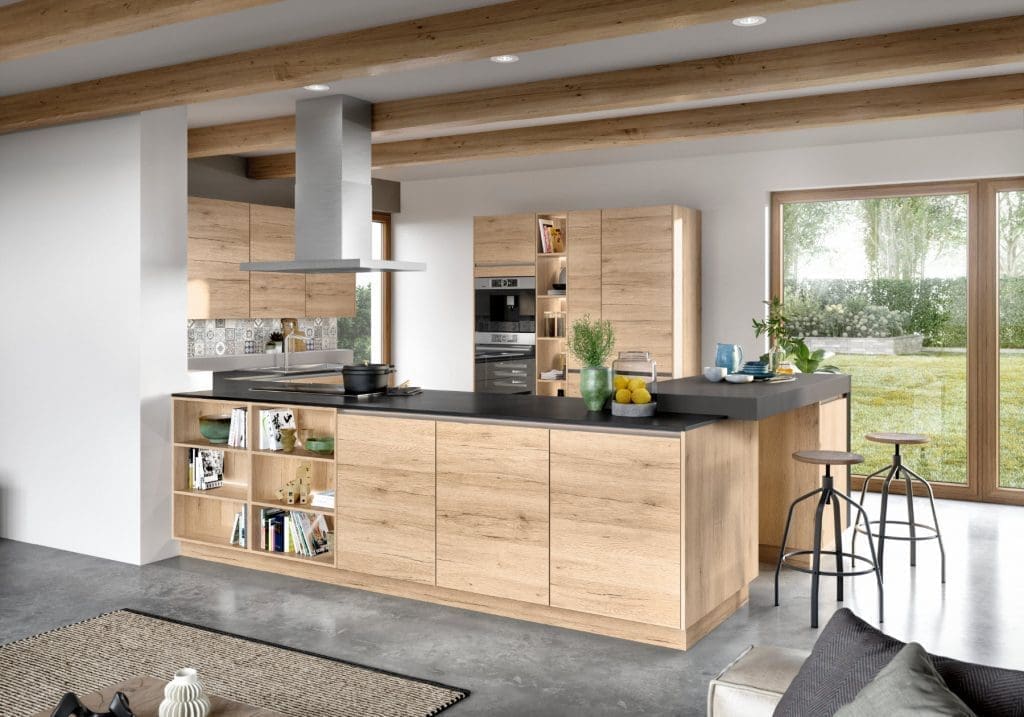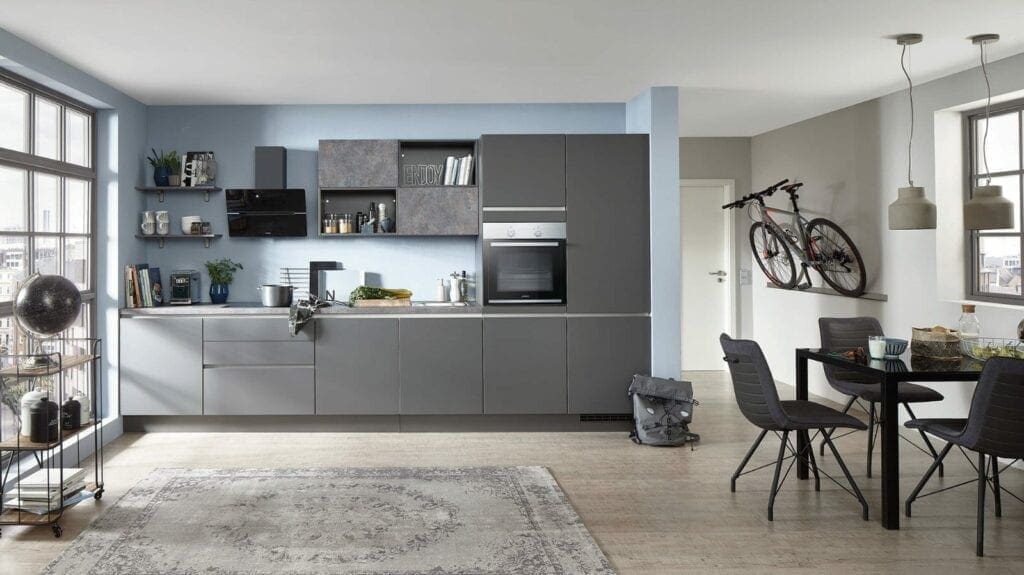 3. Functional, Space-Saving Handleless Kitchens
The push-to-open mechanism makes opening cabinet doors and drawers easy and convenient, and therefore perfect for the homes of people with modern, busy lifestyles! It can also help you save space in your kitchen since there are no handles sticking out from the cabinets. This style is perfect for small kitchens as it gives you more space and makes it easier to navigate through the kitchen.
4. Handleless Kitchens Are Versatile
Handleless kitchens easily work with other kitchen door styles, and with any style of home be it period property or an ultra-modern setting. It works particularly well within open plan settings creating a more seamless flow from kitchen to living room, whereas brassware can sometimes upset this continuity and is harder to get right. Again, this style works well for open plan settings as it can help make a space feel lighter and gives the illusion of more space.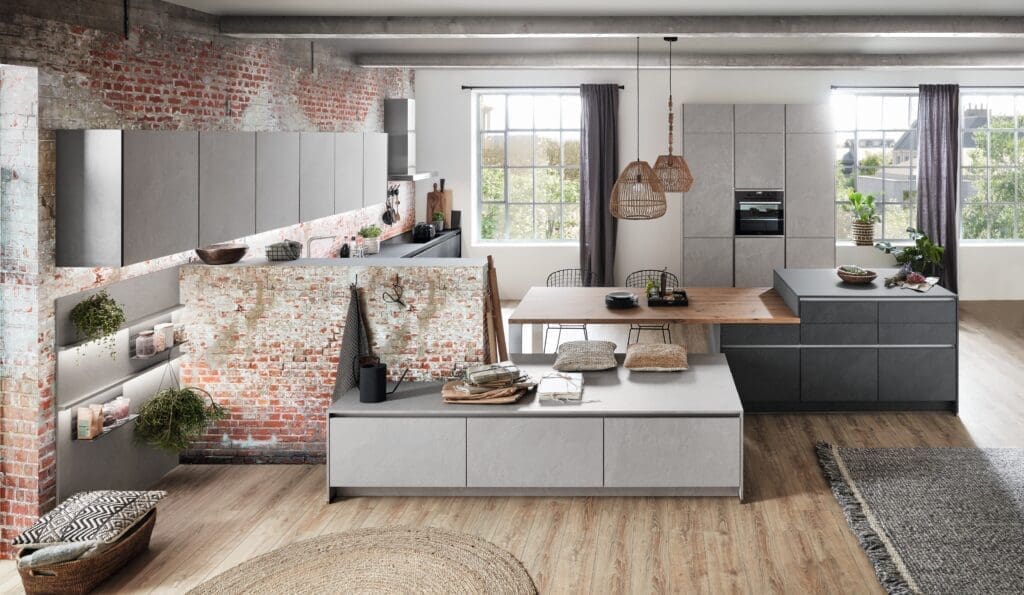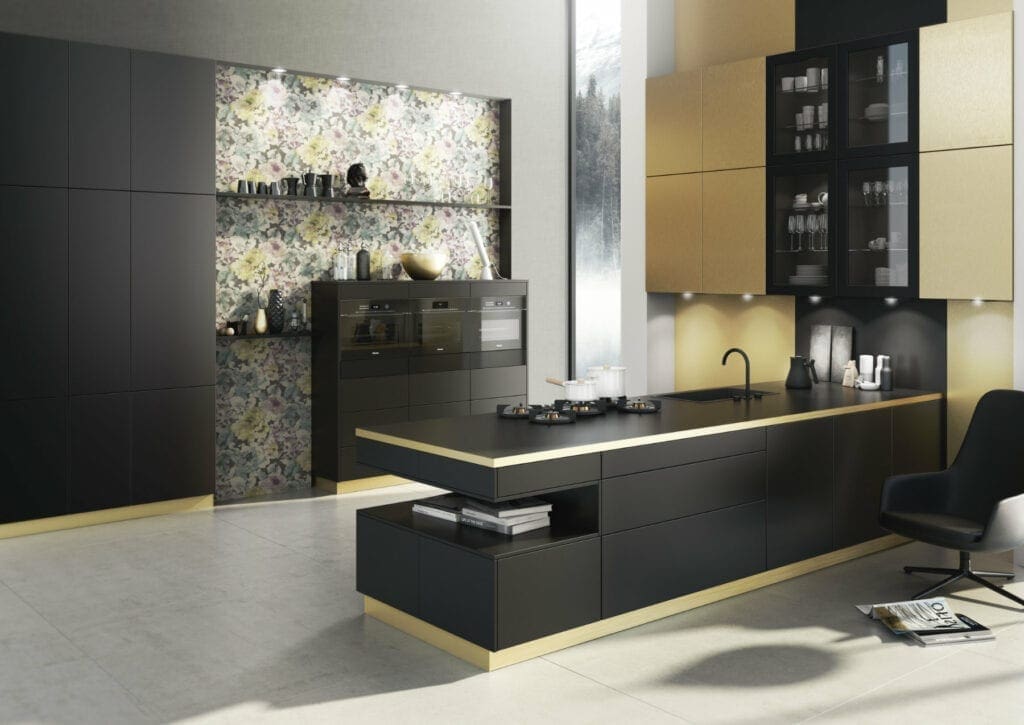 5. Handleless Kitchen Channel Colour Choices
Where the standard colour option for the channel handle within a handleless kitchen used to be stainless steel, as the years have gone by these have emerged in new and exciting colours. Ranging from powder-coated black for a dramatic look, to white, or even metallics, the choice of channel handle colour can bring an easy touch of glamour to your kitchen setting.
6. Do Handleless Kitchens Get Dirty?
Touch-to-open cabinetry is more practical than handles, popping open with a gentle push, or nudging of the knee if your hands are full! This means less touching, which in turn means less dirt, fingerprints and smudges. Finally, the handleless style is easy to clean, mainly as there are no nooks and crannies for dirt and grime to accumulate.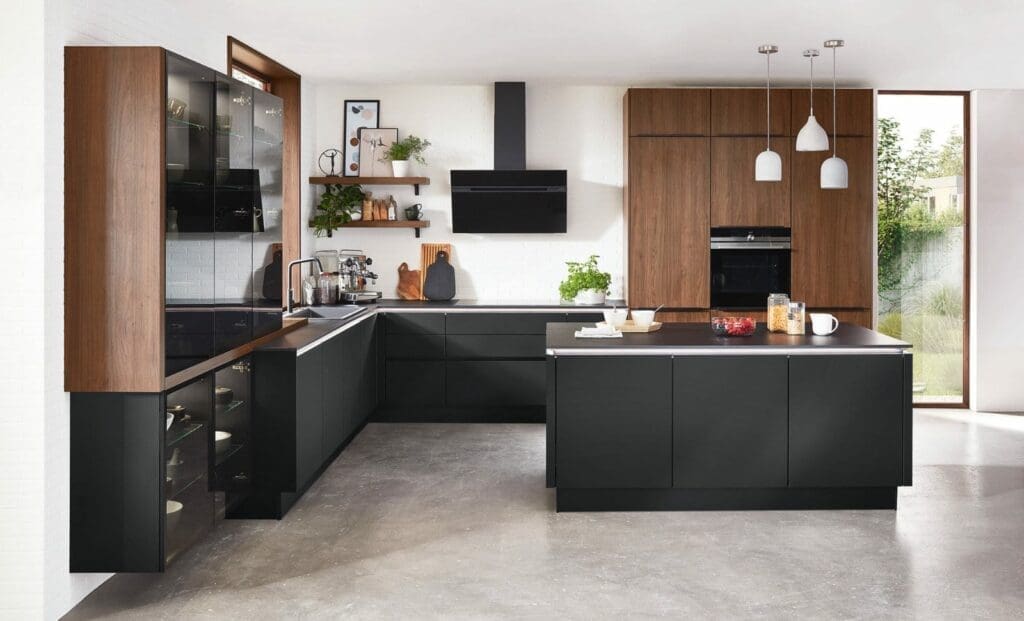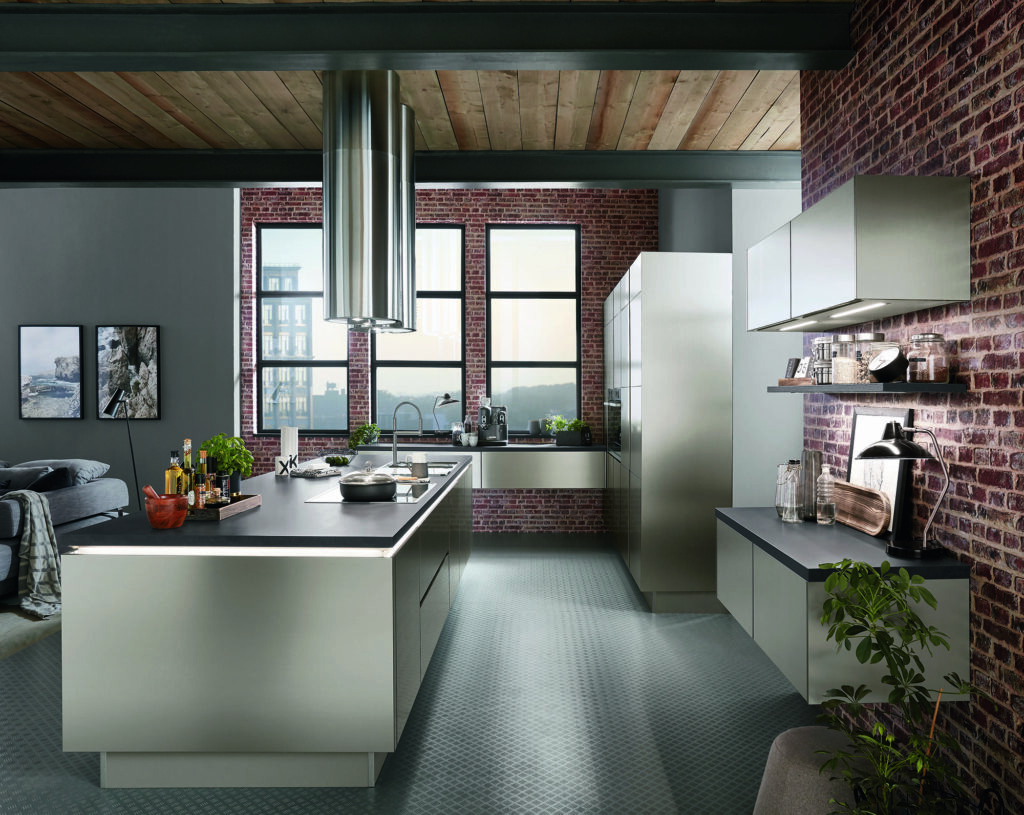 7. You can create a floating kitchen island look
A look compatible with the handleless style and which will really make a wow-factor kitchen statement is the floating kitchen island effect! To achieve this the kitchen island contains a continuous integrated channel system above the base units, upon which the worktop is fitted. Creating a gap between the worktop and units, the effect of the recessed channel is to create an impressive illusion of the worktop hovering above the island.
8. Elegant and timeless handleless kitchens
The key to the handleless style's success is the understated look it achieves. Stripped bare of kitchen handles and embellishments, one of the long-term effects of the handleless style is a timeless look that won't tire with the passing of time.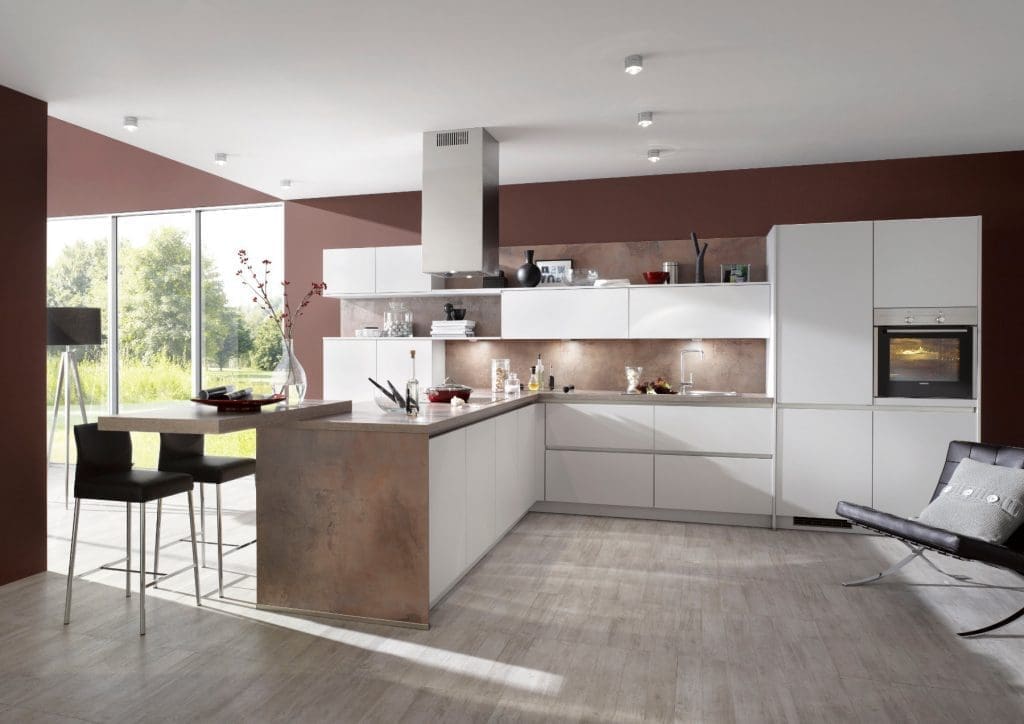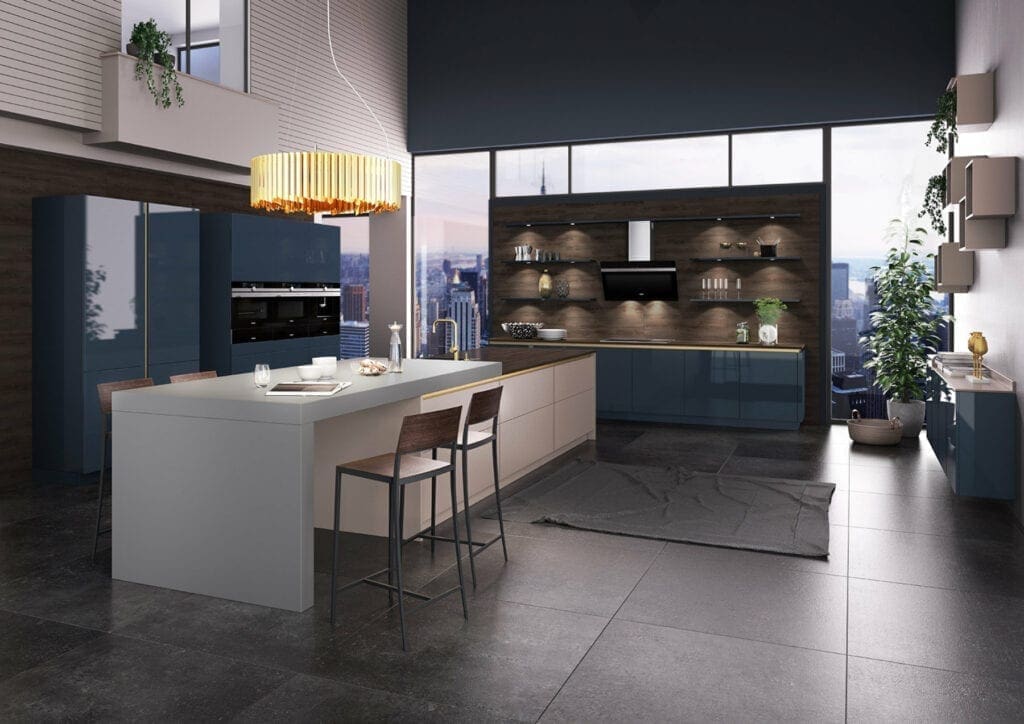 9. Are Handleless Kitchens Expensive?
Generally speaking, you can expect to pay about 10-15% more for a handleless kitchen design, compared with a handled kitchen style. But with such a diverse choice of handleless kitchen door finishes available the reality is this luxury kitchen style is still very accessible and affordable within the wider market. In many respects, it is a much cheaper option. For example, modern wood effect kitchen doors in the handleless kitchen style represent a stylish, quality choice replicating the look of real wood, yet are a fraction of the cost expected for real wood kitchen doors.
10. Handleless Kitchens Are Safer
A handleless kitchen means no more bumping your hip or snagging clothes on protruding handles! In most cases this is no more than a mild annoyance, except when carrying hot food or sharp knives, where this moves into hazardous kitchen territory. Similarly, the handleless style is a popular kitchen choice for parents of young children as base unit kitchen handles are typically the right height for small children's heads, making accidents a lot more likely! Even more, handleless kitchens are harder for inquisitive young children to open, again preventing the likelihood of accidents or breakages.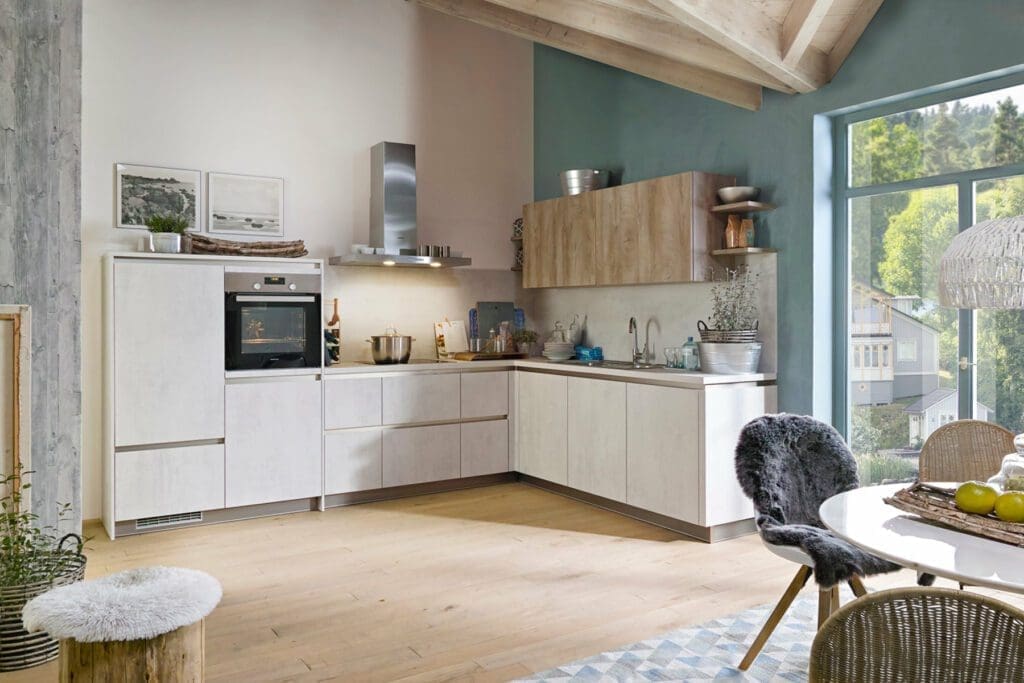 Are Handleless Kitchens Worth it?
If you're looking for a sleek, modern look for your kitchen, the handleless kitchen style may be perfect for you! No matter the size of your space and whether it is enclosed or open plan, this is a winning kitchen style that can work for everyone. For more information on handleless doors or to find your local handleless supplier please contact the Kitchen Experts today.