What makes Designer German Kitchens Stand Out From the Crowd?!
Designer kitchens stand out for their unique style, high-quality craftsmanship and focus on luxury and premium materials. Experts in this, German designer kitchens are widely recognised as among the best in the world, so here we look at why this is, and why you should choose a designer German kitchen for the ultimate designer kitchen look, lifestyle and functionality!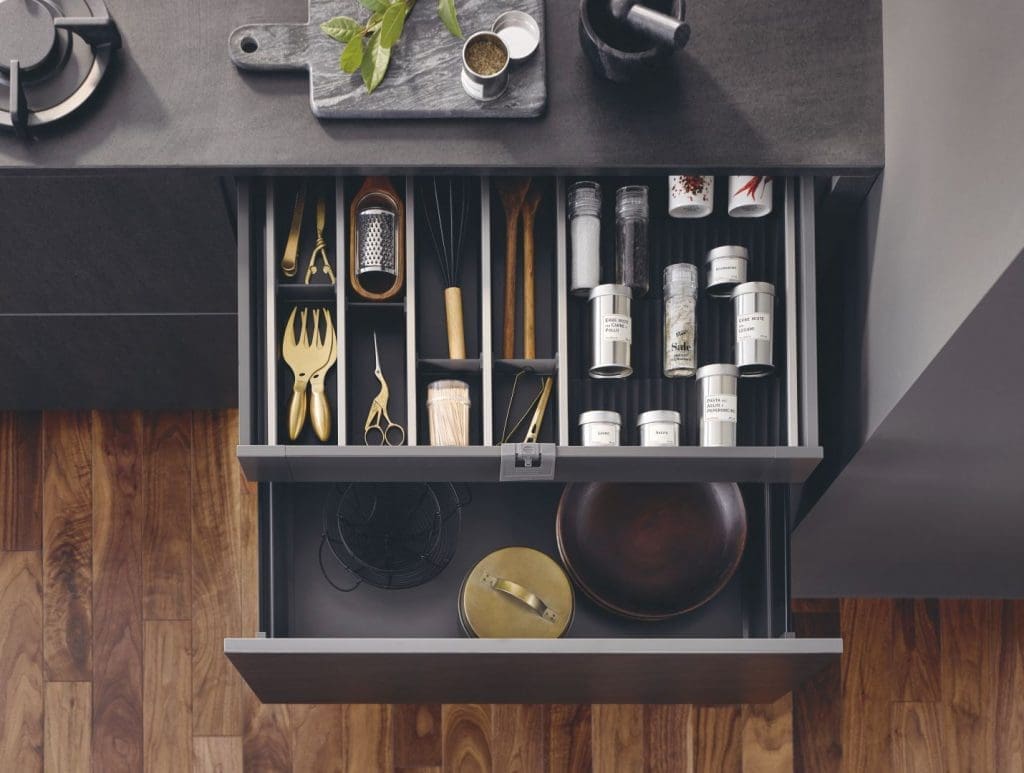 What is a designer kitchen?
A designer kitchen is a high-end kitchen created by a professional kitchen designer to make a stylish impact on your home. A symbol of luxury, quality and style, designer kitchens need to feel special – and personal too, and for this they are usually custom-made. They typically feature upscale finishes, appliances, and materials, something which German kitchen manufacturers are especially well-known for in their high quality and innovative kitchen products.
As well as a high-end look, designer kitchens also offer solutions specifically designed to maximise space and enhance functionality. From innovative storage concepts such as le mans corner units and carousels which allow easy access to the back of your kitchen cupboards, to spice racks and drawer inserts which keep your kitchenware neatly organised, there is a kitchen product to suit every need, taste and lifestyle too.  
Why Choose A German Designer Kitchen?
Designer kitchens tend to reflect the latest trends and most recent innovations in kitchen design, many of which originate from German kitchen manufacturers. With a continuous drive to develop impressive, lasting finishes, as well as products which facilitate lifestyle and enjoyment of the kitchen, the resulting German Designer Kitchens are at the forefront of cutting-edge design. What's more, their luxurious appearance is complemented by the quality of the materials they are made from, again something for which German engineering is recognised worldwide. This means that along with a lasting kitchen look, your German designer kitchen is purpose-built to stand the test of time throughout everyday kitchen use.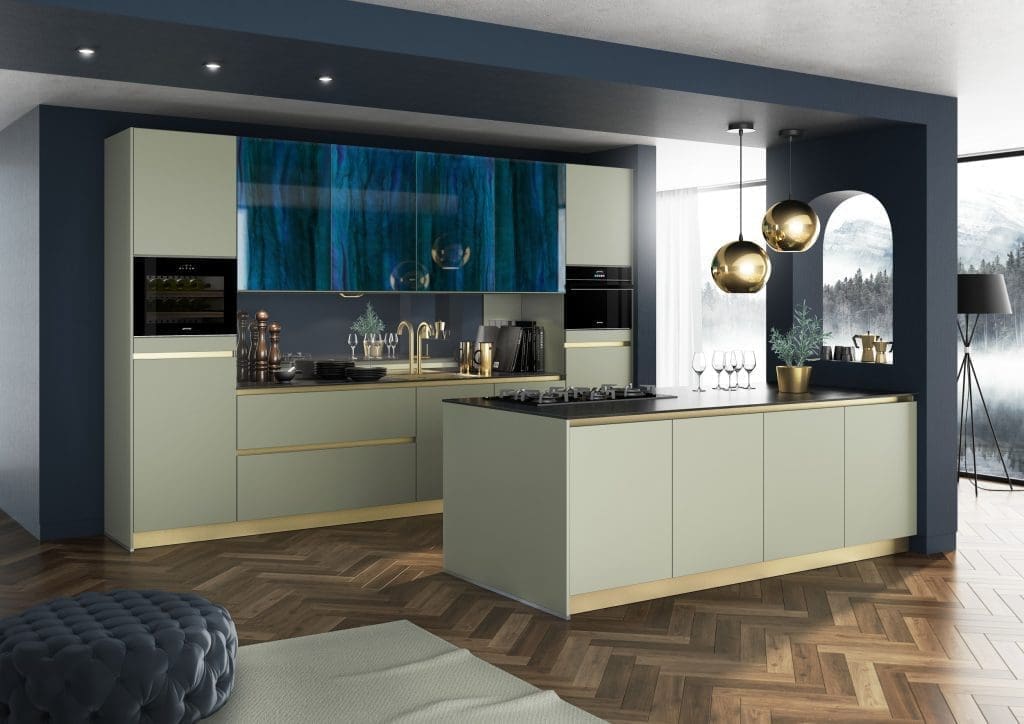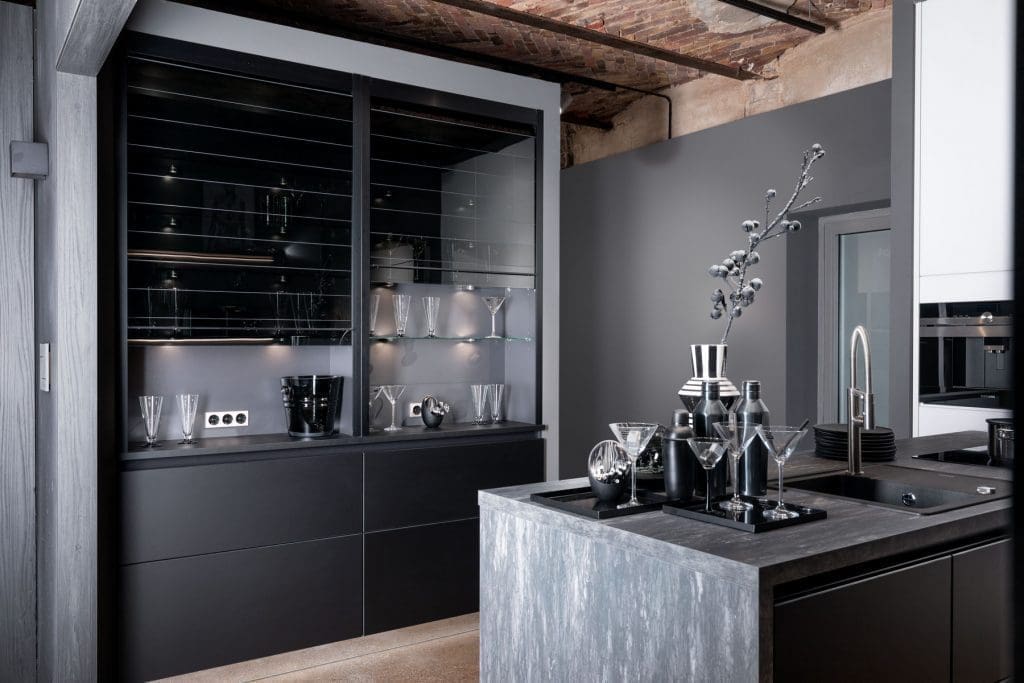 Designer German Kitchen Cabinets and Furniture
As mentioned, German Designer kitchen cabinets and furniture stand out from lower-spec doors and kitchen units because they use superior materials in their construction. But what's more, German Designer kitchen furniture is often more flexible than standard ranges of kitchen cabinets and doors. It may also include custom options like bespoke cabinet sizes or paint colours. This allows for the creation of a completely customized kitchen layout that meets all user requirements and expectations. The most luxurious designer kitchen cabinets are made from statement materials like concrete, ceramic, metal, and glass. However, this is but a few of the many styles and materials that you can choose from to create a unique look and layout for your kitchen.
Designer German Kitchen Prices
The UK's average price for a designer German kitchen can range anywhere from £10,000 and £55,000+. The room size, along with the number of appliances and worktops required, are major determinants of the cost, as are the types of finishes you choose. But with so many different German kitchen brands to choose from, offering entry level to premium products, the German kitchen brand you choose will also significantly impact on cost. You can expect to pay more for high-end, exclusive or fully tailored kitchen materials. Similarly, if you consider the best kitchen appliances a 'must-have', you will also have to pay more.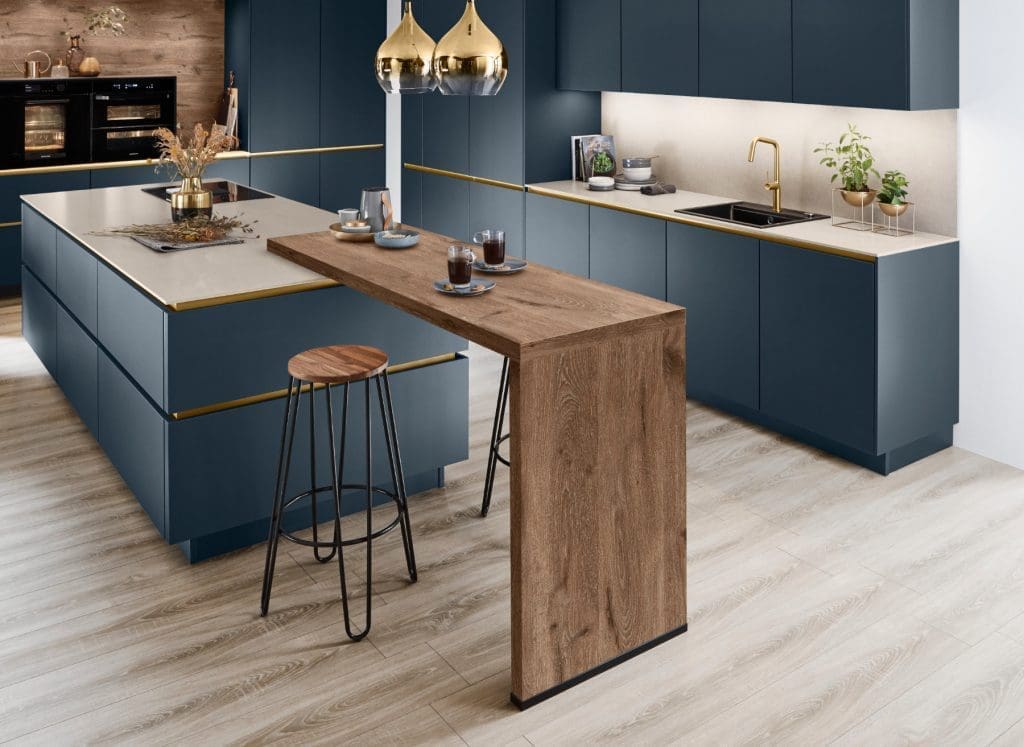 How can you get a designer kitchen look for less?
A designer kitchen look is possible even on a stricter budget, and this comes down to the experience and skillset of a kitchen designer who can suggest subtle and clever alternatives within your kitchen design to help reduce the cost. For example, most German kitchen manufacturers offer many high-quality laminate kitchen finishes that do a great job of replicating more premium- and costly- finishes such as marble, wood veneers or stone and concrete. Our kitchen designers can help you choose the best materials, finishes and options to match your budget expectations.
If you are looking for a designer German kitchen then contact our team of skilled kitchen experts who can put you in touch with an experienced designer near you, in line with your needs and budget.