Benefits of a two-tone kitchen
Two-tone kitchens are a popular kitchen design trend, extremely smart, stylish, and able to satisfy a wide breadth of personal tastes and budgets. A uniform, single-tone kitchen is not for everyone and with such a vast array of finishes available it is inevitable, and also very welcome, that homeowners should combine different colours and styles within multi-tone kitchen arrangements. Whether for a stunning visual aesthetic, or else to overcome a design challenge, there are many great reasons to choose a two-tone kitchen scheme: –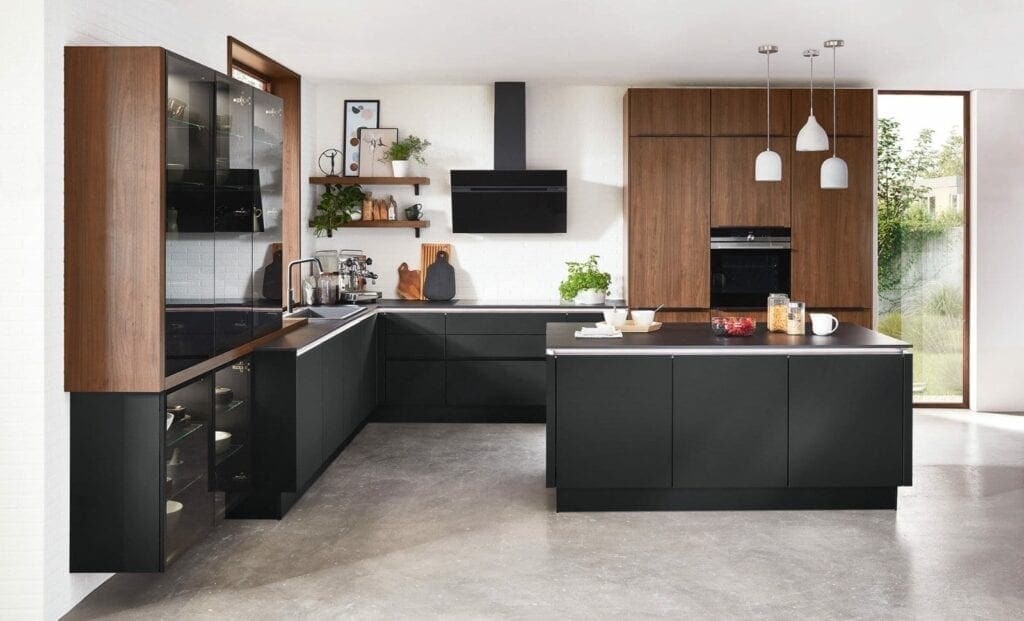 1) An appealing kitchen aesthetic
One of the most obvious reasons for choosing a two tone kitchen look is the aesthetic appeal of this scheme. Two tone kitchen designs can give your kitchen a unique look that will stand out from the rest! Allowing you to experiment with different colour schemes, two tone kitchens offer great diversity within design. This might be a classic understated kitchen, or else an out-of-the-ordinary design, entirely dependent on the kitchen look you wish to create.
2) Two-Tone Kitchen Schemes Work For All Property Styles
Two-tone kitchen designs can be adapted to suit any style of home and kitchen. They will work successfully within both traditional and modern kitchen styles so are an effective solution if you want to maintain a home's existing theme, such as in a Georgian or Victorian home. Alternatively, perhaps you like modern kitchen finishes but feel they are 'too modern' for the house? You can easily solve this by incorporating a modern door such as gloss or matt lacquer with a soft wood grain finish, toning down the contemporary feel to better suit and reflect your home's traditional character.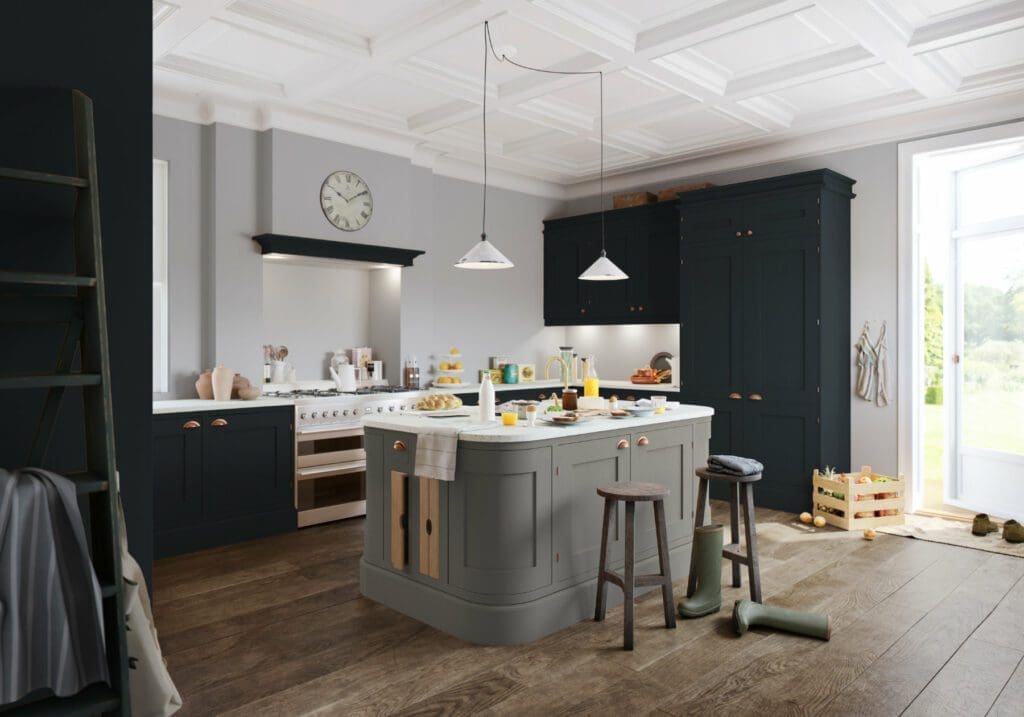 3) You Can Mix and Match Colours and Textures
Two tone kitchen designs offer many opportunities for diversity within design, but this isn't limited to mixing different coloured doors. Instead, you can use two (or more) different types of materials in a two-tone kitchen design, such as wood, glass or metal, which bring an extra level of interest.
4) Two Tone Kitchen Schemes Add Depth and Dimension
Multi-tone kitchen designs can help to create a cohesive look in your kitchen, with tones and finishes that seamlessly flow- and especially in an open plan arrangement. The additional kitchen colour and/or texture adds depth and dimension, helping bring life and personality to your kitchen space. This also makes two-tone kitchens the perfect choice if you want a kitchen with a definite 'wow' factor!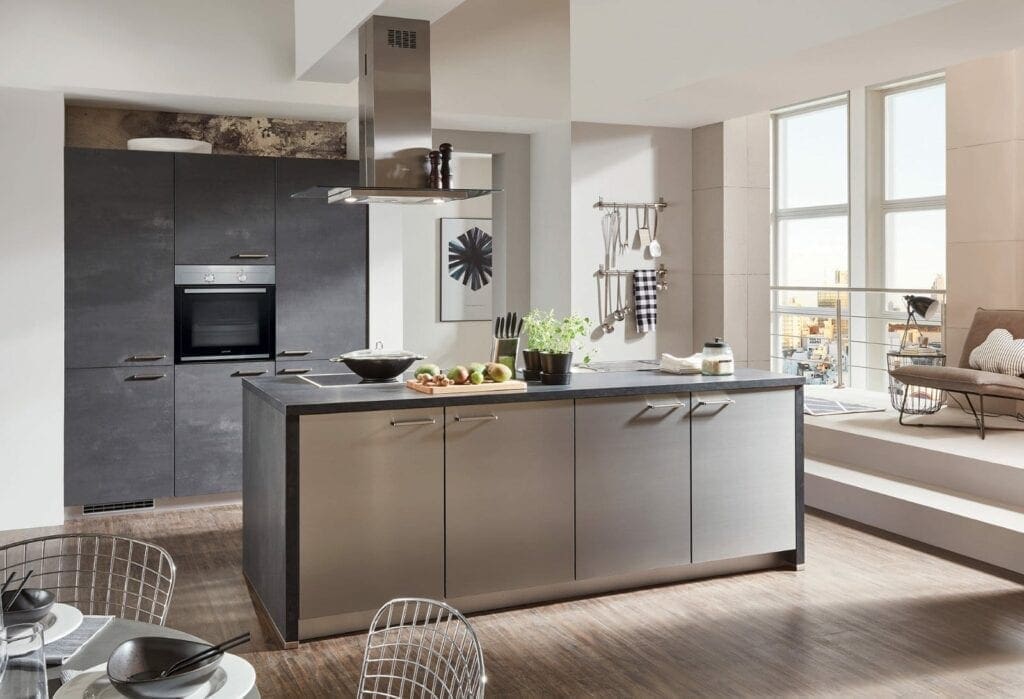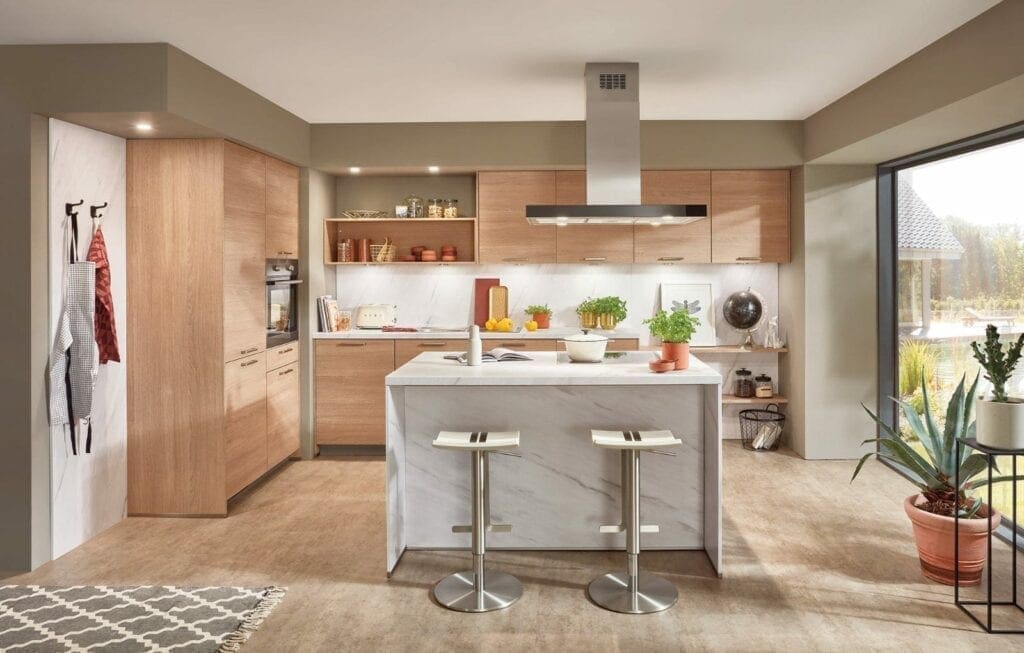 5) Two Tone Kitchens Can Highlight Your Favourite Features
Two-tone kitchen designs can help to highlight desirable features in your kitchen. This might be a standout kitchen island, forming the focal point of your kitchen and place for gathering. A contrasting colour will help draw attention, ensuring the island stands out from the rest of your cabinetry. The same can work for a bank of units, wall units, statement shelving systems, and more.
6) Two Tone Schemes Can Make Your Choices More Affordable
Price is a major factor when choosing kitchen doors, and finishes can range significantly in cost. This might mean your preferred door choice ends up too costly to include throughout all your kitchen. But in a two-tone kitchen, you can limit your preferred door to one area such as wall cupboards, or kitchen island, and combine it with a less expensive door finish for the rest of your kitchen, such as a statement ceramic or stone kitchen island surrounded by high-quality laminate doors.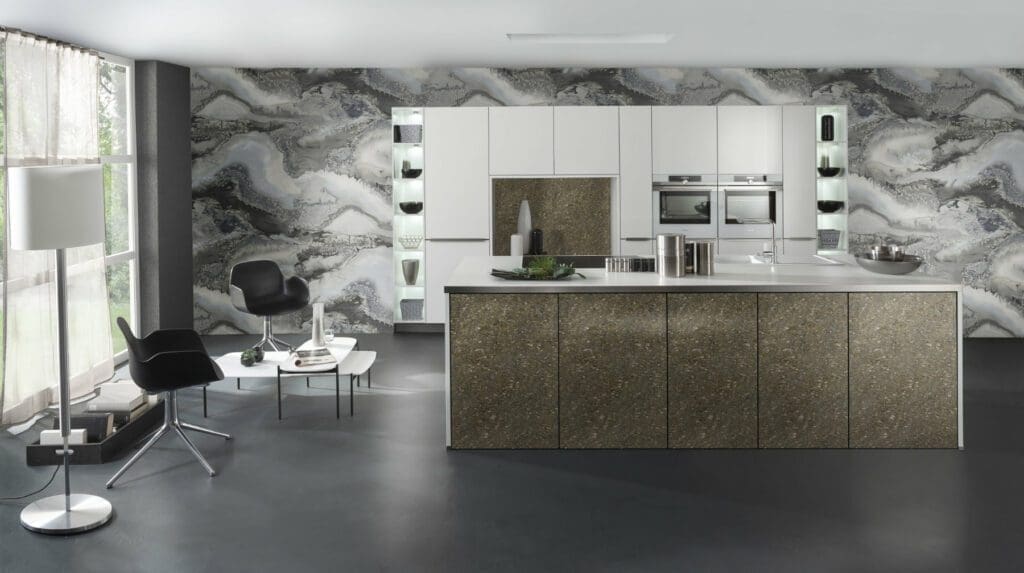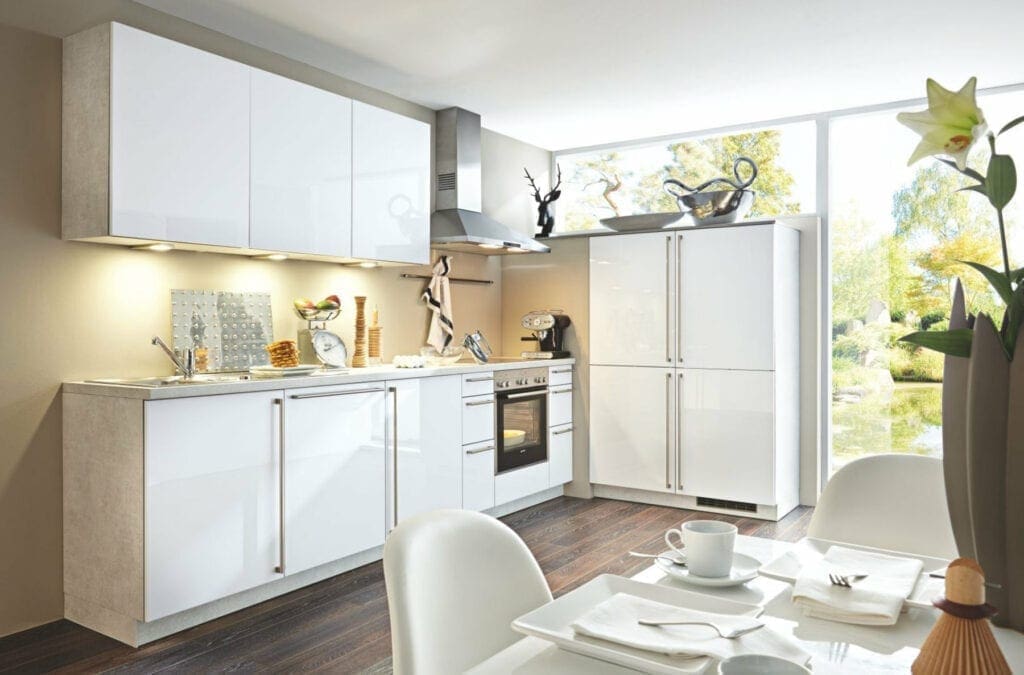 7) You Can Make Your Kitchen Feel More Spacious
A two-tone kitchen can make your kitchen appear more spacious and open, due to the use of two contrasting colours. Largely, two-tone arrangements (in the right colours and tone) are effective in making a room feel lighter and larger…. Multi-tone kitchen designs can help to create a more inviting atmosphere in your kitchen
8) Two Tone Designs Bring Balance
You might decide on a kitchen colour you love, but find it overwhelming, or else underwhelming, by itself within a room. Introducing a second colour can break up the continuity of the hue, balancing the scheme so that both colours work together. For example, some white tones may appear clinical by themselves, whereas a contrasting texture will easily warm up the look. Alternatively a vivid blue kitchen might be 'too much' alone, but create a beautiful feature in combination.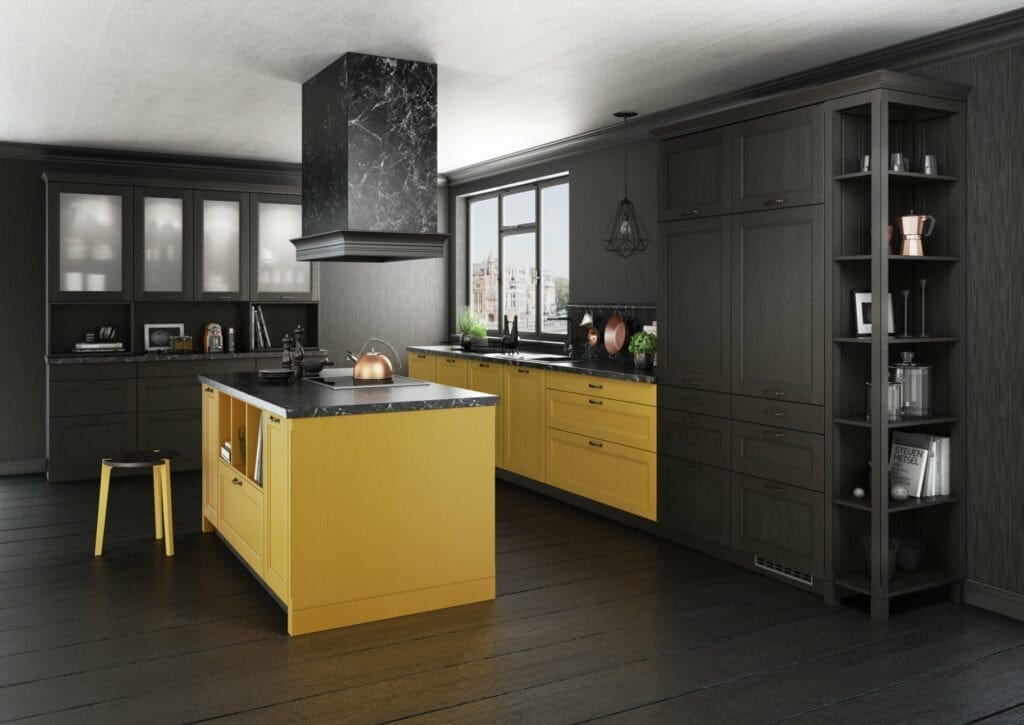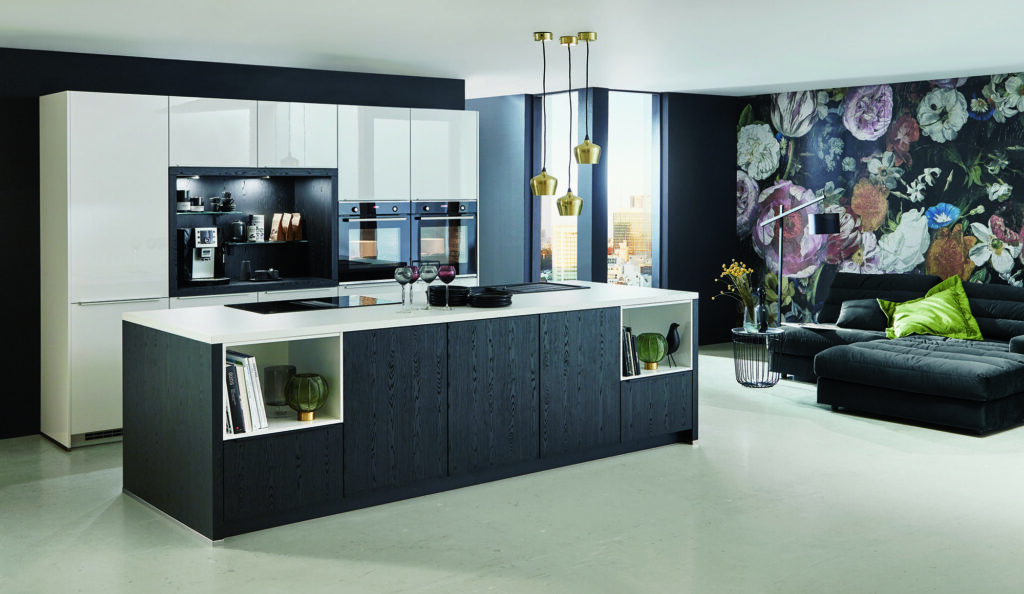 9) Two Tone Schemes Can Ensure Dark Colours Work
Dark colours work well for base units as they ground the kitchen but continue the same dark tone for upper wall units and they can appear imposing. This is particularly so within small kitchen designs. Instead, contrast dark base units with light coloured wall units; this is an effective and attractive solution for making dark tones work and will make the space feel larger and brighter.
10) Two-Tone Kitchens Offer a Compromise!
A final benefit of two-tone kitchen arrangements is they offer a suitable compromise if you really just can't agree on a kitchen colour choice with your partner!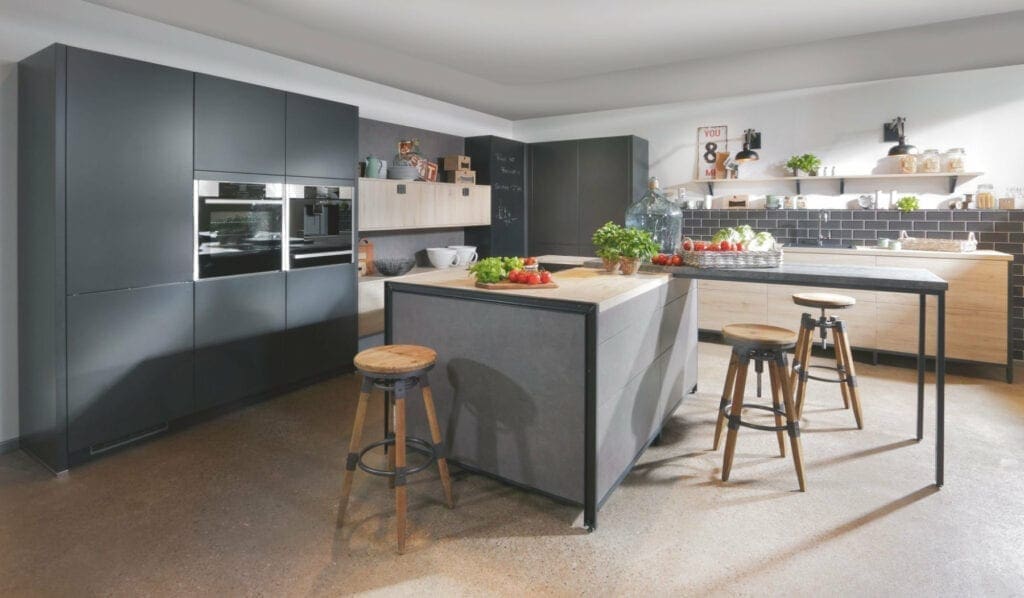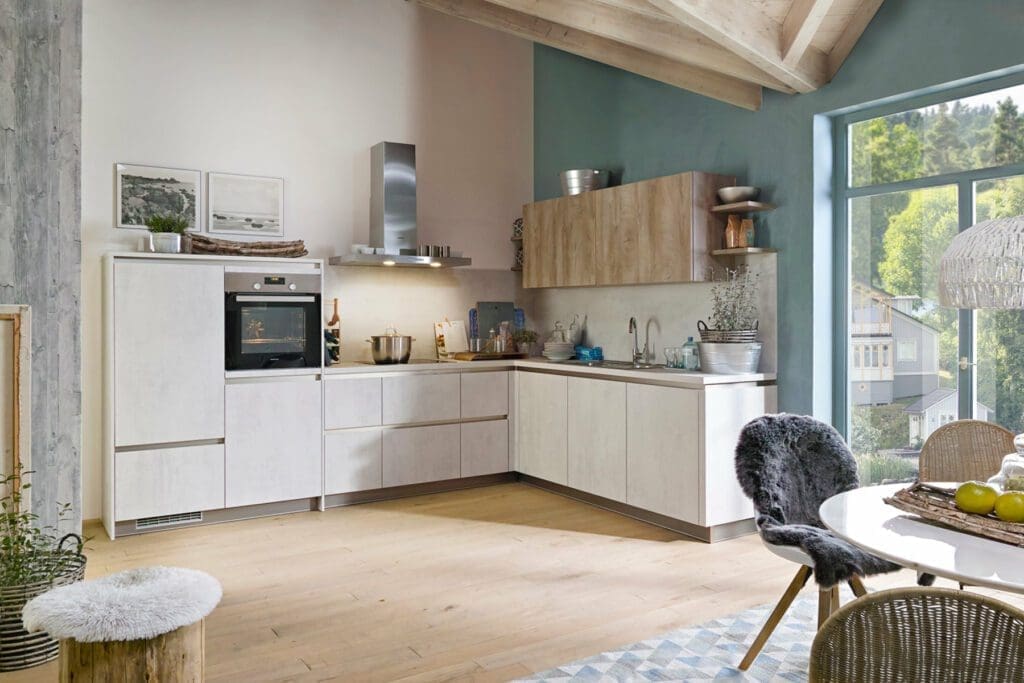 Two Tone Kitchen Colours With Soft/Light Contrasts
As mentioned, light colours can make a room feel larger and brighter, so you might opt for a two-tone kitchen arrangement of light tones with subtle colour contrast. Neutral colours pair well, and contrasting materials also combine to great effect. For example, the visible grain of a wood finish in combination with a white gloss door, adds character, breaks up the colour hue, and removes the need for additional decoration as it becomes a focal point in itself. The juxtaposition is appealing to the eye, whilst a further benefit of a light two tone kitchen arrangement is it is unlikely to tire with age.
Two Tone Kitchen Colours With Bold Contrasts
Subtle colour contrasts can make for extremely elegant kitchen designs. But equally, bolder contrasts of colour and texture can have a high impact and add a 'wow' factor to your kitchen. Colour contrasts heavily influence the look and feel of a room, so it is essential they work together to achieve the kitchen look and ambience you want. The same attention must be given to worktop, glass, and flooring choices.
Within large kitchen spaces, upper wall units in a darker colour than the base units can look very effective. Alternatively, another popular kitchen trend is to 'frame' or encase some of the kitchen cabinetry for a stylish contrast. This look also works well for kitchen islands, and for kitchen furniture intentionally designed for continuation into other areas of the home such as the living room.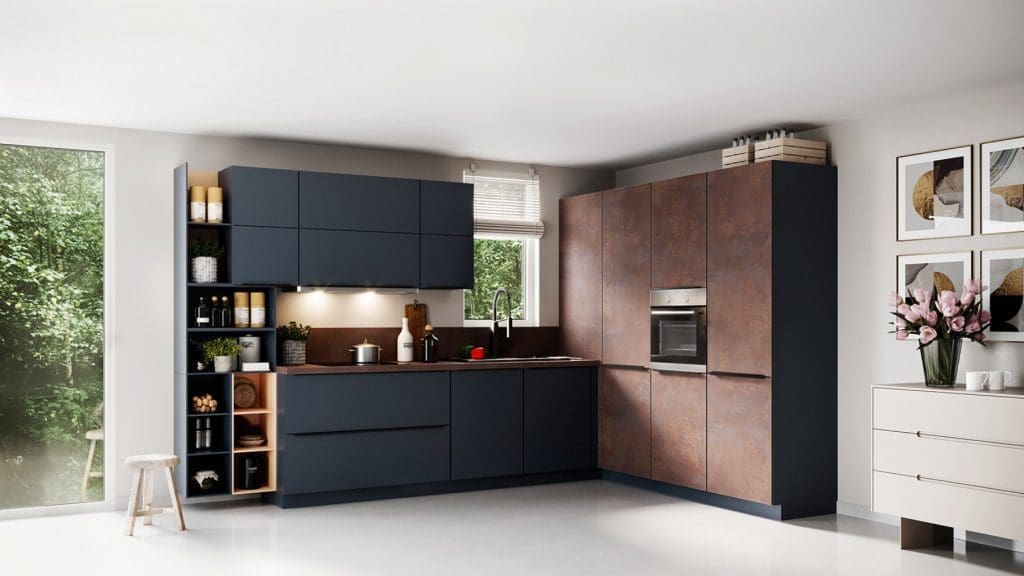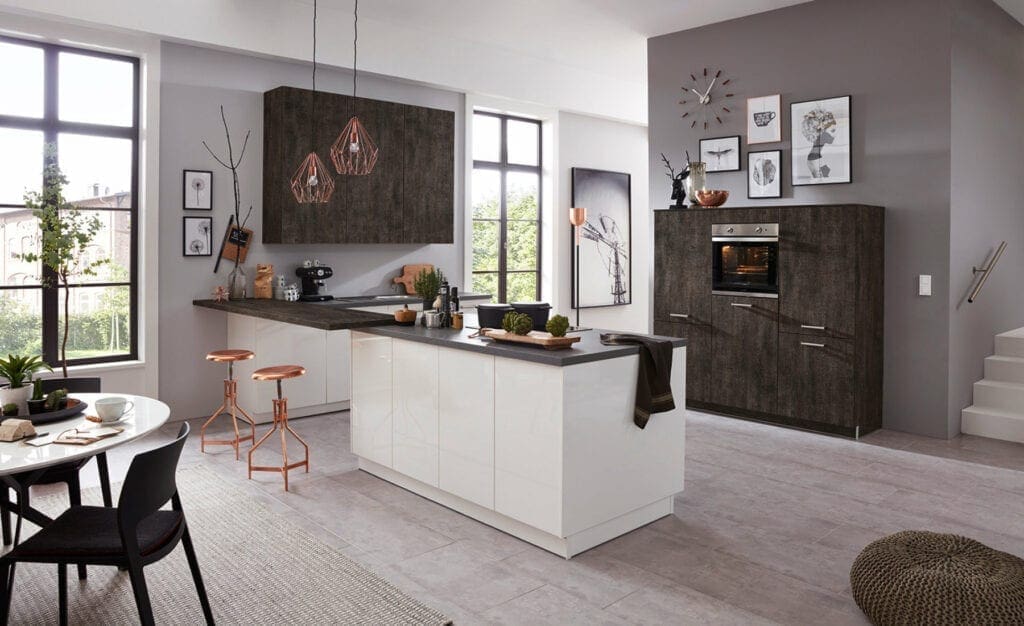 Discover Your Perfect Two Tone Kitchen Look!
With so many options of colours and textures within kitchen design, and with no concrete rules regarding what 'goes' with what, the possibilities for achieving creative and exciting two-tone kitchen designs are seemingly infinite. Combined with the need to satisfy an increasingly diverse range of tastes, the popular two-tone kitchen look is a trend here to stay.
For help in creating your perfect two-tone kitchen design to suit your needs, tastes and budget contact the Kitchen Experts today.