Wondering how much will a new kitchen cost? …if you are planning on redoing your kitchen soon, you're more than likely wondering what the average cost of a new kitchen is. Determining the cost of your kitchen project is incredibly helpful but it can be tricky to establish and often overwhelming since there's so many elements you need to consider which will influence the price. But not to worry; here the Kitchen Experts have broken down the different factors that affect new kitchen prices and advised the best route for you to work out how much your new kitchen will cost you!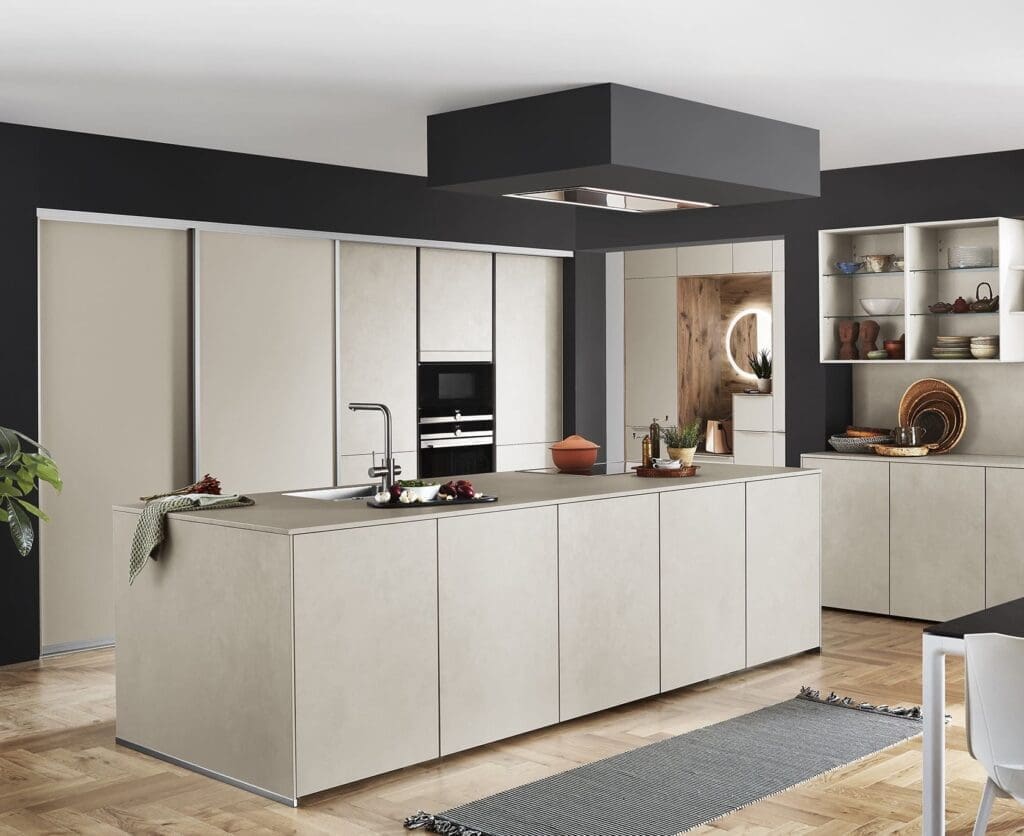 Your Choice of Brand Will Affect Your New Kitchen Cost
Firstly, one of the main factors which will affect your new kitchen cost is which kitchen brand you choose. Handmade kitchens are a beautiful option and very popular, but they'll always be more expensive than factory-made kitchens because of the intensive labour, effort and extra time required in their manufacture.
However, if you're looking for a bespoke kitchen, there is some flexibility around the term, 'bespoke' and bespoke kitchens do not have to be handmade. Instead, numerous kitchen brands such as Nobilia, Bauformat, and Brigitte offer luxury kitchens which are purpose-built to each client order, yet at an affordable price. Such brands typically have an extensive range of standard sizes for units, doors and drawers, although many kitchen companies also have the capacity to manufacture non-standard sizes as well. Whilst producing high quality kitchens, it is the mass production volumes which in turn mean kitchens are affordable without breaking the bank.
Your New Kitchen Cost Depends On Where You Buy From
The cost of a new kitchen can also vary greatly depending on which retailer you buy from. Many UK homeowners tend to begin their search with large, well-known retailers. However, the quality of kitchens from such retailers can be questionable, whilst actually visiting an independent kitchen retailer can often prove surprising, delivering a far higher standard of service and kitchen, for the same or even less cost.
A new kitchen cost also varies depending on where you're located. As with any other service, if you live in London or the South East, you'll likely pay higher prices than you would in other cities, especially for the installation.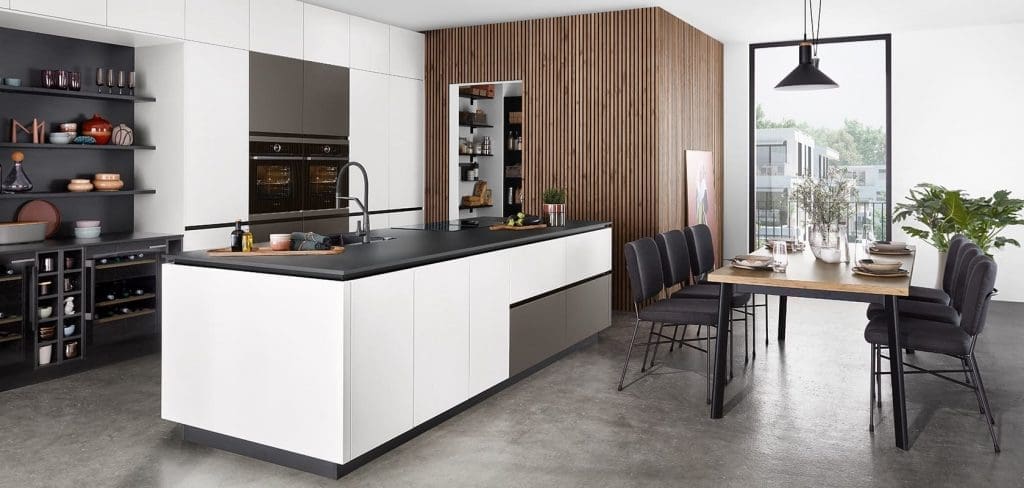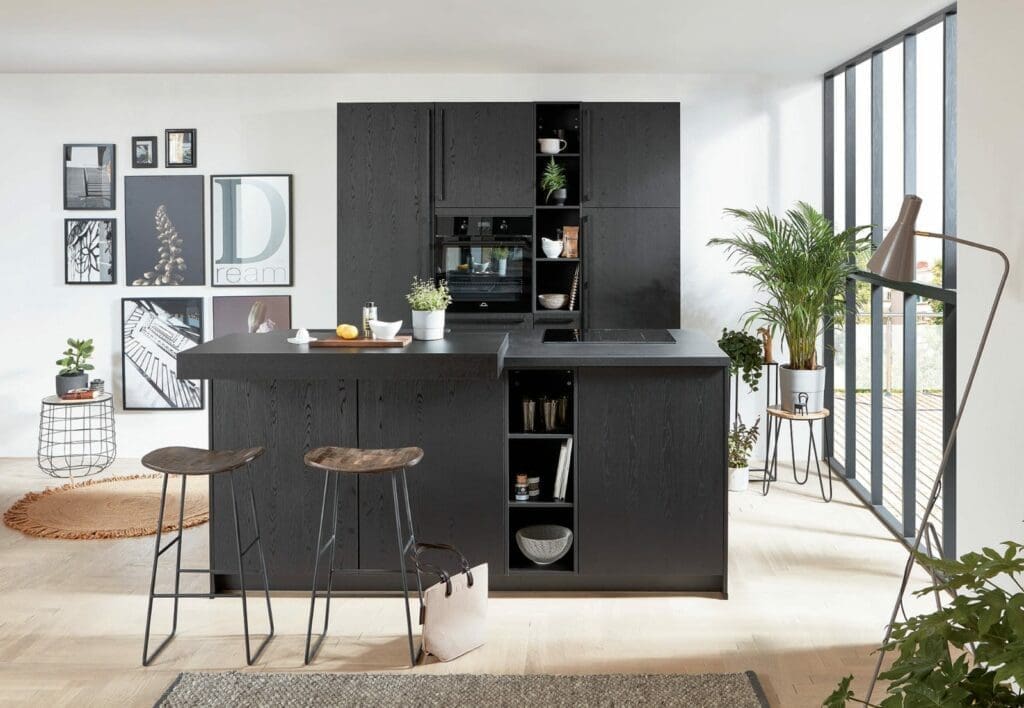 Your New Kitchen Cost Depends On Its Size
To answer, 'how much will a new kitchen cost?' you'll also have to consider the size of your kitchen. This is because the cost of your kitchen will always depend on your specific space and what you want to add to it. In theory, a small kitchen would cost less than a larger kitchen space because they require fewer units, less worktop and fewer appliances.
You could easily achieve a small kitchen for circa £7,000+ However, the cost also varies depending on your choice of finishes and customisation. Ultimately a small bespoke kitchen with real wood doors, marble worktops, and top of the range kitchen appliances could easily cost upwards of £40,000. That's quite a difference, but all down to personal choice and preference.  
What is the Cost of Kitchen Appliances?
When it comes to kitchen appliances, it is important to plan according to your lifestyle and needs. For example, there's no need to invest in a state-of-the-art smart oven if you only cook very simple meals once or twice a week. Oven ranges vary significantly in cost, with a Siemens oven starting at approx £600-£700, whereas you can expect to pay closer to £2,000 for a top of the range Siemens model with features such as advanced cook technology, and smart connectivity. Similarly, fridge freezers can cost anywhere between £300 – £7,000 entirely dependent on your chosen brand and inclusive features.
Before investing in any kitchen appliances, determine how much of your budget you're willing to allocate to appliances and ensure that you truly need and will us the type you are looking to buy. Kitchen elements like sinks and taps can also cost significantly, depending on the style, quality and features. For example, boiling water taps are a luxury item offering the convenience of instant hot water, and long term they prove more energy efficient and economical, yet the initial investment can be quite steep. Once again, consider your budget as well as your lifestyle to determine if the sink or tap model you would like is an essential item versus a luxury extra.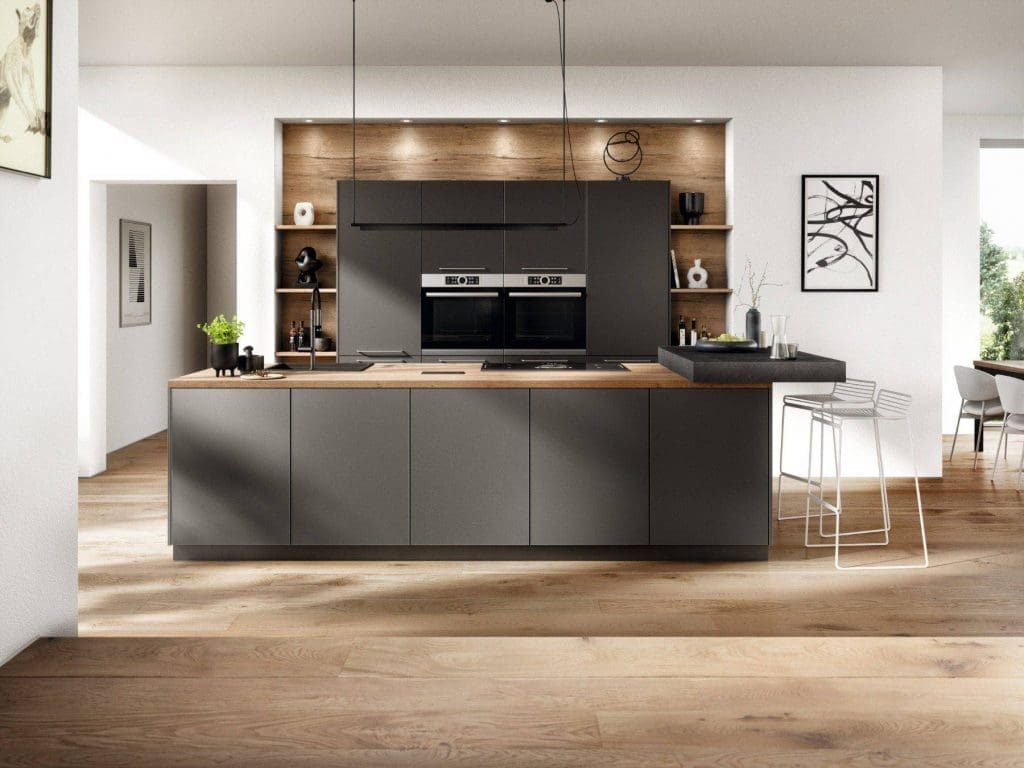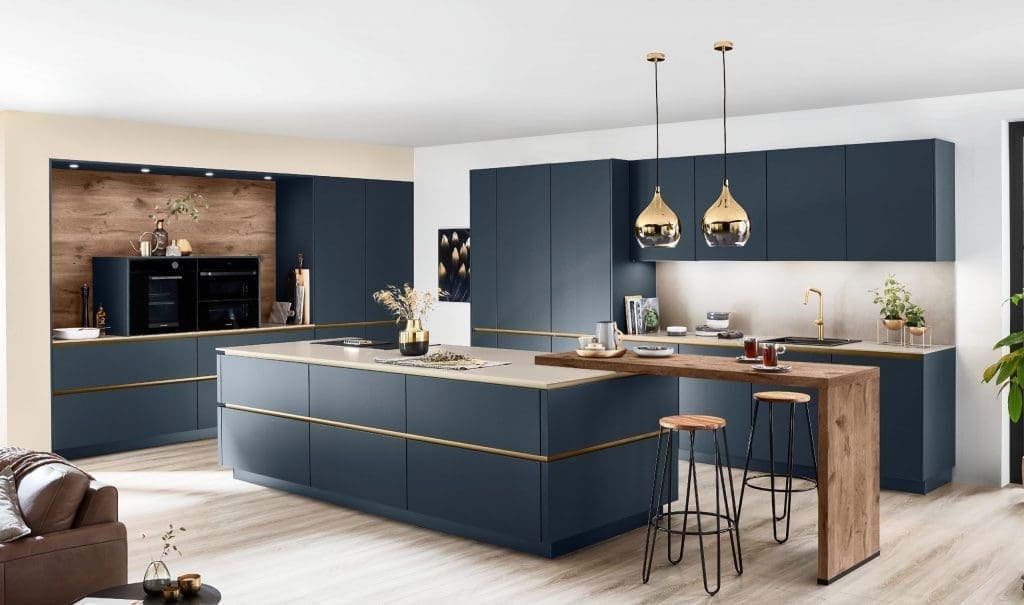 How Installation Fees Affect the Cost of a New Kitchen
When it comes to planning your new kitchen budget, you also have to consider the wider cost implications. When obtaining a kitchen quote it is important to confirm that the price includes costs for appliances, kitchen removal (if required), installation, and any additional services like plumbing, electrics, and even waste removal or parking.
The larger your kitchen space, the more work required, and so naturally it follows that the installation cost will be higher, so be sure to consider this when factoring installation into your budget! It's also worthwhile to invest in reputable kitchen fitters so that you can be certain the installation is done professionally and efficiently. And where possible, agree a fixed price rather than a daily rate, as should there be any delays the latter can quickly become very costly!
With any kitchen project it is advisable to budget for the unexpected, which is often a problem which can't be foreseen until work is underway. For example, wiring, plumbing, or uneven walls and floors sometimes present problems, which need resolving at additional cost. The general rule of thumb for kitchen projects is to allow 10% of the cost to allow for any additional costs which may arise.  
So, How Much Does A Bespoke Kitchen Cost in Total?
The best way to work out how much a new kitchen will cost is to visit a respected kitchen retailer who can give you a quote. In the first instance, many retailers will have an online price estimator tool on their website which you can try out. These will usually guide you to help you work out how many kitchen units you will need based on your space and give different options for finishes worktops, and appliances. The price it generates is an estimate, whereas visiting a retailer in person will allow them to produce a detailed quote for you.
In most cases the kitchen design service is free of charge, enabling you to obtain an accurate quote, along with personalised kitchen designs, and yet there's no pressure or obligation for you to proceed. With that in mind, it's a 'Win-Win' situation for you!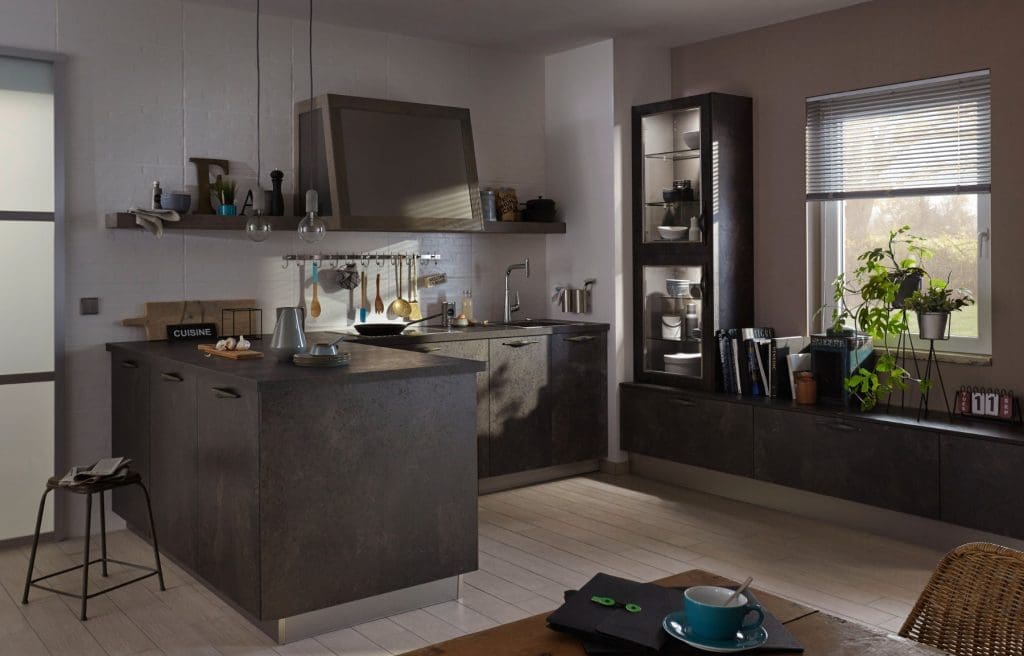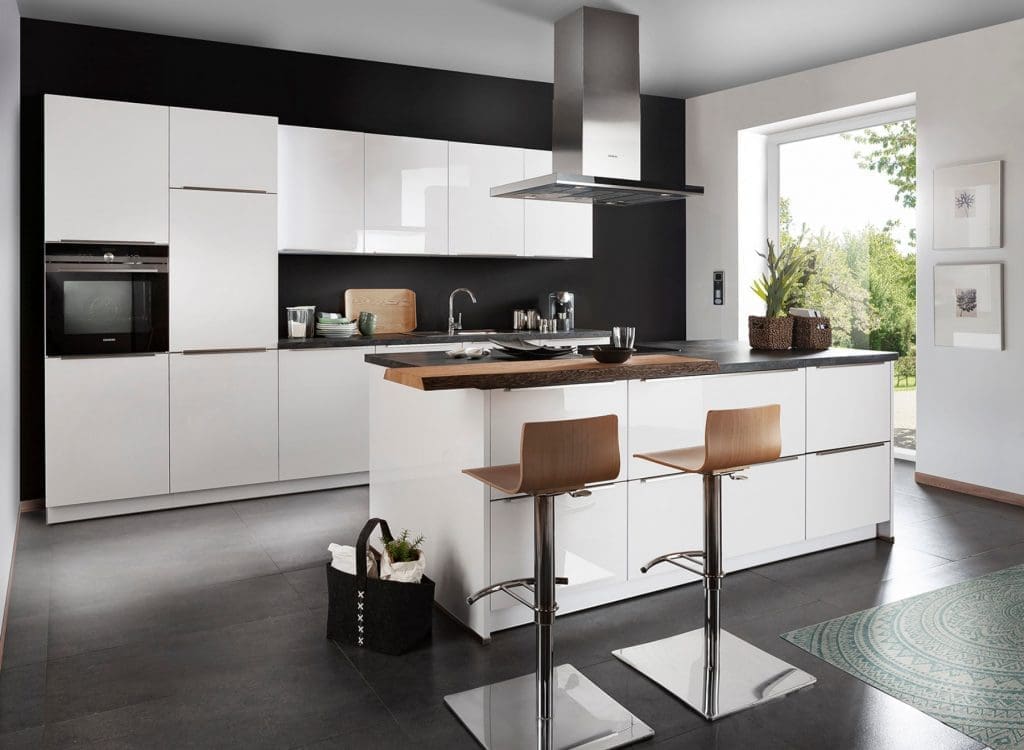 Invest in Your New Kitchen Today!
So there you have it! …As you've hopefully noticed by now, there's no simple answer to the question of, how much does a new kitchen cost?' It will always depend on a variety of factors, including the size of your kitchen, what installations need to be done, and which appliances you'll end up using. It's usually a good idea to speak to a reputable kitchen designer that can advise you on the pricing of different elements and help you plan a realistic budget!
Want to find a good local kitchen retailer near you? …Contact the Kitchen Experts today.