Are you dreaming of luxury kitchen ideas but don't know where to start? …Don't worry, we've got you covered! There are many luxury kitchen features that will suit your needs, whether your space is small, spacious, open-plan, or an irregular shape. Here, we will explore 10 luxury kitchen ideas that will elevate the look of your kitchen. From beautiful kitchen finishes and worktops to high-end appliances, these features are sure to impress. So, what are you waiting for? Read on for luxurious inspiration!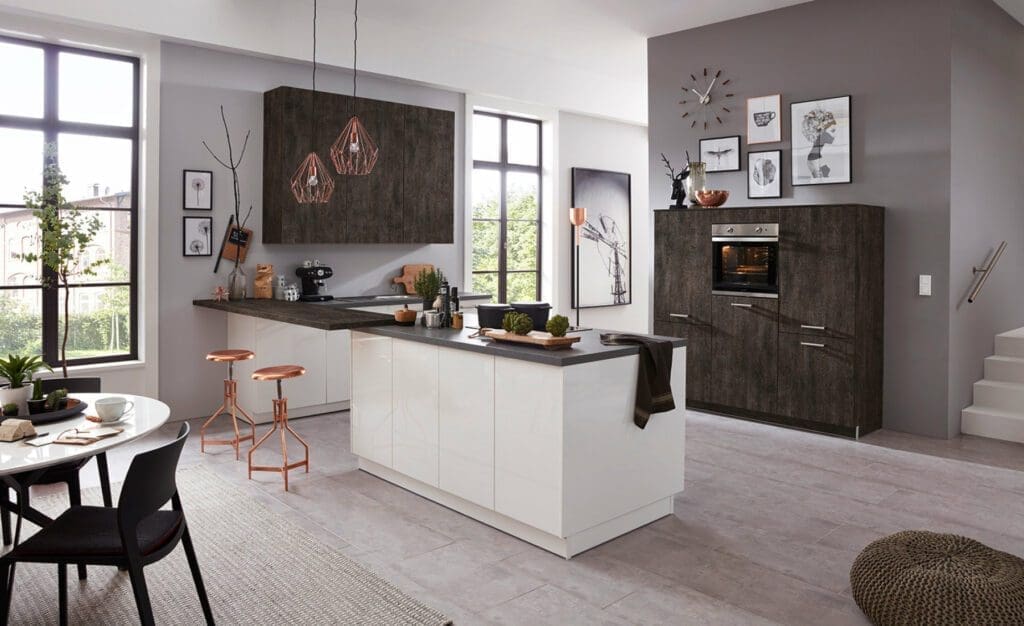 1) The In Demand Kitchen Island
Island KitchensThe ultimate in luxury, make your kitchen stand out with a luxurious kitchen island at its centre! As well as practical for many different uses, an island is the perfect spot for gathering with friends and family, and so you want a look, that's stylish, and inviting! It's brave to think outside the box and create an island that is completely unique in its look and shape. However, it can make a huge visual impact, cementing a luxury kitchen feel. Whether a contrasting colour from the rest of your kitchen, a premium finish, a floating island effect or waterfall design with worktop that continues across the island's edge and to the floor.
2) Luxury Kitchen Finishes
When it comes to finishes, there are endless possibilities. You could opt for a classic look with traditional and natural materials like real wood and stone, or go for something more contemporary with smoked glass, metallic cabinetry, rich-colour tones or even concrete. It's really up to you!
The quality of your cabinetry is the most important and costly element of any kitchen so key here is making the right choice for you, but also a lasting choice. A professional kitchen designer will always be able to guide you in your decisions.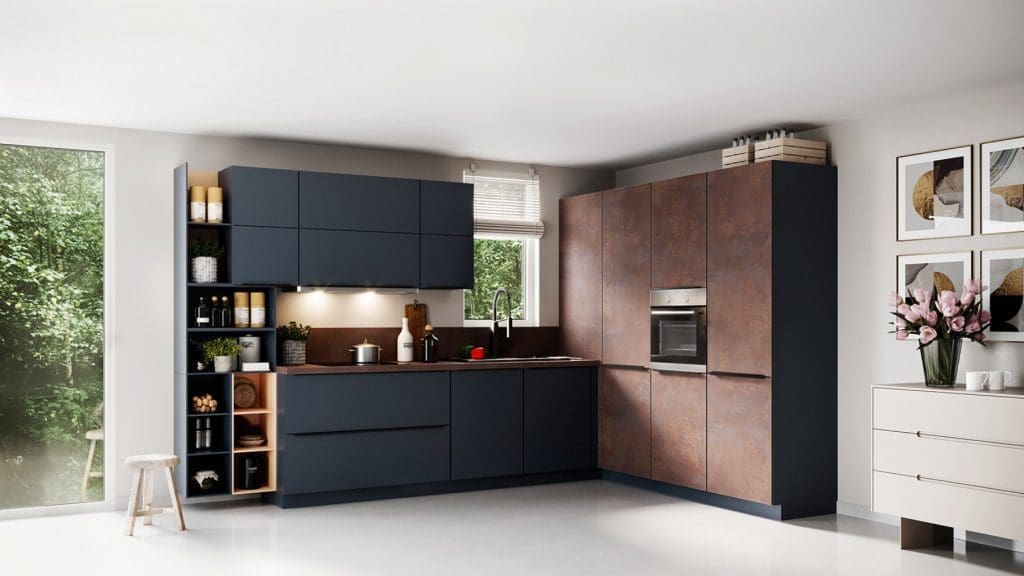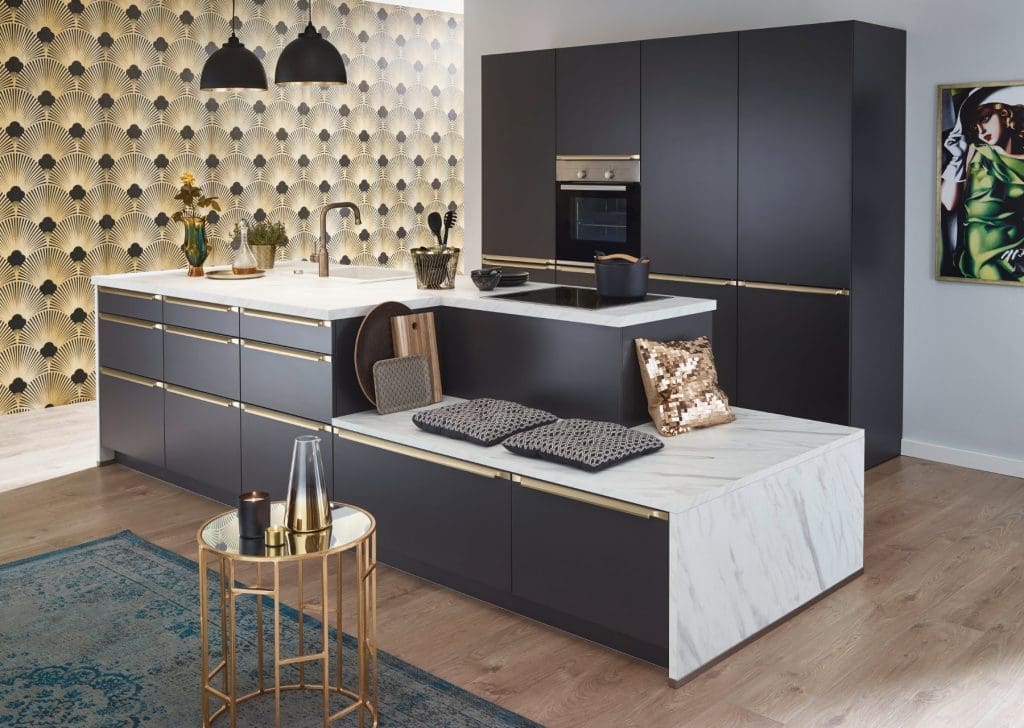 3) Luxury Worksurface Materials
Beautiful worktops are also a 'must have' in any luxury kitchen design. In fact, the worktop is one of the most important features for making your kitchen stand out. There are many different materials to choose from, including marble, wood, granite and quartz, or if you want something truly unique, you could even opt for a bespoke worktop.
For maximum design impact, nothing beats marble, with its unique vein patterning – the ultimate in luxury! But more than this, it's not just about the worktop material you choose, but the type of profile too. From statement surface patterns, chunky profiles, light up profiles, and as already mentioned, the waterfall worktop effect, all of which give plenty of scope for creating a unique and eye-catching worktop look!
Luxurious Dark kitchen schemes
Bringing a touch of drama, dark kitchen schemes command attention for all the right reasons! Dark tones including black, charcoal grey, and deep forest green, appeal because they effortlessly exude a sense of opulence. Dark modern woods such as black oak have also seen a rise in popularity for their richly textured surfaces! Blurring the lines of where walls start and end, dark kitchen schemes add depth to a room, whilst the presence of fewer shadows enhances the feeling of a pristine space with a seamless feel! Finally, dark kitchen tones also make the perfect backdrop for other colours to stand out, achieving striking, luxurious, and interesting contrasts.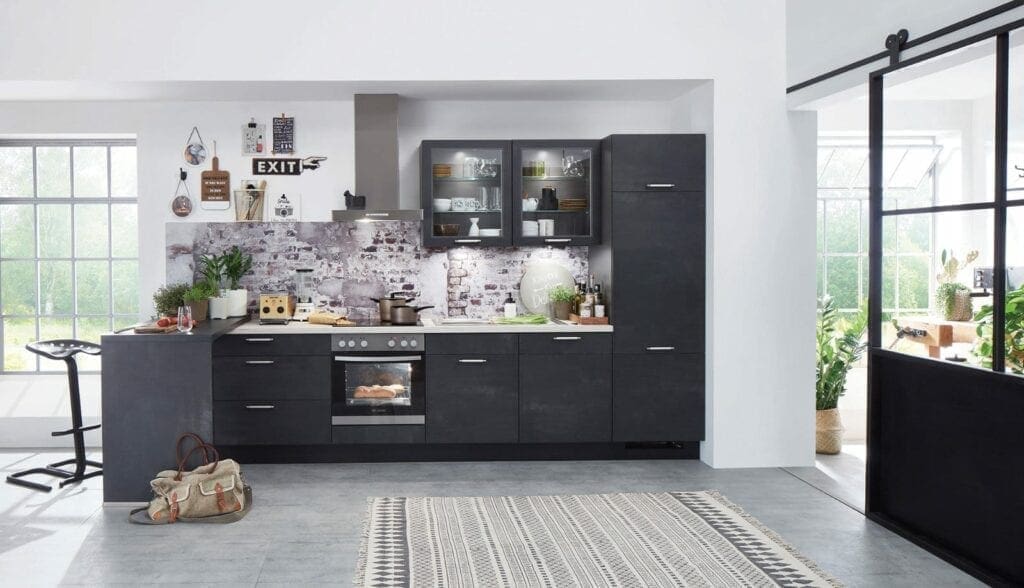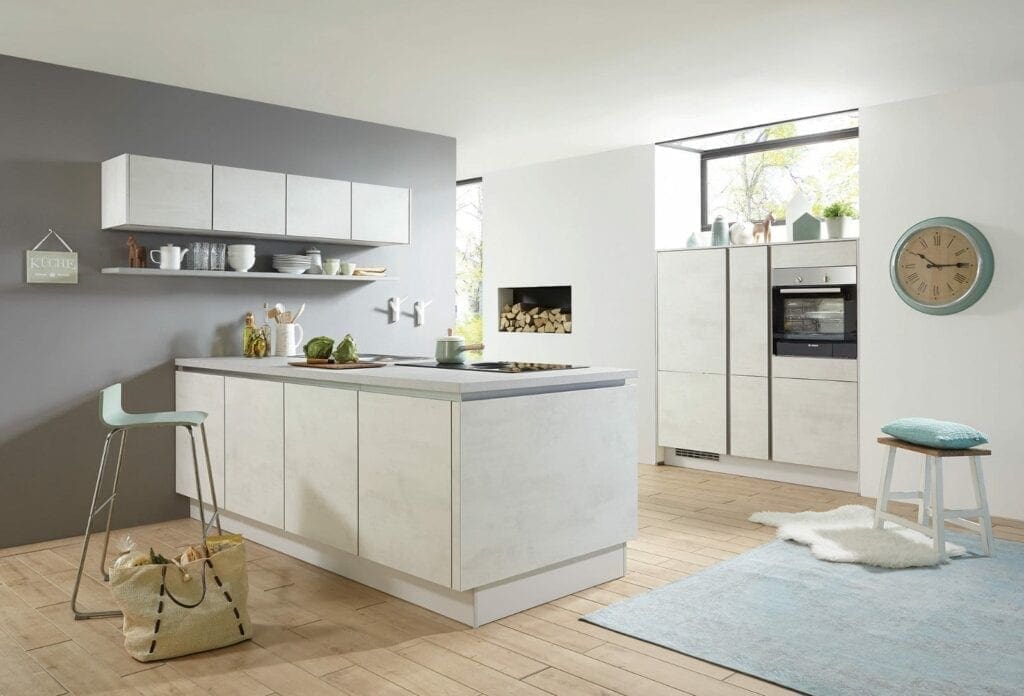 5) An all-white kitchen scheme
White is synonymous with luxury and a well-planned, all white kitchen design appeals for its fresh, timeless, and of course luxurious appearance! Any great kitchen is bright, clean, and fresh in its look and feel, and white is the easiest tone for achieving this. However, it is also quite easy to get this wrong and result in a kitchen with a clinical feel. Avoid this by layering different textures and materials and in doing so you will elevate the luxury feel of your kitchen.
Natural materials such as glass, wood and marble, textured tiles, and light wallpapers, will enhance a beautiful white kitchen interior. Alternatively, contrasts of colour can bring a new dynamic, standing out as an eye-catching and luxurious feature.
6) Include built in storage
A cluttered kitchen will never look or feel luxurious, and also impacts on your enjoyment of your kitchen if you can never find what you need at the exact time you need it! During the initial stages of kitchen planning, you should therefore always think about your storage needs, and work with a professional kitchen designer to create a layout that includes appropriate and sufficient built-in storage solutions. For example, pull out larder units, internal shelves and carousels are all efficient for neatly hiding everyday kitchen items and small appliances, resulting in a clean and uncluttered kitchen that feels more spacious and luxurious.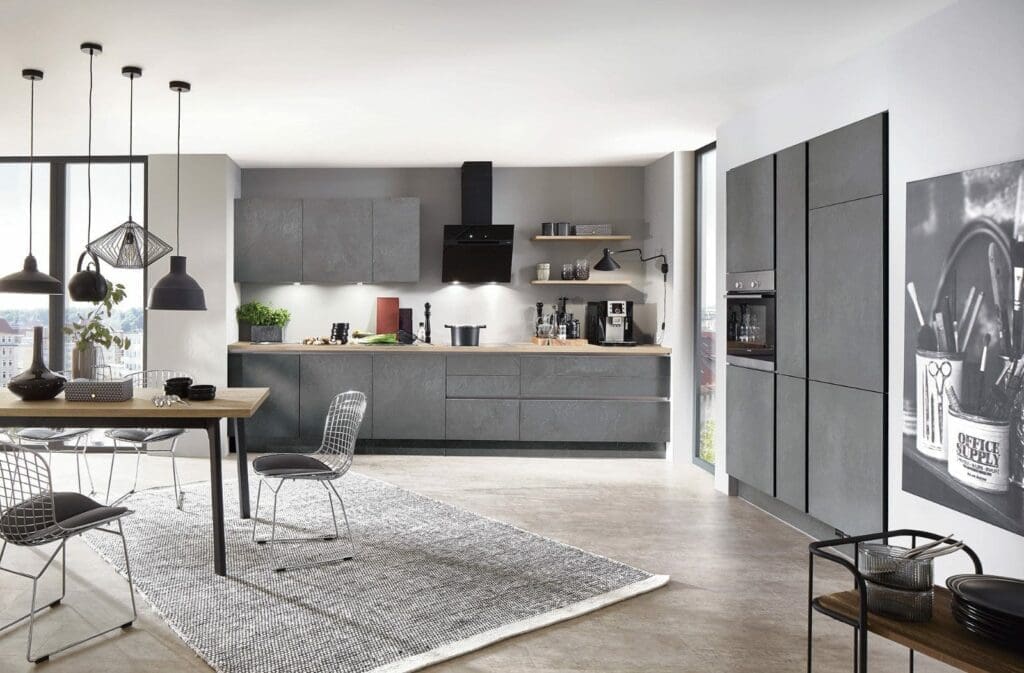 7) Innovative kitchen appliances
In a luxury kitchen, only the best will do, and no luxury kitchen is complete without high-end, built-in appliances which enhance the design, functionality, and luxury of the space. Whether you're looking for a new fridge, oven, or dishwasher, make sure to invest in quality appliances that will stand the test of time. You'll want to choose high-end appliances that are both stylish and functional.
For a truly luxurious kitchen, you should also include smart kitchen appliances and technology.  In a smart kitchen, you can enjoy self-cook functions to prepare your meals at exactly the right temperature and send you a text once complete; a smart fridge will notify you when its contents are running low, and you can even get washing machines that will assess the added load to automatically determine how much softener is required. 
8) Luxury Kitchen Lighting Options
Of course, in any kitchen, you mustn't forget the lighting! A well-lit kitchen is essential for any luxury kitchen, creating a bright, easily usable, and enjoyable space. Whether you choose overhead lights, pendant lights, or even under-cabinet lighting, make sure your kitchen is well lit to really show off your luxury details. Pendant lighting or a chandelier over an island is one of the easiest ways to introduce a luxurious feel, and low hanging lights can give the impression of a higher ceiling.
Alternatively, LED lights behind a glass splashback or under your cabinets is also effective, and especially in a standout, colour changing option you can control remotely from your smartphone. Layered modern lighting ideas are perfect for setting the mood you want for your kitchen, whilst also adding depth and a luxury feel.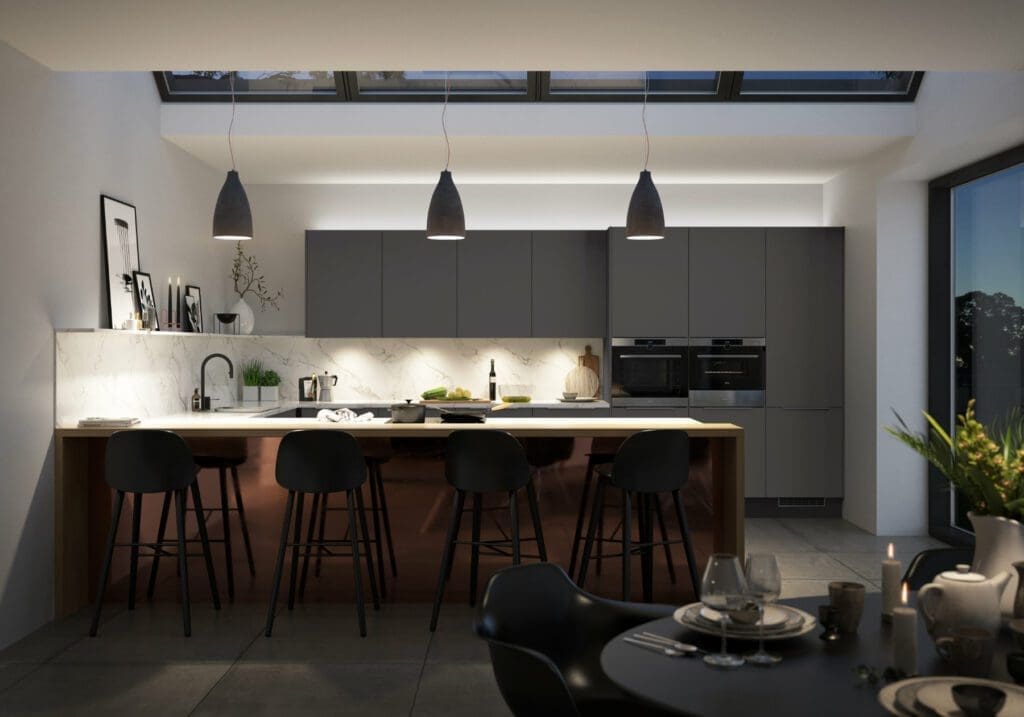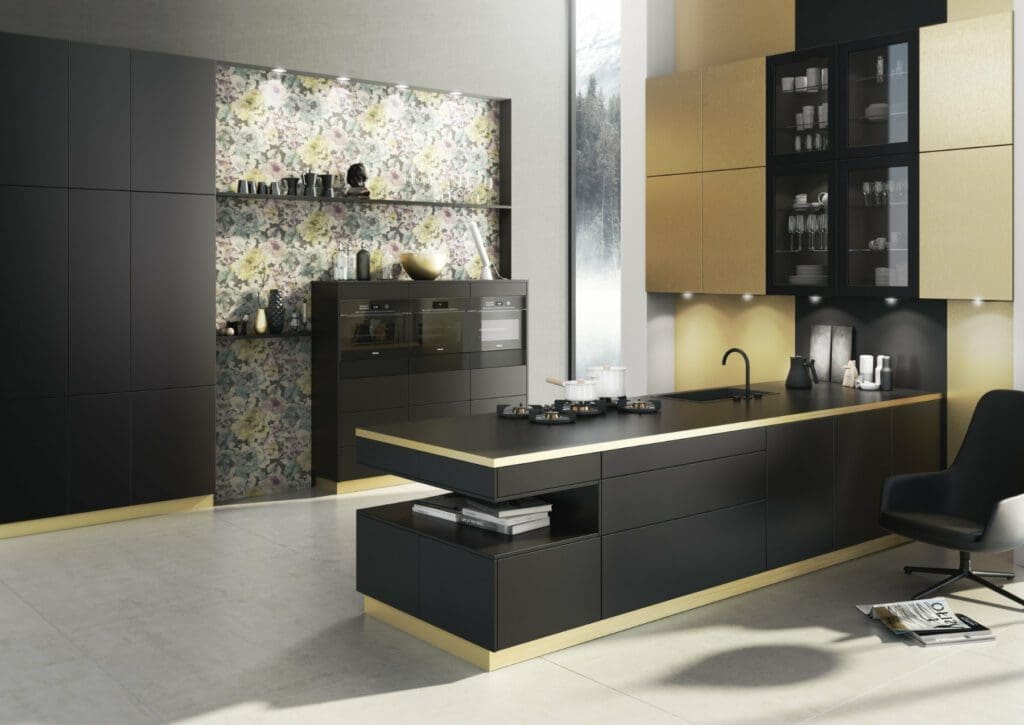 9) Finishing touches
When it comes to luxury kitchens, the details matter. From cabinet handles to fixtures and faucets, and even flooring, choosing quality materials will make all the difference in your kitchen's overall look and feel. Black matt appliances and taps are much in demand for the luxurious style statement they bring. And whilst handleless kitchen cabinets are ideal for modern kitchen styles, ornate kitchen handles in gold, brass or copper make the perfect finishing touch for a traditional or shaker kitchen look.
Pay attention to the finishing touches and your kitchen will truly stand out.
10) Use a Professional Kitchen Designer!
Of course, the best thing to do if you want to bring a feeling of luxury to your kitchen is to work with a professional kitchen designer from the early stages of your project. Bringing a wealth of experience and design knowledge they will know how to incorporate all the features you need for a winning, luxury kitchen design. They will also be able to help you choose the best materials for your kitchen based on your style preferences and budget.
To get started on your luxury kitchen project and create the kitchen of your dreams, find your nearest kitchen expert today!