Open plan kitchen and living room spaces are an increasingly popular trend in place of separate kitchen and dining rooms for the primary reason that they allow families to spend time together in an easy, fluid way. As the hub of the home an open plan kitchen enables different household members to cook, eat, socialise or relax within the same space at the same time. Practical and social in their layout, open plan kitchens suit busy modern lifestyles where comfort, efficiency and multi-tasking is key. Here are 10 steps to ensuring the perfect open plan kitchen design.
1) Define separate zones within your open plan kitchen
The shape and size of a room space predetermines the layout of many kitchens. For example, a small kitchen's form may dictate that only a Galley or L-shaped kitchen will work. But an open plan kitchen & living room setting usually allows for more design and layout options. And the space can be further developed to achieve a practical, functional layout through defining separate kitchen zones aongside the working kitchen triangle.
Zones refer to areas of the kitchen where different activities take place, such as the prep area, (70% of kitchen time is spent here) cooking area (10% of kitchen time is spent here) and clean up area (20% of kitchen time is spent here). But within an open plan kitchen space you should also consider a seating zone separate to the prep and cooking zone, whether for socialising, studying or eating. Typically, this might be a peninsula or kitchen island breakfast bar. Separating is preferable to whoever is cooking if they can maintain a clear working zone but it is also a safer arrangement all-round. For a brighter and more comfortable atmosphere, it is also advisable to locate the eating area as close as possible to a room's natural light source.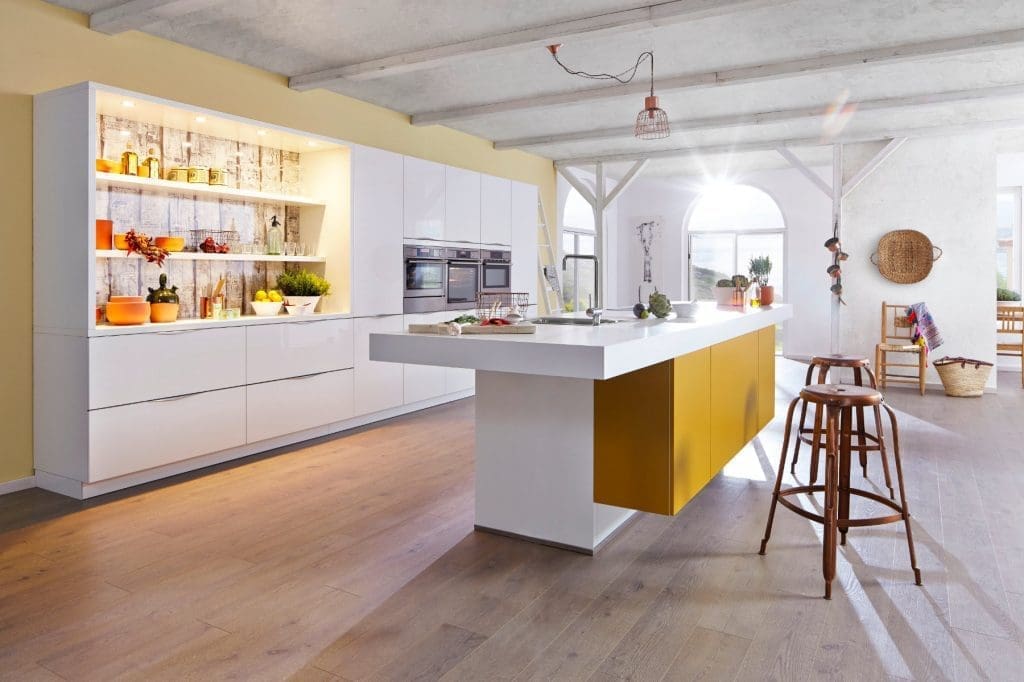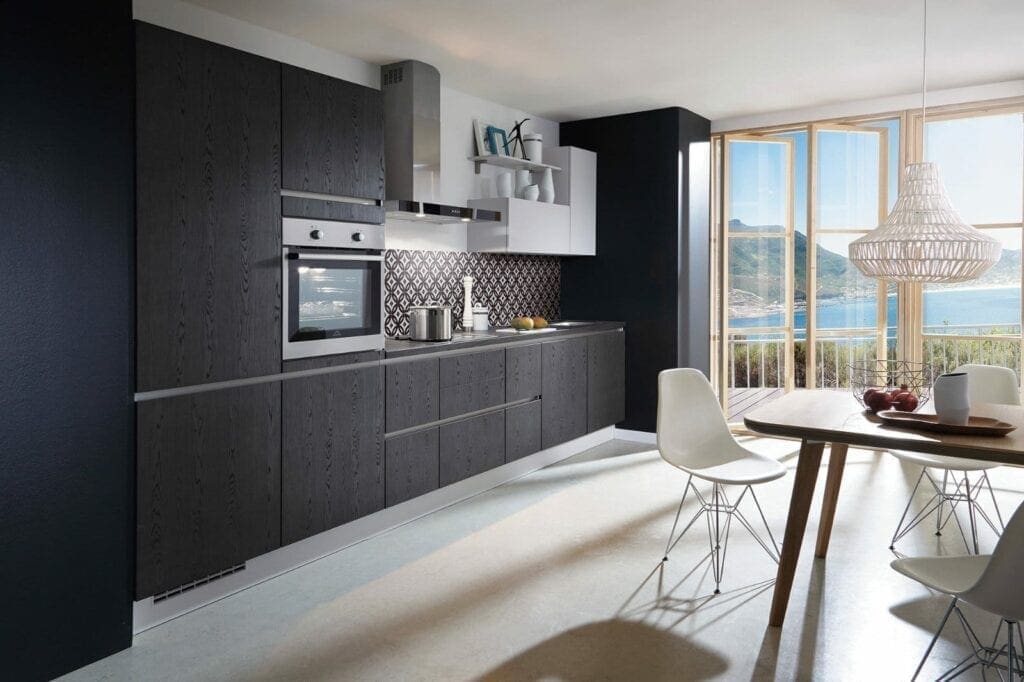 2) Choose open plan kitchen appliances to reduce noise and cooking smells
Kitchens can be noisy and odorous places. This can quickly become a nuisance for other family members who are working, studying, relaxing or watching TV within an adjoining living area.. If your kitchen is open plan then it is worth exploring options for appliances that will minimise noise and smells, such as the Siemens range of high performance extractors. These use magnets rather than screws to reduce vibration and consequently make minimal noise whilst recirculating smells. Similarly, boiling water taps are a good kettle alternative, as the boiler sits beneath the worktop, reducing noise output. The same can apply for washing machines and dishwashers, as well as integrated appliances models with doors that further help reduce the sound, whilst enhancing appearance.
Extraction is key within an open plan kitchen and particularly for kitchen islands with extractors, as they need to extract directly through an outside wall or else a downdraft extractor through the floor. Ceiling extractors offer an effective solution for this and are unobtrusive in appearance as well as saving on space within the kitchen.
3) Ensure enough space for your intended open plan kitchen
When planning an open plan kitchen it is essential to ensure sufficient space for comfortable living at the same time as a fully usable kitchen. For example, if including an island, is there enough room to move freely around it without encroaching on your living space? Or again, will the noise from the kitchen impact too heavily? (which is more of a problem within smaller spaces). How many people currently live in your home and will the space still work should you decide to grow your family? Also consider if you might rent or sell your home at some stage in the future, as a poorly designed space will appear small and could put off potential tenants/buyers.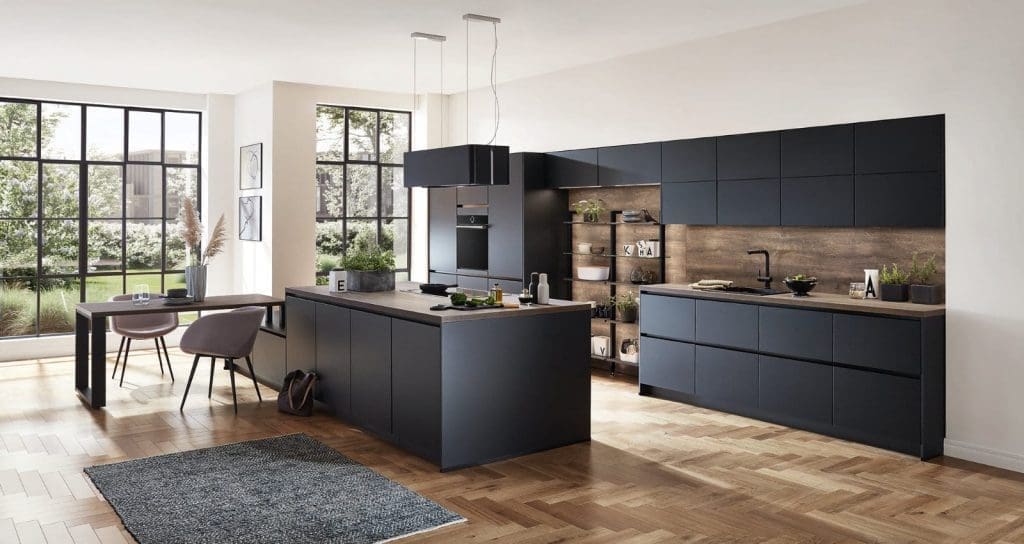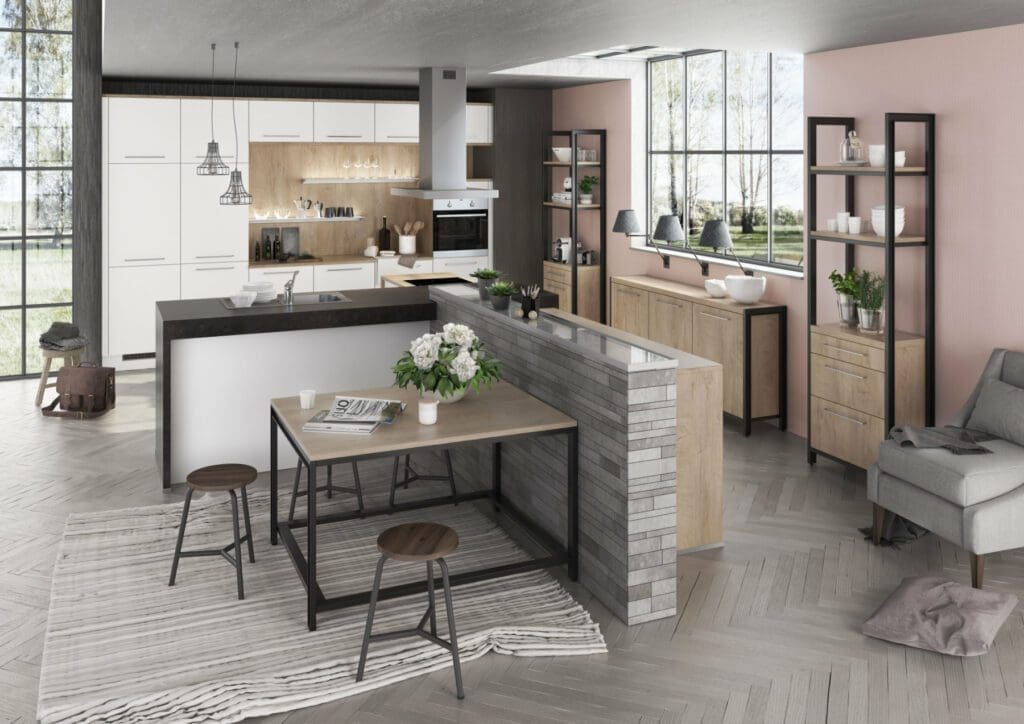 4) Make a distinction between kitchen and living room
Within an open plan kitchen and living room arrangement, many people want to continue zoning and mark a physical separation of the space between the kitchen and adjoining living area. In terms of lifestyle and activity, this separation can define the space cooking, as well as separate areas for working and relaxing. Should you wish to incorporate a distinction then you need to consider how you will do it?
It might be through a change of flooring between kitchen and living area, (though carpets aren't advisable within kitchen areas), or a change of décor such as wall colour, glass partition, or a separate style of lighting too. Task lighting is useful in the kitchen but within your relaxation space, decorative or low lighting can create an entirely different effect. Where space permits, an island is the most popular inclusion for an open plan kitchen, grounding the space and marking a very definite change between kitchen and living room. If intending your open plan space as the heart of your home kitchen islands offer a compromised balance of space for cooking and socialising within the kitchen area.
5) Complementary kitchen and living furniture
Another current kitchen design trend is for the style of kitchen furniture to flow and continue throughout other rooms of the house, including utility room, bedrooms, studies, and especially the living room.
This is easily achievable through living room furniture designed for this very purpose and made by the same kitchen manufacturers. It allows a seamless flow from kitchen to living room for comfortable and easy living. Alternatively, and as previously mentioned, you might want to mark a distinction between kitchen and living room and the use of contrasting colours or textures is an easy but effective means for achieving this. You might even select the same range and style of kitchen furniture but simply opt for different colour tones within your living room.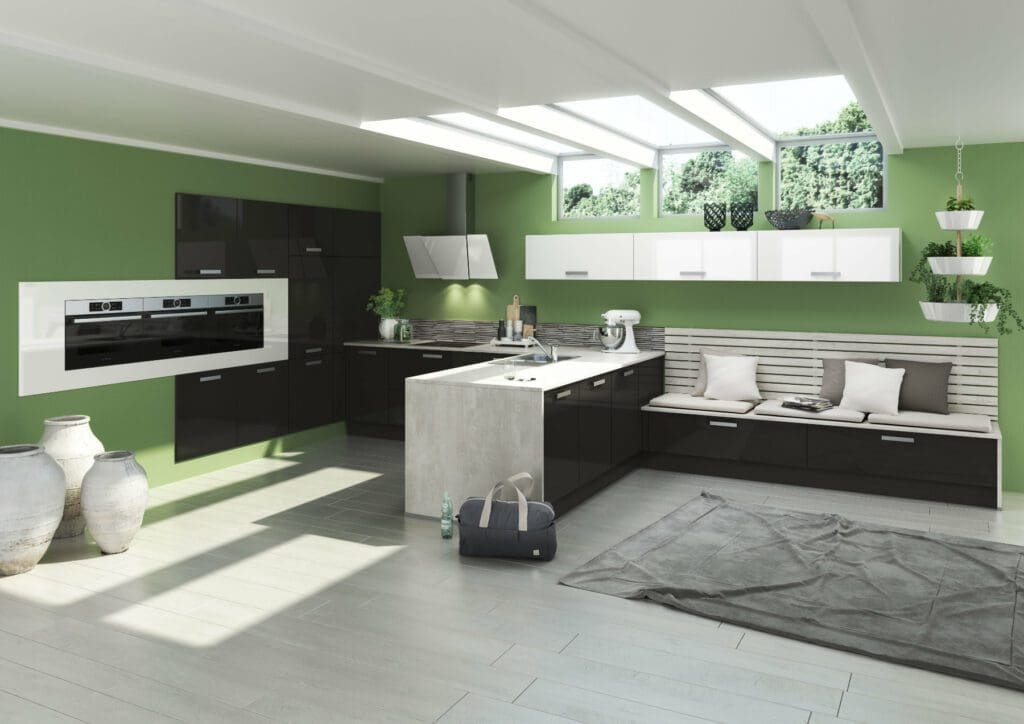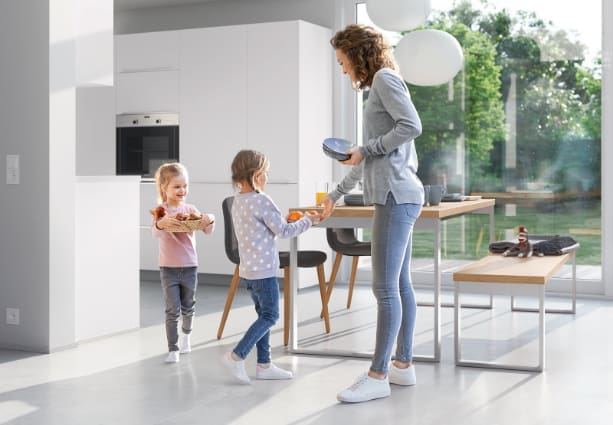 6) Ensure your open plan kitchen living space is child friendly
Open plan living arrangements can be beneficial for parents as you can set up your children for play in the living area, keeping them in clear sight but safely away from common hazards of the kitchen.
However, this falls to individual choice as many parents also find a separate living area provides privacy, or a relief for the rare times you manage a well deserved break.! It is a very personal choice, but definitely worth careful consideration. Similarly, pet owners often want to keep their pets clear of the kitchen when cooking, or else allocate a specific area for housing their pets and this needs to be included within the design as well.
7) Create warmth and light within your open plan kitchen
With ever-increasing heating costs, an advantage of an open plan kitchen and living room arrangement is that the living rooms absorb the heat generated from the kitchen. Great for keeping warm in Winter but is your open plan arrangement also well-ventilated for Summer, and bright enough too?…
…Open plan arrangements tend to allow more natural lighting due to an increased number of windows within the space. Sky light openings, a glazed roof or bi-fold doors are all effective in ensuring adequate light and ventilation. Choice of cabinet colour can also make a difference and if needs be choose warm hues such as white or cream rather than those from the cold side of the colour spectrum. Lighter colours will also make the room feel larger, so are ideal for small open plan kitchens. However, if you are decided on a cooler colour tone then introduce a two tone arrangement in combination with warm floor tones to ensure it works and that your kitchen will still feel light and bright.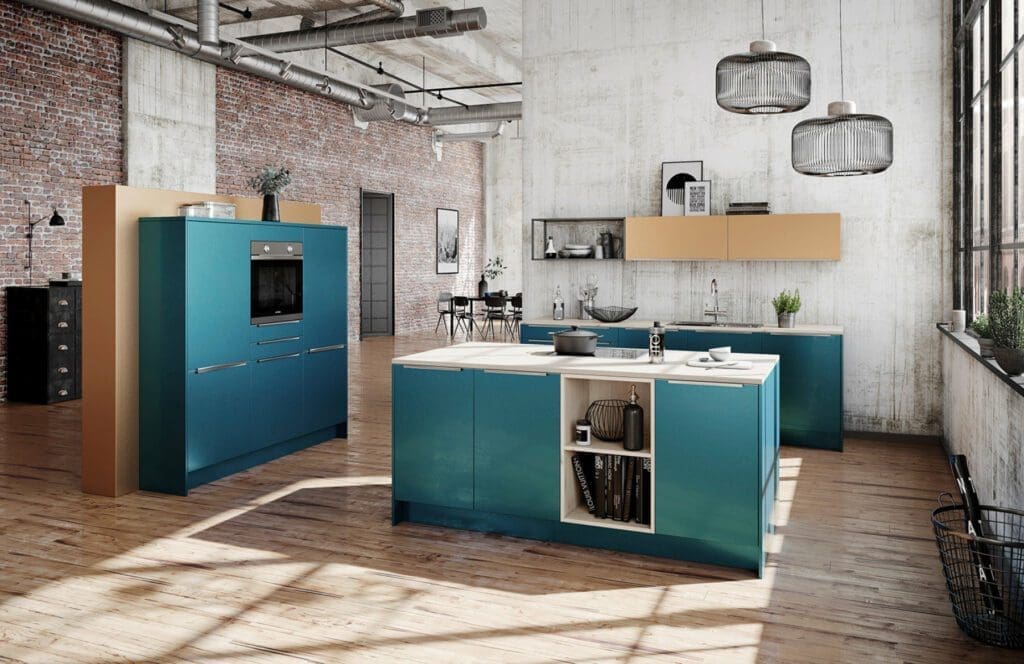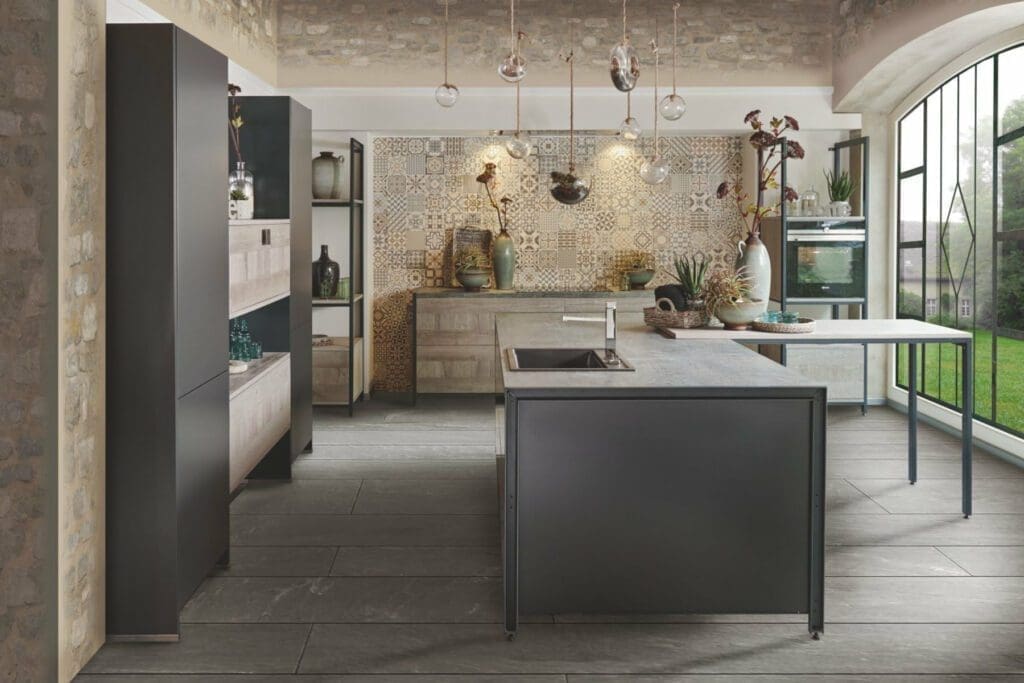 8) Check your new open plan kitchen meets planning and building regulations
If your intended open plan kitchen arrangement requires any structural changes to your home then ensure you seek planning advice in advance of carrying out any works. It may be that you are planning an extension onto your home, in which case you need permission, as well as an architect and builder. But even if all changes are internal, such as knocking down a non-load bearing wall to open up a space there may still be building regulations to adhere to. For example if your kitchen is at the top of a staircase then a set of internal doors may be required between staircase and kitchen as a fire safety precaution. Should you wish to sell your home in the future it is important to adhere to these stipulations, or risk failing a building inspection report.
9) Incorporate 'wow factor' kitchen design features
Any kitchen design has to be practical and meet the homeowner and family's needs but it also has to look good!
This is especially significant within an open plan arrangement as this is where your family will spend the majority of their time, as well as where you will welcome any visitors into! One way to ensure this is to include a wow factor feature within your kitchen, such as an eye-catching island or kitchen island with breakfast bar. Whether modern or traditional this can draw the eye, and lighting effects or use of different colour tones can enhance the look you are wishing to create. The end-result is an open plan kitchen that is stunning in design but practical in functionality.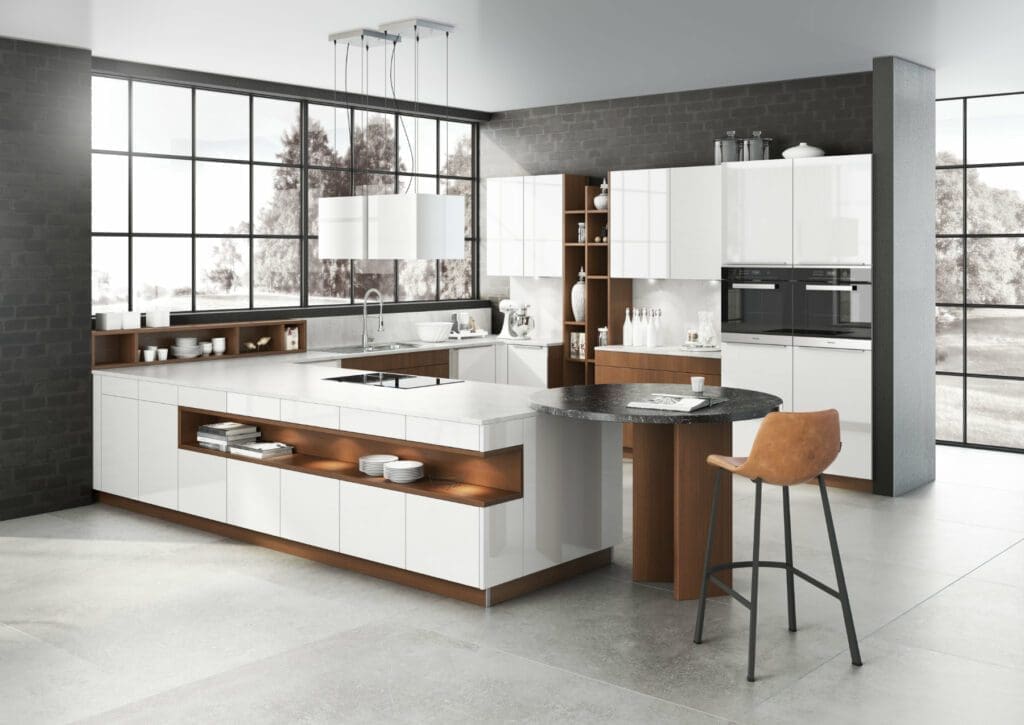 10) Allow for generous open plan kitchen storage
Within an open plan kitchen living arrangement it is essential to ensure generous storage options so you can maintain a tidy and clutter-free appearance. This is particularly important as open plan means everything is in plain sight.
Structural amendments such as removing an internal wall often means losing space that would have accommodated wall cabinets, making it even more important to include storage space elsewhere, and particularly within small kitchen spaces.
Carousel units, le mans corner units, tambour units, internal bins all offer storage options whilst maximising on space. Integrated or compact appliances can also effect this. Similarly if you opt for a kitchen island these can include options for cooking such as a built in hob or sink, but also storage including pan drawers, cupboards, or even attractive open shelving.