L Shaped Kitchens
In many situations the L-shaped kitchen layout will prove the best choice for your kitchen design. It is a great option if you are looking to maximize worksurface within your kitchen, giving the convenience of two working areas within the same space. And with more homeowners abandoning the traditional separate dining room, open plan L-shaped kitchen designs are increasingly popular because as well as offering extra worktop and floor space, they can also prove very sociable. Yet there are some tradeoffs to consider with any design, and that includes the L-shaped kitchen too. Read on for the pros and cons of L-shaped kitchens, along with our tips for ensuring a successful L shaped layout.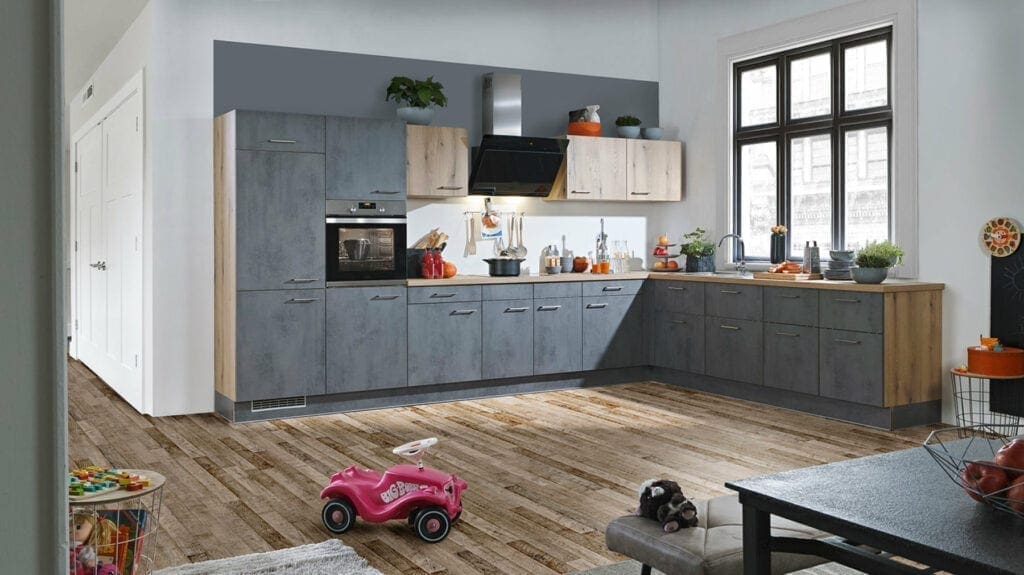 What is an L Shaped kitchen?
The basic component of an L-shaped kitchen is a corner where two adjoining walls meet at a 90-degree angle, with the units on each side forming adjacent working areas. Often referred to as the legs of the 'L' these cabinet runs can vary in length providing you maintain an efficient workflow for the kitchen between the fridge, oven, and sink. Best suited for small to medium size kitchens, L shaped layouts will also work for larger spaces but there is a risk of losing their efficiency. To stop this from happening, and where space allows, you might consider adding a kitchen island or small peninsula.
What are the benefits of an L-Shaped Kitchen?
An accommodating kitchen style, the L shaped layout will suit any style of kitchen whether modern, traditional, Shaker, or ultra-contemporary. As mentioned, it provides extra worksurface and floor space, which in turn means space for more than one person to use the kitchen at once. Without the enclosed feel of a galley kitchen the space in front of the units is open and welcoming. This allows for a social space where the user can cook as well as entertain guests. It also allows flexibility should you wish to introduce a dining table or kitchen island within your design.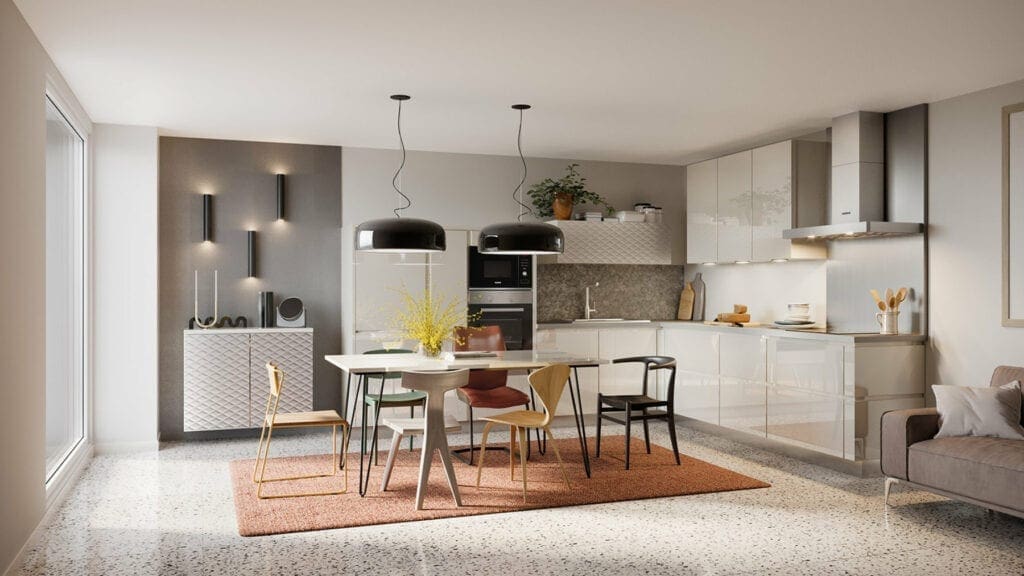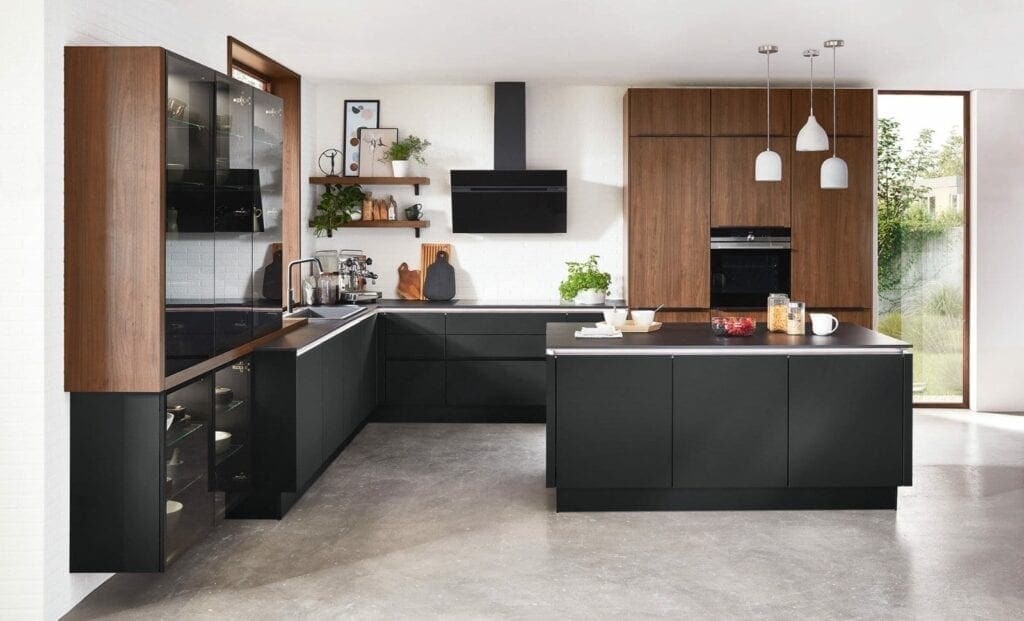 L Shaped kitchen with island
Depending on the size of your L-shaped kitchen design, a kitchen island can be introduced. This will take up more floor space, and require clearance around it, but should space allow it will transform your L-shape kitchen's look to create a statement focal point. More than this, it provides additional worktop space, increases storage space, and provides a place for people to sit down and eat. On the side of the island furthest from the cooking area this also becomes a much safer arrangement for family and guests too. A kitchen island is also a great option if you want privacy rather than open plan as it can hide the area where food preparation takes place, keeping any mess out of sight from guests.
Are there disadvantages of an L Shaped Kitchen Layout?
Many people like the configuration of an L shaped kitchen design because it offers two distinct work areas within the same space, an arrangement which easily boosts convenience in smaller kitchens. But if you've got a small kitchen to begin with, even an L- shaped layout might not be big enough for two areas any longer than 8 or 10 feet apart. Light can also prove an issue with an L-shaped kitchen due to lack of windows or wall space. Some homeowners solve this by adding recessed lighting within the kitchen cabinets, or else if lighting is not a problem, you can also hang pendant lights over the sink area. However, the biggest drawback to the L-shaped design is that it requires more wall space than other layouts. And if you want the two work areas to be fairly distinct, you won't want to place your refrigerator across from your hob because this would impede traffic flow.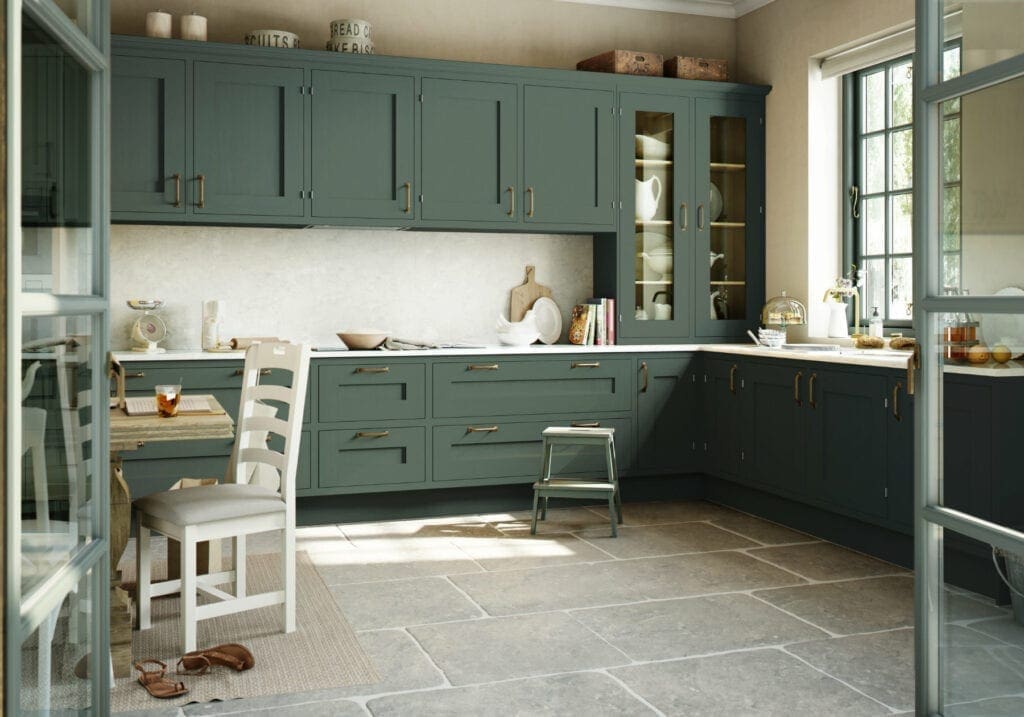 L Shaped Kitchen Storage Solutions
Remember that corners can create awkward spaces within an L shaped kithen that are difficult to design or furnish well. You'll need to take this into account when planning the placement of appliances and furniture. However, to help maximise this corner space so you can still easily use it there are many innovative kitchen corner solutions to choose from. For example, corner carousel units, magic kitchen corner units and le mans corner units are all excellent for enabling you to make full use of this otherwise tricky corner space within a kitchen.
L Shaped kitchen variations
There are many ways you can make an L-shaped kitchen layout work for you, regardless of the space you have in your kitchen. You could have equal length runs, or else in a small kitchen you might have one short leg comprising tall cabinetry which houses your ovens, and a much longer leg for your sink and hob. Alternatively, in a larger kitchen space you might even have one run of cabinetry against the external wall, whilst the second – or even an additional – leg protrudes into the centre of the living space. As an open, low divider this run of units can become multi-functional, enhancing your space as much as your enjoyment of it.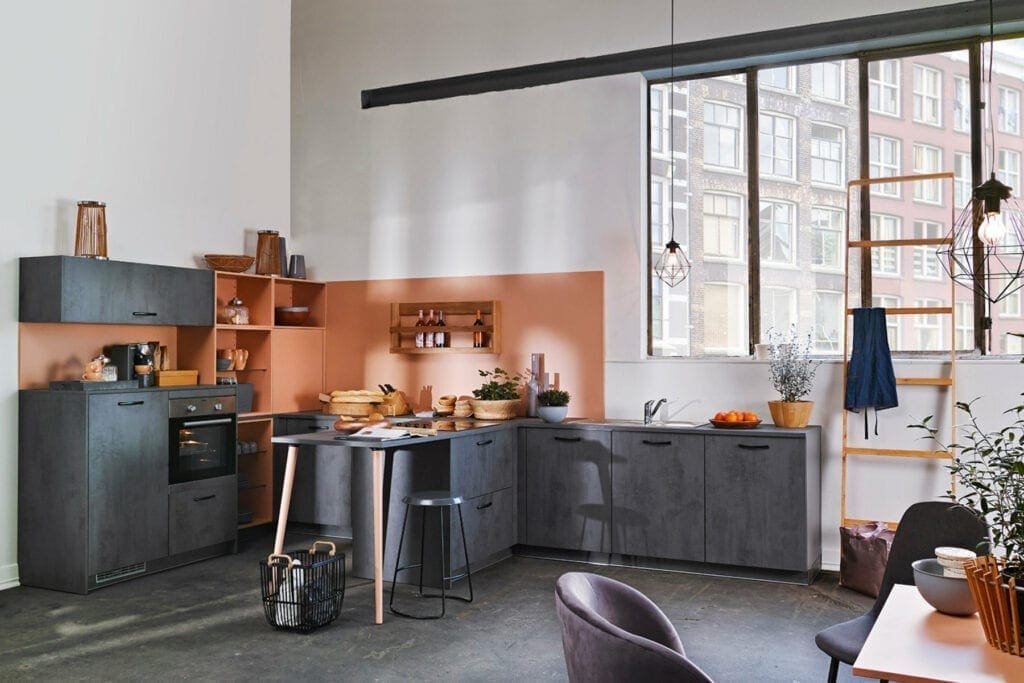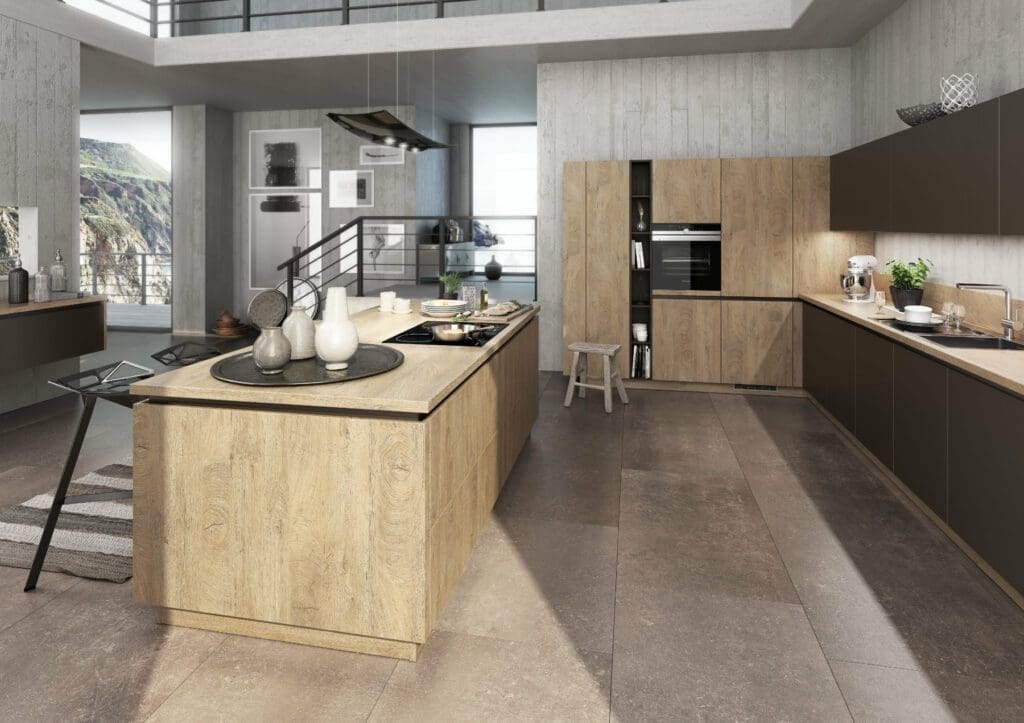 L shaped kitchen layout ideas and planning tips
If you're considering this layout for your kitchen, here are some L Shaped kitchen design ideas and tips to help you in maximising this popular layout:-
Place the hob across from the sink, which is generally the most convenient arrangement when cooking. If you'll be washing dishes in a double sink, place the dishwasher next to the sink on the other side.
Place your main cooking appliances, such as a hob and oven, across from each other, if possible, which allows ease of use when prepping meals. Consider a bank of tall units for your oven to prevent you having to bend for access. Placing your appliances in an island or peninsula is a possibility but might limit traffic flow through that area of the kitchen, and sinks are inadvisable for islands as a dish full of dirty dishes will easily spoil the view. Arrange cabinets with pantries along one wall for ease of use when baking or cooking.
The most efficient use of space in an L-shaped room is achieved with the long side facing a high-traffic area, such as in between two doorways. A peninsula works well when it is perpendicular to the main flow of traffic. A peninsula can also be used to divide areas within your kitchen or house, creating separate spaces for different activities as well as a more open look.
To transform the room into an eat-in kitchen-diner, incorporate a table and chairs – best placed at one side of the room to avoid the kitchen becoming too busy. This can double up as a workstation, too.
An effective solution for small L shaped kitchens where an island isn't possible is to install full height cabinetry from floor to ceiling, maximising this space for extra storage capacity.
Achieve your perfect L-shaped kitchen
As discussed, L-shaped kitchens work for both large and small kitchen spaces, ideal for creating an ergonomic, sociable, and aesthetically pleasing space in which to cook. A very flexible kitchen layout there is much scope for adaptation with this layout and so it is always advisable to speak to a professional kitchen designer who can help you achieve the best design solution for your needs, tastes and lifestyle.
For help in finding an experienced kitchen designer near you contact the Kitchen Experts today