The kitchen is often said to be the hub of activity in the home and a space that reflects the personality and lifestyle of the homeowner. In recent years, there has been a surge in interest for unique and stylish kitchen designs, and here, we'll explore the most popular UK kitchen design styles that cater to a wide range of tastes and preferences! From the warmth and cosiness of the farmhouse kitchen to the sleek functionality of the industrial look, there is a kitchen design to suit every home.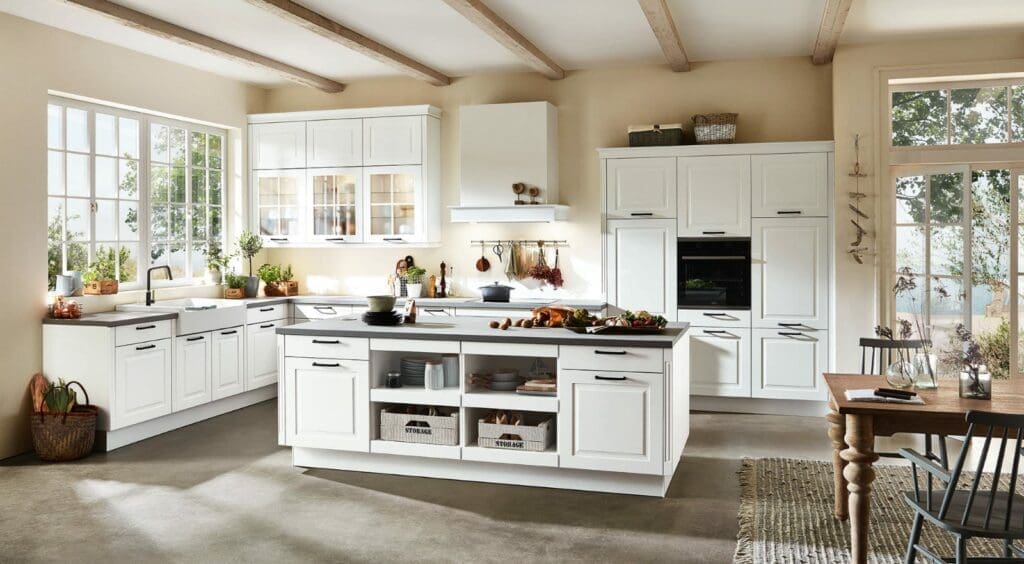 The Classic Farmhouse Kitchen Style
The farmhouse kitchen is a timeless classic that has its roots in the UK's rural heritage. With a focus on warmth, comfort, and functionality, this style exudes a welcoming and cosy atmosphere. Key elements of this popular UK kitchen design include:
Freestanding furniture: Farmhouse kitchens often feature freestanding units, such as dressers, larders, and island units. This flexibility allows for a more organic and adaptable space, reminiscent of traditional rural kitchens.
Natural materials: To achieve an authentic farmhouse look, opt for materials such as wood, stone, and terracotta. Wooden beams, flagstone flooring, and exposed brickwork are all quintessential elements of this style.
Farmhouse: A Popular UK Kitchen Design Style
Further elements you'll often find in a farmhouse style kitchen include:
Rustic finishes: Aged and distressed finishes help to create a lived-in and cosy feel. Consider incorporating reclaimed wood, vintage-style appliances, and antique fixtures to achieve this aesthetic.
Warm colours: Earthy tones, such as terracotta, sage green, and muted yellows, are perfect for creating the warm and inviting atmosphere that is synonymous with the farmhouse kitchen.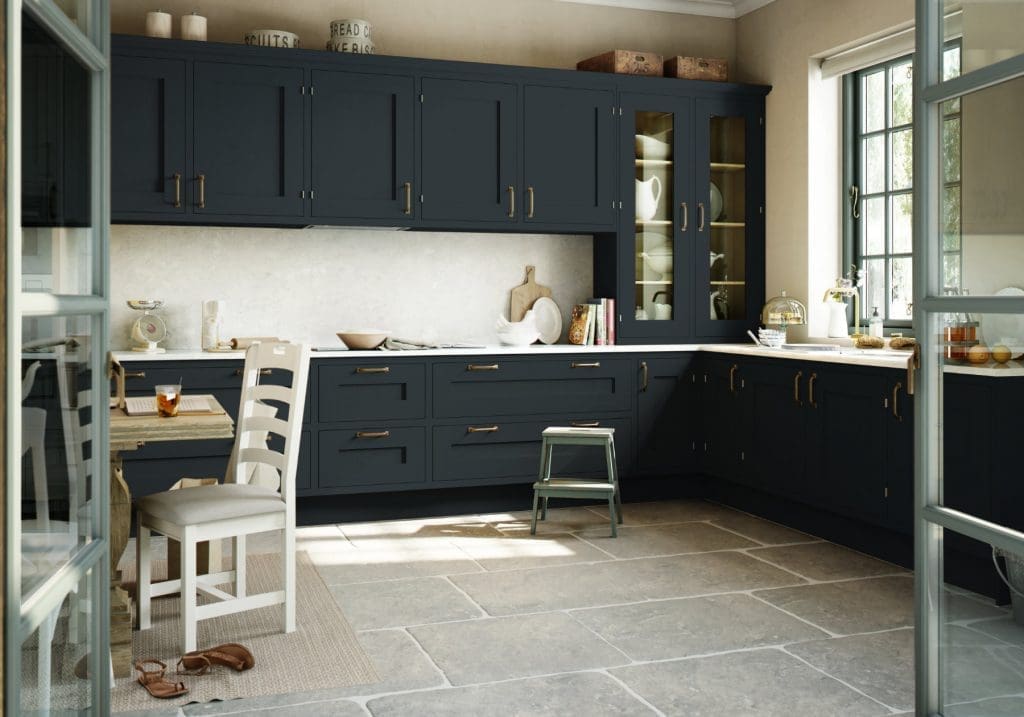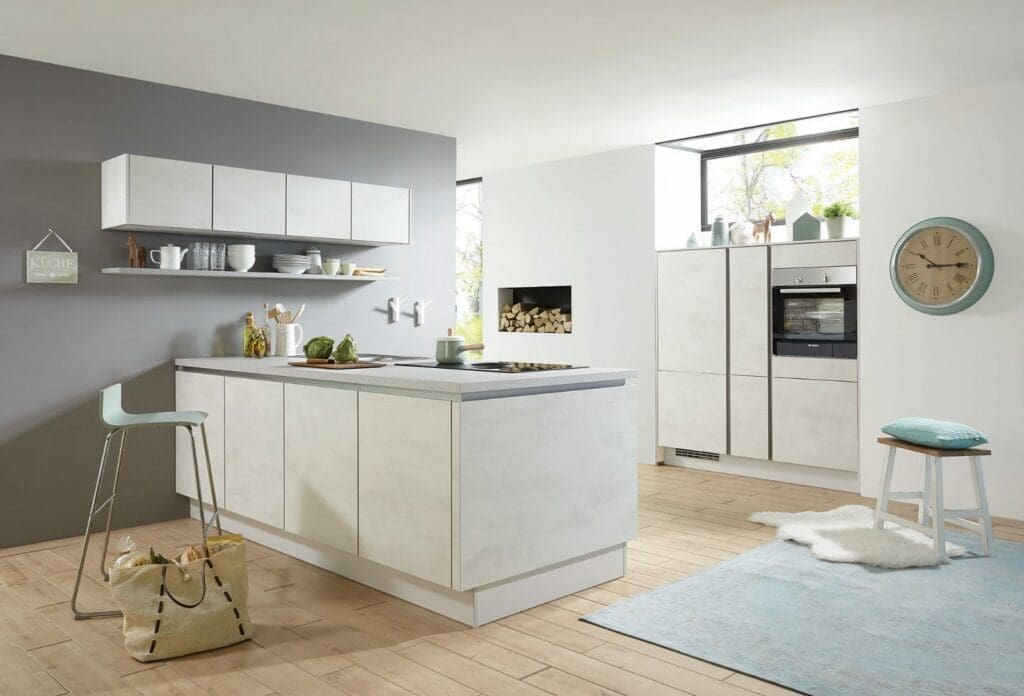 The Sleek Contemporary Kitchen Style
For those seeking a more modern and minimalist look, the contemporary kitchen is an excellent choice. This popular UK kitchen design style is characterised by clean lines, smooth surfaces, and a focus on functionality. Key elements of the contemporary kitchen include:
Handleless kitchen cabinets: The streamlined look of handleless cabinets is a hallmark of contemporary kitchen design. Opt for push-to-open mechanisms or integrated handles for a seamless and sleek appearance.
High-gloss finishes: Glossy surfaces help to bounce light around the room, creating a sense of space and openness. Choose high-gloss cabinets and worktops for an ultra-modern feel.
Integrated kitchen appliances: To maintain the minimalist aesthetic, incorporate built-in appliances that blend seamlessly with the rest of your kitchen design.
Monochromatic kitchen colour schemes: A simple black and white colour palette is a popular choice for contemporary kitchens. For added interest, introduce pops of colour through accessories or a statement splashback.
The Timeless Shaker Kitchen Style
The shaker kitchen is a versatile and enduring design style that originated in the 18th century. Known for its simplicity and practicality, this style is perfect for those seeking a timeless and functional kitchen. Key elements of the shaker kitchen include:
Five-piece doors: The shaker-style cabinet door features a central panel surrounded by a frame, creating a simple yet elegant design.
Uncluttered surfaces: Shaker kitchens often feature minimal ornamentation, with clean lines and uncluttered work surfaces taking centre stage.
Painted kitchen cabinets: While natural wood finishes are also popular, painted cabinets in muted shades such as grey, taupe, and pale blue are a classic choice for the shaker kitchen.
Functional layout: The shaker kitchen prioritises practicality and efficiency, with a focus on ample storage and a user-friendly layout.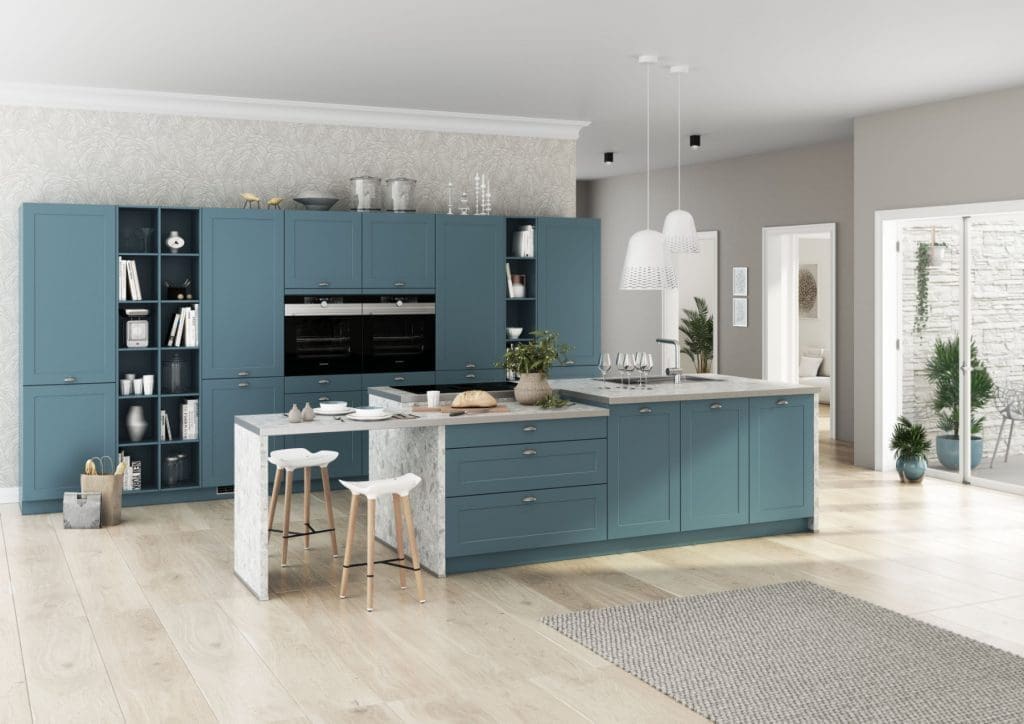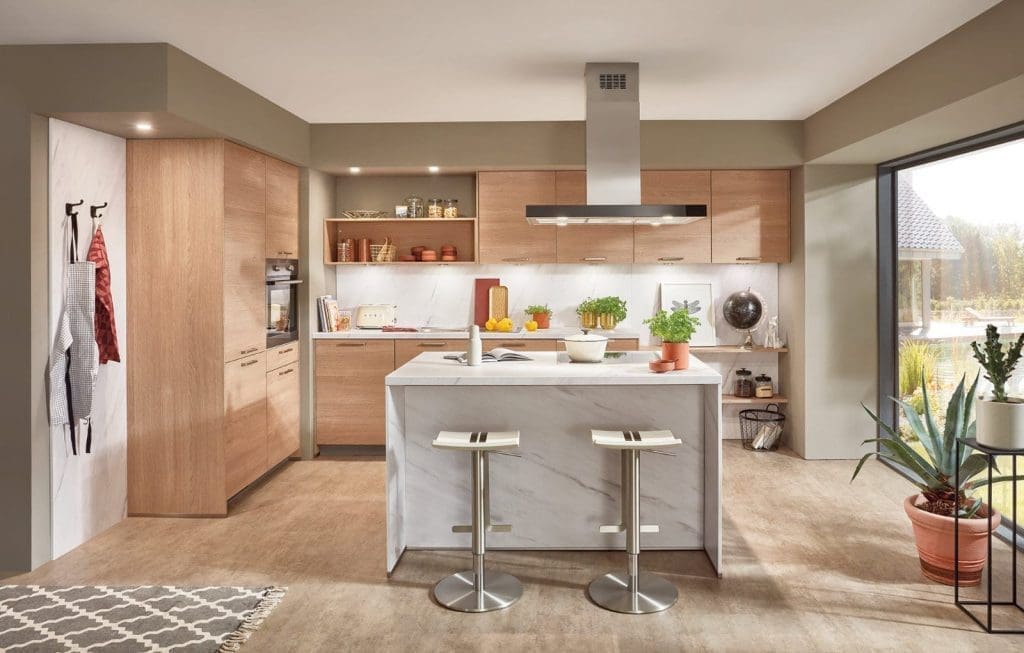 The Bold Eclectic Kitchen Style
Another popular UK kitchen design is the eclectic kitchen, perfect for homeowners who crave a unique and personalised space. Offering the freedom to mix and match different design elements, this style is all about expressing your personality and creating a one-of-a-kind space. Key elements of the eclectic kitchen include:
Mixed materials: An eclectic kitchen often features a combination of materials, such as wood, metal, glass, and ceramics. This mix of textures and finishes adds depth and visual interest to the space.
Bold colours and patterns: Don't be afraid to make a statement with vibrant colours and bold patterns. Use them on walls, cabinets, or even the floor to create an eye-catching focal point.
The Bold Eclectic Kitchen Style
Vintage and modern elements: Combining vintage pieces with contemporary design elements can create a unique and stylish kitchen. For example, pair a mid-century modern dining table with antique chairs, or hang a vintage chandelier above a sleek kitchen island.
Art and accessories: Personalise your eclectic kitchen with a curated collection of art, decorative items, and accessories. Display your favourite pieces on open shelves, or create a gallery wall to showcase your artwork.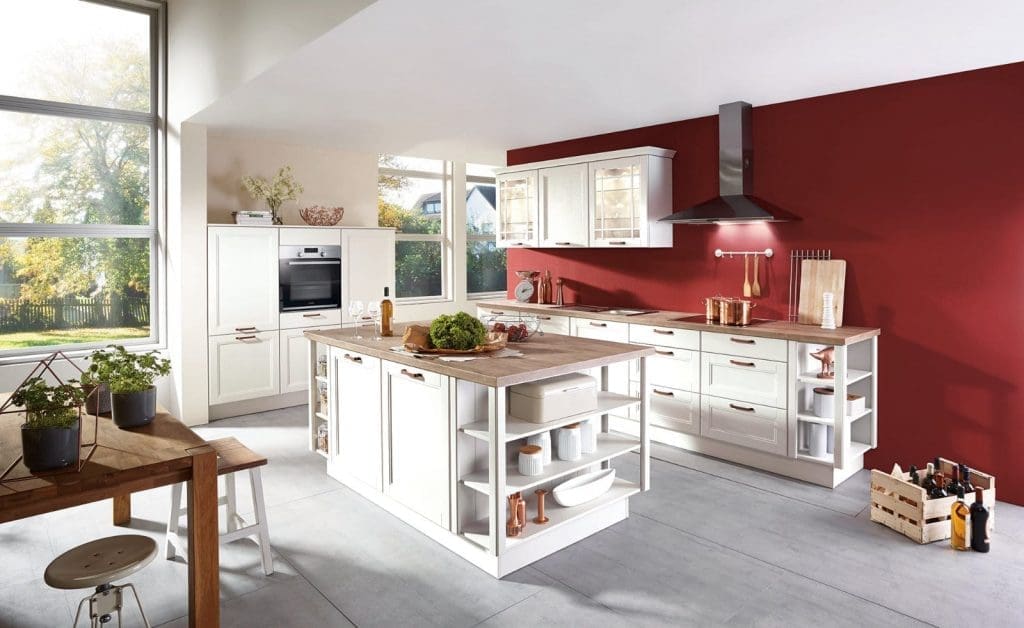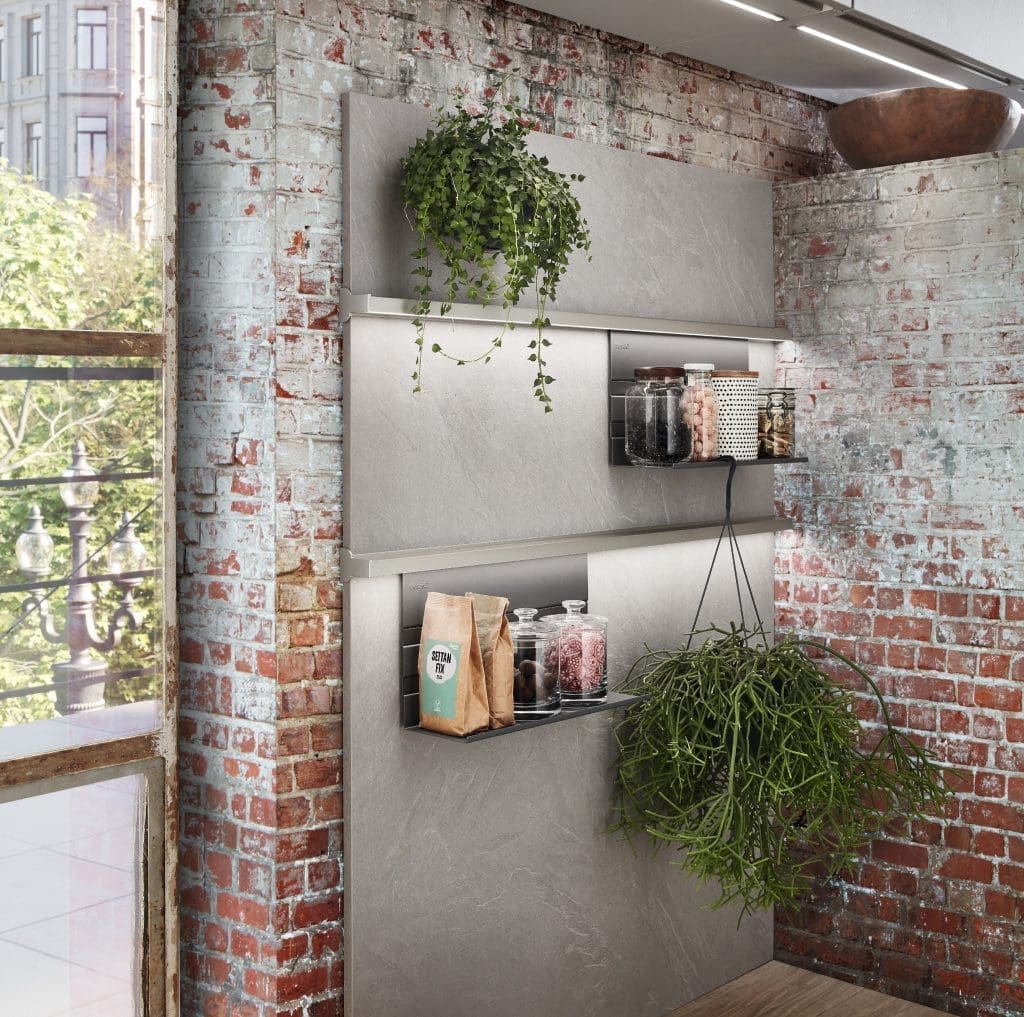 The Industrial Chic Style
The industrial kitchen takes inspiration from urban loft spaces and converted warehouses, creating a raw and edgy aesthetic. This style has gained popularity in UK kitchen design, and it's perfect for those who appreciate the beauty in simplicity and want a kitchen with character. Industrial kitchens often include:
Exposed elements: Embrace the raw beauty of your space by exposing elements such as brick walls, concrete floors, and steel beams. These features add texture and create a distinctive industrial look.
Metal accents: Incorporate metal finishes, such as stainless steel, copper, and brass, to achieve the industrial aesthetic. Opt for metal pendant lights, bar stools, and open shelving to complete the look.
Neutral colour palette: A neutral colour scheme, featuring shades of grey, black, and white, works well in an industrial kitchen. Add warmth with touches of natural wood and leather.
Open-plan layout: Industrial kitchens often have an open and spacious layout, with high ceilings and large windows. This creates a sense of airiness and allows for seamless integration with living and dining areas.
Find Your Perfect Kitchen Style With the Kitchen Experts
You can certainly find a diverse array of popular UK kitchen design styles to cater to the varying tastes and preferences of homeowners. Whether you're drawn to the rustic charm of the farmhouse kitchen, the sleek minimalism of the contemporary style, or the unique character of the industrial look, there is a kitchen design that's perfect for your home. Take the time to explore these popular styles and consider which elements resonate with you, then consult with your local Kitchen Experts who can help you achieve a perfect kitchen that's both functional and visually appealing!