What defines the modern country kitchen style?
Think modern country kitchen and you should be picturing light colours, warm woods, and clear kitchen accents! On the one hand, the aesthetic is unfussy, discreet and reserved, yet equally, it gives a very cosy and welcoming atmosphere. In Scandinavia, this style is often referred to with the word "hygge". The Scandi kitchen style is also increasingly popular in the UK, especially as it suits almost every room and floor plan, fitting perfectly into your home. One thing you can be sure of with this style of kitchen is the enthusiasm of your family and your visitors. So just what else do you need to know to achieve this popular modern country kitchen style?…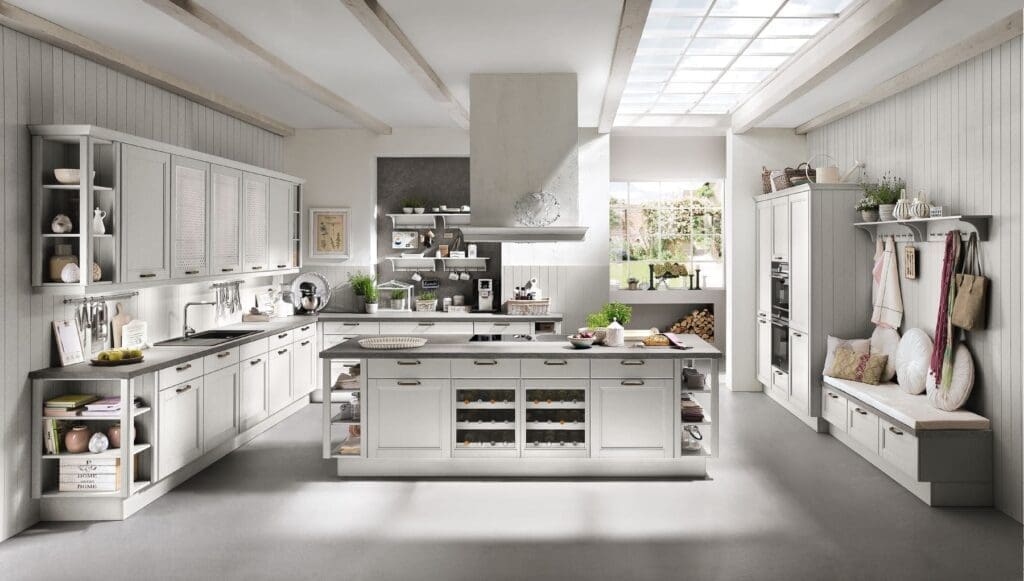 How is a modern country kitchen different from the classic country kitchen?
A modern country kitchen style differs significantly from a country kitchen in a classic style. For example, in a classic country kitchen, dark and expressive tones often dominate, whereas you will more-often (but not always) find lighter colours in a modern country kitchen. Modern country kitchens retain the 'homely' character which is at the heart of this style yet are more minimalist and clutter-free compared with a classic country kitchen. Within both styles you will find natural materials are important, contributing to the charm of the kitchen and for achieving a homely kitchen feel.
Include natural materials in your modern country kitchen
A natural flair should bring character to a kitchen, yet by no means appear overstated – and that's what many families want for their modern country-style kitchen's look. Examples of this are light coloured kitchen doors including pale wood tones with richly textured wood grain. Or similarly, Shaker kitchen doors are effortlessly stylish, yet devoid of additional decorations and accents – as they are simply not necessary. To enhance the modern country kitchen feel, you can blend different natural materials within your scheme, such as stone, wood, copper, brass and stainless steel.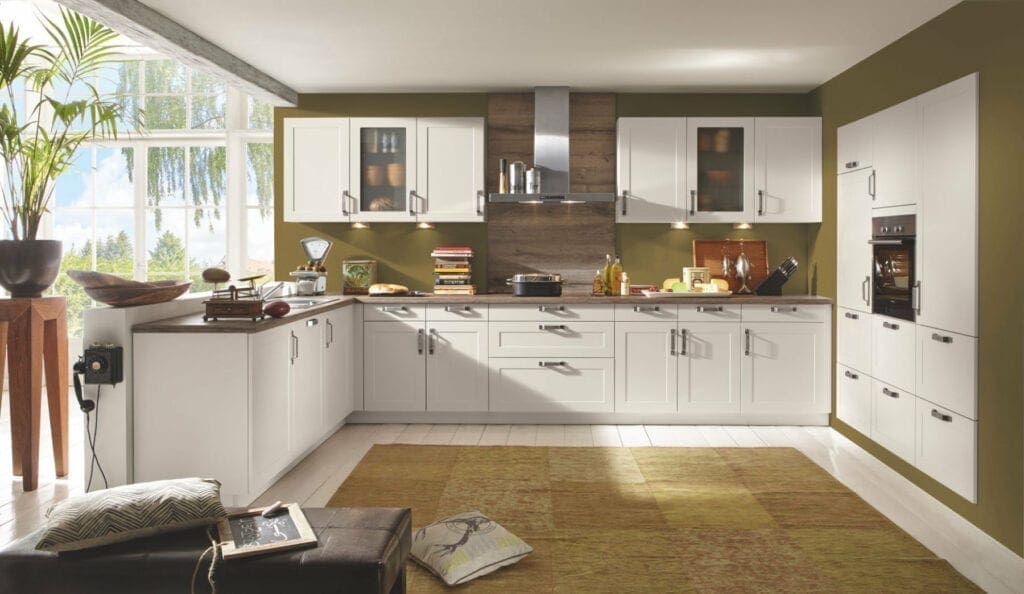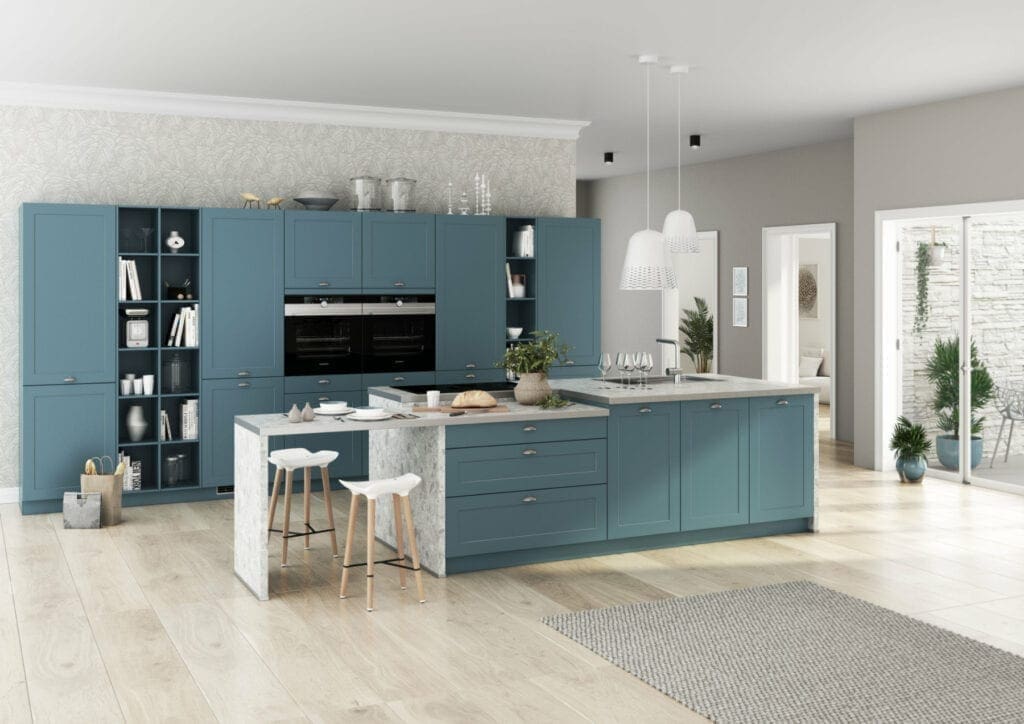 Which kitchen colour tones should you choose?
The on trend modern country kitchen style can be staged in a variety of ways without losing the proverbial Scandi cosiness. To give your modern country kitchen a Scandinavian vibe, delicate, powdery colours are popular. They harmonize perfectly with light wood, cool white marble decor and stainless-steel appliances. Typically, this means cool neutrals like cream, white, grey, and beige. But whether you opt for a white country kitchen, whether you want to keep your country kitchen green, or whether your country kitchen should be grey, of course depends on your personal taste.
In any case, light nuances or accents are recommended for a sense of "hygge". For kitchen door fronts in matt white, green, or light grey, you can set clear accents when designing the rear wall of the kitchen; this might be classic-looking tiles, marble, or strong shades of grey, navy, or dark forest green. These carefully thought–out accents catch the eye and give the entire room a very modern feel.
How do you integrate modern kitchen appliances into a Scandinavian kitchen?
Whether you want a modern or traditional country kitchen, there's no reason to miss out on the latest generation of kitchen appliances and the modern technology they bring. A large refrigerator with a separate freezer compartment, a powerful oven, a modern induction hob with extractor hood or even a hob extractor, are a 'must,' along with a practical dishwasher.
Modern kitchen appliances will blend harmoniously into your modern country kitchen scheme, and different elements can be combined with each other in almost any way, depending on your personal preferences. But pay attention to the colour – as well as functionality- when choosing your appliance models. For example, in a white or grey modern country kitchen, stainless steel appliances look appealing due to the harmony with the cool metal. Alternatively, matt black appliances contrasted against white, grey, or wood tones will instantly modernise your look, creating a sleek elegant feel.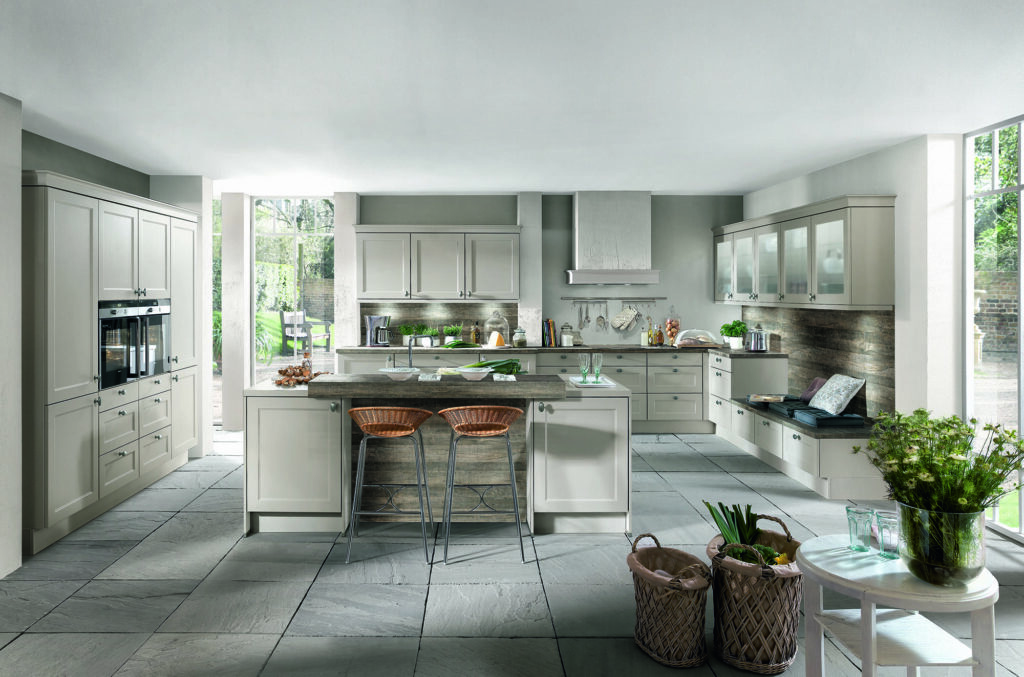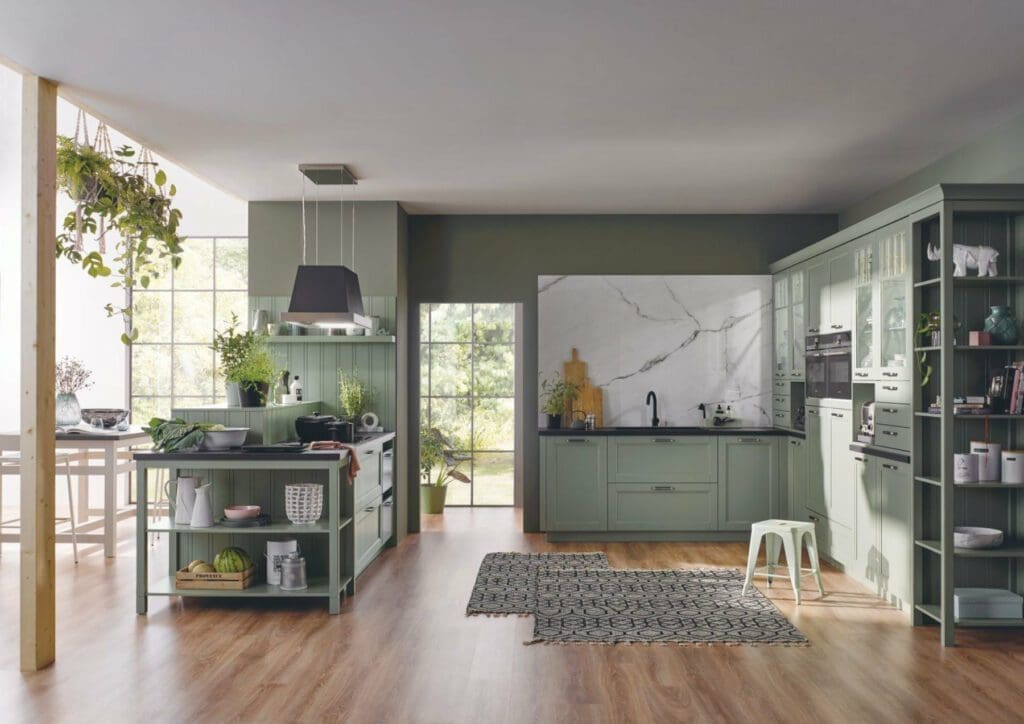 How can you give your modern country kitchen even more flair?
You can further enhance a modern country kitchen look through careful choice of modern lighting and accessories. This begins with industrial lamps or futuristic pendant lights over an island; similarly fuss-free bar stools in the simple and light Scandinavian style, and sisal carpets or rugs on large-format floor tiles will bring an airy, natural touch to the ambience of a country kitchen. Finally, even amidst the modern setting, accessories such as wooden cutting boards, bowls and mason jars will help retain the original 'country' charm.
Is the Modern Country Kitchen Style for You?
A well-planned modern country kitchen will combine all the comforts and charm of a traditional country kitchen, with the chic and stylish mod cons of a modern kitchen setting. It appears clear and timeless, unfussy, and minimalist, primarily appealing to people who want style as well as comfort within their homes.
To find your nearest Kitchen Expert Showroom where you can get advice and help in planning your perfect modern country kitchen please contact us today.