What Are the Most Popular Kitchen Colours for 2023?
Wondering what the most popular kitchen colours will be in 2023? …If you're someone that likes to stay on trend, then planning your new kitchen should be no different! You might be wondering whether dark kitchen tones are still on trend? Or is classic white still in demand? Alternatively, you might want to know which kitchen colours are best for bringing vibrancy and warmth? …Well here, we've got you covered! From neutral whites and greys, to tones reminiscent of nature, we've compiled a list of all the most popular kitchen colours in 2023!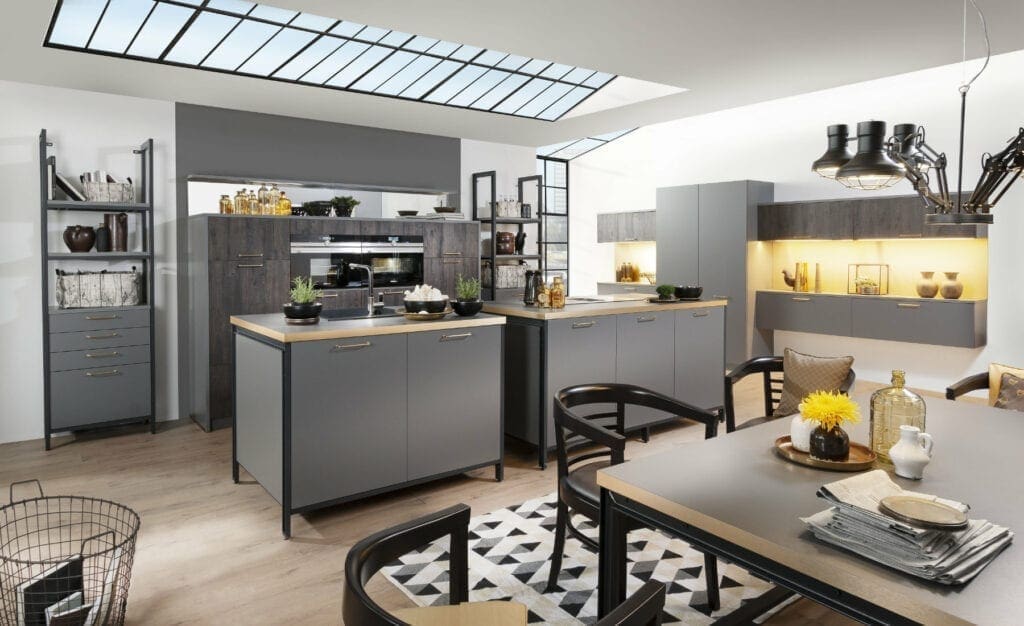 Popular Kitchen Colours 2023: Go with Grey
A mainstay kitchen colour continuing to prove popular in 2023 is versatile grey kitchen doors– in all different shades! This kitchen colour is an all-rounder due to its easy-going flexible nature, which makes it easy to successfully style grey in many ways. Encompassing many different shades, grey is often paired with white or black.  Alternatively, grey is perfect for maintaining a neutral colour scheme if you don't want the extremes of black and white. For 2023 we can expect a lot of warmer grey tones, including shades like 'greige' that have a beige or earthy brown undertone. These help create a comfortable and relaxed kitchen with a welcoming atmosphere.
Popular Kitchen Colours 2023: Warm Whites
White is a classic kitchen colour that will likely remain a staple in kitchen design for many years to come. It will certainly be a popular kitchen colour in 2023, but in saying this, designers have seen a shift in how white kitchens tones are used. Trends suggest a significant move away from harsh, clinical whites and towards warmer, softer tones. Off-whites and creamy whites will be popular kitchen colours in 2023 due to their more welcoming atmosphere. They still offer the benefits and classic look of a white kitchen without making a space feel cold or impersonal.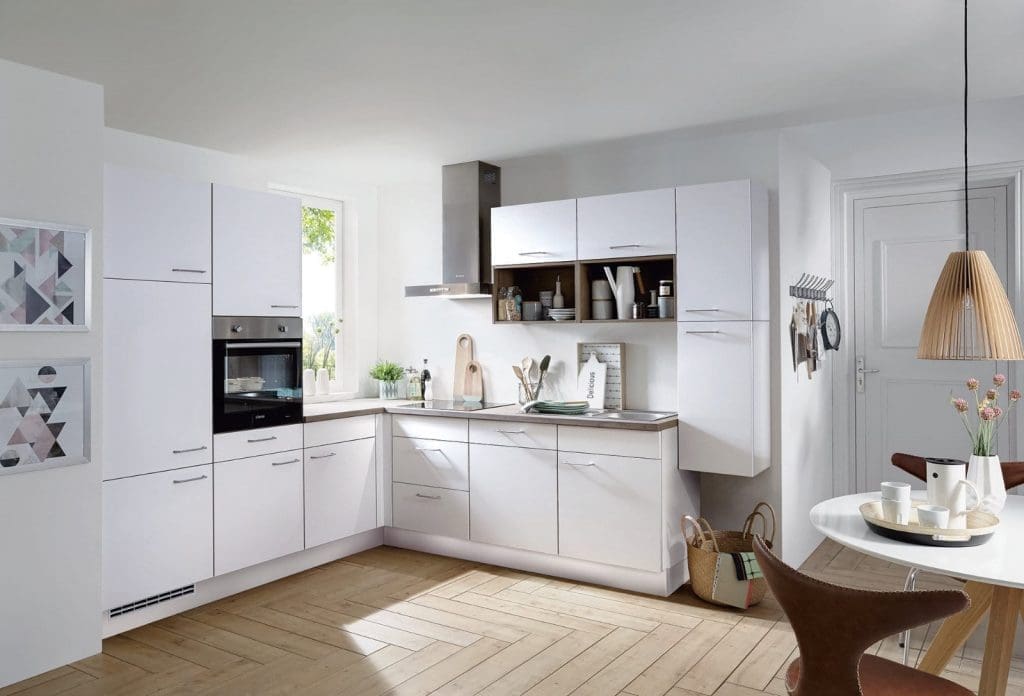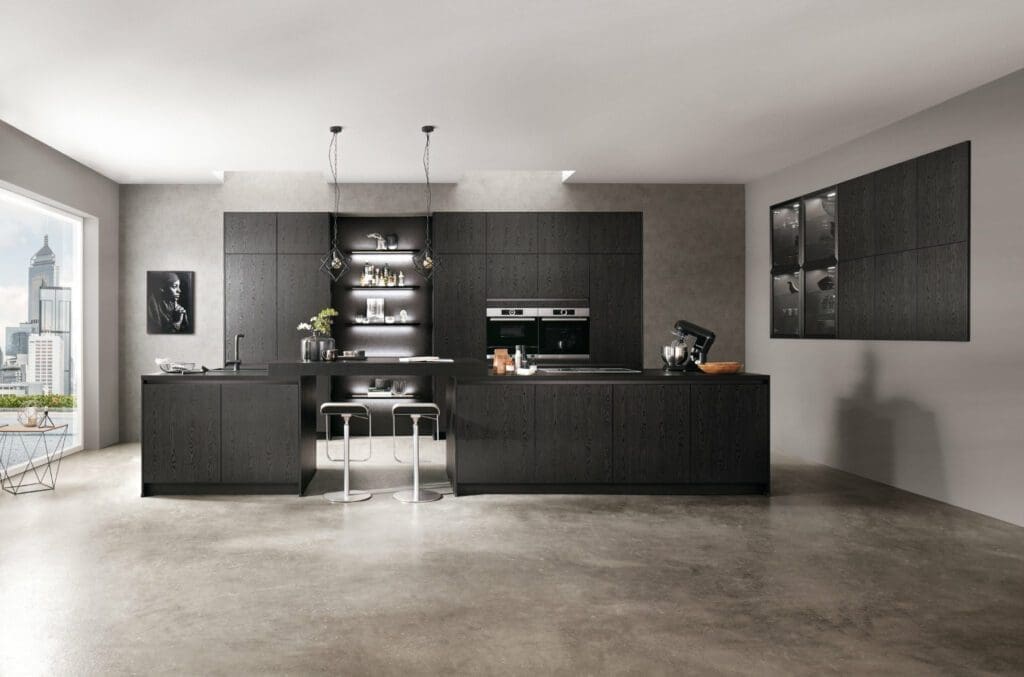 Popular Kitchen Colours 2023: Black Kitchen Trends
Over the last 5 years black kitchens have been gaining traction and will remain a popular kitchen colour choice for 2023. Similar to white, black is a classic, timeless colour that can easily be paired with other colours and materials to create a unique and stylish look. Black kitchen doors also bring a sense of sophistication; their sleek, modern look will make a kitchen look sophisticated and high-end, regardless of its size. It has become more commonplace for homeowners to fully embrace this aesthetic and implement beautiful all-black kitchens. Alternatively, black is most often seen in combination with white and grey, creating an overall neutral and highly elegant scheme.     
Popular Kitchen Colours 2023: Beautiful blues
Darker toned kitchens have seen a rise in recent years, with rich, dark shades of navy and marine becoming immensely desirable kitchen colours for 2023. Dark blue kitchen tones can help you achieve a sophisticated and elegant kitchen aesthetic but without relying on black. Shades like royal blue can create a neutral atmosphere while proving a little more eye-catching; alternatively, there's also a love of lighter blues – with baby blue predicted as a popular kitchen colour in 2023. Perfect for a two tone kitchen scheme, baby blue kitchen doors offer subtle variation and will brighten your kitchen space.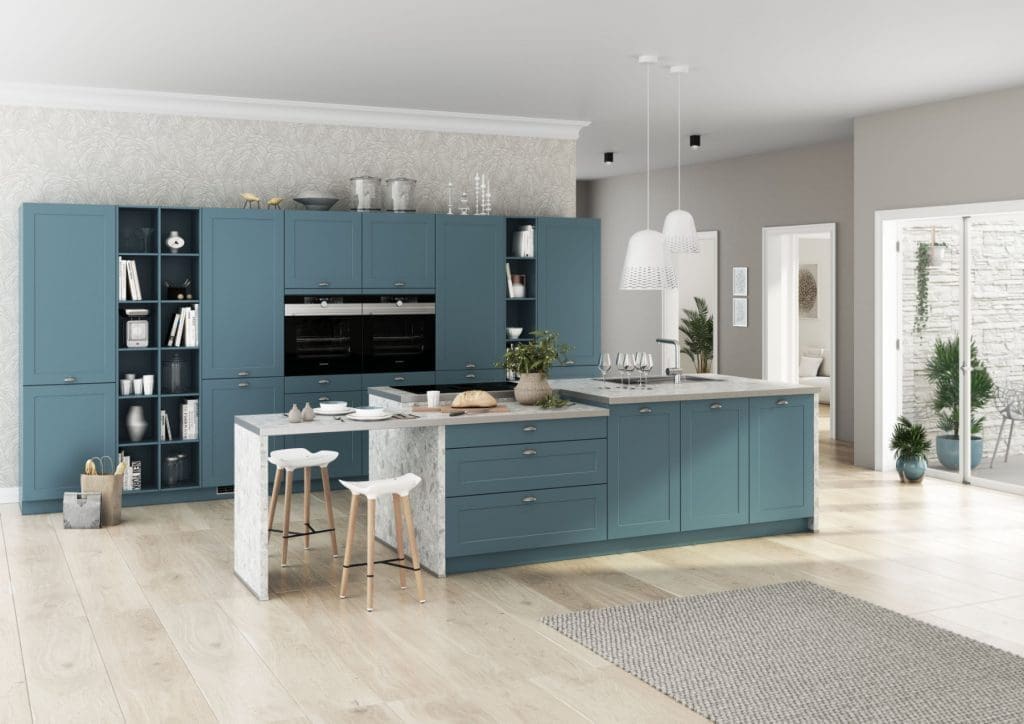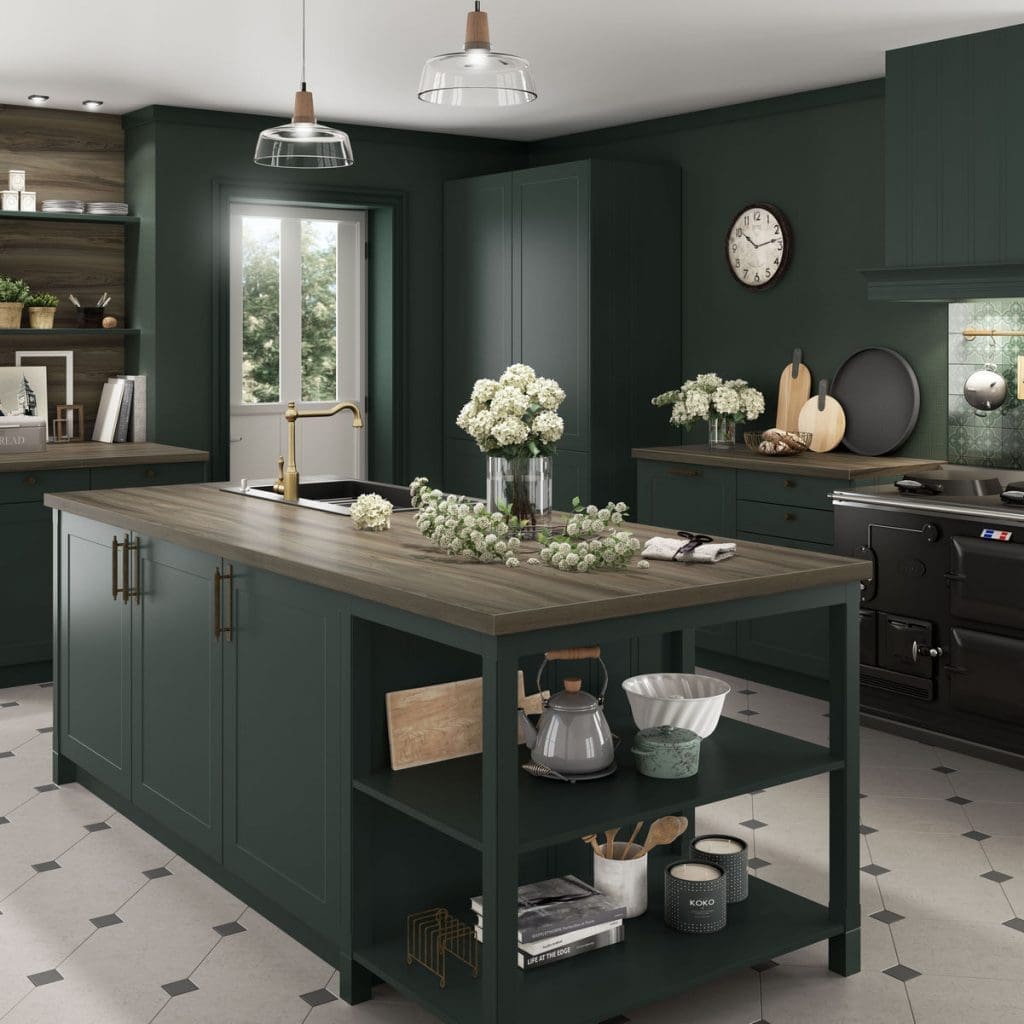 Popular Kitchen Colours 2023: Back to Nature with Green
In line with a preference for natural elements within the kitchen, green will continue to prove a popular kitchen colour in 2023. Soft shades of green like mint or sage are desirable because they emulate the peace and serenity of nature. Such shades are perfect for creating a unique and eye-catching kitchen without the colour overpowering the space. Popular kitchen colours in 2023 will also include more neutral and earthy greens as well, such as Forest Green, which has a calming effect and will perfectly complement any natural wood elements within your kitchen design.   
Popular Kitchen Colours 2023: A Natural Wood Aesthetic
Speaking of a return to nature, an emerging trend for kitchen colours in 2023 is to embrace a natural wood kitchen aesthetic. Timber (and beige) are on the rise due to their organic feel and versatility when it comes to combining them with other colours. Timber and other light wood shades can help the kitchen feel warm, welcoming and airy. They go well with greens, but can also be paired with white to create a more modern kitchen look.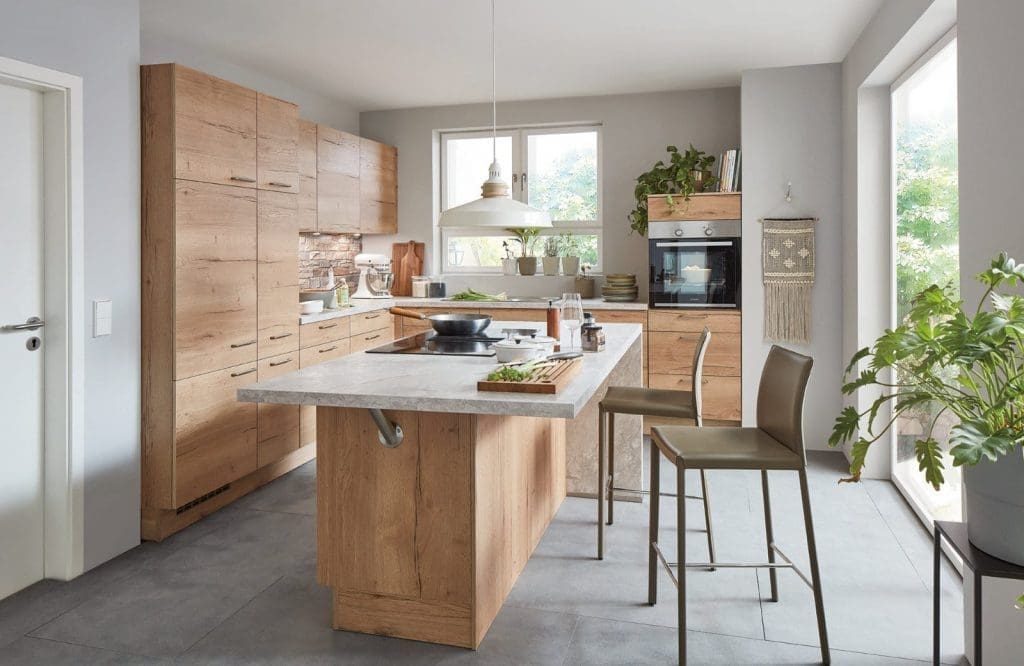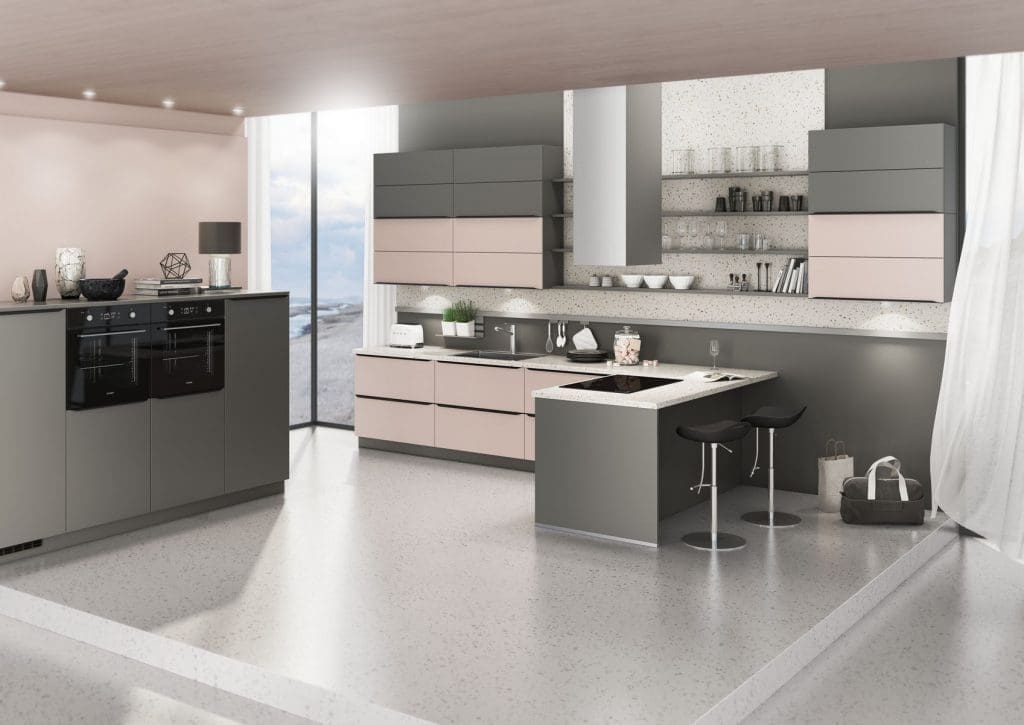 Popular Kitchen Colours 2023: Pretty in Pink
An unconventional kitchen colour that's on the rise within kitchen design is soft accents of pink! This colour can be successfully incorporated in creative and subtle ways, which is why it's predicted as a popular kitchen colour in 2023. Soft and dusty pinks in the kitchen can really emphasize a warm and mellow atmosphere. These also look great in combination with neutral tones like cream whites or warm greys. Pink can be overpowering if used excessively, but with careful planning it can bring a unique sophistication to an already established colour scheme. 
Popular Kitchen Colours 2023: Bright Yellow
Another unexpected hit for kitchen trend in 2023 is hints of yellow. Many homeowners have started to incorporate bright, sunshine yellow tones into their kitchen for an uplifting kitchen feel; Using bright yellow in moderation can make a gloomy and dark kitchen feel much more cheerful. Combining yellow and white is perfect for kitchens that don't receive much natural sunlight. If you're looking to add a splash of colour to your kitchen but you're not sure what to go with, consider making your kitchen happier and brighter with a bold yellow!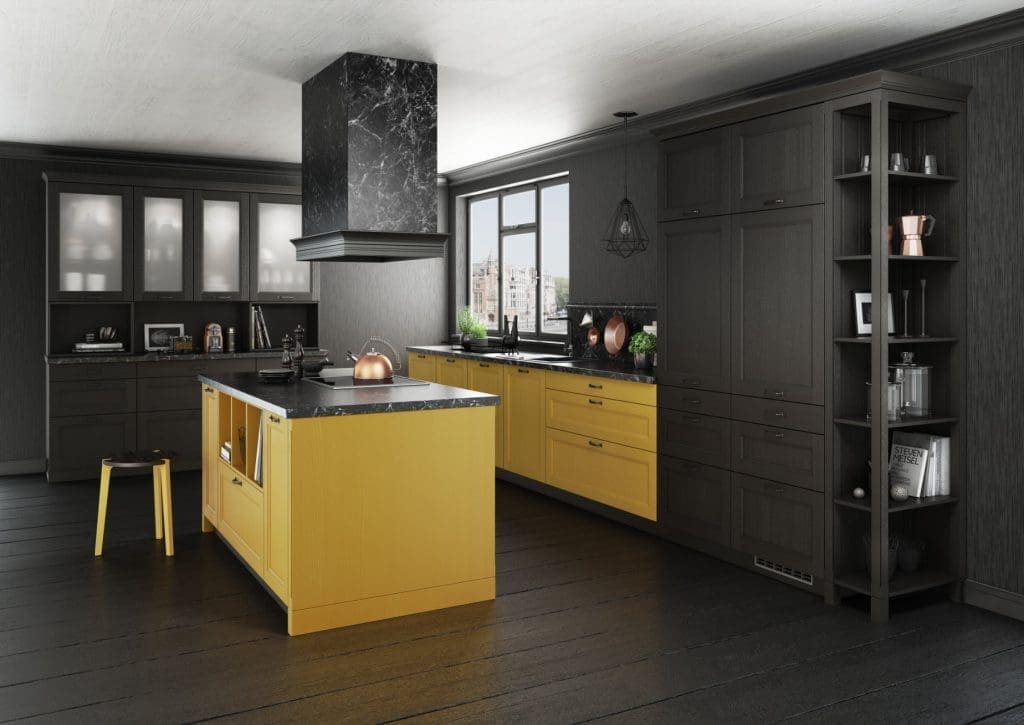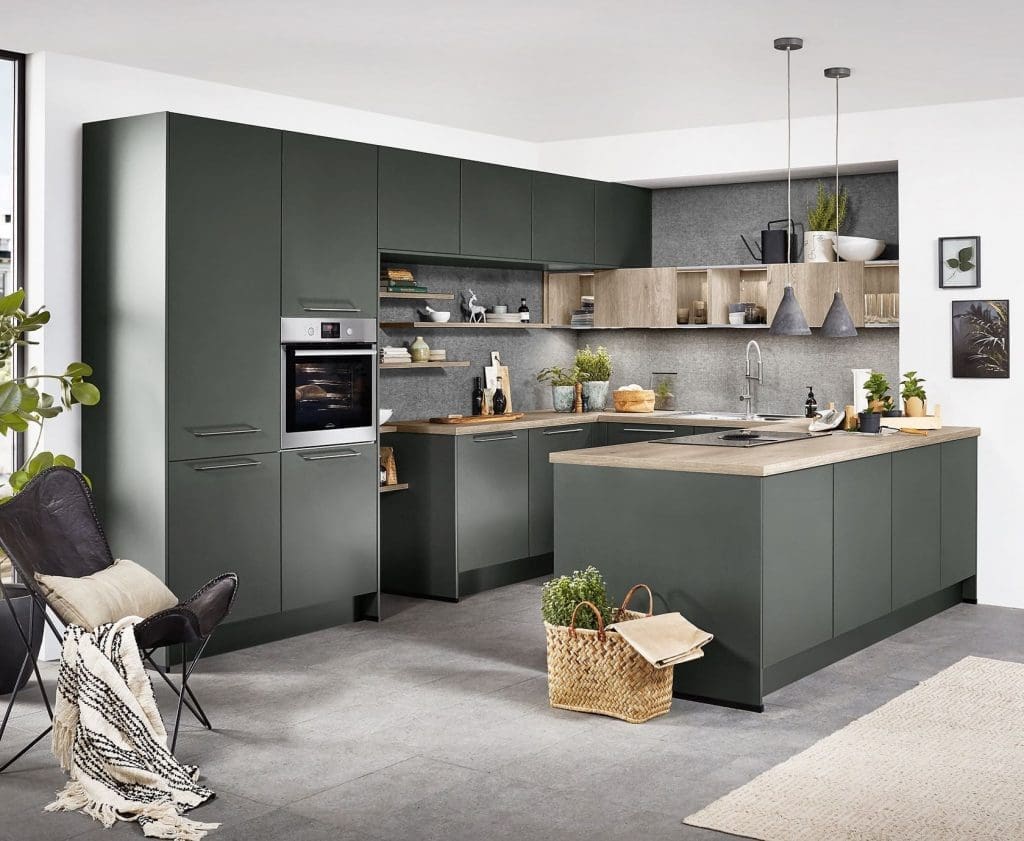 Popular Kitchen Colours 2023: Which Kitchen Colour Will You Choose?
Regardless of the style and size of your kitchen, one of the above colours is guaranteed to suit your kitchen space. The most prominent kitchen colours for 2023 include classic staples like white and grey, but with warmer undertones that help create a cheerful atmosphere. In 2023, you can't go wrong with shades of green or blue paired with natural timber to emulate the calmness of nature.
Need help finding your perfect kitchen tone? Talk to your nearest Kitchen Expert today.