Top Kitchen Trends in 2023
Are you planning on remodelling or redesigning your kitchen in 2023, but not yet sure what to do with it? If you're in need of some inspiration or interested in the latest kitchen trends in 2023, then you've come to the right place! Here, we've broken down the most popular kitchen trends of 2023 for you. From a minimalistic design to the inclusion of natural materials, the list below will help you understand the most popular kitchen design choices for 2023 and decide which is best for you and your home!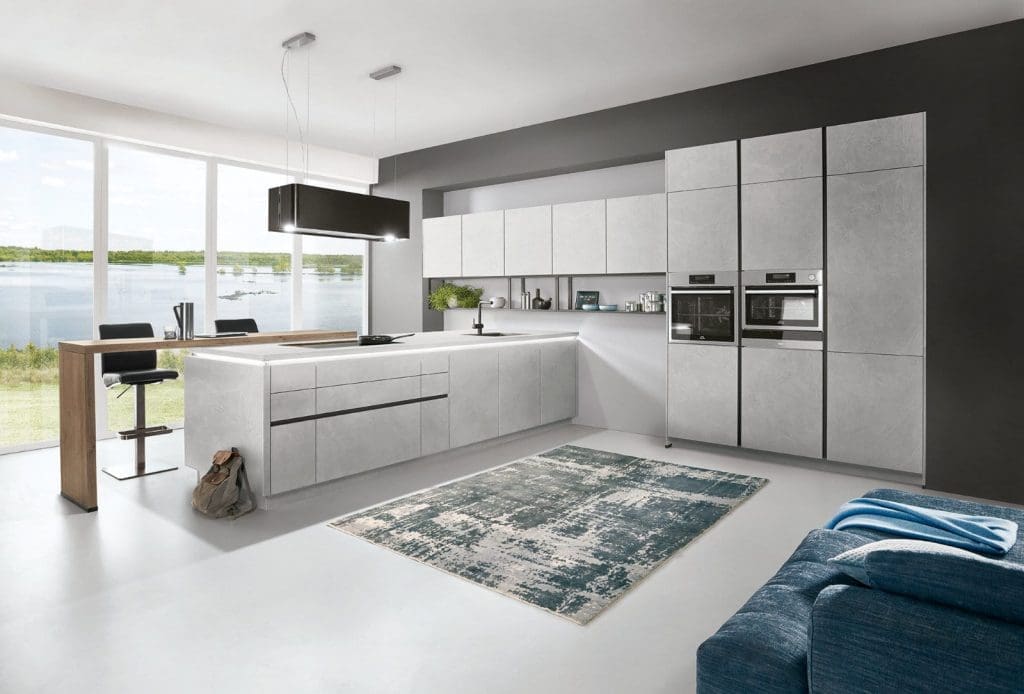 Kitchen Trends 2023: Minimalist Kitchens
Whilst not new, a clear kitchen trend sure to continue in 2023 is a minimalistic kitchen design. For obvious reasons, most homeowners seek a tidy and uncluttered look for their kitchen and there's many ways to achieve this! For example, appliances are increasingly integrated within cabinetry so as not to stand out. The same goes for hobs – with cooktops in kitchens becoming far less prominent in favour of a clean, minimalist and sleek overall aesthetic. And of course, a handleless kitchen design is always the most popular modern kitchen choice for achieving a minimalist yet statement look! 
Kitchen Trends 2023: White Kitchens
The Minimalist kitchen trend easily goes hand in hand with trending kitchen colours – and a popular kitchen colour for 2023 is a white kitchen design. Whilst white kitchens have taken a bit of a backseat in favour of other neutrals in recent years, white tones are always a firm favourite for a modern, sophisticated and lasting kitchen look. And the beauty of white is there are so many white tones, textures and interesting finishes to choose from – ensuring you can create a white kitchen look which is warm rather than clinical, and with plenty of room for bringing a personal feel throughout.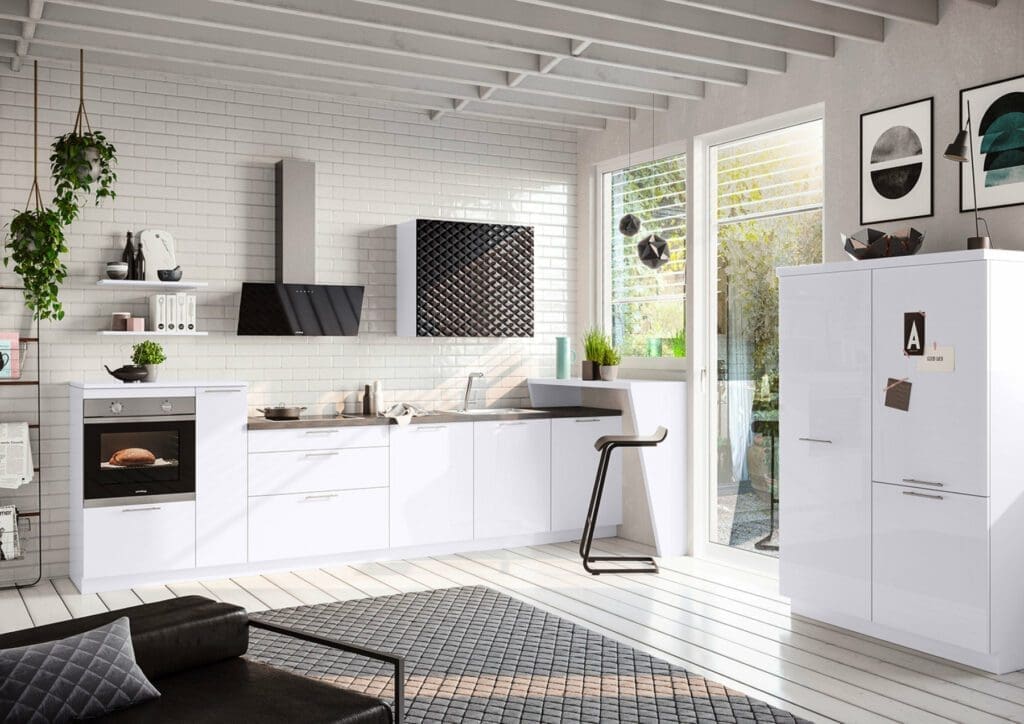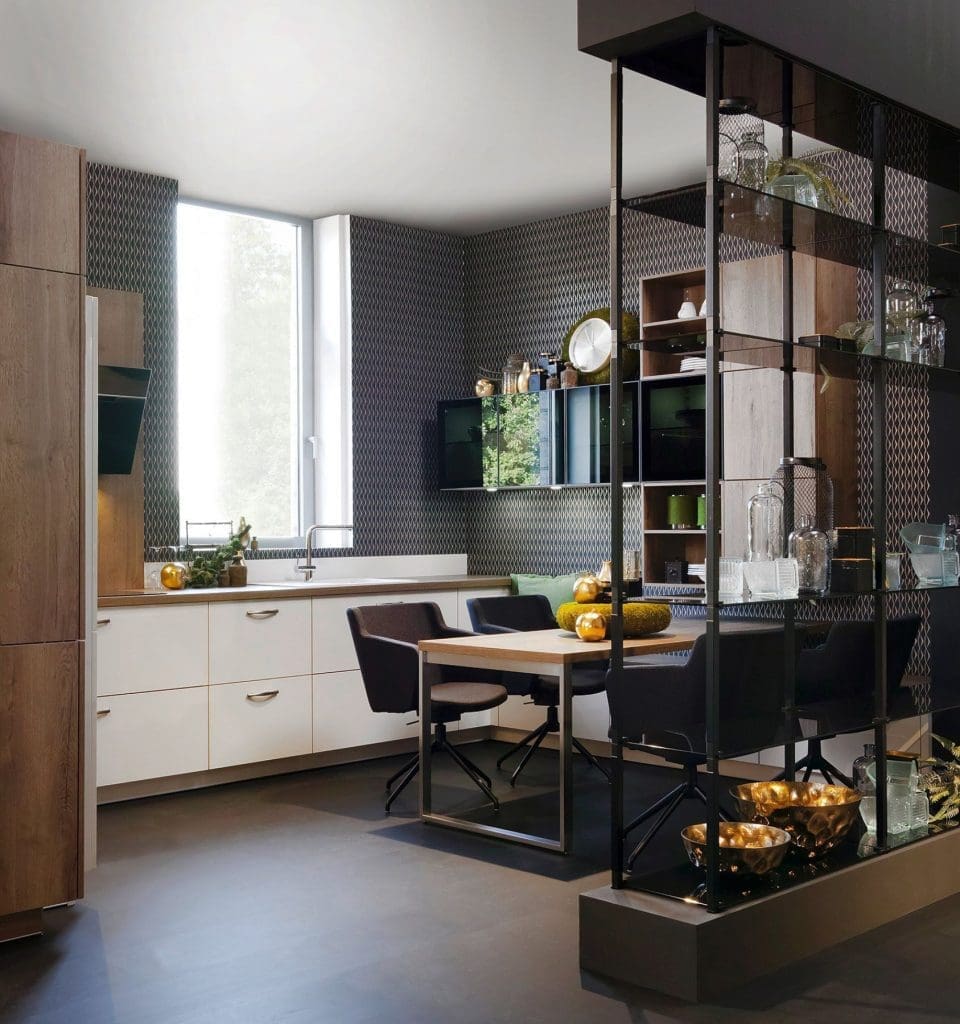 Kitchen Trends 2023: Comfortable Kitchens
Another popular kitchen trend for 2023 is a much greater emphasis on comfort within the kitchen! In the aftermath of the global pandemic, people are still spending much more time in their homes, and there's a lasting desire towards comfortable and very liveable kitchen designs. Many homeowners are focused on relaxed elements which give a welcoming feel. For example, warm colour tones, generous worksurface areas, or comfortable kitchen seating to accommodate large families are all popular options which facilitate use of the kitchen and make it easier to relax after a long day.
The multi-purpose kitchen island is a further example of this and can include relaxed seating and casual breakfast bars. The great for entertaining guests or simply for spending time with family while preparing food!  A move towards integrated living spaces is also reflected in the increasing demand for open plan kitchens, with 2023 sure to see many open plan layouts where the kitchen and living space merge seamlessly with one another. This allows for maximum comfort and flow throughout the house. 
Kitchen Trends 2023: Returning to Nature
For 2022 there has been a clear trend towards natural materials and calming colours for kitchen aesthetics and designs, and this is expected to continue in 2023. In line with the leaning toward comfort, many homeowners want their kitchen to emulate the peace and serenity of nature. This trend increasingly incorporates eco-friendly materials as well. Non-sustainable materials like plastic are definitely falling in popularity in favour of raw and natural materials like wood and glass.
Timber is a much sought-after material for cabinets, helping create a natural and welcoming feel. This works great in combination with muted greens and browns, making the kitchen appear as natural and peaceful as possible. You can also include different kinds of glass in your kitchen, from incorporating interesting glassware to using recycled glass in countertops and splashbacks. This eco-friendly material makes the kitchen feel open and bright, whilst you know you're contributing to a better environment.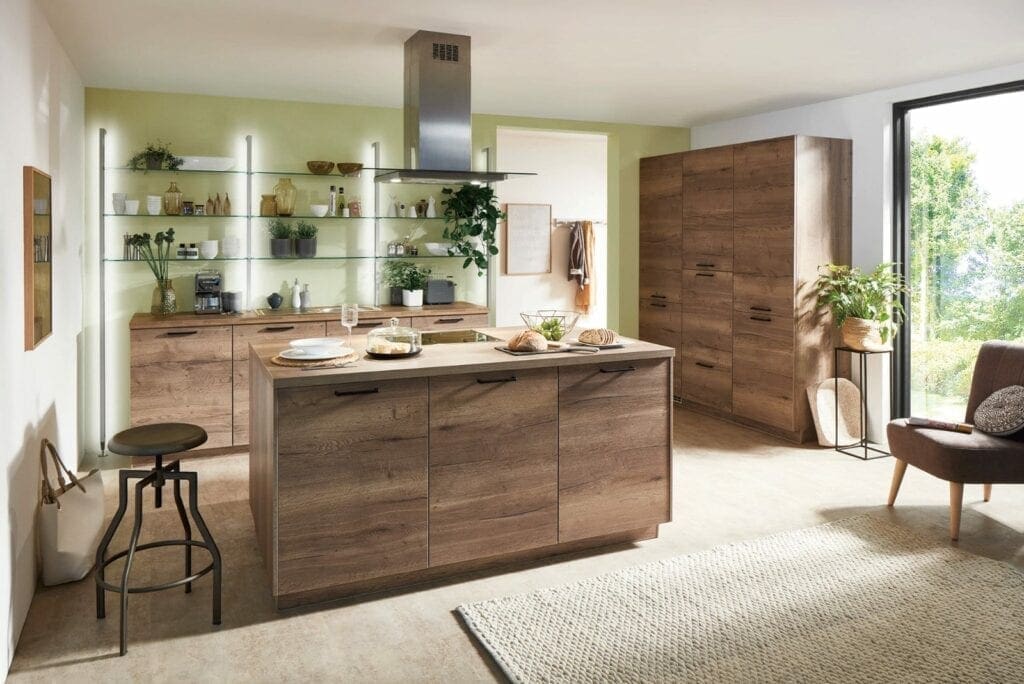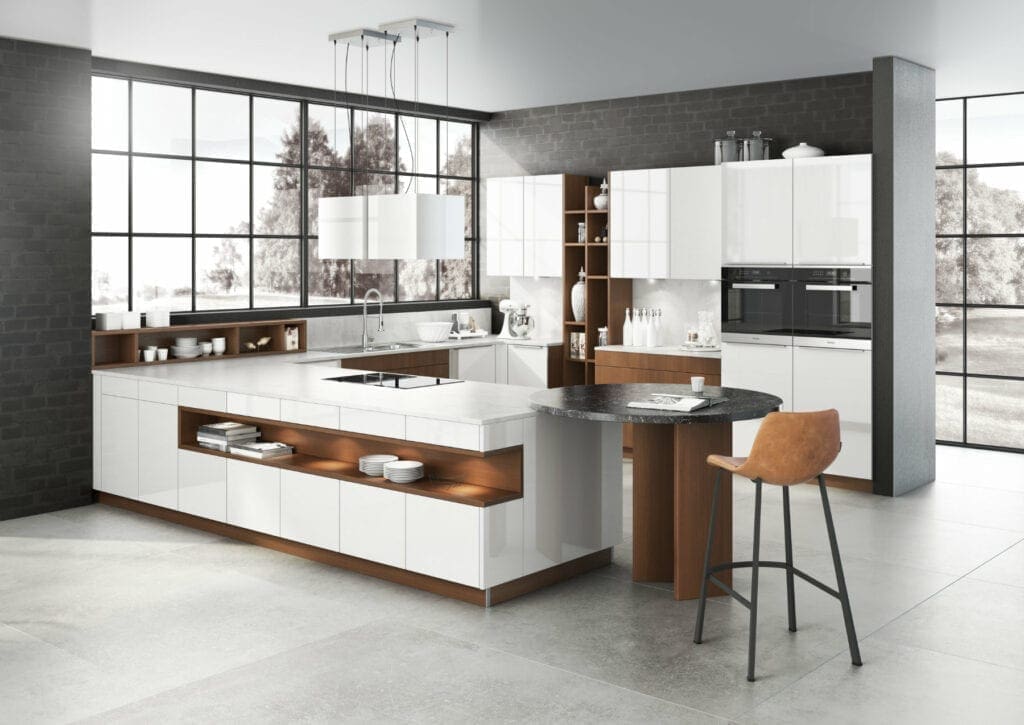 Kitchen Trends 2023: Contrasting Textures and Materials
2023 kitchen trends will bring even more creative layering of different textures and materials within the kitchen. This will include contrasts of smooth finishes with more natural, richly textured materials, or else another fashionable combination to look out for is white marble and wooden textures like timber. Another popular pairing is neutral colours with muted finishes on hardware. Statement materials for cabinet handles and drawers include pewter or copper, often with matt finishes rather than gloss. Matt materials within the kitchen promote a more natural and understated kitchen aesthetic, yet still with a luxurious and attractive feel.
Kitchen Trends 2023: Innovative Kitchen Storage
Currently, there's a design preference for integrated kitchen storage, hiding away everything from utensils to appliances. In line with the minimalist aesthetic, homeowners have started to build appliance garages hidden behind pocket doors, tambour or larder units so that appliances are hidden from sight and don't clutter kitchen worktops. There is also a rise in the inclusion of small pantries, perfect for keeping dry food items neatly organised, yet easily accessible.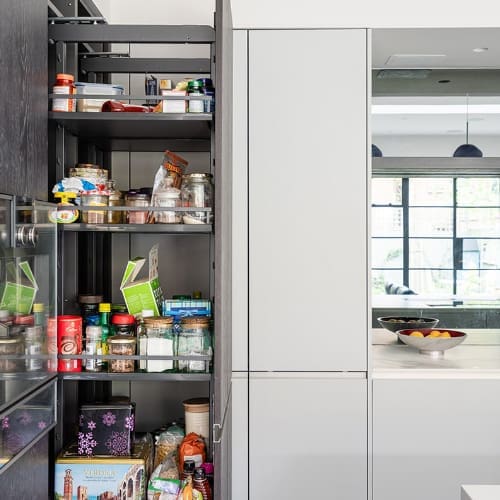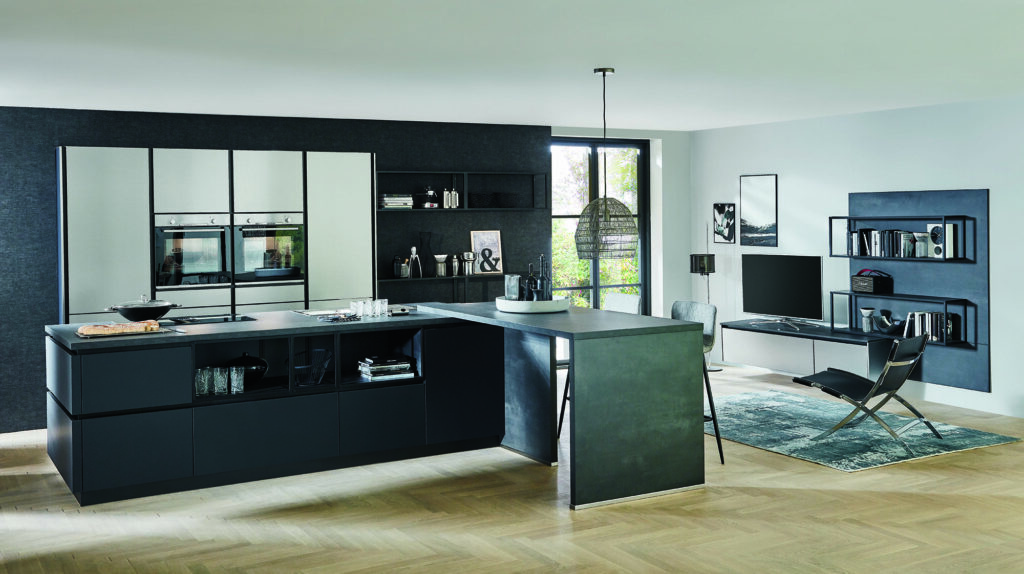 Kitchen Trends 2023: Popular Kitchen Colours for 2023
If you aren't sure which colours to include in your new kitchen, don't worry! Other than neutrals and white, there are several other shades that are seeing a surge in popularity. These include colours that are reminiscent of nature, such as rich blues and sage green. Emerald green has also seen a rise in demand; it evokes a calm and peaceful atmosphere that works well when paired with wood materials in the kitchen.
Another popular colour which has been trending for a few years now is the luxury black kitchen! Black kitchens fit with a minimalistic aesthetic whilst giving an easy air if sophistication. And if we're discussing 2023 kitchen colour trends, we cannot exclude the obvious popularity of two-tone kitchen schemes. Many homeowners are incorporating this style due to its versatility and scope for personalising your design whilst creating a visually stunning aesthetic.
Which Kitchen Trend of 2023 Will You Choose?
Now you know the most popular kitchen trends for 2023! Going with a sleek and minimal kitchen design is a great way to stay on trend with a sophisticated finish. Whilst natural materials and soft, muted colours will ensure your kitchen remains current – and appealing – for many years to come. For more help in choosing your perfect kitchen design contact your local Kitchen Expert today!