Kitchen Corner Storage Space
When planning a new kitchen it is important to think about the space you have available and how to maximise it. After all, no one ever wants to waste space, and especially in smaller kitchens where you really can't afford to. Yet this often happens, usually where two adjoining kitchen runs meet to form a corner, such as in an L shape or U shape kitchen layout. In this position, rear cupboard space becomes difficult to access without stretching or straining. And the lack of visibility of your corner cupboard's contents often means having to pull out several items before finding the one you need. As a result, this awkward space is too often, and too easily unused, and so neglected. But with so many innovative kitchen corner solutions available it really doesn't need to be!
Kitchen Corner Solutions
Homeowners want tidy, easily accessible storage, located in the best possible place for when goods are needed, and which helps keep worktops clear. Facilitating this, most kitchen companies offer integrated, pull-out kitchen corner storage. This includes corner storage options designed to make excellent use of this difficult corner space for efficient, functional storage. This includes, doors, drawers and shelves, specifically designed to make full use of your cabinetry's internal space; and which also lets you easily organise and access your kitchenware. Here we will look at some of the different kitchen corner storage solutions available, designed to maximise space within the kitchen: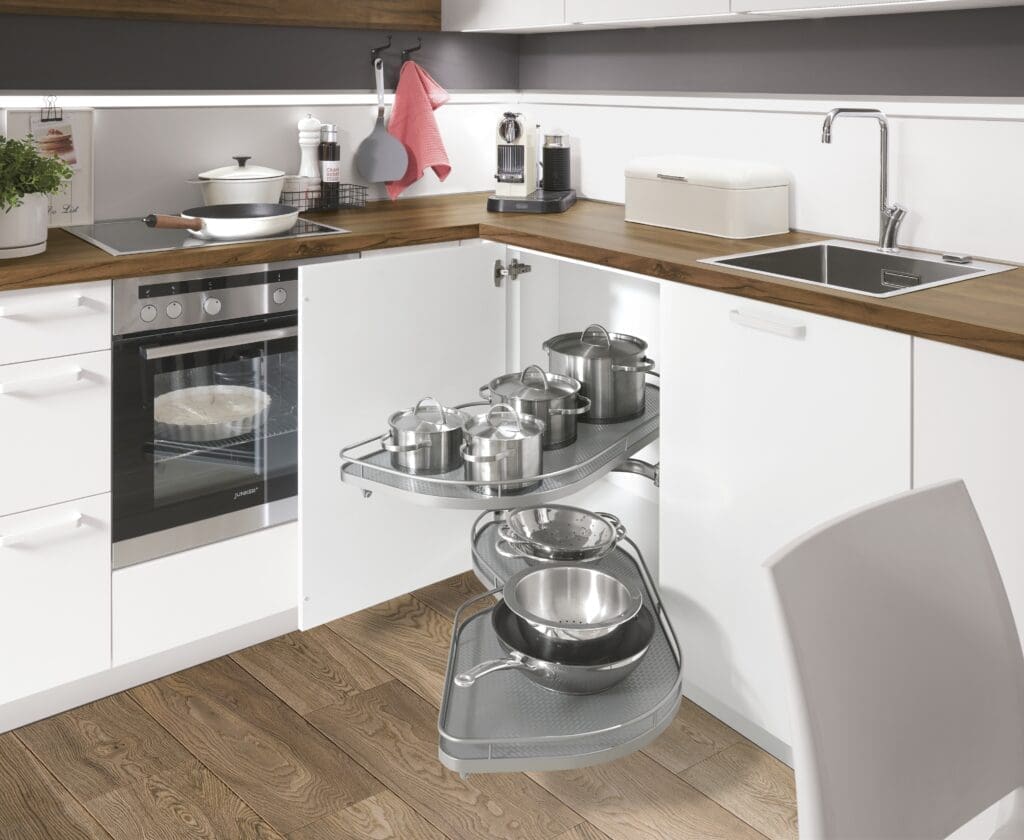 Deep kitchen corner solutions: 1) Le Mans Units
Named after France's famous racetrack due to its shape, the le mans kitchen corner unit features two large trays one above the other which reach deep into the recess of the kitchen corner's cupboard space. Independent of each other, each tray extends outwards in a swift, smooth motion to present their full contents, making them easily accessible. Le mans corner units have a load bearing maximum capacity of 25kg (55Ibs) per shelf; this makes them ideal for storing pots, pans and other heavy kitchenware. These corner storage units can open to the left or right. Depending on space and requirement, the height adjustable shelves can be adjusted every 2".
2) Magic kitchen corner units
Much like the Le mans corner unit, a magic corner unit fully retracts into the back of a base unit corner space. Rather than shelves this system incorporates wire baskets, with two at the front and two at the rear. These are available in varied sizes and finishes. On opening the cupboard door, each of the front baskets extends out of the cupboard space, swivelling through 170 degrees to make the contents accessible. In turn, this action clears space for the rear baskets to follow; these slide out behind the front ones to ensure their contents are also accessible. A soft close door option slows the motion just before the cupboard door closes, ensuring the action is smooth and silent.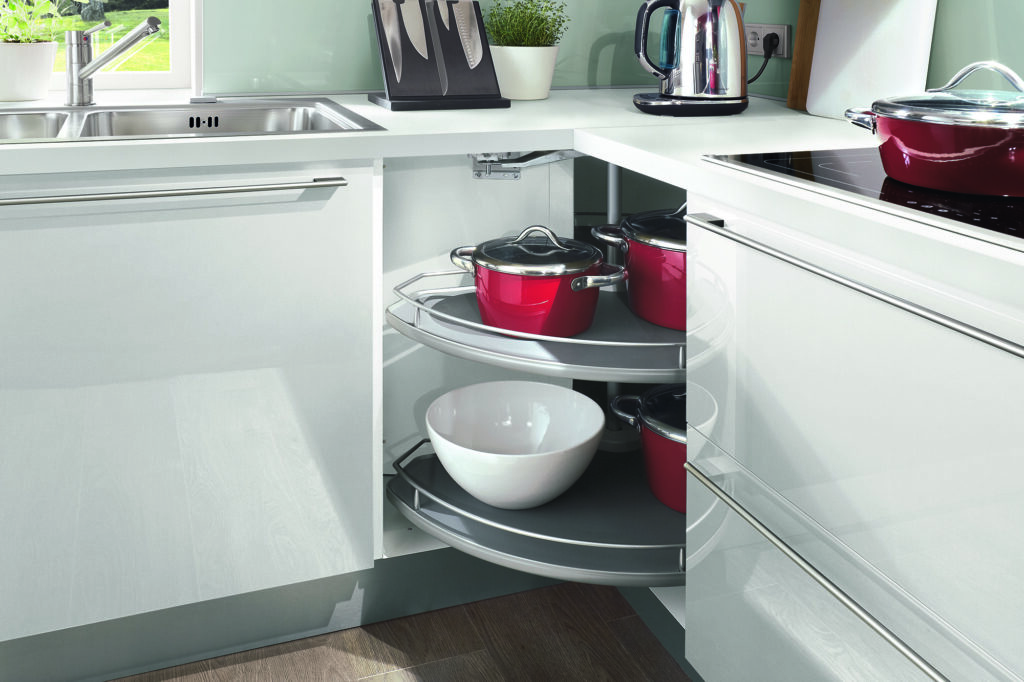 3) Carousel Corner Units
A more traditional kitchen corner solution is the carousel unit, often referred to as a Lazy Susan. Carousels are integrated within a corner kitchen base unit with 2 rotating shelves, one above the other, in order to fully maximising both the height and depth of the internal cupboard space. For tall corner units you can even have a full height of carousels. For the best possible access, kitchen corner carousels are best suited for cupboards with double doors. They are available in a wide range of styles and finishes, which can include a full circular shape, a pie-shaped cut out to fit the doors, or even with semi-circular shelves attached to the door.
4) Base and Tall Kitchen corner larder unit
Base and tall kitchen corner larder units are ideal for maximising kitchen corner space; they are available in a range of heights and with many customisable options. Tall larder units are ideal for storing tins, bottles, and dry goods, including taller items which might not fit elsewhere. Tall corner larder units can contain carousels, a swing out larder unit with baskets fixed to the inner side of the door, storage baskets which automatically follow the front baskets on opening of the door, or else separate trays which pull out independently of each other. A tall larder unit typically contains 5 or 6 adjustable shelves or baskets, usually made from wire mesh or else a solid or chrome base.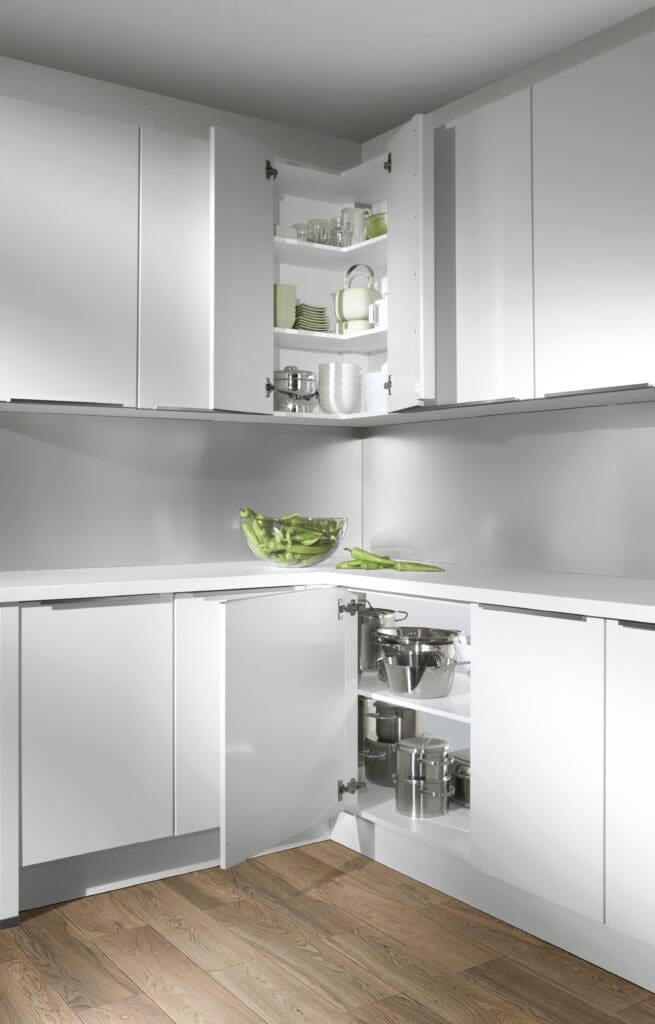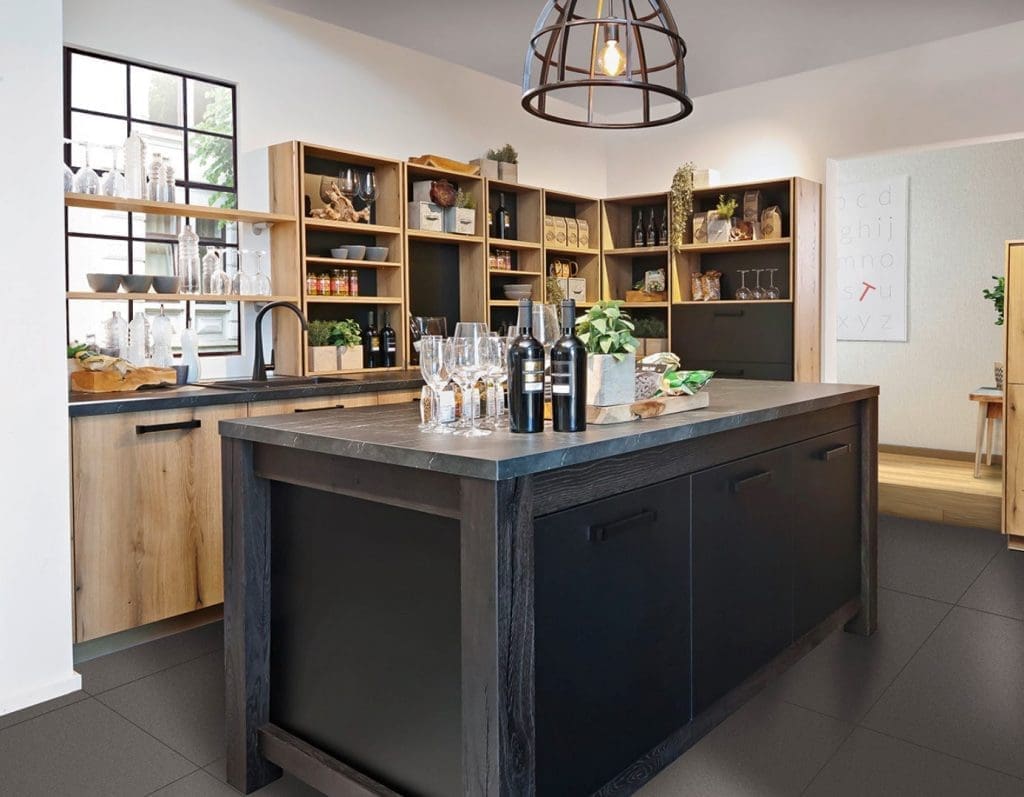 5) Kitchen corner pantry unit
In modern times the terms larder and pantry are used interchangeably; but historically they differed as a larder was used for storing food best kept at lower temperatures, whereas a pantry was used for storing goods such as bread and butter. Traditionally, a pantry was a free-standing kitchen unit, and with modern kitchen technology you can still achieve this effect, through a mini walk-in pantry; yet one which is made from integrated or built-in furniture. Where space permits this is also a great option for maximising corner space.
Pantry doors open wide to fully display their contents and allow easy access. They can include an assortment of shelves, baskets, and drawers, including the choice of small shelves or spice racks fixed to the inner side of the pantry doors. The pantry is easy to use, versatile, and makes a great feature within your kitchen too.
6) Kitchen corner wall units
As well as kitchen corner base units there are many kitchen corner wall units available for maximising corner space, with built-in kitchen corner units available in a choice of heights and widths. They are also available in different styles, including standard cabinetry, angled corner units or even beautiful curved corner kitchen units.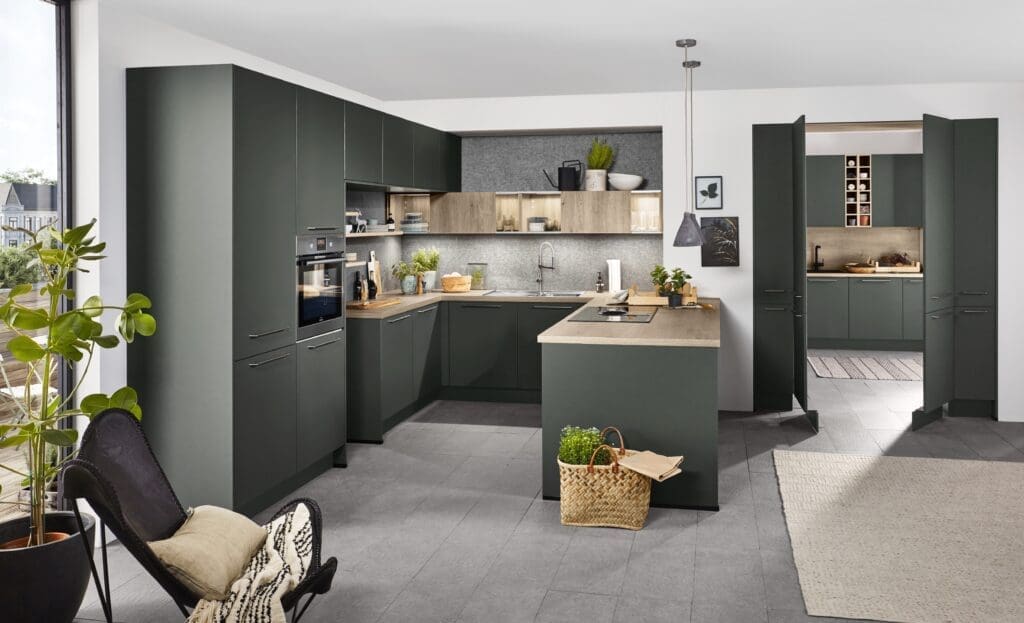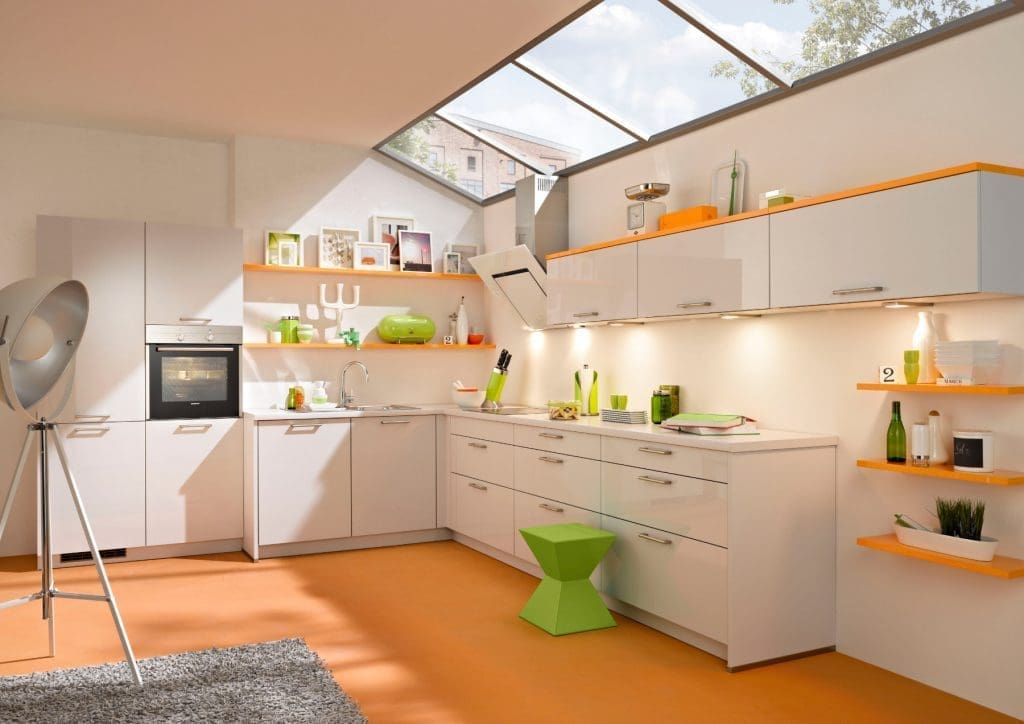 7) Open Kitchen Corner Shelves and Floating Shelves
Open kitchen corner shelves make a simple yet striking statement, whilst also making effective use of kitchen corner space. Open shelving is a particularly good choice in smaller kitchens where wall units might make the space feel enclosed; instead, open kitchen shelving creates a feeling of airiness. What's more, they are highly decorative, providing a great opportunity for conveying your personality whilst making your kitchen look beautiful. Finally, a further benefit of open shelving is it is a much less expensive choice than installing wall units.
8) Kitchen corner tambour units
Another hidden kitchen corner storage solution which works great, is a tambour unit or roller shutter. These units have a flexible tambour door which slides up and down to open and close respectively. Aside from generous shelving, these often house kettles and toasters, hiding them from plain sight. And to eliminate any messy wires, plug sockets can be built into the unit. This means you can use these small appliances whenever you need them but without having to unplug them. Tambour units are great for maintaining a clean kitchen look with clear worktops. So should visitors appear unexpectedly whilst your kitchen is slightly messy, you can quickly sweep everything into the tambour and just pull the shutter down. Tambours are available in a range of colours, including matches to your kitchen doors for a seamless look. The manual version ensures effortless opening, whilst the electric version is operated from an invisible touch switch; this ensures smooth and quiet opening.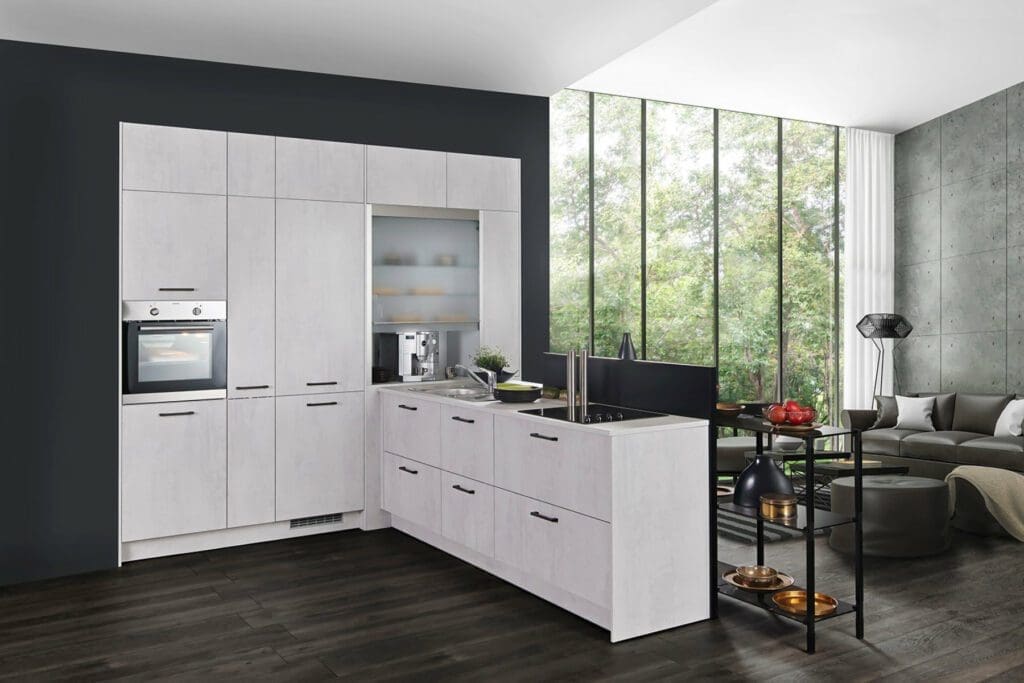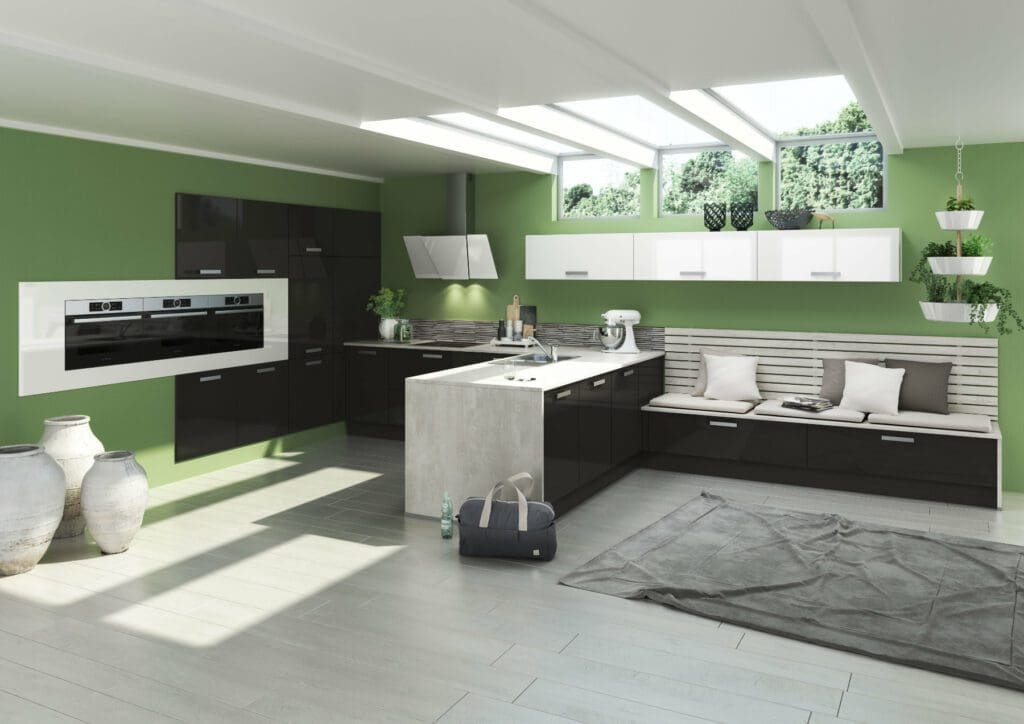 9) Kitchen Corner Seating
Multi-purpose kitchens are the norm for modern kitchen design, maxisiming space wherever possible to combine comfort, style and functionality. A beautiful example of this is kitchen corner seating. Especially when underneath a window this creates a beautiful, bright space in which for families to gather, relax and enjoy meals together. And through the incorporation of storage space underneath the seat, this is also an easily accessible spot for storing larger kitchen items, helping keep your kitchen space clear and uncluttered.
10) Kitchen Corner Sinks
If you are still struggling for ideas on how to maximise your kitchen corner space then an alternative option is to include a kitchen corner sink within your planning. Ideally beneath a window with a beautiful view outside, this will make doing the dishes much less of a hardship! Other benefits of a corner sink include maximising worktop space, whilst the wedge shape of the corner cabinetry creates a generous space in which to store cleaning agents, dishwasher tablets, and other related products. What's more there are many statement sinks to choose from, whether it's a classic Belfast sink, or even a contemporary brushed copper or bright pink colour tone, with each completing your look and drawing the eye. But there are some downsides to corner sinks too, such as they need special care within the planning stage to ensure sufficient space, as well as cabinetry that can suitably support their weight.
In-cabinet kitchen storage options
Finally, in addition to so many different kitchen corner storage options, there are also many thoughtful storage options available which can be integrated within the cabinets themselves. For example, spice racks, shelf dividers, knife holders, trays, and drawer boxes are just a few of the small kitchen storage options that can facilitate kitchen use and help keep your beautiful new kitchen clean, tidy, organised and accessible.
For more information on kitchen corner storage and kitchen planning contact the kitchen experts.