What is a One wall kitchen?
One-wall kitchens are the smallest and most compact of any type of kitchen layout. They include all kitchen furniture and appliances arranged within one simple, linear line. Taking up minimal floor space, the one wall kitchen layout is ideal when space is at a premium, yet they can also work for larger spaces too. One wall kitchens are also sometimes referred to as a 'single wall kitchens', 'single line kitchens', 'Pullman kitchens' or 'straight kitchens.' With some clever design techniques to maximise space, style, and an efficient workflow, here's all you need to know for creating a successful one wall kitchen design.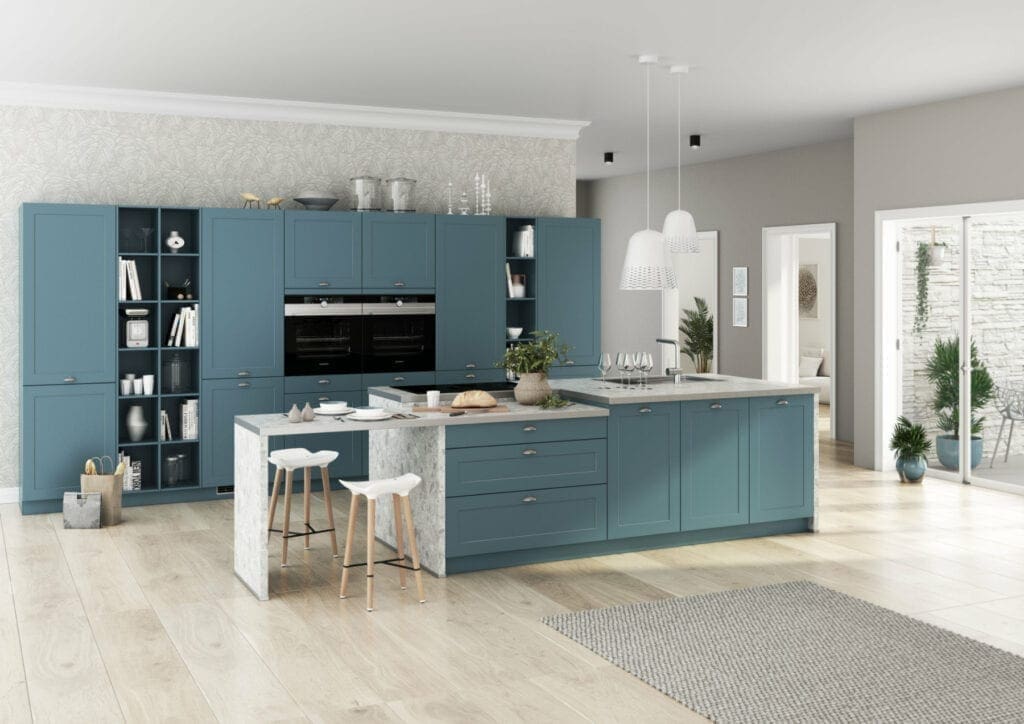 How much space do you need for a one wall kitchen?
When it comes to kitchen design there is no rigid formula for how to design, and one wall kitchens are a layout that can afford a degree of flexibility- depending on the space you have available and how you want to use it. However, to ensure a suitable fit for your furniture, worktop, and basic appliance requirement, the minimum size of a one wall kitchen should be 8 feet. This could be less should you have space for an island with extra storage and appliance housing, but otherwise 8 feet is the minimum to facilitate user requirement.
What are the advantages of a one wall kitchen?
One of the key advantages of the single wall kitchen is it will cost less than other layouts because there are fewer cabinets and worktop required. This also means a smaller installation cost as there is less materials and labour involved. So, a well-planned kitchen layout will save you money, or alternatively free-up extra budget to spend elsewhere.
What's more, taking up minimal floor space allows you to make use of the extra space outside the kitchen, which is why this layout is popular for modern open plan living. The kitchen's small footprint creates a sociable space large enough to accommodate a kitchen island or dining table, and in which the cook can integrate with family or guests.
Having fewer kitchen cabinets looks less cluttered but can also help streamline your workflow with everything you need for cooking in near and easy reach. Their simplistic design also makes for quicker and easier cooking as well as cleaning up.
Most single-wall kitchens only have enough space for one person to cook at a given time. This makes it safe and convenient for everyone present, yet in a well-planned layout, I.e., with a fridge on the end of the run of cabinetry, it is still possible for others to safely access the kitchen when they need something such as snacks or drinks.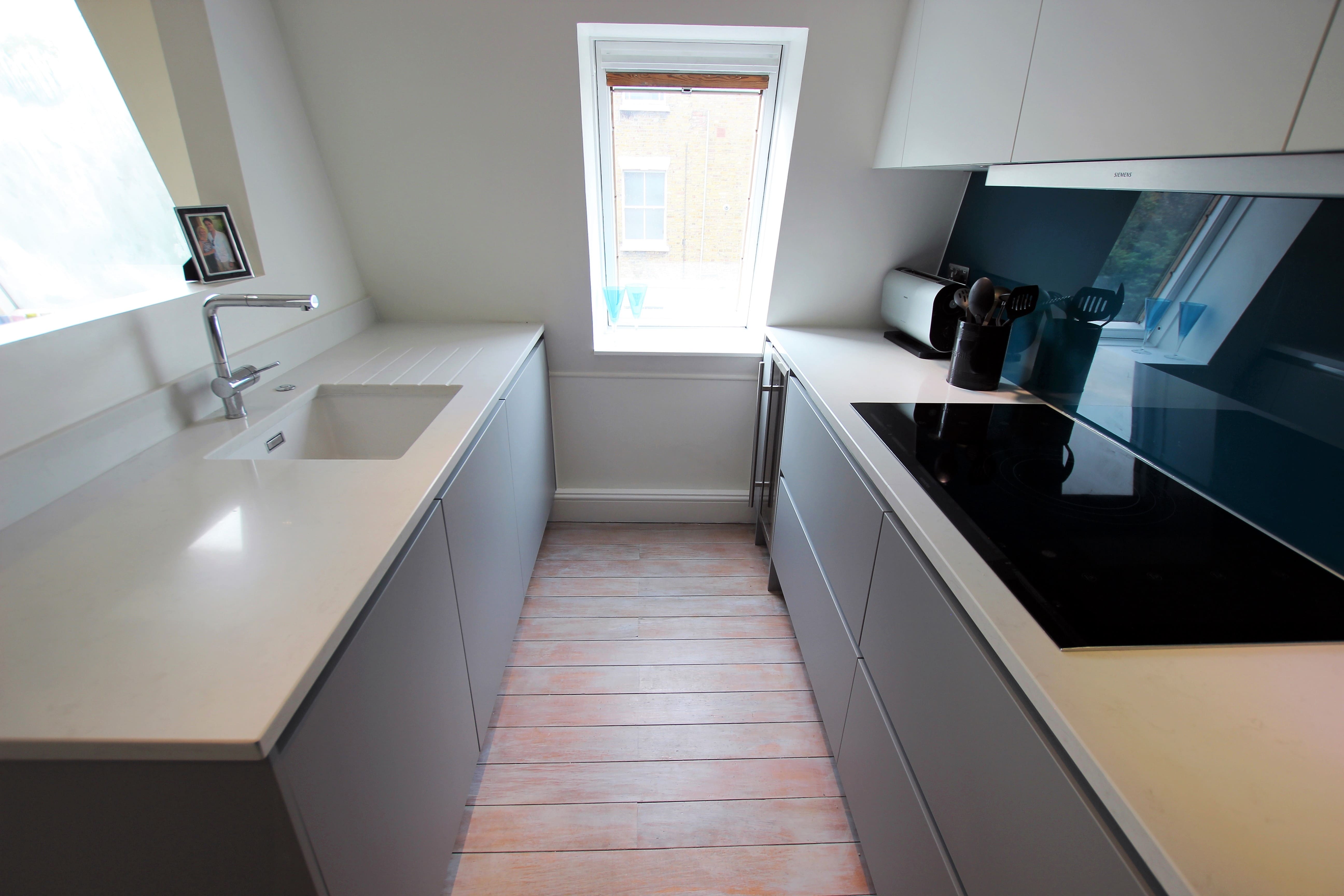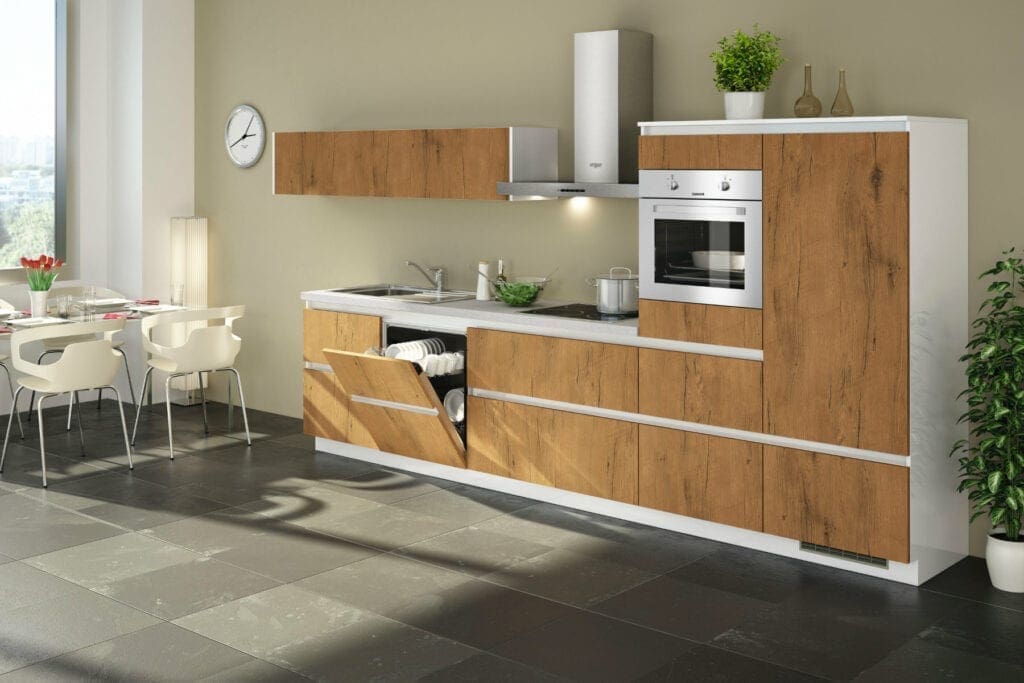 What are the disadvantages of a One Wall Kitchen
Of course, there are some obvious disadvantages of a one wall kitchen, the main one for many people being the compact size of the kitchen itself. This restricts use to one cook, limits prep space and storage capacity (not ideal if you have lots of clutter or struggle with tidiness) and reduces the possibility of luxury extras such as an added steam oven or microwave within your kitchen.
Whilst open plan is beneficial, it's not for everyone and there are some extra considerations to consider for this setting, such as noise and odour reducing appliances. Similarly, whilst it's a more social arrangement the user typically faces into a wall and away from family and houseguests during cooking.
These aspects are important to consider when planning to ensure you achieve a kitchen that suits user lifestyle and needs. With this in mind, here's further one wall kitchen ideas for making a success of this compact kitchen style…
Ensure the best one wall kitchen layout
It is essential to plan a practical kitchen design as much as one that suits the look of your open plan decor. A single-wall kitchen usually has a fridge at one end of the kitchen. The sink would be located next to this, with storage underneath. The hob and oven are typically located to the other side, ensuring hot and cold areas are kept separate. To ensure food safety after cooking, you will need generous worktop space for setting food down. You could also have tall cabinets that bookend the kitchen, provided they don't block any light sources. This would typically include an oven with tall housing and a refrigerator-freezer on each side.
There are usually several upper wall units located above the run of base cabinets, which can extend the full length of the wall. Alternatively, and depending on requirement you could include a tall cabinet at one or both ends. If applicable, this run of wall cabinets is also where your extractor can be located.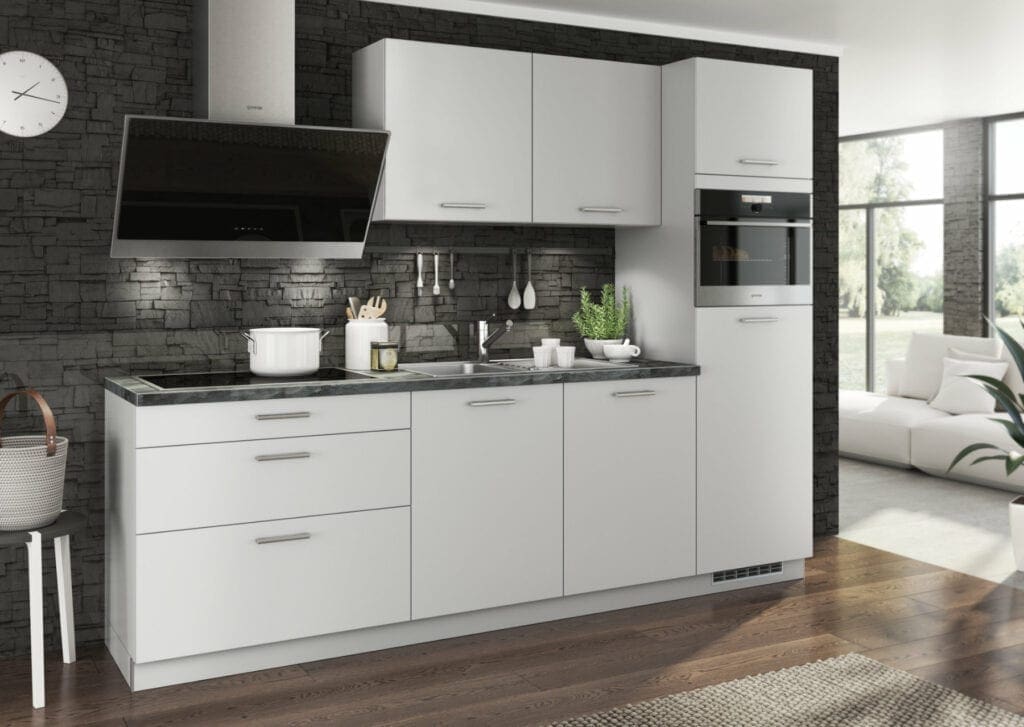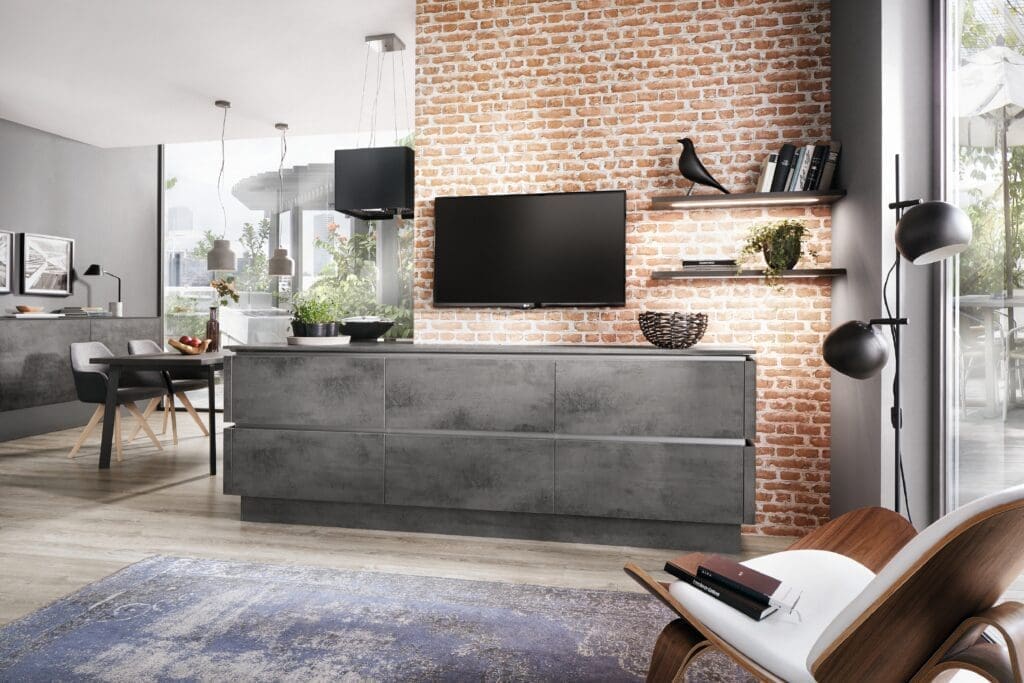 2. Maximise your single wall kitchen storage
Single-wall kitchens have fewer cabinets than other layouts and so it is important to ensure ample cupboard space for all your needs. But you should also consider storage potential in other areas of your kitchen. For example, a lift-up bench at your dining table or bespoke living room furniture to match your kitchen for a seamless look. This is a popular choice for open-plan living spaces where homeowners desire continuity between the kitchen and living areas. Another possibility is open shelving, breaking up the continuity of a run of wall units, or else on the wall to either the left or the right of your kitchen. This will be both decorative and functional too, although whether open shelving will work for you depends on how much storage you require for your kitchenware.
3. Create a one wall kitchen with island
A hugely popular option for enhancing this layout is to create a one wall kitchen with kitchen island. This is an effective approach for making this layout work for larger kitchen spaces because it effectively transforms the space into a galley kitchen (the one wall is often referred to as a single galley kitchen, and a double galley kitchen when an extra run of units is present). Even the smallest of kitchen islands require space and clearance so whether this will work for you depends on the size of space you have and the use of it. However, a kitchen island can provide an additional site for appliances, storage, work surfaces and an extra seating area- all of which are extremely beneficial.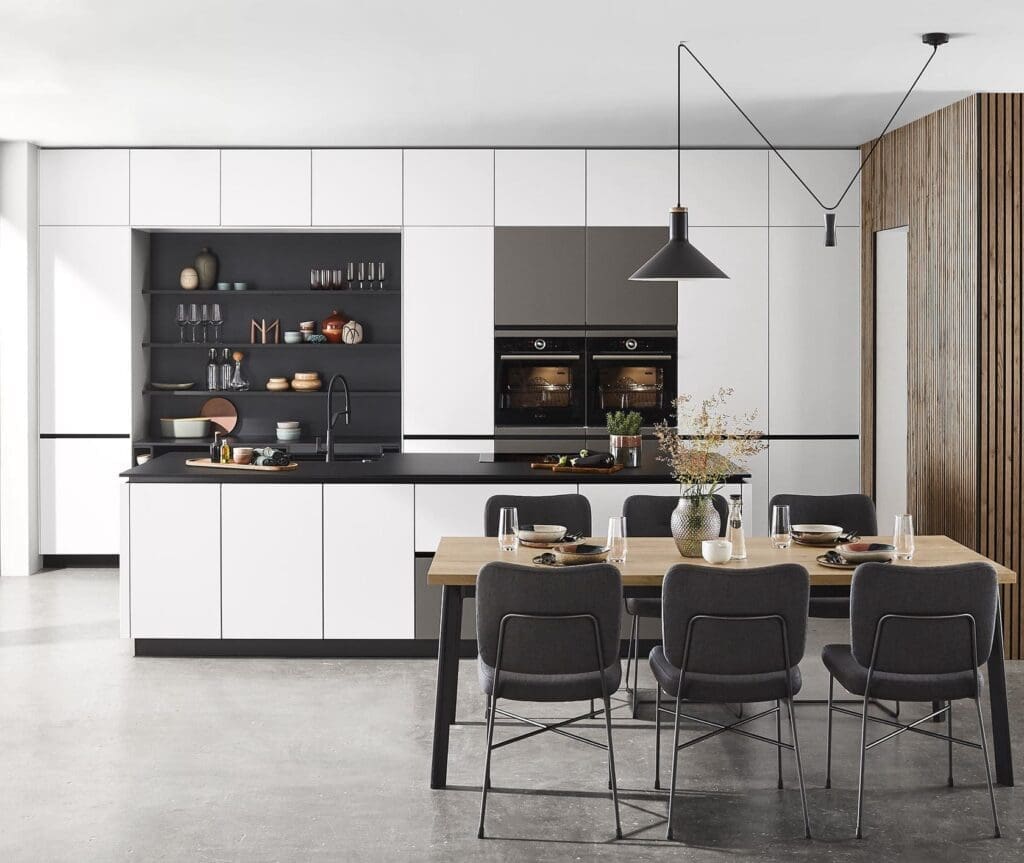 4. Best Appliances for One Wall Kitchens
Appropriate appliances should be chosen for one wall kitchens based on their size and functionality. Fortunately, modern kitchen appliances have been specifically designed to fit small spaces. You can find compact dishwashers with integrated microwave ovens, steam ovens, warming drawers, and compact ovens. It is important to select your appliances carefully and choose quieter models in an open-plan space. If your washing machine or exhaust fan are on, this will cause less objections from those who are reading or watching TV in the adjacent space.
5. Break up a Single Wall Kitchen Space
A popular option for open plan spaces is to create a marked distinction between the area you use for cooking, and the area you use for relaxing or socialising. This is easily achievable with a table or island, creating the illusion of two distinct spaces. Or alternatively, a change in lighting, décor, flooring, or colour scheme can all prove effective methods of defining your separate spaces for work and play.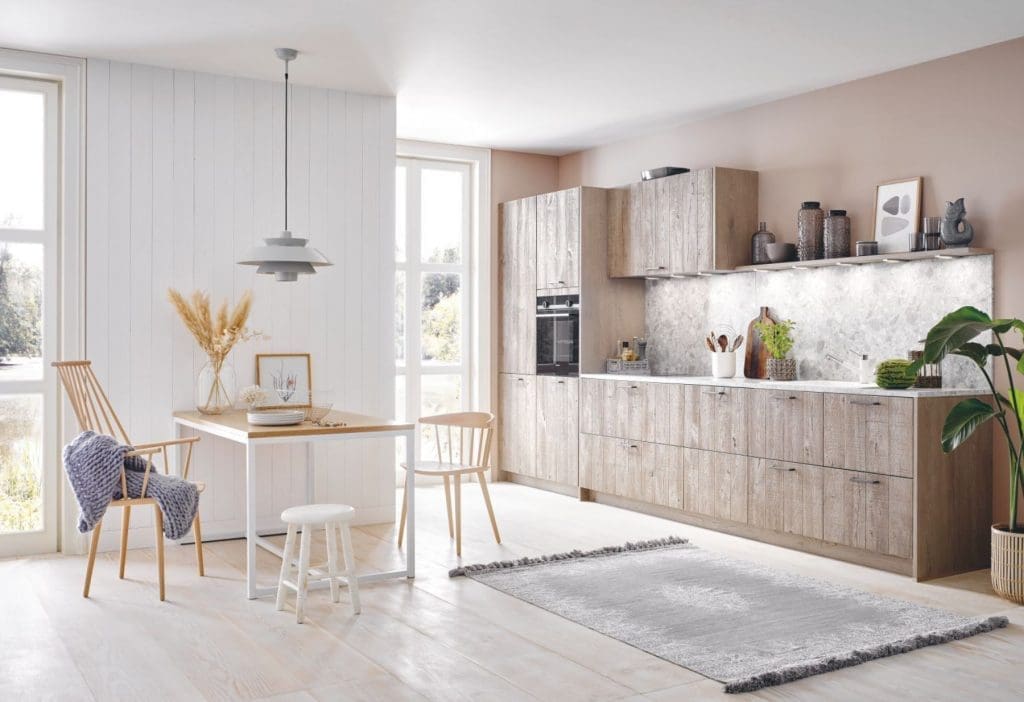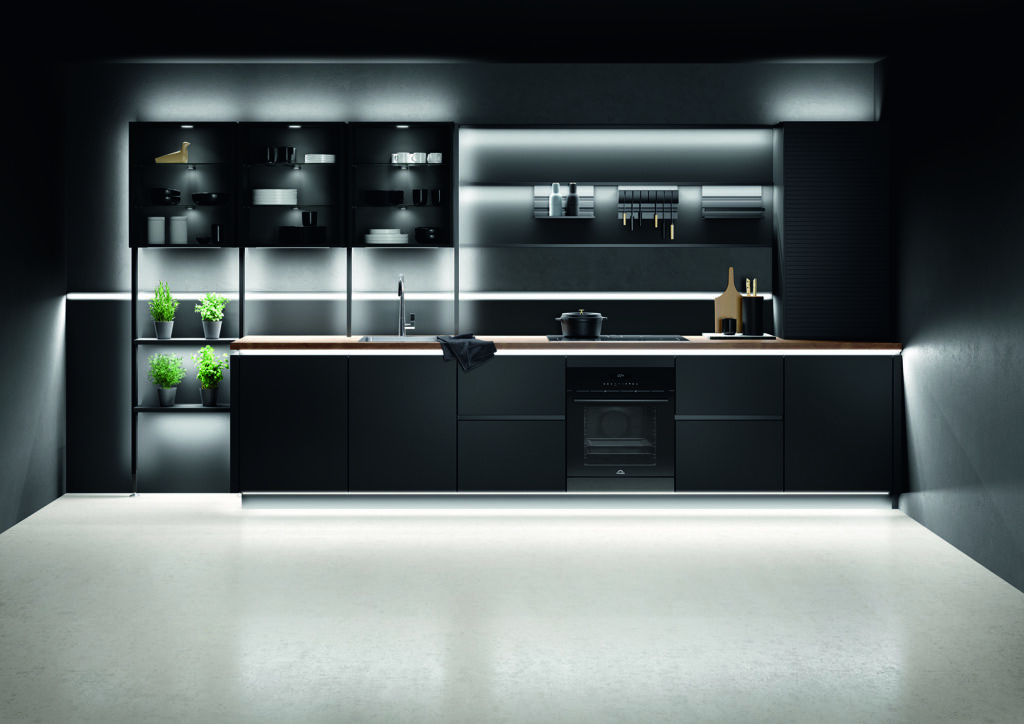 6. Create a statement feature
Given the single-wall kitchen is already likely to be the main focal point in an open plan setting, why not draw further attention to it? …For example, adding a splash of colour to your cabinets can easily create a contrast with the rest of the room, as well as creating a vibrant and inviting feel for your kitchen. Alternatively, you could incorporate a unique backsplash, statement shelving or creative lighting effects. Adding a statement feature is a great way of bringing personality into the setting, and a talking point for visitors too!
7. Lighting for one wall kitchens
Whether itis an open plan or enclosed one wall kitchen, ensuring sufficient lighting is essential for facilitating use of your space. Track lighting is a great option for this type of kitchen layout, running the length of the cabinetry. This can also be adjusted to focus light over the worktop or adjoining dining area as required. Ambient lighting is especially important for this type of kitchen, and especially when open plan, but equally accent lighting, whether statement pendants or colour changing LEDS, are important for setting the tone you want for your living space.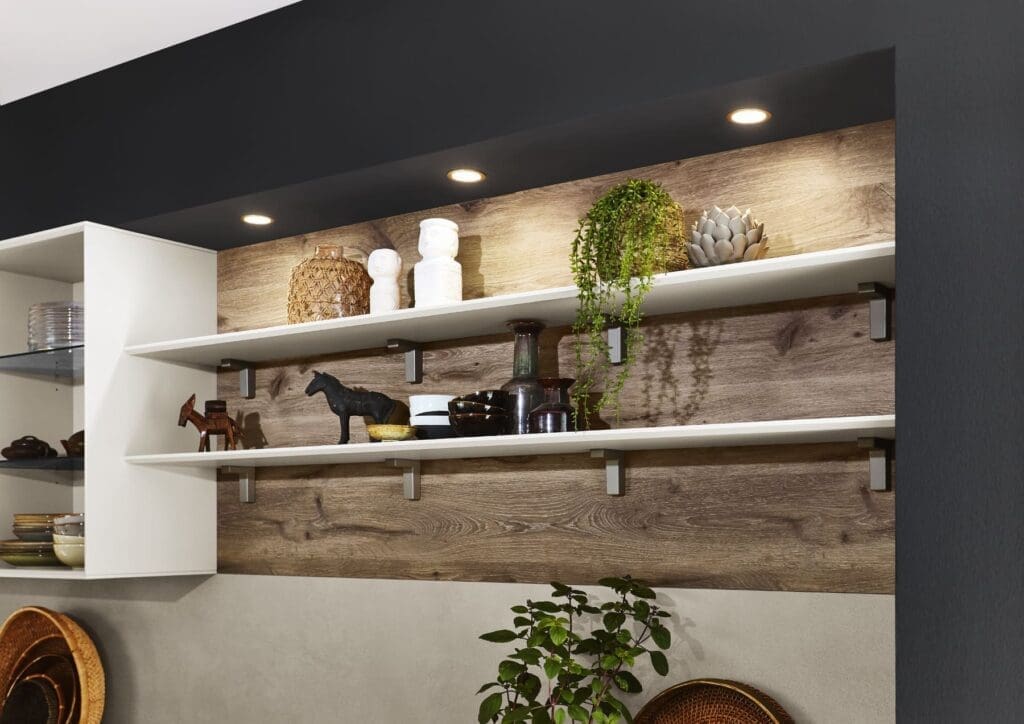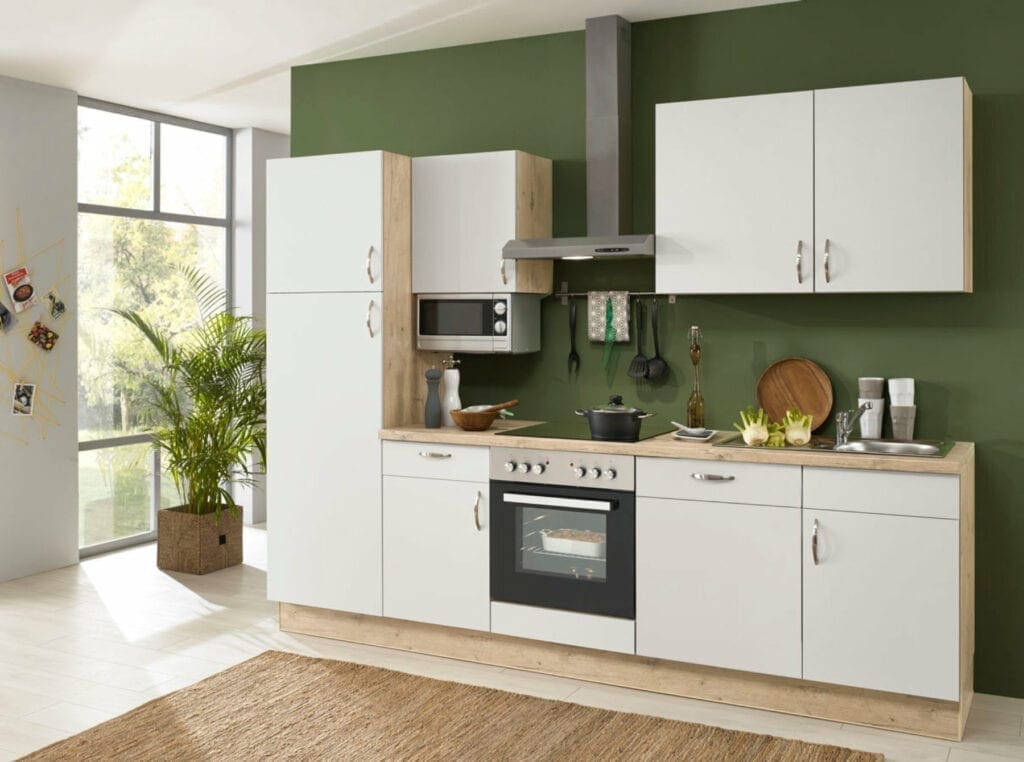 One Wall kitchen ideas and planning
No matter your taste, a single wall kitchen design is worth looking into if you have limited space and want to find the best layout for maximising on this. Small in stature but highly versatile, there are many options for making a single wall kitchen layout work, and it is always recommended to speak to an expert kitchen designer to help you in this regard.
For help in finding an experienced kitchen designer near you contact the Kitchen Experts today