U Shaped Kitchen Planning
A well-planned U-shaped kitchen design blends aesthetics with practicality to create a space you will love to use. This kitchen layout is ideal for people who love cooking as it allows for easy access to all the important areas of your kitchen and is great for maximising kitchen space and storage. This guide will help ensure that you understand all aspects of designing a U-shaped Kitchen to create the perfect space that suits your space, lifestyle and needs. 
What is a U Shaped kitchen layout?
A U shaped kitchen layout is a three-walled, U-shaped kitchen (sometimes also called a "C-shaped kitchen") with cabinets and countertops that span three walls to form a 'U,' and have one open end. Featuring uninterrupted kitchen worksurfaces on all three sides this layout is considered the most efficient and functional. It has a perfect work triangle layout, which provides uninterrupted efficiency and safety while the user prepares meals.
U shaped kitchen features, pros, and cons
With its ample storage and continuous countertops, the U-Shaped layout can prove an ideal kitchen layout. It can work for small as well as larger kitchens, but how you will use your U-shaped kitchen tends to be determined by the amount of physical space you have available. For example, a small u shape kitchen might have space solely for cooking, whereas a larger U shape design might also accommodate entertaining and dining. For such reasons larger U shape kitchens tend to offer more flexibility when it comes to design. However, on the flip-side, the drawbacks of a U-shaped kitchen are that 3 runs of cabinetry can significantly increase the cost of your kitchen, take up more floor space, and create awkward corners which require effective yet expensive solutions to enable full use of the space.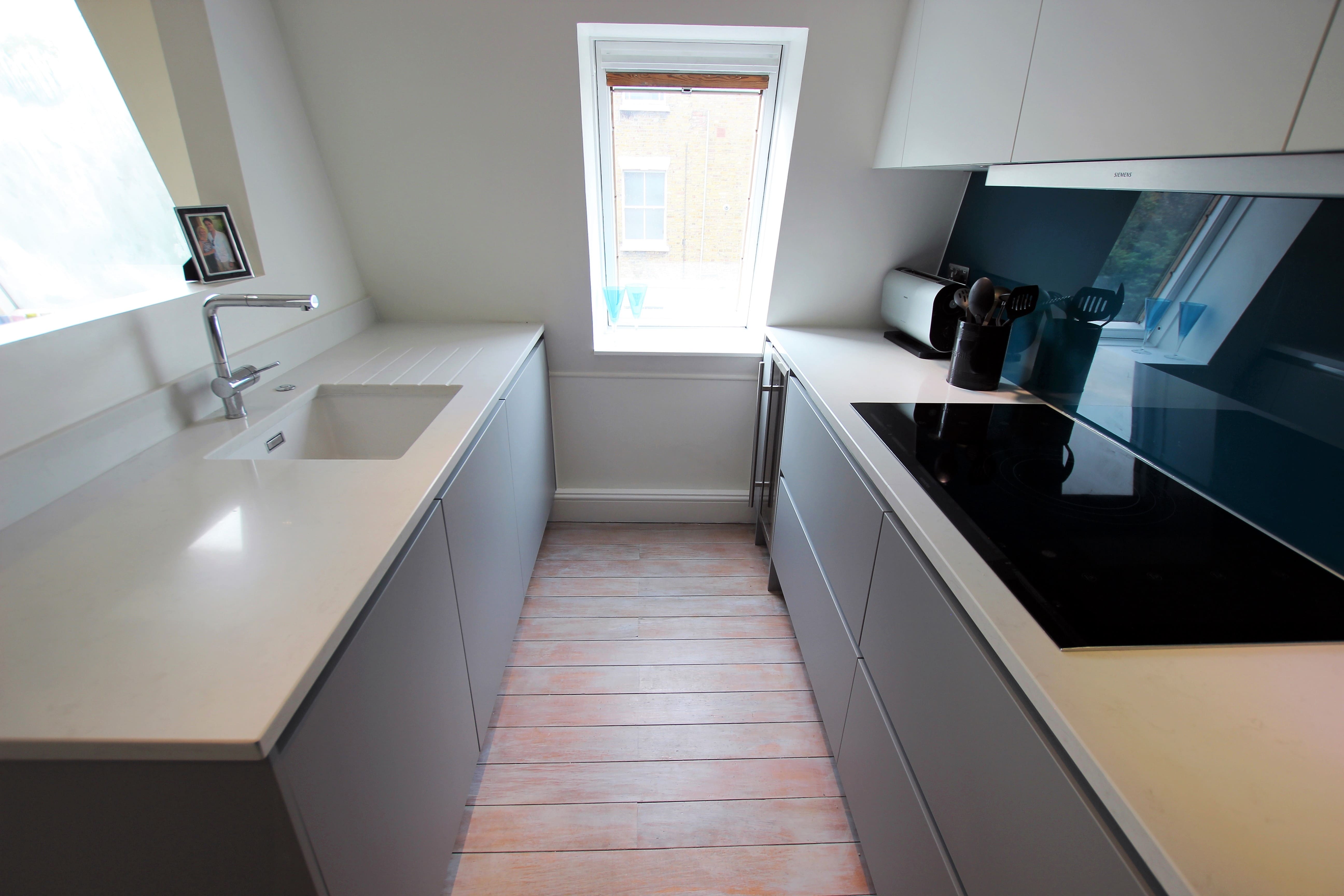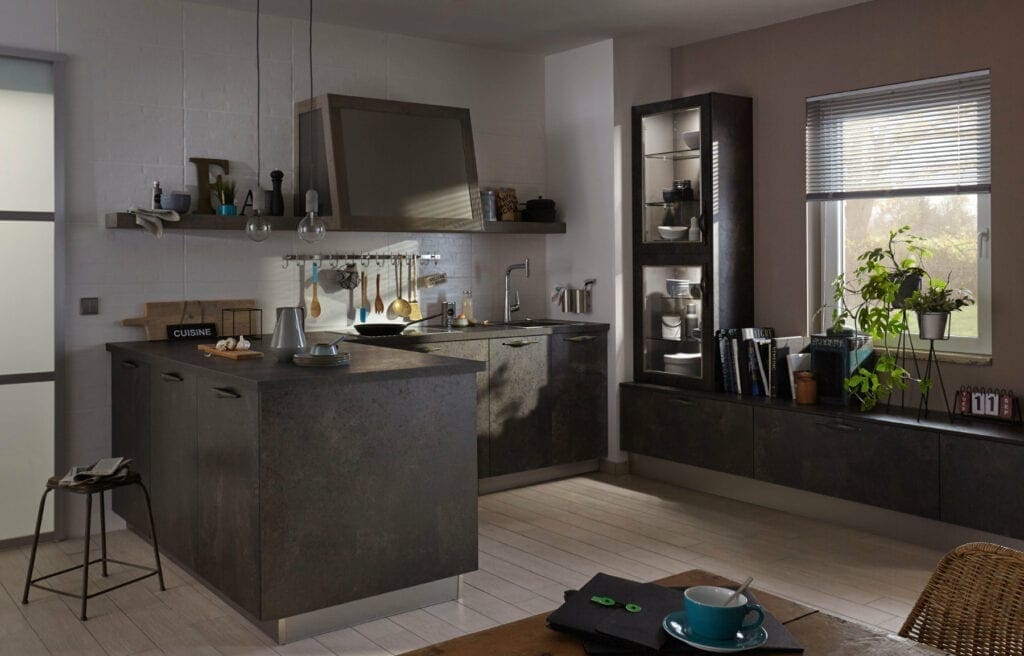 Small U Shaped Kitchens
Because of its versatility, the U shaped kitchen layout can be used in many different spaces. Within smaller kitchens the ideal distance between facing walls is 3.5 to 4 feet of space. This positions everything in easy reach, requiring minimal steps for the primary cook working in the kitchen. But if a smaller U shaped kitchen is not well laid out then the kitchen may easily feel cramped or lack sufficient storage space. Smaller kitchens with narrower spaces can be used and usually dependent on user requirement and family size, but there is a limit to this, and these smaller kitchens shouldn't include more work surface than necessary for someone working in the kitchen without difficulty.
Large U shaped kitchens
Larger U-shaped kitchens have 6 to 8 feet of space between the facing walls and allow the possibility of an auxiliary island to be placed in the middle of the space. This is a great solution if additional worktop and storage space is required. However, it is dependent on the dimensions and width of your U-shaped kitchen. The U-shaped design is more flexible in larger rectangular and square kitchens so another possibility in larger kitchens is to split the kitchen into multiple workstations so that more than one person can use the space while they are prepping and cooking. For example, you can focus one section of the U-shape in an area of your kitchen for cooking, leaving room for a breakfast bar or dining space elsewhere.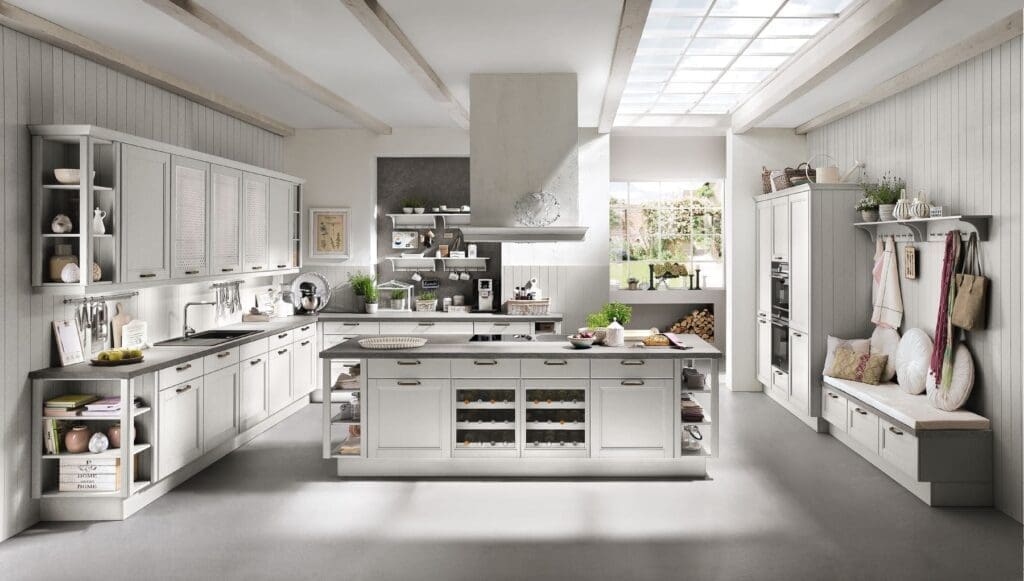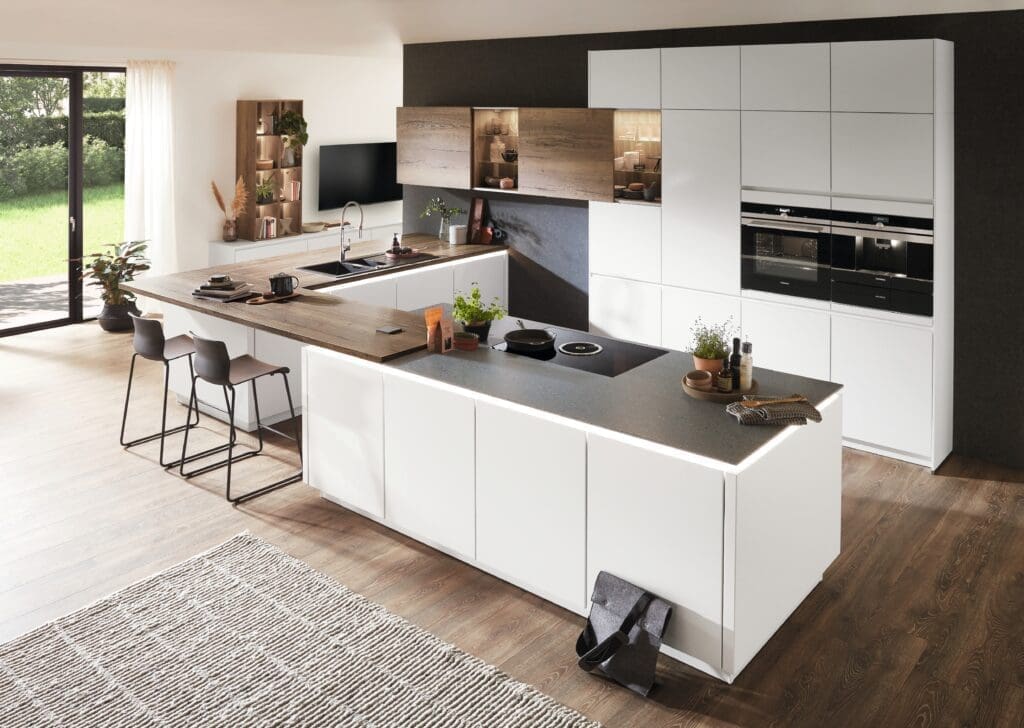 Further expert tips to help you design a successful U-Shaped Kitchen in your home: –
If you're considering this layout for your kitchen, here are some U Shaped kitchen design ideas and tips to help you in maximising this popular layout:-
Customize the shape of your space: Cabinet lengths in a U-shaped Kitchen can vary or be the same size according to requirement, with some U-shaped kitchens having a wall that's longer than the walls adjacent.
Think about your workflow: To create the most efficient work triangle, position the range, cooktop, refrigerator and sink adjacent to each other. To maximize worktop space and avoid a cluttered look, the sink should be placed opposite the fridge and cooker. These appliances are often located on the wings or ends of "U" and within tall appliance housing. If one cabinetry run is longer this is also the best and safest site for the oven as it provides extra worktop space for setting down hot food during and after cooking.
Think about your best kitchen sink location: If one of the U-shaped walls has windows, this layout naturally dictates that the best position for the sink is underneath the window so you can enjoy the outside views and let in natural light.
Think about the position and location of your oven and hob: Placing the oven and/or hob on the U's centre wall creates a focal point for displaying a decorative hood over the appliance. This is also effective for achieving an appealing, symmetrical kitchen look.
Create or add a peninsula: U-shaped kitchens are typically composed of three walls. This can make it difficult to socialize with guests and keep them from being restricted. If space allows, extend one leg of the "U", allowing for a peninsula. This will allow you to include seating and encourage a social space with the adjacent rooms. Open-plan kitchens with U-shaped layouts are great options because they allow guests to interact with their hosts, but also create separation between the kitchen area and any adjacent spaces.
Maximize corner space: U-shaped kitchens are designed with two corners in mind and so it is important to carefully consider your corner storage options. Blind corner cabinets with storage baskets and accessories can make the most of corners that were once quite cumbersome, with solutions such as the le man corner or carousels reaching into the full depth of the corner to maximise this space.
An auxiliary kitchen island: If space is available, an auxiliary island (stationed, mobile, or both) can be added to provide additional storage and counter surface for meal prep. To ensure safety and functionality, you should leave at least 3 feet between the island and any perimeter cabinetry walls.
Maximise natural light: However, if this is lacking then appropriate kitchen lighting becomes essential in a U shaped kitchen. If done correctly, central ceiling lights should provide lighting over the areas where food preparation takes place to ensure that you can see clearly and safely.
Choose appropriate finishes: Similarly, the type of finish you choose will influence your overall kitchen's look. So again, if a kitchen is small or natural light is lacking then a gloss finish in lighter colours may prove the best choice for reflecting light. The light from both natural and artificial sources will bounce off the gloss door's surface making the space feel brighter and open.
Replace one run of wall units: As U shaped kitchen layouts offer generous storage this means that even in smaller spaces you can probably afford an alternative to wall units along one length of wall. This might be open shelving, a statement feature to draw the eye, or simply an empty length of wall to allow breathing space within your kitchen. As well as opening up the space a further benefit of this as an alternative to wall units is it likely to be a less costly option, helping keep down the cost of your kitchen overall.
Achieve your perfect U-shaped kitchen
As discussed, U-shaped kitchen layouts can be used for large or small spaces. This makes them ideal for creating a comfortable, social, and beautiful space for all of the family to enjoy. This layout is very adaptable which means there are lots of possibilities for personalising a U Shape design, something a professional kitchen designer can help you achieve in line with your lifestyle, needs and individual tastes.
Contact the Kitchen Experts today for help in finding a skilled kitchen designer in your local area.